What makes the 2017 Isle of Man £5 so interesting?
Last year, the coins of the Isle of Man made the headlines. Not only did all their circulation coins have a total redesign, the first in 13 years,  they also announced that they would continue to issue 'round pound' coins rather than opting to use the paper £1 note like both Jersey and Guernsey did.
The coins feature a new effigy of Her Majesty Queen Elizabeth II, created by designer and sculptor Jody Clark, which will also be used on all coins from Crown dependencies and Commonwealth countries. The outer description includes the Queen's full title, country of issue and year of issue.
The iconic design of the 2017 Isle of Man £5 coin features the Triskelion (three armoured legs) which is arguably the most known symbol of the island and is included in both the coat of arms and the flag of the Isle of Man.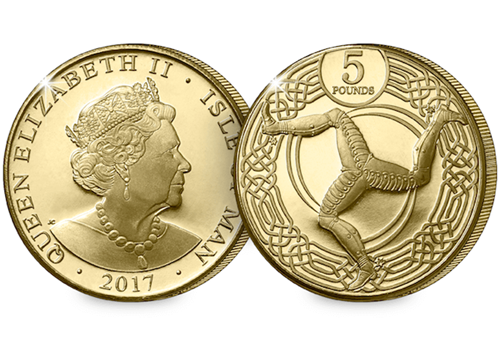 But while this fitting Triskelion design features on the reverse  and the new effigy of Her Majesty the Queen features on the obverse, that's not what makes this coin so interesting…
You may or may not know this about the Isle of Man…
The Isle of Man is in fact the only Crown dependency country that circulates their £5 coins, meaning you could find this coin in your change… and spend it!
But if you're ever lucky enough to find one in your change I'm sure you won't want to spend it, as it's certain to have one of the lowest mintages for any British Isles circulation coin.
A further difference between this coin and the traditional UK commemorative £5 is the size…
The IOM £5 coin is just over 6mm smaller in size at 32mm (UK £5s measure 38.61mm) and weighs in at just 11.7g (compared to 28.28g for a UK £5) so is reasonably light to carry around in your pocket or purse.
So tell us… would you spend this £5 coin if you found it on the Isle of Man?
---
Own the ONLY British Isles circulating £5 coin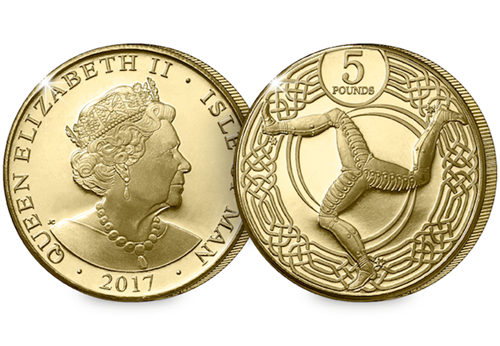 The Isle of Man is the only part of the British Isles to use a genuinely circulating £5 Coin. Become one of the few people to own this coin by securing one for your collection today >>