Canada's King Charles III Coin Effigy Revealed!
More than a year after His Majesty King Charles III was officially proclaimed Head of State and Sovereign of Canada, The Royal Canadian Mint have announced the release of their official King Charles III coin effigy.
The news was shared on the 14th November – making for a wonderful birthday treat for His Majesty, who celebrated his 75th birthday that day.
SELL OUT Canada King Charles III 50 cent Coin Roll
The brand new Canadian effigy of His Majesty features on the 50 cent coin, which has been issued in a highly sought-after special collector's edition Wrap Roll.
Each of the Wrap Rolls include 25 brand new 2023 dated Canada 50 cent coins, which feature a design of the Canadian Coat of Arms on the reverse and – for the first time in seventy years – a new monarch's portrait on the obverse.
A Special Presentation
The coins are packaged in special, themed illustrated paper wrapping, featuring the official Royal Canadian Mint logo and a stylised band of Fleur-de-lis – a traditional Royal symbol of Canada.
You might not have heard of coin rolls before, but they're a big deal across the pond, and a highly collectable way to own Canadian coins. Previously, Canadian coin rolls have proved incredibly popular with UK collectors, and we've even seen sell outs of our initial allocations of these rolls in the past.
A Canadian Collecting Frenzy
These Canadian 50 cent Coin Rolls are part of the first wave of Canadian coinage that features the new obverse of King Charles III, so it's currently the only way to secure them for your collection. There were also only 25,000 rolls available worldwide – making them highly sought-after by collectors. So sought-after in fact, that they SOLD OUT at The Royal Canadian Mint within just four days!
We've been lucky enough to secure just 500 Canada 50 cent Wrap Rolls for UK collectors, and once they're gone, they're gone! So don't miss out – add these coins to your collection now for just £29.99 (+£3.99 postage) >>
---
A Major Change for Canadian Coinage
During her incredible 70 year reign, there have been four different obverse portraits of Queen Elizabeth II used on Canadian coinage. The latest portrait change was in 2003 when Susanna Blunt's effigy of Her Late Majesty made its way onto Canadian coins.

Considering that the obverse of Canadian coinage hasn't changed in over 20 years, and the fact that we haven't seen a King on Canadian coins in 7 decades, the introduction of King Charles III's effigy is sure to cause a stir in the coin collecting world.
The Process of Creating an Effigy
As you might imagine, there are a lot of steps behind the scenes that go into creating a new effigy…
Canada's new coin effigy was created from Steven Rosati's winning design, following an invitation to more than 350 artists and engravers.
The process involved each artist/engraver submitting a portfolio of portrait work to be evaluated. These were then shortlisted before a brief outlining mandatory design requirements was given out.
An internal Mint review panel judged submissions based on aesthetics, technical requirements and mass-production suitability before the winning design was submitted for approval from the government and Buckingham Palace.
Once the design was ready, the Mint could begin the engraving and tooling process – producing dies to strike the coins.
Only 500 available for Change Checkers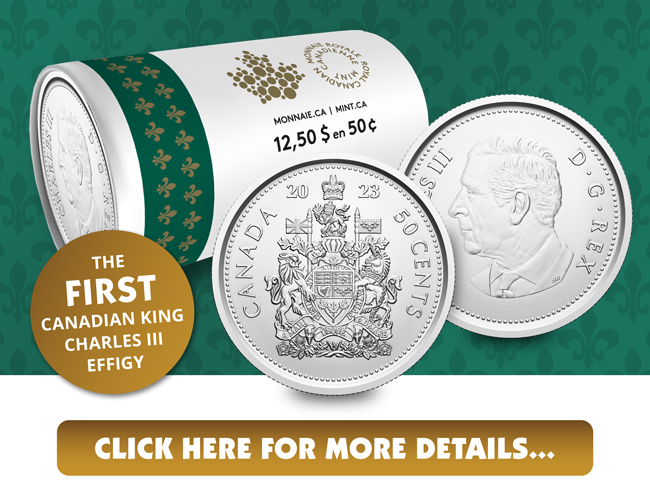 Click here to secure your Canada King Charles III 50 cent Coin Roll >>