Posts by Alexandra Siddons
This year, Her Majesty Queen Elizabeth II celebrates her 95th Birthday, making her the first ruling monarch in British history to reach this milestone.
In celebration of this very special royal event, The Royal Mint issued a brand new £5 coin, featuring the Royal Cypher and an inscription taken from Her Majesty's first televised speech.
But Change Checker is incredibly excited to announce that in celebration of Her Majesty's birthday, we're launching a NATIONAL EXCLUSIVE UK £5 for £5 Ballot!
We are giving 1,000 lucky collectors the chance of owning the brand new Queen Elizabeth II 95th Birthday £5 for its FACE VALUE of just £5!
It's completely free to enter, all you need to do is click here >>
The ballot will close on the 25th June and winners will be contacted on the Monday 28th June with details of how to claim this new £5 coin for just £5 – so you must act fast if you want to be in with the chance!
As the Queen reaches this significant birthday, demand for this coin is already high, not just amongst fans of UK royalty coins but for collectors worldwide.
And now, with this Change Checker £5 Ballot NATIONAL EXCLUSIVE, we'd hate for you to miss out!
To sign-up now, for FREE, simply click here >>
The ONLY WAY to own Britain's new Royal £5 coin for just £5!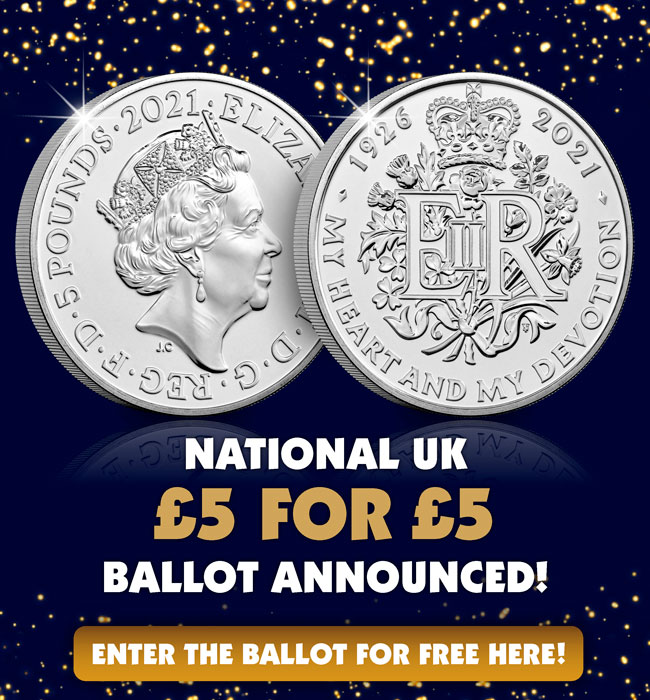 Don't miss out on your chance of owning the 2021 UK Queen Elizabeth II 95th Birthday £5 for its face value – just £5!
The winners will be contacted June 28th, so you must act fast if you want to be in with the chance! Simply click here to sign up >>
This year Her Majesty becomes the first monarch in British history to celebrate a 95th birthday – an incredible milestone that has been celebrated by Mints all around the world.
And now to mark this incredible achievement a fantastic set of BRAND NEW 50p coins have been issued by the Isle of Man and fully approved by Her Majesty the Queen.
In this blog we guide you through these remarkable 50p coins and you can find out how to secure them for your collection…
The Complete Brilliant Uncirculated 50p Set
This fantastic collection features all six new 50p coins, each struck to a Brilliant Uncirculated quality and each featuring a specially commissioned portrait of Her Majesty by sculptor Luigi Badia, charting her reign from the 1950s to the present day.
What's more, the coins will come protectively housed in a bespoke presentation pack that has been designed specifically for your coins.
This complete set is surely a MUST-HAVE for any serious coin collectors, so if you'd like to secure one for your collection for JUST £37.50 (+p&p) then click here >>>
2021 Queen Elizabeth II 95th Birthday 50p
What's more, you can secure the 2021 Queen Elizabeth II 95th Birthday 50p for JUST £6.25 )+p&p) here >>>
This 50p coin features the brand new portrait of Her Majesty on the reverse by sculptor Luigi Badia, specially commissioned to mark this important milestone in Queen Elizabeth II's life.
The coin is fully approved by Buckingham Palace and the Queen and is the perfect to tribute to Her Majesty, and a fantastic heirloom for you and your family to mark this important moment.
You can secure this BRAND NEW 50p coin for just £6.25 (+p&p) today – but with demand extremely high you'll need to act now! Order yours here >>
The STRICTLY LIMITED Queen's 95th Birthday Silver 50p Coin
You also have the chance to own the BRAND NEW 50p coin as a strictly limited Silver Proof! Your coin will come complete in a presentation case with a numbered certificate guaranteeing your coin's place within the strict edition limit.
The Silver Proof editions are without a doubt the collector's favourite and almost always completely SELL-OUT. And with an edition limit of JUST 4,995 coins, you'll need to act now if you want to secure one for your collection.
Click here to secure yours now >>
Can I find these 50ps in my change?
If you're living on the Isle of Man, then yes!
10,000 of each coin will be entering circulation on the Isle of Man and when you compare that to the mintage figures for UK coins (our rarest 50p in circulation has a mintage of 210,000) you'll realise just how few of these coins are actually out there.
Coins issued on the Isle of Man typically have lower mintage figures due to the smaller population of just 84,000 which means that their coins are particularly sought-after amongst collectors.
And, given the significance of this anniversary, I'm sure that British Isles collectors will be quick to snap these ones up!
---
Coins celebrating royal anniversaries always prove popular with collectors and in this incredible anniversary year, these coins are sure to be in high demand.
Will you be adding these coins to your collection? Let us know in the comments below!
Secure the Complete Queen's 95th Birthday Brilliant Uncirculated 50p Set
You can secure this set of BRAND NEW 50p coins for just £37.50 (+p&p) – but with demand extremely high you'll need to act now!
In 1999, coin collecting in America was changed forever with the release of the US State Quarters series.
These coins proved so popular that almost half the US population (that's roughly 150 million people) took part in collecting these coins and they quickly became the most widely collected in all of America, and arguably, the world!
Following this wild success, a brand new series of US Quarters was released in 2010, celebrating the beauty of America and its national parks.
US National Park Quarters Complete Set
Each stunning reverse design captures the magnificence and history of America's most beautiful locations, whilst the obverse features a smaller restoration of the original Washington quarter portrait.
5 new National Park Quarters were released each year from 2010 to 2020, with a final design issued in 2021 to complete the series of 56 coins.
But, these quarters were minted and released for only 10 weeks each before never being produced again, making the series particularly sought after…
What's more, this second series of US Quarters has been released in significantly lower numbers, with a total mintage just over HALF that of the highly sought-after US State Quarters series!
And, with a significant proportion of these coins now taken out of circulation into private collections, they are sure to become scarcer than ever, meaning collectors will want to act fast to avoid missing out on the complete collection.
To secure your US National Park Quarters Complete Set of 56 coins for your collection for JUST £65.00 (+p&p), click here >>
American coinage is one of the most competitive coin collecting markets in the world… Read on to find out more about some of America's most infamous coins!
Indian Head Penny (1859-1909)
The Indian Head Penny is famous for celebrating Native Americans, but it actually doesn't show a Native American.
According to legend, designer James B. Longacre used a portrait of his 12 year old daughter, Sarah, wearing a headdress. It is, however, more likely that the portrait was based on a classical Greco-Roman statue Venus Accroupie (Crouching Venus).
Either way, the 'Indian' is not a Native American! The obverse features the head of Lady Liberty wearing a headdress, while the reverse depicts a wreath as well as the words 'One Cent' and a shield in the middle at the top of the coin.
Morgan Silver Dollar (1878-1921)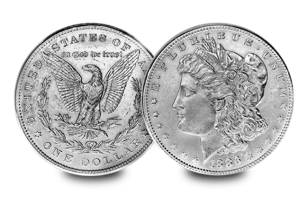 For the new silver dollar, designer George T. Morgan decided to portray Liberty as a goddess, inspired by Philadelphian school teacher, Anna Williams who had a fair complexion, Grecian nose and golden hair. Morgan eventually persuaded Anna Williams to sit as the model for Liberty for the obverse of the Morgan Silver Dollar.
In 1878 artists' models were considered immoral, therefore, Morgan publicly stated that the model was a statue in a Philadelphia museum. Word soon leaked out, however, and it is rumoured that Williams was fired from her teaching job!
'No Cents' Liberty Head Nickel (1883)
When the new Liberty Head Nickel was issued in 1883, the denomination was nowhere to be seen, instead a large 'V' (Roman '5') was on the reverse.
The coins were the size of the $5 gold coin in circulation at the time which created an opportunity for unscrupulous crooks who came up with a cunning plan to pass them off as $5 by gold plating the new nickels and cutting reeds into the edge by hand. The U.S Mint soon became aware and within a few weeks the design was changed to include the word 'Cents' under the 'V'. The 'No Cents' coins are also known as 'Racketeer' Nickels.
Lincoln Penny (1909)
Designer Victor David Brenner added his 'VDB' initials to the new Lincoln Penny design in 1909 which was issued to commemorate the 100th anniversary of Abraham Lincoln's birth.
While the public generally loved the Lincoln cent when it was first released, they didn't like the prominence of Brenner's initials. The U.S. Mint quickly removed the initials as it appeared as though Brenner was either boasting or advertising. This was the first cent to feature Abraham Lincoln's motto 'In God we trust' on the obverse.
Morgan Dollar (1921)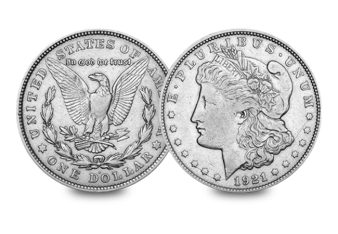 When notorious outlaws Bonnie and Clyde were shot and killed by police in 1934, a 1921 Silver Morgan Dollar was recovered from the jacket of Clyde Barrow among other possessions. The outlaw lovers were believed to have committed 13 robberies among other felonies between 1932 and 1934.
The hunt for the duo captured the nation's imagination during the Great Depression and their fame was heightened by their practice of leaving glamourous photos of themselves at crime scenes.
Even more so now, the 1921 coin is forever associated with Bonnie and Clyde.
Roosevelt Dime (1946)
In 1945 plans were quickly laid for the introduction of a new coin to honour Roosevelt after his passing. The task was assigned to John Ray Sinnock and coinage began in 1946. Controversy soon arose because sculptor Selma Burke claimed that Sinnock had stolen her design without giving her credit, however Sinnock strongly denied this.
In addition, conspiracy theorists claimed that Sinnock's initials 'JS' (at the base of Roosevelt's neck) actually referred to Russian leader Joseph Stalin because of Roosevelt's supposed 'communist' learnings.
---
These are just some of the incredible American coins that have been issued over the decades, including the 56 US National Park Quarters!
Have you ever seen these coins before? Let us know in the comments below!
---
Secure the Complete US National Park Quarters Set!
Through our contacts in the US we have managed to secure a limited amount of complete sets for our collectors, to ensure you have the opportunity to include this impressive set in your collection.
All 56 US National Park Quarters will come presented in a custom display folder, including a map to pinpoint each quarter in the series. This really is the perfect way to display your collection and preserve all 56 coins for generations to come.
Don't miss your limited opportunity to secure this iconic collection and order yours today >>