As of the Royal Proclamations issued on 8th November 2019, a very exciting United Kingdom £5 coin has been confirmed for 2020.
The reverse design is said to feature 'a keyboard, drum, bass and electric guitar accompanied by a microphone and the inscription "QUEEN"'.
This is the first time a band has been commemorated on a UK coin which makes this announcement particularly exciting.
At the moment, the designs are still top secret but you can fill in our sign-up form below to stay up-to-date with all the latest news about this release.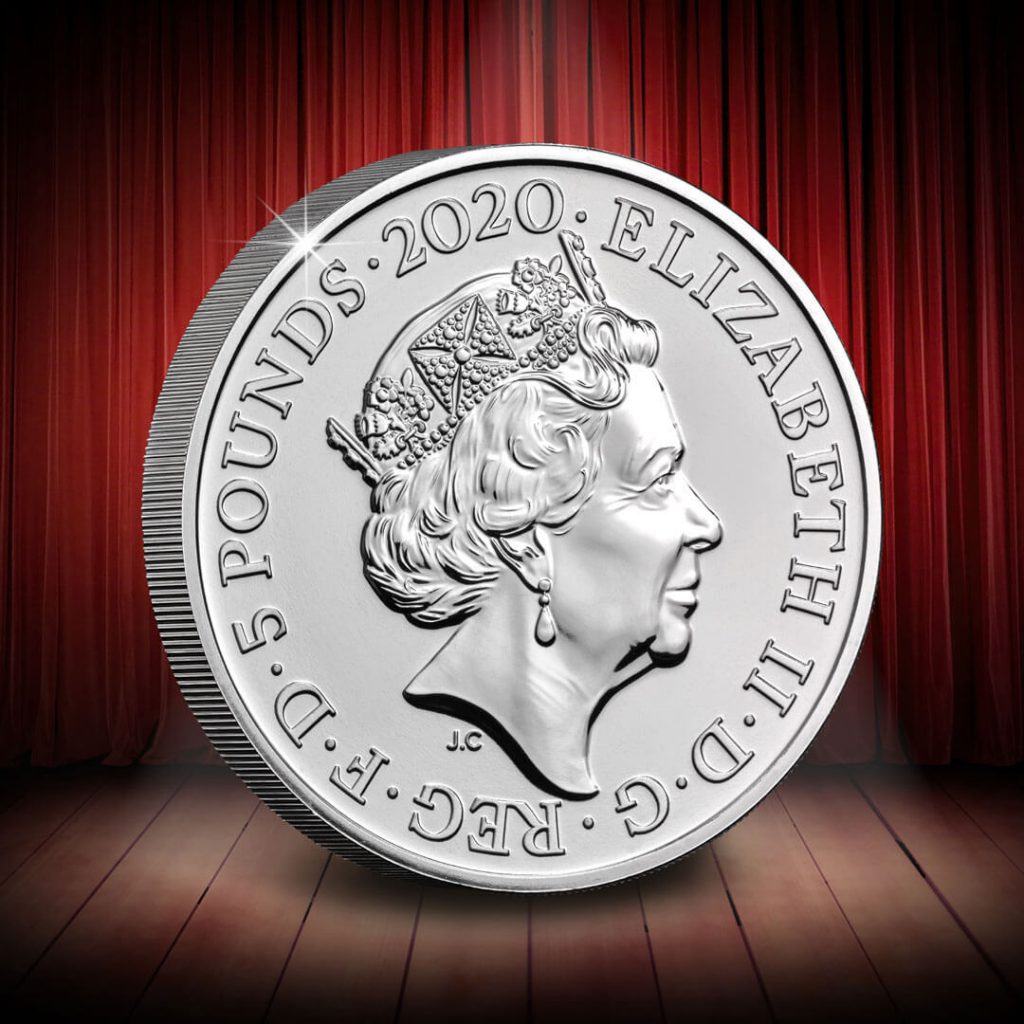 Stay up to date with all the latest Queen £5 news…
Fill in your details below to be kept up to date with all the latest news about the 2020 Queen £5 coin.
---
If you're interested in coin collecting, our Change Checker web app is completely free to use and allows users to:
– Find and identify the coins in their pocket
– Collect and track the coins they have
– Swap their spare coins with other Change Checkers
Sign up today at: www.changechecker.org/app
On 6th June 1944, the D-Day Landings turned the tide of the Second World War.
Allied troops landed at five different beaches, famously codenamed: Utah, Omaha, Gold, Juno, and Sword.
At these beaches, the largest amphibious assault in history was launched and this attack paved the way for the liberation of German-occupied France and is largely considered the start of the victory on the Western Front.
Most UK collectors will be familiar with the United Kingdom 75th Anniversary of D-Day £2 coin issued earlier this year to commemorate the historic event.
However, Allied Nations across the globe have been commemorating this important anniversary with unique coin issues from their very own Mints.
Today, we will be looking at the coins issued by Australia, Canada and Belgium, in addition to the UK £2, to see what this anniversary means to each country.
United Kingdom £2
Over sixty-one thousand British Troops were deployed as part of the D-Day Operations, landing on the 6th June at Gold and Sword. What's more, by 1944 over 2 million troops from over 12 countries were in Britain in preparation for the invasion.
To commemorate Britain's great effort in opening up this second front against the German army, The Royal Mint issued a United Kingdom £2 coin for 2019.
This coin was produced in collaboration with Imperial War Museums and was designed by Stephen Taylor. Speaking about his work on the design, Taylor emphasises that he wanted to 'build up the scale of the operation' and that the 'fonts are inspired by markings on US, Canadian and British landing craft, capturing the spirit of the international cooperation.'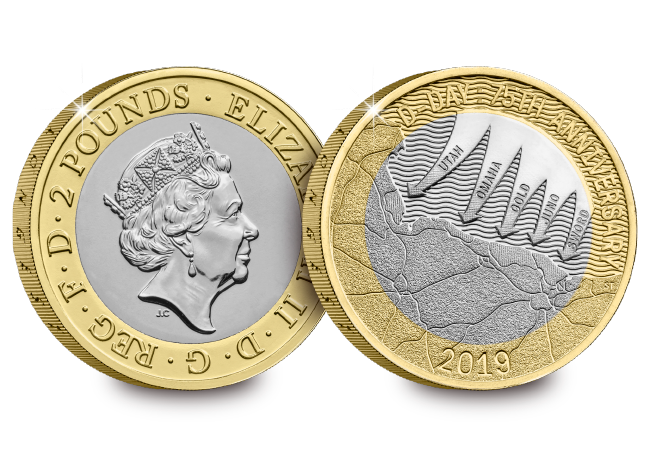 Canada $2
Operating within the British command structure, Canadian troops provided the third largest force for Allied operations in Western Europe. Landing at Juno, between British troops at Gold and Sword, over 21,000 Canadian troops were involved in the D-Day Landings.
The Canadians played a crucial role in the action that effectively ended the Normandy campaign a few months later, cutting off German forces at the Falaise gap.
To commemorate such a huge achievement, The Royal Canadian Mint issued a $2 coin, following their proud tradition of honouring Canada's rich military history with commemorative $2 coins.
The design, by Alan Daniel, features unique touches of selective colour to honour this most special anniversary.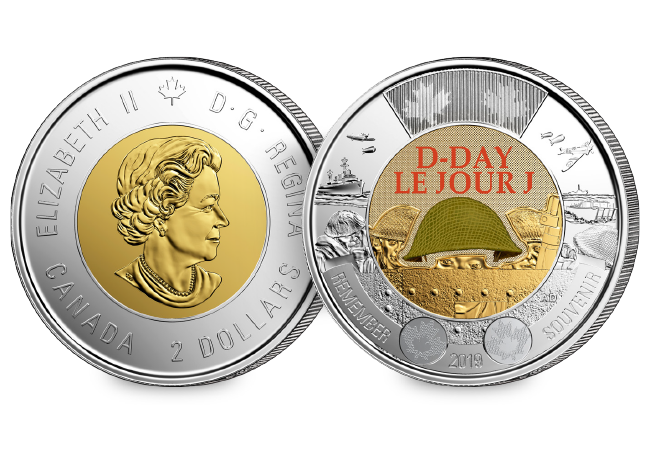 Australia $1
On D-Day, over 2,000 Australian airmen took part in the battle of the skies above the invasion beaches, in addition to 500 Australian sailors serving in the escort fleets.
Notably, Australian officers held places in various British units throughout the campaign, gaining experience of British practises which they could then take home after the war.
Designed by Bronwyn King, the intricate design on this Australian $1 shows a flight of planes all heading in a single direction, with an Australian Kangaroo featured at the bottom.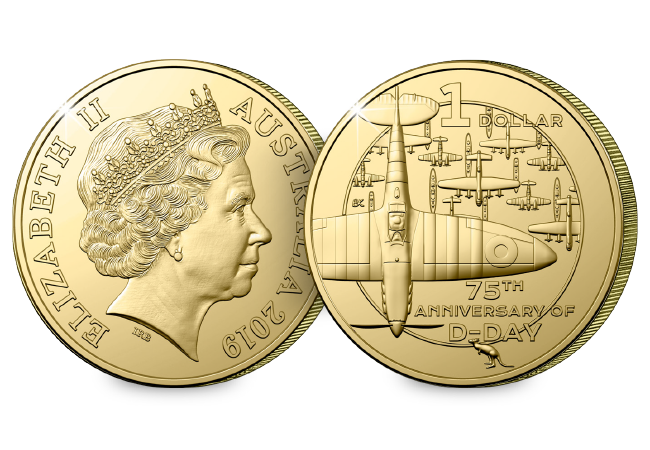 Belgium 5 Euro
Although there are few recorded Belgium troops on 6th June D-Day Landings, Belgium soldiers played a key part in the Battle of Normandy, which followed the initial D-Day Landings operation.
What many people also don't know is that the exiled Belgium government in the UK raised its own units in Britain, and Belgium pilots flew in the RAF.
Designed by Luc Luycx, this remarkable 5 euro features a map of Normandy with arrows pointing across to the beaches where troops landed on D-Day. The reverse of the coin shows a map of Europe with 'Belgium' in the country's three languages: French, Dutch and German.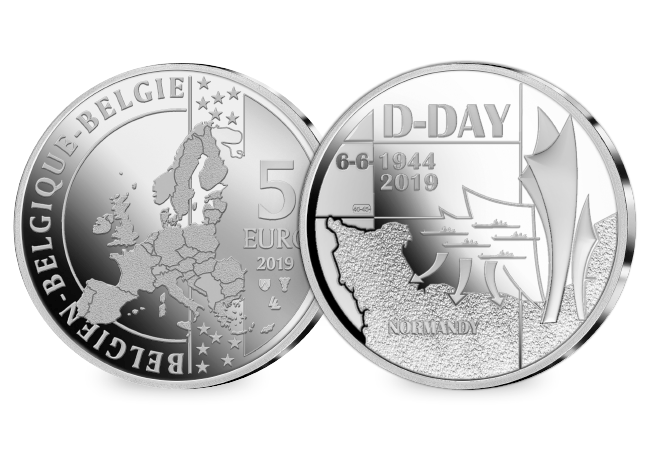 A total of 156,000 Allied Troops took part in the D-Day Landings from across 12 countries – it truly was an international effort!
---
75th Anniversary of D-Day Allied Nations Coin Pack
To commemorate this most important anniversary year, Change Checker have brought together these four remarkable coins from four world-renowned Mints to create the Change Checker 75th Anniversary of D-Day Allied Nations Coin Pack.
The eccentric inventor and his trusted canine friend have made their way back from the moon and onto a UK 50p to celebrate 30 years since their debut film, A Grand Day Out.
After weeks of anticipation, The Royal Mint has now released the first ever Wallace and Gromit 50p to celebrate 30 cracking years of the British Comedy duo.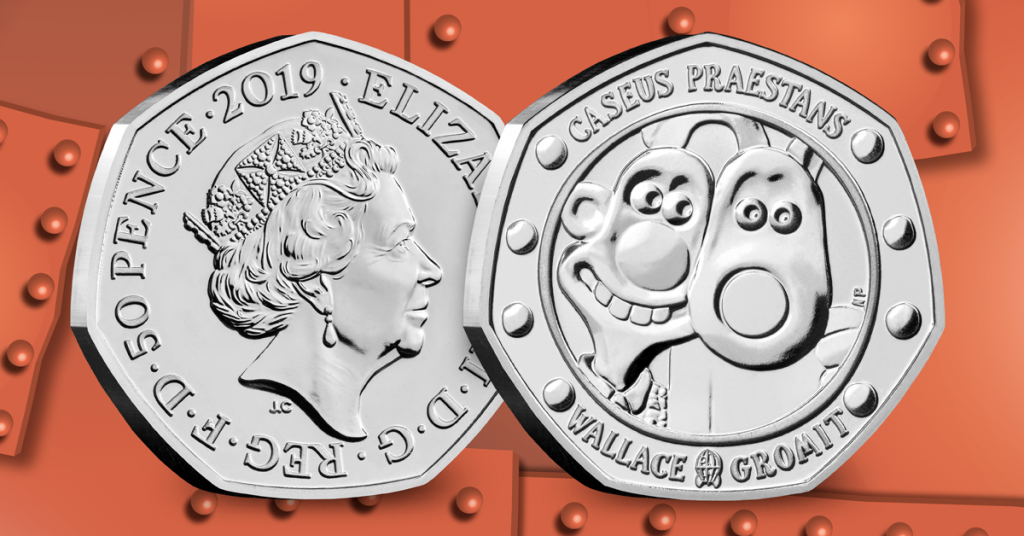 Originally a small concept in Nick Park's student sketchbook, Wallace and Gromit have become instantly recognisable stars of the silver screen!
The pair now feature in 4 stop-motion animation short films: A Grand Day Out (1989), The Wrong Trousers (1993), A Close Shave (1995), A matter of Loaf a Death (2008) and the full-length feature film, The Curse of the Were-Rabbit, released in 2005.
An Original Nick Park Design
Excitingly, the reverse of this new 50p has been designed by none other than Nick Park himself!
The original artist behind the popular animation characters, Nick's artwork has created a truly authentic design for the coin which is certain to be a hit with fans and collectors alike.
Featuring Wallace and Gromit peering out of the spaceship they took to the moon, fans will certainly resonate with this adaptation of the famous film scene.
What's more, the initials 'NP' have been struck onto the design to confirm the design by Nick Park.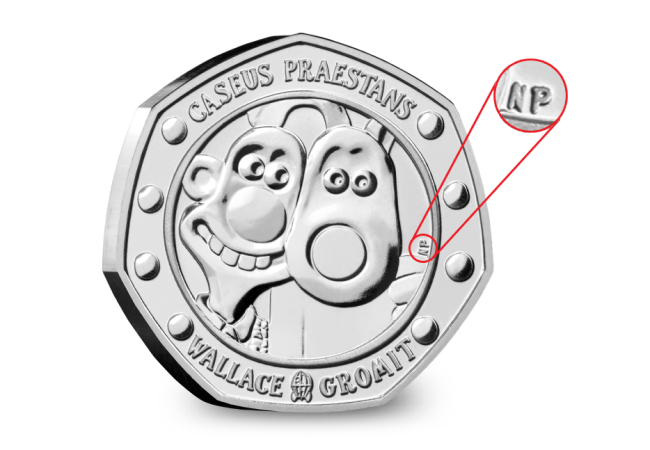 BU, Silver & Gold!
As of today the FIRST EVER Wallace and Gromit UK 50p has officially taken off!
The new coin is available in Brilliant Uncirculated quality in both Official Change Checker packaging and Royal Mint packaging.
A Silver Proof version of the coin has also been issued, featuring selected colour printing to really bring the design to life. Just 25,000 Silver Proof coins are available and given the popularity of Wallace and Gromit and the sell-out stories we've seen with other UK 50p issues this year (like The Gruffalo® 50p), collectors wanting one of these will certainly need to act quickly.
Excitingly, this 50p has also been issued in a Gold Proof design! Limited to just 630 pieces, this one is a real collector item.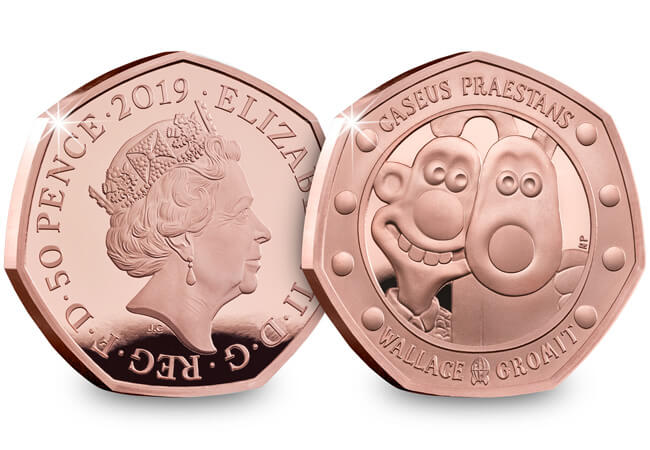 From their first appearance in 1989 to their dedicated following today, Wallace and Gromit have become international cultural icons and a real staple of British-ness! Here at Change Checker we can't think of a better way to celebrate such an important comedy duo than on a brand new UK coin.
---
Add the brand new Wallace and Gromit 50p to your collection!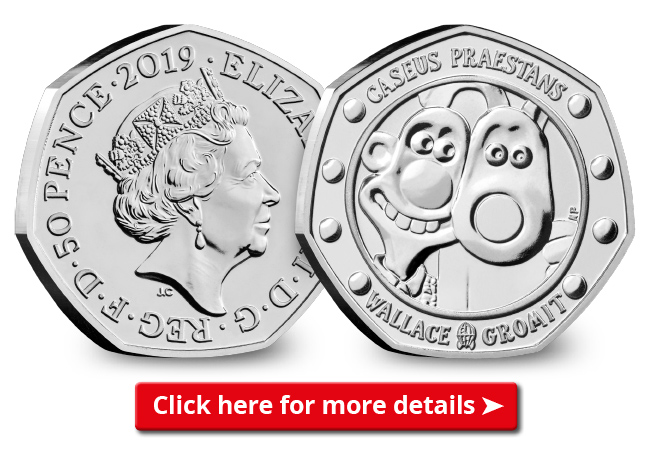 This coin won't be entering circulation, but has been released as a special commemorative issue.
Click here to secure this brand new UK coin in superior Brilliant Uncirculated quality.