When Kensington Palace confirmed the news that Prince Harry and Ms Meghan Markle will marry on the 19th May, the nation rejoiced.
And whilst only close family and friends will attend the wedding in less than two weeks time, millions of people will tune in to watch the ceremony on television.
The event will go down in history.
And to mark the occasion, a special commemorative £2 coin has been issued.
Limited number to enter circulation
The new coin has been authorised by the Isle of Man Treasury and has received official approval from Buckingham Palace. But what makes this coin even more special, is the fact that it is the VERY FIRST time that a British Isles specification bi-metallic £2 coin has been struck to mark such a significant royal event such as this.
Most importantly, this coin has been authorised by the Isle of Man Treasury, has full legal status AND a very limited number will enter circulation in the Isle of Man, so Isle of Man based Change Checkers are about to become the envy of collectors everywhere.
The FIRST EVER royal bi-metallic £2 coin
This is the very first time a British Isles standard specification bi-metallic £2 coin has ever been chosen to mark a royal event, so we expect this coin to be extremely popular. And as we already know, coins from the British Isles rarely turn up in our change in the UK, making them some of the most sought-after circulating coins around.
The design depicts two St George's Chapel bells, engraved with the couples official names – HRH Prince Henry of Wales and Ms Meghan Markle. The Isle of Man Coat of Arms is at the top of the coin with and ornate pattern engraved around the outer edge.
As the first major Royal occasion to feature on any British Isles standard specification £2 coins, this is a very significant moment.
The Happy Couple
It's reported that Harry and Meghan first met when they went on a blind date in July 2016 after being introduced by a mutual friend.
After four months of secretly dating, the news finally leaked in October 2016 that Prince Harry was dating an American actress.
Harry confirmed his relationship with Meghan on the 8th November, 2016, when he demanded that news outlets respect her privacy.
After months of speculation, Prince Harry and Meghan Markle finally announced their engagement on the 27th November, 2017.
The Wedding Day
HRH Prince Harry and Ms Meghan Markle will marry on the 19th May, 2018. The marriage will take place in St George's Chapel at Windsor Castle at 12pm.
Interestingly their decision to wed on a Saturday goes against tradition, as royal weddings usually take place on a weekday. The Duke and Duchess of Cambridge wed on a Friday and the Queen on a Thursday.
Kensington Palace has said that "around 600" guests will be in attendance, a small crowd compared to the Duke and Duchess of Cambridge who wed in front of 1,900 guests.
It's widely suggested that Prince George and Princess Charlotte will be page boy and flower girl.
After the marriage service, Harry and Meghan will undertake a carriage procession from St George's Chapel through Windsor town returning to Windsor Castle along the Long Walk.
---
Secure the FIRST EVER royal bi-metallic £2 coin for your collection today
Secure the brand new Isle of Man Royal Wedding £2 coin today in Brilliant Uncirculated quality for £8.99.
Of course your coin will also be protectively encapsulated and certified with a hologram to guarantee its superior quality.
Add this historic Royal coin to your collection today >>
The first Change Checker Scarcity Index update of 2018 is here. The 50p and £2 Scarcity Indexes have been compiled using data from the first three months of the year.
We've added a new feature to help you track the performance of your coins. The arrows signify how many places, up or down, a coin has moved on the Scarcity Index; any coins with a yellow star are making their first appearance after having been released into circulation.
50p Scarcity Index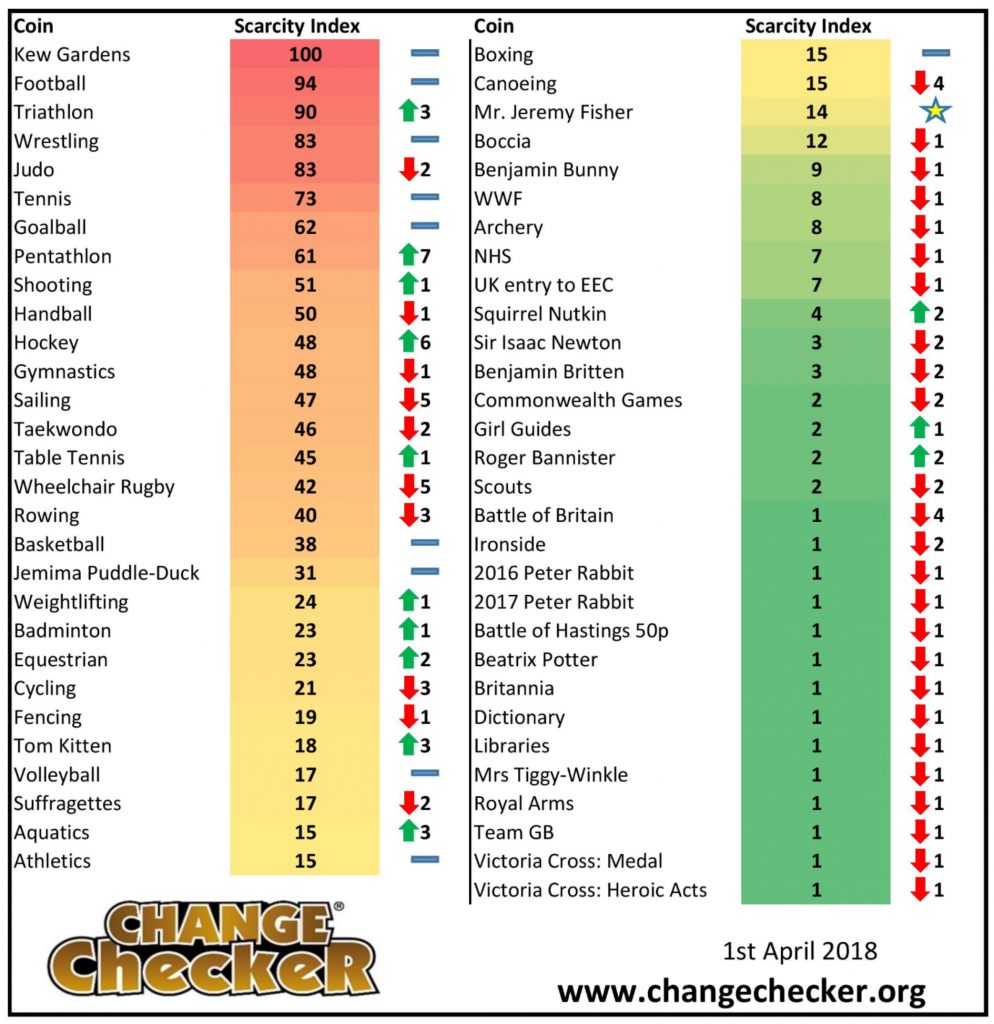 Kew Gardens remains the most scarce UK 50p coin which is not surprising with a mintage figure of just 210,000. There are a number of coins which have moved up the index quite significantly, such as Shooting, Pentathlon and Hockey, all part of the 2012 Olympic series. Also, Triathlon moves it into the top 3, replacing Judo.
Sailing and Wheelchair Rugby, part of the same series, have not performed as well and both have move down 5 places.
Jeremy Fisher makes its debut in our Scarcity Index with a score of 14, making it the third scarcest Beatrix Potter coin behind Jemima Puddle-Duck and Tom Kitten.
£2 Scarcity Index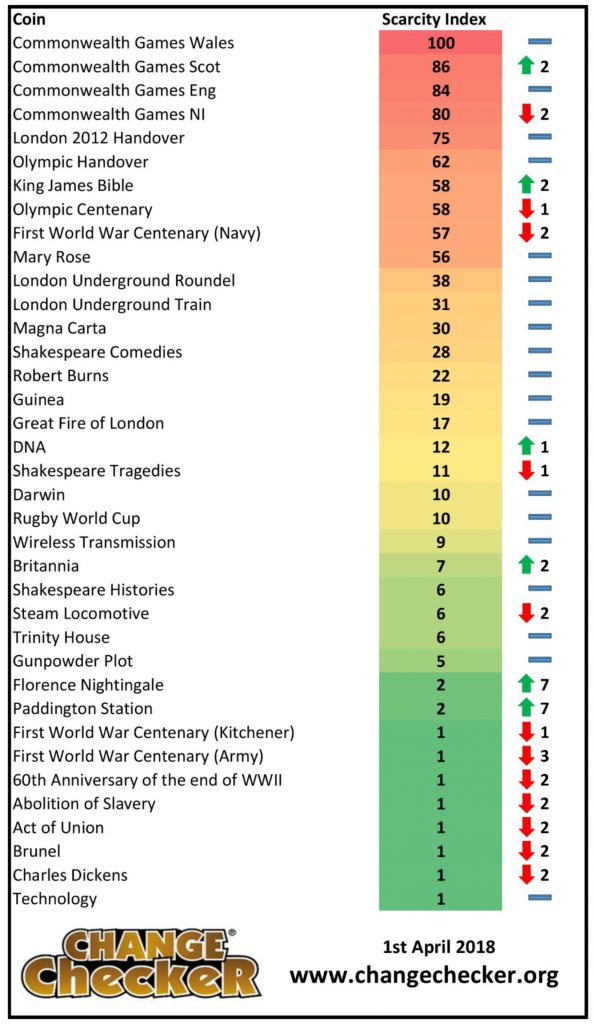 There's not a huge amount of movement in this quarter's update and also no new coins have been added. The 2017 WW1 Aviation and Jane Austen £2 coins are yet to enter circulation.
The Commonwealth Games Wales coin retains its spot at the top of the £2 Scarcity Index with Scotland moving up to 2nd. Interestingly Northern Ireland drops down to 4th place due to far less swap demand than the other 3 coins in the 2002 Commonwealth Games series. In fact, in this quarter, the Northern Ireland coin was requested to swap almost 50% less than the Wales, Scotland or England.
There's a particularly strong performance from the Florence Nightingale and Paddington Station coins, each moving up 7 places.
The First World War Centenary (Army) is the worst performing coin, moving down three places.
What about the A to Z 10p coins?
Unfortunately, at present, there is simply not enough data to accurately compile an A to Z 10p Scarcity Index. However, we have a few early indicators to show which 10p coins may become the most scarce in future.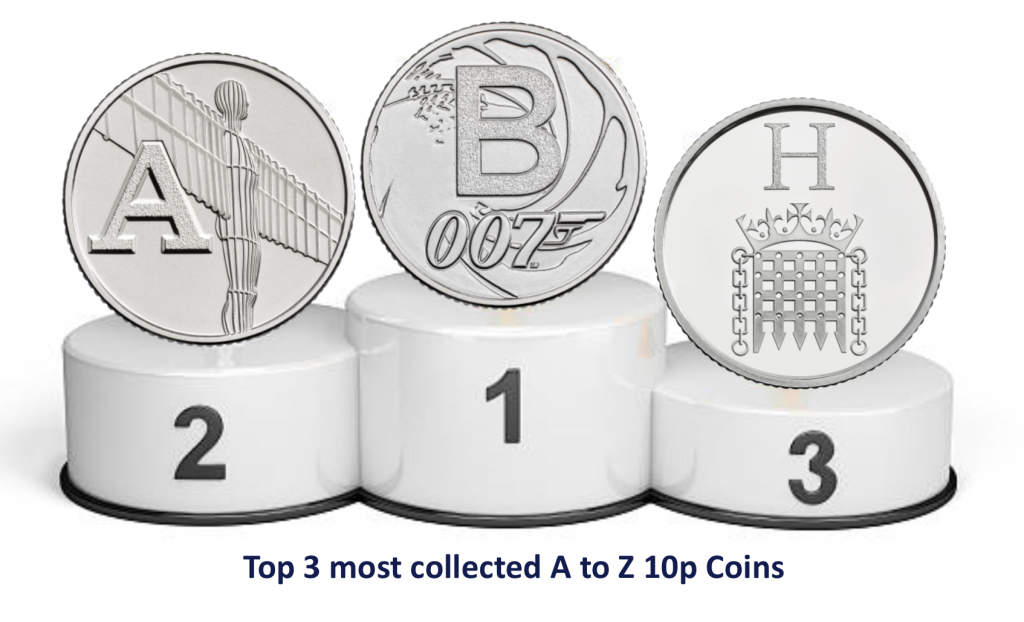 The three A to Z 10p coins that most people have in their collection are B-Bond, A-Angel of the North and H-Houses of Parliament. As people are struggling to find these coins in their change, the majority of coins in people's collections would have been 'Early Strike' coins that they have purchased. Therefore this would indicate that, at this stage, these three designs are amongst the most desirable.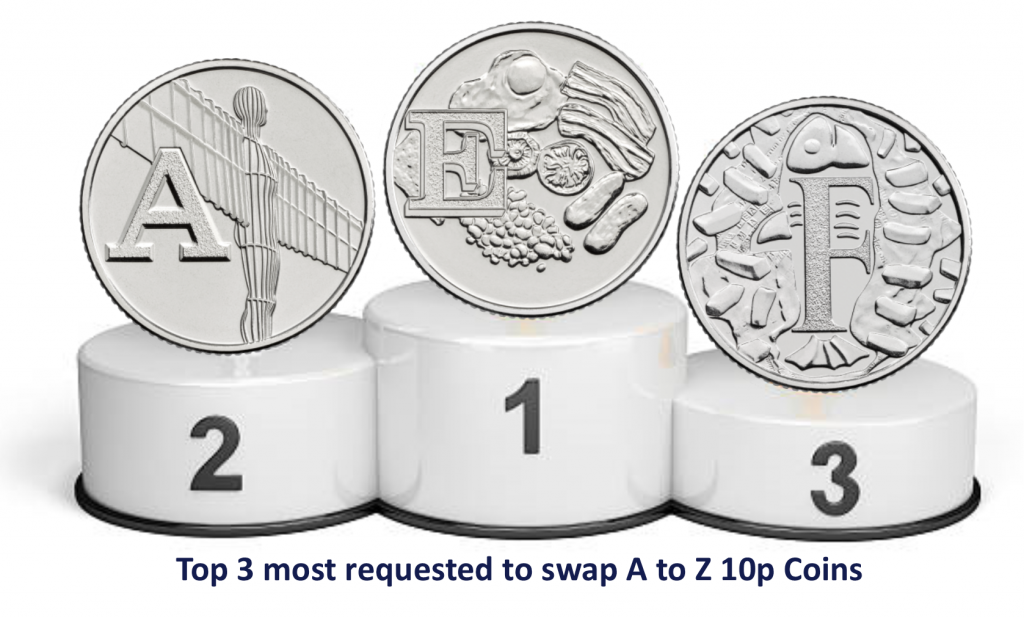 The three A to Z 10p coins that most people are looking to add to their collection are E-English Breakfast, A-Angel of the North and F-Fish and Chips. Interestingly, A-Angel of the North appears on both lists meaning that, at this very early stage, it's arguably the most popular A to Z 10p coin.
How the Scarcity Index works
Generally collectors have had to rely upon mintage figures to identify the scarcest coins. But they only tell part of the story. Trying to find a good quality coin from 15 – 20 years ago, even for a higher mintage issue, is much more challenging than a more recent issue, as coins become damaged over time and are ultimately removed from circulation.
Additionally, some designs are more hoarded than others by people who might not normally collect coins – the recent poignant First World War £2 Coin series being an example. Finally, it can be up to a couple of years before the Royal Mint eventually confirms the actual mintage for an issue.
That's why we have combined the mintage information with two other key pieces of information.
How many of each design are listed as "collected" by Change Checkers, indicating the relative ease of finding a particular coin.
The number of times a design has been requested as a swap over the previous 3 months, showing the current level of collector demand.
Importantly, as new coins are released and popularity rises and falls across different designs the Scarcity Index will be updated quarterly allowing Change Checkers to track the relative performance of the UK's circulation coins.
How much are my coins worth?
The Scarcity Index does not necessarily equate to value but it is certainly an effective indicator. For example, the Kew Gardens 50p coin commands a premium of up to 160 times face value on eBay.
What about £1 Coins?
The £1 Scarcity Index has already been published for the Round £1 coins and, because they are no longer being issued, this is now set in stone.
What a year 2018 is turning out to be, we've had four new Beatrix Potter 50p coin, 26 A-Z 10p coins and now I'm delighted to reveal five new £2 coins to commemorate the Centenary of the Royal Air Force.

The Royal Air Force was formed on April 1st 1918, in the early years of aviation. It was the world's first independent air force, and is recognised today all over the world for its capability, courage and innovation.
You may already be familiar with the RAF Centenary Badge £2 as this was revealed on New Year's Day as part of the 2018 year set.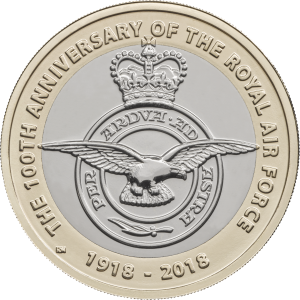 Designed by Rhys Morgan, this first coin in the series celebrates the Royal Air Force as a whole, featuring the badge of the RAF.
This coin is available to own today in CERTIFIED Brilliant Uncirculated condition.
But, you won't have seen the four other coins, all designed by brothers Richard and Neil Talbot, that make up this spectacular series. Let's take a look.
RAF – Spitfire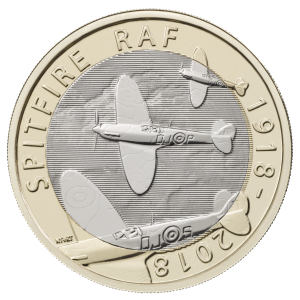 This coin features one of the most famous aircraft ever built, the Supermarine Spitfire, and is the second coin in the series. Designed by Reginald Mitchell, the Spitfire first flew in 1936, its sleek, streamlined fuselage, beautiful elliptical wing shape and incomparable Rolls Royce Merlin engine making it perhaps the most graceful fighter aircraft ever designed.
This coin is also available to own today in CERTIFIED Brilliant Uncirculated condition.
RAF – Vulcan

This coin features the Vulcan bomber and is the third in the series. With it's instantly recognisable delta wing, the Vulcan combined awesome capability with grace and beauty unmatched by another bomber from the jet-age. In flight, the aircraft was the epitome of power, with superb range and load-carrying capacity.
This coin will be released in May.
RAF – Sea King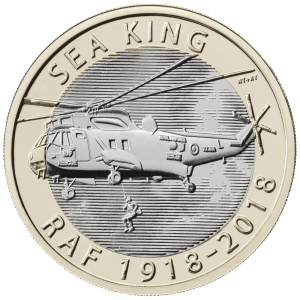 This coin features the Sea King helicopter and is the fourth in the series. The Sea King entered service with the Royal Air Force in 1978, exclusively in a search and rescue role, and the last Sea King mission took place on October 4th 2015 when a man found unconscious on Ilfracombe beach was picked up and flown to hospital.
You'll be able to add this coin to your collection in August.
RAF – Lightning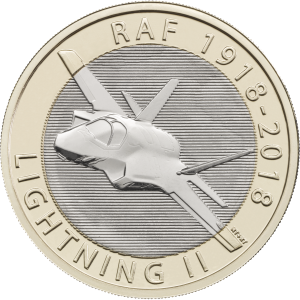 This, the last coin in the serie, features the RAF's newest aircraft, the F-35 Lightning II. As a fifth-generation aircraft, the complementary air superiority capabilities of Lightning will make a potent mix with the Typhoon.
You'll be able to own this coin in September.
I'd love to know what is your favourite design from the RAF Centenary £2 series. Personally, I love the Vulcan coin as I remember seeing it's final flight many years ago as it flew over my school.
I'll reveal the coin you have voted as your favourite in our March monthly newsletter.

---
The 2018 RAF Spitfire CERTIFIED Brilliant Uncirculated £2 coin
Avoid the wait, add this special coin, in CERTIFIED Brilliant Uncirculated quality, to your collection TODAY >>