It has been an incredibly busy year for change checkers; during 2017 we've seen many fantastic new coin releases, the withdrawal of a coin in circulation since 1983 and also the introduction of a brand new banknote. Not forgetting the first ever Change Checker Scarcity Index and two Live Coin Swaps.
To help you relive all the highlights from the past 12 months we've put together a special Change Checker 2017 Review timeline. Enjoy!

This year The Royal Mint revealed a series of brand new base metal UK £5 coins featuring an intriguing range of creatures called the 'Queen's Beasts'.
The release soon captured collector's attention as the use of a bullion coin design on a base metal coin was unprecedented.
However, the choice of designs is equally fascinating and I decided to explore the history of these beasts and find out exactly why they were chosen to feature on our new £5 coins.
Why "The Queen's Beasts"?
Over 400 years ago Henry VIII commissioned the sculpting of 10 heraldic animal statues. They were produced to represent the ancestry of King Henry VIII and his third wife Jane Seymour. These became known as "The King's Beasts" and can still be seen to this day, guarding the main entrance to Hampton Court Palace.
In 1952, in preparation for the coronation of Queen Elizabeth II, sculptor Sir James Woodford was tasked to create ten new statues, similar to "The King's Beasts" but more suited to the Queen. Woodford was instructed not to produce exact replicas to those at Hampton Court Palace as some of them would have had little connection with Her Majesty's own family or ancestry.
As the Queen arrived for her coronation at Westminster Abbey, she was greeted by 10 six-foot tall beasts each representing a different part of her genealogy and thus "The Queen's Beasts" were born.
The 10 beasts were made up of 'The Lion of England', 'The White Greyhound of Richmond', 'The Yale of Beaufort', 'The Red Dragon of Wales', 'The White Horse of Hanover', 'The White Lion of Mortimer', 'The Unicorn of Scotland', 'The Griffin of Edward III', 'The Black Bull of Clarence' and 'The Falcon of the Plantagenets'.
After the coronation, the beasts were offered to Canada as a gift. The Canadian government accepted and the beasts can still be seen today on display in the Canadian Museum of History.
The Queen's Beasts in modern culture
Still to this day, the Queen's Beasts play a hugely important part in British culture, in particular The Lion of England and The Unicorn of Scotland.
For example, they feature in the logos of some of our country's most famous and important institutions, most notably The Royal Arms, 10 Downing Street and Buckingham Palace.
Now that you know about the history of these heraldic creatures, take a look around and you'll be surprised how often you see them being used in everyday life.
---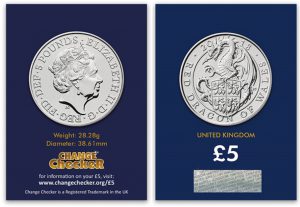 This 2018 £5 is the highly anticipated third release in this series, and features a design of the fierce Red Dragon of Wales, by well-known designer Jody Clark.
The 2018 Red Dragon of Wales £5 coin has been struck to a superior Brilliant Uncirculated condition, ensuring it is perfect for you to add to your collection. It will also come protectively encapsulated in official Change Checker packaging to preserve for generations to come.
It has now been revealed that the UK has a new 'rarest' £5 coin!
The £5 coin that commemorates the last Stuart Queen, has just become the rarest UK £5 coin – knocking the 2011 Prince Philip £5 off the top spot.
The £5 coin commemorates the 300th Anniversary of the death of Queen Anne – the first queen of Great Britain who left behind political stability and prosperity. The design bears an elegant portrait of Queen Anne, styled by Mark Richards FRBS as an eighteenth-century miniature.
It was likely to have been popular with historians when it was released in 2014 but just 12,181 of these coins were struck in Brilliant Uncirculated presentation packs making it the rarest UK £5 coin ever.
If you want to know exactly how rare your £5 coins are, you can read our previous blog here >>
And the announcement of this coin as the UK's new rarest £5 coin reiterates the point that a less interesting theme or design on a coin, can be a real hidden gem for coin collections.
Let me explain…
It's obvious that popular coin issues create instant and on-going demand for a coin, but the same can be said for 'less interesting' coin designs. This is because the less coins that are sold, the lower the final number of units that are available to future collectors.
But whilst most collectors would shy away from unpopular themes, it is these very coins that are likely to become the most sought after in years to come. And this 2014 Queen Anne £5 is a prime example along with the 2011 Prince Philip £5 coin.
If you need any more reasons to start collecting £5 coins, you can read my previous blog 'Why you should be collecting £5 coins' here >>
The Prince Philip £5 coin is extremely sought after by collectors and is virtually impossible to get hold of on the secondary market, so it is very likely that the same will happen with the 2014 Queen Anne £5. In fact, sold listings on eBay show that the Prince Philip £5 coin regularly fetches in excess of £50.
So if you're lucky enough to have the 2014 Queen Anne £5 coin in your collection, make sure you keep hold of it. Demand for this coin is likely to increase dramatically.
And remember, when it comes to collecting, there is one fact which is always inevitable –the rarest coins are always in highest demand.
---
Unfortunately we do not have any 2014 Queen Anne £5 coins to offer you today but if you're interested, the 2017 UK Prince Philip CERTIFIED BU £5 Coin is available to order.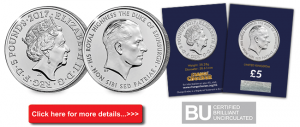 Could this new 2017 UK Prince Phillip coin have an even lower mintage?