Today, 5 million King Charles III Coronation 50ps entered circulation and we want to know where you've seen one! Click here to let us know and view our interactive Collector Map >>
Issued to commemorate the Coronation of King Charles III, the Coronation 50p is only the second 50p to enter circulation featuring the King on the obverse.
Uncrowned portrait
Unlike the collector version of the Coronation 50p, which features a special crowned portrait of the King on the obverse, the version entering circulation will feature the standard uncrowned portrait by Martin Jennings.
Typically, male monarchs don't wear crowns on UK coinage, however as a special issue for the Coronation, the collector versions of the Coronation 50p and £5 both feature His Majesty wearing the Tudor Crown.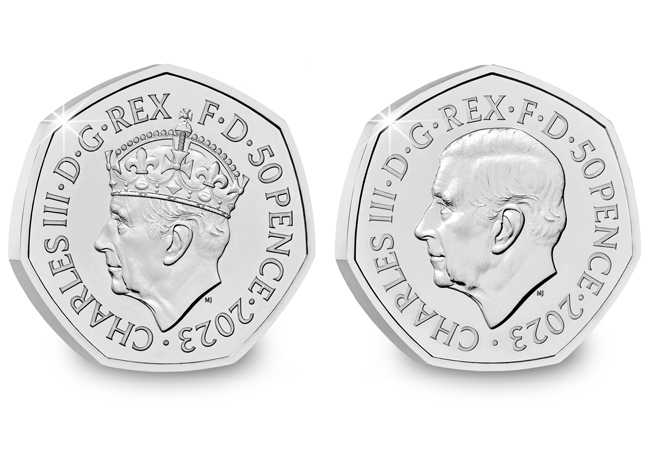 The circulation version of the Coronation 50p will feature the uncrowned portrait of King Charles – the same one that has appeared on all UK commemorative coins issued since the portrait was announced.
So, the hunt is on to find a Coronation 50p in your change with the uncrowned portrait and keep it next to your crowned collector version.
If you don't already have the Coronation 50p in your collection, you can get yours in Brilliant Uncirculated quality here >>
The second EVER King Charles III circulating 50p
Back in December 2022, 4.9 million Queen Elizabeth II Memoriam 50ps entered circulation. As it was the first ever circulating coin to bear the King's portrait, collectors raced to find it in their change.
We asked you to help us hunt down the first King Charles III 50p by entering your postcode into our map as soon as you found it. 113 locations were recorded on our collector map all the way from Inverness to Penzance, but it turned out the place where you're most likely to find the first King Charles 50p in your change was Newcastle!
Have you found the Coronation 50p in your change?
Let us know where you found the Coronation 50p in your change and we'll plot it on our collector map! Simply enter the first part of your postcode below and click submit!
As entries come in, we'll populate our collector map to show you exactly where you can find the Coronation 50p in your change:
Best of luck tracking down the new 50ps!
Don't miss out on securing the crowned collector version of the Coronation 50p, click here to get yours >>
The Kew Gardens 50p, Commonwealth Games Northern Ireland £2 and ANY of the A-Z 10ps are likely to be on your collecting wish-list, but have you ever considered that some of the 5p coins in your change might be worth holding on to?
The smallest of our UK coinage – weighing in at just 3.25g, with a diameter of only 18mm – is often overlooked when it comes to collecting. But what if I told you some of them have been known to sell for over £60 on the secondary market?!
What are the rarest 5p coins?
1977 5p
Unlike the Kew Gardens 50p (which has a mintage of just 210,000), 5p coins are often minted in the tens of millions, or even billions! However, the 1977 5p is the rarest with a mintage figure of 24,308,000. Compare this to the 1990 5p which had a circulating mintage of 1,634,976,005 and you'll see why it's pretty rare!
2008 First 5p with the shield design
In 2008, 40 years after the first decimal coins appeared in circulation, our UK definitive coins had a face lift, with brand new designs being released.
A competition was held, with people submitting their designs for the six key coin denominations, leaving out the £2 coin. Over 4,000 designs were submitted, but graphic designer Matthew Dent won the competition with his heraldic design of six coins, with the 1p-50p coins aligning to form the Royal Shield – shown as a complete design on the £1 coin.
As the first year definitive coins were issued with the shield design, 2008 dated 5ps are somewhat coveted by collectors. Although you're unlikely to see the 2008 or 1977 5p coins fetch above face value, they are certainly interesting ones to collect.
But the real interest comes if you're lucky enough to find the error 5p coins…
Spot These 5p Error Coins
Inverted effigy 2008 5p
Another reason to keep an eye out for a 2008 dated 5p coins is that an unknown number were released into circulation featuring the Queen's head on the obverse upside down. These error coins are extremely rare and some have been listed on the secondary market for more than £60!
'Struck twice' 1979 5p 'Error'
On this larger specification 'New Five Pence' which is no longer in circulation, but a suspected error was found, where it appeared to have been struck twice on the same side in error. This would mean both the Queen's head from the obverse and the design on the obverse would be merged together on the same side of the coin.
This 'error' hasn't been confirmed as genuine by The Royal Mint and with closer inspection, it looks as though the reverse design is from a 2p coin – suggesting it might have been tampered with after it was struck.
However one collector sold theirs for £73 on eBay, meaning it always worth looking out for any unusual coins you might have lying around! Just remember, you should always get your error coins confirmed by the mint to prove they are genuine.
The 5p Coins Not Intended for Circulation
From time to time, coins that were never intended for circulation find their way into our change.
They might have been issued in collector sets, broken open and accidentally spent before finding their way into your pocket!
There are two dates to look out for when it comes to 5p coin that shouldn't be in your change – 1993 and 2018.
Prior to 1990, the 5p coins were issued in the larger specification and so these ones should also no longer be found in your change.
---
Have you come across any rare or error 5p coins in your change? Let us know in the comments below!
Complete the shield with the Royal Arms Shield Collector Card!
Designed to fit neatly into your Change Checker Album, this Collector's card allows you to assemble the Royal Arms Shield by simply using your loose change.
Click here to secure yours and start your shield collection today >>
2023 sees the release of the UK's FIRST EVER Star Wars™ 50ps, and collectors are eager to get their hands on them. The first 50p will feature the lovable duo C-3PO™ and R2-D2™, you can find out all you need to know about these coins here >>
But with Star Wars™ being such a hugely popular global franchise, you might find yourself asking 'Why is Star Wars™ being celebrated on a UK 50p?'…
Filmed in the UK
Back in 1973 when the idea of Star Wars™ was pitched by then up and coming director George Lucas, many major studios passed on producing the film. Nevertheless, Lucas began working with designers in Kensal Rise, England with no funding to create props and sets. Soon after they began buildings sets at Elstree Studios in Hertfordshire.
Despite struggling themselves at the time, 20th Century Fox took a chance on Lucas and started production on Star Wars: A New Hope. Filming started in several locations across the world, but returned to Britain where the interior scenes were filmed at Elstree Studios and Shepperton Studios in Surrey. Filming in the UK took 14 and a half weeks in total!
A British cast
Despite Star Wars™ being the brainchild of American director George Lucas, a large percentage of the cast was made up of British actors. Several homegrown actors topped the billings, giving Star Wars™ a very different accent from many other big-budget franchises.
The British accent began to signify the Empire, with actors such as Ian McDiarmid, Christopher Lee and Kenneth Colly all portraying characters from 'the dark side'. David Prowse's Norfolk twang never quite made it into Darth Vader's repertoire, however.
Harrison Ford once told the BBC that working with a British crew was essentially the same as working with Americans, apart from the fact that they "drink more tea". It wasn't just tea that was being enjoyed by the cast and crew however as it's said that they fully immersed themselves into the 'after work pub visit' culture.
Returning to the UK
The franchise returned to the UK for the Phantom Menace, which was largely filmed at Leavesden Studios by British cinematographer David Tattersall.
The late Richard Marquand became the first British Star Wars™ director on Return of the Jedi, a baton picked up by Gareth Edwards for Rogue One many years later.
In more recent years, the Sequel trilogy has seen British talent take centre stage, with the likes of Daisy Ridley and John Boyega taking on leading roles.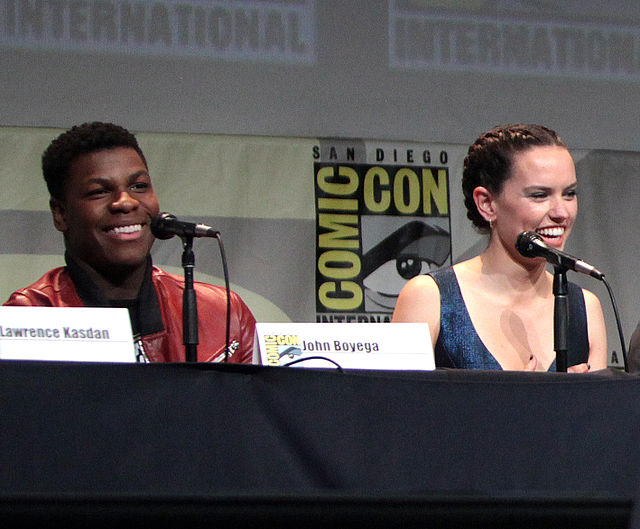 Don't miss out
With so many ties to the UK, it's no wonder the global Star Wars™ franchise is being celebrated on UK coins. Don't forget to sign up for updates about the new UK Star Wars™ 50ps to make sure you're one of the first to get yours hands on them!