The withdrawal date for the current paper £10 note is in less than one week's time on Thursday 1st March.
The paper 'Series E' note has been in circulation, in some form, for the past 26 years. So, I thought it would be interesting to take a look back at the history of the £10 note and our journey begins 259 years ago in 1759…

In a recent poll conducted on our Facebook page, 40% of you said that you still have paper £10 notes. Although you can still exchange them at the Bank of England after the cut-off date, I would suggest exchanging them before the withdrawal date.
Some retailers, banks and building societies may still accept these notes; however this is at their discretion. To save yourself any potential hassle, once you've added one to your collection, go and spend or swap your notes at the bank.
---
The Change Checker Banknote Collecting Pack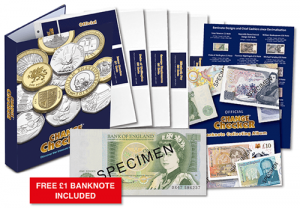 The brand new Official Change Checker Banknote Collecting Pack is the perfect way for any change checker to start collecting banknotes or display an already growing collection.
To help get you started, this pack includes an original £1 banknote, issued more than 35 years ago, in mint uncirculated condition… absolutely FREE.
Don't miss out on this brand new Banknote collecting pack, start your collection today >>
Spink and Son Ltd recently held an auction of nearly 2,000 rare world banknotes.
The Auction, held in London, included notes from every country in the world, even some that no longer exist, dating from the mid-19th century to the modern era.
The auction proved hugely popular with collectors, with total proceeds of the sale coming in at over £1.6 million!
Five banknotes sold for over £20,000 each!
The three notes that sold for the most money were all issued by The Government of the Straits Settlements. These were a group of British territories located in South-east Asia, established in 1826, which included Singapore.
Government of the Straits Settlements – sold for £61,000
Government of the Straits Settlements – sold for £34,000
Government of the Straits Settlements – sold for £22,000
The other two notes to sell for over £20,000 were issued in New zealand and Iraq.
Reserve Bank of New Zealand – sold for £20,000
Government of Iraq – sold for £20,000
In this remarkable auction 17 notes sold for over £10,000 highlighting the amazing buoyancy of the banknote collector's market.
Jane Austen Polymer £10 banknote charity auction
Don't forget that Spink and Son Ltd are holding the Jane Austen Polymer £10 banknote auction tomorrow.
The lowest serial number available is AA01 00010 and is estimated to sell for between £2,000 and £3,000.
There are a number of other lots with significantly lower guide prices, ranging from £200 to £400.
You could argue that this is a lot of money for a £10 note, however the winning bidder will own a genuine piece of British history, so i can understand why interest will be high.
The best news of all is that all proceeds from the auction will go to help 3 fantastic charities: Candlelighters, Haven House Children's Hospice and Macmillan Cancer Support.
Four special £5 notes, engraved with a tiny portrait of author Jane Austen, are being put into circulation and could be worth more than £20,000.
Specialist micro-engraver Graham Short came up with the idea of engraving a 5mm portrait of Pride and Prejudice author Jane Austen on the transparent part of the new plastic £5 notes, to mark the 200th anniversary of one of the best-loved English novelists next year.
He has included a different quote around each one, ensuring that each note is unique. The banknotes to look out for have the following serial numbers: AM32 885551, AM32 885552, AM32 885553 and AM32 88554.
According to Gallery owner Mr Huggins-Haig, artist Graham Short's work has an insurance valuation of £50,000 so £20,000 for a banknote with his artwork on is a reasonable estimate. Mr Short's last work, a portrait of the Queen on a pinhead, sold for £100,000.
The first of four notes featuring art by specialist micro-engraver Graham Short was found in a cafe in South Wales on 5th December while another was found the same month inside a Christmas card in Scotland. The third £5 note was found by a mystery old lady in Eniskillen in Northern Ireland who has donated it to charity.
So that means there is just one more rare £5 note left to find with the handiwork of Birmingham micro-artist Graham Short. It was spent somewhere in England back in December so for those hunting down the last remaining fiver, the serial number to look out for is AM 32 885554.
Anyone who finds one of the notes has been advised to contact the Tony Huggins-Haig Gallery in Kelso, which launched the project as they will provide advice on how to put the artwork up for auction.