We're on the hunt for the best Coin Design of 2018 as part of the 2018 Change Checker Awards and we need your help! With over 50 new coins released this year, we've decided to shortlist the coins by denomination and then determine one overall winner from the top 10p, 50p, £2 and £5 coins as voted by Change Checkers!
A-Z 10p Coins
We start the voting with the 26 A-Z of Great Britain 10p coins which had a surprise release in March 2018 and have proved incredibly popular amongst collectors, yet notoriously tricky to find in circulation… 2.6 million were originally released back in March and now a further 2.6 million have been released, so they should start turning up in our change soon!
But which A-Z 10p coin is your favourite?
Cast your vote now using the poll at the bottom of the page and find out more about the different A-Z coins below!

With 26 beautiful designs to choose from, it's not easy picking a favourite, but we're looking forward to finding out which A-Z 10p coin is top amongst Change Checkers.
The winning 10p will then be entered into our Coin Design of the Year vote as part of the 2018 Change Checker Awards, alongside the top 50p, £2 and £5 coins from 2018 to determine which coin should be crowned the overall winner!
The voting has now closed and the results can be found below:

It's now time for you to vote for your overall winner, shortlisted from Change Checker's favourite A-Z 10p, 50p, £2 and £5 coin of the year.
Click here to find out which coins made the top 4 and to cast your vote for the overall Coin Design of the Year 2018.
---
View our full range of A-Z 10p coins and collecting packs here >>

The Royal Mint and HM Treasury have just confirmed that a further 2.6 million A-Z 10p coins will enter circulation in the coming weeks.
This time the coins will be distributed through more normal networks including banks and cash distribution centres. 
This will be welcome news to collectors who have been struggling to lay their hands on the new 10ps since the initial release in March. We're hopeful that additional volumes will continue to be struck in line with UK requirements and of course the massive collector demand.
In the meantime, if you're still asking the question "when will I find an A to Z 10p in my change?" you might be interested in this blog.
If you're eager to get your hands on one of the new 10ps, remember our next live swap event is coming to Bristol on the 20th October. We'll be swapping any 10p coin for one of the new A-Z 10ps. All the details can be found here.
---
Secure your Complete A-Z 10p Set today!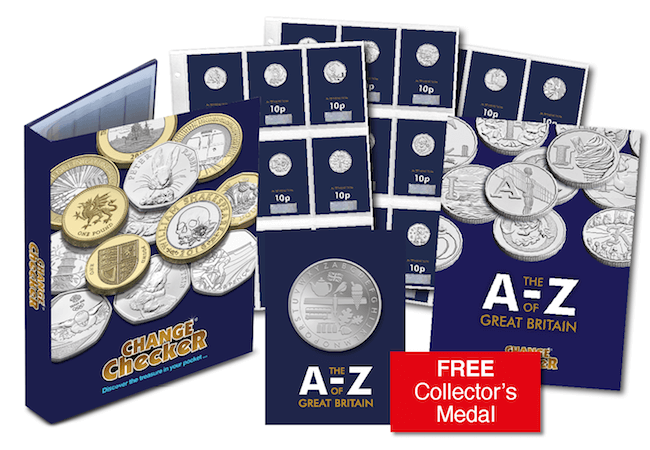 Can't wait to complete your collection?
Own all 26 A-Z 10p coins in 'Early Strike' quality and receive a FREE collector's medal!
The new A-Z 10p coins have proved some of the hardest coins to find in your change. Whilst that will hopefully become easier as more are gradually released into circulation over the coming months, we've taken a first look at which are the most popular with collectors.
There's not enough data yet to publish a full scarcity index but we have crunched the numbers based on Change Checker's top swap requests – and here are the winners.
1. A – Angel of the North
2. E – English Breakfast
3. L – Loch Ness
Further releases expected…
Initially, a limited stock of 2.6 million A-Z 10p coins were released into circulation through the Post Office network to coincide with the release of the designs in March. It has been no surprise that these have been quickly snapped up by eagle-eyed change collectors.
However, don't despair if you haven't found any of the A-Z 10p coins yet. More are expected to be released into circulation as and when there is demand for more circulating 10p coins. This is something that's managed between Treasury (and not the Royal Mint) and the large cash processors, including the Post Office, some banks, as well as private operators (find out more in our "When will I find and A to Z 10p in my change" blog).
In addition, there have been a number of limited releases, including "T" at Betty's Tea Rooms, "F" in 20 of the UK's top chippies and "B" at the Bond in Motion exhibition – as well as our own Change Checker Live 10p Lucky Dips, with more of our live events coming up on the 8th of September in Croydon and the 20th of October in Bristol.
Don't worry, though, as soon as we hear any more news about more the A-Z 10p coins entering circulation, Change Checkers will be the very first to know.
In the meantime, you can view the full A-Z 10p Swap Index below for your guide as to which letters have proved most popular with collectors.
---
 Complete your A-Z 10p Collection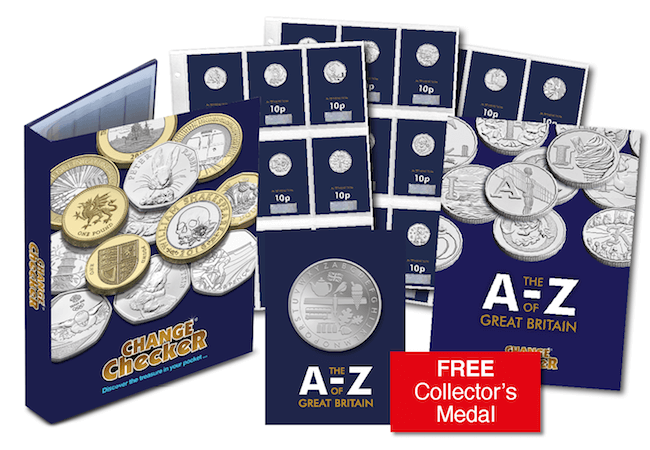 You can now complete your collection of all 26 A-Z of Great Britain 10p coins in Certified Early Strike quality.