Posts Tagged 'Canadian Mint'
2020 marked the 75th anniversary of Victory in Europe Day, and the official end of the Second World War.
Following the Allies' acceptance of Nazi Germany's unconditional surrender on the 8th May 1945, the war in Europe had finally come to a close after a long five years of conflict.
Most UK collectors will be familiar with the United Kingdom 75th Anniversary of Victory in Europe Day £2 coin issued earlier this year to commemorate the historic event.
However, Allied Nations across the globe have been commemorating 75 years since the end of the Second World War and this important anniversary has been marked with unique coin issues from some of the world's most renowned Mints.
Coins issued by the Netherlands, Canada, France, and Belgium, in addition to the UK £2, have been brought together for the first time in the remarkable 75th Anniversary of VE Day Allied Nations Coin Pack.
75th Anniversary of VE Day Allied Nations Coin Pack
Featuring FIVE carefully chosen commemorative coins from world renowned Mints and including The Royal Mint's 75th Anniversary of VE Day £2 coin as the centrepiece, this limited edition Commemorative Coin Pack has been released JUST for Change Checkers.
The coins included with this extraordinary set are:
United Kingdom £2
This brand new United Kingdom £2 coin by Royal Mint designer Dominique Evans features a woman holding a newspaper aloft in crowd of celebrating people, set against a backdrop of the word 'VICTORY'. The edge inscription reads 'JUST TRIUMPH AND PROUD SORROW'.
Canada $2
As a tribute to the fallen and a promise to never forget, Canada have issued a commemorative $2 coin marking the 75th anniversary of the end of the Second World War. This coin re-creates the iconic Victory Nickel design on a brand new $2 coin.
Belgium 2.5 Euro
The Royal Mint of Belgium issued this 2.5 Euro coin designed by Luc Luycx to show Europe lit with fireworks in honor of this 75th anniversary. The reverse shows the newly liberated Brussels on 4th September 1944.
This coin is limited to a maximum circulation of 50,000 pieces worldwide.
Netherlands 5 Euro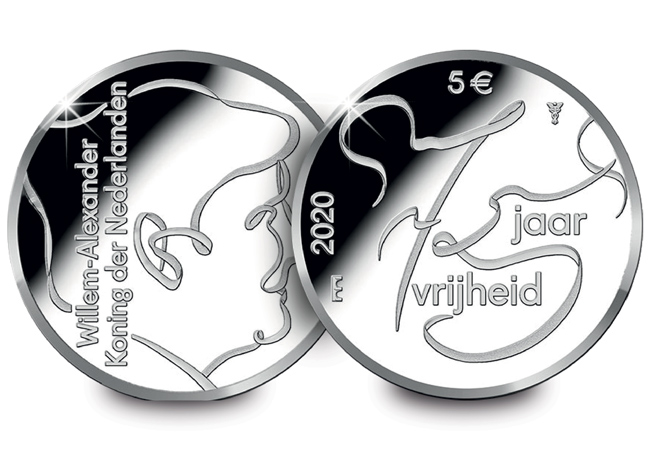 Although part of the Netherlands had already been liberated in 1944, it wasn't until the 5th May 1945 that the whole of the Netherlands was allowed to live in freedom. This 5 Euro is the official commemorative coin to mark such an important moment in history and has been designed by artist Marijke van Warmerdam.
Only 15,000 Silver-Plated pieces are available worldwide!
France 2 Euro
Renowned French army officer and statesman, Charles de Gaulle led the Free French Forces against Nazi Germany in World War II. This 2 Euro coin features two profiles of de Gaulle as both the revered army general during the war, and as President of France during his second term. A Lorraine cross also features on the design as the symbol of free France, chosen by General de Gaulle.
---
All of these incredible coins come presented in the Change Checker 75th Anniversary of VE Day Coin Pack. Which one is your favourite? Let us know in the comments below!
---
Secure the Limited Edition 75th Anniversary of VE Day Coin Pack to your Collection Today!
Due to the difficulty of sourcing these coins, we have only a limited number of these extraordinary packs available!
To ensure you don't miss out on this special anniversary year, please secure your Change Checker 75th Anniversary of VE Day Allied Nations Coin Pack here >>
The Royal Canadian Mint has released a stunning set of coins in 2018, including an exclusive piece marking the 200th anniversary of the 49th parallel.
Combining three technologies into one outstanding 50 cent coin, Steve McPhee's design utilises vibrant colouring to superimpose the red and white Canadian flag across a map of the country, whilst an engraved line highlights the border between Canada and the USA.
But that's not all…
When plunged into darkness, special luminescent material lights up the coin, including the latitude and longitude lines – creating a glow in the dark map of Canada!
This stunning set includes one of every denomination in circulation from the $2 to the 5-Cent, but the stand out coin is the exclusive 50-Cent coin – which has only been made available as part of the set.
In 2017, The Royal Canadian Mint released a sell out set of coins celebrating Canada's 150th birthday, highlighting this milestone event in Canadian history.
The set also included a glow in the dark piece – the two-dollar coin, (or toonie), celebrating the wonders of Canada with an evocative design featuring the Northern Lights.
Collectors were desperate to secure this unusual coin, but just 3 million of these coins were released into general circulation in Canada, meaning just one in ten Canadians were able to find one in their change.
In fact, each and every one of these special Royal Canadian Mint releases have become a collector's item and going by previous issues, 25 cents and $2 coins are extremely difficult to get hold of.
There's no doubt that if coins such as these were released in the UK they would create a collecting frenzy! Canadian Change Checkers are certainly incredibly lucky to be able to get hold of fantastic coins such as this from the world renowned Canadian mint.
---
SOLD OUT AT THE MINT – 2018 Canadian Armistice Centenary $2 Coin
In 2018, to mark the Armistice centenary, The Royal Canadian Mint released this $2 as a tribute to combatants and a pledge to never forget the sacrifices of the First World War.
Just 1 million of these coins were released into circulation in Canada, but today you can secure this stunning coin in uncirculated quality for your collection.
Click here to secure the 2018 Canadian Armistice Centenary $2 Coin.