Posts Tagged 'Collecting'
When The Royal Mint released the mintage figures for the 2016 Beatrix Potter 50p Coins, what immediately caught the attention of collectors was the minimal amount of Jemima Puddle-Duck coins that had been struck compared to the rest of the series.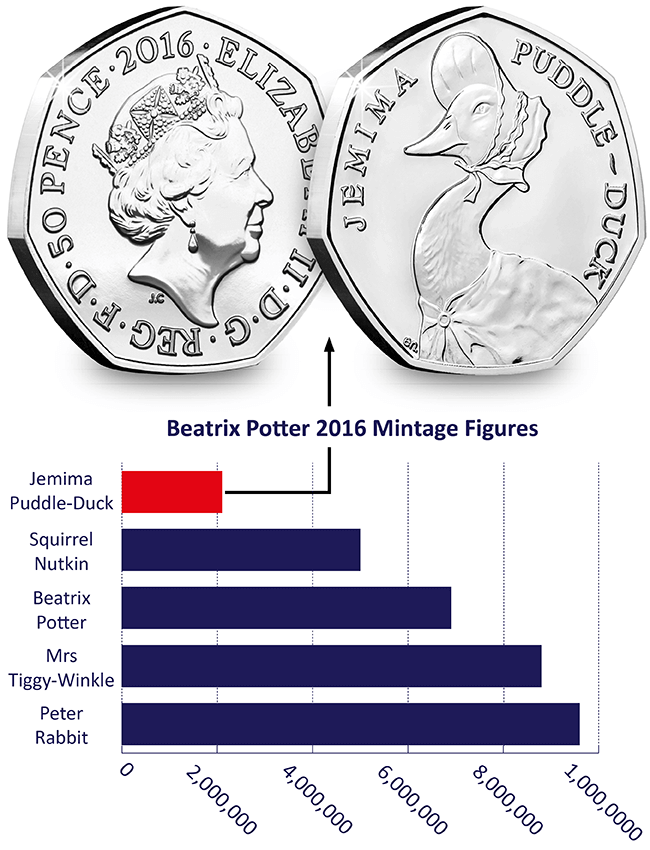 Only 2.1 million Jemima Puddle-Duck coins were released into circulation, that's less than 20% of Peter rabbit and half the amount of Squirrel Nutkin which has the 2nd lowest mintage.
When one coin in a series has a much lower mintage figure, collectors struggle to complete the set. We've started to see evidence of this as swap requests from our Swap Centre users have increased dramatically.
Swap Ratio
For every one Jemima Puddle-Duck coin we see listed as available to swap, there are more than 8 users requesting this coin.
The rarity of this coin is also highlighted by our Scarcity Index. Jemima Puddle-Duck is listed as the 6th most collectable 50p in UK Circulation scoring 61/100.
---
How you can still own the Jemima Puddle-Duck 50p for just 50p
We're offering a rare opportunity to own this highly sought after 50p Coin for just 50p. We have 500 circulation Jemima Puddle-Duck coins available, ENTER THE BALLOT NOW
2017 is certainly an exciting year for Change Checkers with The Royal Mint releasing 9 new coins into circulation, each with their own distinctive design. We know that you love a new design so we thought we'd ask, which is your favourite? Let us know by voting in our poll below.
Poll Now closed. CLICK HERE TO REVEAL THE WINNER!
For more information about the 2017 coin series, check out our blog.
---
The 2017 Change Checker Commemorative Coin Set
If you can't wait to find these coins in your change you can add the 2017 Change Checker Commemorative Coin Set to your collection today>>
The Royal Mint have confirmed that more than half a billion of the new £1 coins that have been released into circulation will be dated 2016.
But you may have also seen in the news that if you find one with a 2016 date, it could be one of the handful of 'uniquely flawed coins' and may be worth £250.
Unfortunately that isn't the case.
Coins are typically struck with dies with that year's date on, and as 1.5 billion new coins were required for the launch of the new 12-sided £1 coin, The Royal Mint started striking them in March 2016. That means that all of the new 12-sided £1 coins that were produced last year will have the 2016 date on them.
Will the 2016 12-sided £1 coins be rare?
In short, no. With half a billion 2016 dated £1 coins in circulation, they should be relatively easy to get hold of. In fact, we are yet to see someone who has found a 2017 dated £1 in their change.
If we take a look back to the mintage figures in 1983 when the £1 coin was first introduced, in total 443,053,510 of the Royal Arms £1 coin were struck for circulation that year. That's a little less than the amount of 2016 dated £1 coins and nearly 3 times less than the total amount of of the new coins struck for launch.
Considering 1983 was a time without contactless payments and when cash was the most used method of payment, 443,053,510 seems a relatively small amount in comparison to the 1.5 billion required for the new 12-sided £1 coin launch.
1997 Maklouf 'Queen with a Necklace' £2
You may remember the collecting frenzy that the 'Queen with a Necklace' £2 coin caused in 1998 when the brand new bi-metallic coin was introduced into circulation.
The 'Queen with a Necklace' £2 has an enduring legacy in the collecting world as the very first bi-metallic £2 coins issued just prior to the Queen's portrait change in 1998. This meant that the older portrait by Raphael Maklouf was only used for one year: 1997. His version featured Queen Elizabeth II wearing a necklace, which is how the nickname was derived.
When the portrait change was announced, the new £2 coins were snapped up by collectors believing them to be a future rarity. As it turned out, a mintage of nearly 14 million means the 'Queen with a Necklace' £2 is not one of the rarest coins in circulation. Nevertheless, with only one year of issue, it still holds an undeniable interest for collectors.
An undeniable interest for collectors.
And the same can be said for the 2016 dated £1 coin. Although the £1 is in no way a rarity, first year of issue coins are always more sought after in years to come. As the new coin is Britain's first 12-sided £1 and it is the first specification change to our £1 coin in more than 3 decades, the new 2016 dated £1 should hold a significant place in any coin collection.
#foundapound
To celebrate the release of the new 12-sided £1 coin, we're giving away FIVE 'Nations of the Crown' Silver Proof 12-Sided £1 Coins!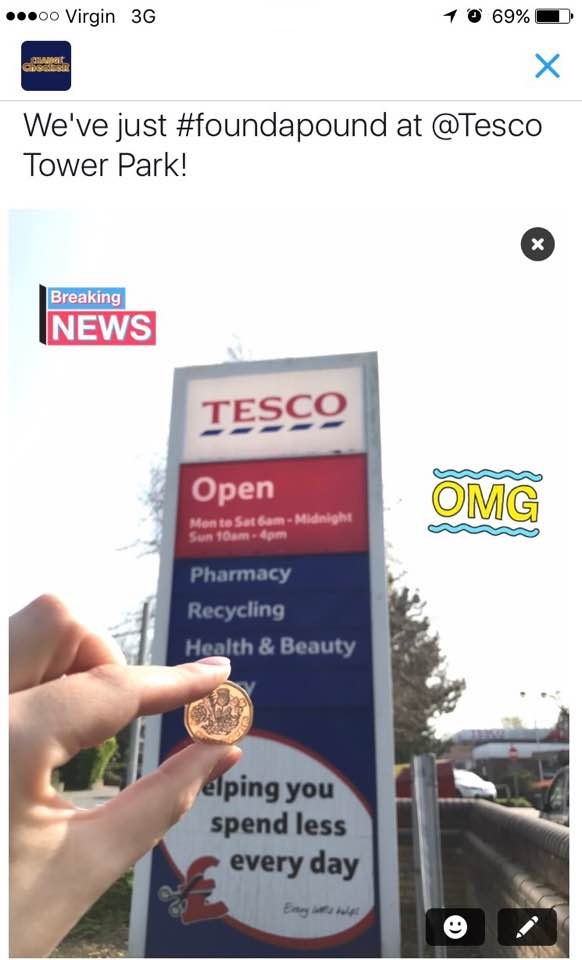 For your chance to WIN a Silver Proof £1, all you need to do is find one of the new 12-sided £1 coins in your change…
Post a photo via Facebook, Twitter or Instagram using the hashtag #foundapound and the location you found your first £1 coin.
We'll then choose 5 winners at random on the 10th April.
It's really that easy – so good luck and get posting! #foundapound