What a year 2018 is turning out to be, we've had four new Beatrix Potter 50p coin, 26 A-Z 10p coins and now I'm delighted to reveal five new £2 coins to commemorate the Centenary of the Royal Air Force.

The Royal Air Force was formed on April 1st 1918, in the early years of aviation. It was the world's first independent air force, and is recognised today all over the world for its capability, courage and innovation.
You may already be familiar with the RAF Centenary Badge £2 as this was revealed on New Year's Day as part of the 2018 year set.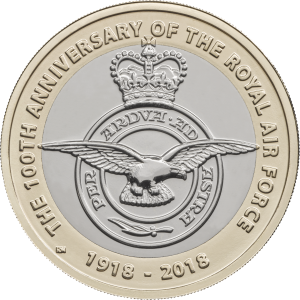 Designed by Rhys Morgan, this first coin in the series celebrates the Royal Air Force as a whole, featuring the badge of the RAF.
This coin is available to own today in CERTIFIED Brilliant Uncirculated condition.
But, you won't have seen the four other coins, all designed by brothers Richard and Neil Talbot, that make up this spectacular series. Let's take a look.
RAF – Spitfire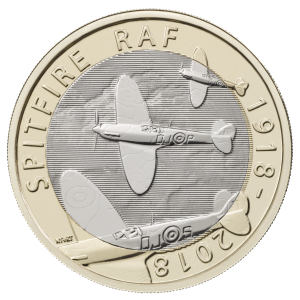 This coin features one of the most famous aircraft ever built, the Supermarine Spitfire, and is the second coin in the series. Designed by Reginald Mitchell, the Spitfire first flew in 1936, its sleek, streamlined fuselage, beautiful elliptical wing shape and incomparable Rolls Royce Merlin engine making it perhaps the most graceful fighter aircraft ever designed.
This coin is also available to own today in CERTIFIED Brilliant Uncirculated condition.
RAF – Vulcan

This coin features the Vulcan bomber and is the third in the series. With it's instantly recognisable delta wing, the Vulcan combined awesome capability with grace and beauty unmatched by another bomber from the jet-age. In flight, the aircraft was the epitome of power, with superb range and load-carrying capacity.
This coin will be released in May.
RAF – Sea King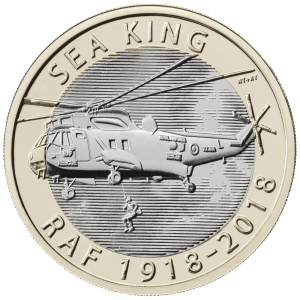 This coin features the Sea King helicopter and is the fourth in the series. The Sea King entered service with the Royal Air Force in 1978, exclusively in a search and rescue role, and the last Sea King mission took place on October 4th 2015 when a man found unconscious on Ilfracombe beach was picked up and flown to hospital.
You'll be able to add this coin to your collection in August.
RAF – Lightning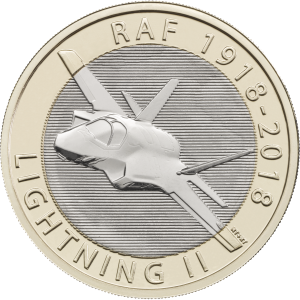 This, the last coin in the serie, features the RAF's newest aircraft, the F-35 Lightning II. As a fifth-generation aircraft, the complementary air superiority capabilities of Lightning will make a potent mix with the Typhoon.
You'll be able to own this coin in September.
I'd love to know what is your favourite design from the RAF Centenary £2 series. Personally, I love the Vulcan coin as I remember seeing it's final flight many years ago as it flew over my school.
I'll reveal the coin you have voted as your favourite in our March monthly newsletter.

---
The 2018 RAF Spitfire CERTIFIED Brilliant Uncirculated £2 coin
Avoid the wait, add this special coin, in CERTIFIED Brilliant Uncirculated quality, to your collection TODAY >>
The Royal Mint has today released a brand new UK £5 coin that celebrates the 250th Anniversary of the founding of the Royal Academy of Arts.
The coin is available as a Silver Proof UK coin as standard, but The Royal Mint have also made another version. This version has been struck to base metal specifications and has initially been made exclusive to Change Checkers.
The reverse of this £5 has been designed by architect Sir David Chipperfield RA, and features the mid-19th century frontage of the famous Burlington House of the Royal Academy, with ornate sculptures on the roof.
What's more, a mintage of just 12,000 has been set, making this the rarest base metal UK £5 coin ever!
The other £5 coins that make up the top 3 are The Queen Anne £5 coin that commemorates the 300th Anniversary of the death of Queen Anne – the first queen of Great Britain who left behind political stability and prosperity. Just 12,181 of these coins were struck in Brilliant Uncirculated presentation packs which made it the rarest UK £5 coin ever…until now!
The Prince Philip £5 coin, the third rarest with a mintage of 18,730, is extremely sought after by collectors and is virtually impossible to get hold of on the secondary market. In fact, sold listings on eBay show that the Prince Philip £5 coin regularly fetches in excess of £50!
Remember, when it comes to collecting, there is one fact which is always inevitable –the rarest coins are always in highest demand.
The Royal Academy of Arts
Founded through a personal act of King George III on 10 December 1768, The Royal Academy of Arts (RA) is an art institution based in Burlington House on Piccadilly in London.
It has a unique position as an independent, privately funded institution led by eminent artists and architects; its purpose is to promote the creation, enjoyment and appreciation of the visual arts through exhibitions, education and debate.
The Royal Academy does not receive financial support from the state or the Crown. Its income is from exhibitions, trust and endowment funds, receipts from its trading activities, and from the subscriptions of its Friends and corporate members.
It also gains funds by sponsorship from commercial and industrial companies, in which the Academy was one of the pioneers.
---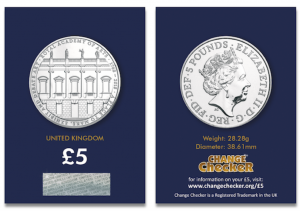 This brand new £5 has been struck to a Brilliant Uncirculated quality and has initially been made exclusively available to Change Checkers.
What's more, an edition limit of just 12,000 has been set, making this the rarest base metal UK £5 coin ever!
How much is my coin worth? It's a question I'm asked multiple times each day, and with some coins selling for many times their face value, I understand why you'd be keen to know.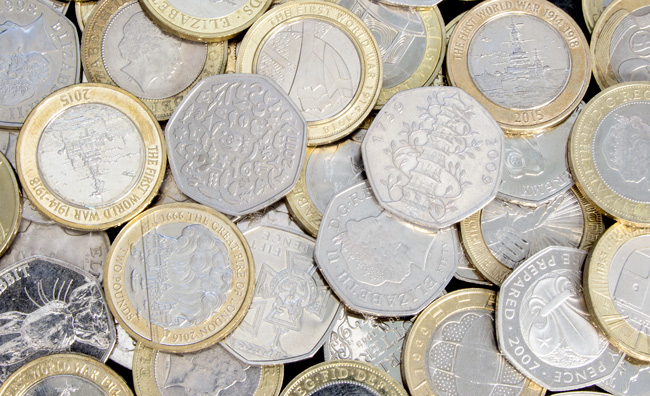 The truth is, it's very hard to tell you exactly what your coin is worth as it depends on so many variants. Coins are no different to any other kind of collectible in many ways; there are certain criteria which you should always look out for, which can help you to determine how collectible or valuable your coin is.
Often it's a very difficult question to answer but with a little bit of detective work you should be able to work out an accurate value for your coin. I've put together some useful tips, in our 5 point guide below, to get you started:
1. Change Checker Scarcity Index
The first place to start is our Change Checker Scarcity Index. I believe this to be the single most accurate way of determining how scarce your coins are. Whilst it doesn't give you an actual value we know that the value of a coin is directly linked to scarcity.
Historically, when trying to determine the scarcity of a coin, the mintage figure was considered the most accurate indicator. Whilst the mintage figures are undoubtedly important, our Scarcity Index also takes into consideration some very useful data from our Change Checker web app.
We combine the mintage information with two other key pieces of information:
How many of each design are listed as "collected" by Change Checkers, indicating the relative ease of finding a particular coin.
The number of times a design has been requested as a swap over the previous 3 months, showing the current level of collector demand.
It's very simple to work out how scarce your coin is, each coin is given a score out of 100, the higher the score the more scarce that coin is.
2. eBay is best
Once you've determined the scarcity of your coin the next step would be to take a look at what has recently sold on eBay. It's very important that you make sure you look at 'recently sold' coins and not just those that have been listed. Essentially, anybody can list a coin on eBay and charge whatever amount they wish.
By checking the recently sold items (and I'd suggest you look at the previous 3-5 coins sold) you will get an accurate indication of what people are willing to pay for a particular coin.
Also, if you are looking to sell any coins in your collection, I'd definitely recommend eBay as the easiest, and importantly, the most secure platform to do this.
3. Are your coins still available to buy in BU quality?
Next, it's worth checking if the coin in your collection is still available to purchase in superior Brilliant Uncirculated quality from an official Royal Mint distributor. If it is still for sale, it's unlikely that people would purchase a circulation quality coin for the same price.
If there are no longer any BU coins available to buy, this will work in your favour as collectors will then look for circulation quality coins to add to their collections.
4. Coin condition
It's definitely worth checking the condition of your coin as this will, almost always, have an effect on the value. It's no surprise that collectors favour the more pristine coins to those that are showing signs of wear and tear due to circulation.
However, your coin's condition is not the be all and end all; it's very rare to find a circulation 2002 Commonwealth Games £2 coin in good condition yet these sell for many times their face value.

5. Is there a story?
This can often tie-in with rarity, as the coins with a good story behind them tend to be the ones which are difficult to get your hands on! The "undated 20p" is a recent example of a such a coin. It is known as a 'mule' – a coin with a mismatched obverse and reverse (heads and tails). The name derives from a mule being the hybrid offspring of a horse and donkey.
In 2008 when the reverse of the 20p coin changed to the new Royal Shield design, approximately 100,000 coins were accidentally struck with the previous obverse die and therefore there was no date on the coin.
In a similar way to the Kew Gardens story, some of the prices being quoted as a result of media coverage were extraordinary. Mules are highly sought after by collectors, and an undated 20p will certainly be worth more than its face value in years to come.
The good news…
It's always good to remember that if your coin is legal tender, it will always be worth at least its face value.
That's why I think change collecting is the best hobby you could have!