In the late 1800s, Herbert George Wells created a new breed of novel, pioneering the genre that would later be defined as science fiction.
His creative and forward-thinking novels provide a window to the future and have become famous all over the world, with his audience spanning across generations.
In the year marking the 75th anniversary of his death, a brand new £2 coin has been issued, featuring a design which pays a fitting tribute to his famous novels, Time Machine, The Invisible Man, and War of the Worlds.
2021 UK H. G. Wells £2
Chris Costello's design of this brand new coin takes inspiration from these world-famous novels, with a depiction of the Invisible Man and a Martian encircled by clock numerals.
Issued initially as part of the 2021 Annual Coin Set, this is the first time collectors will have the chance to secure the individual coin in Brilliant Uncirculated quality.
To add this coin to your collection for JUST £8.99 (+p&p), simply click here >>
Have you ever seen a four-legged tripod?
Arguably one of the most controversial and talked about coin designs of the year, the BRAND NEW H. G. Wells £2 pays tribute to the Father of Science-Fiction's best known works and includes a design featuring the Invisible Man as well as a four-legged 'tripod'.
This unusual design hit the headlines this year when eagle-eyed collectors picked up on the additional leg featured on the Martian from Well's famed War of the Worlds when the coin was issued in the 2021 Annual Coin Set.
The coin hit the headlines once more this year for another reason, after another supposed 'error' was spotted on the version issued as part of the 2021 Annual Coin Set. Continue reading our blog to find out more…
H.G. Wells £2 – Blank 'Error'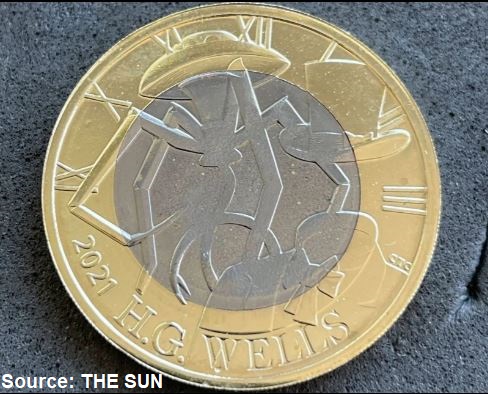 This £2 coin was issued as part of the 2021 UK Commemorative Coin set and it marks the 75th anniversary of the death of science fiction novelist, H. G. Wells.
With the clue in the name, this bi-metallic coin is made up of a combination of a silver coloured cupro-nickel disc and an outer yellow nickel-brass ring.
In the case of this H.G. Wells £2 coin however, it appears that the blank used has a thicker yellow ring, much wider than what we'd see on normal £2 coins.
When striking £2 coins, the first step is to punch a hole through a blank planchet to create the outer section. The inner core is taken from a different metal, sized to fit inside the outer ring.
There have already been estimations that if this coin was to be sold at auction, it could fetch over £1,000! We're going to be eagerly awaiting confirmation from The Royal Mint whether this error is genuine or not. Nonetheless, it certainly makes for interesting collecting!
The Father of Science Fiction
After the publication of his first novel, The Time Machine, in 1895, H. G. Wells became an overnight sensation. He began to write a series of science fiction novels that would define him as a truly original writer.
The War of the Worlds (1898) and The Invisible Man (1897) joined The Time Machine as H. G. Wells most celebrated and well-known novels .
Wells was described by his contemporaries as undeviating and fearless in his efforts for social equality, world peace, and what he considered to be the future good of humanity.
In the 75th anniversary of his death, H. G. Wells' remarkable life and works have been commemorated on this brand new UK £2, acting as a lasting tribute to this world-famous author.
---
Will you be securing this brand new UK £2 coin to your collection? Let us know in the comments below!
---
Add the 2021 UK H. G. Wells £2 to your collection today!
You can secure the brand new 2021 UK H. G. Wells £2 to your collection today for JUST £8.99 (+p&p) by clicking here >>
Your coin has been struck to a superior Brilliant Uncirculated quality and comes protectively encapsulated in Official Change Checker packaging with that all-important hologram to guarantee its superior quality.
Did you know that a Rosalind Franklin 50p will be released this year?
The Royal Proclamation from the 12th of March 2020 confirmed that a 50p will be released in 2020 celebrating the life and achievements of British scientist, Rosalind Franklin – and you can now sign up for updates!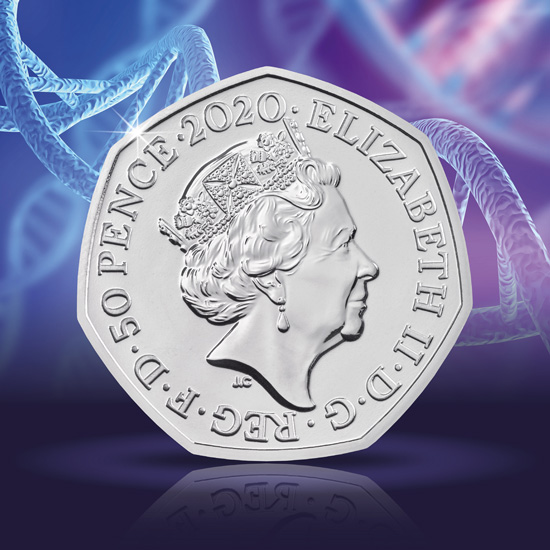 The news comes after the worldwide popularity of the 2019 Stephen Hawking 50p, which was the first coin in the Innovators of Science series.
Whilst it hasn't been confirmed, we can assume the Rosalind Franklin 50p will be the next in the series and we're sure it'll spark up chemistry with collectors.
The 50p is said to feature the inscription 'ROSALIND FRANKLIN DNA' and 'PHOTOGRAPH 51'.
Rosalind Franklin was a British chemist and X-Ray crystallographer whose work was central to the discovery of the double-helix structure of DNA.
The inscription 'PHOTOGRAPH 51' references the x-ray diffraction image of DNA that Raymond Gosling took under the supervision of Franklin. This was the very photo that led Watson and Crick to believe the structure of DNA was a double-helix.
Although all the details have not been released yet and the actual design is still top secret, it seems likely that the Rosalind Franklin 50p coin will be hugely popular with the British public.
Sign up for Rosalind Franklin 50p news
If you'd like to find out more, you can fill in our sign-up form below to stay up-to-date with all the latest news about this release.
Who else would you like to see featured in the Innovation in Science 50p series? Let us know in the comments below.
---
If you're interested in coin collecting, our Change Checker web app is completely free to use and allows users to:
– Find and identify the coins in their pocket
– Collect and track the coins they have
– Swap their spare coins with other Change Checkers
Sign up today at: www.changechecker.org/app
Less than a year since his death, The Royal Mint have released a brand new Stephen Hawking 50p coin, honouring his works as one of the most influential physicists of the modern age.
Hawking's 'A Brief History of Time' enlightened millions to the workings of the universe and revolutionised the way we understand time and space. As an ambassador for science, his significant contributions to humanity have left a lasting presence on all of us.
The exciting release of this coin makes Hawking one of only three people to be immortalised on a coin so soon after his passing, putting him alongside Winston Churchill and the Queen Mother in the history of famous figures commemorated on a UK coin within a year of their passing.
To commemorate Britain's most famous physicist, a man who brought science to life in a way that the everyday person could connect with, this brand new 50p has been issued in Brilliant Uncirculated, Silver Proof and Gold Proof editions.
The striking design by Edwina Ellis features a stylised black hole to reflect his breakthrough work, as well as an inscription of his name and most notable 'Bekenstein-Hawking formula' describing the thermodynamic entropy of a black hole.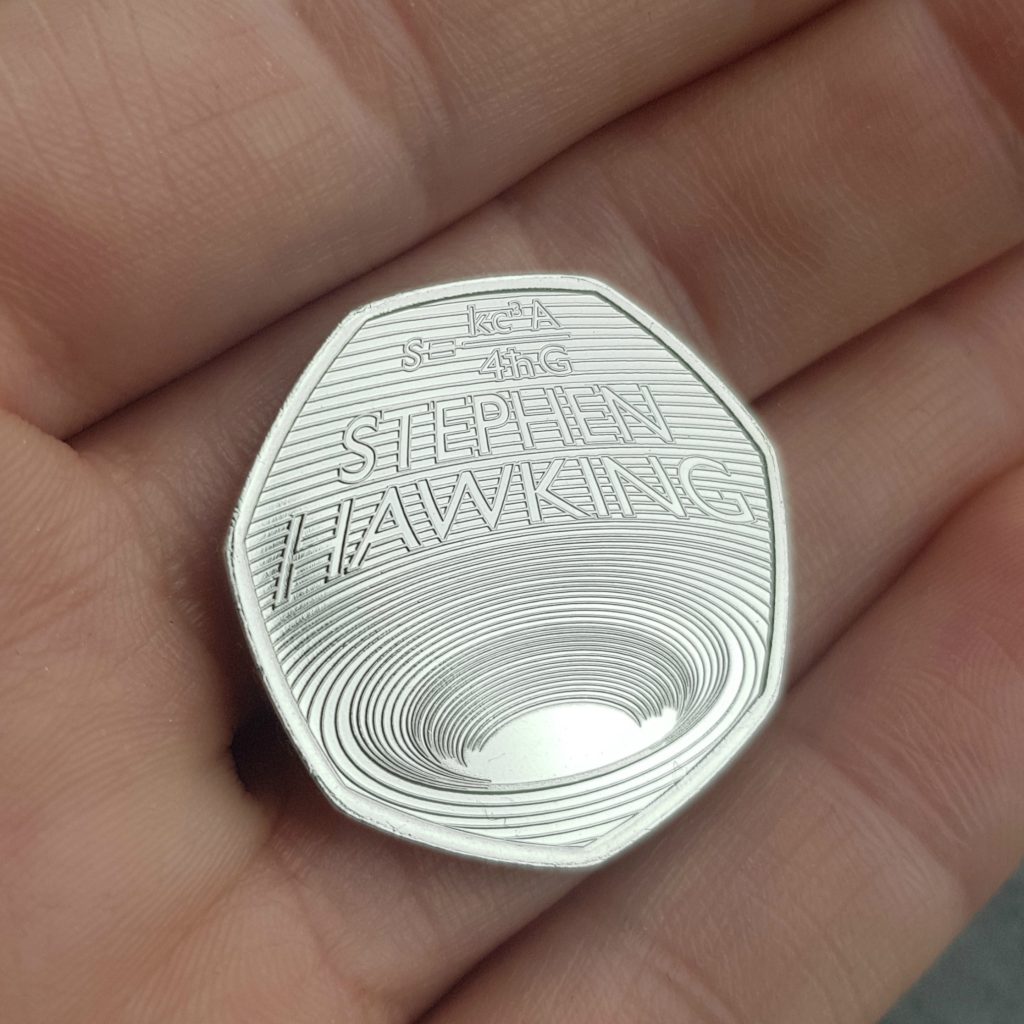 Edwina said of the design, "Stephen Hawking made difficult subjects accessible, engaging and relatable and this is what I wanted to portray in my design, which is inspired by a lecture he gave in Chile in 2008. Hawking, at his playful best, invites the audience to contemplate peering into a black hole before diving in. I wanted to fit a big black hole on the tiny coin and wish he was still here chortling at the thought. I am sure he would have thought of ways to harness the shiny table of the coin too. You feel he cared about all of us understanding." 
Excitingly, this is actually the first coin issued as part of a four coin series issued by The Royal Mint to celebrate 'innovators in science' and so it seems only fitting that the very first coin should feature Stephen Hawking.
We're yet to find out who will feature on the next three coins, but who do you think should be chosen to be featured alongside Stephen Hawking?
---
Secure the BRAND NEW Stephen Hawking 50p for just £4.50 (+p&p)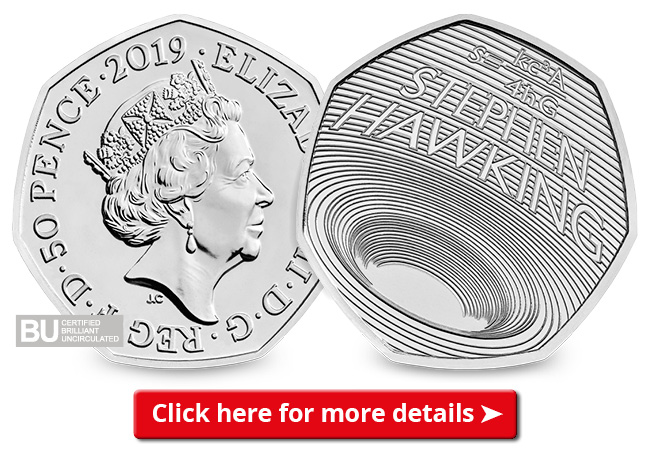 This coin won't be entering circulation, but you can add it to your collection in superior collector's quality.
Click here to secure the Brilliant Uncirculated Stephen Hawking 50p for your collection for just £4.50 >>