It's not often that such eager anticipation surrounds the issue of a new £1 coin, but the new Royal Arms £1 has captured the imagination of Change Checkers ever since it was revealed at the end of last year.
It is the fourth Royal Arms design since the £1 coin made its debut appearance in 1983 but in a recent Facebook vote, our fans have already hailed it as their favourite, months before its scheduled release date. And it is easy to understand why.
Timothy Noad's contemporary interpretation of the classic British emblem is both bold and original. His design covers a substantial portion of the coin's reverse, bringing the smaller and normally indistinguishable details to life.
The traditional quartered shield is of course the same, but the crowned lion and unicorn flanking it are far more striking. Noad has also included a subtle twist on the usual design, with a rose, thistle, shamrock and leek at the bottom to represent the four constituent countries of the United Kingdom.
But the coin's appeal does not stop at its design. It is the very first £1 coin to feature the new portrait of Her Majesty by Jody Clark. It could also be one of the final designs to feature on the pound coin as we know it. The new 12-sided shape will be introduced in 2017 and the window for new designs is getting ever smaller.
---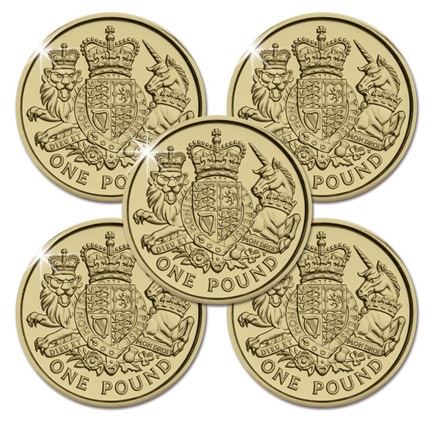 Can't wait?
If you can't wait to find the new Royal Arms £1 in your change, you can own not one but FIVE straight from the Mint – keep one and swap the rest! The Royal Arms £1 Swapper's Pack  is available now for just £10…