I can't help but get a bit excited at this time of year, and now that my Change Checker Advent calendar is counting down to Christmas, I really can't wait for the big day!
But what's got me even more excited is to see how Santa's little elves have been busily working away this year to release the most wonderfully festive coins in time for Christmas.
From all across the world we've seen renowned Mints issue beautiful Christmas coins that would take pride of place in any collection and I for one would certainly treasure forever (here's hoping there's one for me under the tree this year!).
I've put together a list of some of my favourite 2018 Christmas coins from around the world that I'd like to share with you, starting of course with the UK Nutcracker £5.
2018 UK Nutcracker £5
We all know that £5 coins are the ultimate collector's piece, so I really enjoyed seeing this year's festive £5, the Nutcracker.
The 2018 Christmas £5 coin features a magical design of an enchanting Nutcracker scene, by acclaimed engraver, Harry Brockway. According to legend, 'Nutcracker' represents strength and power and serves as a guardian – the perfect protector to watch over your family this Christmas time.
This is actually only the second time ever that The Royal Mint has released a Christmas £5 coin, and I'm sure that collectors will want to stay on top of this new tradition and make sure they don't miss any of these coins for their collection, starting with last year's Christmas Tree £5.
2018 UK The Snowman 50p
I love The Snowman Christmas story and so it came as no surprise to me to see that this coin was a favourite this year, with both Silver Proof and Gold versions completely SELLING OUT on the first day of issue!
Issued by The Royal Mint to celebrate the festive season, The Snowman 50p marks the 40th anniversary of the publication of Raymond Briggs' much-loved festive tale and was designed by Natasha Ratcliffe to depict the boy and the snowman flying through the night sky above Brighton Pier.
The Isle of Man has previously issued Christmas 50ps featuring The Snowman and these now sell for £100's on the secondary market, which I'm sure would have added to the collectability of this first ever UK Christmas 50p.
2018 Isle of Man Wren £2
You might be familiar with the Isle of Man Christmas 50p coins, but this Christmas a very special £2 coin has been issued featuring a festive wren design.
Hunt the Wren, as it is known on the island has become one of the most popular yet more unusual Manx traditions in practice today, although it actually dates back to Pagan times! This year, the Boxing Day tradition has been celebrated on a £2 coin and only a limited quantity of these coins will enter circulation on the Isle of Man.
Typically, the mintages for Isle of Man coins are much lower than UK coins, with none of the previous Manx Christmas 50ps exceeding 30,000!
2018 Canada 3D Snowball Fight 50 Cents
We all love a snowball fight! Chances are though that in the UK we won't see quite as much snow (if any) this year as Canada. But don't despair, as this wonderful Canadian 50 Cent coin allows you to bring to life the magic of a snowball fight on an innovative 3D coin!
The Royal Canadian Mint is renowned for their forward thinking technology, and this Christmas they have used lenticular printing to create artist Tony Bianco's fun-filled design with an illusion of depth, which actually appears to move as the coin is viewed from different angles – so watch out for those snowballs!
It really put a smile on my face when I came upon this coin in my research, and with a mintage of just 20,000 I'm sure Canadian Change Checkers will be eager to add this coin to their collection.
2018 Australia Looney Tunes Christmas Star Shaped $1
When it comes to dressing the Christmas tree this year, I'm sure Australian Change Checkers will be thrilled with this exquisite star shaped 99.99% Pure Silver $1 coin, which comes with protective casing that can be hung as a decoration.
The Perth Mint has produced some fantastic star shaped Christmas coins over the past few years and this year's coin is no exception. One of the best known animated characters of all time, Buggs Bunny and his girlfriend Lola are celebrated in colour printing for this vibrant and festive Looney Tunes design.
This coin is actually legal tender in Tuvalu (a small island off Australia), but I certainly wouldn't be spending it if I found one in my stocking!
2018 New Zealand Disney Silver $1
2018 must be the year for animated characters, as the new $1 from New Zealand features the iconic Mickey Mouse and his friends for this Disney Christmas themed 999 Fine Silver coin.
This is the fifth annual release from the New Zealand Mint and has been so incredibly popular this year that it has in fact sold out completely! Although with such an appealing theme and a very low mintage of just 10,000 this comes as no surprise to me.
Like the Australian Christmas coin, this $1 also comes in a special presentation case to be hung as a decoration – just imagine creating your very own tree filled with international Christmas coins!
I'm sure you'll agree that wherever you are in the world, there's something extra special about a Christmas coin which brings everyone together at this time of year. Whether or not you're a dedicated collector, or simply enjoy Christmas collectables, these coins are impossible to resist!
---

Secure the perfect numismatic gift this Christmas!
With Christmas just around the corner, check out our charming selection of festive commemoratives that could make the perfect gift for friends or family, or as a special Christmas treat for yourself… we won't tell if you don't.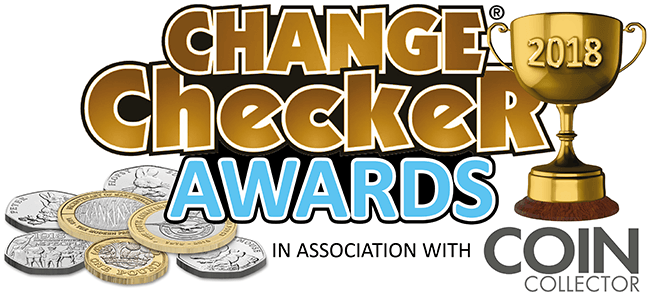 In November we opened the 2018 Change Checker Awards to celebrate the very best people in the world of change collecting, and I must say that it's been incredible to hear all of your stories from the last year.
In fact, it's been a really tough job deciding on the winners, but with thanks to our panel of judges from the Change Checker team and Coin Collector magazine, our well deserved winners have now been selected…
Checker Checker of the Year
Winner:
Chris Goodman
Chris was nominated by his girlfriend, Chloe who has learnt so much about coins because of him. His passion for coins has grown since he was a child, spending hours in antique shops looking at all the old coins. When it comes to his own collection, Chris is very particular about keeping everything in order, which is why he uses his Change Checker album to store his proudest belongings – coins.
As he carefully researches every coin he owns, Chris takes great pleasure and satisfaction in passing on this knowledge to other collectors and explaining the meaning behind each of his coins to the people he meets. He also owns all of the Change Checker accessories to help him with his collection.
Congratulations Chris – keep up the great work!
Runners up:
Paula Treleaven
Paula was nominated by Garry Williams for helping members to send and swap their coins throughout the year. She is looking after her husband who has cancer and working, but still manages to find time to keep coin collectors happy and so has been put forward for this award as a thank you for everything that she has done this year.
Susan Walters
Susan was nominated by her husband Robert for her enthusiasm for coin collecting, which started with her collection of Elizabeth II coins and has since grown to encompass £2 and 50p coins as well. She has also led swapping sessions at work and home, sharing her passion for collecting with others, even as her mobility declines. Great work Susan, well done!
Junior Change Checker of the Year
Winner:
Isla MacDonald (10 years)
Isla has found a special interest in coin collecting which started after she discovered an unusual 50p, which her father helped her to research. After keeping on eye out for other coins, by the end of her first day as a Change Checker, she had found three more and from there her interest has continued to such an extent that she has collected 40 50p coins and 30 £2 coins.
The local shopkeepers now keep aside any special coins for Isla as she always asks for them in her change. This interest has become infectious with her family, and even family friends now actively look out for those special remaining coins to complete her collection.
Isla has recently been covering World War 1 in school and was delighted to take in the First World War £2 coin to show her teacher and the class. She will not spend any of ehr special coins, but will help others who are starting out by swapping her doubles for normal coins.
Well done Isla!
Runners up:
Sophie Welch (15 years)
Sophie started showing an interest in coins nearly two years ago after noticing the different £2 and 50p designs. She soon got her first Change Checker collectors album and since then her collection has grown. Her interest in Art led her to design a coin in 2018 to commemorate the 50th anniversary of the Moon landing. After contacting The Royal Mint to share her design, Sophie was invited to spend a day at the Royal Mint and was even featured in an article on their blog. Sophie is certain that she wants to design coins for The Royal Mint when she is older. Great work Sophie!
Esme Hurley (8 years)
Esme has been an avid coin collector since the release of the first Beatrix Potter coins back in 2016. She now collects all coin denominations and checks every bit of change she receives and has drawn many members of her family and close friends into her collection hobby to assist in completing her ever growing collection. Esme loves to use the swap app and has travelled to the Change Checker live events. Most recently, Esme did a small presentation to her fellow cub scouts all about her coin collection and earned the cub collector badge. Well done Esme!
Coin Design of the Year
It comes as no surprise that the 2018 Coin Design of the Year is awarded to The Snowman 50p.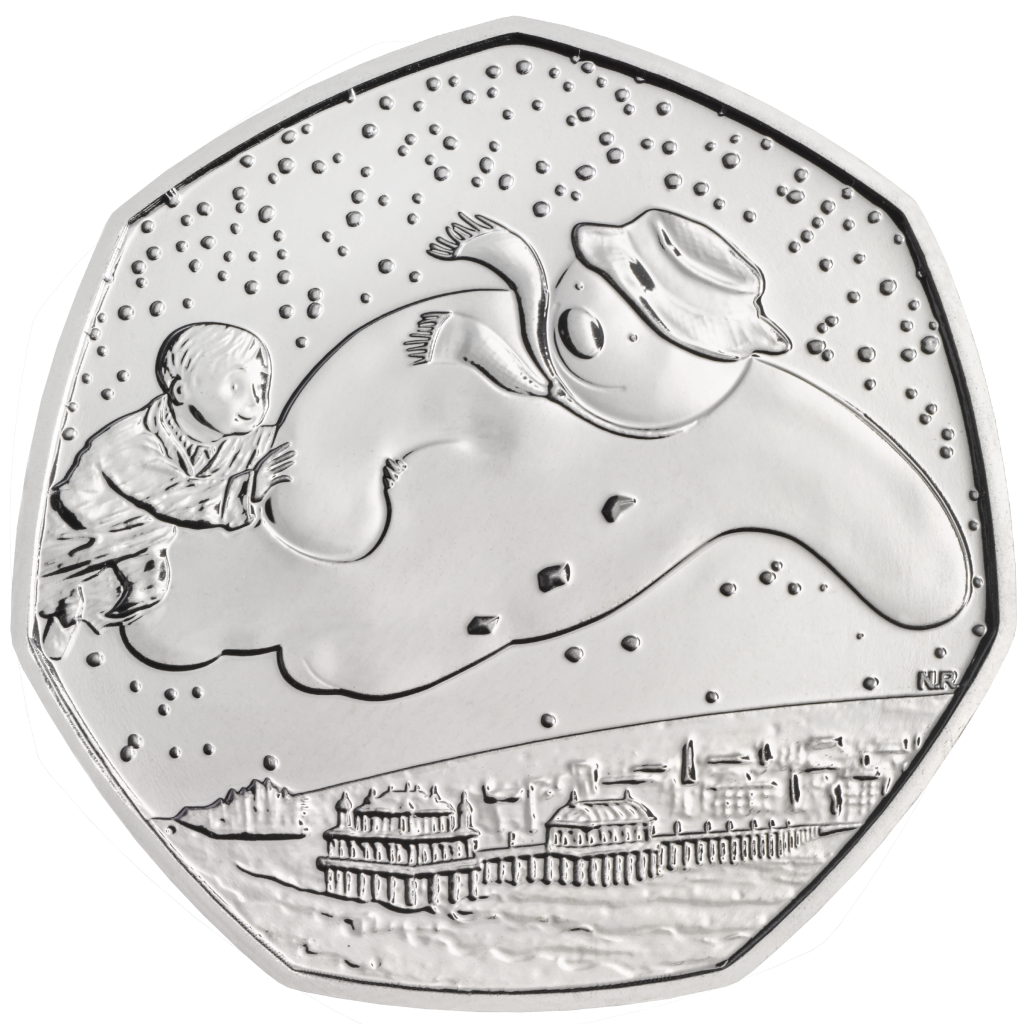 Natasha Ratcliffe's dynamic design knocks Aaron West off the top spot for the first time two years, and it's clear to see why she is the deserving winner this year. This Christmas 50p issued to mark the 40th anniversary of the publication of Raymond Briggs' much-loved festive tale The Snowman™ depicts the boy and the snowman flying through the night sky above Brighton Pier and has been the most sought-after 50p of the year.
Congratulations Natasha!
Coin Story of the Year
The winner of the 2018 Coin Story of the Year Award goes to Lee Boyce from This Money for his breaking news article covering this year's biggest reveal – the A-Z 10p coins!
Lee said, "I'm delighted to receive the award for Coin Story of the Year – and it's sound as a pound that This is Money has been recognised for our excellent coverage on all things numismatical.
We always like to get our two pennies across in stories, and to make sure that anything we write about coins is accurate – not using overhyped and inaccurate information.
Thanks to Change Checker for the award – we will endeavour to continue with our solid coin stories into 2019."
A big thank you once again to Coin Collector for supporting us this year and of course a huge congratulations to all of our winners and all the fantastic entries we had this year. We'd like to thank each and every one of you for your continued support in 2018 and hope that 2019 is a fantastic year of Change Checking for you all!
---
If you're interested in coin collecting, our Change Checker web app is completely free to use and allows users to:
– Find and identify the coins in their pocket
– Collect and track the coins they have
– Swap their spare coins with other Change Checkers
Sign up today at: www.changechecker.org/app
The Tower of London has been a symbol of royal power for nearly 1,000 years.
Built during the Norman conquest in 1066, Her Majesty's Royal Palace and fortress of the Tower of London has been used as a prison, jewel house, mint and even a menagerie.
It's been home to kings and queens, thieves and traitors and lions and bears. But it's the Ravens that have been a constant presence in the tower and legend has it that if they ever leave, the kingdom will fall…
In tribute to these guardians of the Tower, The Royal Mint has issued a brand new UK £5 coin as part of the four coin series celebrating the history of the Tower of London, one of Britain's most iconic attractions, which will eventually include coins depicting the following:
The Yeoman Warders
The Ceremony of the Keys
The Crown Jewels
2019 The Legend of the Raven £5
'Raven Mythology'
Featuring a Raven with a bird's-eye view of the Tower in the background, this coin captures the illustrious history of the iconic British landmark and its most famous residents.
The Tower's 'raven mythology' is thought to be a Victorian flight of fantasy and has been a source of many legends, including the fate of Greenwich observatory.
It's said that King Charles II disliked the raven's droppings falling onto the telescope at the Tower's observatory,and so ordered that the ravens must go. However, superstition stated that if the ravens left, the Tower would fall and Charles would lose his kingdom. Ever the pragmatist, the King decided that the observatory must go to Greenwich and the ravens must stay in the Tower.
Yeoman Warders
Since Tudor times, the Yeoman Warders have been guarding the Tower of London. Nicknamed as 'Beefeaters', they originally formed the Yeoman of the Guard, which was the monarch's personal team of bodyguards.
The Yeoman Warders were responsible for looking after the prisoners in the Tower and protecting the crown jewels, however nowadays they also conduct guided tours of the Tower and are an important icon for Britain, resplendent in their red uniforms and a favoured tourist attraction.
They need to be between 40 and 55 years old on appointment and hold at least 22 years' military service, during which time they must have reached the rank of warrant officer and to have been awarded the long service and good conduct medal.
The Ceremony of the Keys
For over 700 years, as the clock strikes ten, the words 'Halt! Who comes there?' echo in the Tower of London. The ancient Ceremony of the Keys is a formal locking and unlocking of the Tower gates, which started in the mid 1300s on order of King Edward III after he entered the Tower unannounced one night and was able to walk straight in, unchallenged!
Tradition states that at exactly seven minutes to ten at night, the Chief Yeoman Warder of the Tower must leave the Byward Tower, wearing a red Watch Coat and Tudor Bonnet and carrying a lantern. He takes with him a very special set of keys – the Queen's Keys.
A military escort meets him at the Bloody Tower and at 10pm he moves two paces forward, raises his Tudor bonnet and says: 'God preserve Queen Elizabeth'. This is answered by 'Amen' from the guards and 'The Last Post' played on a bugle.
The keys are then taken back to the Queen's House and handed to the Queen's representative at the Tower, The Resident Governor.
Crown Jewels
Several expansions were made to the Tower throughout the reign of Kings Richard I, Henry III and Edward I in the 12th and 13th centuries, however in general the original layout remains consistent. It suffered structural damage during the Blitz, but this was repaired after the Second World War and the Tower was opened to the public, to marvel at the Tower's most esteemed treasures – the Crown Jewels!
Not only a powerful symbol of the British Monarchy, the jewels have deep religious and cultural significance in British history and are used by HRH Queen Elizabeth for important ceremonies and royal duties.
However, the 12th century anointing spoon and three early 17th century swords are the only four original jewels left after the English Civil War in 1649, when the Crown Jewels were destroyed and the monarchy abolished. The jewels were remade for Charles II's coronation in 1661 following Oliver Cromwell's death.
Infamous Prisoners
From the late 15th century and during its peak period as a prison in the 16th and 17th centuries, the Tower housed some of Britain's most notorious criminals, including Guy Fawkes, Anne Boleyn and even Elizabeth I before she became queen.
For those in a position of wealth, serving time at the Tower could be relatively comfortable, with some captive kings allowed to go out on hunting or shopping trips and even allowed to bring in their servants. However, for those less fortunate, the phrase "sent to the Tower" would conjure up gruesome images of torture and execution, such was its fearsome reputation.
Despite this reputation, only 7 people were executed at the Tower before the World Wars of the 20th century, where 12 men were then executed for espionage.
Royal Mint
From 1272 until 1810, the Tower of London was home to The Royal Mint. Coins of the realm were produced in a dedicated area in the outer ward known as 'Mint Street'. This dangerous task involved working with sorching furnaces, deadly chemicals and poisonous gases and many Mint workers suffered injuries including loss of fingers and eyes from the process.
In the 1600s, coins were no longer made by hand, but instead a screw-operated press was introduced. However, risk still befell the Mint workers, as they faced severe punishments should they be caught tampering with or forging coins.
In 1810, the Mint moved from the Tower to a new site at Tower Hill and eventually on to its present location in Wales to allow for expansion.
Now that the first coin in the Royal Mint's brand new four coin series celebrating the Tower of London has been released, I'm sure £5 coin collectors will be looking forward to building up this fascinating collection.
Let us know what you think about the design and which coin in the series you're most looking forward to seeing.
---
Secure your Tower of London Raven £5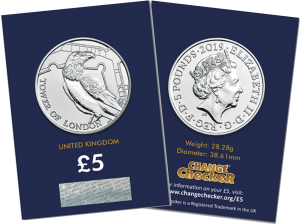 You can now own the Raven £5 coin to kick start your Tower of London collection.
Click here to secure yours in Brilliant Uncirculated quality today >>