Earlier this year, we announced the exciting news that the UK's incredibly popular Beatrix Potter 50p coins are to be followed up by two new Paddington™ 50 pence coins.
It's now with great anticipation that we can reveal the first Paddington coin has been officially released!
Celebrating the very British bear
The coins have been issued to celebrate the 60th anniversary of Paddington's first adventure and this first design is based on the modern adaptation from the CGI-live action movie, featuring Paddington on his suitcase in front of the station and excitingly, one more Paddington 50p coin will also be released by The Royal Mint later this year and this coin will feature the bear waving a Union Flag outside Buckingham Palace.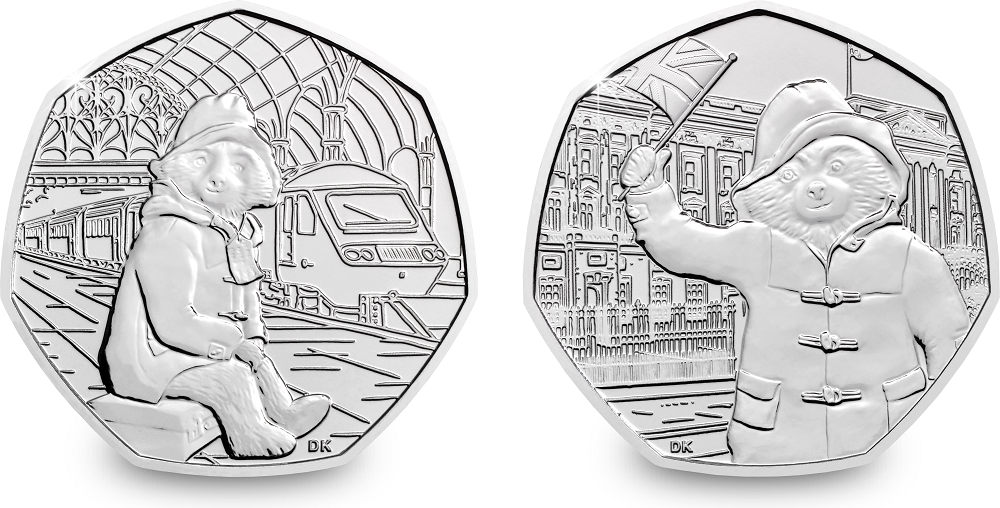 Of course fans of the movie Paddington 2, will also remember a 50p coin playing an important part in his adventure.
Not the first Paddington coin…
Whilst this is not the first time Paddington has appeared on a coin, it is his first time appearing on official UK coinage.
The nation's loveable bear has previously featured on 1 crown (25p) coins from both Isle of Man and Gibraltar – now listed for as much £30 on eBay.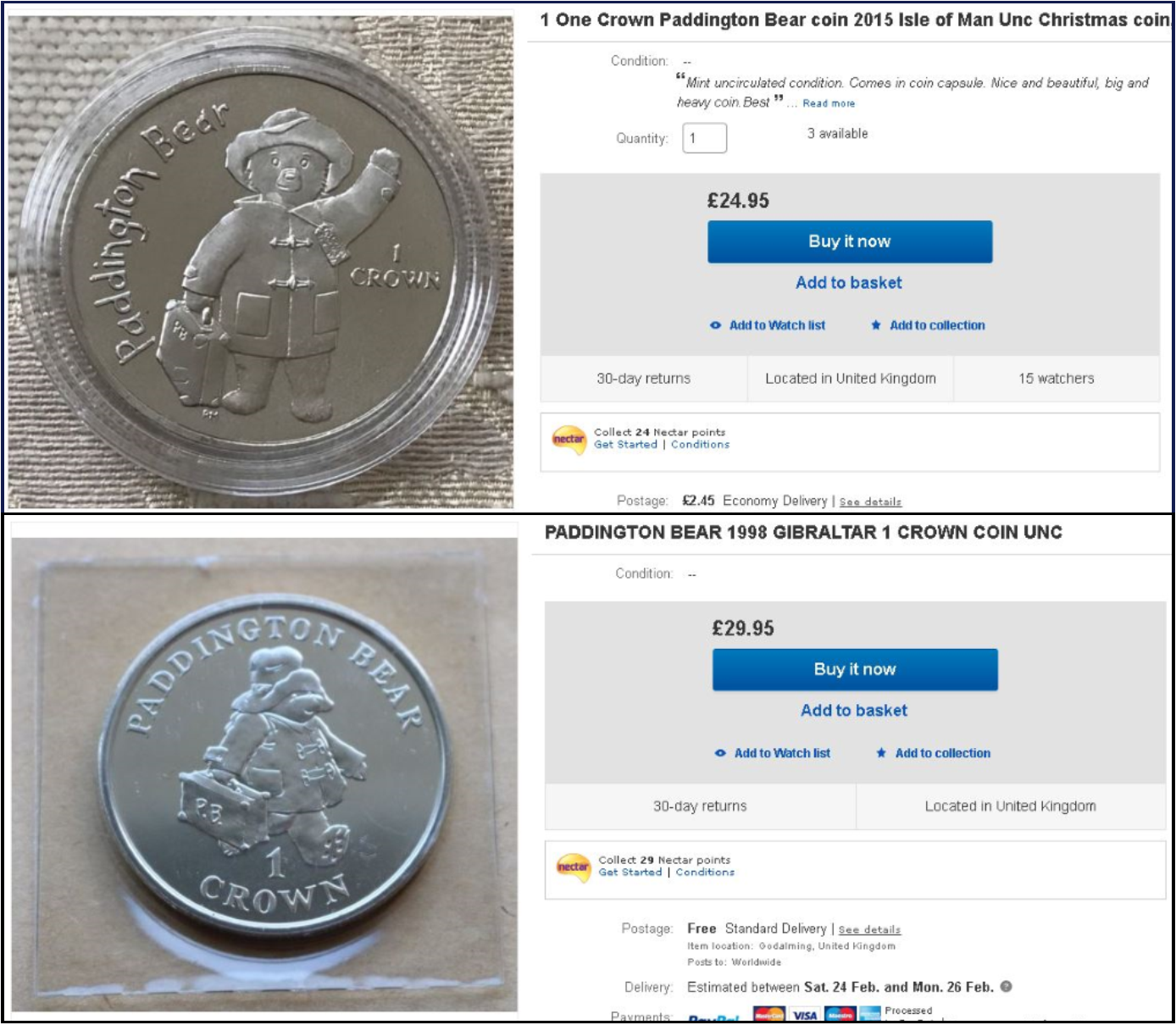 Due to the popularity of these coins, and the whole new generation of collectors created by the Beatrix Potter 50ps, it is expected that these coins will be extremely sought-after by collectors and Paddington fans alike.
These coins will be available in Brilliant Uncirculated collector's edition, with coloured Silver and even Gold versions also being made available.
---
Paddington at the Station 50p, now available to own!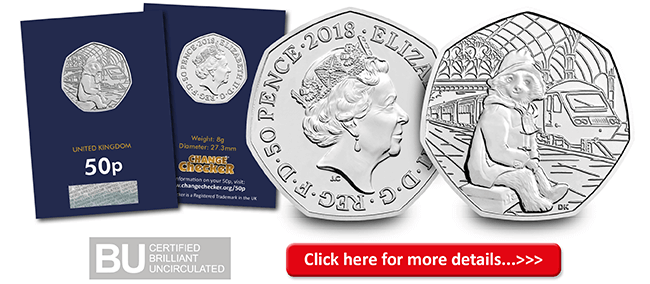 You can now own the FIRST EVER UK 2018 Paddington 50p Coin in superior collector quality.
There's been much excitement this week for Change Checkers following the accidental early release of a small number of new Paddington 50p coins.
The first coins were discovered late last week and quickly made their way onto collectors' forums and ebay, with one attracting a "sold price" of £16,000 – prompting interest from a number of national newspapers.
Of course, in reality, it's unlikely that the transaction will ever complete at that price and certainly it's not the time to be bidding on ebay for the new coin as The Royal Mint has confirmed the release date for the new Paddington 50p Coin as 18th June, with a second design, featuring Paddington outside Buckingham palace, following later in the year (also available to pre-order on Monday).
The new coin will be available in the official Royal Mint Presentation Pack, which usually sells for around £10 or in a Change Checker "Certified Brilliant Uncirculated" Presentation for £3.99 from www.westminstercollection.com
Coloured Silver 50p Collector's Edition also confirmed…
Limited numbers of the Silver Proof Collector's Edition of the Paddington 50p coin have also been seen in some Post Offices ahead of the 18th June release date.
Again these will be properly available online from 18 June, with a confirmed Limited Edition Presentation of 60,000.
This year, two brand new Isle of Man £2 coins were released for the special anniversary year of the Isle of Man TT, commemorating racing legend Mike Hailwood's 60th year since his first TT race and 40th year since his triumphant return.
The coins have proved incredibly popular among collectors and motoring enthusiasts alike, which is a common theme from the previous TT coins, some of which have sold for £500 on eBay!

So all this has got us interested in the history of the TT coins and some of the most popular ones you could find in your change.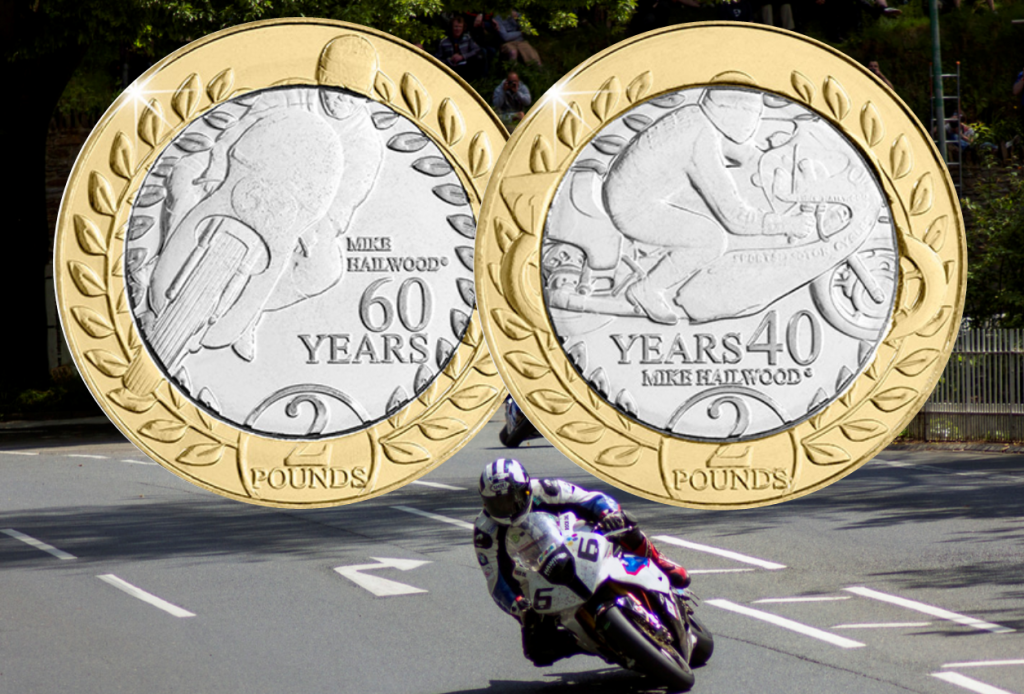 Where it all began
The Tourist Trophy first started in 1907 and has been celebrated with coin issues since 1981 when the first Isle of Man TT 50p was released.
This coin featured famous motorcyclist Joey Dunlop within the traditional sprigs framing the coin.
Only 5,000 coins of this design were struck and it can be found selling on eBay well above face value.
Not just 50ps
Since then, there have been 50ps released to mark the event on most years, as well as a selection of crowns and a special commemorative £5 coin in 2017 to commemorate 110 years of the TT.
This coin featured the Roman God, Mercury, the Winged God of the Messengers. It can also be found for more than face value on eBay, with some sellers including the official Isle of Man TT packaging.
Design
The common theme among each coin design is of course the iconic motorcycle, synonymous with the TT event. A range of famous bikes have featured on the coins, including Suzuki, Honda, Yamaha and this year the Ducati.
The 50p coins are framed by the traditional sprigs and some feature the official TT logo, whilst other simply have the words 'TT' inscribed upon them.
Which design is your favourite?
Popular TT coins
Isle of Man 50p coins are not legal tender in the UK. They are only released into circulation on the Isle of Man, and often with a low mintage figure, meaning they very rarely turn up in UK change.
This, along with the fact that they are themed around a hugely popular event, means that the coins often prove to be very sought-after.
Mintage figures for these coins are not easily found, meaning it is very difficult to determine which is the 'rarest', however it seems that one of the most popular designs is the 1997 Philip McCallen Isle Of Man TT 50p, currently listed on eBay by one seller at £745!
Of course, the actual value of this coin very much depends on its condition and how much an individual seller is willing to pay.
It's fair to say that the Isle of Man TT coins have been, and continue to be very collectable.
The unmistakable motorbike design causes these coins to stand out from any other coin and has created a link between the world of coin collecting and the world of motorbike racing, as avid collectors and racing fanatics alike enjoy finding these striking coins.
---
Secure your 2018 Isle of Man TT £2 coins today!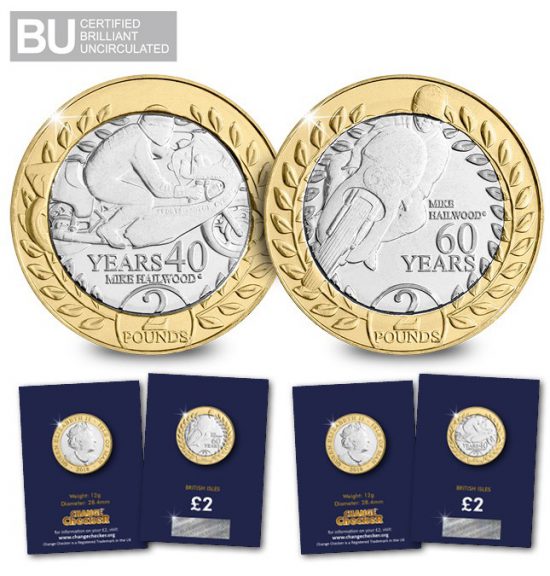 To celebrate this special anniversary year, two new Isle of Man TT £2 coins have been released by The Royal Mint, depicting Mike Hailwood's famous Ducati.

Order yours today >>