We all know what an incredible job our doctors, nurses, paramedics – indeed all our fabulous Key Workers are doing to help us through this challenging time.
So much so that last night, people all across the UK leaned out of their windows or stood at their doors to applaud our heroes for their hard work
And now we're calling all our Change Checker Juniors to design a 50p just for them, as another way to show appreciation.
If you'd like to get involved, all you need to do is follow these simple steps:
1. Download this PDF and print it out.
2. Create your Key Worker Heroes design and fill in the details on the page. You can take inspiration from the UK 50ps listed on our web app!
3. Photograph your design.
4. Post a photo of your design in the comments on this Facebook post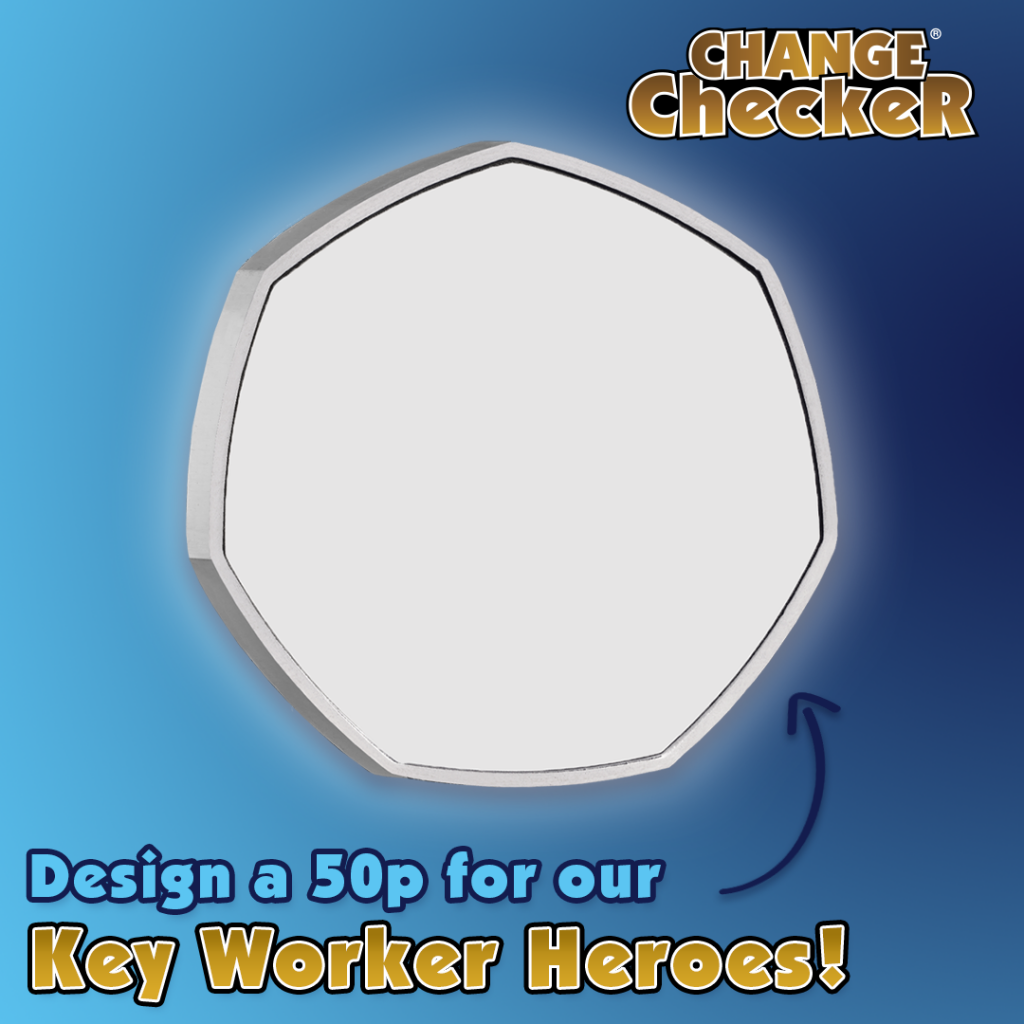 The TOP 5 designs will be brought to life in an animation and featured in a Change Checker video, which will be available to watch on the 13th April.
Entries close at 9am on Thursday 9th April, so don't delay!
Best of luck and happy designing!
The BRAND NEW and last-ever Peter Rabbit 50p has now been officially released!
It would be hard to find someone who hadn't heard of this naughty little rabbit. The central character of Beatrix Potter's beloved children's stories, Peter Rabbit has featured on many staple collectables.
Emma Noble's design of this coin, which features an original illustration of Peter Rabbit by Beatrix Potter herself, perfectly captures Peter Rabbit's cheeky personality, as he can be seen crawling under Mr. McGregor's fence!
This coin won't be entering circulation but is available to purchase in Brilliant Uncirculated quality for just £4.50 (+p&p) here.
Where it all started
It was in 2016 that Peter Rabbit escaped from Mr. McGregor's garden and made his first debut on United Kingdom coinage.
Issued to celebrate 150 years since the birth of renowned Children's author, Beatrix Potter, this 50p changed coin collecting forever.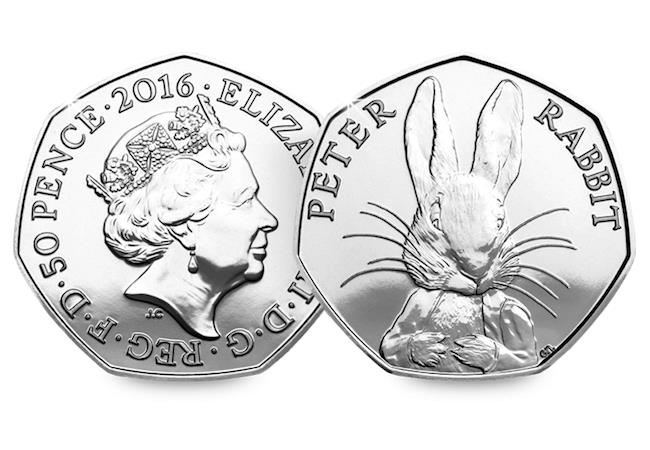 There were five Beatrix Potter 50ps issued in 2016, including the incredibly popular Jemima Puddle-Duck, which, for a long time, was considered the rarest Beatrix Potter coin in circulation. She was also joined by fellow characters Mrs. Tiggy-Winkle and Squirrel Nutkin.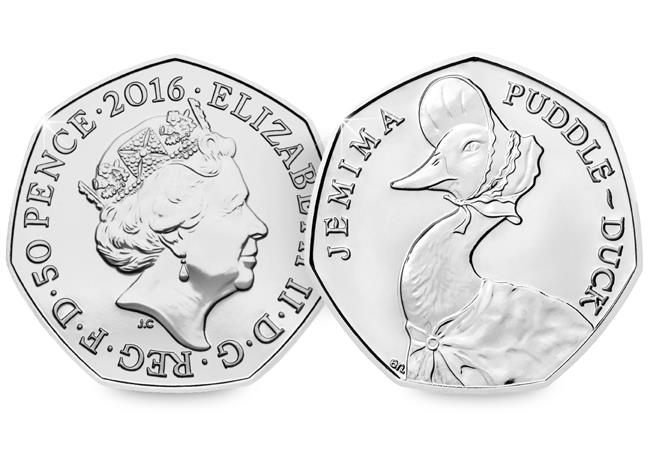 A very special 50p was issued the same year, celebrating Beatrix Potter herself and features her silhouette and her emblem.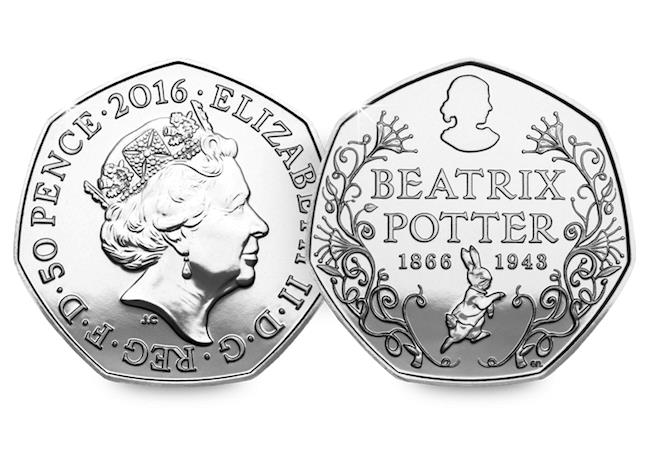 This series of coins continued into 2017, 2018 and 2019. Fifteen Beatrix Potter coins have now been issued since 2016, each featuring one of Potter's delightful characters, from Flopsy Bunny to Mrs. Tiggy-Winkle.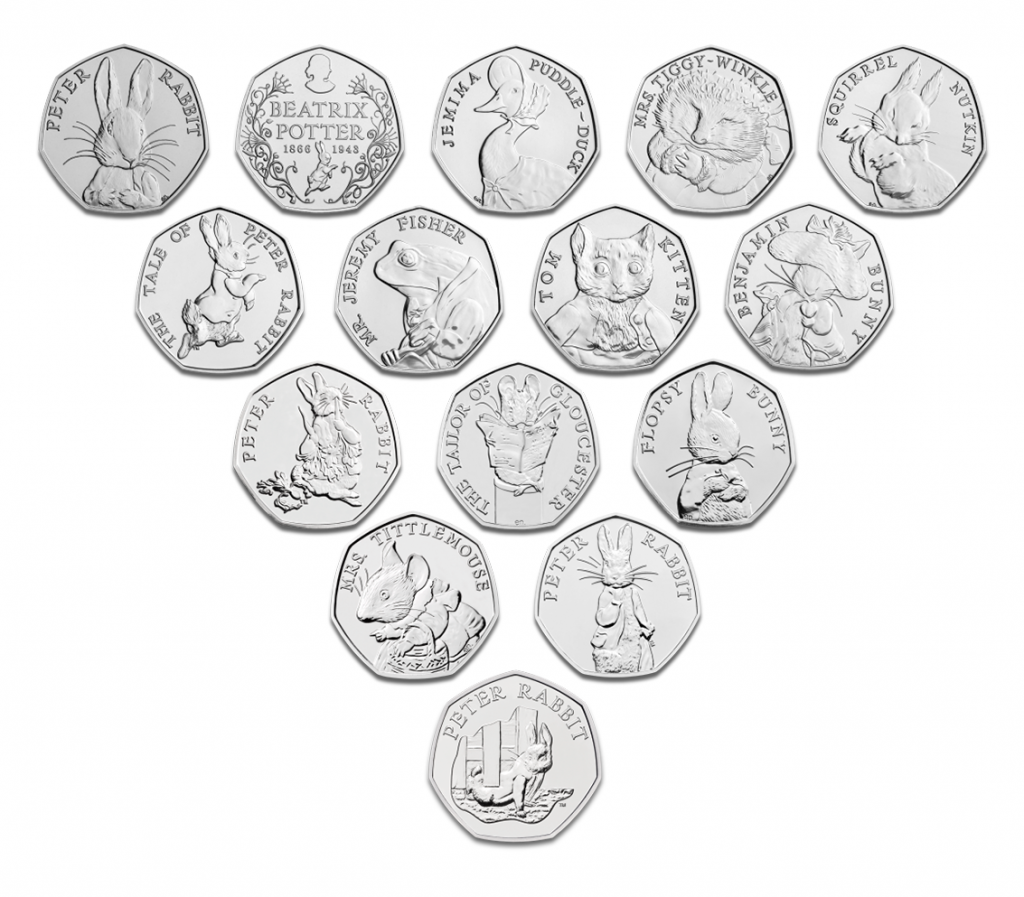 Peter Rabbit is the only character to feature more than once in the Beatrix Potter 50p series, with no less than 5 coins issued to celebrated the nation's favourite little rabbit.
Sadly, Peter Rabbit's 50p tale has now come to an end. It has been confirmed that the 2020 50p will be the very last UK Peter Rabbit 50p to be issued!
Which Beatrix Potter coins are the rarest?
To celebrate the release of this brand-new Peter Rabbit 50p, we've taken a look back at the mintage figures for the different Beatrix Potter 50ps to find out which ones are the rarest in circulation…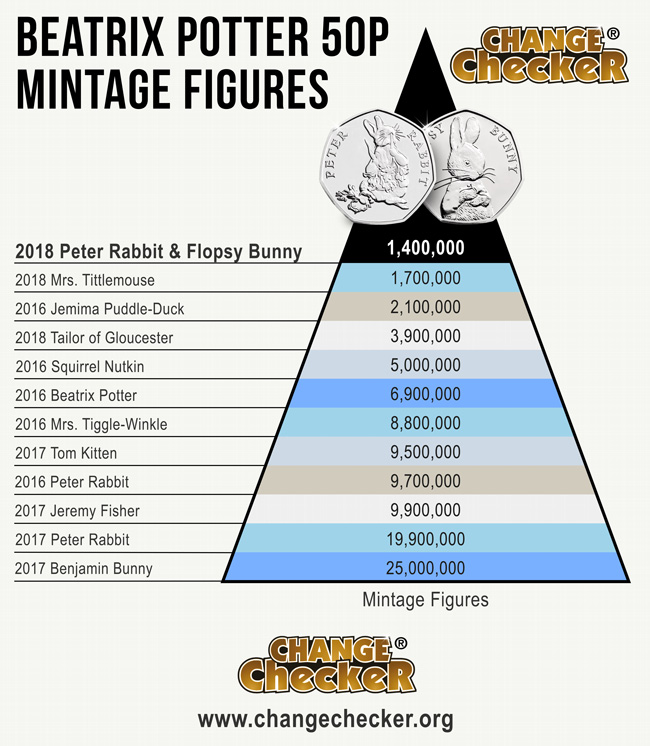 Following the release of the 2018 mintage figures, we've seen the 2018 Peter Rabbit and Flopsy Bunny 50ps take joint top spot on the Beatrix Potter Mintage Chart. With mintages of just 1,400,000, these coins are the rarest Beatrix Potter coins in circulation and have already proved incredibly popular with collectors!
We also saw the 2018 Mrs. Tittlemouse claim its spot on the podium, pushing Jemima Puddle-Duck – previously thought of as the rarest Beatrix Potter 50p in circulation – further down the chart, with a circulating mintage of 1,700,000.
So collectors that have held onto their 2018 Beatrix Potter 50ps will be delighted to see this! If you don't have these coins in your collection yet, now's the time to keep your eyes out to hunt down these sought-after 50ps.
4 years on from his initial release, it's safe to say that Peter Rabbit inspired a whole new generation of collectors to start checking their change.
I have no doubt that the 2020 Peter Rabbit 50p will prove as popular as the previous years, and I'm sure collectors and Peter Rabbit fans alike will be chasing this rascally rabbit right into their collections.
---
Secure this brand new 2020 UK Peter Rabbit 50p in Brilliant Uncirculated Quality
This is your chance to be ahead of the crowd and secure the very last Peter Rabbit 50p in superior Brilliant Uncirculated condition for just £4.50 (+p&p).
A brand new United Kingdom 50p series has been announced and the news is so colossal it's sure to shake the coin collecting community!
The new series celebrates the Discovery of Dinosaurs with three brand new 50p coins.
British anatomist Richard Owen proposed the term 'Dinosauria' in 1842 and this comprised the first three dinosaurs to be discovered – the Megalosaurus, Iguanodon, and Hylaeosaurus.
Excitingly, this is the FIRST-TIME ever Dinosaurs have featured on UK coinage so we're very excited by this numismatic first!
What's more, this new series of 50p coins has been issued in partnership with the Natural History Museum so the coins are sure to be popular with palaeontologists and collectors alike!
So without further delay, let's take a closer look at the designs of these coins…
Iguanodon 50p
The second coin in the incredibly popular Dinosauria 50p series has JUST been released and features the Iguanodon.
Distinctively, the Iguanodon had large spikes on their thumbs which you can see clearly in the intricate details of the coin design.
It is thought these spikes could have been used for defence against predators. As Iguanodons were large herbivores, it is unlikely these would have been used for hunting.
This 50p is available in Gold Proof, Silver Proof and Brilliant Uncirculated Quality. You can secure this coin to your collection here.
Megalosaurus 50p
The first coin in the series was released in February and features the Megalosaurus Rex.
'Megalosaurus' translates to mean 'Great Lizard' and I think it definitely lives up to its name!
Living on earth around 166 million years ago, this great dinosaur could reach up to nine meters in length!
As the first coin in the Dinosaur series, this 50p is available in Gold Proof, Silver Proof and Brilliant Uncirculated Quality.
Hylaeosaurus 50p
The third and final coin in the series features the Hylaeosaurus which translates to mean 'belonging to the forest'.
It is estimated this dinosaur was around five metres long, however limited remains have been found of this particular species.
As with the other two coins, this 50p has been designed by Robert Nicholls and this is the first series he has designed for UK coins – we think he's smashed it!
This is the final coin in this series and will be officially released later in the year. However, if you want to make sure you don't miss out on completing the series, you can pre-order it here.
So there we have it! A good look at the brand new United Kingdom 50p series celebrating the Discovery of Dinosaurs.
As this is the first time Dinosaurs have ever featured on UK coinage, the coins have been issued in partnership with the Natural History Museum, AND they are brand new UK 50ps (the most collected coin in the country!) we're certain this series is going to be immensely popular with collectors.
Do you have a favourite coin from the series? Let us know in the comments below!
---
2020 UK Iguanodon CERTIFIED BU 50p
Do you want to add this exciting new 50p to your collection? Click here to secure yours today in superior Brilliant Uncirculated quality!