After a year long wait the highly anticipated 2020 Tokyo Games have commenced and to celebrate Change Checker has a numismatic challenge for you to take part in!
In 2012, the Olympic Games were hosted in London and to mark the occasion The Royal Mint issued 29 50p coins, each depicting a design of a different sport.
So, we're challenging Change Checkers to hunt down the Olympic 50ps to see if you can complete a collection of all 29 coins.
It won't be easy, as it's estimated that 75% of these coin have been removed from circulation by collectors, but by checking your change and swapping with other collectors, it's definitely possible to find the complete set.
Sports Edition 50p Collecting Pack
To kickstart your collection, you can now get your hands on the Change Checker Sports 50p Collecting Pack, including space for all 29 coins as you find them in your change!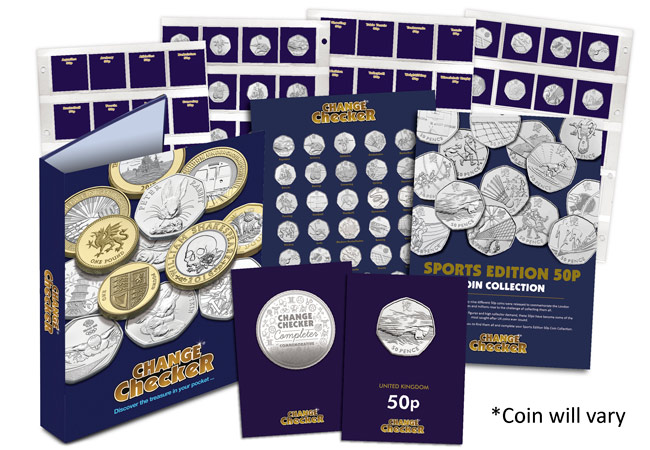 What's more, we'll even include a mystery Olympic 50p to get your collection started and you'll receive a Change Checker Completer Medal too!
The set comes housed in a Change Checker Album, with pages and a title card telling you all you need to know about these coins.
These really were the 50ps that kick-started the nation's love of collecting and with such amazing designs, many of which were created by members of the public, you can see why these coins are so well-loved!
They have some of the lowest mintage figures of all the UK 50p coins, with the Football 50p in particular, having a mintage of JUST 1,125,500.
When you consider the popularity and mintage figures of these coins, it really is an exciting challenge to try and collect all 29 designs. What's more, with the Tokyo Games having just begun, it really is the perfect chance to see how many you can find.
---
How many will you collect? Best of luck Change Checkers!
Don't forget to check back in with us to tell us how you're getting on in the challenge!
---
Secure your Sports Edition 50p Collecting Pack today!
Kick-start your Olympic 50p collection with the Change Checker Sports 50p Collecting Pack for JUST £19.99 (+p&p).
Your pack includes an official Change Checker Album, ID cards for all of the London 2012 50p coins, pocket pages, and the Sports Edition Title page.
Excitingly, you'll also receive a mystery London 2012 50p to house in your album PLUS a special Sports Edition Medal.
To take part in the challenge and to secure your Change Checker Sports Edition 50p Collection, simply click here >>
Scottish novelist, poet, historian, and biographer, Sir Walter Scott, is often considered both the inventor and the greatest practitioner of the historical novel.
Sir Walter Scott's early work consisted of poetic romances but his earlier books, set in Scotland, demonstrate his knowledge of Scottish history and society. His works were some of the most popular literary pieces of his time.
In the 250th anniversary year of his birth, The Royal Mint have issued a £2 coin, commemorating him and his remarkable career.
2021 UK Sir Walter Scott £2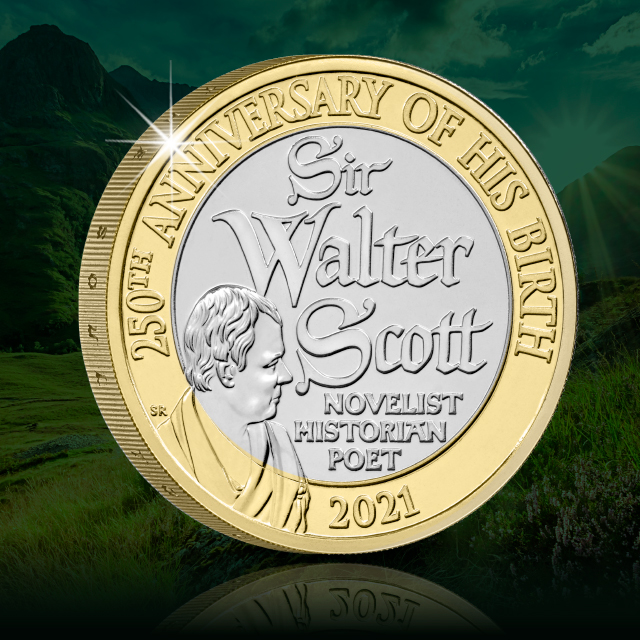 The coin, designed by Stephen Raw, features the text: "SIR WALTER SCOTT NOVELIST HISTORIAN POET" encircled by the inscription "250TH ANNIVERSARY OF HIS BIRTH" and the year date.
Excitingly, this coin also features the edge inscription, "THE WILL TO DO, THE SOUL TO DARE", a quote from his epic poem, 'Marmion: A Tale of Flodden Field'.
Issued initially as part of the 2021 Annual Coin Set, this is the first chance collectors have had to secure this individual coin to their collections.
Available in Brilliant Uncirculated quality for JUST £8.99 (+p&p), you can secure this coin today by clicking here >>
Sir Walter Scott joins an impressive portfolio of authors, poets, novelists to be commemorated on UK coins. Continue reading to find out more…
2020 William Wordsworth £5
To mark the 250th anniversary of the birth of William Wordsworth, The Royal Mint issued this £5 coin and it was the first time that the famous poet was celebrated on a UK coin.
He is one of the most popular poets to have written in the English language, gaining popularity during the beginning of the English Romantic period in literature.
Designed by David Lawrence, designer of the 2018 and 2019 Britannia, the reverse features lines taken from one of Wordsworth's most celebrated poems, 'Tintern Abbey'.
To secure this coin for your collection for JUST £10.99 (+p&p), in Brilliant Uncirculated quality, click here >>
2020 Agatha Christie £2
This £2 coin was issued in 2020 to mark the 100th anniversary of Dame Agatha Christie's genre-defining murder mysteries.
An author of 66 detective novels and 150 short stories, Agatha Christie has justly earned the title of the 'Queen of Crime'. Towards the end of her career, she was made a Dame of the British Empire for her contribution to literature.
The reverse design of this coin, by David Lawrence, depicts a jigsaw puzzle with a question mark, representing the mystery behind her stories.
You can secure this coin for your collection for £8.99 (+p&p) by clicking here >>
2018 Mary Shelley's Frankenstein £2
This £2 coin was issued by The Royal Mint to celebrate the 200th anniversary of the publication of Mary Shelley's famous novel Frankenstein; or, The Modern Prometheus.
Whilst on holiday in Geneva Mary Shelley and her poet friends, including Lord Byron and future Husband Percy Shelley, decided to have a competition to see who could write the best horror story.
Out of this Mary Shelley created Frankenstein, a story about a scientist's scary act at playing God and creating life. It went on to become one of the best loved gothic novels.
The reverse of this gothic coin was designed by Thomas Doherty and features the words 'Frankenstein' in an electric gothic font.
2017 Jane Austen £2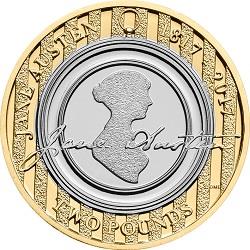 In 2017, to celebrate the life and works of one of Britain's best-loved authors, The Royal Mint issued this Jane Austen £2.
Jane Austen is one of the best-loved English novelists from the 19th century. Her novels were revolutionary and from her first novel, Sense and Sensibility, readers began a love affair with her fiction that has lasted two centuries.
Designed by Dominique Evans, a portrait of Jane Austen features on the reverse of this coin. It did not enter general circulation and was issued in collector quality only.
2016 Shakespeare £2 coins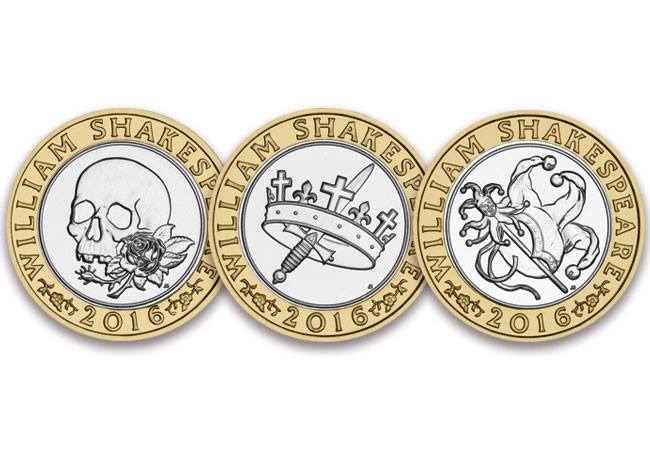 William Shakespeare is the most influential literary figure in British history and his works are an important part of Britain's cultural heritage.
In 2016, a series of three £2 coins were issued to mark the 400th anniversary since his death and to celebrate his greatest works.
Each coin's design takes inspiration from some of Shakespeare's greatest works, including Macbeth (pictured central), A Midsummer Night's Dream (far right) and his most-famous love tragedy, Romeo and Juliet (pictured left).
All three coins entered circulation but the Comedy £2 has the lowest circulating mintage – just 4,355,000!
2016 Beatrix Potter 50p
To celebrate the 150th anniversary of the birth of Beatrix Potter, the Royal Mint have released this 50p to celebrate Beatrix herself.
Designed by Emma Noble, the coin includes elements that celebrate Beatrix as the artist behind some of the best-loved characters in children's literature along with the nostalgic font used for the inscription.
This coin entered general circulation and has a mintage of 6,900,000.
---
The Sir Walter Scott £2 was initially issued as part of the 2021 UK Annual Coin Set but this is the first time that collectors will have the chance of securing this coin individually for their collections.
Will you be adding it to your collection? Let us know in the comments below!
---
Secure the 2021 UK Sir Walter Scott £2 for your collection!
Secure the brand new 2021 UK Sir Walter Scott £2 for your collection for JUST £8.99 (+p&p) by clicking here >>
Your coin has been protectively encapsulated in Official Change Checker packaging with that all-important hologram to guarantee its superior quality.
Good news Change Checkers – your latest eBay Tracker and Valuation Index is here!
Whilst the secondary market can be a bit of a minefield, we've put together an easy way for you to see how much the Top 10 UK coins and banknotes are selling for right now.
eBay Tracker
Find out which coins and notes have been the key movers and shakers in the updated eBay Tracker below.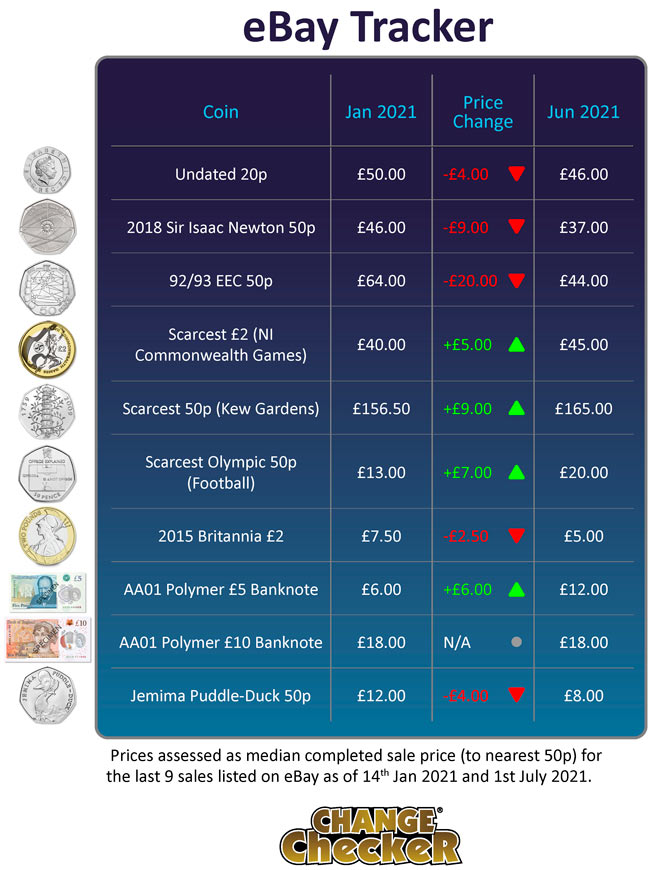 This update sees the Kew Gardens 50p climbing by £9 on the secondary market, taking its median sold price to £156.50!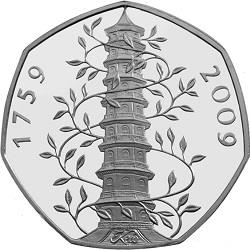 Released by The Royal Mint in 2009 to celebrate the 250th anniversary of the Royal Botanic Gardens at Kew, the striking design of this 50p, by Christopher Le Brun RA, features the famous Chinese Pagoda at Kew entwined by a decorative leafy climber.
In 2014, The Royal Mint revealed that only 210,000 Kew Gardens 50p coins had been struck, making it the scarcest UK coin in circulation.
Until this point, the coin had been somewhat overlooked, but once collectors realised just how rare this coin really was, the race was on to find one in their change – a challenge which to this day has coin collectors hunting far and wide for the chance to find one.
So, there's no surprises people are prepared to pay a pretty penny on the secondary market to secure one for their collection!
There's also been an increase in the sold prices for the Football 50p, climbing by £7.
Olympic 50ps have long been a favourite amongst collectors, but did you know that only 1,125,500 Football fifty pence pieces entered circulation? It's definitely the rarest one to look out for and tops our chart as having the smallest mintage figures, which means it is even harder to find than the others.
As we're now able to get out and spend our cash more, there are bound to be some changes in the coming eBay Tracker updates. We're certainly excited to see how the sold prices of the top 10 UK coins and banknotes are influenced by this over the coming months!
Valuation Index
Overall, there's been a 1.3 point increase value for the Top 10 UK coins and banknotes since June's update and this is no doubt due to the increase in price for 7 of the coins in the tracker.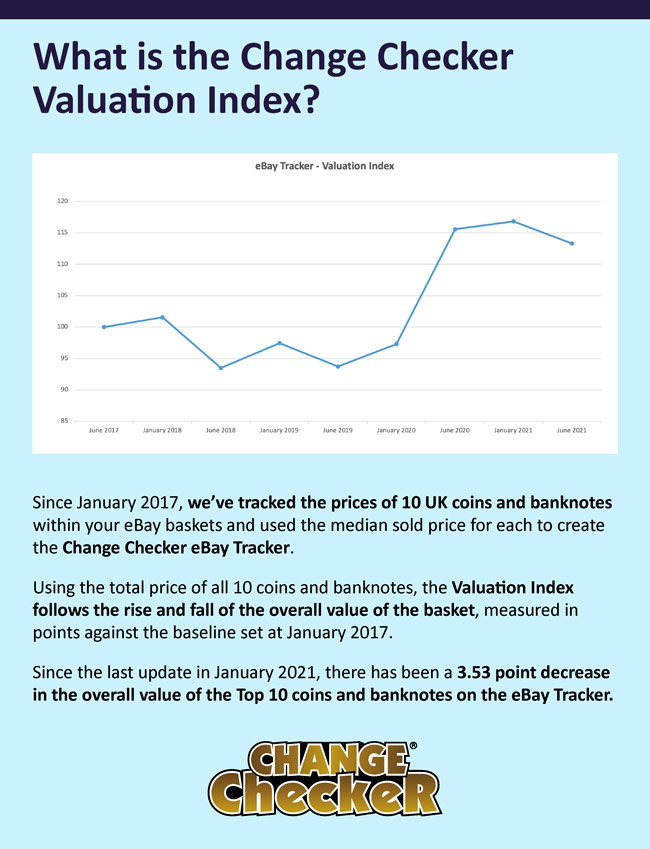 Since January 2021, there has been a 3.53 point decrease in the overall value of the Top 10 coins and banknotes on the eBay Tracker. After January's steep increase, it looks as though the Index is levelling out again.
My coin isn't on the eBay Tracker
The eBay Tracker follows the movements of the Top 10 UK coins and banknotes, however if your coin doesn't appear on the tracker you can use our 6 point guide to help determine realistic a value for your coin.
So now that you're up to date with our latest eBay Tracker, will you be selling any of the coins in your collection or will you continue to save them? Let us know in the comments below.
How does the eBay Tracker work?
The Change Checker eBay Tracker takes the last 9 sold prices achieved on eBay and gives the median price achieved (rounded to the nearest 50p). By taking the median, rather than an average, we avoid skewing created by one or two excessive prices achieved.
Please note that the Change Checker eBay Tracker is only ever designed to be a guide as to prices achieved on eBay. Prices may vary depending on collector demand and the quality of the coin being sold. It does not provide any guarantee as to future values of coins.
---
If you're interested in coin collecting, our Change Checker web app is completely free to use and allows users to:
– Find and identify the coins in their pocket
– Collect and track the coins they have
– Swap their spare coins with other Change Checkers
---
Receive new UK coins without the hassle of placing orders on the day of release!
Join the Change Checker UK CERTIFIED BU Subscription Service and receive new UK coins sent to your door without the hassle of placing orders on the day of release!
Don't miss your chance to get ahead of the crowd and be one of the very first collectors to receive the latest UK new issue coins as soon as possible after their release.