Standing strong for over 1,100 years throughout Britain's wars, political upheavals, social and economic progress and technological and scientific advances, The Royal Mint's history can be traced back through our country's coinage.
But it was 50 years ago today that The Queen herself opened the new site for The Royal Mint, which was moved to a purpose-built site in Llantrisant following 157 years at Tower Hill, London.
This was the first time since its inception that The Royal Mint had been based outside of London, and marked an incredibly important moment in the history of our coins.
In 1966 it was announced that Britain would adopt a new decimal currency, which meant that hundreds of millions of new coins would need striking. Tower Hill simply didn't have enough space to cope with this demand and so the decision was made to find a new location for The Royal Mint.
Llantrisant made it onto the shortlist of the top 7 locations, and as James Callaghan (Chancellor of the Exchequer, Master of the Mint and an MP for Cardiff) supported a move to Wales, Llantrisant was chosen for the big move.
The announcement was made in 1967 and construction soon began on the new site. For the Llantrisant area, the move meant more work and a regeneration of the town, as well as adding to the sense of history and tradition. It was estimated that the move would provide 10,000 jobs to South Wales.
It was in 1968 that the site was officially opened by Her Majesty The Queen when she switched on the coining presses to begin production of decimal bronze coins.
Llantrisant was built to house the most advanced coining machinery in the world and have a larger capacity than any other mint in Europe, necessary to cope with the amount of new coinage needed.
When the site opened, the circulating coin presses could strike up to 200 coins per minute, however the latest generation of presses today strike around 750 coins per minute!
Today the Royal Mint is the market leader and the largest single supplier of plated coins and blanks in Europe. They can produce 90 million coins and blanks a week – that's almost 5 billion coins a year!
And all this has been made possible thanks to the advanced facilities at Llantrisant, as pictured above, without which the move to decimal coinage simply wouldn't have been possible.
---
Own this Historic Royal Mint anniversary DateStamp™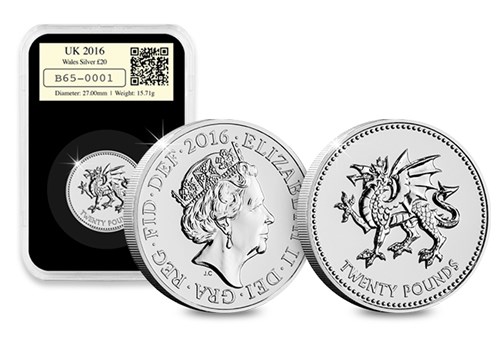 To mark the move of The Royal Mint to Llandistrant, you have the opportunity to own the Royal Mint in Wales 50th Anniversary DateStampTM.
Featuring the 2016 Wales £20 coin with the iconic Welsh dragon design, and postmarked 17th December 2018, exactly 50 years since The Royal Mint moved to Wales.
When it comes to coin collecting, whilst the thrill is in the find, it really is the icing on the cake when you manage to find a particularly rare coin which is worth more than its face value. However, all too often we are bombarded by press articles citing eBay listings of 'rare' or 'error' coins and, naturally, our interest is piqued when we hear about the coin we've just come across in our change 'selling for thousands'.
Unfortunately though, these articles can often sensationalise the actual value of the coin and when taken out of context we can forget that anyone can list anything they like on eBay, for whatever price they choose, regardless of whether or not the item is genuinely worth it.
So to help you avoid the pitfalls of buying coins eBay, we've created our top 5 eBay buying tips at the bottom of this blog.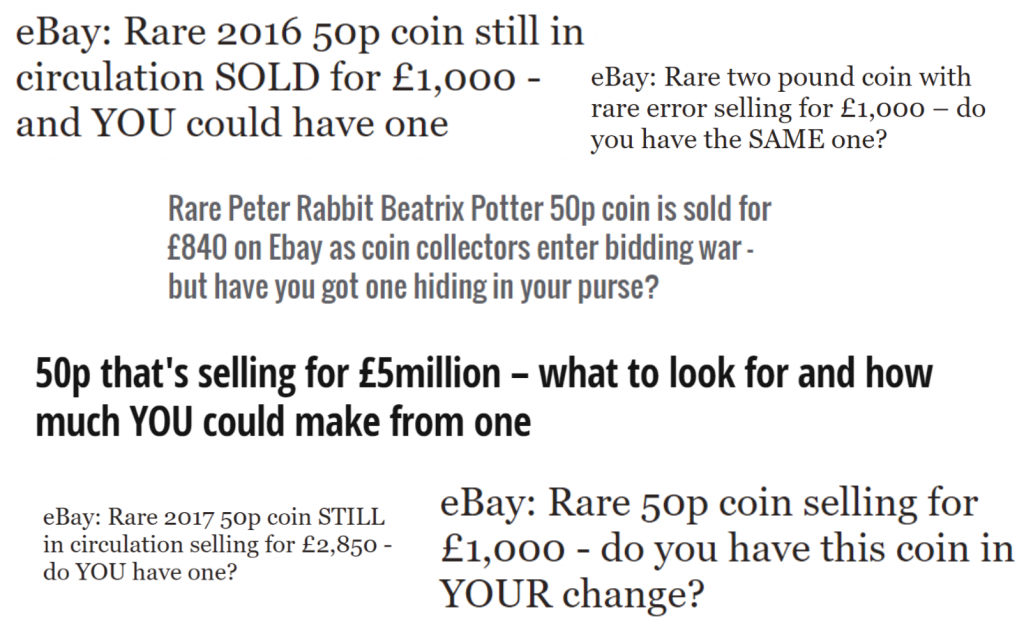 When a coin is listed for excessive amounts it draws attention to itself and all it takes is for the press to pick up on it for more people to start believing that the coin really is valuable and so the story grows. But in reality, these coins are not usually worth the price they are listed for and are very unlikely to actually sell. Even if the coin does sell at that price, there is no guarantee that the sale will actually go through.
How much is my Benjamin Britten 50p worth?
We've seen this time and again, particularly for the 2013 Benjamin Britten 50p. In fact one of the most regular questions we get at Change Checker is: "I have a Benjamin Britten 50p – how much is it worth?".
There's no doubt that the Benjamin Britten 50p was somewhat overlooked when it was first released and it is amongst the slightly more scarce coins in circulation, but ask yourself this… would you pay £800 for one?
Whilst a brilliant uncirculated quality Benjamin Britten 50p might sell for around £10, you're likely to come across a circulation quality coin in your change, as this 50p has a mintage figure of 5,300,000 and is ranked as common on our scarcity index.
Read our blog 'So i thought my coin was worth £800…' for more information.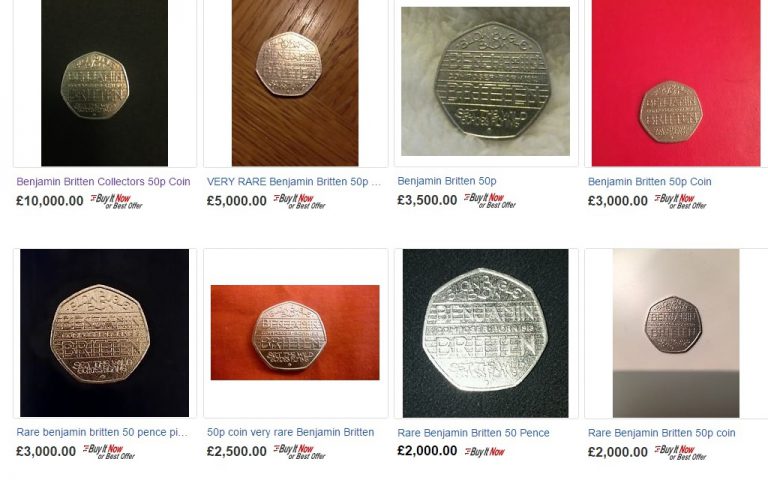 But it's not just Benjamin Britten – there are others… including the 2005 Gunpowder Plot 'Pemember' £2 and the 2012 Charles Dickens 'error coin', as well as the new coin releases such as the leaked Paddington 50p…
Gunpowder Plot £2 'error'
The 2005 Gunpowder Plot £2 commemorates the 400th anniversary of Guy Fawkes' failed assassination attempt on King James I, but the coin is more familiar to collectors for having a spelling mistake in the edge inscription. The timeless quote "Remember, remember the fifth of November" has been found with various combinations of Pemember, Pemembep, Novemebep and so on. The common factor here is the 'R' which appears as a 'P'.
Sadly for collectors this is apparently not a striking error. The explanation from the Royal Mint is that the down-stroke of the R coincides with the milling around the edge, and as the coin has worn over time, the letter has become less defined. This categorical statement from the Mint means that any mark-up in price for a supposed 'error' is completely unjustified, and although it makes the coin more interesting, it is not the mistake which it is often perceived to be.

Charles Dickens £2 'error'
The Charles Dickens £2 coin was issued by The Royal Mint in 2012 to commemorate the 200th anniversary of one of Britain's most famous and beloved writers. The design features Dickens' recognisable profile crafted from the titles of his most famous works and is a favourite amongst collectors.
But recently, a number of stories have been popping up regarding the 'errors' people have noticed, such as fading dots around the centre part, upside down edge lettering and misspelling of the edge inscription. Unfortunately these aren't errors, but are simply caused by the mass production process, the way obverses and reverses are struck and how the coin has worn down in circulation.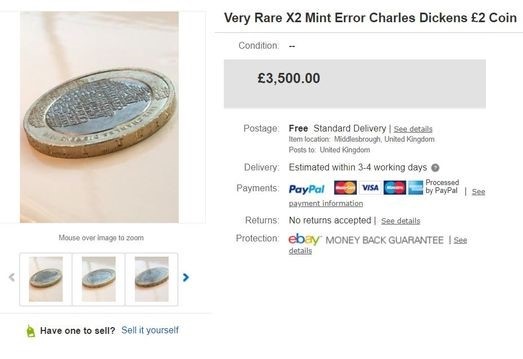 Paddington 50p leaked coins
The Paddington 50p coins were issued by The Royal Mint to celebrate the 60th anniversary of Michael Bond's novel, "A Bear Called Paddington" and were some of the most sought-after coins of 2018, which is why collectors were particularly excited when some of the coins were discovered a few days before the official release…
The coins quickly made their way onto collectors' forums and eBay, with one attracting a "sold price" of £16,000 – prompting interest from a number of national newspapers.
It's highly unlikely that the transaction actually went through, and as the official launch date was just a few days later, we urged collectors to wait to be able to purchase the coin for just £3.99 instead.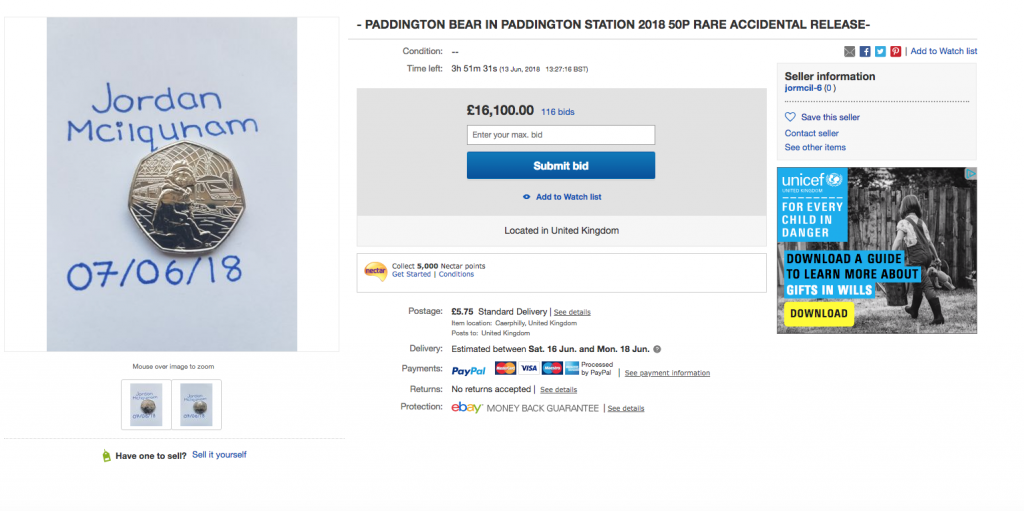 We would always suggest caution and user discretion when buying and selling on eBay. To get a more realistic idea of what your coin could potentially sell for, view the 'sold listings' on eBay to see the actual prices buyers have been willing to pay, although again there is still no guarantee that these sales have all actually gone through.
Remember – even the rarest of all circulating 50p coins – 1992/93 EU Presidency – was sold by Change Checker for just £20.
So to help you get the most out of your money, we've created 5 eBay buying tips:

Tip 1) Check recently sold prices
Whilst coins can be listed on eBay for incredibly high prices, it doesn't mean they will actually sell at this price. Make sure you search for 'sold listings' when researching how much buyers are currently willing to pay to check that your coin is in line with this.
Tip 2) Check if it can still be bought from official Royal Mint distributors
Take a look online at The Royal Mint's website and on our site to see if the coin can still be bought from an official distributor, as this will affect the price of the coin on the secondary market. Buyers will be willing to pay more for a coin on the secondary market if it is no longer on sale at The Royal Mint.
Tip 3) Check if the coin is real or fake
The only way to know for certain that a coin is real is for it to be x-rayed, however there are some simple checks you can make yourself such as making sure the edge inscription and date matches the design and that the coin condition reflects the amount of time it's been in circulation. For example, the Kew Gardens 50p has been in circulation for nearly 10 years, so a shiny Kew for sale on eBay is likely to be a fake unless it's in the original packaging.
Tip 4) Check the coins rarity
Use our mintage charts and Scarcity Index to see how scarce the coin is and check our blogs to see if it has an interesting story that makes the coin more sought-after. Make sure you check for any errors that could add to the coins value, such as the wrong date or metal being used.
Tip 5) Check the coins condition
If the coin is in Brilliant Uncirculated quality it will most likely sell for more than a circulated coin which is more worn. Typically, the more worn the coin is, the less a buyer is likely to be willing to pay.
Remember you can also use our 6 point guide to valuing your coins to help you determine how much your coin might realistically be worth.
Best of luck buying and selling your coins!
---
If you're interested in coin collecting, our Change Checker web app is completely free to use and allows users to:
– Find and identify the coins in their pocket
– Collect and track the coins they have
– Swap their spare coins with other Change Checkers
Sign up today at: www.changechecker.org/app
I can't help but get a bit excited at this time of year, and now that my Change Checker Advent calendar is counting down to Christmas, I really can't wait for the big day!
But what's got me even more excited is to see how Santa's little elves have been busily working away this year to release the most wonderfully festive coins in time for Christmas.
From all across the world we've seen renowned Mints issue beautiful Christmas coins that would take pride of place in any collection and I for one would certainly treasure forever (here's hoping there's one for me under the tree this year!).
I've put together a list of some of my favourite 2018 Christmas coins from around the world that I'd like to share with you, starting of course with the UK Nutcracker £5.
2018 UK Nutcracker £5
We all know that £5 coins are the ultimate collector's piece, so I really enjoyed seeing this year's festive £5, the Nutcracker.
The 2018 Christmas £5 coin features a magical design of an enchanting Nutcracker scene, by acclaimed engraver, Harry Brockway. According to legend, 'Nutcracker' represents strength and power and serves as a guardian – the perfect protector to watch over your family this Christmas time.
This is actually only the second time ever that The Royal Mint has released a Christmas £5 coin, and I'm sure that collectors will want to stay on top of this new tradition and make sure they don't miss any of these coins for their collection, starting with last year's Christmas Tree £5.
2018 UK The Snowman 50p
I love The Snowman Christmas story and so it came as no surprise to me to see that this coin was a favourite this year, with both Silver Proof and Gold versions completely SELLING OUT on the first day of issue!
Issued by The Royal Mint to celebrate the festive season, The Snowman 50p marks the 40th anniversary of the publication of Raymond Briggs' much-loved festive tale and was designed by Natasha Ratcliffe to depict the boy and the snowman flying through the night sky above Brighton Pier.
The Isle of Man has previously issued Christmas 50ps featuring The Snowman and these now sell for £100's on the secondary market, which I'm sure would have added to the collectability of this first ever UK Christmas 50p.
2018 Isle of Man Wren £2
You might be familiar with the Isle of Man Christmas 50p coins, but this Christmas a very special £2 coin has been issued featuring a festive wren design.
Hunt the Wren, as it is known on the island has become one of the most popular yet more unusual Manx traditions in practice today, although it actually dates back to Pagan times! This year, the Boxing Day tradition has been celebrated on a £2 coin and only a limited quantity of these coins will enter circulation on the Isle of Man.
Typically, the mintages for Isle of Man coins are much lower than UK coins, with none of the previous Manx Christmas 50ps exceeding 30,000!
2018 Canada 3D Snowball Fight 50 Cents
We all love a snowball fight! Chances are though that in the UK we won't see quite as much snow (if any) this year as Canada. But don't despair, as this wonderful Canadian 50 Cent coin allows you to bring to life the magic of a snowball fight on an innovative 3D coin!
The Royal Canadian Mint is renowned for their forward thinking technology, and this Christmas they have used lenticular printing to create artist Tony Bianco's fun-filled design with an illusion of depth, which actually appears to move as the coin is viewed from different angles – so watch out for those snowballs!
It really put a smile on my face when I came upon this coin in my research, and with a mintage of just 20,000 I'm sure Canadian Change Checkers will be eager to add this coin to their collection.
2018 Australia Looney Tunes Christmas Star Shaped $1
When it comes to dressing the Christmas tree this year, I'm sure Australian Change Checkers will be thrilled with this exquisite star shaped 99.99% Pure Silver $1 coin, which comes with protective casing that can be hung as a decoration.
The Perth Mint has produced some fantastic star shaped Christmas coins over the past few years and this year's coin is no exception. One of the best known animated characters of all time, Buggs Bunny and his girlfriend Lola are celebrated in colour printing for this vibrant and festive Looney Tunes design.
This coin is actually legal tender in Tuvalu (a small island off Australia), but I certainly wouldn't be spending it if I found one in my stocking!
2018 New Zealand Disney Silver $1
2018 must be the year for animated characters, as the new $1 from New Zealand features the iconic Mickey Mouse and his friends for this Disney Christmas themed 999 Fine Silver coin.
This is the fifth annual release from the New Zealand Mint and has been so incredibly popular this year that it has in fact sold out completely! Although with such an appealing theme and a very low mintage of just 10,000 this comes as no surprise to me.
Like the Australian Christmas coin, this $1 also comes in a special presentation case to be hung as a decoration – just imagine creating your very own tree filled with international Christmas coins!
I'm sure you'll agree that wherever you are in the world, there's something extra special about a Christmas coin which brings everyone together at this time of year. Whether or not you're a dedicated collector, or simply enjoy Christmas collectables, these coins are impossible to resist!
---

Secure the perfect numismatic gift this Christmas!
With Christmas just around the corner, check out our charming selection of festive commemoratives that could make the perfect gift for friends or family, or as a special Christmas treat for yourself… we won't tell if you don't.