Since the 2019 Change Checker Awards were opened to celebrate the very best people in the world of change collecting, nominations have been flooding in, and it really has been incredible to hear all of your stories from the last year.
It's certainly meant we've had a really tough job deciding on the winners, but with thanks to our panel of judges from the Change Checker team and AllAboutCoins, our well deserved winners have now been selected…
Change Checker of the Year
Winner:
Lisa Strange
Lisa has been chosen as the 2019 Change Checker of the Year by AllAboutCoins for always going above and beyond in the Change Checker community. She's helped many people complete their collections whilst also giving helpful advice and tips on coin collecting!
Well done Lisa!
Runner-up:
Tracey Hunter
Tracey has been chosen as the 2019 Change Checker of the Year Runner-Up by AllAboutCoins for her commitment and involvement to the Change Checker community.
Congratulations Tracey!
Junior Change Checker of the Year
Winner:
Oliver Cross
Oliver has been awarded 2019 Junior Change Checker of the Year by AllAboutCoins for his dedication and passion in finding commemorative coins in his change and inspiring others to start coin collecting.
Congratulations Oliver!
Runner-up:
Lethikka (Narwhal Narwhal)
Lethikka has been chosen as the 2019 Junior Change Checker Runner-Up of the Year by AllAboutCoins for her continued effort in inspiring others to start coin collecting. She has started a coin club at her school where she hopes to share the useful tips she's learned from the Change Checker Community.
Congratulations Lethikka!
---
Matt, a panel member at AllAboutCoins, said:
"Once again there were many brilliant entries to the Change Checker Awards and picking the winner was really tough. It was lovely to see nominations for those collectors who had really gone the extra mile to help others and spread the word about collecting coins… I hope both winners enjoy reading more about coins on the allaboutcoins.co.uk website and in Coin Collector magazine!"
---
Coin Design of the Year
It comes as no surprise that the 2019 Coin Design of the Year is awarded to the 2019 UK Stephen Hawking 50p.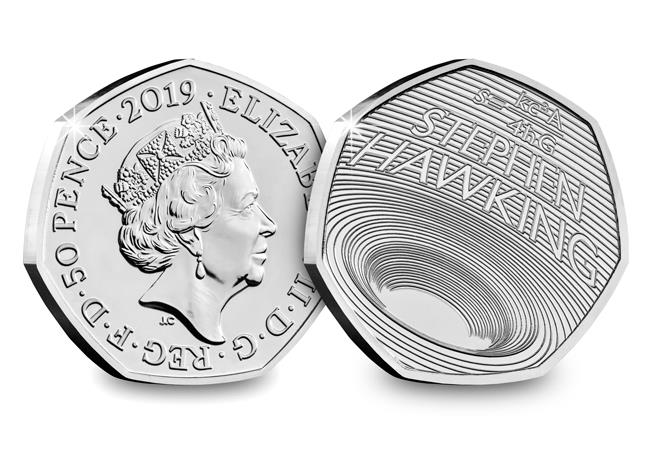 This coin was issued at the beginning of the year, as part of The Royal Mint's new series celebrating Innovators in Science. It's design, by Edwina Ellis, honours the most famous British scientist of modern times, Stephen Hawking and his contributions to the world of physics.
Hawking becomes one of only three people to be commemorated on a coin within a year of their death (the others being the Queen Mother and Winston Churchill).
Congratulations Edwina Ellis!
Coin Story of the Year
The winner of the 2019 Coin Story of the Year Award goes to Alex Nelson from iNews for his fantastic article on the 2019 Stephen Hawking 50p – the most talked about coin of the year!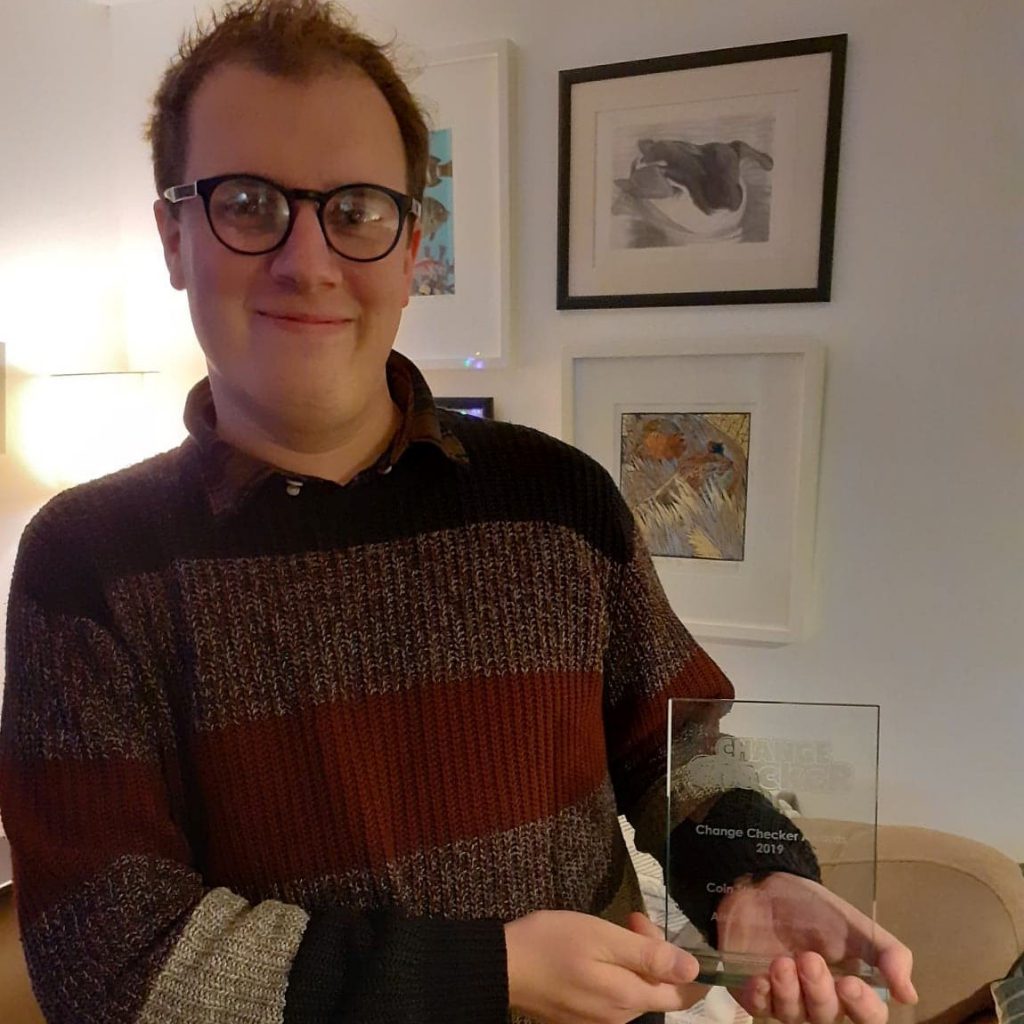 Alex said, "Thanks Change Checker! What a nice surprise. Here's hoping there's plenty of new coins to report on in 2020! "
A big thank you once again to AllAboutCoins for supporting us this year and of course a huge congratulations to all of our winners and all the fantastic entries we had this year.
We'd like to thank each and every one of you for your continued support in 2019 and hope that 2020 is a fantastic year of Change Checking for you all!
---
If you're interested in coin collecting, our Change Checker web app is completely free to use and allows users to:
– Find and identify the coins in their pocket
– Collect and track the coins they have
– Swap their spare coins with other Change Checkers
Sign up today at: www.changechecker.org/app
The A-Z of Great Britain 10p coins have been a firm favourite with collectors since they were first released last year, with 26 Quintessentially British designs capturing the public's imagination.
Unsurprisingly, some designs are proving more popular than others, but which ones are likely to fetch the most on the secondary market?
We've done the hard work for you by taking a look at which A-Z 10p coins are selling for the most on eBay and which ones you should be looking out for.

The Ones to Watch…
If you've been lucky enough to find the 'B' for Bond 10p in your change, you may want to keep hold of it as it currently sells on eBay for around £3.05 – over 30 times its face value!
This coin also currently holds the top spot on our Scarcity Index, so it seems collectors everywhere are desperate to add this 10p to their collection!
In very close second, the 'C' for Cricket 10p sells for an average of £2.98, followed by 'J' for Jubilee in third, which has been selling for around £2.69.
How Many A-Z 10ps Are Out There?
Earlier this year it was confirmed that there were only 220,000 of each individual design released into circulation in 2018. We know that there were 2.1 million coins issued for 2019 but we're yet to find out the individual mintage figures for each design.
When the official figures are released we could well see some of these coins increasing in value on the secondary market due to their low mintage!
These coins are notoriously tricky to find, but have you been lucky enough to come across any in your change? Let us know in the comments below.
---
Own the 2019 Complete Certified Uncirculated A-Z 10p Set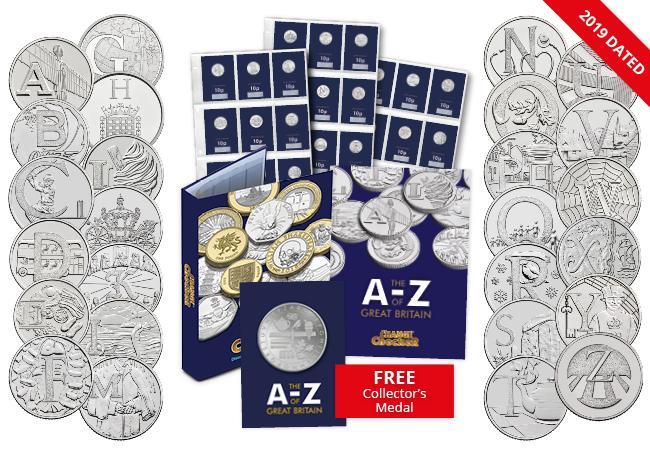 To secure the 2019 Complete Certified Uncirculated A-Z 10p Set, click here
It's a question many coin collectors ask, and so in this blog we're going to get to the bottom of which UK coins really are magnetic and why!
1p and 2p coins
Prior to 1992, 1p and 2p coins were made from a bronze alloy of copper, tin and zinc.
As a result of rising prices of base metals, from 1992 onwards the composition of the coins changed to copper plated steel.
Both compositions are the same weight, diameter and design, meaning that they circulate together with no noticeable differences – other than the fact that coins with a steel core are magnetic.
The steel core of the newer coins is electroplated in copper to give them the same colour as the pre 1992 coins, so the only way to tell them apart is to use a magnet!
5p and 10p coins
As a result of metal prices rising on world markets, since January 2012 the compositions of 5p and 10p coins have been made from a plated steel, making them magnetic.
In 2013, The Royal Mint began a programme to recover old 5p and 10p coins from circulation. 330 million of new plated steel coins have been issued in their place.
In the same style as the new 1p and 2p coins, the new 5p and 10ps are electroplated, but with nickel rather than copper to give them their 'silver' colour.
Interesting Facts
When plated steel coins are attached to a magnet, the coins themselves become magnetized. With a strong magnet you can attach coins to each other and 'dangle' them. (The Royal Mint).
There are a higher percentage of magnetic 5p and 10p coins in circulation compared to 1p and 2ps.
The 5p and 10p coins became 11% thicker when their compositions changed.
In 2010, a magnetic sculpture called 'Drop' was created by Paul Cocksedge to encourage passers-by to attach unwanted pennies to its surface in aid of charity.
Have you noticed any magnetic coins in your change? Test it out for yourself and see if you can create your own magnetic artwork using these coins!
---
If you're interested in coin collecting, our Change Checker web app is completely free to use and allows users to:
– Find and identify the coins in their pocket
– Collect and track the coins they have
– Swap their spare coins with other Change Checkers
Sign up today at: www.changechecker.org/app