The BRAND NEW and last-ever Peter Rabbit 50p has now been officially released!
It would be hard to find someone who hadn't heard of this naughty little rabbit. The central character of Beatrix Potter's beloved children's stories, Peter Rabbit has featured on many staple collectables.
Emma Noble's design of this coin, which features an original illustration of Peter Rabbit by Beatrix Potter herself, perfectly captures Peter Rabbit's cheeky personality, as he can be seen crawling under Mr. McGregor's fence!
This coin won't be entering circulation but is available to purchase in Brilliant Uncirculated quality for just £4.50 (+p&p) here.
Where it all started
It was in 2016 that Peter Rabbit escaped from Mr. McGregor's garden and made his first debut on United Kingdom coinage.
Issued to celebrate 150 years since the birth of renowned Children's author, Beatrix Potter, this 50p changed coin collecting forever.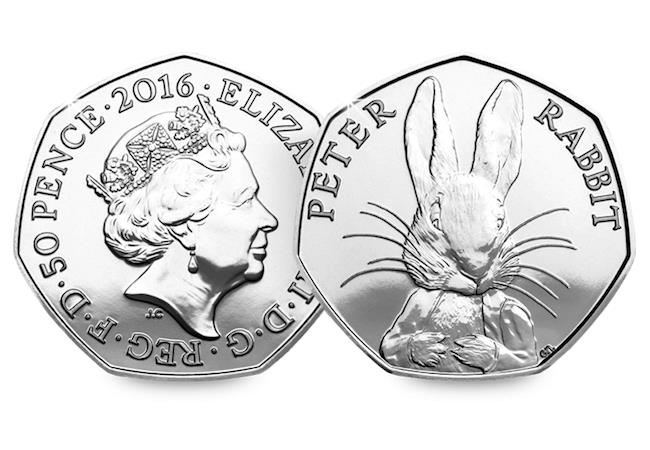 There were five Beatrix Potter 50ps issued in 2016, including the incredibly popular Jemima Puddle-Duck, which, for a long time, was considered the rarest Beatrix Potter coin in circulation. She was also joined by fellow characters Mrs. Tiggy-Winkle and Squirrel Nutkin.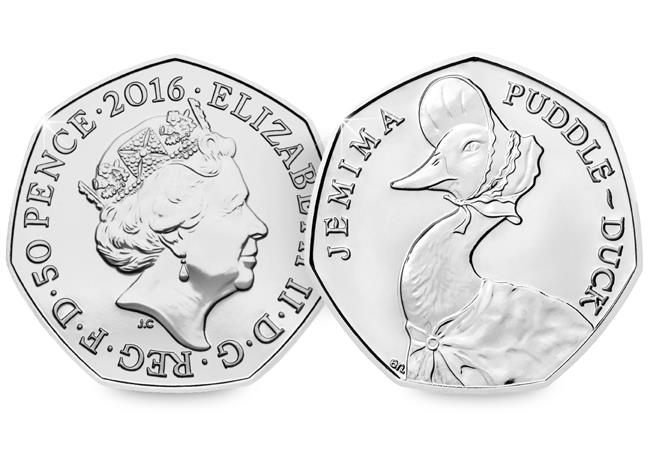 A very special 50p was issued the same year, celebrating Beatrix Potter herself and features her silhouette and her emblem.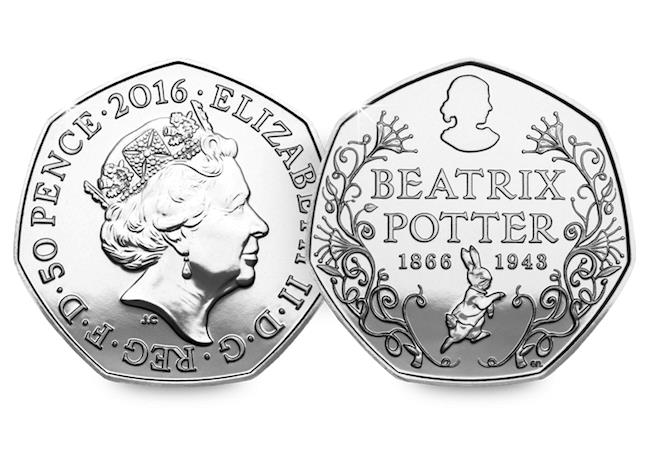 This series of coins continued into 2017, 2018 and 2019. Fifteen Beatrix Potter coins have now been issued since 2016, each featuring one of Potter's delightful characters, from Flopsy Bunny to Mrs. Tiggy-Winkle.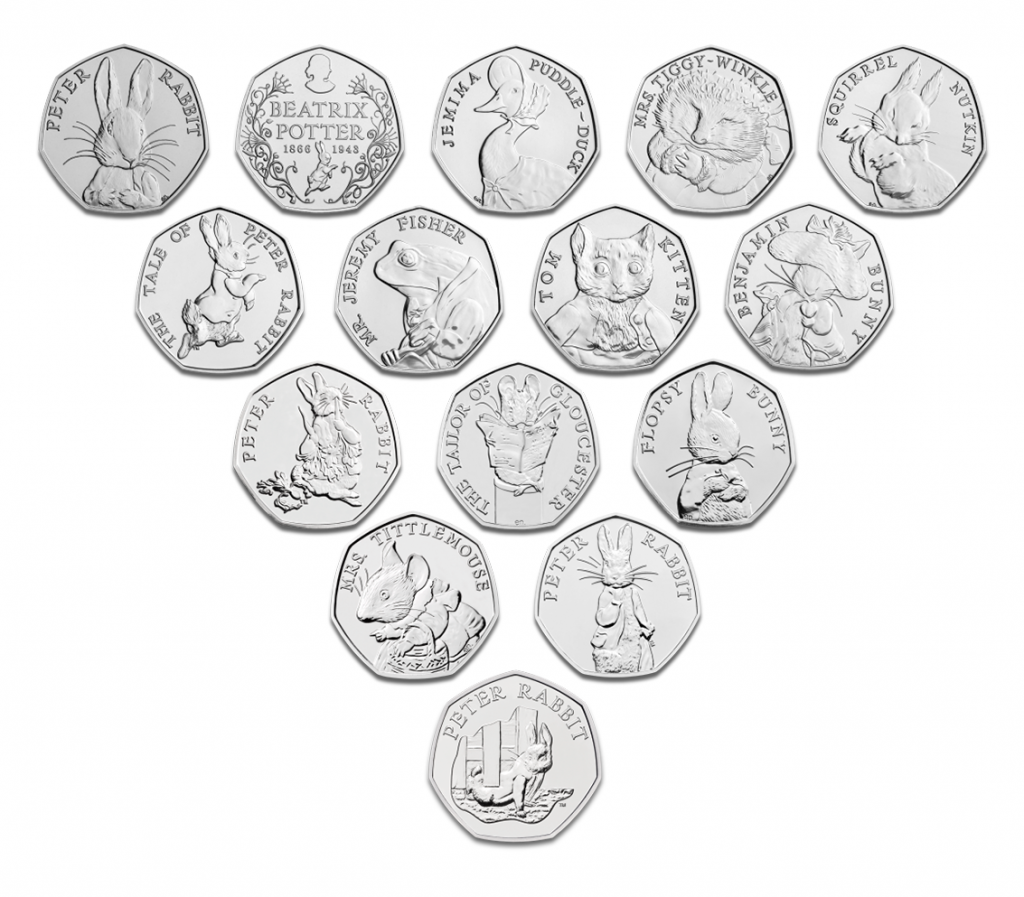 Peter Rabbit is the only character to feature more than once in the Beatrix Potter 50p series, with no less than 5 coins issued to celebrated the nation's favourite little rabbit.
Sadly, Peter Rabbit's 50p tale has now come to an end. It has been confirmed that the 2020 50p will be the very last UK Peter Rabbit 50p to be issued!
Which Beatrix Potter coins are the rarest?
To celebrate the release of this brand-new Peter Rabbit 50p, we've taken a look back at the mintage figures for the different Beatrix Potter 50ps to find out which ones are the rarest in circulation…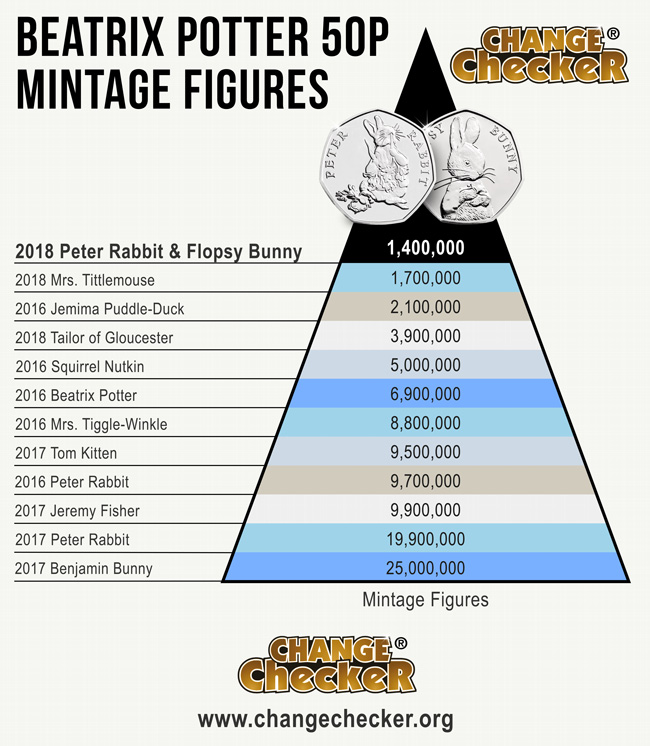 Following the release of the 2018 mintage figures, we've seen the 2018 Peter Rabbit and Flopsy Bunny 50ps take joint top spot on the Beatrix Potter Mintage Chart. With mintages of just 1,400,000, these coins are the rarest Beatrix Potter coins in circulation and have already proved incredibly popular with collectors!
We also saw the 2018 Mrs. Tittlemouse claim its spot on the podium, pushing Jemima Puddle-Duck – previously thought of as the rarest Beatrix Potter 50p in circulation – further down the chart, with a circulating mintage of 1,700,000.
So collectors that have held onto their 2018 Beatrix Potter 50ps will be delighted to see this! If you don't have these coins in your collection yet, now's the time to keep your eyes out to hunt down these sought-after 50ps.
4 years on from his initial release, it's safe to say that Peter Rabbit inspired a whole new generation of collectors to start checking their change.
I have no doubt that the 2020 Peter Rabbit 50p will prove as popular as the previous years, and I'm sure collectors and Peter Rabbit fans alike will be chasing this rascally rabbit right into their collections.
---
Secure this brand new 2020 UK Peter Rabbit 50p in Brilliant Uncirculated Quality
This is your chance to be ahead of the crowd and secure the very last Peter Rabbit 50p in superior Brilliant Uncirculated condition for just £4.50 (+p&p).
Exciting news! The Royal Mint have revealed the latest mintage figures for 2018 coins!
Seven 50p coins entered circulation in 2018 and collectors across the nation have been debating how rare each one might be.
But now the official figures have been revealed and it looks like there are some particularly rare ones we should be looking out for…

The rarest Beatrix Potter 50ps
Collectors who have held on to their 2018 Beatrix Potter 50ps will be delighted to see that these coins have lower mintages than any of the previous Beatrix Potter coins issued in 2016 and 2017.
In fact, three out of the four Beatrix Potter 50ps released in 2018 are even rarer than the 2016 Jemima Puddle-Duck 50p – previously thought of as the rarest Beatrix Potter 50p in circulation!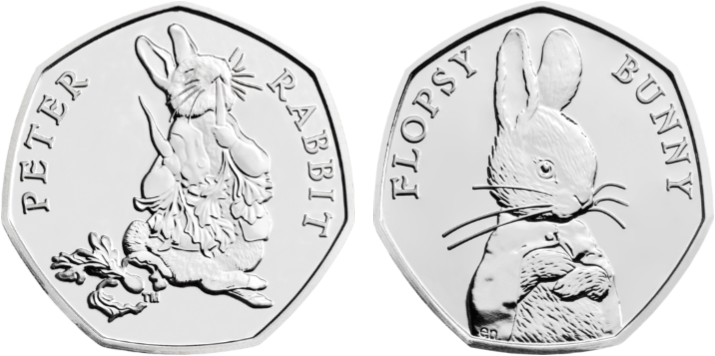 With a mintage of just 1,400,000 the 2018 Peter Rabbit and 2018 Flopsy Bunny 50ps are sure to become incredibly sought-after amongst collectors, as they take joint second spot on our mintage figure chart (which excludes Olympic 50ps).
These two coins, alongside the 2018 Mrs Tittlemouse (mintage: 1,700,000) have pushed the 2017 Sir Isaac Newton (mintage: 1,801,500) off the podium.
Whilst the 2018 Tailor of Gloucester has a slightly higher mintage at 3,900,000 the other three coins in the 2018 series have only been pipped to the post by the UK's rarest 50p in circulation, the Kew Gardens.
With a mintage of 210,000 this 50p is considered the holy grail of change collecting and dominates the Change Checker mintage figure charts and Scarcity Index.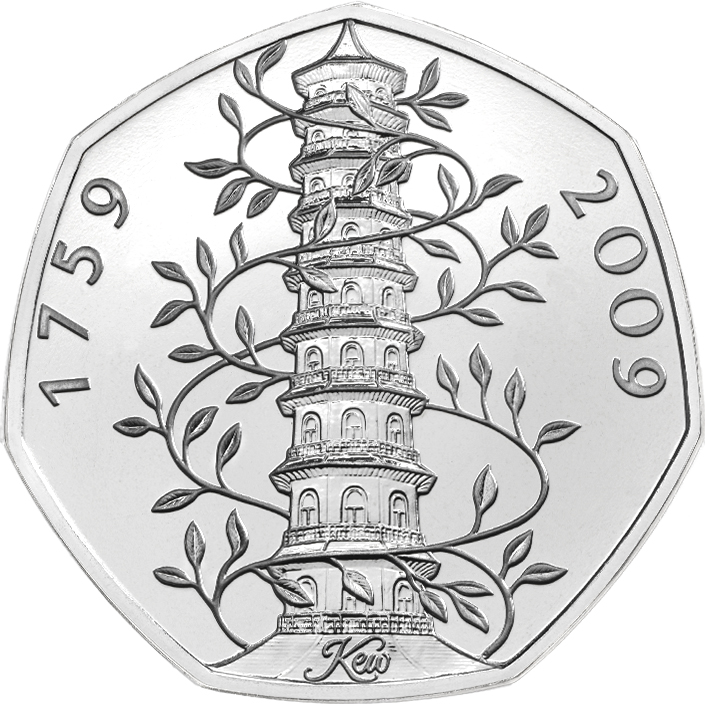 What about the Olympic 50ps?
In 2012, the release of the Olympic 50p series kick started a collecting frenzy across the nation.
It's estimated that around 75% of these coins have been removed from circulation by collectors which means they are incredibly sought-after, especially considering these 50ps have some of the lowest mintage figures in circulation…
Many of the Olympic 50ps have a mintage less than 2,000,000 with the rarest (the Olympic Football 50p) having a mintage of just 1,125,500.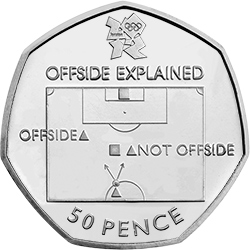 Taking these rare 50ps into consideration, the 2018 Peter Rabbit and Flopsy Bunny coins would sit in joint sixth position, below the Kew Gardens, Football, Wrestling, Judo and Triathlon 50ps.
£2 Coin Update
As well as updating the 50p mintage figures, The Royal Mint also revealed that no £2 coins were issued into circulation last year.
There have been no new £2 coins issued into circulation since 2016, which may in part be due to the introduction of the new 12-sided £1 coin in 2017.
The new definitive £2 was released in 2015, replacing the Technology £2 with a Britannia design, but for the past two years it seems there has not been enough demand to issue this coin for circulation.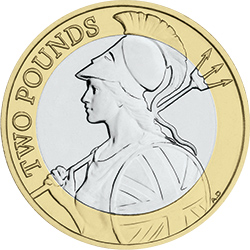 In fact, aside from the £1 coin, no new definitive coins were released at all last year, from the 1p to the £2 coin.
A-Z 10p update
Despite no definitive 10p coins entering circulation in 2018, The Royal Mint have confirmed mintage figures for the highly popular A-Z of Great Britain 10p coins.
From Angel of the North to Zebra Crossing, 26 new 10p designs were released in 2018 to celebrate what makes Britain British.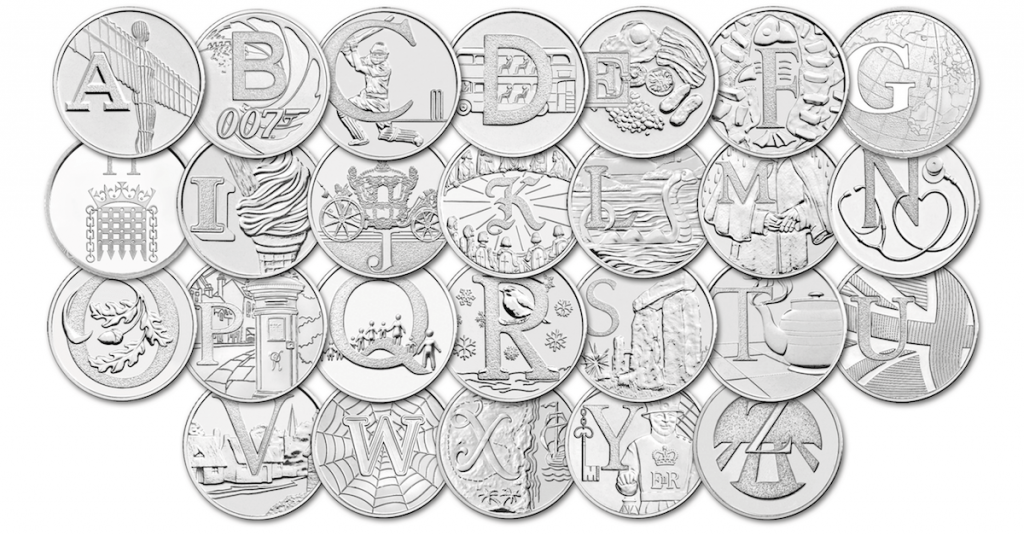 Initially, 2.6 million of these coins were released, followed by another 2.6 million later in the year.
However, up until now the individual mintages for each design had not been confirmed.
The mintage figure update now reveals that 220,000 of each design entered circulation in 2018, which makes the individual 2018 10p coins almost as rare as the Kew Gardens 50p…
Have you been lucky enough to find any of these coins in your change? It's always exciting when new mintage figures are revealed and your realise just how rare the change in your pocket really is!
We'll be updating the Change Checker Scarcity Index next month and it will be exciting to see how these new figures impact the index.
---
If you're interested in coin collecting, our Change Checker web app is completely free to use and allows users to:
– Find and identify the coins in their pocket
– Collect and track the coins they have
– Swap their spare coins with other Change Checkers
Sign up today at: www.changechecker.org/app
With 37 different £2 coin designs in circulation, it's very tough to choose a favourite, but one of mine is certainly the Great Fire of London £2, issued in 2016 to mark the 350th anniversary of one of the most well-known disasters to hit London.
The reverse of the coin, designed by Aaron West, depicts the city of London burning in flames from a distance and makes for an eye catching design which I'm sure many collectors love just as much as I do.
But are you lucky enough to have one of these coins in your collection?
Whilst this coin was previously considered 'Less Common' (as rated on our Scarcity Index), it has now been confirmed that the mintage figure for the Great Fire of London £2 was mistakenly listed and the coin is in fact rarer than we once thought…
Mintage Charts
To reflect the change to the Great Fire of London £2 coin's mintage figure, we've updated our mintage charts to show you how rare this coin actually is compared to the other £2's in circulation.



The Great Fire of London has actually jumped up 15 places on the mintage chart now that the correct figure of 1,625,000 has been confirmed.
The previous figure of 5,135,000 placed the coin in the middle of the pack, just slightly rarer than the Gunpowder Plot £2, however it can now be found amongst the London Underground £2 coins, nearer the top of the mintage chart.
Scarcity Index
These changes are also evident on our latest Scarcity Index update.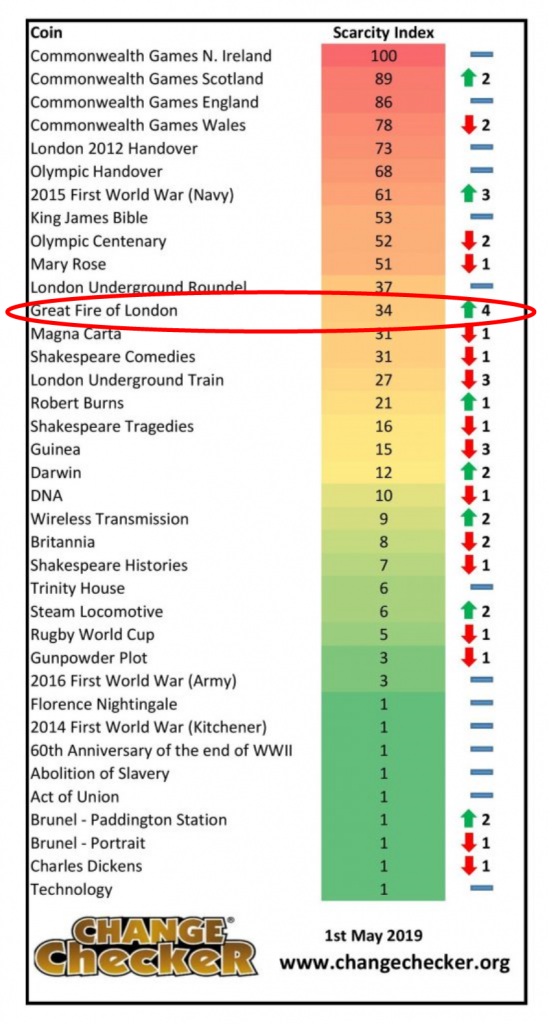 Whilst the coin has only moved up the index by 4 coin places, this is the biggest movement on the £2 index and the coin's Scarcity Index score has actually jumped up from 18 to 34 – almost doubling from the previous index!
Historically, the Great Fire of London £2 has always scored in the mid to high teens, but the updated mintage figures now reflect the fact that the coin is in fact harder than previously believed to find in your change.
Have any other coins been affected?
It wasn't just the Great Fire of London £2 coin which was affected by the updated mintage figures… There were in fact 4 coins from 2016 with previously incorrect figures.



The changes haven't made much of an impact to either of these coin's rankings for the Scarcity Index, with both coins actually moving down 1 place on the index pictured above.
With regards to our mintage figure charts, the two coins have simply swapped positions, as can be seen below.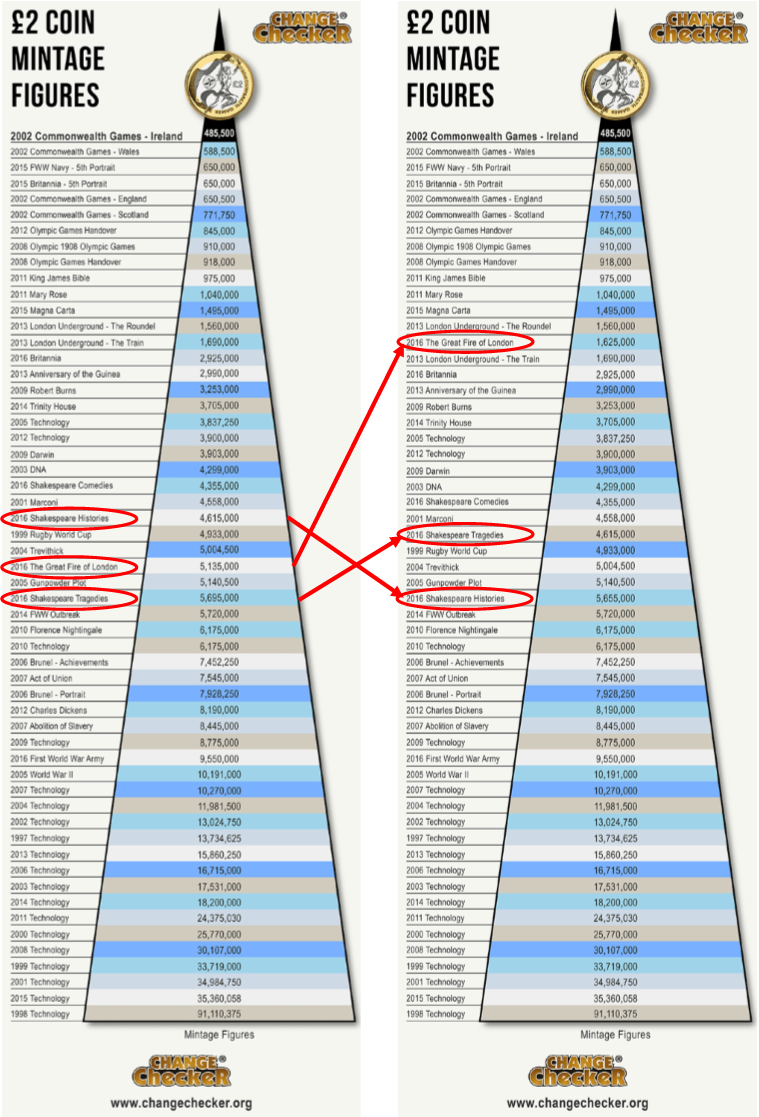 With regards to 50p coins, the only coin affected was the 2016 Peter Rabbit 50p.



This relatively small increase has had no effect on the coin's ranking on the Scarcity Index or position on the mintage figure chart, which can be seen below.


Whilst the changes to the mintage figures for the Shakespeare £2s and Peter Rabbit 50p have made minimal impact, it's fair to say that with almost 4 million less Great Fire of London £2 coins in circulation than previously thought, the scarcity of this coin has definitely increased, making it even more special for those of you lucky enough to have one in your collection.
---
Add the Great Fire of London circulation £2 to your collection!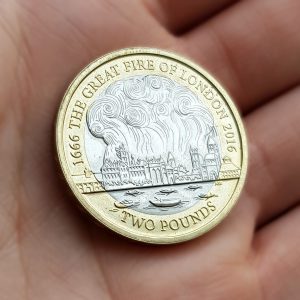 Following the updated mintage figures, I'm sure collectors will be keen to make sure this coin is added to their collection.
Click here to secure the coin in circulation quality for £8.00 with FREE p&p