Could the spare change hiding down the back of your sofa be worth nearly £500?
Change Checker's Ebay Tracker reveals the UK's most valuable coins and banknotes, including the rarest 50p in circulation – the Kew Gardens.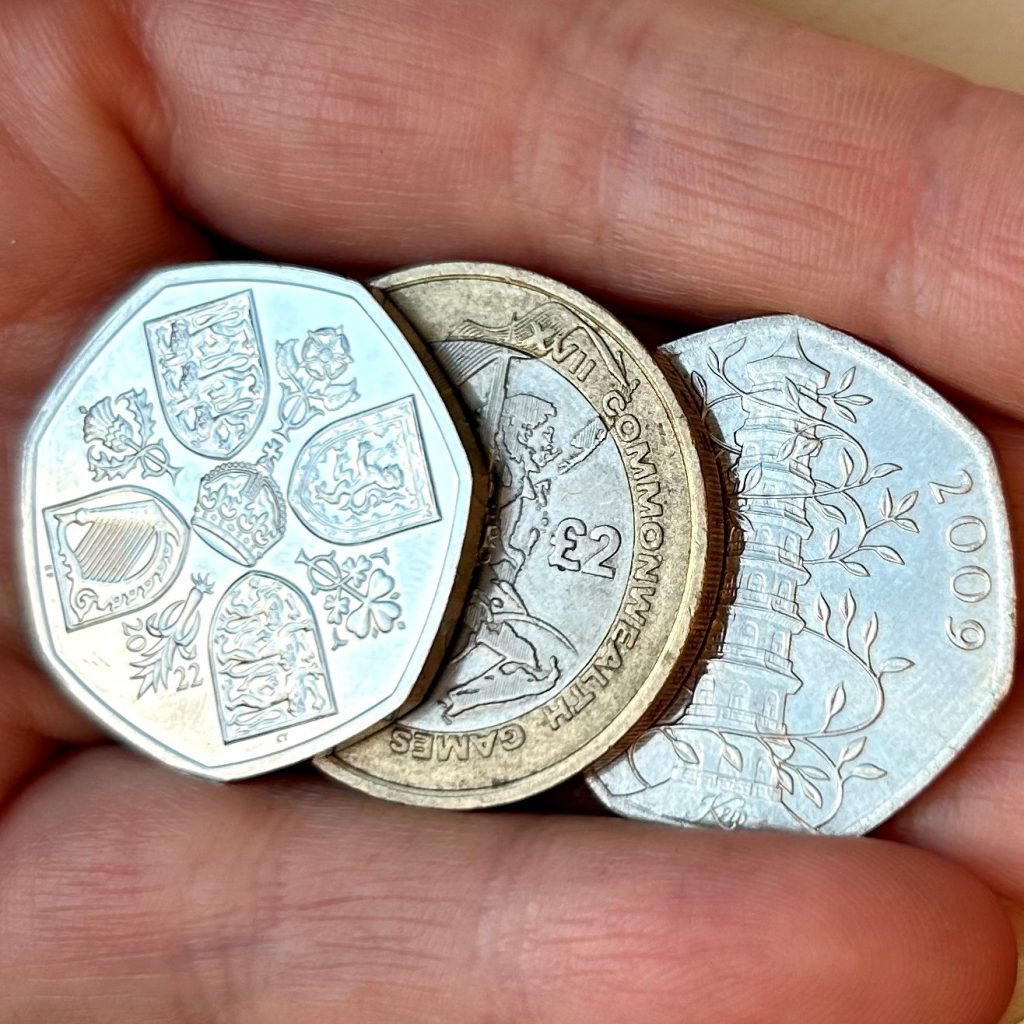 This latest update reveals the highest basket value since the eBay Tracker began in 2017.
eBay Tracker reveals spare change could be worth £490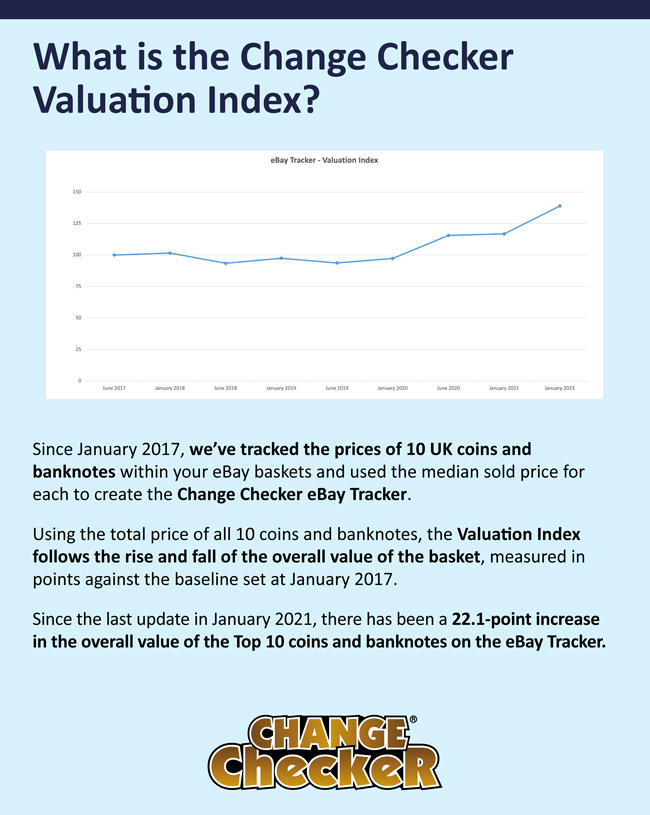 We've seen the demand for coins surge since the sad passing of the Queen.
Collectors are rushing to fill the gaps in their Queen Elizabeth II coin collections and they're definitely not wasting time in getting hold of the first coins King Charles III coins.
And it seems they're prepared to part with a fair bit of money to get their hands on certain coins and banknotes…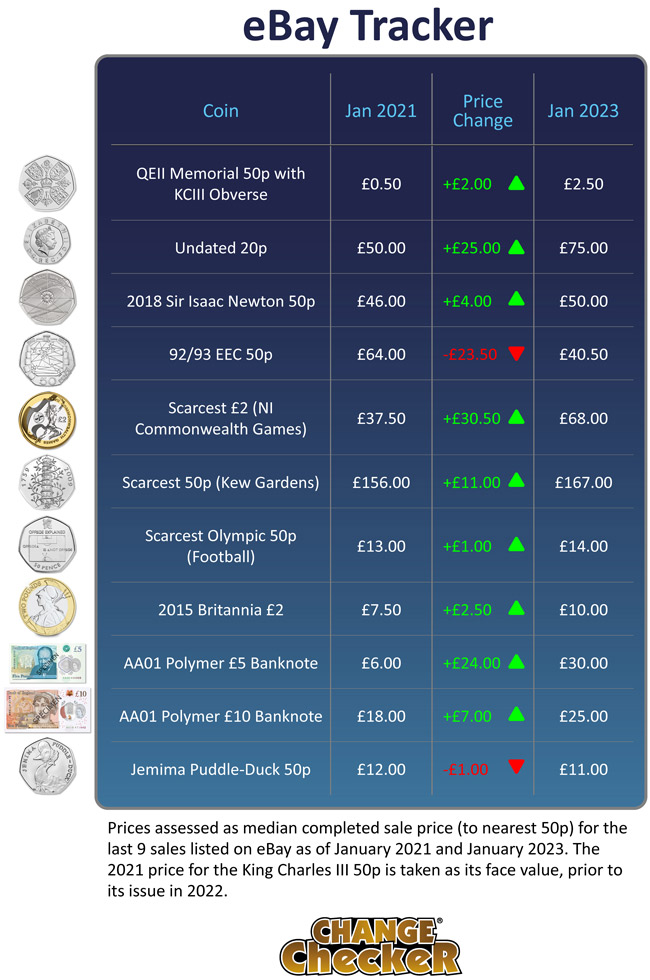 In fact, if you've got all these coins in your collection, you could be sitting on £493! That's a great rainy day deposit.
The biggest money-maker is of course the Kew Gardens 50p – currently selling for around £167 on eBay.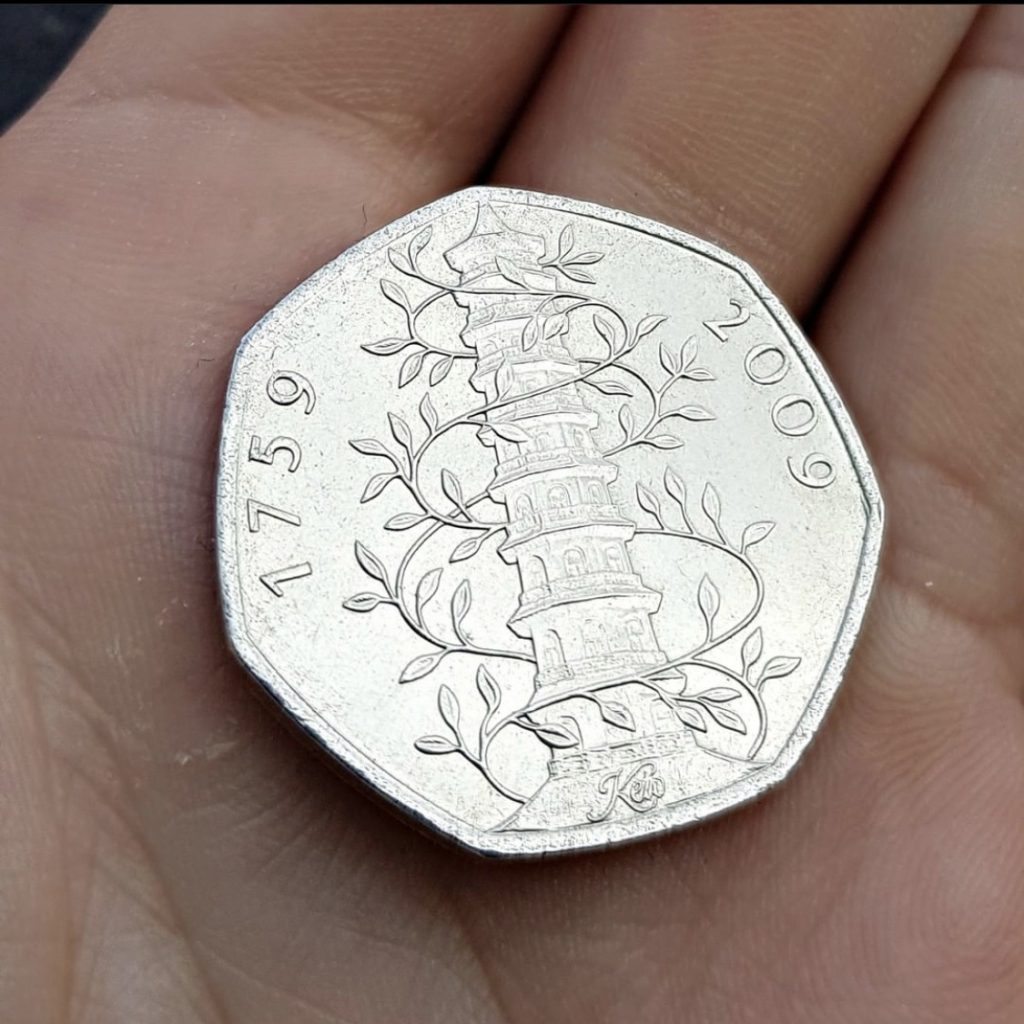 It's also worth keeping an eye out for a polymer £10 banknote with the serial number 'AA01'. These notes are currently selling for around £25!
And, the King Charles III 50p is already causing a flurry in the collecting world, as it's fetching over FIVE times its face value! So, if you haven't already, get checking your change for this 50p.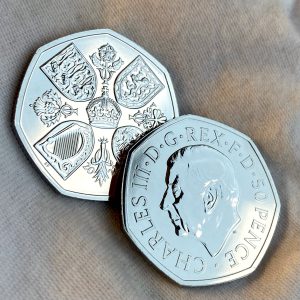 So, how much is your spare change worth?
To discover more about the most valuable coins in circulation, continue reading here >>
Share, learn & swap with the Change Checker Community
Join the only official Change Checker Facebook group today >>
Since the sad passing of Her Late Majesty, we've been inundated with questions from collectors asking, 'how much are my Queen Elizabeth II coins worth?'
The secondary market can be a bit of a minefield. So, we've put together an easy way for you to see how much your QEII coins are selling for right now.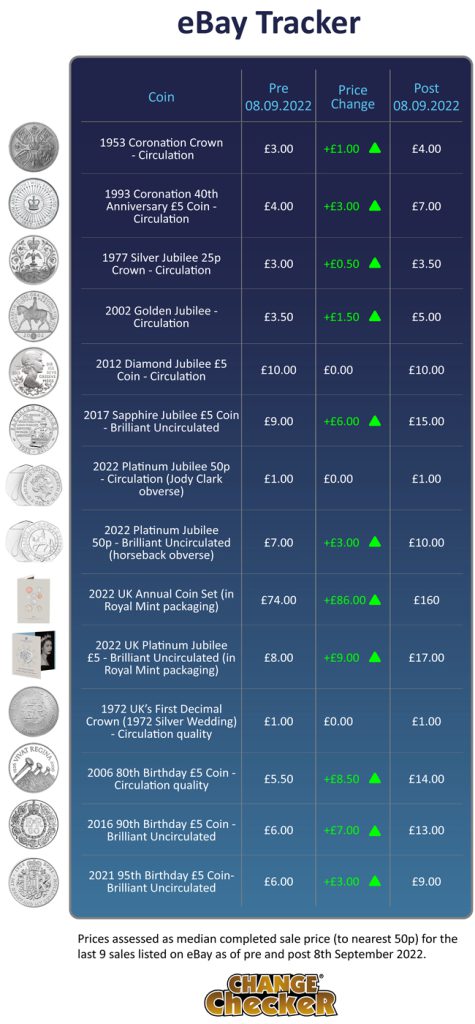 The 2022 UK Annual Coin Set, in official Royal Mint packaging has increased by a remarkable £86 on eBay – now fetching around £160. Included in this set are the 2022 UK Platinum Jubilee 50p and £5, two key Queen Elizabeth II coins.
Change Checker has stock remaining of the 2022 UK Annual Coin Set. Click here to secure yours for just £40.00 (+p&p) >>
The 2022 UK Platinum Jubilee £5 coin in Royal Mint packaging, is currently fetching £17 (a £9 increase since before Her Majesty's passing).
However, it's not just coins celebrating Queen Elizabeth II's various Jubilees that are seeing an increase in demand. The 2006 80th Birthday £5 coin has increased in value by £8.50. The median sold price for this coin is now £14!
As the nation welcomes a new monarch, we also anticipate new coinage.
Demand for coins with portraits no longer in production always increases following the accession of a new monarch. The old coinage becomes limited, with no more ever to be issued.
We're likely to see a constant shift in the prices of these coins on eBay over the coming months. We'll keep updating our eBay Tracker accordingly, so stay tuned to find out how much your coins are worth.
Valuation Index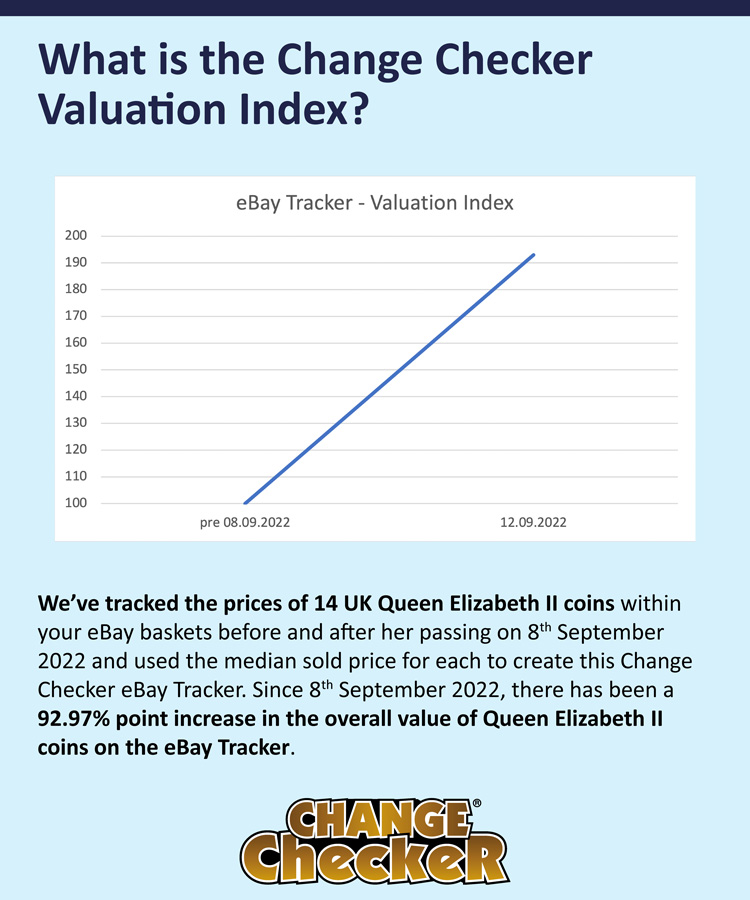 Since the sad passing of Queen Elizabeth II on 8th September, there has been a 92.97% increase in the overall value of the above Queen Elizabeth II coins on our eBay Tracker.
In the 4 days that followed, this sharp increase indicated the rush in demand for QEII coins. Stay tuned as we update our eBay Tracker to see how these prices level out.
My coin isn't on the eBay Tracker
The eBay Tracker follows the movements of just some of the significant coins issued during Queen Elizabeth II's reign. If your coin doesn't appear on the tracker you can use our 6 point guide to help determine realistic a value for your coin.
How does the eBay Tracker work?
The Change Checker eBay Tracker takes the last 9 sold prices achieved on eBay and gives the median price achieved (rounded to the nearest 50p). By taking the median, rather than an average, we avoid skewing created by one or two excessive prices achieved.
Please note that the Change Checker eBay Tracker is only ever designed to be a guide as to prices achieved on eBay. Prices may vary depending on collector demand and the quality of the coin being sold. It does not provide any guarantee as to future values of coins.
---
How much are your Queen Elizabeth II coins worth? Will you be selling them, or will you continue to save them? Let us know in the comments below.
---
Browse the UK coins issued during Queen Elizabeth II's reign

From the latest Platinum Jubilee 50p and £5 coins, to the first Decimal Crown, you can browse Change Checker's available stock here >>
The A-Z of Great Britain 10p coins have been a firm favourite with collectors since they were first released in 2018, with 26 Quintessentially British designs capturing the public's imagination.
Unsurprisingly, some designs are proving more popular than others, but which ones are likely to fetch the most on the secondary market?
We've done the hard work for you by taking a look at which A-Z 10p coins are selling for the most on eBay and which ones you should be looking out for.

The ones to watch…
If you're lucky enough to have the 'R' for Robin 10p in your collection, you might want to keep hold of it, as it currently sells for around £6.99 on the secondary market – which is a pretty hefty return on its face value!
Equally, the B for Bond 10p, which has proven time and time again to be popular with collectors, is currently selling for around £6.25 on the secondary market sites.
These are some really big prices to pay for these A-Z 10p coins and it's certainly higher than we'd expect to see!
We would always suggest caution and user discretion when buying and selling on eBay. Remember you can always use our 5 eBay Buying Tips which are on our blog, to make sure you get the most out of your money.
Dipping slightly in price, we see the L for Lochness Monster 10p selling for around £4.20 on eBay and the N for NHS fetching a similar price too.
How many A-Z 10p coins are out there?
In 2018, it was confirmed that 220,000 of each design were issued for circulation, but it wasn't until 2021 that we saw the 2019 mintage figures confirmed.
Collectors who have managed to find the 2019 dated Q, W, Y, Z, and R 10p coins will be delighted to see that these have a lower mintage than the other 21 designs from that year.
The 2019 World Wide Web, Yeoman Warders and Zebra Crossing 10p coins all have a mintage of JUST 63,000! When you compare that to the rarest 50p in circulation, the Kew Gardens 50p, which has a circulating mintage of 210,000, it puts into perspective just how rare these 10p coins are.
Interestingly, the Robin 10p, which currently has the highest median sold price out of all of the A-Z 10p coins, has a combined 2018 and 2019 mintage of just 284,000, compared to 304,000 for the majority of the other coins!
These coins are notoriously tricky to find, but have you been lucky enough to come across any in your change? Let us know in the comments below.
 Secure the ultimate commemorative for Change Checkers who are collecting all of the A-Z 10ps
The A-Z of Great Britain Collector's Medal is the ultimate commemorative for Change Checkers who are collecting all of the A-Z 10ps – a total of 26 designs all issued in 2018!
Your medal will be protectively encapsulated and is the perfect momento for Change Checkers collecting the A-Z of Great Britain 10p coin Series.