In 1999, coin collecting in America was changed forever with the release of the US State Quarters series.
These coins proved so popular that almost half the US population (that's roughly 150 million people) took part in collecting these coins and they quickly became the most widely collected in all of America, and arguably, the world!
Following this wild success, a brand new series of US Quarters was released in 2010, celebrating the beauty of America and its national parks.
US National Park Quarters Complete Set
Each stunning reverse design captures the magnificence and history of America's most beautiful locations, whilst the obverse features a smaller restoration of the original Washington quarter portrait.
5 new National Park Quarters were released each year from 2010 to 2020, with a final design issued in 2021 to complete the series of 56 coins.
But, these quarters were minted and released for only 10 weeks each before never being produced again, making the series particularly sought after…
What's more, this second series of US Quarters has been released in significantly lower numbers, with a total mintage just over HALF that of the highly sought-after US State Quarters series!
And, with a significant proportion of these coins now taken out of circulation into private collections, they are sure to become scarcer than ever, meaning collectors will want to act fast to avoid missing out on the complete collection.
To secure your US National Park Quarters Complete Set of 56 coins for your collection for JUST £65.00 (+p&p), click here >>
American coinage is one of the most competitive coin collecting markets in the world… Read on to find out more about some of America's most infamous coins!
Indian Head Penny (1859-1909)
The Indian Head Penny is famous for celebrating Native Americans, but it actually doesn't show a Native American.
According to legend, designer James B. Longacre used a portrait of his 12 year old daughter, Sarah, wearing a headdress. It is, however, more likely that the portrait was based on a classical Greco-Roman statue Venus Accroupie (Crouching Venus).
Either way, the 'Indian' is not a Native American! The obverse features the head of Lady Liberty wearing a headdress, while the reverse depicts a wreath as well as the words 'One Cent' and a shield in the middle at the top of the coin.
Morgan Silver Dollar (1878-1921)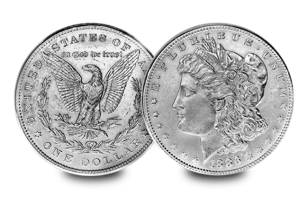 For the new silver dollar, designer George T. Morgan decided to portray Liberty as a goddess, inspired by Philadelphian school teacher, Anna Williams who had a fair complexion, Grecian nose and golden hair. Morgan eventually persuaded Anna Williams to sit as the model for Liberty for the obverse of the Morgan Silver Dollar.
In 1878 artists' models were considered immoral, therefore, Morgan publicly stated that the model was a statue in a Philadelphia museum. Word soon leaked out, however, and it is rumoured that Williams was fired from her teaching job!
'No Cents' Liberty Head Nickel (1883)
When the new Liberty Head Nickel was issued in 1883, the denomination was nowhere to be seen, instead a large 'V' (Roman '5') was on the reverse.
The coins were the size of the $5 gold coin in circulation at the time which created an opportunity for unscrupulous crooks who came up with a cunning plan to pass them off as $5 by gold plating the new nickels and cutting reeds into the edge by hand. The U.S Mint soon became aware and within a few weeks the design was changed to include the word 'Cents' under the 'V'. The 'No Cents' coins are also known as 'Racketeer' Nickels.
Lincoln Penny (1909)
Designer Victor David Brenner added his 'VDB' initials to the new Lincoln Penny design in 1909 which was issued to commemorate the 100th anniversary of Abraham Lincoln's birth.
While the public generally loved the Lincoln cent when it was first released, they didn't like the prominence of Brenner's initials. The U.S. Mint quickly removed the initials as it appeared as though Brenner was either boasting or advertising. This was the first cent to feature Abraham Lincoln's motto 'In God we trust' on the obverse.
Morgan Dollar (1921)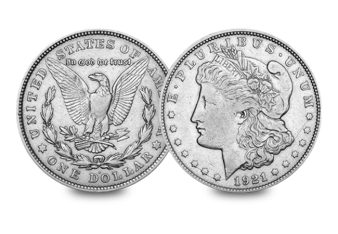 When notorious outlaws Bonnie and Clyde were shot and killed by police in 1934, a 1921 Silver Morgan Dollar was recovered from the jacket of Clyde Barrow among other possessions. The outlaw lovers were believed to have committed 13 robberies among other felonies between 1932 and 1934.
The hunt for the duo captured the nation's imagination during the Great Depression and their fame was heightened by their practice of leaving glamourous photos of themselves at crime scenes.
Even more so now, the 1921 coin is forever associated with Bonnie and Clyde.
Roosevelt Dime (1946)
In 1945 plans were quickly laid for the introduction of a new coin to honour Roosevelt after his passing. The task was assigned to John Ray Sinnock and coinage began in 1946. Controversy soon arose because sculptor Selma Burke claimed that Sinnock had stolen her design without giving her credit, however Sinnock strongly denied this.
In addition, conspiracy theorists claimed that Sinnock's initials 'JS' (at the base of Roosevelt's neck) actually referred to Russian leader Joseph Stalin because of Roosevelt's supposed 'communist' learnings.
---
These are just some of the incredible American coins that have been issued over the decades, including the 56 US National Park Quarters!
Have you ever seen these coins before? Let us know in the comments below!
---
Secure the Complete US National Park Quarters Set!
Through our contacts in the US we have managed to secure a limited amount of complete sets for our collectors, to ensure you have the opportunity to include this impressive set in your collection.
All 56 US National Park Quarters will come presented in a custom display folder, including a map to pinpoint each quarter in the series. This really is the perfect way to display your collection and preserve all 56 coins for generations to come.
Don't miss your limited opportunity to secure this iconic collection and order yours today >>
Cast your imagination back to the 19th century… Queen Victoria ruled 400 million people in an empire that covered almost a quarter of the world's surface!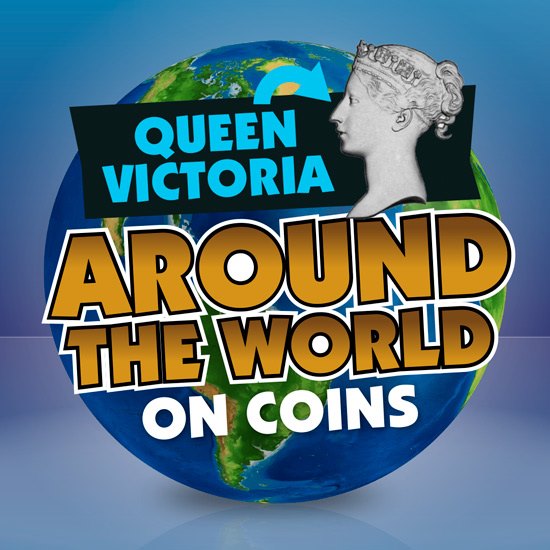 With a name and title famous across the globe, it may come as a surprise to you that Queen Victoria never actually stepped foot in many of the countries she ruled over.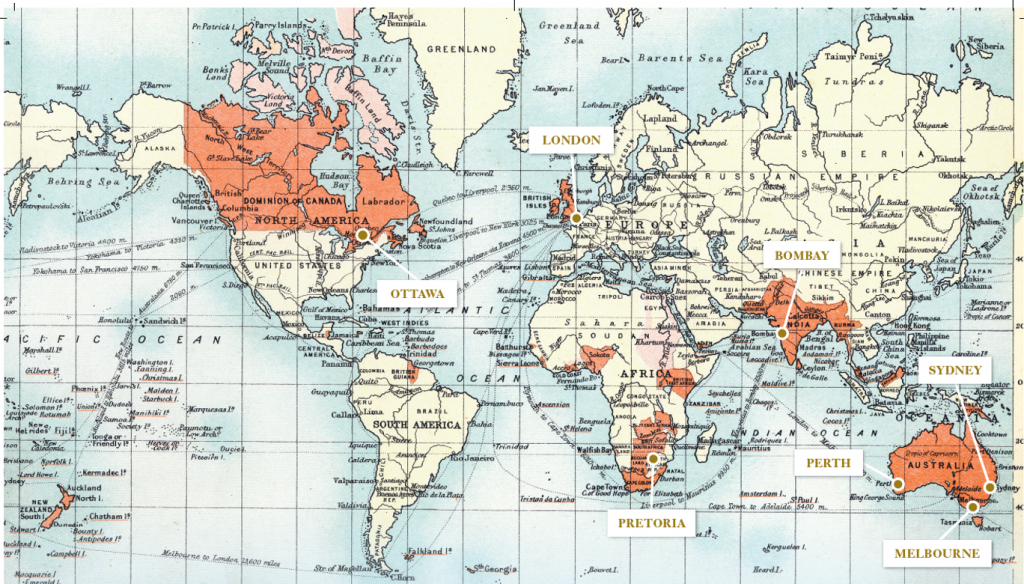 India was held with such high regard in Victoria's heart that it became known as the Jewel in the Empire's crown. In 1876, India awarded her the title of 'Empress of India' in a gesture of appreciation.
Although having never stepped foot in the country and living 4,500 miles away, Victoria's portrait was minted on to the currency of India (the rupee) from 1840, so people could recognise their empress!
The rupee is one of the oldest currencies in the world, so to feature a British monarch for the first time was an important moment in numismatic history.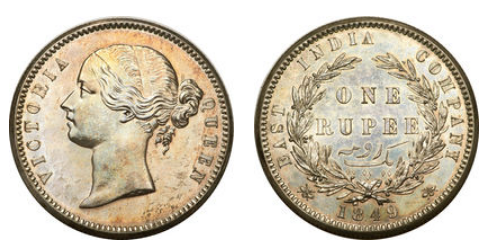 The later portrait issued on rupees, similar to the Gothic Head effigy, can be considered one of the most beautiful coins of the empire.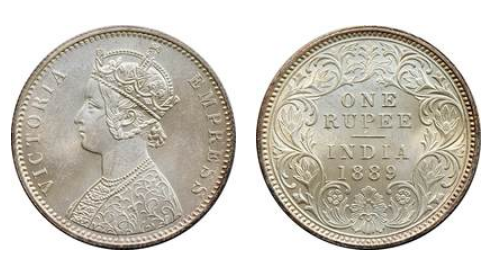 A 22hr flight to Australia seems a long journey now but for Queen Victoria, a trip to this corner of the world would have taken her almost two months to get there!
So, there's no surprises this was also a country that she never visited. However, the need for a British presence in the country was growing with the empire; as the empire grew, so did the need for coins. The Royal Mint opened branches in Australia and in 1855, a sovereign was minted outside of the UK for the first time – the Sydney sovereign.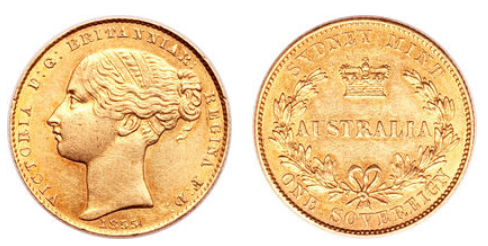 It featured a portrait of Victoria that was based on the Young Head effigy, but with a sprig of banksia weaved through Victoria's hair, giving the portrait a distinct Australian feel.
The Sydney sovereign became incredibly successful and a number of Royal Mint branches were opened throughout Australia as a result. To identify the Mint that sovereigns were produced in, mintmarks were added to the coins, with a small 'P' for Perth, and an 'M' for Melbourne.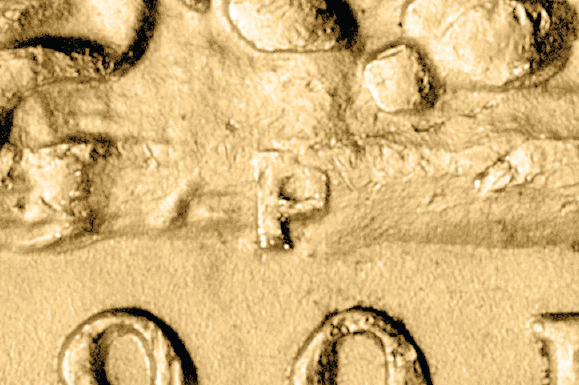 The sovereign became legal tender in the majority of British colonies in the 1860s, and its importance in British trade, and worldwide circulation earned it the title "the King of Coins". By the final years of the British Empire, the sovereign was minted in four continents across the globe.
India and Australia weren't the only countries that saw Victoria's portrait. Her image also reached as far as Hong Kong, Ceylon, East Africa and New Zealand. In 1870 the first Canadian dollar with Victoria's portrait was issued, taking Victoria's image to a new side of the world for people to see.
Despite never leaving Europe, Queen Victoria's portrait and image stood strong on coins around the world. Whilst she never stepped foot in many of the countries that she ruled over, that didn't stop people recognising her image around the world.
The coins that they used every day provided a link to the empire that they were a part of, despite the miles between them.
---
If you've found this blog informative and have enjoyed reading, let us know in the comments below!
---
Secure the 2019 UK 200th Anniversary of the Birth of Queen Victoria £5 for your collection!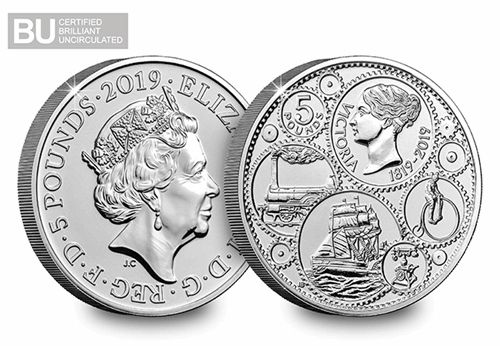 Your £5 coin has been struck to a superior Brilliant Uncirculated quality and is protectively encapsulated in official Change Checker packaging to ensure that it is preserved for generations.
To secure yours for JUST £10.99 (+p&p) click here >>
Sleigh bells ring, are you listening? Because a brand new Gibraltar 50p and £2 coin have just been released featuring none other than Father Christmas himself!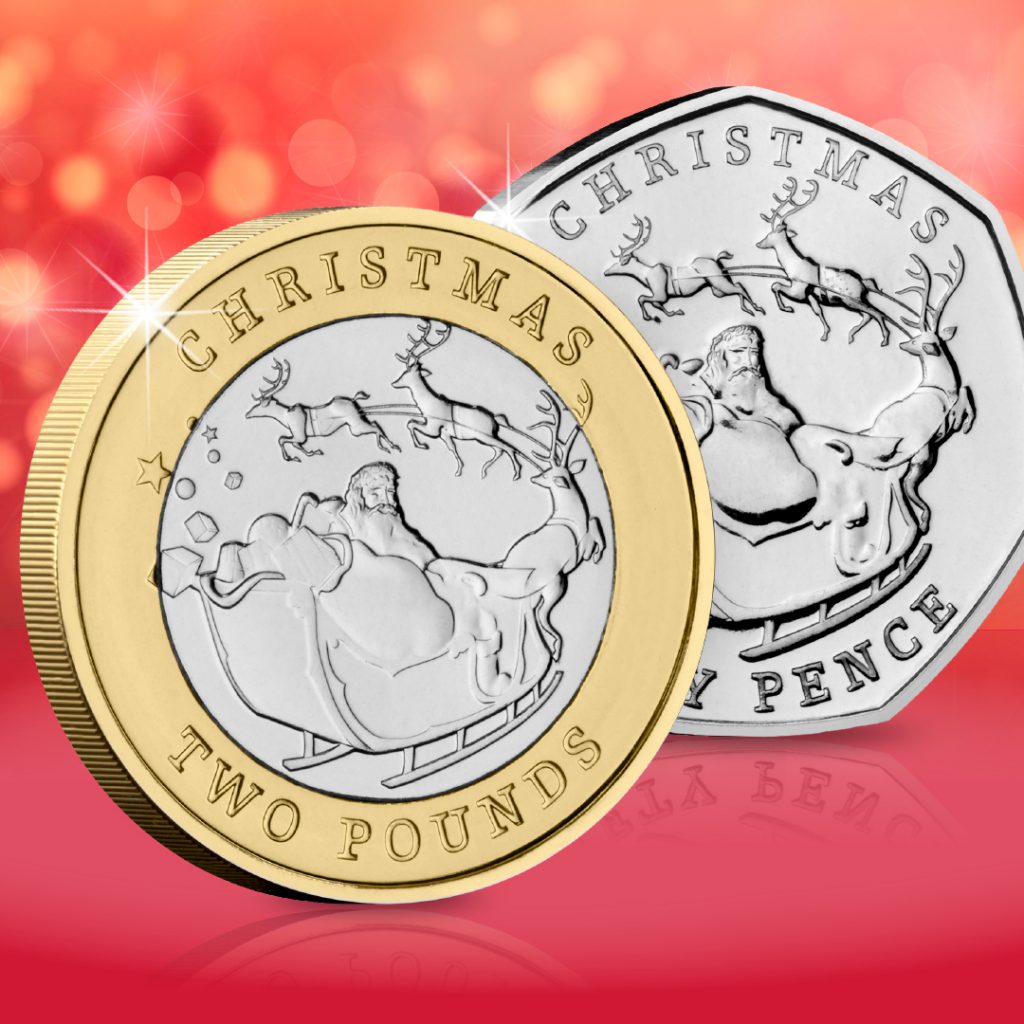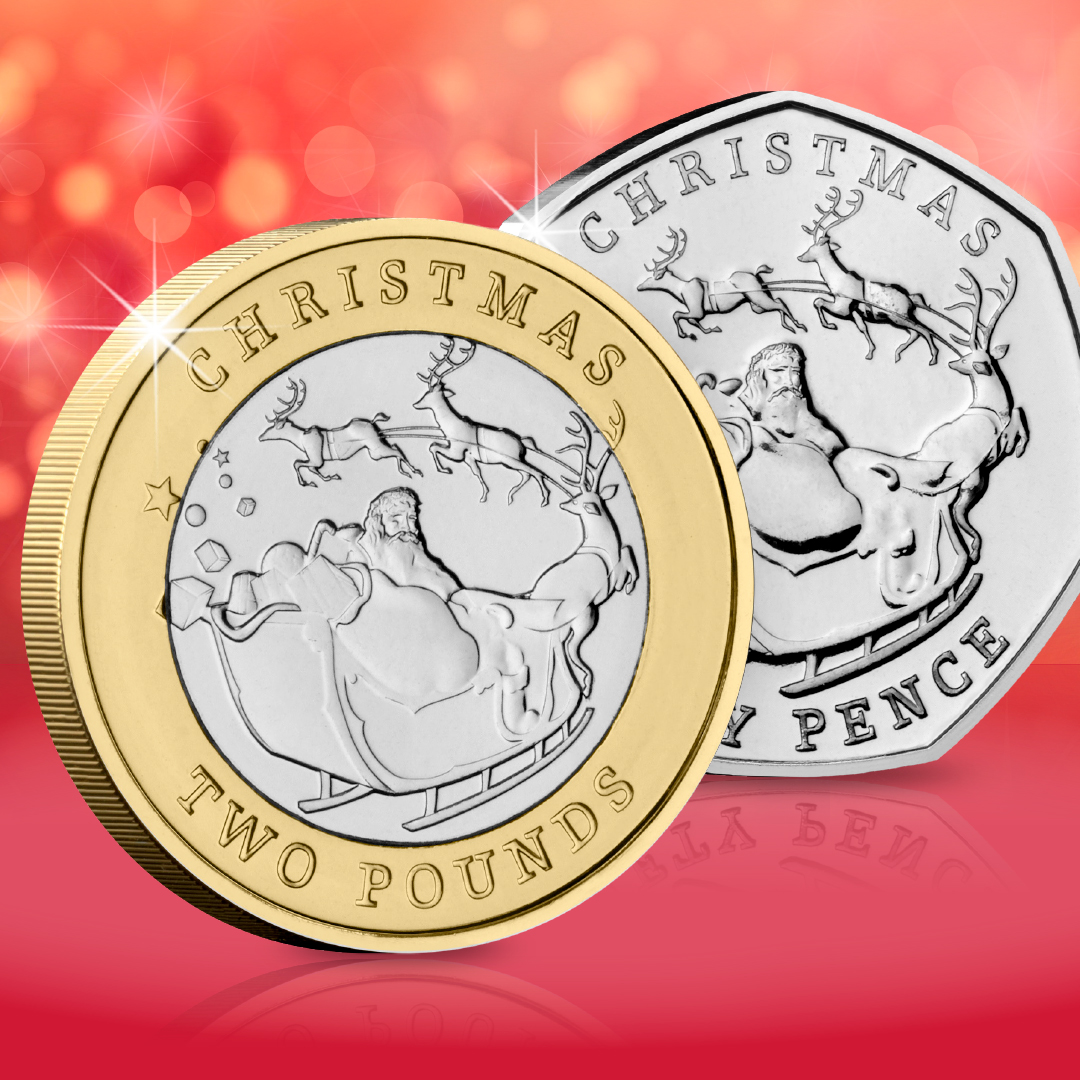 These very festive coins have been released by the Government of Gibraltar, making them particularly sought-after by collectors given the low mintage figures typical from the country!
You can secure this magical Christmas coin pair (the very best way to own these coins!) here for just £13.50 (+p&p).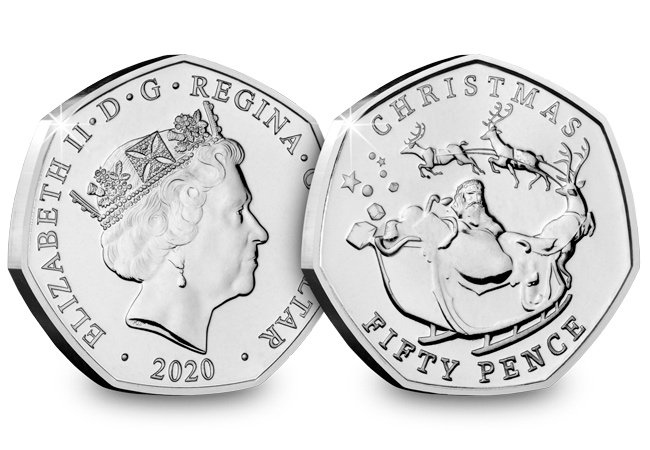 Or, you can secure the single 50p to your collection for JUST £4.50 (+p&p) by clicking here.
Your brand new Gibraltar Christmas 50p & £2 Pair will come in Official Change Checker Packaging, ready to slot into your Change Checker Album!
With previous Gibraltar issues proving immensely popular with collectors, I expect these coins will be snapped up quickly by collectors (especially as we have just a small allocation for Change Checkers!)
A history of popular coins
Gibraltar has released some truly beautiful coins in recent years, and as their mintage figures are typically much lower than UK coins, they are often highly sought-after by collectors…
Coins from Crown dependencies, such as Gibraltar and overseas British territories can sometimes make an unexpected appearance in our change.
They are identical in size, shape and weight to UK denominations which means they often find their way into tills and vending machines undetected.
Whilst these coins aren't technically legal tender in the UK, finding new and interesting designs is always a bonus!
So, whilst it may be tricky to find one in your change, Change Checker has listed our Top 10 Coins from Gibraltar that are worth trying to hunt down!
2019 Breast Cancer £2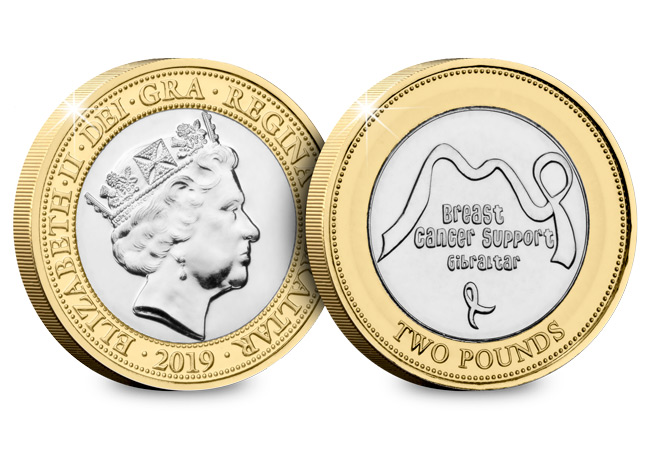 Last year the Government of Gibraltar issued a new £2 coin in partnership with Breast Cancer Support Gibraltar.
However, only a limited number were released into circulation on the Isle of Gibraltar, making it one of the most popular coins of the year, but also one of the most difficult to source.
But not many collectors were aware of the secret this coin was hiding…
The Gibraltar Breast Cancer £2 features a special portrait of Queen Elizabeth II on the obverse. It was originally drawn by Raphael Maklouf for the Gibraltar 90th Birthday £5 coin issue but has also been used on a small selection of Gibraltar coinage.
This portrait is currently not in use by any other country in the world, making any Gibraltar coin with this portrait on extremely collectable!
A limited number of coins were available at The Westminster Collection, and they sold out within hours! Collectors were quick to search on the secondary market to find them and some prices reached over £40!
Gibraltar Candytuft Flowers 50p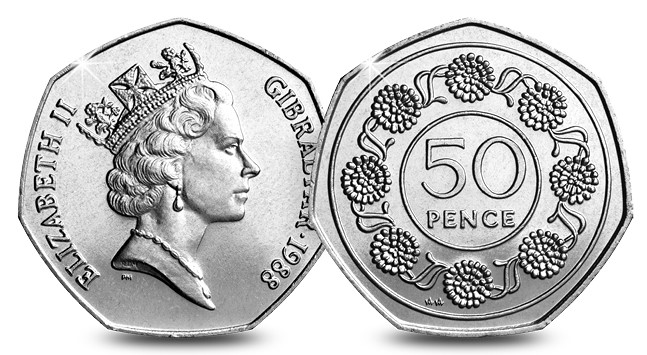 This 50p features the denomination surrounded by a crown of Gibraltar Candytuft flowers, known as 'Iberis Gibraltarica'.
Iberis Gibraltarica is the national flower of Gibraltar and is the symbol of the Upper Rock Nature Reserve which covers 40% of the country's land area. Gibraltar is the only place in Europe where it is found growing in the wild!
In 1988, JUST 30,000 of these 50ps were issued for circulation, making it 7 times rarer than the UK's rarest 50p and particularly scarce and sought after amongst collectors. Another key feature which makes this coin so collectable is that it was issued in the pre-1997 specifications, meaning it's significantly larger than the current 50ps we find in our change!
Rock of Gibraltar £1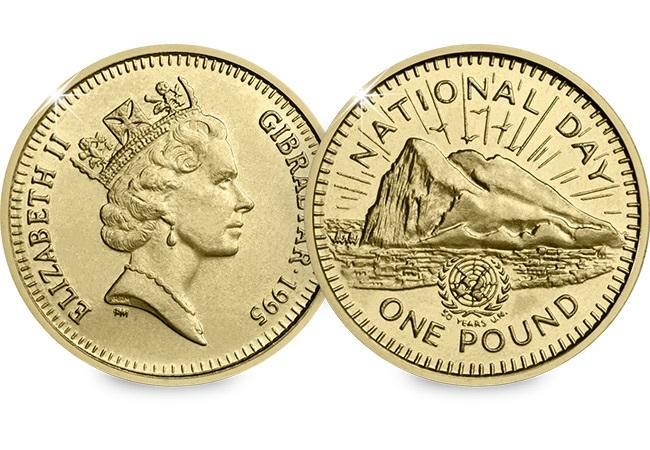 This £1 coin was issued for the 1995 National Day and for the 50th Anniversary of the UN.
National Day is celebrated annually on September 10th and is the official national day of Gibraltar.
The reverse features the iconic Rock of Gibraltar with birds and sun rays above, and the obverse features the Raphael David Maklouf engraving of Queen Elizabeth II.
This £1 is in the older round pound specifications, meaning they won't appear in your UK change as the round pound lost its legal tender status in the UK in 2016, after the introduction of the 12-sided £1. This means it's even harder to get your hands on this coin!
Neanderthal Skull £1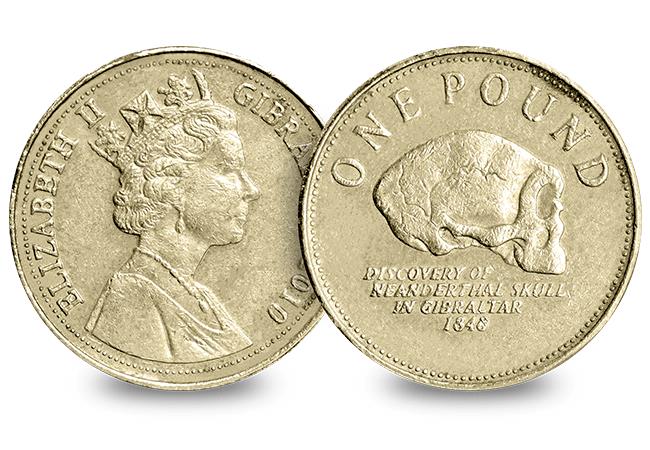 This £1 coin from Gibraltar was issued to celebrate the discovery of a Neanderthal skull in a quarry near the Rock of Gibraltar in 1848.
The Neanderthals in Gibraltar were some of the very first to ever be found and this particular skull is one of the oldest specimens known.
Designed by Philip Nathan, the reverse features the Neanderthal skull and lettering, "Discovery of Neanderthal skull in Gibraltar 1848". The obverse was designed by Raphael Maklouf and features the crowned bust of Queen Elizabeth I.
Capture of Gibraltar 50p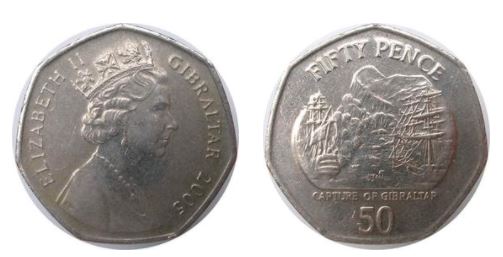 This 50p was issued in Gibraltar in 2005 to commemorate the Capture of Gibraltar in 1704, during the war of the Spanish Succession.
As part of the Allied strategy, Sir George Rooke had been sent with an Anglo-Dutch force into the Mediterranean to attack the French in Toulon. However, when his objectives proved impracticable, Rooke decided to justify his command by attacking Gibraltar.
The coin features a design on the reverse of ancient ships at sea with the Rock of Gibraltar in the background, paying tribute to the Anglo-Dutch fleet that sailed into Gibraltar. The obverse features the third portrait of Her Majesty by Royal Mint engraver Raphael D. Maklouf.
---
So will Santa be visiting you this Christmas in the form of the Gibraltar 50p and £2 pair? Comment below!
---
Don't miss your opportunity of owning this magical Christmas coin pair!
Due to the limited circulating mintages of these coins, we have just a small allocation for Change Checkers, so don't miss the opportunity to secure yours this Christmas!
Secure the 2020 Gibraltar Christmas £2 and 50p pair today for JUST £13.50 (+p&p) by clicking here >>