It's an exciting time in the collecting world, with many 'firsts' to look forward to as we enter a new era of King Charles III coinage.
From the first ever King Charles III portrait featuring on our coins, to the UK's first ever Coronation 50p, there's already been some remarkable milestones celebrated on the coins you can find in your change.
These issues will undoubtedly become increasingly sought-after in years to come. But demand for King Charles III coins is already proving to be high!
In August, the Isle of Man released the FIRST King Charles III Decimal Coin Set – including all seven of their decimal coins, which lucky islanders will be able to find in their change.
Isle of Man Manx Wildlife Set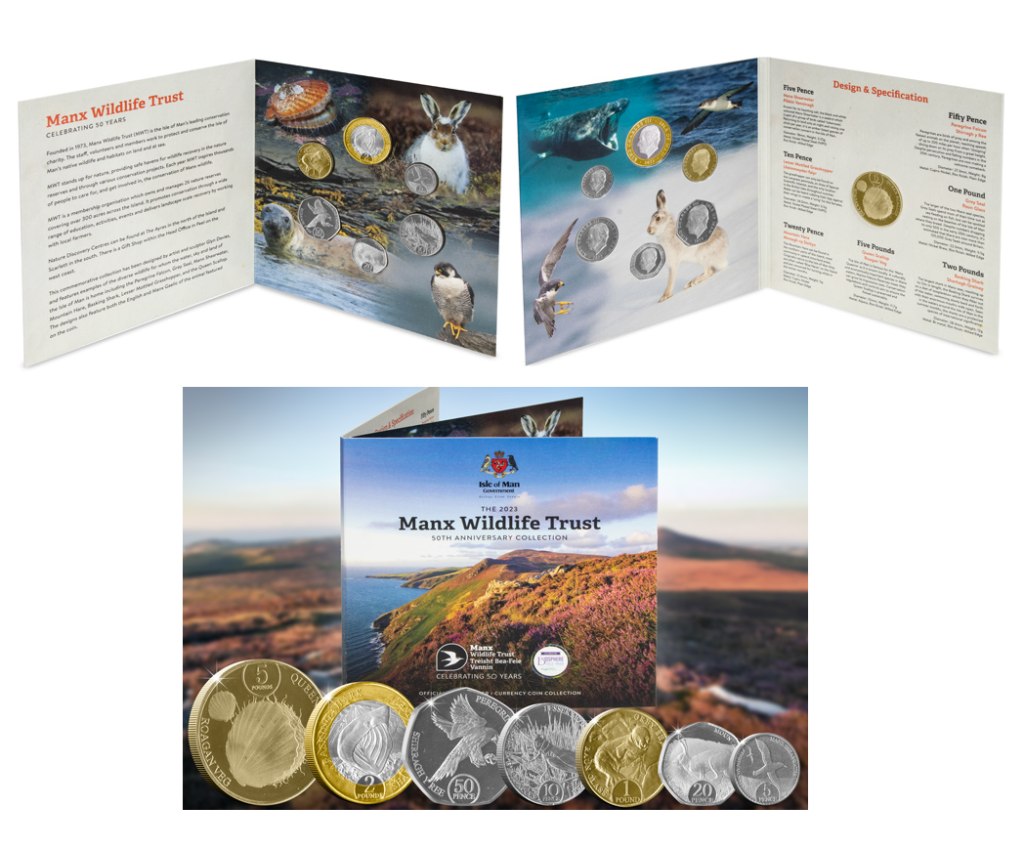 I knew these coins would be popular, but I was shocked at just how quickly we sold through our allocation… In fact, all our stocks had completely sold out in just a few days!
Popularity for the first full King Charles III coin set has certainly got us thinking about what could lie ahead for UK coins and just how high the demand might be when we start to see more King Charles coins released.
So far, the 2022 Memoriam 50p and 2023 Coronation 50p have found their way into our change and we released collector maps for both so that Change Checkers can track where across the country these coins are being found.
If you're lucky enough to have found the new Coronation 50p in your change, make sure you add it to our map here >>
In the meantime, I (like many other collectors) am eagerly awaiting the chance to find more King Charles III coins in my change and build up a new collection.
For almost 70 years, our definitive and commemorative coins have featured the Queen's portrait, but with a new era of King Charles III coinage upon us, the collecting race begins once again!
---
Own the Queen Elizabeth II LAST Definitive Coin Set
2022 marked the final year of Her Majesty's reign and, as such, these 2022 dated definitives coins were the last ever to be issued with the Queen's portrait on the obverse.
We have limited stocks available, so don't miss the chance to secure yours for just £35 (+p&p) here >>
Excitingly, a brand new UK 50p coin will be issued to celebrate the beloved story, The Lion, the Witch and the Wardrobe.
The Lion, the Witch and the Wardrobe was the first novel in the Chronicles of Narnia collection by fantasy author, C. S. Lewis. The story, first published in 1950, is beloved by many and considered an introduction to the fantasy literature genre.
Sign up for updates about this new UK coin, including when you can get your hands on it!
Guarantee all future UK coins for your collection
Join the Change Checker UK CERTIFIED BU Subscription Service and receive the very latest UK coins sent to your door without the hassle of placing orders on the day of release!
One of the biggest numismatic updates of the year comes when the latest mintage figures are announced, and The Royal Mint have just revealed the mintages of all coins that entered circulation in 2022! Each year, when this information is released, we update our Change Checker Mintage charts to see where new circulating coins rank.
We saw millions of almost every denomination enter circulation in 2022, however there was one denomination that you won't find with a 2022 date in your change…read on to find out more.
50p Mintage Figures
Three commemorative 50p designs entered circulation in 2022, as well as the definitive Royal Shield 50p design. It was a year of 'firsts' as the 2022 Platinum Jubilee 50p was the first ever royal 50p to be issued and the Queen Elizabeth Memorial 50p was the first ever UK coin issued bearing King Charles III on the obverse.
With the Queen Elizabeth Memorial 50p marking a new era of coinage featuring the King, many collectors old and new were excited to find it in their change. We opened our collector map to track where they were popping up across the country, and it turned out the place most people found one was Newcastle!
Find out where the rest were found >>
Despite these new coins being extremely sought after amongst collectors, the 2009 Kew Gardens 50p remains at the top of our chart, with a circulating mintage of only 210,000!
£2 Mintage Figures
After 2016, there was a 4 year period where no new £2 coins, either commemorative or definitive, entered circulation, however this changed in 2021 when 6,045,000 Britannia £2 coins were released into circulation.
The newly released figures show that in 2022, 4,030,000 Britannia £2s entered circulation, and although the amount is considerably lower than the previous year, it is indicative that there is a demand for £2 coins.
We still haven't seen any new commemorative £2 coin designs enter circulation since 2016, however, when this does happen next, it'll be the first to feature the King on the obverse – another collecting 'first'!
2022 Definitives
The mintage figures for 2022 dated definitive coins were also revealed…
Nations of the Crown £1: 7,735,000
Royal Shield 20p: 42,875,000
Royal Shield 10p: 38,000,000
Royal Shield 5p: 42,800,000
Royal Shield 2p: 0
Royal Shield 1p: 30,000,000
As mentioned above, you might notice something odd about one of the denominations' mintage figure – the Royal Shield 2p doesn't have one! But this isn't the first time that the 2 pence piece has had a mintage figure of zero.
No 2p coins entered circulation in 2018, 2019 or 2020, however it made a comeback in 2021 with a whopping 117,700,000 entering circulation. Despite its resurgence in 2021, it seems that the 2p drought could be returning – hopefully not for 3 years this time!
---
It's always exciting when new mintage figures are revealed and you realise just how rare the change in your pocket really is!
Have you been lucky enough to find any 2022 dated coins in your change? Let us know in the comments!
---
If you're interested in coin collecting, our Change Checker web app is completely free to use and allows users to:
– Find and identify the coins in their pocket
– Collect and track the coins they have
– Swap their spare coins with other Change Checkers