The 8th of May 2020 marks the 75th Anniversary of VE Day – the day which signified the end of World War II and brought long awaited peace to our nation, as Victory in Europe was declared.
The many years of destruction and lives lost finally came to an end on that momentous day, and millions from around the world took to the streets to celebrate.
This year, celebrations will reignite for the peace so bravely won, as events planned up and down the UK will commemorate 75 years since the guns fell silent.
And to mark such an historic anniversary, a brand new set of seven 50p coins has been authorised for release on the Isle of Man by Her Majesty the Queen.
This remarkable new Victory 50p Set pays tribute to our nation's soldiers, sailors and airmen as they began their journey home 75 years ago following the Allied victory which swept across Europe.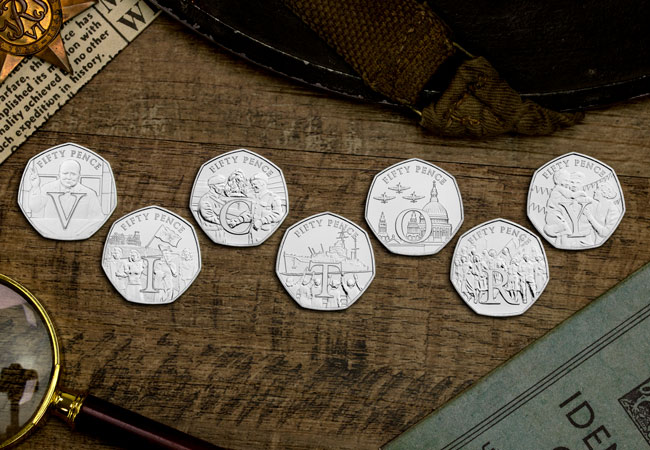 Issued by the Isle of Man, each coin depicts a design and letter reflecting victory during this time, including:
V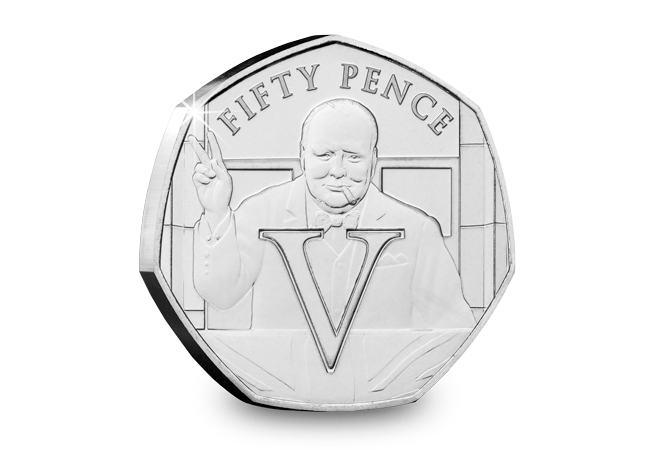 The first coin features the letter V and depicts Churchill with his famous V for Victory stance. Excitingly, this is the first time Churchill has appeared on a 50p coin, although he has been honoured on no less then three UK crown coins.
I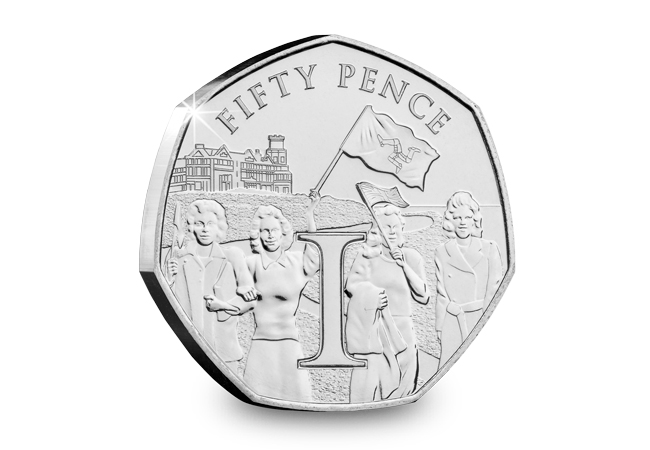 The next coin features the letter I and shows citizens of the Isle of Man celebrating the end of WWII.
C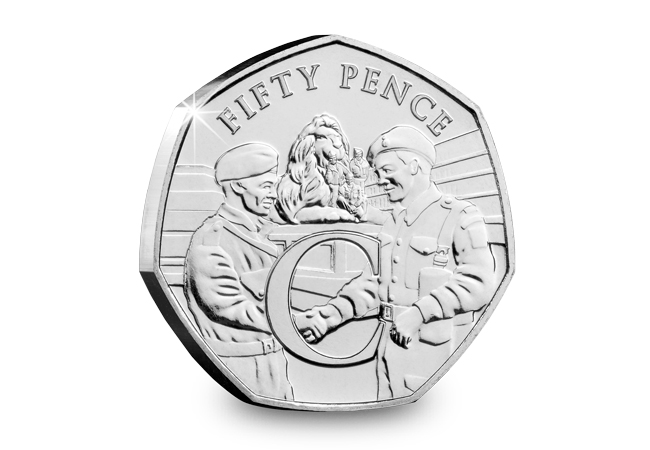 The letter C features on the third coin, which shows soldiers shaking hands in front of Trafalgar Square.
T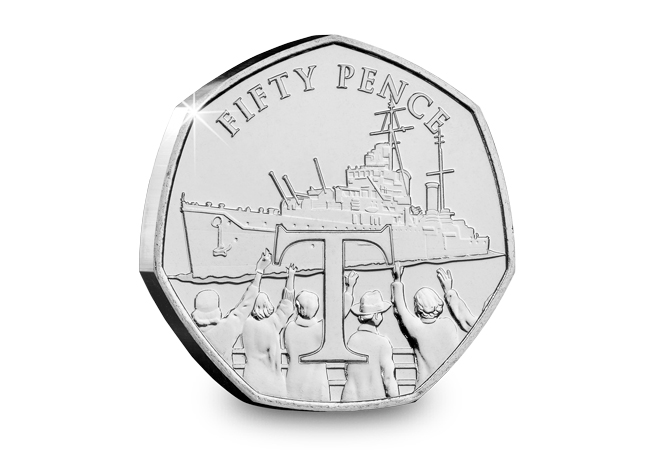 The next coin features the letter T and shows the HMS Dido Battleship returning home after the war.
O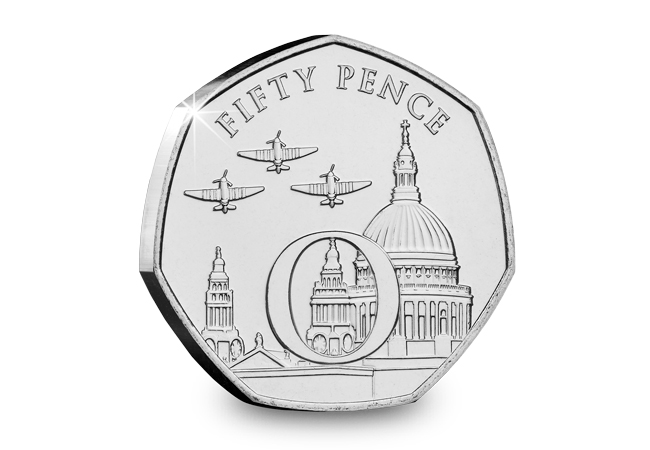 This coin features the letter C and depicts Spitfires flying over St. Paul's Cathedral in London.
R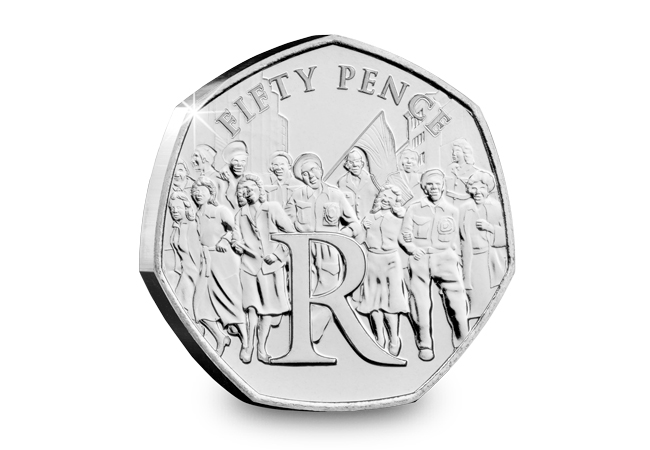 The next coin features the letter R and represents the street party celebrations that took place when it was announced the war was over.
Y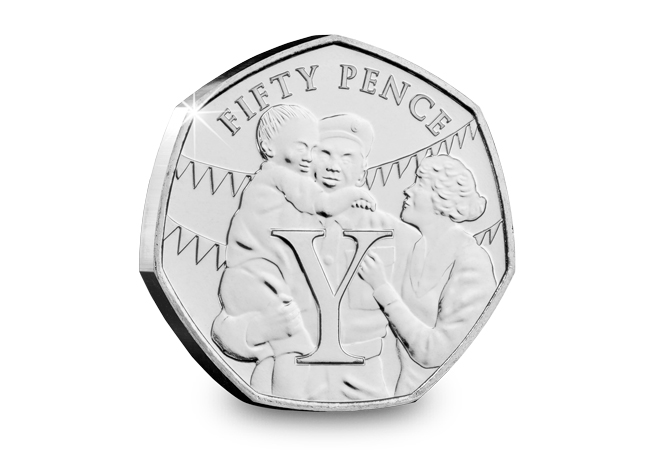 The final coin features the letter Y and depicts a moving scene showing a soldier returning home to his family.
Can I find these coins in my change?
Isle of Man 50ps are famously popular with collectors, especially as their mintage figures are so low, and these coins are no exception.
Initially 25,000 of each 50p will be entering circulation on the Isle of Man, so any British Isles collectors out there should keep their eyes out for these wonderful new coins.
Of course, British Isles coins do turn up in our UK change from time to time, despite the fact they are not legal tender in the UK, however I'm sure these coins will be quickly snapped up by Isle of Man collectors and so you'd have to be very lucky to come across one.
The best ways to own the Victory 50p Set
There are a number of ways to own the Victory 50p Set, which has been issued in Brilliant Uncirculated and Silver Proof quality.
The Brilliant Uncirculated coins are presented in a VE Day 75th Anniversary presentation pack – a must have for collectors of military commemoratives.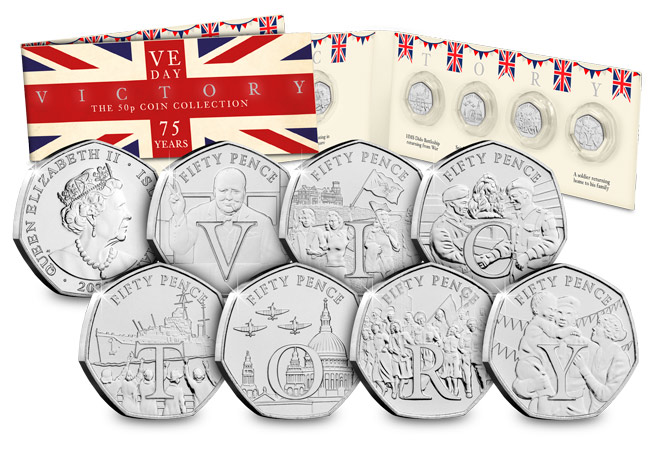 Just 2,020 Silver Proof Victory 50p Sets have been struck worldwide. The coins are struck to a Proof finish from .925 Silver with selective Gold Plating on each of the letters and come displayed in a luxury wooden case.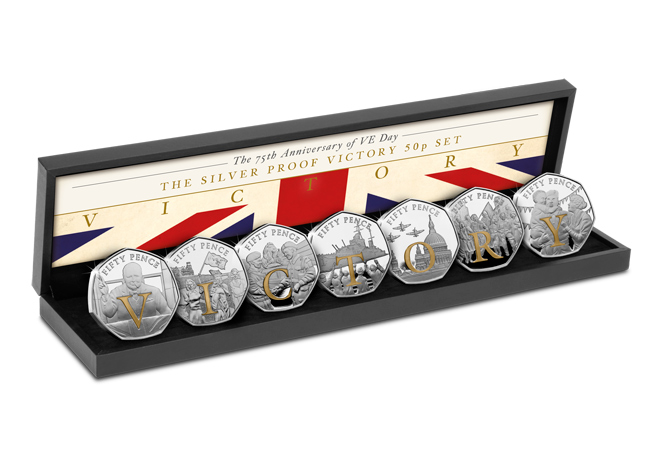 What's more, this is the only way you can own all seven of these poignant 50p coins in collector quality. Only the Churchill 'V' for Victory coin will be released individually.
Churchill V for Victory 50p coin
You can also secure the Churchill V for Victory 50p coin individually in Brilliant Uncirculated, Silver Proof or Gold Proof quality.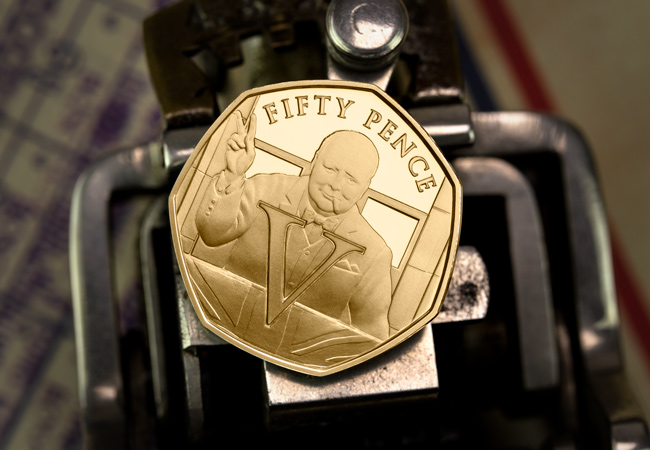 With just 5,000 Churchill V for Victory Silver Proof 50p coins and only 250 of the Gold Proof coins, the strict edition limits really add to the collectability of these coins.
These 50ps really are a timeless tribute to the thousands of allied troops who fought tirelessly and sacrificed their lives to bring long awaited peace to our nation, and in this important anniversary year, they make for an incredibly poignant issue to commemorate 75 years since VE Day.
---
Secure your Victory 50p coins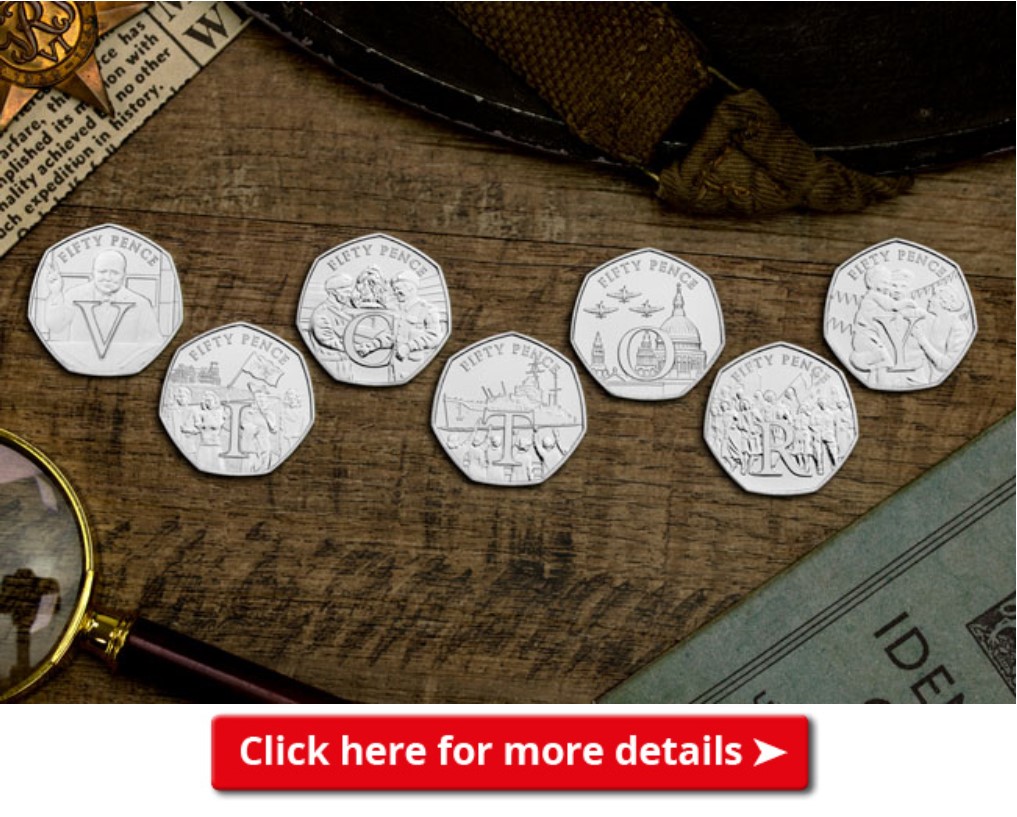 Click here to find out more about the Victory 50p coins and add them to your collection >>
Basingstoke
NatWest, 3 London Street, Old Market Square, Basingstoke, RG21 7NS
Bath
HSBC, 41 Southgate, Bath, BA1 1TN
NatWest, 8-9 Quiet Street, Bath, BA1 2JN
Birmingham
HSBC, 130 New Street, Birmingham, B2 4JU
Lloyds Bank, 36-38 New Street, Birmingham, B2 4LP
NatWest, 144 New Street, Birmingham, B2 4NY
Santander, Unit 6, Caxton Gate, Corporation Street, Birmingham, B2 4LP
TSB, 134 New Street, Birmingham, B2 4NS
Virgin Money, Temple Point, 1 Temple Row, Birmingham, B1 5YB
Bradford
Santander, 9 Nelson Street, Bradford, BD1 5AN
Bristol
Eurochange, Cribbs Causeway, Bristol, BS34 5QT
Cwmbran
NM Money, 15 South Walk, Cwmbran, NP44 1PU
Edinburgh
TSB, 28 Hanover Street, Edinburgh, EH2 2DS
Leeds
HSBC, 33 Park Row, Leeds, LS1 1LD
Santander, PR Work Café, 10-12 Park Row, Leeds, LS1 5HD
Yorkshire Bank, 94-96 Briggate, Leeds, LS1 6NP
Leicester
Santander, Carlton Park, King Edward Avenue, Narborough, Leicester, LE19 0AL
Liverpool
Santander, 45 Lord Street, Liverpool, L2 6PB
TSB, 81-83 Lord Street, Liverpool, L2 6PG
London
Barclays, 2 Churchill Place, Canary Wharf, London, E14 5RB
Barry's Food & Wine, 149 Hoxton Street, London, N1 6PJ
HSBC, 165 Fleet Street, London, EC4A 2DY
Halifax, 118-132 New Oxford Street, London, WC1A 1HL
NatWest, 1 Princes Street, London, EC2R 8BP
NatWest, 34 Henrietta Street, London, WC2E 8NL
NatWest, 10 Southwark Street, London, SE1 1TJ
Post Office, 52 Blackfriars Road, London, SE1 8NN
Post Office, 39-41 Farringdon Road, London, EC1M 3JB
Post Office, 11 White Kennet Street, Houndsditch, London, E1 7BS
Post Office, 19a Borough High Street, London, SE1 9SF
Post Office, 125-131 Westminster Bridge Road, London, SE1 7HJ
Santander, 48-54 Moorgate, London, EC2R 6EJ
Santander, 164-167 Tottenham Court Road, London, W1T 7JE
Santander, 2 Triton Square, Regents Place, London, NW1 3AN
The Cooperative Food, 185 Old Street, Shoreditch, London, EC1V 9NP
TSB, 55 Bow Bells House, Cheapside, London, EC2V 6AT
Virgin Money, 154-158 Kensington High Street, London, W8 7RL
Manchester
Lloyds Bank, 42-46 Market Street, Manchester, M1 1PW
NatWest, 1 Hardman Blvd, Manchester, M3 3AQ
TSB, 21 Market Street, Manchester, M1 1WR
Margate
Santander, 110-112 High Street, Margate, Kent, CT9 1JR
Milton Keynes
Santander, 201 Grafton Gate East, Milton Keynes, MK9 1AN
Newcastle
Santander, 112-118 Northumberland Street, Newcastle, NE1 7DG
Salford
Barclays, Unit 2 Blue, MediaCityUK, Salford, M50 2AD
Lowry Outlet Mall, The Lowry Designer Outlet, Salford Quays, M50 3AH
Sheffield
Post Office, 12 Ellesemere Road, Sheffield, S4 7JB
Yorkshire Bank, Fargate, Sheffield, S1 1LL
Swindon
Nationwide, Nationwide House, Pipers Way, Swindon, SN3 1TA
Wales
Post Office, 56-58 Oxford Street, Mountain Ash, Mid Glamorgan, CF45 3HB
Santander, 5-7 Queen Street, Cardiff, South Glamorgan, CF10 2AF
The Royal Proclamation issued on the 14th of February 2020 confirms that an Elton John £5 coin will be released this year.
The news comes following the exciting release of the first coin in The Royal Mint's Music Legends coin series – the Queen £5 – earlier this year.
It's safe to assume the Elton John £5 will be part of this series and we're sure that collectors and Elton fans alike will be feeling the love for this new coin.
At the moment, the designs are still top secret but the reverse is said to feature Elton John's boater hat, glasses and bow tie set against a union flag and the inscription "ELTON JOHN".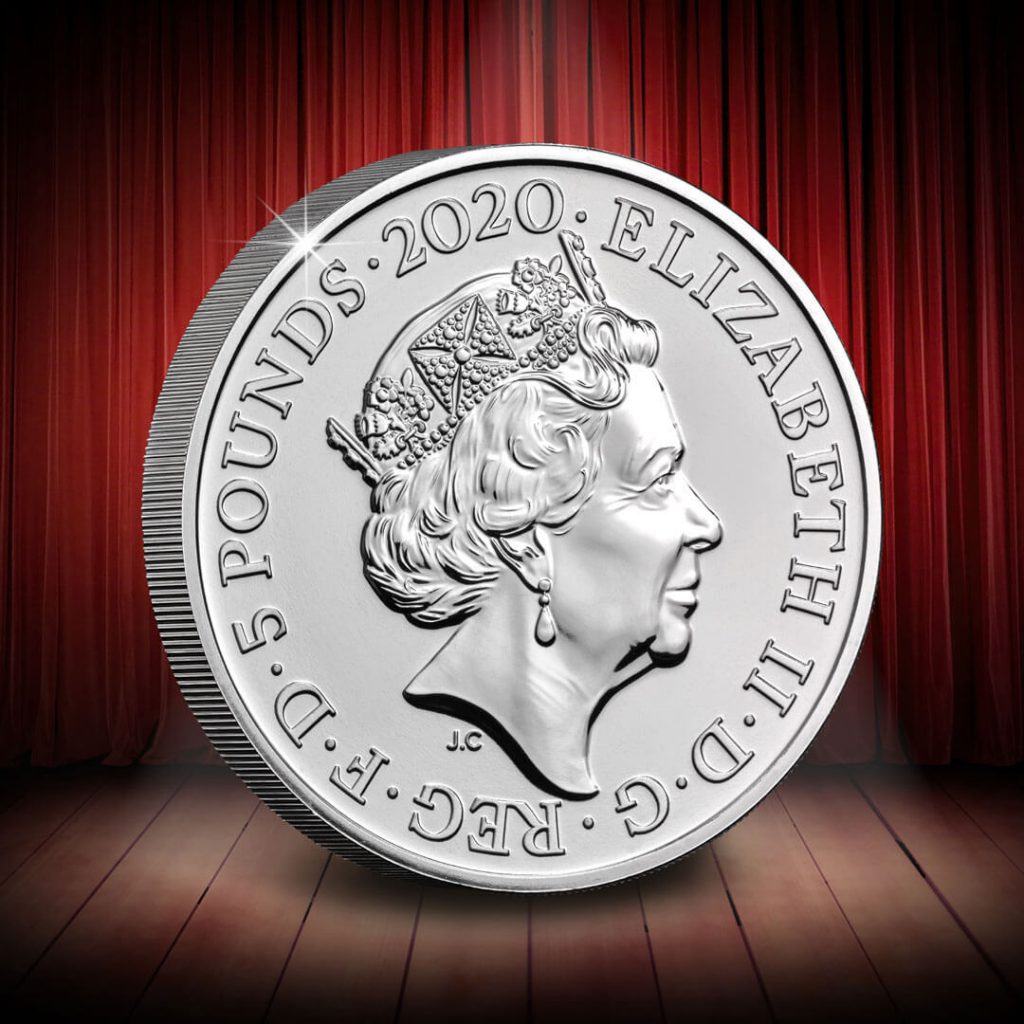 If you'd like to find out more, you can fill in our sign-up form below to stay up-to-date with all the latest news about this release.
Who else would you like to see on a Music Legends coin? Let us know in the comments below.
---
If you're interested in coin collecting, our Change Checker web app is completely free to use and allows users to:
– Find and identify the coins in their pocket
– Collect and track the coins they have
– Swap their spare coins with other Change Checkers
Sign up today at: www.changechecker.org/app