We can't wait to bring you the next Change Checker Live Coin Swap and this time we're taking part in something very special…
Join us at Tankfest, the world's biggest and best live display of historic armour, living history and much more on the 28th, 29th and 30th of June at Bovington Tank Museum.
This is going to be one of our most exciting events yet, and in keeping with the military theme, we'll be swapping the brand new 2019 D Day £2 for ANY UK circulation £2 coin you have in your change.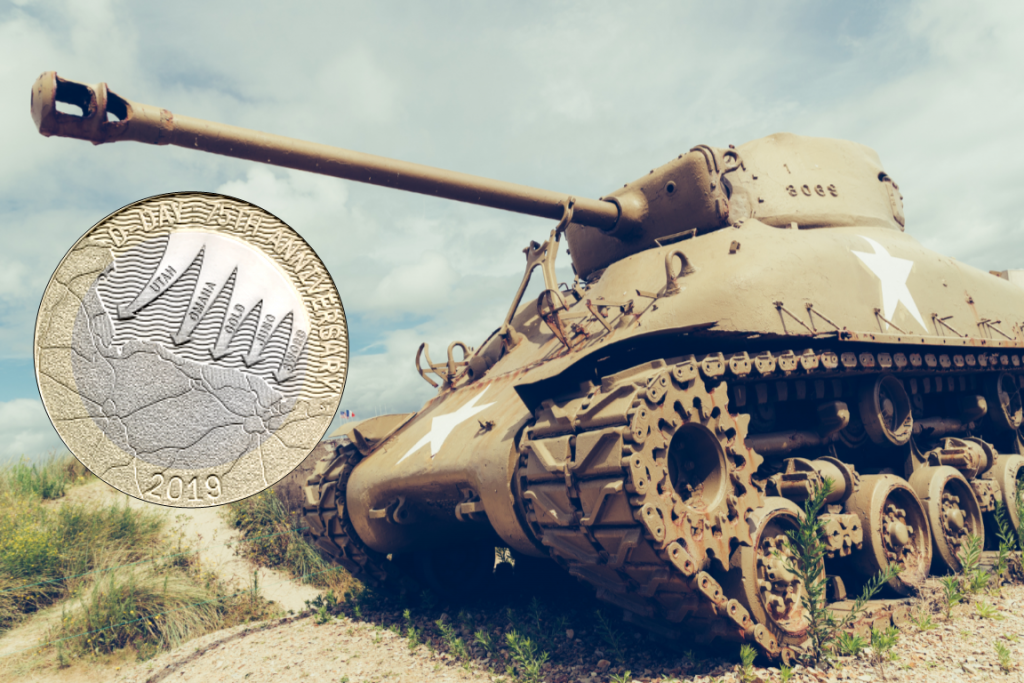 About Tankfest
Tankfest takes place each year at the Bovington Tank Museum, bringing the story of tanks, tank crew and soldiers to life.
The event takes place over three days, with an action packed line up of displays, vehicle rides, living history and more.
Explore the Tank Museum, trade stalls, explosive display arena and living history encampments.
Tickets must be purchased in advance from https://www.tankmuseum.org/whats-on/bovart65569
Live Swap Details
Our next event takes place from Friday 28th to Sunday 30th June at the Tank Museum, Bovington, from 9am to 6pm each day.
Join us there and swap ANY £2 coin for one of the brand new 2019 D Day £2 coins in Brilliant Uncirculated condition!
Please note: Swaps are limited to 1 per person, while stocks last.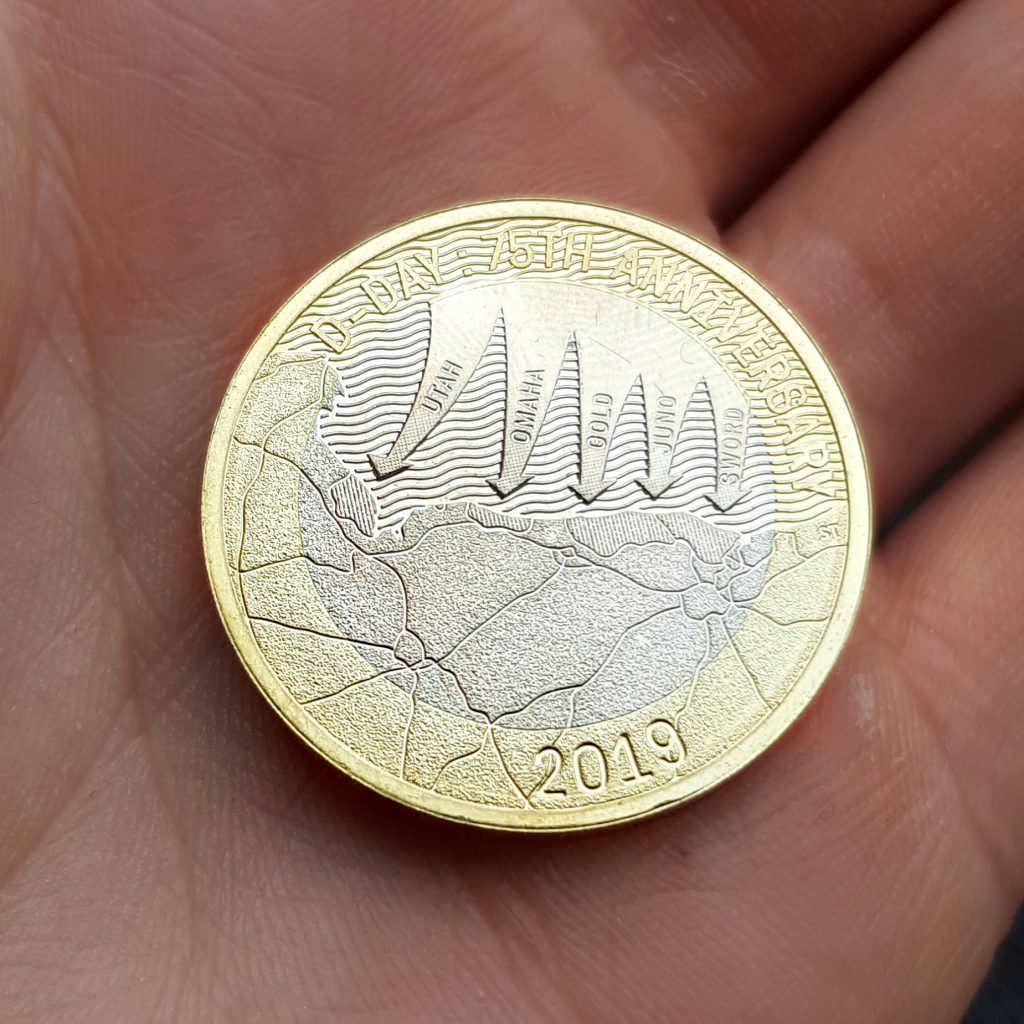 Getting here
There's a number of ways to get to the event:
Road: The Tank Museum, Lindsay Road, Bovington, BH20 6JG
Rail: Nearest station is Wool, Dorset (2.5 miles) – https://www.southwesternrailway.com/
Air: Nearest airport is Bournemouth, Dorset (25 miles) – www.bournemouthairport.com
Sea: Poole, Dorset offers routes from Cherbourg, or Portsmouth from Le Harve, Cherbourg and St Malo – http://www.brittany-ferries.co.uk/
Car parking at Tankfest is free and there is a dedicated taxi/vehicle drop off and pick up point close to the entrance.
We'll be updating you on the exact location of the Change Checker trade stand nearer to the time. Details will also be available here: https://www.facebook.com/events/369694360324649/
FAQ's
Can I swap more than one coin?
Such is the popularity of our Live Coin Swaps and to ensure that it is fair for everybody, we'll be limiting the number of swaps to strictly 1 coin per person.
Will you be doing any more Live Coin Swaps?
That's the plan!
We will be holding more Live Coin Swaps in the future and the plan is to visit a different area of the country each time, giving as many people as possible the opportunity to attend.
We look forward to seeing you there!
---
Secure the D Day £2 for your collection!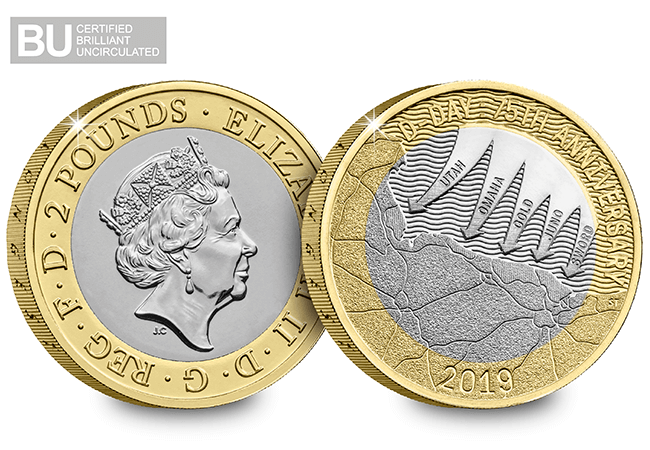 The D Day £2 is now available to purchase individually in Brilliant Uncirculated quality.
How sought-after are your coins? Let's find out with the latest Scarcity Index update!
We're delighted to share with you the latest A-Z 10p, 50p and £2 coin indexes, with all the information you need to see how sought-after the coins in your collection really are.
This information has been compiled using data from the Change Checker Swap Centre (find out how it works here) and presented in the easy to use indexes below, with arrows to signify how many places up or down a coin has moved since the last Scarcity Index to help you track the performance of your coins.
A-Z 10p Scarcity Index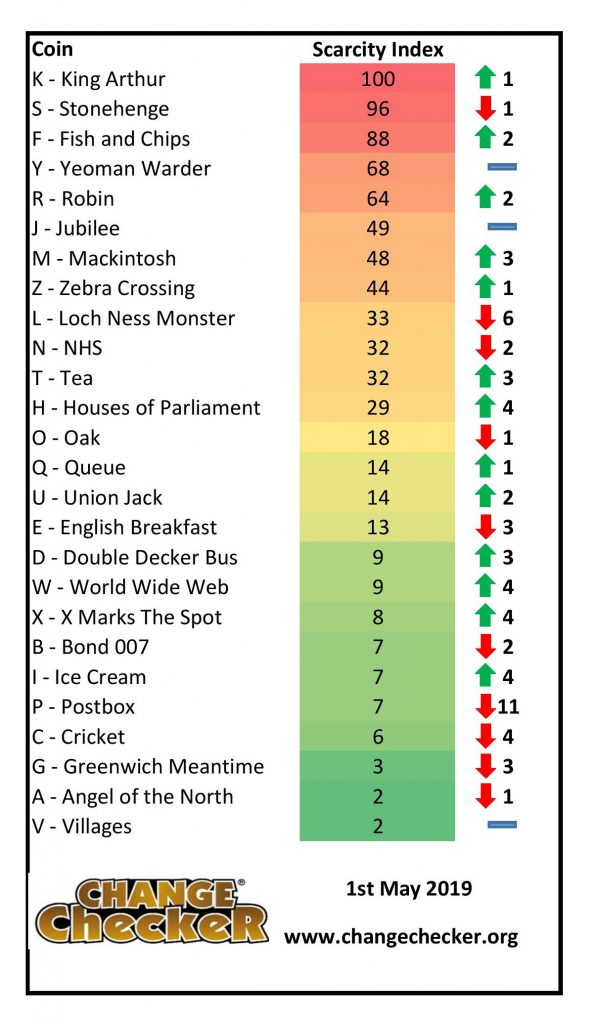 We're now starting to see the A-Z 10p Scarcity Index stabilise as more data is gathered from the Change Checker web app to give a more accurate representation of how sought-after each design is.
K for King Arthur and S for Stonehenge remain at the top of the index and these along with F for Fish and Chips, Y for Yeoman Warder and R for Robin are the top 5 you'll want to be looking out for.
Are you lucky enough to have any of these in your collection?
The biggest movement on the index is an 11 place drop going to P for Postbox, which is now amongst the 5 least scarce A-Z 10p coins.
V for Villages still remains at the bottom, but I for Ice Cream has jumped up 4 places to move out of the bottom 5 coins.
It's important to note that the A-Z 10p Scarcity Index is currently based on estimated mintage figures, assuming each coin has been struck in equal quantities. This includes the extra 2.1 million coins released in 2019. It will certainly be interesting to see what happens to the index once the official mintage figures are confirmed.
50p Scarcity Index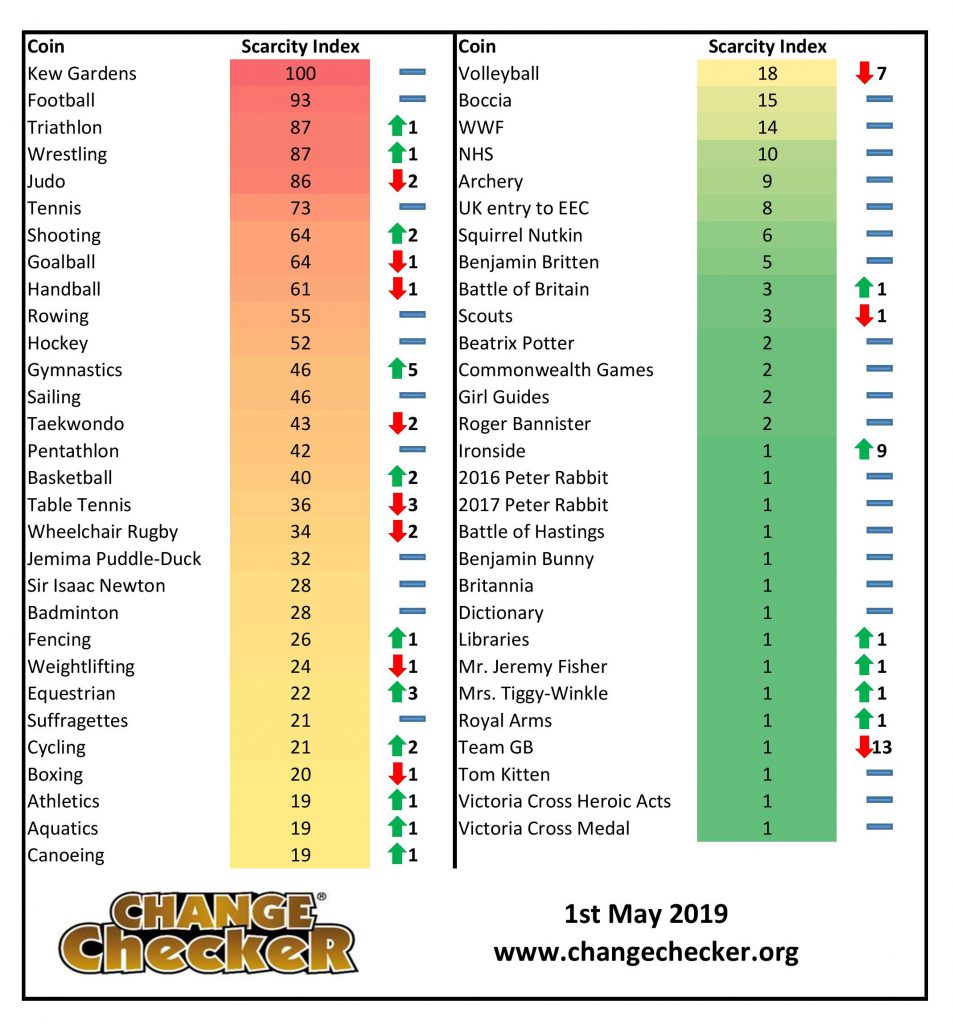 We all know that the Kew Gardens is the UK's most sought-after 50p and unless it's revealed that another 50p has an even lower mintage figure, this won't change and we'll continue to see the Kew Gardens at the top of the 50p Scarcity Index.
There's been some small movements amongst the Olympic 50ps which dominate the top end of the index, with some of the coins moving a few places here and there and the Gymnastics 50p actually increasing in scarcity by 5 places.
The scarcest of the non-Olympic commemorative 50ps is Jemima Puddle-Duck, who's position remains unchanged for this update.
Despite having a lower mintage figure, the 2017 Sir Isaac Newton sits one position below Jemima Puddle-Duck on the index, making these two and the Kew Gardens the only three coins to break up the Olympic 50ps.
Volleyball has actually moved down the index by 7 places, making it the second least scarce Olympic 50p.
Team GB rose up the index by 9 places at the last index, but has now moved back down 11 places to sit in the bottom 5 least scarce 50p coins in circulation.
£2 Scarcity Index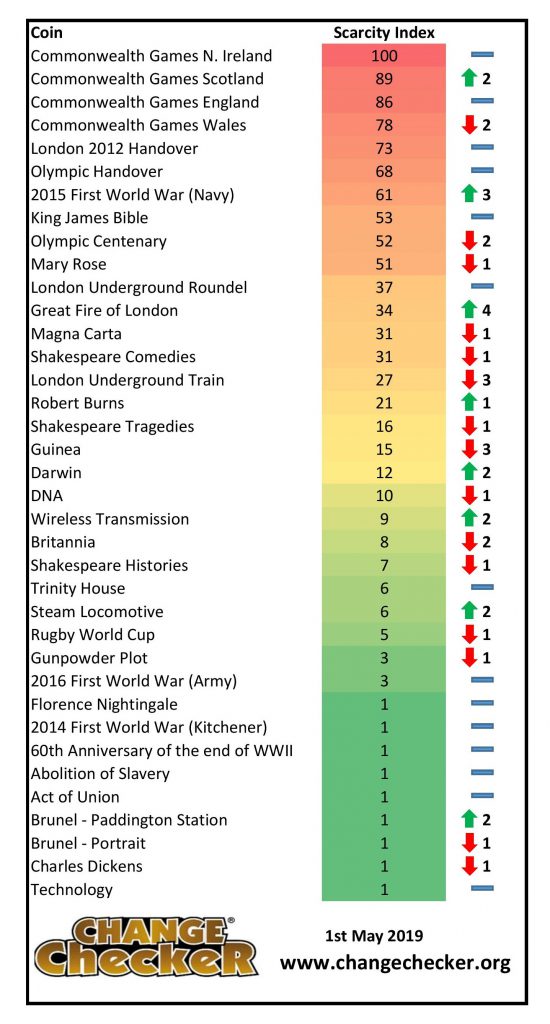 As with the Kew Gardens 50p, the Commonwealth Games Northern Ireland continues to sit at the top of the index due to its incredibly low mintage figure.
The other Commonwealth Games £2 coins have had a small shuffle around, with Scotland taking the spot for second scarcest £2 in circulation.
The rest of the £2 index has only seen minor changes, which is to be expected as we haven't seen new £2's entering circulation since 2017.
However, one change to note is the Great Fire of London, which has moved 4 places up the index.
This is actually due to the updated mintage figures which reveal that whilst the coin was previously listed with a mintage of 5,135,000 there are actually only 1,625,000 of these coins in circulation. We've updated our mintage figure charts to reflect this, as well as the changes to the 2016 Peter Rabbit 50p, Shakespeare Histories and Shakespeare Tragedies £2 mintage figures.
How your Scarcity Index works
Generally collectors have had to rely upon mintage figures to identify the scarcest coins. But they only tell part of the story. Trying to find a good quality coin from 15 – 20 years ago, even for a higher mintage issue, is much more challenging than a more recent issue, as coins become damaged over time and are ultimately removed from circulation.
Additionally, some designs are more hoarded than others by people who might not normally collect coins – the poignant First World War £2 Coin series being an example. Finally, it can be up to a couple of years before the Royal Mint eventually confirms the actual mintage for an issue.
That's why we have combined the mintage information with two other key pieces of information.
How many of each design are listed as "collected" by Change Checkers, indicating the relative ease of finding a particular coin.
The number of times a design has been requested as a swap over the previous 3 months, showing the current level of collector demand.
Importantly, as new coins are released and popularity rises and falls across different designs the Scarcity Index will be updated quarterly allowing Change Checkers to track the relative performance of the UK's circulation coins.
How much are my coins worth?
The Scarcity Index does not necessarily equate to value but it is certainly an effective indicator. For example, the Kew Gardens 50p coin commands a premium of up to 200 times face value on eBay.
You can use the 6 point guide to help you determine a more realistic value for your coins.
What about £1 Coins?
The £1 Scarcity Index has already been published for the Round £1 coins and, because they are no longer being issued, this is now set in stone.
---
If you're interested in coin collecting, our Change Checker web app is completely free to use and allows users to:
– Find and identify the coins in their pocket
– Collect and track the coins they have
– Swap their spare coins with other Change Checkers
Sign up today at: www.changechecker.org/app
With the Easter holidays just around the corner, what better activity could there be to keep excited little kiddies entertained than to start collecting coins as a family?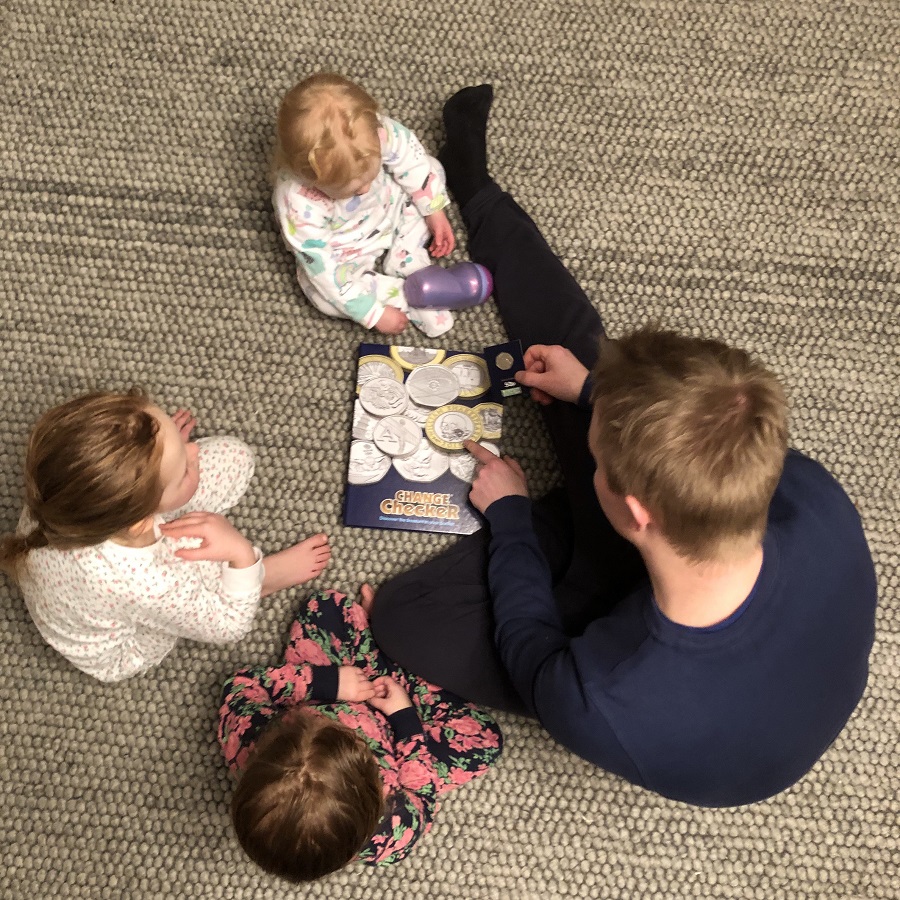 It's not just eggs you should be hunting for this Easter…
The release of book character themed coins, such as the Beatrix Potter 50ps, Paddington, The Snowman and The Gruffalo have proved increasingly popular with children, families and collectors alike, as well as fans of the books.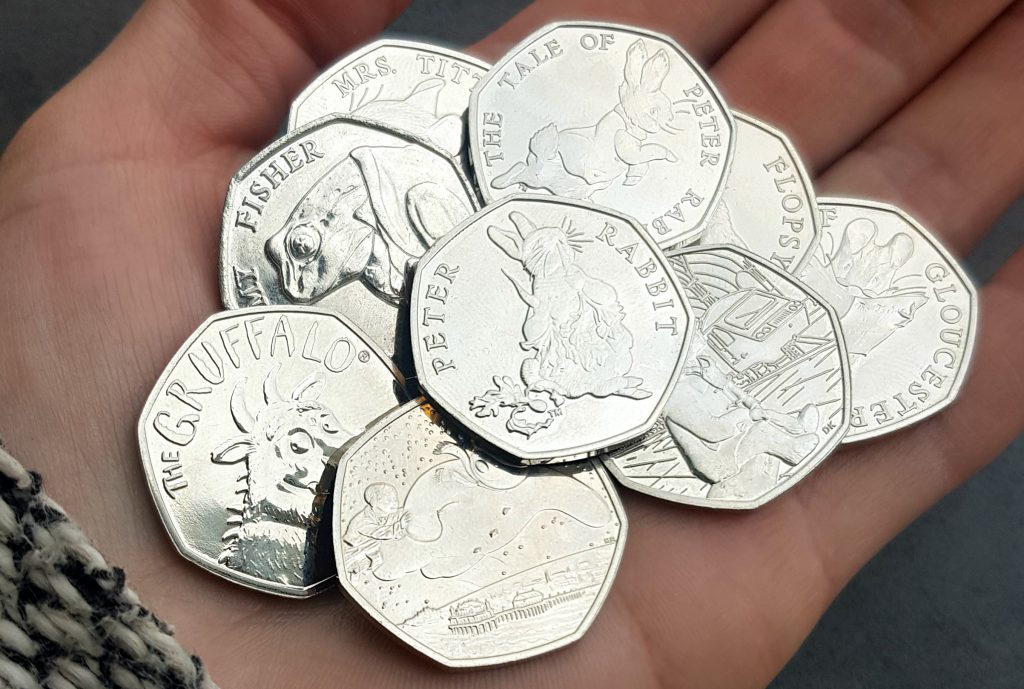 Whether your family is new to the game, or if you're a seasoned collector, there's nothing quite like the thrill of hunting down a coin you need for your collection.
And so this Easter forget the Easter egg hunt, because we're challenging you to see how many commemorative coins you and your family can find in your change!
So here are our TOP 10 Change Collecting tips, put together with help from your fellow Change Checkers.

With so many wonderful coins in circulation, it won't take long for you to start building your collection using these Top Tips.
We'd love to hear how you get on with your coin hunting over the holidays, so make sure you leave us a comment below with the coins you've been lucky enough to find!
Best of luck Change Checkers!
---
If you're interested in coin collecting, our Change Checker web app is completely free to use and allows users to:
– Find and identify the coins in their pocket
– Collect and track the coins they have
– Swap their spare coins with other Change Checkers
Sign up today at: www.changechecker.org/app