The new A-Z 10p coins have proved some of the hardest coins to find in your change. Whilst that will hopefully become easier as more are gradually released into circulation over the coming months, we've taken a first look at which are the most popular with collectors.
There's not enough data yet to publish a full scarcity index but we have crunched the numbers based on Change Checker's top swap requests – and here are the winners.
1. A – Angel of the North
2. E – English Breakfast
3. L – Loch Ness
Further releases expected…
Initially, a limited stock of 2.6 million A-Z 10p coins were released into circulation through the Post Office network to coincide with the release of the designs in March. It has been no surprise that these have been quickly snapped up by eagle-eyed change collectors.
However, don't despair if you haven't found any of the A-Z 10p coins yet. More are expected to be released into circulation as and when there is demand for more circulating 10p coins. This is something that's managed between Treasury (and not the Royal Mint) and the large cash processors, including the Post Office, some banks, as well as private operators (find out more in our "When will I find and A to Z 10p in my change" blog).
In addition, there have been a number of limited releases, including "T" at Betty's Tea Rooms, "F" in 20 of the UK's top chippies and "B" at the Bond in Motion exhibition – as well as our own Change Checker Live 10p Lucky Dips, with more of our live events coming up on the 8th of September in Croydon and the 20th of October in Bristol.
Don't worry, though, as soon as we hear any more news about more the A-Z 10p coins entering circulation, Change Checkers will be the very first to know.
In the meantime, you can view the full A-Z 10p Swap Index below for your guide as to which letters have proved most popular with collectors.
---
Complete your A-Z 10p Collection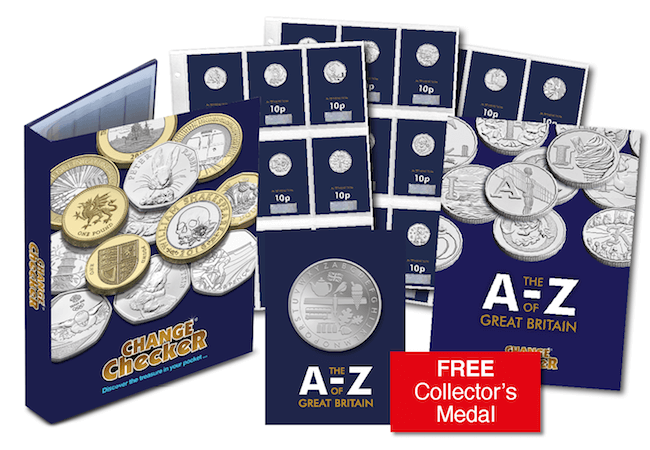 You can now complete your collection of all 26 A-Z of Great Britain 10p coins in Certified Early Strike quality.
A new commemorative coin has just entered circulation which could well become the most collected 50p since the Olympic series in 2012. Collectors all over the country are checking their change right now in an attempt to find the new 2014 Glasgow Commonwealth Games 50p.
Struck by The Royal Mint, this legal tender UK coin has been designed by Alex Loudon in the 'arts and crafts' style. Two athletes are intersected by the Scottish Saltire, and the words XX Commonwealth Games Glasgow fill the top right section of the surprisingly distinctive 50p.
But this coin has been attracting attention from collectors for another reason…
Collecting fever
In 2011 The Royal Mint issued a series of 29 different Olympic themed 50ps – one to represent each sport. With London 2012 around the corner, these coins suddenly became THE must-have collectables to commemorate the Games. Collectors still can't resist flicking through their change to find the elusive last two or three coins they are missing.
Now, 2 years on, the 2014 Glasgow Commonwealth Games 50p looks set to become the next collecting sensation – as the race to find the first sports-themed British coin since the Olympics begins in earnest.
With the mintage figures as yet unconfirmed by The Royal Mint, this coin could well be the rarest of the lot, but only time will tell. Have you found yours yet?
---
Heads or tails? Well, in reality for Change Checkers, the answer is usually tails.
The reverse, or 'tails' side of the coin has always been the place to commemorate important anniversaries or make design changes, whilst the Queen retains her same recognisable profile on the obverse – the 'heads' side.
Except her profile hasn't always been the same.
Something which often goes un-noticed on our circulating coinage is the changing face of our Queen over the years. In fact, since decimalisation, three different portraits of Queen Elizabeth II have adorned the coins in our change.
1969-1984: Arnold Machin
With decimalisation approaching, it was decided to refresh the Queen's portrait with Arnold Machin's new sculpture of her wearing a tiara. It was commissioned in 1964 and first appeared in 1969 on the new 5p and 10p coins. The portrait may seem very familiar – as it was introduced on stamps in 1967 and remains to this day.
1985 – 1997: Raphael Maklouf
Raphael Maklouf's effigy replaced Machin's in 1985 and depicts the Queen wearing the Royal Diadem which she wears to and from the State Opening of Parliament. Some critics accused him of sculpting the Queen as 'flatteringly young', but his response was that he aimed to create a symbol "Regal and ageless".
1998 – Current: Ian Rank-Broadley FRBS
The current Queen's head on our coinage was designed in 1997 by Ian Rank-Broadley. Created to fill the full circle of the coin, its larger size was a deliberate response to the smaller 5p and 10p coins in circulation. A noticeably more mature portrayal of Her Majesty, Rank-Broadley aimed to show the Queen with "poise and bearing".
You can now collect all 3 of these portraits for both 1p and 2p denominations in a brand new Change Checker Collector's Card.
Included with the card is a FREE coin you can't find in your change – a pre-decimal penny featuring Mary Gillick's portrayal of an uncrowned young Queen.
Click here to find out more