The Isle of Man TT races, an annual tradition since 1907, returns this year. Riders and spectators from around the world will travel to the island for what has been nicknamed 'the most dangerous race in the world'.
It's become somewhat of a tradition for the Isle of Man to issue coins to commemorate the TT races each year. 2023 is no exception, as this year we'll see a brand new Isle of Man £2, issued to mark 100 years since the sidecar entered the races.
But the most exciting news for collectors is that it'll be the FIRST EVER King Charles III TT £2 coin!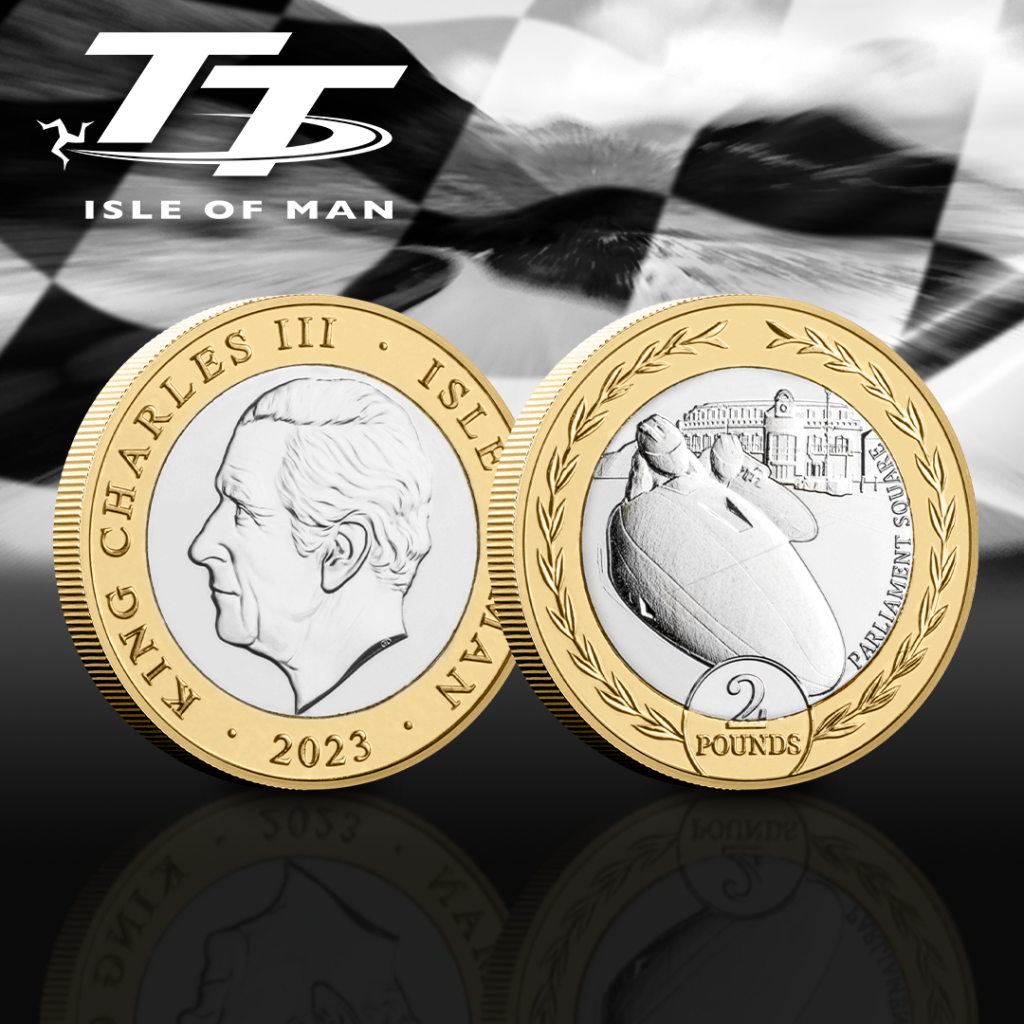 The design
In 1923, the first Sidecar was introduced to the TT races. This meant both racer and passenger could take part in the 'Ultimate Road Race'. The design shows an incredibly detailed depiction of the Sidecar riding through Parliament Square on the Isle of Man.
For the first time ever on an Isle of Man TT coin, the obverse features King Charles III's effigy. Since the first King Charles III coin was issued last year, we've seen demand for new UK coins soar. With every Isle of Man TT coin since 1981 having featured Queen Elizabeth II, this change is sure to catch the eye of collectors wanting to add a highly collectable issue to their collection.
Entering circulation
Previous Isle of Man TT coins have always been popular with both collectors and motor enthusiasts. This is due to their small mintages compared to their UK counterparts and the fact that they sometimes crop up in UK coinage. Although Isle of Man coins aren't legal tender in the UK, there is a chance you could spot one in your change.
And excitingly, a 15,000 2023 Isle of Man TT £2 coins will be released into circulation on the island. So it's time to beat the crowds and add this coin to your collection now >>
Numismatic history of the TT races
The first Isle of Man TT coin was a 50p issued in 1981, and a new TT 50p has been released most years since. The TT 50ps, along with other denominations have proved incredibly popular amongst collectors and motoring enthusiasts alike, with some selling for hefty amounts on the secondary market.
Here are a few of our favourite Isle of Man TT coins.
2022
After a 2 year break due to the Coronavirus Pandemic, the TT races returned in 2022 and two new £2 coins were issued to celebrate.
One of the coins featured the iconic TT Grandstand which marks the start and end of the race. The other represented the TT race marshals, most of whom are usually volunteers or motorsports enthusiasts.
A Crown coin was also issued in celebration of the event. It featured the official TT logo in front of the race route map and a chequered flag background.
2019
In 2019, the Isle of Man released two £2 coins marking 112 years since the first TT race in 1907.
The reverse designs features legendary rider, Steve Hislop, racing the Tourist Trophy track.
Steve 'Hizzy' Hislop is an 11 time winner of the notorious Tourist Trophy races. His extraordinary racing career has cemented him as a hero of the TT mountain circuit.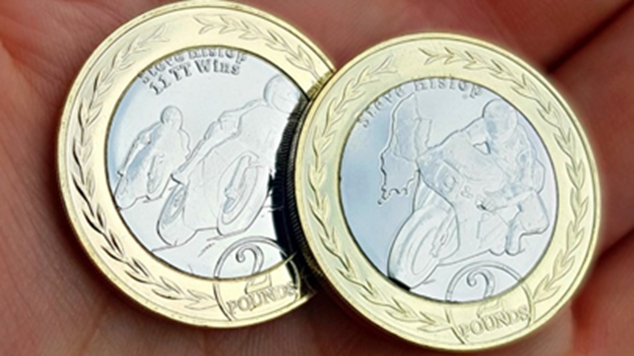 2018
These coins were issued in 2018 to celebrate racing legend Mike Hailwood. 2018 marked 60 years since his first TT race and 40 years since his triumphant return.
Just 3,000 of each coin entered circulation on the Isle of Man and we saw unprecedented demand from collectors looking to add the coins to their British Isles collection.
1998
Another famous race that takes place annually on the island, is the Rally Isle of Man.
The Rally Isle of Man – previously known as The Manx Trophy Rally – was first held in 1963 and became a well known event in the British Open Rally Championship.
In 1998, the Isle of Man released the Isle of Man Car Circulation £2 coin featuring three old-style race cars on the track.
1981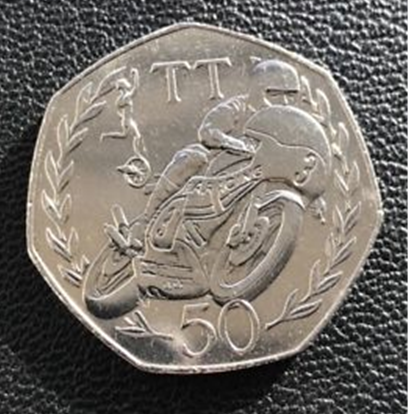 The first Isle of Man TT 50p issued in 1981 features famous motorcyclist Joey Dunlop.
Only 5,000 coins of this design were struck. Were you lucky enough to find this in your change on the Isle of Man? Let us know in the comments below!
---
Do you have any Isle of Man TT races coins in your collection? Let us know in the comments below!
---
Secure the 2023 Isle of Man TT Races £2 Coin for your collection!

Your 2023 Isle of Man TT £2 Coin has been struck to a Superior Brilliant Uncirculated condition and is carefully encapsulated in official Change Checker packaging.
We only have a small initial allocation, so now's the time to join the race to secure your 2023 Isle of Man TT £2, whilst stocks last!
It's time for your latest Scarcity Index update, where we reveal the UK's most sought after circulation 10p, 50p and £2 coins.
This information has been compiled using data from the Change Checker Swap Centre and presented in the easy to use indexes below, with arrows to signify how many places up or down a coin has moved since the last Scarcity Index.
50p Scarcity Index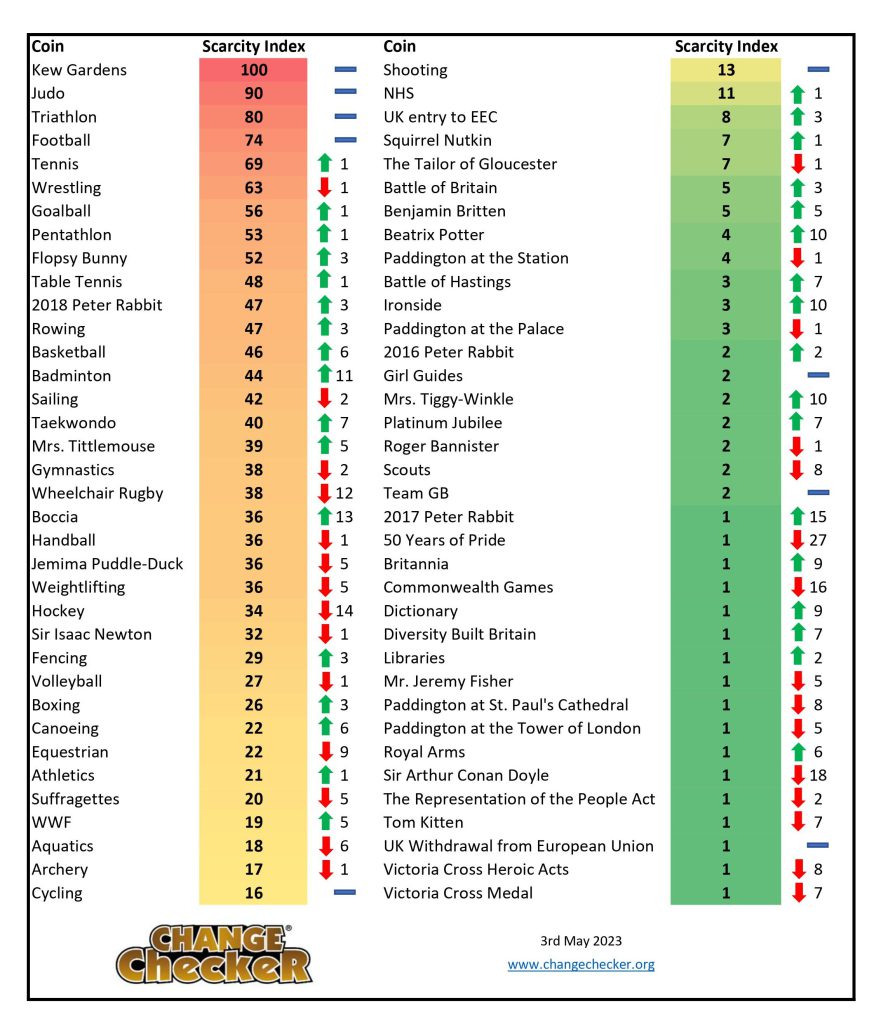 Since our last update, the top 4 circulating 50ps have stayed strong with no movement. This means the Kew Gardens 50p is of course, still right at the top, closely followed by the Olympic Judo 50p.
Further down, we've seen some huge movers like the Olympic Boccia 50p which has climbed 13 places and the Beatrix Potter 50p which is up 10 places. The 2017 Peter Rabbit 50p which has also shot up 15 places!
There have also been some not so fortunate coins though. The Sir Arthur Conan Doyle 50p has dropped 18 places and the 50 Years of Pride 50p is down an astonishing 27 places. The Pride 50p only entered circulation in October 2022, so perhaps most of them have made their way safely into your collections, or maybe they're still out there waiting to be found.
If you're new to collecting and want to find out more about circulation coins, you can check out our fact files here >>
Otherwise, keep reading to find out which 10ps and £2 coins you should be looking out for.
10p Scarcity Index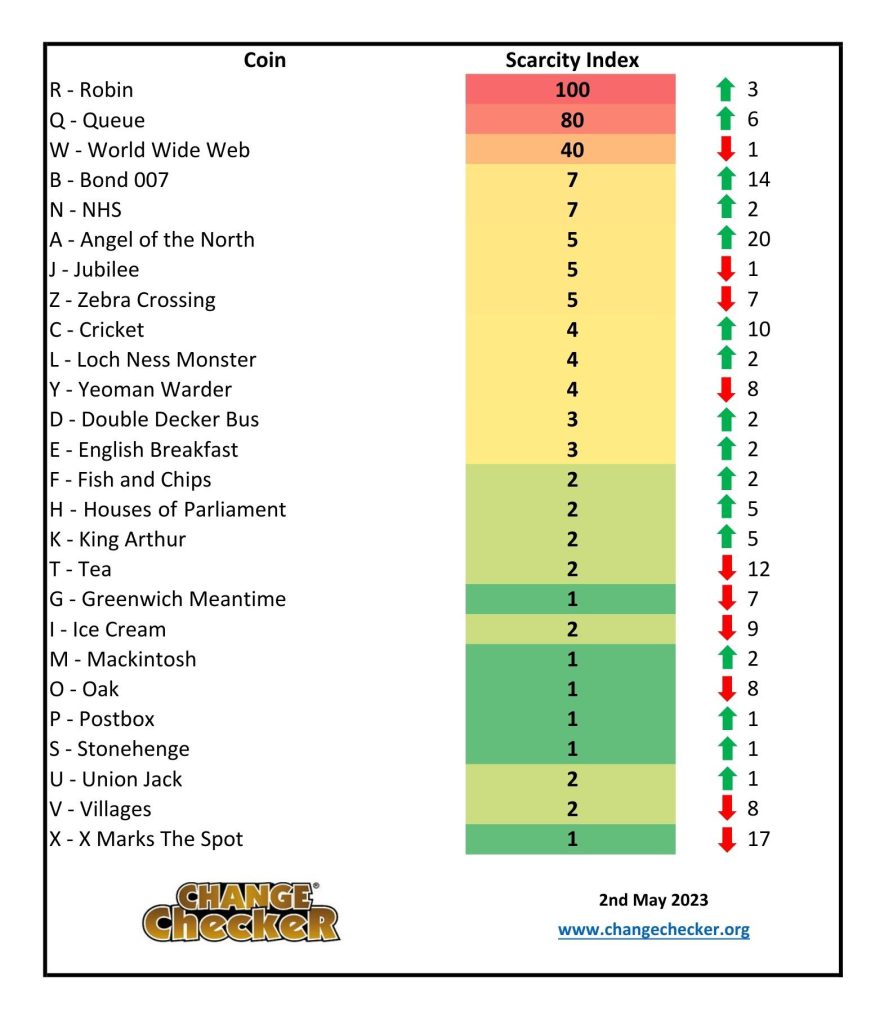 It's all change on our 10p index this time, as every single coin has moved!
One to keep your eye on is the Angel of the North 10p which has climbed a massive 20 places since our last update. The Angel of the North sculpture in Gateshead, has become one of the most recognizable pieces of public art ever. It's also thought to be the largest sculpture of an angel in the world. So it's no wonder the 10p has shot up in the rankings.
We've also seen big moves from the Bond 007 10p which is up 14 places. This could possibly be due to the recent anniversary marking 60 years since the first James Bond book was published.
Sadly though, the X marks the spot 10p's rise in the last update was short lived. It's fallen by 17 places, putting it at the bottom of the list.
Remember, a maximum of JUST 304,000 of each A-Z 10p design entered circulation in 2018 and 2019, making them some of the most sought-after coins out there. So make sure you keep your eyes peeled for them in your change!
£2 Scarcity Index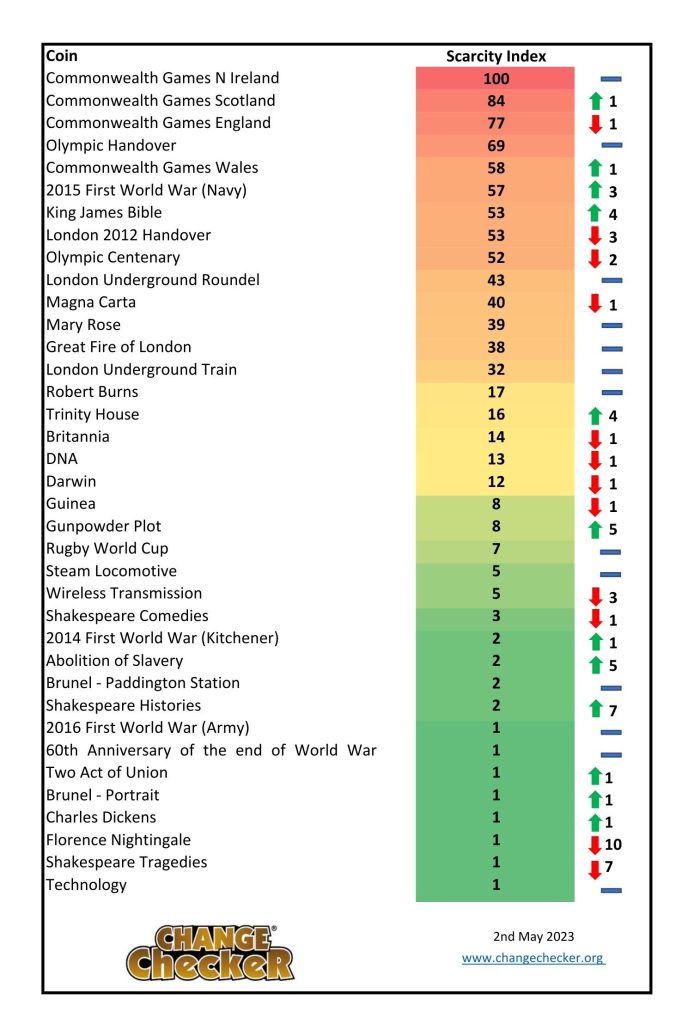 The £2 index remains fairly stable. This is to be expected as we've not had a £2 coin enter circulation since 2016.
Of course, remaining at the top of the Index is the 2002 Commonwealth Games Northern Ireland £2. With a mintage figure of just 458,000, it's one of the rarest and clearly still one of the most popular £2 coin designs, even 20 years after entering circulation!
A few others creeping up the ranks are the Gunpowder Plot £2 which has climbed 5 places. The Shakespeare Histories £2 has gone up 7 places.
The biggest mover though is the Florence Nightingale £2 which has fallen 10 places.
How your Scarcity Index works
Generally collectors have had to rely upon mintage figures to identify the scarcest coins. But they only tell part of the story. Trying to find a good quality coin from 15 – 20 years ago, even for a higher mintage issue, is much more challenging than a more recent issue, as coins become damaged over time and are ultimately removed from circulation.
Additionally, some designs are more hoarded than others by people who might not normally collect coins – the poignant First World War £2 Coin series being an example. Finally, it can be up to a couple of years before the Royal Mint eventually confirms the actual mintage for an issue.
That's why we have combined the mintage information with two other key pieces of information.
How many of each design are listed as "collected" by Change Checkers, indicating the relative ease of finding a particular coin.
The number of times a design has been requested as a swap over the previous 3 months, showing the current level of collector demand.
Importantly, as new coins are released and popularity rises and falls across different designs, the Scarcity Index will be updated quarterly. This allows Change Checkers to track the relative performance of the UK's circulation coins.
How much are my coins worth?
The Scarcity Index does not necessarily equate to value but it is certainly an effective indicator. For example, the Kew Gardens 50p coin commands a premium of up to 200 times face value on eBay.
You can use our 6 point guide to help you determine a more realistic value for your coins.
What about £1 Coins?
The £1 Scarcity Index has already been published for the Round £1 coins. Because they are no longer being issued, this is now set in stone.
Receive new UK coins without the hassle of placing orders on the day of release!
Join the Change Checker UK CERTIFIED BU Subscription Service and receive new UK coins sent to your door without the hassle of placing orders on the day of release!
Don't miss your chance to get ahead of the crowd and be one of the very first collectors to receive the latest UK new issue coins as soon as possible after their release.
A brand new UK £2 coin has been issued celebrating the world's most famous locomotive – Flying Scotsman.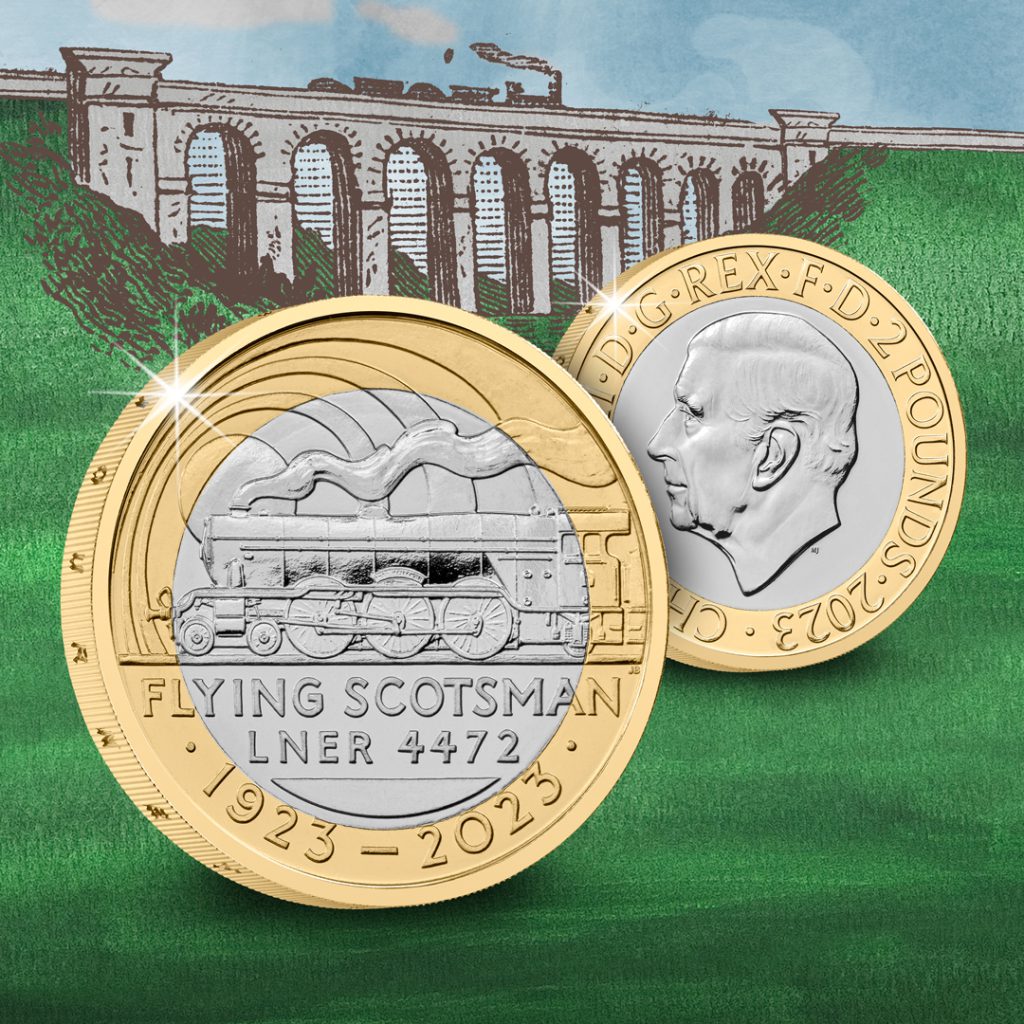 To commemorate its centenary year, The Royal Mint featured a design of Flying Scotsman in motion on the reverse of the £2, by John Bergdahl.
This coin was issued in the 2023 Commemorative Coin Set. But, this is the first time collectors have been able to get their hands on the individual coin!
Don't miss out on owning the £2 coin celebrating the world's most famous locomotive. Get yours for £9.50 (+p&p) >>
Flying Scotsman £2 celebrates poignant anniversary
If you're lucky enough to have ever travelled on the famous locomotive, you'll know just how impressive its engineering is – a true symbol of Britain's great age of steam.
Built in 1923 at Doncaster Works, Flying Scotsman was the first locomotive of the newly formed London and North Eastern Railway (LNER).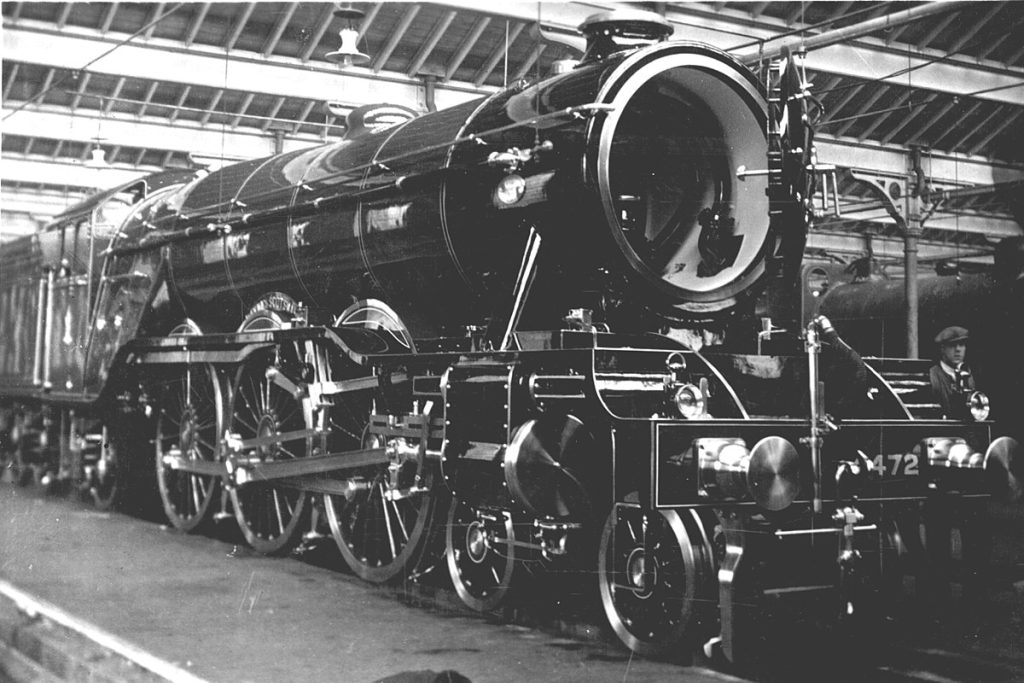 It joined Sir Nigel Gresley as part of the A1 class – the most powerful locomotives used by the LNER at that time.
It coined its name after the daily 10.00 London to Edinburgh rail service which started in 1862.
The British Empire Exhibition made Flying Scotsman famous when it first appeared in 1924.
Record-breaking steam power
1934 saw Flying Scotsman clock 100pm on a special test run, officially making it the first locomotive in the UK to reach that speed.
This was crucial in the negation of LNER's directors plans to use diesel power on its high-speed services – proving steam power was just as punchy!
After a restoration project in 2006, Flying Scotsman broke yet another record. It returned as a working museum exhibit making it the oldest mainline working locomotive on Britain's tracks.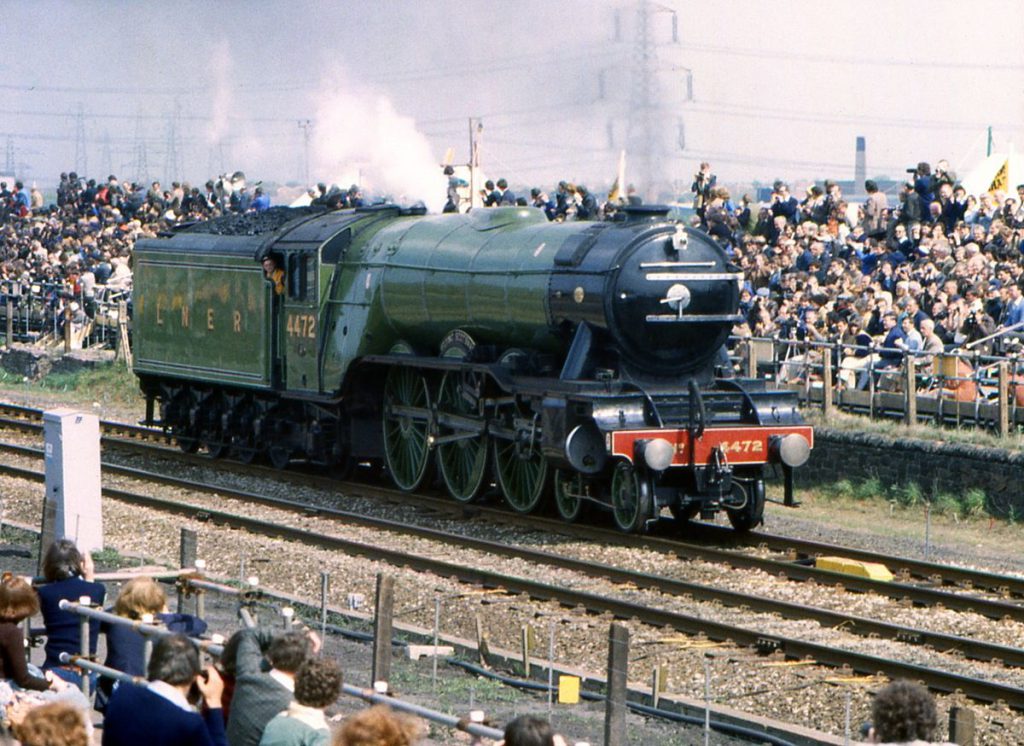 Flying Scotsman is certainly the world's most famous locomotive. Despite being retired from regular transportation duties, it still attracts hundreds of thousands of fans at every location it visits.
Have you ever seen Flying Scotsman in action? Let us know in the comments below.
Popular Train and Locomotive Coin Issues
The brand new Flying Scotsman £2 follows in some very big footsteps.
2013 London Underground Roundel £2
In 2013, The Royal Mint marked 100 years of the London Underground with two £2 coins.
This was the first to be issued and features the iconic Underground roundel, designed by Edwina Ellis.
The Tube has 11 lines covering 402 km and serving 272 stations, handling up to five million passenger journeys a day.
2013 London Underground Train £2
The second coin in The Royal Mint's London Underground series shows a design of the iconic Tube, appearing through a tunnel.
The inscription reads '1863 – London Underground – 2013'.
Just 1,690,000 of these £2 coins entered circulation, making it somewhat tricky to get your hands on.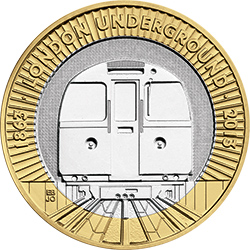 2004 Steam Locomotive £2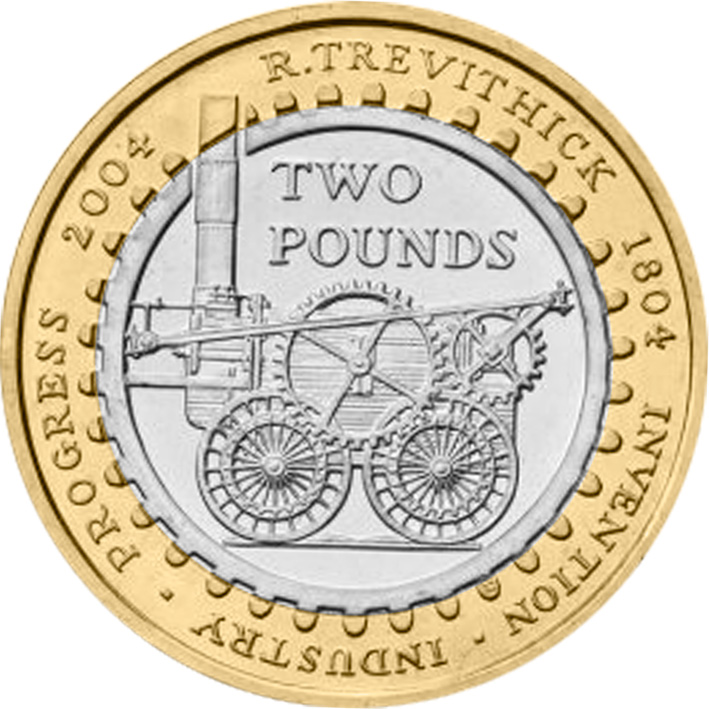 This £2 coin was issued to commemorate the 200th anniversary since the development of Richard Trevithick's 'Pennydarren' – the first steam engine locomotive.
The Pennydarren started the growth of railway transportation in the 19th century.
It travelled from Merthyr Tydfil in South Wales to Abercynon on its first journey in 1804, carrying 10 tons of iron, 5 wagons and 70 people on the 9 mile trip.
---
Celebrate Flying Scotsman's 100 years of history with this brand new UK £2
Get your hands on the brand new 2023 UK Flying Scotsman for JUST £9.50 (+p&p) by clicking here >>