It's time for your latest Scarcity Index update, where we reveal the UK's most sought-after circulation coins of the last three months!
Our 50p Index sees TWO new entrants with the issue of Platinum Jubilee and Pride 50ps into circulation, with our £2 and 10p Indexes both seeing HUGE shake-ups.
You can use the updated A-Z 10p, 50p and £2 indexes below to discover how sought-after the coins in your collection really are.
This information has been compiled using data from the Change Checker Swap Centre and presented in the easy to use indexes below, with arrows to signify how many places up or down a coin has moved since the last Scarcity Index.
50p Index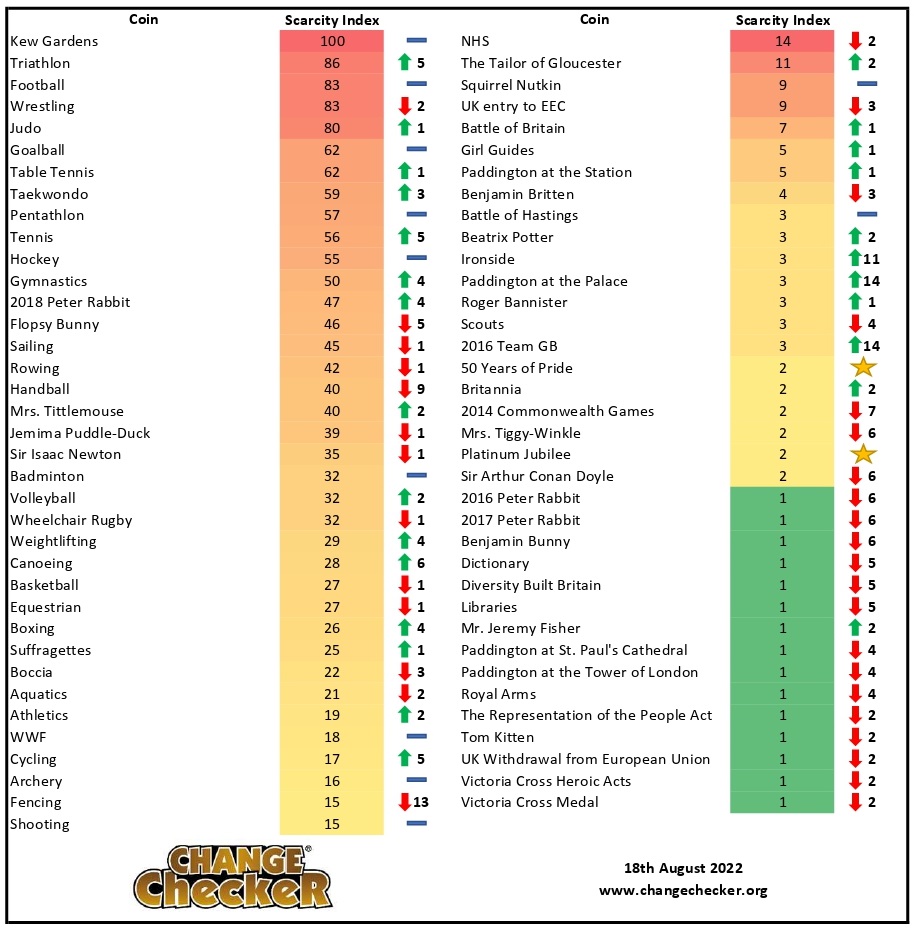 As we received updated mintage figures for the Pride and Platinum Jubilee 50p coins, they also made their debut in our 50p Index!
Ahead of the Platinum Jubilee weekend, the Royal Mint issued a further 1 million Platinum Jubilee 50p coins into circulation, meaning there are now 2.3 million out there for Change Checkers to find!
To celebrate 50 years since the first UK Pride Event, a brand new Pride 50p was issued into circulation, with a circulating mintage of 5 million!
As more Change Checkers find these coins in their change, it'll be great to see how their position on our 50p Index shapes up.
Other key movers include the Triathlon 50p, which has climbed 5 places, now sitting in second place on our Scarcity Index.
The Paddington at the Palace 50p has also climbed an impressive 14 places. It seems Paddington's appearance at Her Majesty's Party at the Palace has driven up the collectability of this coin!
A-Z 10p Index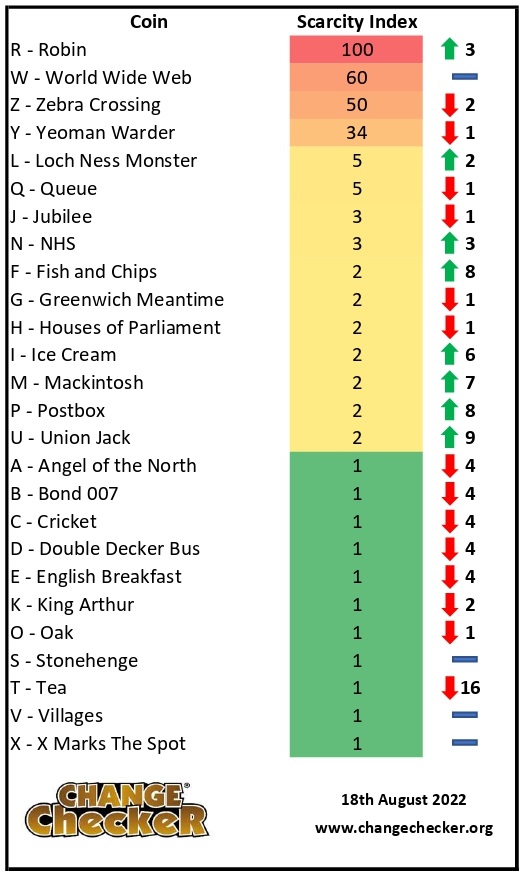 This quarter, the Robin 10p takes the top spot again after climbing 3 places! Just 284,000 of these 10p coins were issued between 2018 and 2019, making it one of the rarest 10p coins out there!
Looking elsewhere on the index, the Fish and Chips 10p has climbed 8 spots. With all the recent lovely sunshine we've been treated to, it seems that collectors are on the hunt for their favourite seaside treat!
Other key movers include the Postbox and Union Jack 10p coins, which have moved 8 and 9 places respectively.
Regardless of where they feature in the above index, if you have any of the A-Z 10ps in your collection you should consider yourself very lucky. A maximum of only 304,000 of each design entered circulation!
£2 Scarcity Index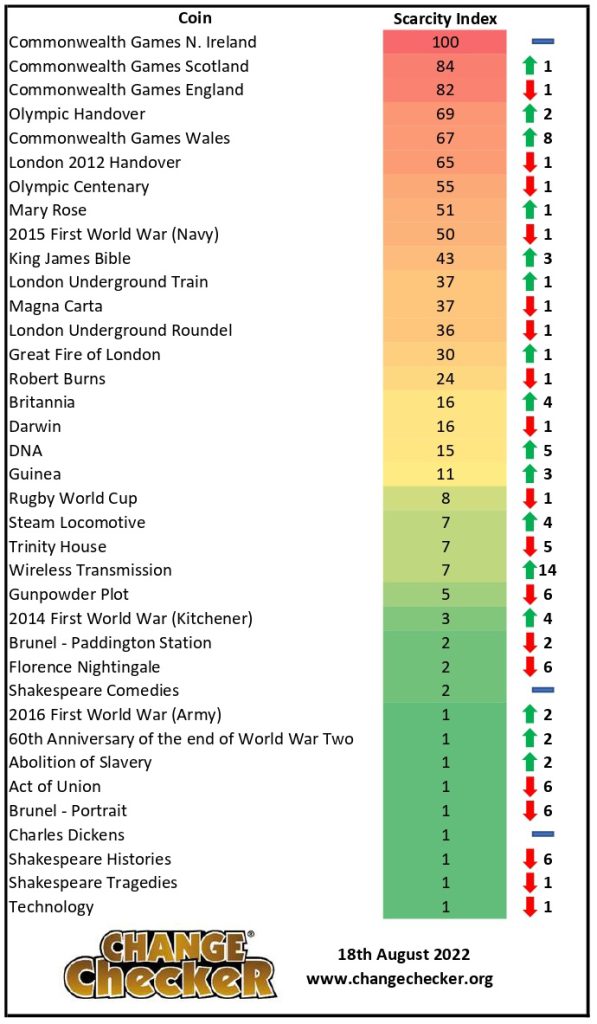 There's been a huge shake-up to our £2 Scarcity Index this quarter with the Commonwealth Games Wales £2 bumping back up into the top five.
The Wireless Transmission £2 coin has also made a climb up the board (by 14 places). As 4,558,000 have entered circulation since 1997, it can be quite a task to find one in your change. Have you got this coin in your collection?
Other coins to watch include the DNA £2, which has climbed by 5 places, and the Britannia £2, which climbed by 4.
How your Scarcity Index works
Generally collectors have had to rely upon mintage figures to identify the scarcest coins. But they only tell part of the story. Trying to find a good quality coin from 15 – 20 years ago, even for a higher mintage issue, is much more challenging than a more recent issue, as coins become damaged over time and are ultimately removed from circulation.
Additionally, some designs are more hoarded than others by people who might not normally collect coins – the poignant First World War £2 Coin series being an example. Finally, it can be up to a couple of years before the Royal Mint eventually confirms the actual mintage for an issue.
That's why we have combined the mintage information with two other key pieces of information.
How many of each design are listed as "collected" by Change Checkers, indicating the relative ease of finding a particular coin.
The number of times a design has been requested as a swap over the previous 3 months, showing the current level of collector demand.
Importantly, as new coins are released and popularity rises and falls across different designs the Scarcity Index will be updated quarterly allowing Change Checkers to track the relative performance of the UK's circulation coins.
How much are my coins worth?
The Scarcity Index does not necessarily equate to value but it is certainly an effective indicator. For example, the Kew Gardens 50p coin commands a premium of up to 200 times face value on eBay.
You can use the 6 point guide to help you determine a more realistic value for your coins.
What about £1 Coins?
The £1 Scarcity Index has already been published for the Round £1 coins and, because they are no longer being issued, this is now set in stone.
Receive new UK coins without the hassle of placing orders on the day of release!
Join the Change Checker UK CERTIFIED BU Subscription Service and receive new UK coins sent to your door without the hassle of placing orders on the day of release!
Don't miss your chance to get ahead of the crowd and be one of the very first collectors to receive the latest UK new issue coins as soon as possible after their release.
Where would we be today without our phones? From the latest smartphone all the way to the very first harmonic telegraph, these devices shape the way we communicate and connect with one another.
It's thanks to Alexander Graham Bell and his ingenious innovation that we're able to enjoy this technology today. So, what better tribute could there be than to celebrate his life and legacy with a new UK £2?
Available in superior Brilliant Uncirculated quality, you can secure yours today by clicking here >>
The 2022 UK Alexander Graham Bell £2 was originally issued in the 2022 Annual Coin Set, and earlier this year, it was voted as the favourite design from the set by Change Checkers!
Plus, the design hides a secret phrase… can you spot it?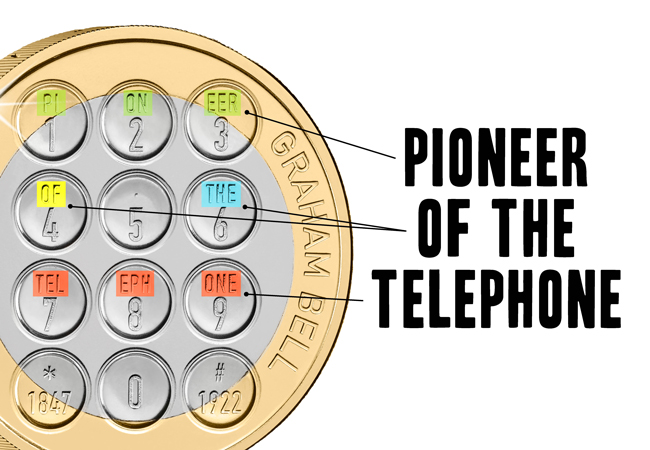 Across the highly detailed buttons, you can see letters that spell out: 'Pioneer of the Telephone'. What a fantastic way to show that Bell was, truly, the Pioneer of the Telephone!
This innovative feature will surely be a hit with collectors, as it follows the excitement of the secret messages within the Alan Turing 50p, released just last month!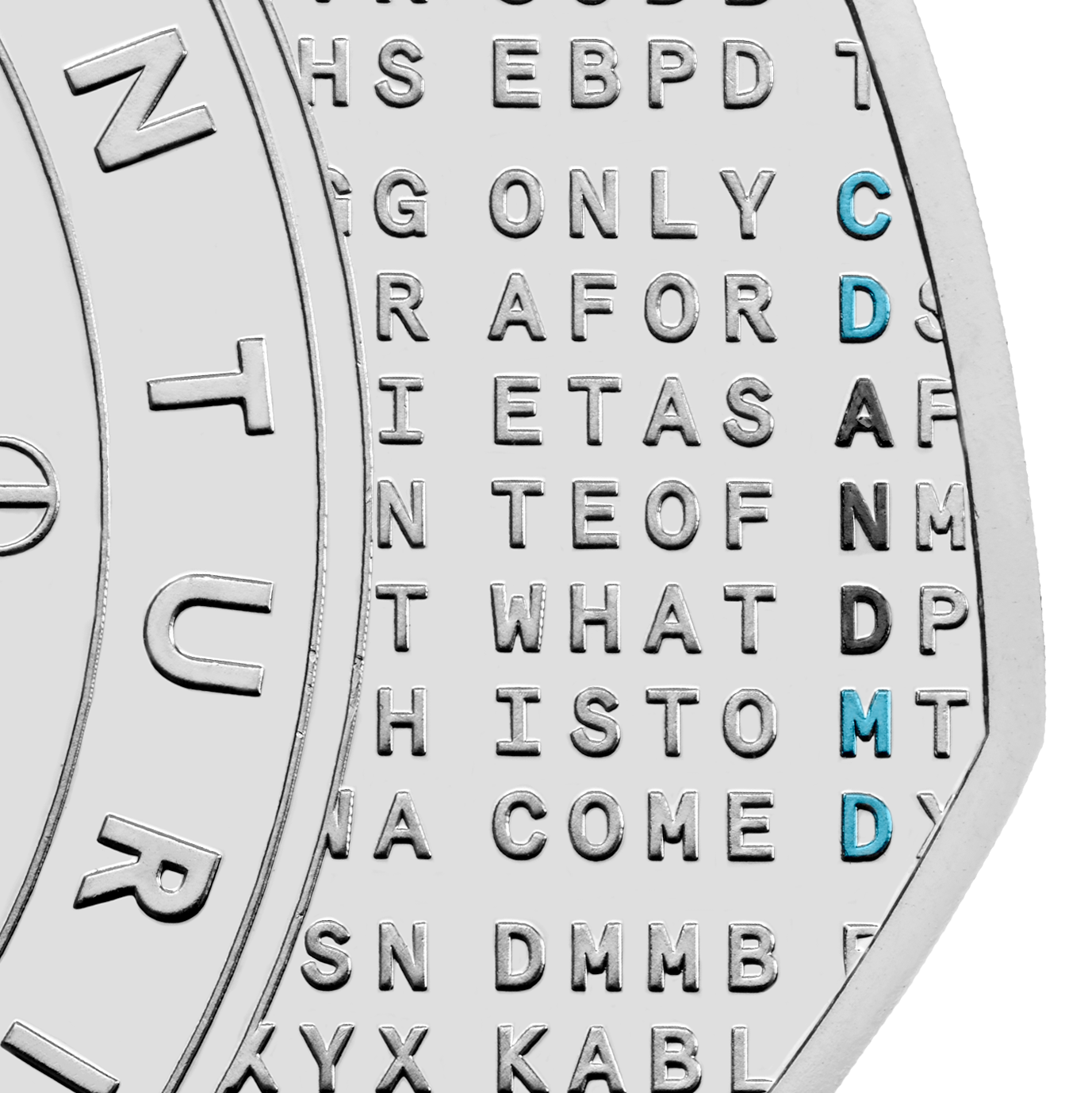 Find out more on our Alan Turing blog >>
And, these aren't the first scientific innovators to appear on UK coins. In fact, the first 50p in the UK's Innovation in Science series celebrated Stephen Hawking – making him one of ONLY three people to be celebrated on a UK coin within a year of passing!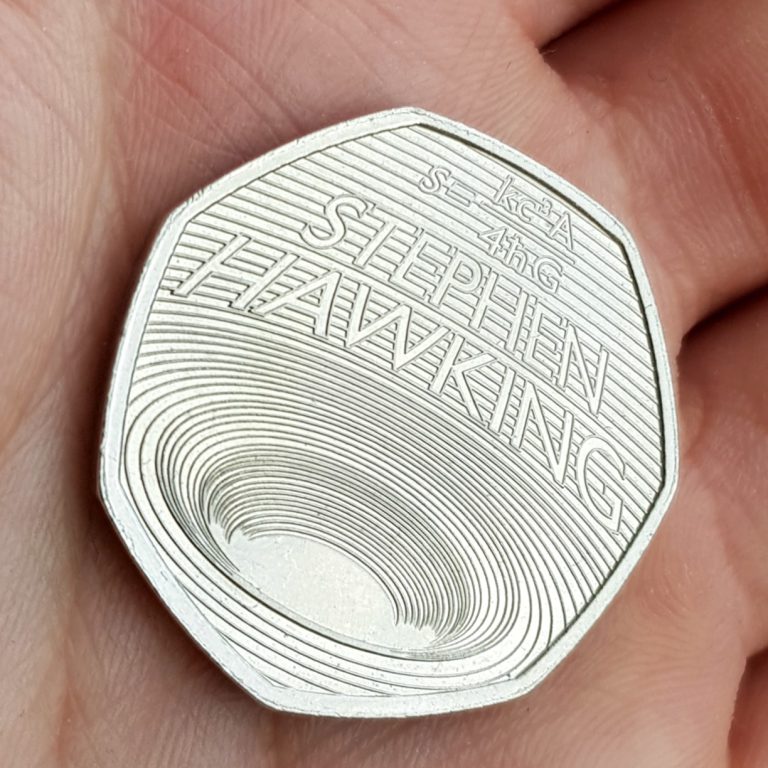 The Stephen Hawking 50p was so popular that it sold out of ALL precious metal specifications on launch day — this, in turn, then drove a high demand for the BU issue.
With this latest UK science coin release, now's the time to call your friends and share the news, as this new £2 really must not be missed!
Order your BRAND NEW 2022 UK Alexander Graham Bell £2 coin and secure yours today in Brilliant Uncirculated quality for just £9.50 (+p&p) >>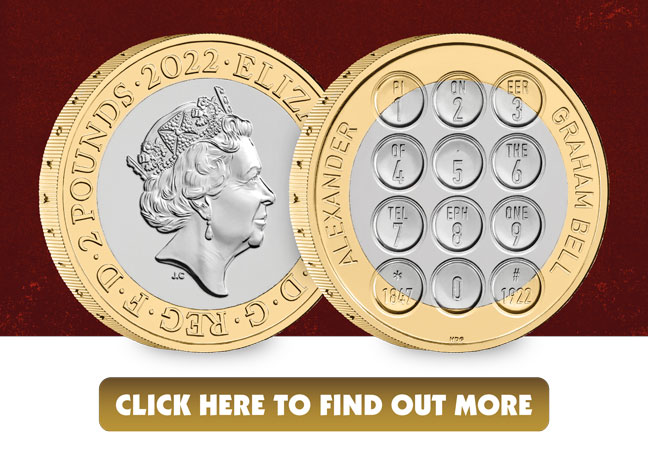 After a review of the United Kingdom coinage in 1994, it emerged that there was a requirement for a £2 coin to enter general circulation.
After extensive consultation, it was decided this would be a bi-colour coin, making it easily distinguishable from the other coins in circulation.
Originally, the intention was to issue the £2 coin in November 1997. However, concerns emerged from the vending industry over their size. The £2 coin was eventually launched on 15 June 1998, with millions of the coin released into circulation.
Since then we've seen over 35 different designs enter circulation!
And in 2022, the bi-metallic £2 coin celebrates its 25th birthday!
£2 coin vote – winning design revealed!
We asked you to vote for your favourite bi-metallic £2 coin design and the results are in!

Our winning coin design is the Great Fire of London £2, taking an impressive 17% of all votes! This coin was issued in 2016 to mark the 350th anniversary of one of the most well-known disasters to hit London.
However, three years after this coin was issued into circulation, it was revealed that its mintage figure was mistakenly listed and the coin is in fact rarer than once thought…
The previous figure of 5,135,000 meant this coin was fairly common but the updated figure of 1,625,000, makes this coin one of the rarest £2 coins in circulation!
Did your favourite coin design make the top 5? Let us know in the comments below!
---
Never miss a UK coin issue!