In September 2011, the fourth Commonwealth Youth Games were hosted on the Isle of Man and to commemorate this sporting event, Pobjoy Mint issued a new £2 coin on behalf of the Isle of Man Treasury.
This £2 coin featured the official Commonwealth Youth Games Mascot, Tosha the Cat and the official logo of the games.
But what makes this £2 coin so special?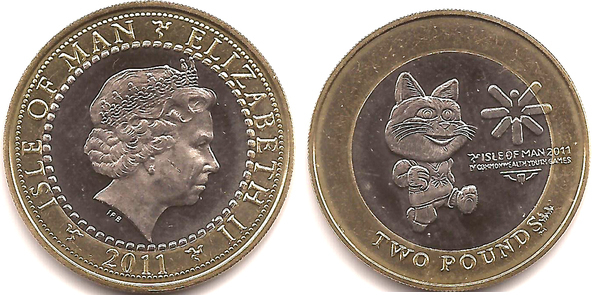 The name 'Tosha', meaning 'first' in Manx Gaelic is fitting considering this was the first time the games were held on the island. However, even though this significant sporting event and the fun design representing it would make this coin a great find for collectors, the popularity of the Tosha Cat £2 on the secondary market remains a force to be reckoned with…
The rise of the Tosha Cat £2
So how did this £2 coin come to be so popular?
Whilst rarity is normally a large factor in how collectable a coin is, mintage figures for British Isles coins are notoriously hard to track down and this coin is no exception. No one actually knows the true mintage figure, so it can't be said how rare the coin is, although we do know that British Isles coins typically have lower mintages than UK coins due to the smaller population.
One thing we do know for certain is that the Isle of Man Tosha Cat £2 is definitely sought-after amongst collectors.
Although the Tosha Cat £2 was issued in 2011, it wasn't until it was posted on Facebook coin groups in 2018 that the price started skyrocketing on the secondary market. In fact, in 2018 this coin became 'Coin of the Year' on Facebook coin groups, and this is where it really found its success.
Following the Facebook hype surrounding the Tosha £2, eBay bidding wars began. At a time when the Kew Gardens was selling for around £80 on eBay, this coin was regularly selling for double that!
Listed for thousands of pounds on eBay!
In fact, listings on eBay continue to regularly exceed £100 and even go up to thousands of pounds for this Isle of Man coin!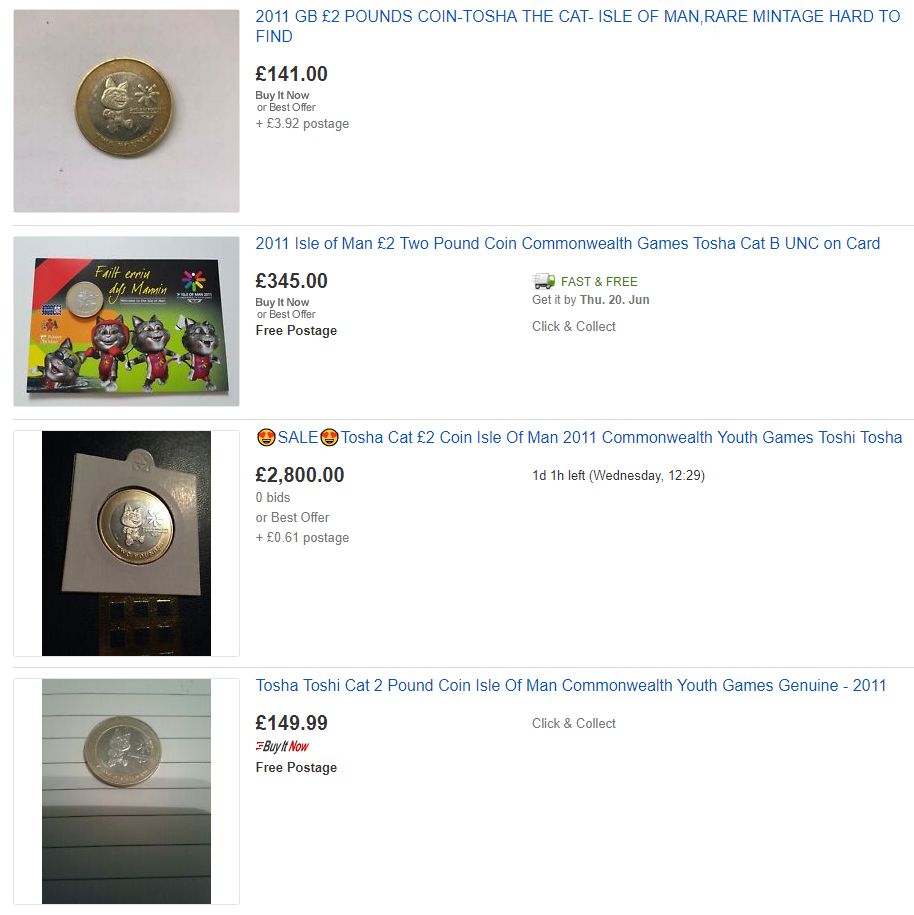 Although the coin may not actually sell for such eye watering amounts, a quick check of the recent 'sold' listings shows that some collectors are willing to pay more than 50 times face value to own this coin!
More commonly the coin sells for around £12, which is still an impressive 6 times its face value.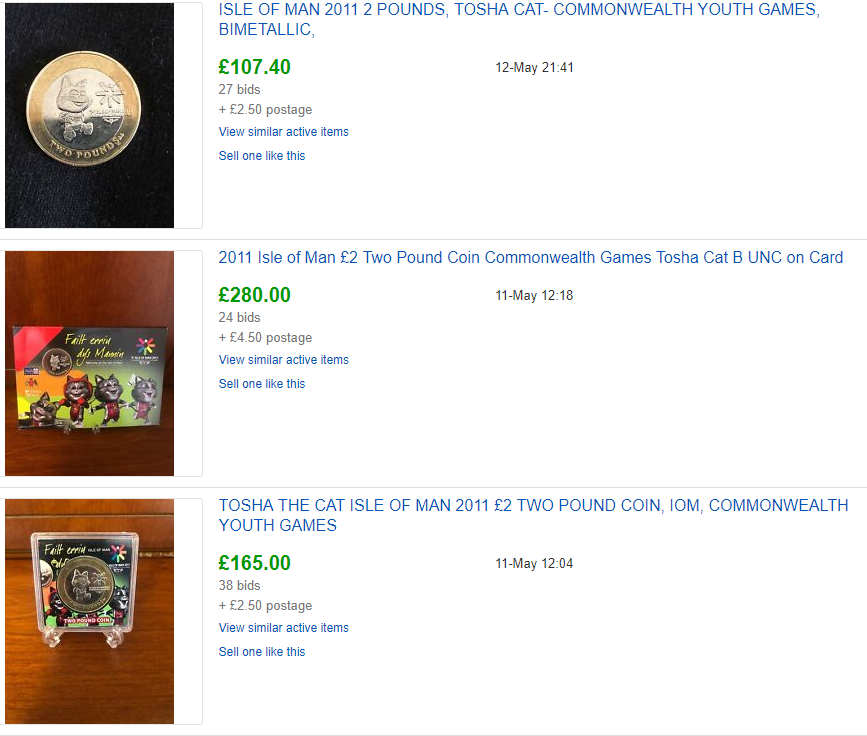 Beware of Fakes!
As is the story with the Kew Gardens 50p, the popularity of this coin has unfortunately led to fakes being produced and sold on the secondary market, taking advantage of unsuspecting collectors who would be willing to pay well over face value to own the coin.
If you're looking to secure the Isle of Man Tosha Cat £2 for your collection, it's certainly worth doing your research, buying/swapping from a reputable seller (look for eBay feedback or successful swaps on Facebook groups) and checking the images of the coin to make sure it looks legitimate.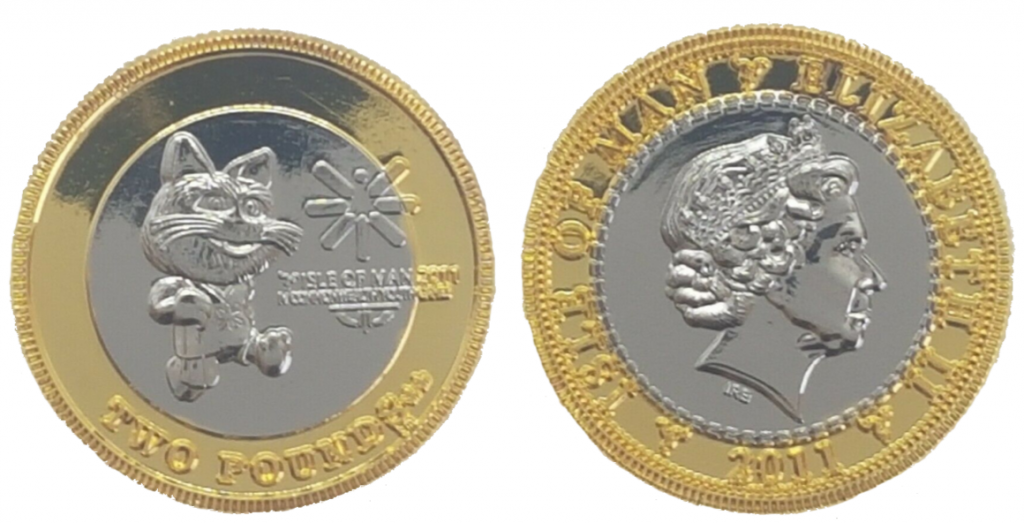 The image above gives you an idea of what a fake Tosha Cat £2 coin may look like.
Fake coins will be overly shiny, the strike will be much less defined and the coin may well weigh less than the standard 12g £2 coin.
Popular Isle of Man Coins
The Isle of Man has released some fantastic coins over the years, including the much-loved Christmas 50ps, TT race coins and most recently, this year's hugely popular release of the Peter Pan 50ps.
As the Isle of Man has some wonderful coin designs and really exciting collecting opportunities, you can see why more and more UK collectors are turning their attention to British Isles coins. But do you have any in your collection?
---
Own both 2019 Isle of Man TT £2 coins!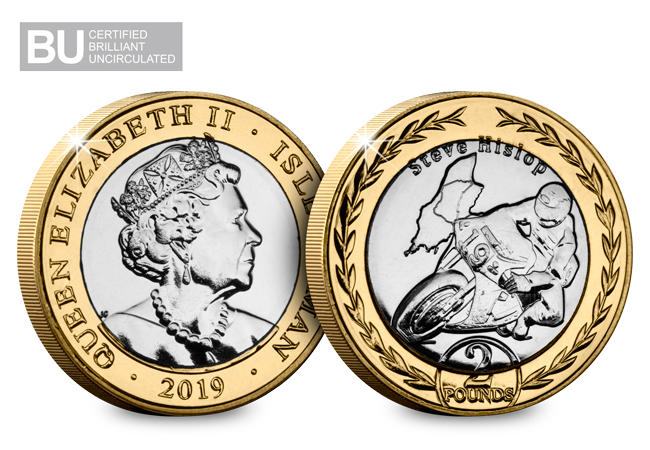 If you're interested in collecting Isle of Man coins, you'll love the 2019 Isle of Man TT £2 coin duo, which is now available in Brilliant Uncirculated condition.
We're excited to present your latest eBay Tracker and Valuation Index for the Top 10 UK coins and banknotes!
The secondary market can be a bit of a minefield, but if you've found a rare coin or banknote and want to work out how much it might be worth, we've done the hard work for you…
eBay Tracker
Find out which coins and notes have been the key movers and shakers in the updated eBay Tracker below.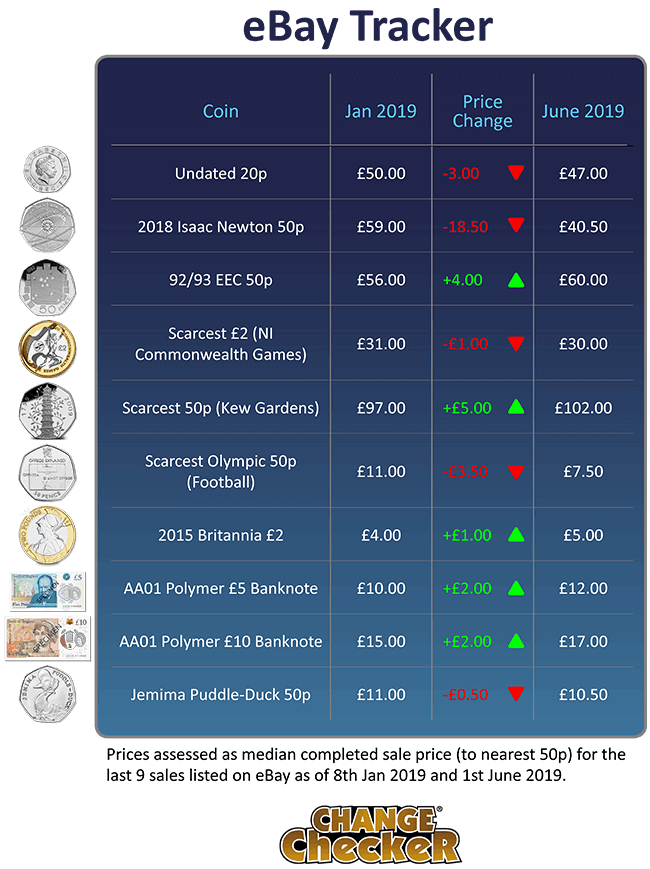 The most notable increase from the last update goes (unsurprisingly) to the Kew Gardens 50p, which has increased in price on the secondary market by £5 and is currently selling for around £102 on eBay – more than 200 times its face value!
Whilst many collectors were concerned that the 2019 Brilliant Uncirculated re-issue of this 2009 coin would make it less collectable, it seems that in fact the opposite has happened and the reinvigorated hype surrounding the UK's rarest 50p in circulation has led to an increase in demand for the coin, meaning collectors are willing to pay more to get their hands on one.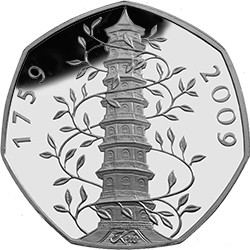 Other increases to mention are the AA01 serial number polymer banknotes, as both the £5 and £10 notes have increased by £2 since the last update, which is a 20% increase on January's figures for the £5 and 11% for the £10 note.
Overall there has been a decrease in value for the Top 10 coins and banknotes and this is mostly due to the 2018 Sir Isaac Newton 50p, which has dropped by 32% on January's figures and is currently selling for £40.50.
This coin was issued as a 'Strike Your Own Coin' from The Royal Mint Experience in 2018 and due to the short time frame it was available for, the number of coins struck could be really low, meaning it may well be very rare.
However the mintage figures for this coin haven't been revealed by The Royal Mint yet, so we don't know exactly how many were struck. When the official figures are released we could well see this coin increase in value on the secondary market.
Valuation Index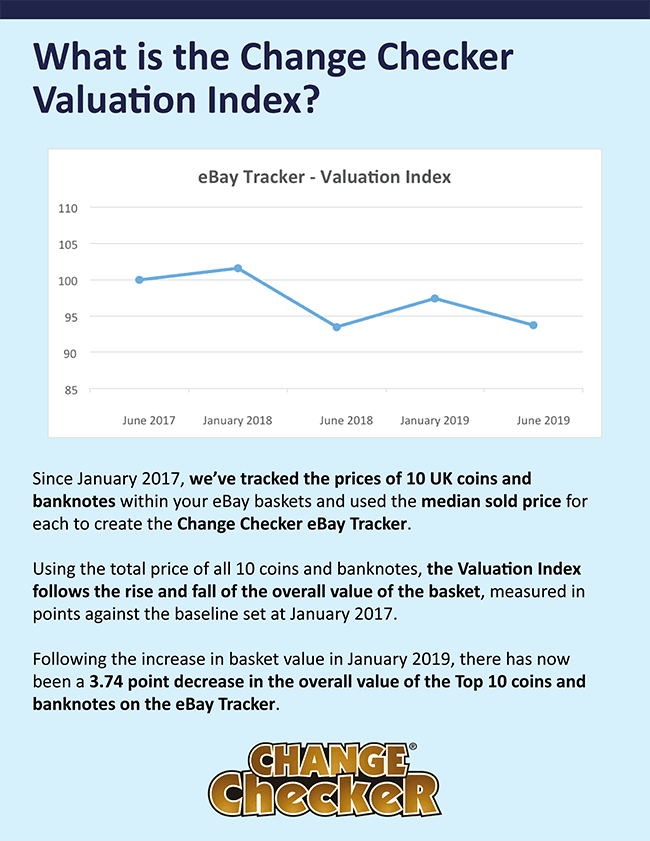 My coin isn't on the eBay Tracker
The eBay Tracker follows the movements of the Top 10 UK coins and banknotes, however if your coin doesn't appear on the tracker you can use our 6 point guide to help determine realistic a value for your coin.
So now that you're up to date with our latest eBay Tracker, will you be selling any of the coins in your collection or will you continue to save them? Let us know in the comments below.
How does the eBay Tracker work?
The Change Checker eBay Tracker takes the last 9 sold prices achieved on eBay and gives the median price achieved (rounded to the nearest 50p). By taking the median, rather than an average, we avoid skewing created by one or two excessive prices achieved.
Please note that the Change Checker eBay Tracker is only ever designed to be a guide as to prices achieved on eBay. Prices may vary depending on collector demand and the quality of the coin being sold. It does not provide any guarantee as to future values of coins.
---
If you're interested in coin collecting, our Change Checker web app is completely free to use and allows users to:
– Find and identify the coins in their pocket
– Collect and track the coins they have
– Swap their spare coins with other Change Checkers
Sign up today at: www.changechecker.org/app
We can't wait to bring you the next Change Checker Live Coin Swap and this time we're taking part in something very special…
Join us at Tankfest, the world's biggest and best live display of historic armour, living history and much more on the 28th, 29th and 30th of June at Bovington Tank Museum.
This is going to be one of our most exciting events yet, and in keeping with the military theme, we'll be swapping the brand new 2019 D Day £2 for ANY UK circulation £2 coin you have in your change.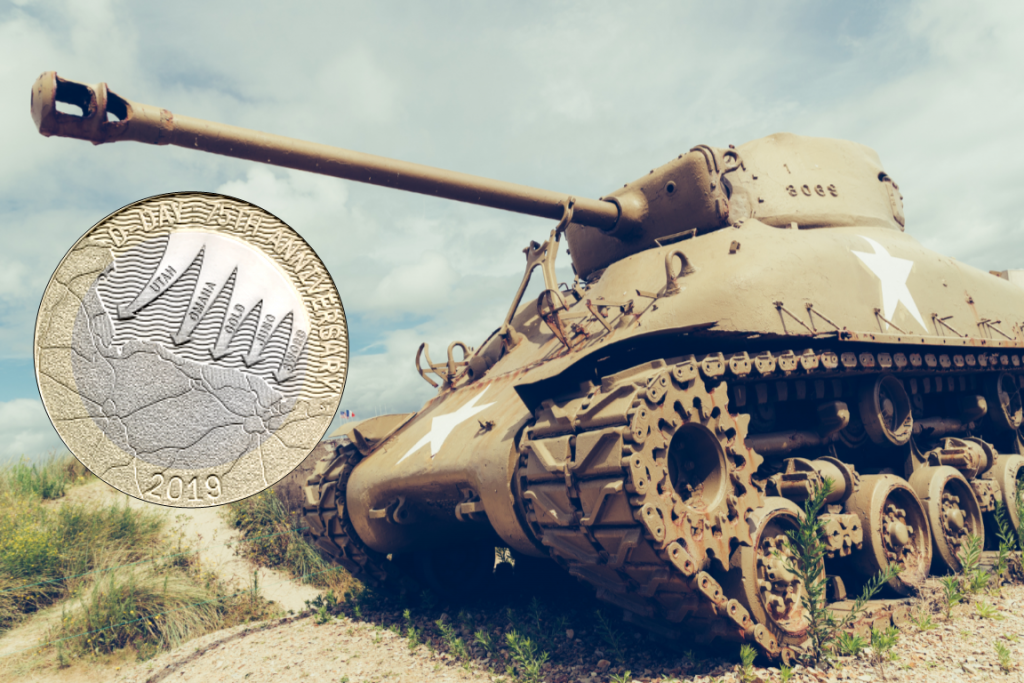 About Tankfest
Tankfest takes place each year at the Bovington Tank Museum, bringing the story of tanks, tank crew and soldiers to life.
The event takes place over three days, with an action packed line up of displays, vehicle rides, living history and more.
Explore the Tank Museum, trade stalls, explosive display arena and living history encampments.
Tickets must be purchased in advance from https://www.tankmuseum.org/whats-on/bovart65569
Live Swap Details
Our next event takes place from Friday 28th to Sunday 30th June at the Tank Museum, Bovington, from 9am to 6pm each day.
Join us there and swap ANY £2 coin for one of the brand new 2019 D Day £2 coins in Brilliant Uncirculated condition!
Please note: Swaps are limited to 1 per person, while stocks last.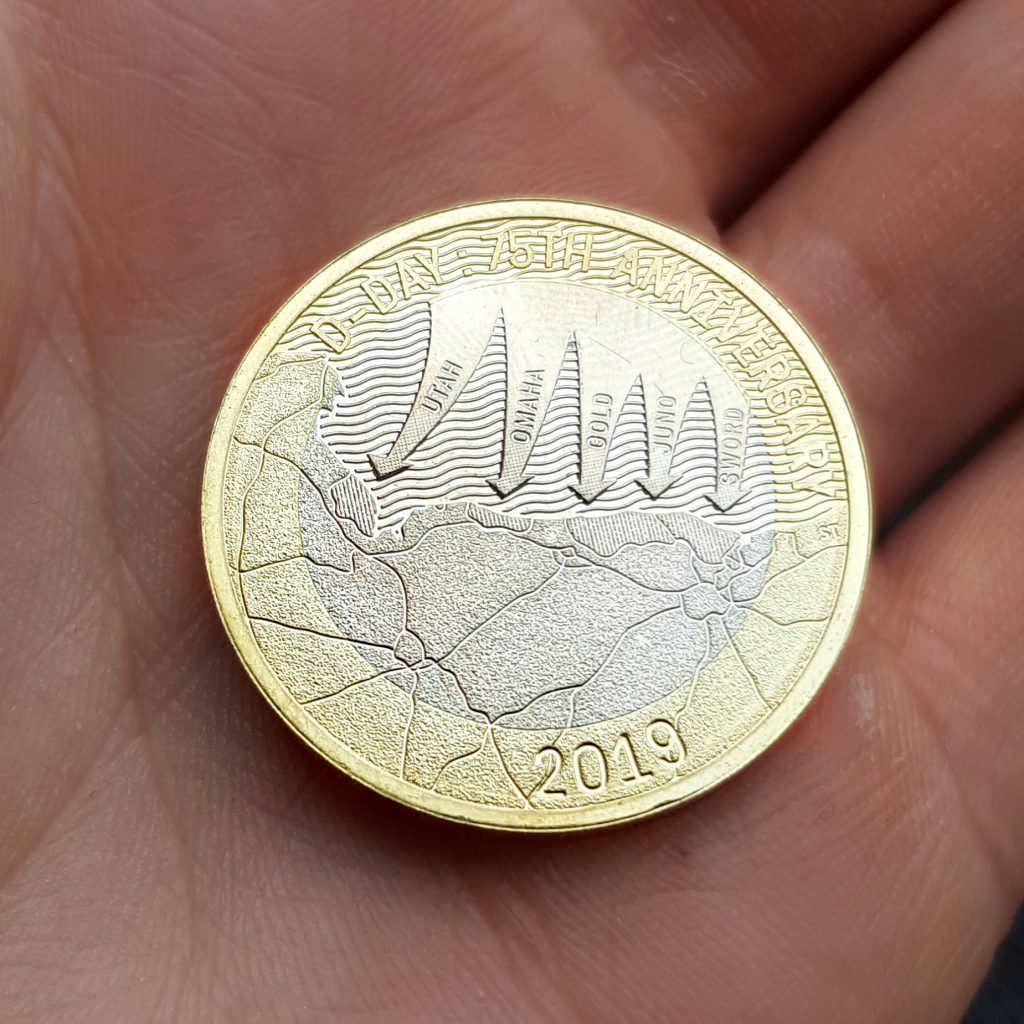 Getting here
There's a number of ways to get to the event:
Road: The Tank Museum, Lindsay Road, Bovington, BH20 6JG
Rail: Nearest station is Wool, Dorset (2.5 miles) – https://www.southwesternrailway.com/
Air: Nearest airport is Bournemouth, Dorset (25 miles) – www.bournemouthairport.com
Sea: Poole, Dorset offers routes from Cherbourg, or Portsmouth from Le Harve, Cherbourg and St Malo – http://www.brittany-ferries.co.uk/
Car parking at Tankfest is free and there is a dedicated taxi/vehicle drop off and pick up point close to the entrance.
We'll be updating you on the exact location of the Change Checker trade stand nearer to the time. Details will also be available here: https://www.facebook.com/events/369694360324649/
FAQ's
Can I swap more than one coin?
Such is the popularity of our Live Coin Swaps and to ensure that it is fair for everybody, we'll be limiting the number of swaps to strictly 1 coin per person.
Will you be doing any more Live Coin Swaps?
That's the plan!
We will be holding more Live Coin Swaps in the future and the plan is to visit a different area of the country each time, giving as many people as possible the opportunity to attend.
We look forward to seeing you there!
---
Secure the D Day £2 for your collection!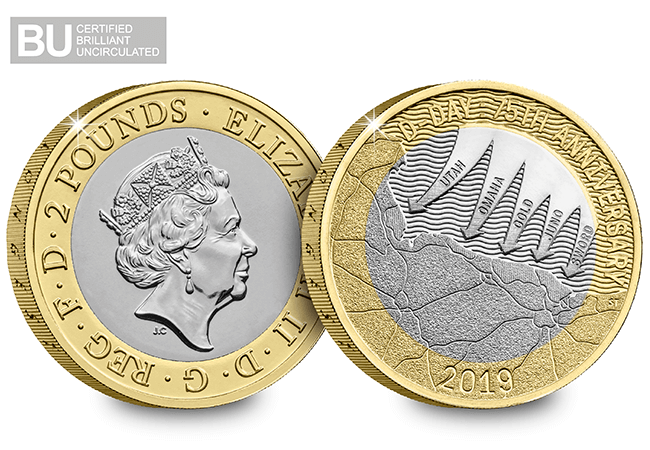 The D Day £2 is now available to purchase individually in Brilliant Uncirculated quality.