How much is my polymer £20 note worth?
*** UPDATE ***
With the impact of Covid-19 meaning less people are using cash, it seems older, paper banknotes aren't being cashed in! According to reports, 24.5 billion paper banknotes are still out there!
Whilst the paper £20 is technically still legal tender, the new polymer notes have been causing quite a stir in the collecting community.
Back in 2016, the first-ever polymer banknote was issued to replace the paper £5 note, with a cleaner, safer and stronger alternative.
Since then, we've seen the introduction of the polymer £10, featuring the portrait of Jane Austen and this year saw the issue of the polymer £20 note, featuring JMW Turner's portrait.
We've seen the £5 and £10 notes prove incredibly popular with collectors, with particular notes selling on eBay for way over face value!
But what makes a banknote collectable? Well… It's all to do with serial numbers!
We previously listed the serial numbers that you should be looking out for on the Polymer £20 note, from AA01 to AK-47, and unsurprisingly, some are proving more popular than others, but which ones are likely to fetch the most on the secondary market?
Well, we've done the hard work for you by taking a look at which polymer £20 note serial numbers are selling for the most on eBay and which ones you should be looking out for.
'Rare' polymer £20 banknotes
Recurring numbers
If you've been lucky enough to find a £20 note with a series of recurring numbers, like the 777777 serial number, you may want to keep hold of it as we've seen some which are currently selling on eBay for around £400 – over 20 times its face value!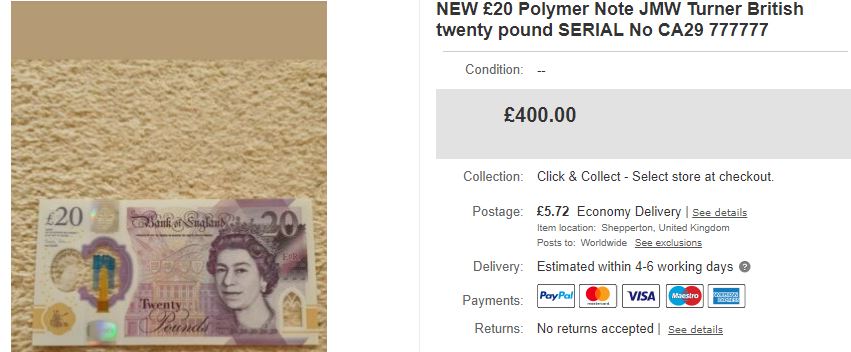 Similar serial numbers have sold for prices within the same range. The 333333 serial number also sold for £400, so it seems collectors everywhere are desperate to get their hands on a recurring number note!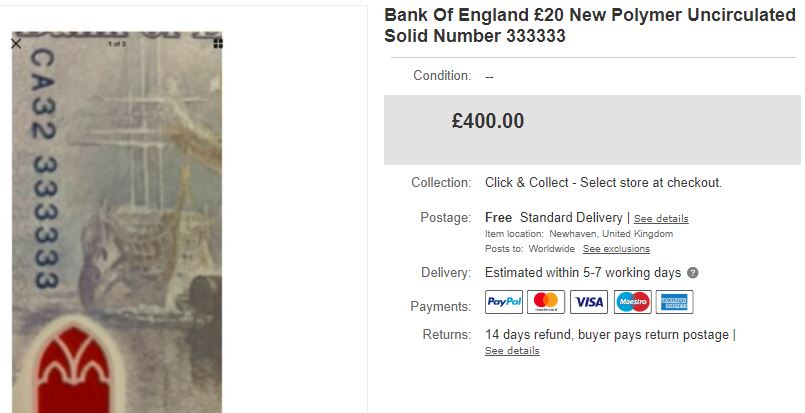 Another type of serial number you should be keeping an eye out for, is a 'ladder'. These are serial numbers that have consecutive numbers, like this '001122' note.
One lucky collector got his hands on this note but at a hefty £529… Other ladder numbers include '012345' and these could currently fetch you a very respectful £350 on the secondary market!
AA numbers
As with previous polymer note issues, the lower serial numbers for the new £20 have proven popular with collectors, with the current average selling price for the AA notes coming in at £40! That's two times the note's face value!
At the annual Bank of England charity auction held at Spink and Son Ltd in London the very first polymer note, the £5, with the serial number AA01 000017 auctioned for £4,150! However, this year, the £20 note with serial number AA01 000010 sold for a staggering £7,500, over FOUR times its starting price!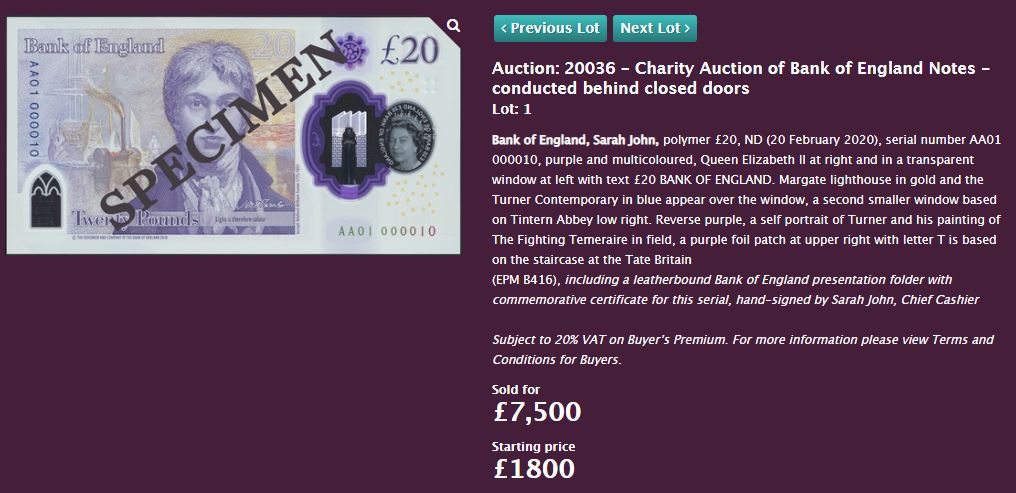 AK47
Considered collectable due to the machine gun connotations, polymer notes with the prefix AK47 were thought to be worth well over face value following the new £5 release in 2016.
A quick look at the most recent eBay sold prices for this serial number, on the new £20 note, show that people are willing to pay £11 over its face value!
What about the £50 note?
The Bank of England will be issuing a new polymer £50 in 2021 featuring the scientist Alan Turing.
We can't wait to see the new polymer £50 when it's issued!
So there we have it, the current selling prices for your polymer £20 notes! With less cash being used during the current climate and therefore less notes in circulation, it's possible this has added to the collectability of these new polymer £20 notes.
Are you a banknote collector and if so, which notes do you have in your collection? Let us know in the comments below!
---
If you're interested in coin collecting, our Change Checker web app is completely free to use and allows users to:
– Find and identify the coins in their pocket
– Collect and track the coins they have
– Swap their spare coins with other Change Checkers
Sign up today at: www.changechecker.org/app