Queen's Remarkable Reign Celebrated on Coins!
2022 has already seen some incredible new issues to celebrate the Queen's 70 years on the throne, including the sell-out Platinum Jubilee 50p and £5 coins.
And today, The Royal Mint have announced a brand new £5 coin series, aptly titled: The Queen's Reign.
The Queen's Reign 3-Coin Series
The first of the 3 coins – Honours & Investitures – has just been released, and is available now for JUST £10.99 in superior collector quality >>
They are the first UK coins ever to include the Queen's signature – uniting each coin in the collection.
Click here to order the first coin in the Queen's Reign series >>
The design pays tribute to the honours and awards the Queen has bestowed on individuals for their service, with a design featuring a range of medals including the George Cross, Victoria Cross and the Distinguished Flying Cross.
Collectors won't have long to wait to get their hands on the second coin in the series, which is expected to be released in July, and highlights her patronage and support of charities. Pre-order your 2022 UK The Queen's Reign: Charity & Patronage £5 today for JUST £10.99 (+p&p) here >>
You can also pre-order the third and final coin in the series by clicking here, before it's released in August. Pictured above, the intricate design of the 2022 UK The Queen's Reign: The Commonwealth £5 coin commemorates her service to the Commonwealth Nations.
The Queen on Coins!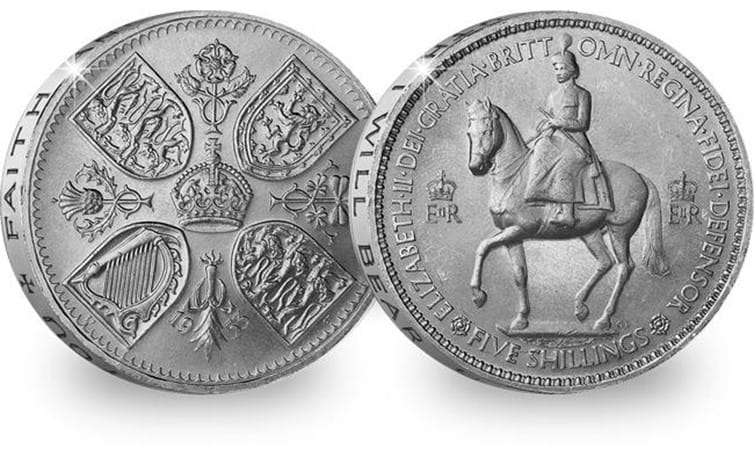 Since the very first Coronation Crown in 1953, milestone moments in Her Majesty's life have been celebrated on 20 coins, including the 1993 Coronation Crown, the 2012 Diamond Jubilee £5 and the Platinum Jubilee 50p – the UK's first ever Royal 50p – to name a few of my favourites!
Platinum Jubilee Celebrations
As many will know, the Platinum Jubilee weekend (2nd to 5th June) is nearly here, and a whole host of celebrations have been organised especially for it. This includes the coveted Platinum Party at the Palace, where a range of exciting performances will take place, broadcasted on the 4th June across BBC channels.
To commemorate the 70-year milestone, a range of Platinum Jubilee coins have also been issued – explore the Platinum Jubilee range here >>
Own the first coin in the Queen's Reign £5 Series
Click here to get your hands on the remarkable coins in this new series >>