"We're all mad here!"
That's right, at Change Checker HQ we're all going mad for the new Alice's Adventures in Wonderland and Through the Looking-Glass £5 coins which are set to be released later this year!
In the latest Royal Proclamation, it has just been confirmed that two brand new UK £5 coins are set to be issued celebrating Lewis Carroll's ingenious novels.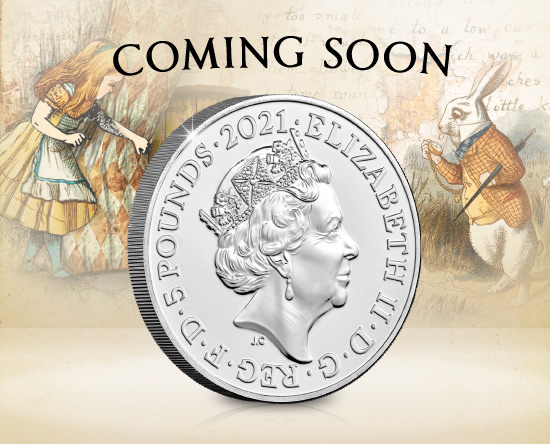 English author, Lewis Carroll first introduced the world to the curious girl named Alice in 1865 with Alice's Adventures in Wonderland which was later followed by Through the Looking-Glass in 1871. A firm favourite for generations of readers, Carroll's novels are considered some of the best examples of the literary nonsense genre.
We can't wait to see these new £5 coins when they're released, but for now the designs remain top secret!
If you want to get ahead of the crowd, and be one of the first to receive these coins when they're individually released, you can do so by signing up to the Change Checker New Issue £5 Subscription Service >>
---
Which characters would you like to see in this £5 series? Let us know in the comments below!
---
Be one of the first to receive the brand new £5 coins!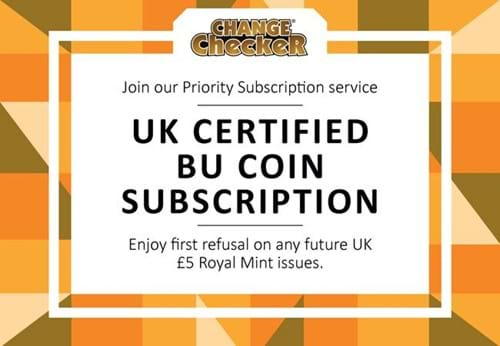 This is your opportunity to get ahead of the crowd and secure these brand new £5 coins and every future new UK £5 issue at the initial release price of just £10.99 (+p&p) >>
The Change Checker United Kingdom £5 Priority Subscription allows you to own the latest £5 coin releases, delivered to your doorstep, without any of the hassle of ordering the coin yourself!
British group, The Who were amongst the most popular and influential bands of the 1960s and '70s. Key to defining the mod genre and originating the 'rock opera' both in Britain and worldwide, The Who are without a doubt Music Legends.
Which is why Change Checker is head-bangingly excited to reveal that The Who can now add a brand new UK £5 coin to their impressive collection of accolades.
Designed by artist, Henry Gray to include a Union flag, mod logo and Rickenbacker guitar within a Tommy inspired pinball table, this superb new coin acts as a nod to one of the band's most famous creations.
Celebrating The Who's rock and roll story, the dynamic £5 coin is set to prove a real hit with collectors and music fans alike.
To secure this coin for your collection for JUST £10.99 (+p&p), click here >>
Mod-Rock Legends
Among the most popular and influential bands of the 1960s and '70s, The Who were key to defining the mod genre and originated the 'rock opera' both in Britain and worldwide.
Despite having an early influence from the American Rhythm and Blues genre, The Who's move towards a new style of British rock allowed them to reject any form of pretension when dealing with teenage frustrations.
The WHO's undeniable popularity, which spans across generations, has granted them numerous awards and they even reached the Grammy Hall of Fame for their single "My Generation" and the albums Tommy and Who's Next.
Perfectly meeting the description of Music Legends, The Who now become the fourth issue in The Royal Mint's incredibly popular £5 series, with this brand new issue.
2020 UK Bowie £5
The third coin in the Music Legend series celebrates the icon that is David Bowie.
The coin, by Jody Clark, features a design which pays tribute to Bowie's Aladdin Sane era. It depicts the music legend transitioning between his various personas, set against his iconic 'BOWIE' font and featuring the world-famous lightning bolt that Bowie sported as his alter ego, Ziggy Stardust.
Encapsulating everything Bowie stood for; transformation, non-conformism, and vibrancy, this £5 coin pays the perfect tribute to one of the UK's biggest Music Legends of all time.
Bowie's songs depicted the ups and downs being an outsider: an alien, a misfit, or even a faraway astronaut! His music appealed to all, with a blend of rock, cabaret, jazz and soul. It was this eclectic mix of style and honest charm that defined him as one of the greatest music legends of the 20th century.
During Bowie's vibrant career, he released 27 studio albums, 128 singles, and 72 music videos. Some of his most famous works include Space Oddity (1969), Life on Mars? (1971), Heroes (1977), and Ashes to Ashes (1980).
Sadly, in 2016 David Bowie passed away just two days after his birthday, leaving behind a legacy of nonconformist music and style.
And, in 2020 his legacy lives on, with the release of this £5.
2020 UK Elton John £5
The second coin in the Music Legends series was released earlier this year, celebrating Sir Elton John, who has been delighting his fans for more than half a century.
Since his very first self-titled album in 1970, Elton John has sold in excess of 300 million records worldwide.
Some of his chart-topping hits include, 'Can You Feel the Love Tonight?', 'Don't Go Breaking My Heart', 'Candle in the Wind', and 'I'm Still Standing'.
He also found success on Broadway, composing for Billy Elliot (2008), which went on to win 10 Tony Awards.
As recognition of his contribution to music, Sir Elton John was knighted in 1998 and in 2020 he was celebrated on a £5 for the first time.
The reverse design of this £5 coin, by Bradley Morgan Johnson represents Elton John's I'm Still Standing era. Speaking of the design, Johnson said, "I'm Still Standing was one of [his] favourite childhood pop tracks" and you can definitely see the influence this song has on the design of this coin.
My favourite feature of this coin design, is that Sir Elton John himself approved it. By owning this coin, you really are in possession of some huge music legend memorabilia.
If you would like to secure the 2020 Elton John £5 to your collection, click here >>
2020 Queen £5 Coin
The very first £5 coin in the Music Legends series was released earlier this year, celebrating one of Britain's most iconic and influential bands ever, Queen.
Formed in London, 1970, Queen instantly rocked the nation and became a British icon, creating unique and timeless songs which are still loved to this day.
As of 2005, Queen's albums have spent the equivalent of 26 years in the UK Album Charts! (According to the Guinness Book of World Records).
The design of this £5 coin by Chris Facey, showcases the iconic instruments of all four founder members of the band: Brian May's Red Special guitar, John Deacon's Fender Precision Bass™, Roger Taylor's Ludwig™ bass drum, and Freddy Mercury's Bechstein™ grand piano.
Band members Brian May and Roger Taylor have officially approved the design of this coin and alongside the fact that this coin is full of numismatic firsts, this coin has already proved incredibly popular with collectors:
The first-time ever Queen have featured on a coin worldwide
The first-time ever a British band has been celebrated on UK coinage
The first coin to be issued in the new series celebrating British Music Legends.
If you would like to add the 2020 UK Queen £5 in Brilliant Uncirculated quality, then click here!
I'm sure you're just as excited as we are by this brand new £5 coin and the continuation of the Music Legends £5 Series.
Which coin is your favourite in the series? Let us know in the comments!
---
Secure the brand new The Who £5 today!
As you would expect with a coin this exciting your brand new UK £5 has been struck to superior Brilliant Uncirculated quality and protectively encapsulated in official Change Checker packaging to preserve its quality forever.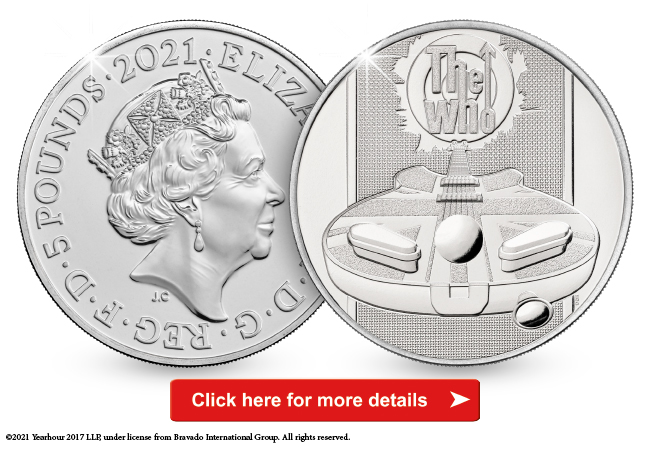 Add this coin, celebrating one of the world's most-famous music groups, to your collection right now by clicking here >>
On Saturday 17th October, a surprise coin release made the headlines, as a brand new 50p was released to celebrate how diversity built Britain.
This new 50p is the first in a series to celebrate diversity across the whole of Britain and how our diverse culture has helped to shape the rich history and heritage of our nation.
Collectors will also be delighted to hear that 2.5 million Diversity in Britain 50ps are expected to enter circulation today, so now's the time to get checking your change for this brand new release!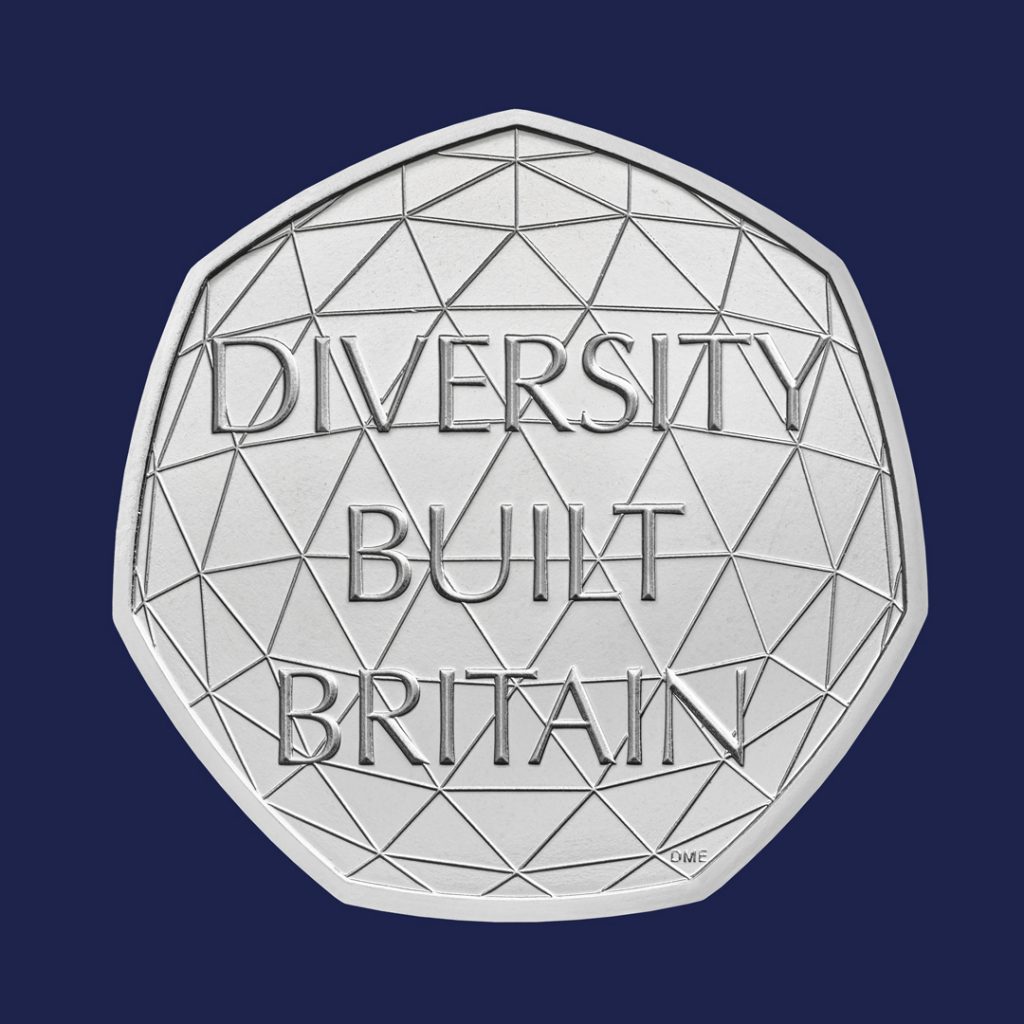 Designed by Dominque Evans, the new 50p features the words "DIVERSITY BUILT BRITAIN" against a network of interconnected triangles, symbolising the importance of connections between communities, and the strength of these connections cross the country.
Dominique Evans is one of the UK's foremost coin designers and has reflected her own experience of diversity, growing up as a mixed-race woman, as inspiration for her design.
"When designing this coin, I began by thinking about the people who inspire me and what diversity has meant in my life. I believe that no matter where you are born, we all belong under the same sky and this was the starting point of the design," Evans said.
Celebrating Diversity on UK Coins
Rishi Sunak, Chancellor of the Exchequer and Master of the Mint, unveiled the brand new UK 50p which celebrates British diversity and marks the profound contribution ethnic minority communities have made to our nation's history.
He said, "For generations, ethnic minority groups have fought and died for this country we have built together; taught our children, nursed the sick, cared for the elderly; and through their enterprising spirit have started some of our most exciting and dynamic businesses, creating jobs and driving growth."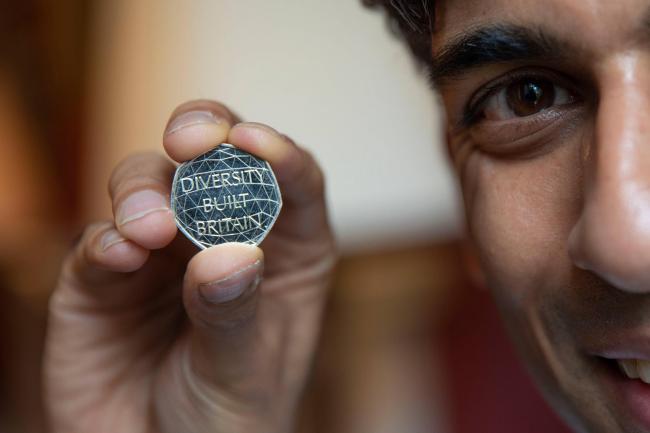 The coin was commissioned earlier this year following discussions with the We Too Built Britain campaign and calls for BAME figures to appear on UK coins and banknotes.
Look out for the Diversity Built Britain 50p in your change!
This release really has come as a wonderful surprise for Change Checkers and I'm sure demand for the new issue will be high as collectors rush to secure one for their 50p collection.
Will you be adding the 2020 Diversity Built Britain 50p to your collection? Let us know in the comments below!
Secure your Diversity 50p in Collector Quality – JUST £4.50 (+p&p)
Get ahead of the crowd and secure this brand new 50p coin in superior collector quality!
Click here to own the 2020 UK Diversity Built Britain 50p in superior Brilliant Uncirculated quality today!