Listen up Change Checkers!
The latest Royal Proclamation has just revealed some fantastic news for £5 coin collectors, as a brand new series of coins is set to be released celebrating the Royal Tudor Beasts and the mighty dynasty of King Henry VIII!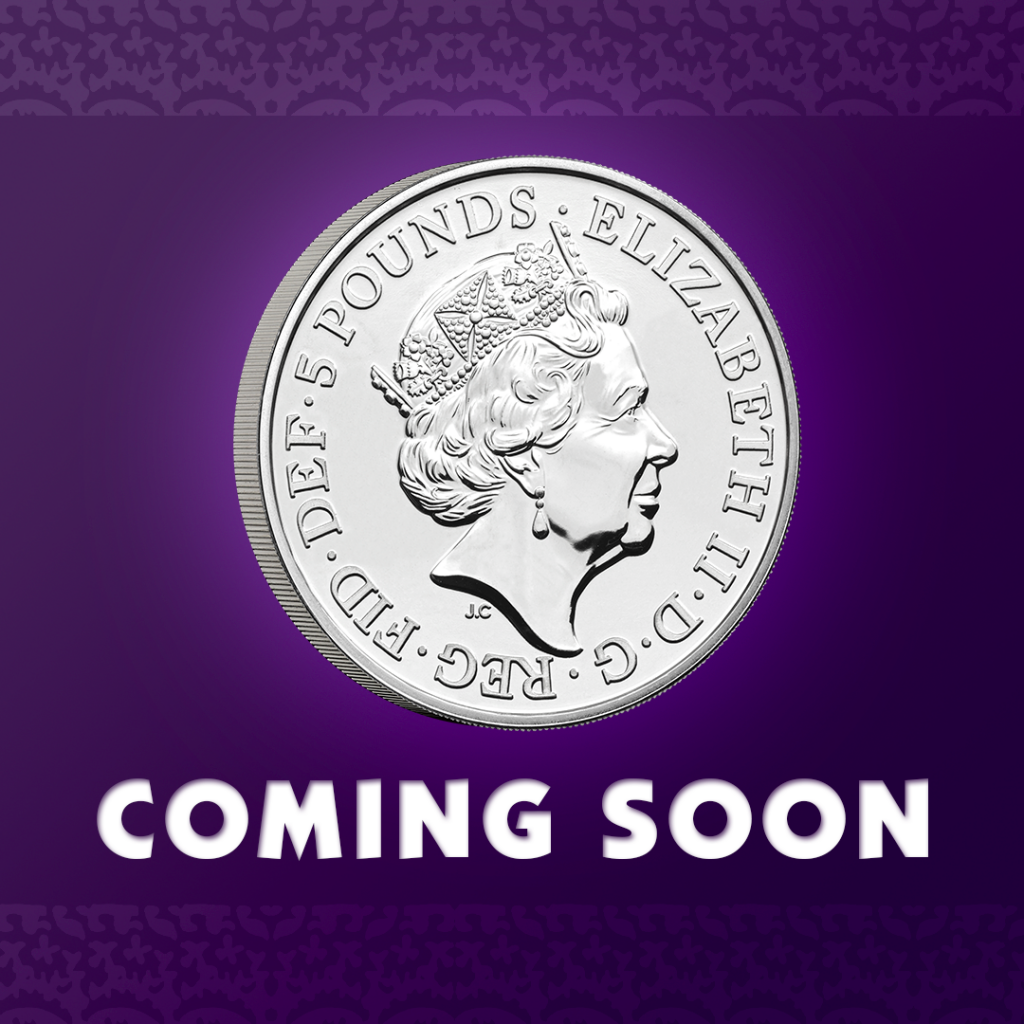 Just like the Queen's Beasts series issued from 2017 to 2021, there will be 10 coins in total, each representing a different beast.
If the popularity of the Queen's Beasts series is anything to go by, this new series is set to be in very high demand amongst collectors and royalty fans alike.
We can't wait to see these new £5 coins when they're released, but for now the designs remain top secret!
If you want to get ahead of the crowd, and be one of the first to receive these coins when they're individually released, you can do so by signing up to the Change Checker New Issue £5 Subscription Service >>
---
Be one of the first to receive the brand new £5 coins!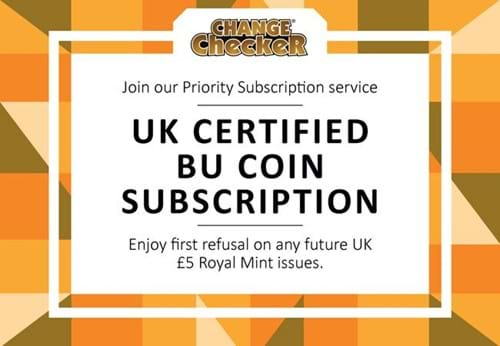 This is your opportunity to get ahead of the crowd and secure these brand new £5 coins and every future new UK £5 issue at the initial release price of just £10.99 (+p&p) >>
The Change Checker United Kingdom £5 Priority Subscription allows you to own the latest £5 coin releases, delivered to your doorstep, without any of the hassle of ordering the coin yourself!
Earlier in the year Change Checker revealed a brand new set of Alice's Adventures in Wonderland 50p coins, authorised for release by the Isle of Man Treasury!
Well today, we have had word that the FINAL 50p coins have been released to celebrate the sequel of Lewis Carroll's tale nonsense, 'Through the Looking-glass, and What Alice Found There'.
Alice Through the Looking-Glass 50p Set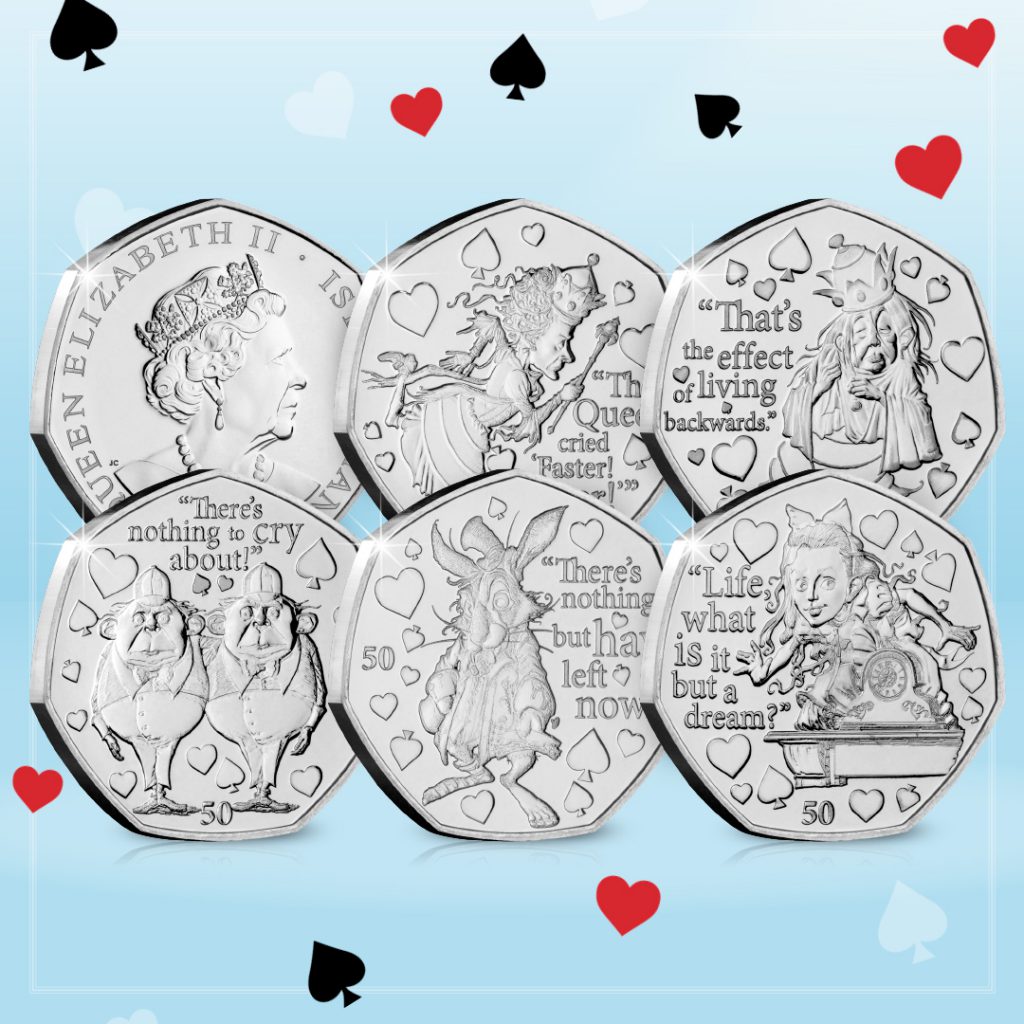 Prepare yourself to fall down the rabbit hole one last time with FIVE BRAND NEW 50p coins, each featuring a new design by renowned illustrator Stephen Lee. The designs of these coins are equally as captivating as the first set and likewise depict characters from the book with excerpts of their known quotes, including:
Alice "Life what is it but a dream".
The Red Queen "The Queen cried 'faster, faster!'"
The White Queen "That's the effect of living backwards".
Tweedledum & Tweedledee "There's nothing to cry about!"
March Hare "There's nothing but hay left now".
Which coin is your favourite? Let us know in the comments below!
Just like the first BU 50p Set released, only the Alice Single 50p coin will be issued individually. But, you can secure all five stunning coins in Brilliant Uncirculated quality, protectively housed in a bespoke presentation pack, carefully curated by the coins' designer.
To secure the Alice, Through the Looking-Glass 50p BU Set for your collection for JUST £31.25 (+p&p) click here >>
Strictly Limited Edition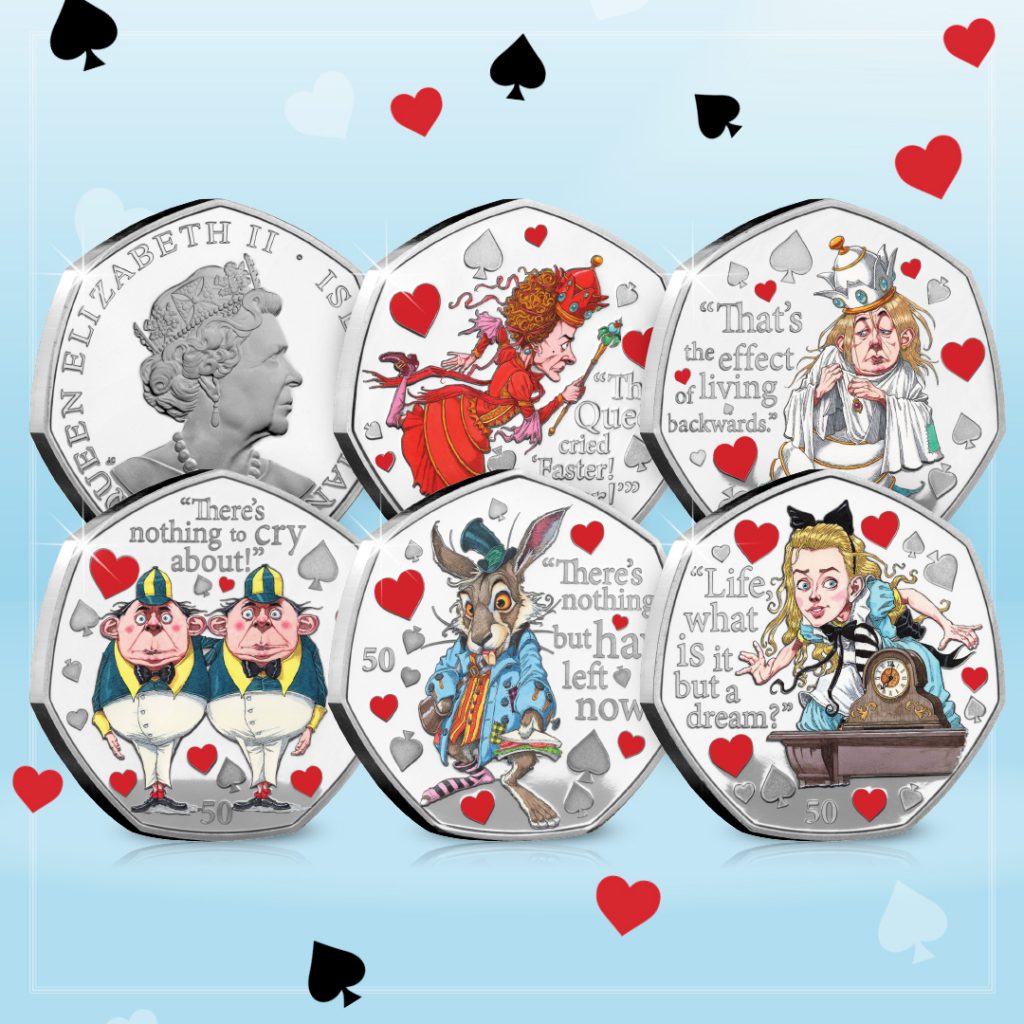 But, if you're looking for the crème de la crème of these coins, you won't want to be late for the extremely limited Silver Proof versions…
Silver 50p coins are, without doubt, the collector's favourite and a sell-out is inevitable.
The complete set is strictly limited to just 1,995 worldwide. When compared to the sell-out story of the 2019 UK Gruffalo Silver Proof 50p, which had a mintage of 25,000, it's almost certain there will not be enough of these Alice, Through the Looking-Glass Silver Proof 50p sets to satisfy demand.
You can secure yours for your collection by clicking here >>
Alice's Adventures in Wonderland 50p Coin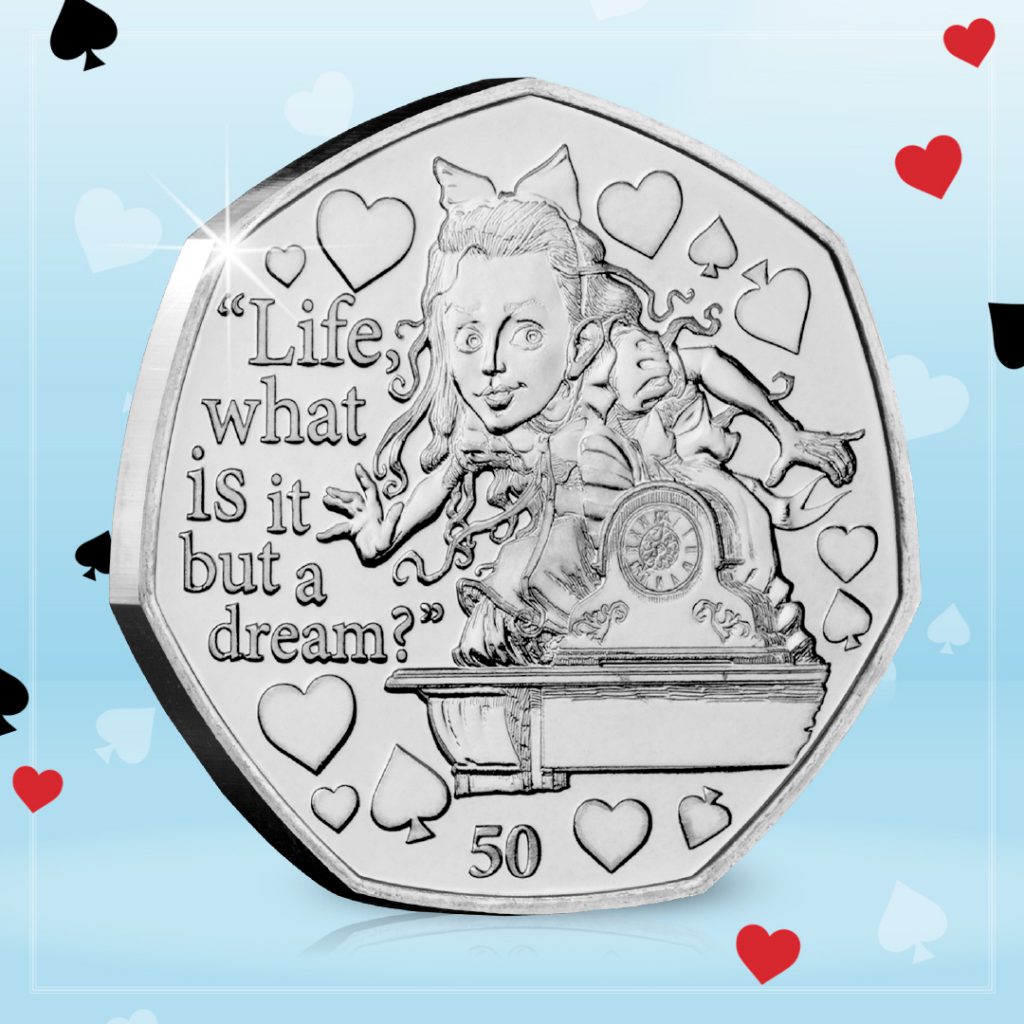 The Alice 50p coin above is the only coin from the collection to have been issued individually, and it celebrates none other than the main character herself, Alice.
The coin, struck to Brilliant Uncirculated Quality, features a carefully curated design of Alice, peering through the looking-glass on her return to Wonderland, alongside a quote from the book; "Life what is it but a dream".
This coin is available to order today in Brilliant Uncirculated quality for JUST £6.25 (+p&p) and comes protectively housed in a bespoke presentation pack – the perfect pairing I am sure you agree!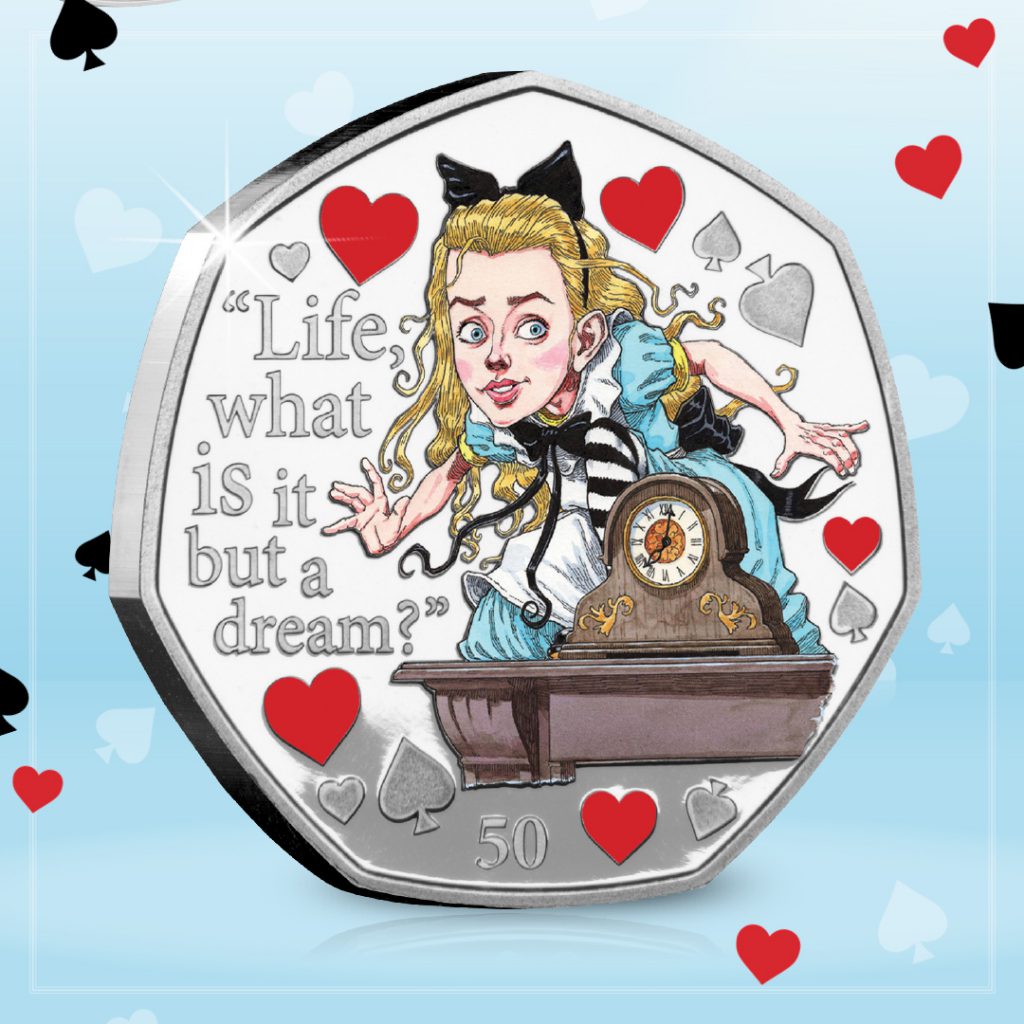 And remember, for those collectors looking for a little bit more adventure, this brand new coin is also available in stunning .925 Sterling Silver with an edition limit of JUST 4,995!
Struck to a pristine Proof finish, with the added extra of selective vivid colour printing to bring the design to life, this coin is, without a doubt, going to be one of the most popular ways to own this BRAND NEW release.
Each coin also comes housed in a presentation case, along with a numbered Certificate of Authenticity, confirming its place in the strict edition limit of JUST 4,995!
To secure yours simply click here >>
Can I find the Alice Through the Looking-Glass 50p coins in my change?
If you're living on the Isle of Man, then yes!
10,000 of each coin will be entering circulation on the Isle of Man, but when you compare that to the mintage figures for UK coins (our rarest 50p in circulation has a mintage of 210,000) you'll realise just how few of these coins are actually out there.
Coins issued on the Isle of Man typically have lower mintage figures due to the smaller population of just 84,000 which means that their coins are particularly sought-after amongst collectors.
And, based on the popularity of the first Alice's Adventures in Wonderland Set I'm sure that British Isles collectors will be super quick to snap these ones up!
---
Alice in Wonderland remains one of the world's most famous and best-loved children's tales, with fans spanning across generations.
So with a theme as strong as this, paired with those incredibly low mintage figures and the fact these are the FINAL coins available, I am under no doubt they will be a hit with collectors.
Will you be securing them for your collection? Let us know in the comments below!
---
Secure the 2021 Through the Looking-Glass 50p BU Set today!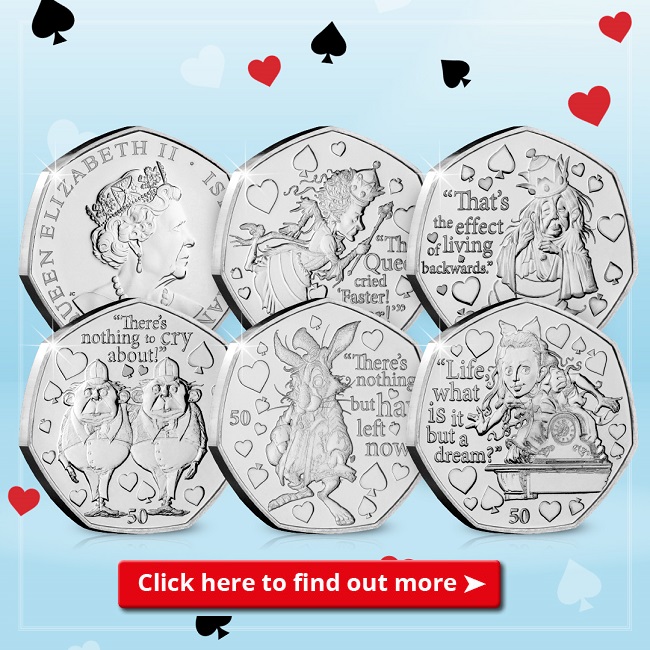 Your Brilliant Uncirculated quality coins will come protectively housed in a bespoke presentation pack, carefully curated by the coins' designer.
To secure the Alice's Adventures in Wonderful 50p BU Set for your collection for JUST £31.25 (+p&p) click here >>
For the first time since 2017, 1p coins were back in production last year, with the latest mintage figures revealing that 88,071,910 pennies entered circulation in 2020.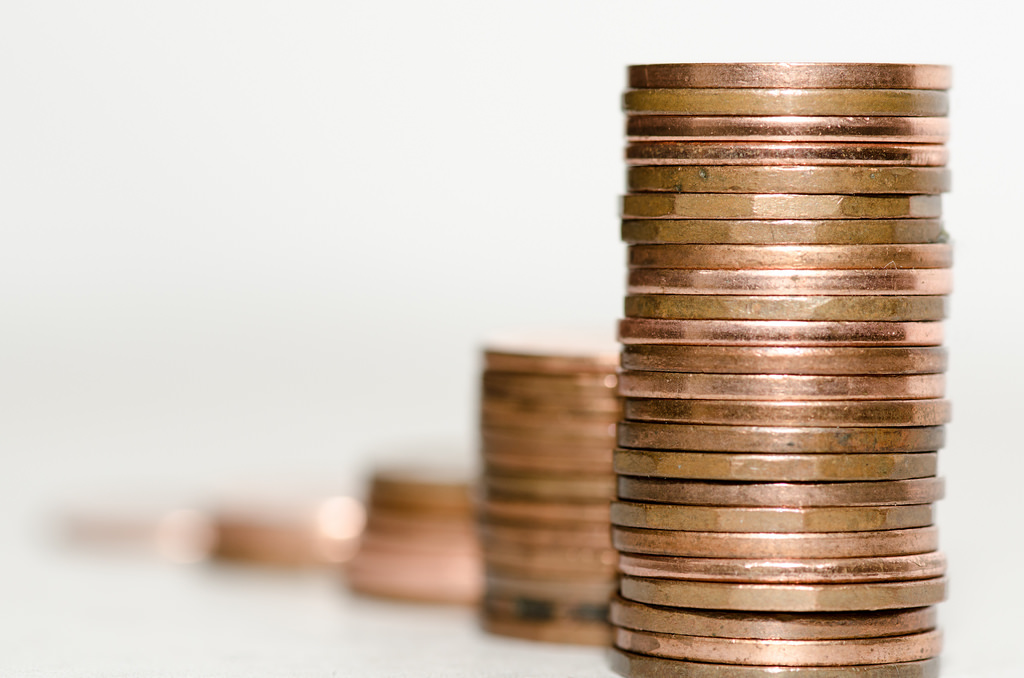 Previously on our blog we've posed the question, 'What is the future for 1p and 2p coins?' as the Treasury has doubted the validity of the smaller denominations.
However, it seems that during the covid pandemic, and particularly in lockdown, a pattern of cash hoarding has resulted in less loose change being circulated.
In fact, banks have recently been calling on people to donate any unused change to charities, as they have felt the impact of the pandemic on fundraising.
Demand for 1p coins increases
Earlier this week, the latest mintages figures were revealed for 2020 coins and it seems that the demand for 1p coins has now increased, as The Royal Mint have produced over 88 million of them for circulation last year.
Whilst this doesn't quite reach the heights of 2016 when almost 250,000,000 1p coins were minted for circulation, it is still an improvement on the 2p and £2 coins which did not enter circulation at all last year.
The UK's very first decimal 1p coin was minted in 1971 and since then more than 28 billion of the coins have been produced by The Royal Mint.
The biggest influx came at the turn of the millennium, when over a billion coins were produced were produced in the year 2000.
Could the rise of contactless payments kill cash?
Overall, it does appear that the general demand for cash may be falling, partly due of the rise of cashless payments and contactless cards.
A spokesperson from The Royal Mint said: "The volume and variety of coins which enter circulation is determined by demand from UK banks and Post Offices. When demand rises The Royal Mint consults with HM Treasury before manufacturing more coins."
Currently, there are no plans to produce new £2 or 2p coins for circulation over the next 10 years, as The Royal Mint are sitting on 26 times as many £2 coins as it needs to.
But, as we covid affects our use of cash and leads to hoarding, we are already seeing greater demand for smaller denominations, as demonstrated by the production of the 2020 dated 1p coins.
---
Have you found yourself holding on to more small change during the pandemic and what are your thoughts on the use of cash vs contactless? Let us know in the comments below!
---
If you're interested in coin collecting, our Change Checker web app is completely free to use and allows users to:
– Find and identify the coins in their pocket
– Collect and track the coins they have
– Swap their spare coins with other Change Checkers
Sign up today at: www.changechecker.org/app