This morning The Bank of England revealed Alan Turing as the new face of the £50 banknote, which will be released into circulation in 2021.
In their search to find an eminent British scientist to feature on the £50 note, a total of 227,299 nominations were sent to The Bank of England. 989 eligible characters were narrowed down to a shortlist of just 12 before Turing was finally selected.
Codebreaker Alan Turing will be on Britain's new 50-pound currency https://t.co/PcmHWkqre3

— TIME (@TIME) July 15, 2019
Other candidates included Rosalind Franklin, Stephen Hawking, Ernest Rutherford and Mary Anning to name a few.
The Bank's chief cashier, Sarah John said, "The strength of the shortlist is testament to the UK's incredible scientific contribution. The breadth of individuals and achievements reflects the huge range of nominations we received for this note and I would like to thank the public for all their suggestions of scientists we could celebrate."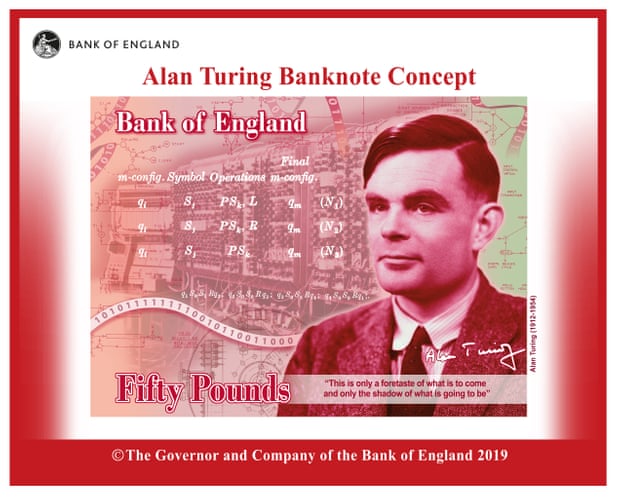 About Alan Turing
Alan Turing is perhaps best known for his outstanding code-breaking which was vital to the Allied victory in WWII.
However, he was also considered a pioneer in computer sciences and the development of the early computer. His work has had an enormous impact on our lives today.
The Bank of England governor, Mark Carney said, "Alan Turing was an outstanding mathematician whose work has had an enormous impact on how we live today. As the father of computer science and artificial intelligence, as well as [a] war hero, Alan Turing's contributions were far ranging and path breaking. Turing is a giant on whose shoulders so many now stand."
Sadly, in 1952 he was prosecuted for homosexual acts and died in 1954 from cyanide poisoning. It was determined that his death was an act of suicide.
The new note
Next year the new £20 polymer note will be issued, featuring British Artist, JMW Turner.
This will be the third UK banknote to be made from polymer and will be swiftly followed by the new £50 note in 2021, thus completing the UK's changeover to plastic banknotes.
These notes are more durable, secure and environmentally friendly than paper notes.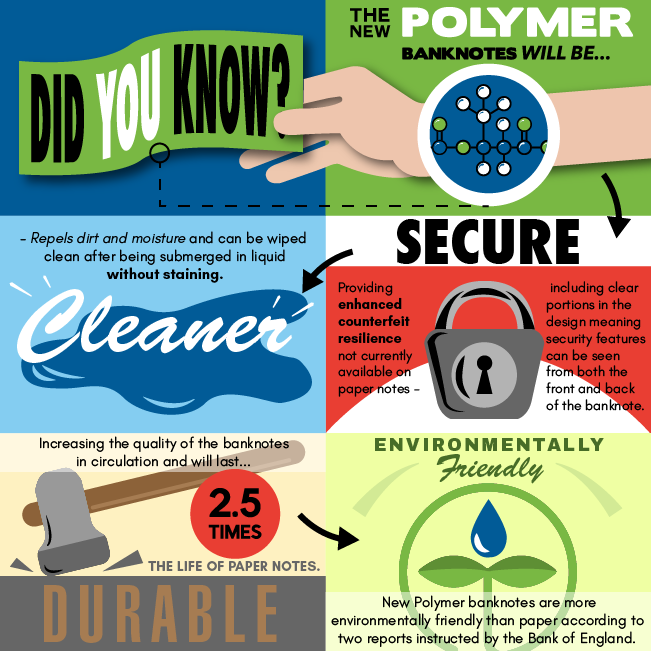 The future of cash
There have been debates in recent years as to whether or not Britain should become a cashless society.
The rise of card and electronic payments means that many see cash as becoming obsolete, with the 1p and 2p coins at the heart of the debate.
In addition to this, the validity of the £50 note has also been questioned, as it is rarely used in everyday payments and is widely thought of as being used by criminals.
The good news for Change Checkers is that the Treasury have confirmed that cash will be around for years to come.
And, with the introduction of the new Alan Turing £50 note in 2021, I think it's fair to say that cash is still king.
---
If you're interested in coin collecting, our Change Checker web app is completely free to use and allows users to:
– Find and identify the coins in their pocket
– Collect and track the coins they have
– Swap their spare coins with other Change Checkers
Sign up today at: www.changechecker.org/app
Coins from Crown dependencies and overseas British territories can sometimes make an unexpected appearance in our change.
Sure, this can be an annoyance as technically the coins are not legal tender in the UK, but from a collecting point of view, new and interesting designs are always a bonus!
In our latest coin hunt competition, we went head to head with 10 YouTube Coin Hunters for a 50p coin hunt and it was amazing to see how many of the teams stumbled across coins that shouldn't be in our change…
Here are some of the unexpected coins we came across:
2012 Bailiwick of Jersey 50p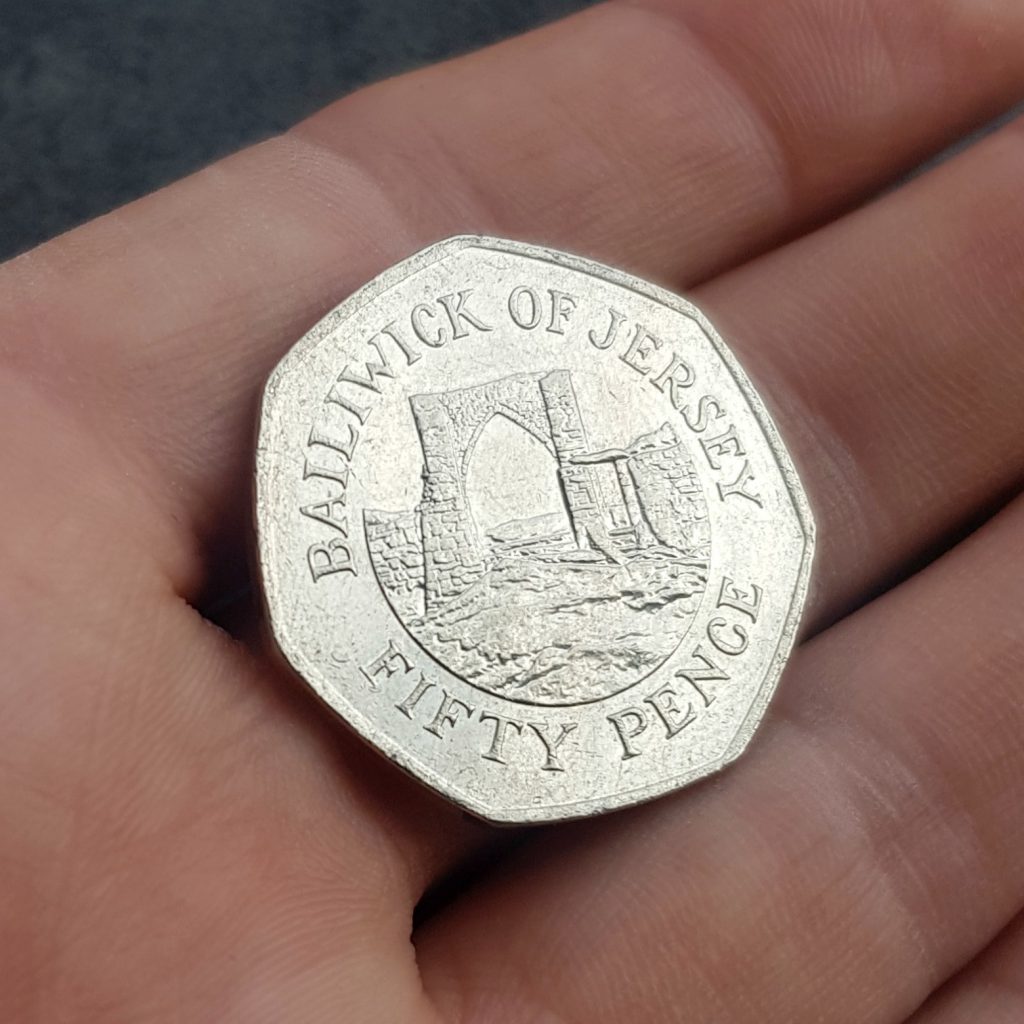 Yasmin and I were lucky enough to come across this 2012 Bailiwick of Jersey 50p in our coin hunt.
The coin features Jersey's Grosnez Castle on the reverse surrounded by the lettering 'Bailiwick of Jersey'. The obverse features the Arnold Machin engraving of Queen Elizabeth II.
Interestingly, 2012 dated Bailiwick of Jersey 50p coins were also struck in 2013 and 2014, giving this particular coin a total mintage of 365,000.
Jersey's coinage is not legal tender in the rest of the UK, but the lower mintage figures of the island's coins compared to the UK makes them particularly scarce and collectible, so it was a great surprise to find a Jersey coin amongst our 50ps!
Jersey's coin mintages are significantly lower because of their smaller population of only 100,000.
2012 Guernsey Freesia Flowers 50p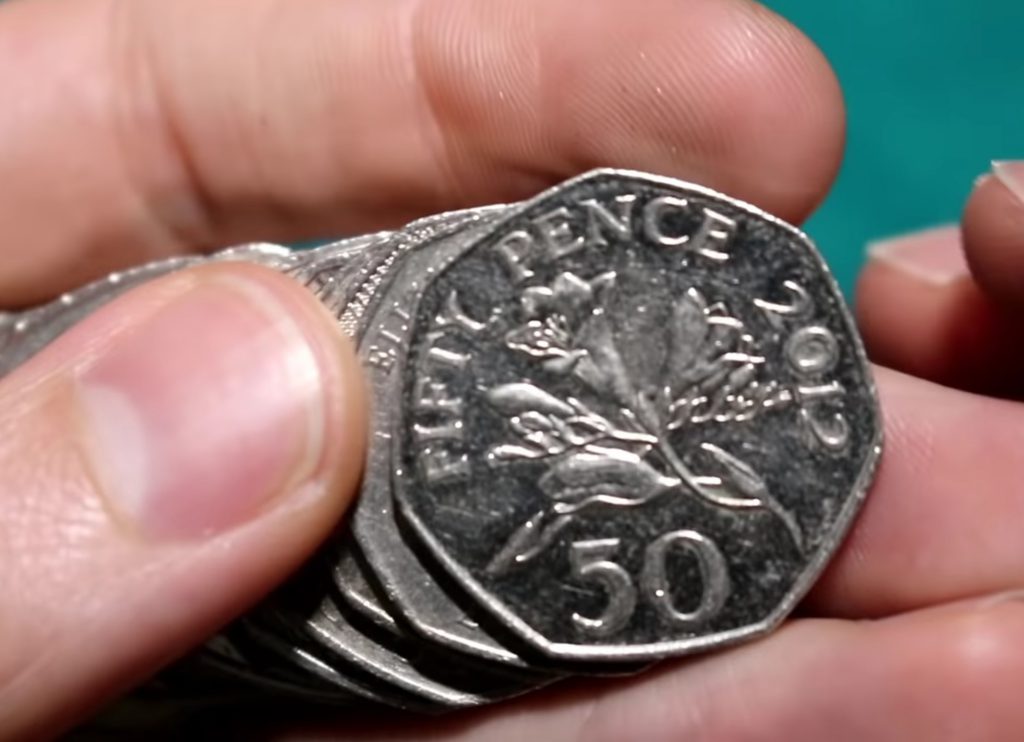 During his coin hunt, Christopher Collects managed to find a 2012 Freesia Flowers coin from Guernsey.
This beautiful 50p features two crossed freesia flowers on the reverse design, however it is the obverse design which is particularly special.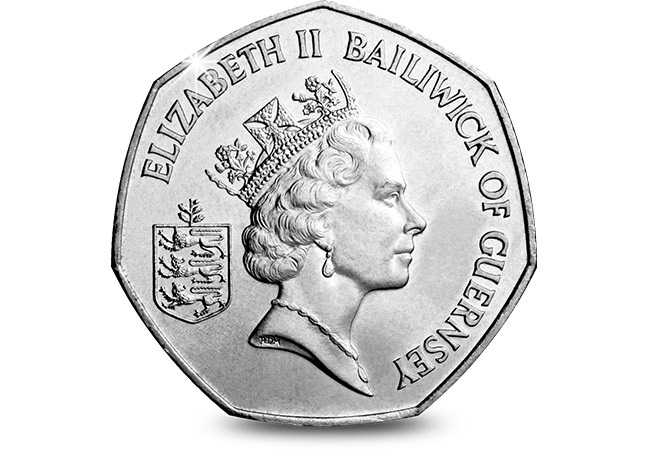 The obverse features Raphael Maklouf's portrait of Queen Elizabeth II with the lettering 'Bailiwick of Guernsey' above, and also a small Guernsey Coat of Arms to the left.
This addition on the obverse makes the Guernsey 50p stand out when compared to UK 50p coins.
we don't know the mintage figures for this coin, however it will likely be fairly low when compared to UK figures, due to Guernsey's smaller population.
2018 Isle of Man Imperial State Crown 50p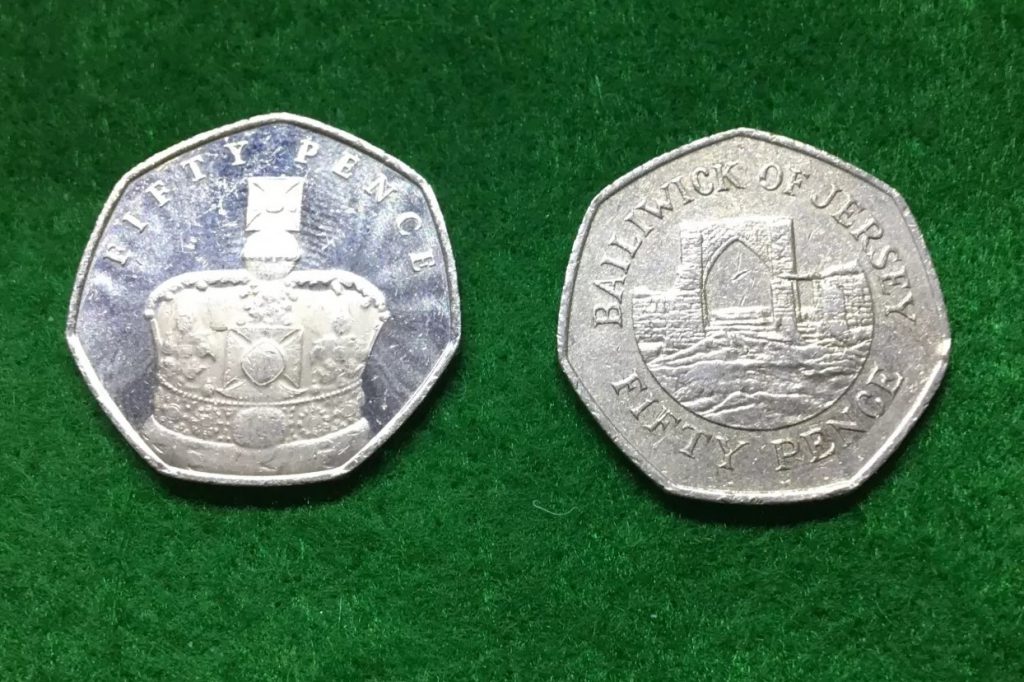 Coin Cupboard was very lucky and also found a Bailiwick of Jersey 50p, as well as an Imperial State Crown 50p from the Isle of Man.
The Imperial State Crown 50p was issued in 2018 as part of a five coin set celebrating the Sapphire Coronation Anniversary of Her Majesty Queen Elizabeth II.
A limited number of each coin entered circulation on the Isle of Man, although we don't know the exact mintage figure for this coin.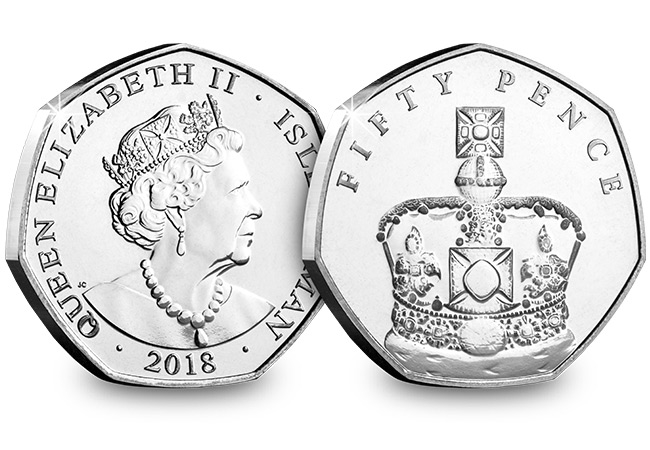 The reverse design shows the Coronation Crown and the obverse features Jody Clark's most recent portrait of the Queen which, unlike UK coins, includes her shoulders.
1999 East Caribbean States 1 Dollar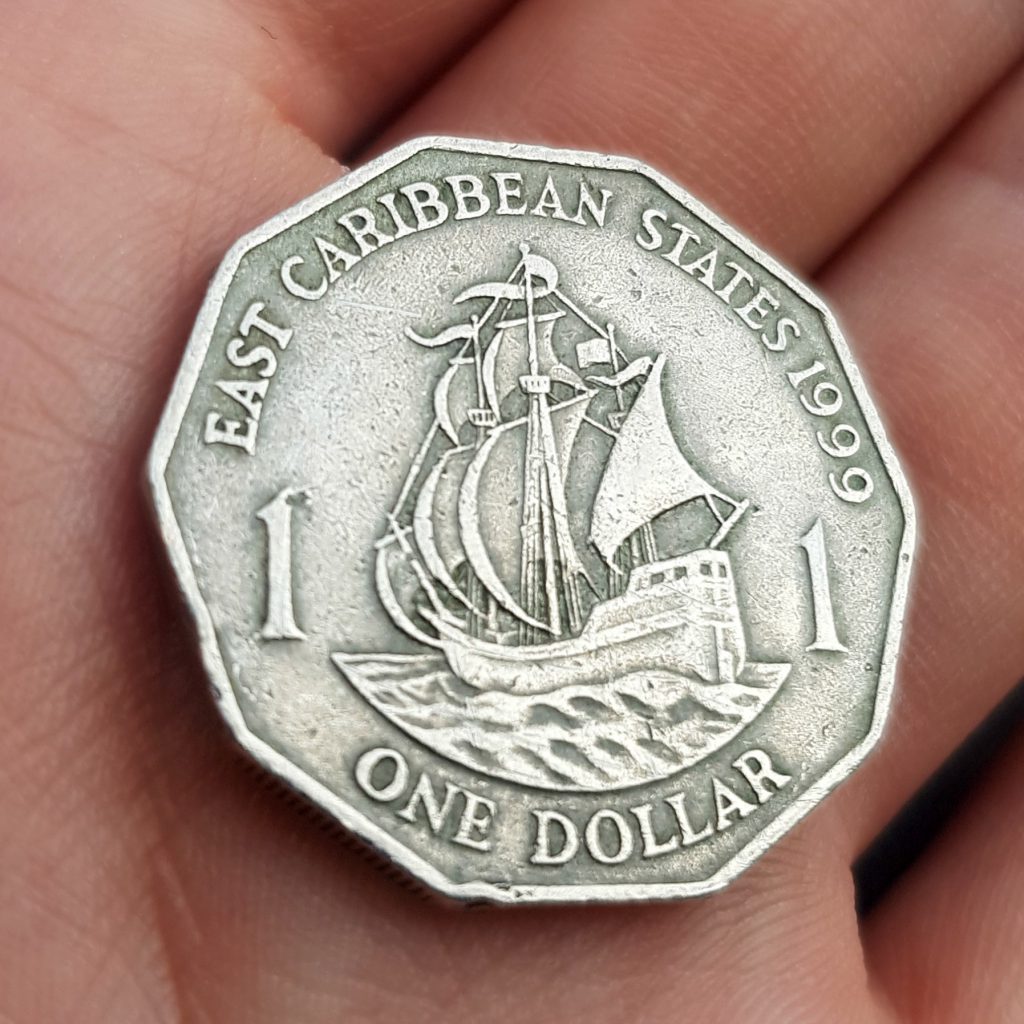 Whilst you might expect a few British Isles coins to turn up every now and again, we certainly weren't expecting to find this coin in our 50p bank bag!
In fact, both team Change Checker and Dom Collects came across one of these unusual coins in our change.
This 1 dollar was issued from 1989 to 2000 in the Eastern Caribbean States, but how did it find its way into our UK change?
As a British Overseas Territory, the East Caribbean States currency features the portrait of Her Majesty Queen Elizabeth II on the obverse.
This, along with the coin's size which is very close to the UK 50p, means it has managed to get mixed up with UK change and passed off as a 50p.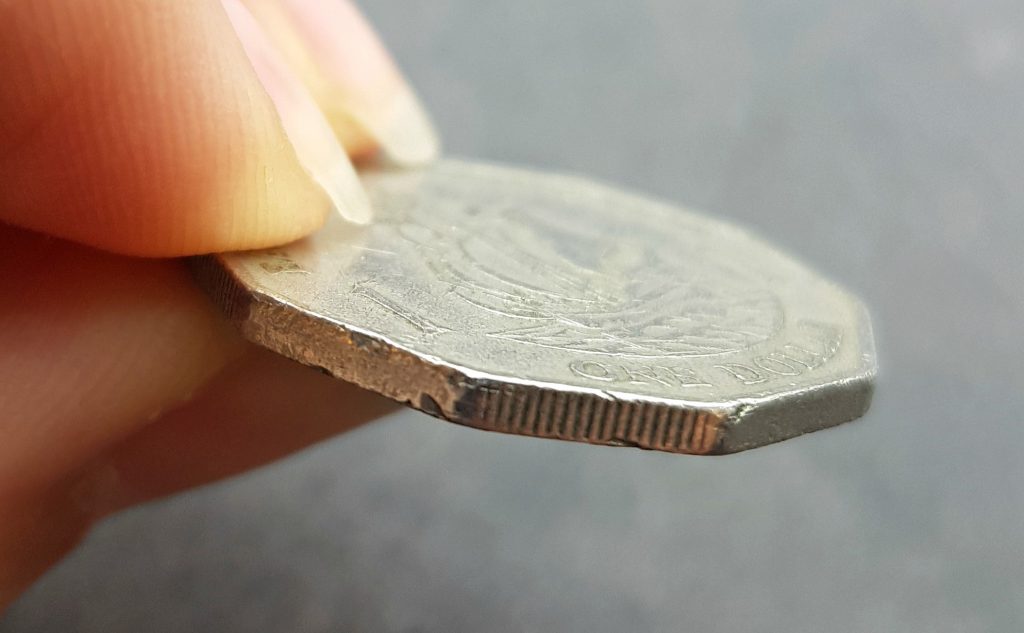 However, there is one very significant difference between this coin and a 50p, and that's the shape. The East Caribbean States dollar is actually decagonal (10 sided) and features milling along every other edge of the coin.
You can imagine just how surprising it was to come across this coin in the middle of our 50p hunt, and how unusual still that we weren't the only team to find one!
It just goes to show how many fascinating coins find their way into our change and why it's always worthing checking to see if you've found a coin which was intended for circulation in the UK.
---
Secure your Guernsey Freesia Flowers 50p coin today!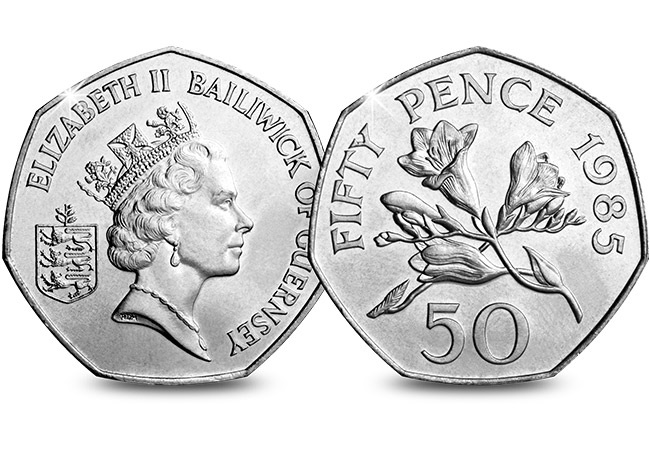 You can now secure the Guernsey Freesia Flowers 50p for your British Isles collection.
Today it was revealed by Royal Proclamation that a brand new 50p coin will be released in 2020 to celebrate Team GB at the Olympic Games.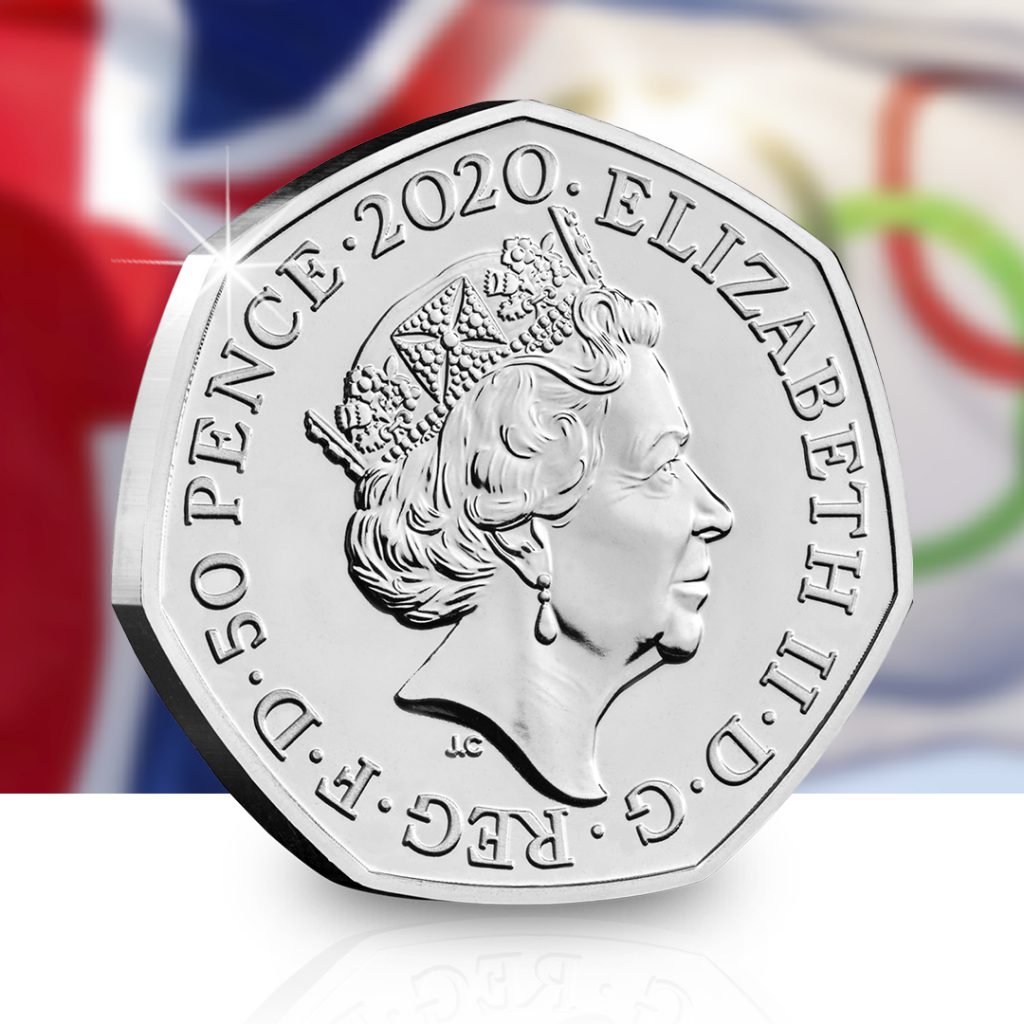 According to the Royal Proclamation published on 12th July, the new 50p coin will be issued next year, supporting Team GB at the 2020 Olympic Games which will be held in Japan.
Whilst the final design hasn't been revealed just yet, it is suggested to feature symbols depicting individual Olympic sports accompanied by the Olympic Rings, the Team GB logo, the inscription 'TEAM GB' and the date '2020'.
Olympic 50p craze
The 2012 Olympic 50p collecting craze kick started many collector's interest in the hobby and since then an estimated 75% of these coins have been removed from circulation by collectors adding them to their collection.
Many collectors were therefore delighted in 2016 when The Royal Mint issued a special 50p to wish Team GB success for the Rio 2016 Games, considered by many to be the 30th Olympic 50p.
The coin's obverse features a swimmer with the Team GB logo, the Olympic rings and the inscription 'TEAM GB'. Designed by Tim Sharp, the coin has been officially endorsed by Team GB and celebrates the spirit of British Olympians – a must have for all Olympic 50p Collectors.
Could this be the 31st Olympic 50p?!
Now that a new Team GB 50p is on the horizon I'm sure Olympic 50p collectors will be really excited to be able to get their hands on this coin next year.
---
If you're interested in coin collecting, our Change Checker web app is completely free to use and allows users to:
– Find and identify the coins in their pocket
– Collect and track the coins they have
– Swap their spare coins with other Change Checkers
Sign up today at: www.changechecker.org/app