Welcome to the first Scarcity Index of 2019! We're delighted to share with you the latest update to the A-Z 10p, 50p and £2 coin indexes, so that you can see where your coins now rank.
This information has been compiled using data from the Change Checker Swap Centre (find out how it works here) and presented in the easy to use indexes below, with arrows to signify how many places up or down a coin has moved on the Scarcity Index to help you track the performance of your coins.
A-Z 10p Scarcity Index
Although the A-Z of Great Britain 10ps are notoriously hard to find, we've now started to see more and more of these coins being added to people's collections on the Change Checker app, and we're able to use this data to build up an even more accurate picture of how sought-after each design is, using our Scarcity Index.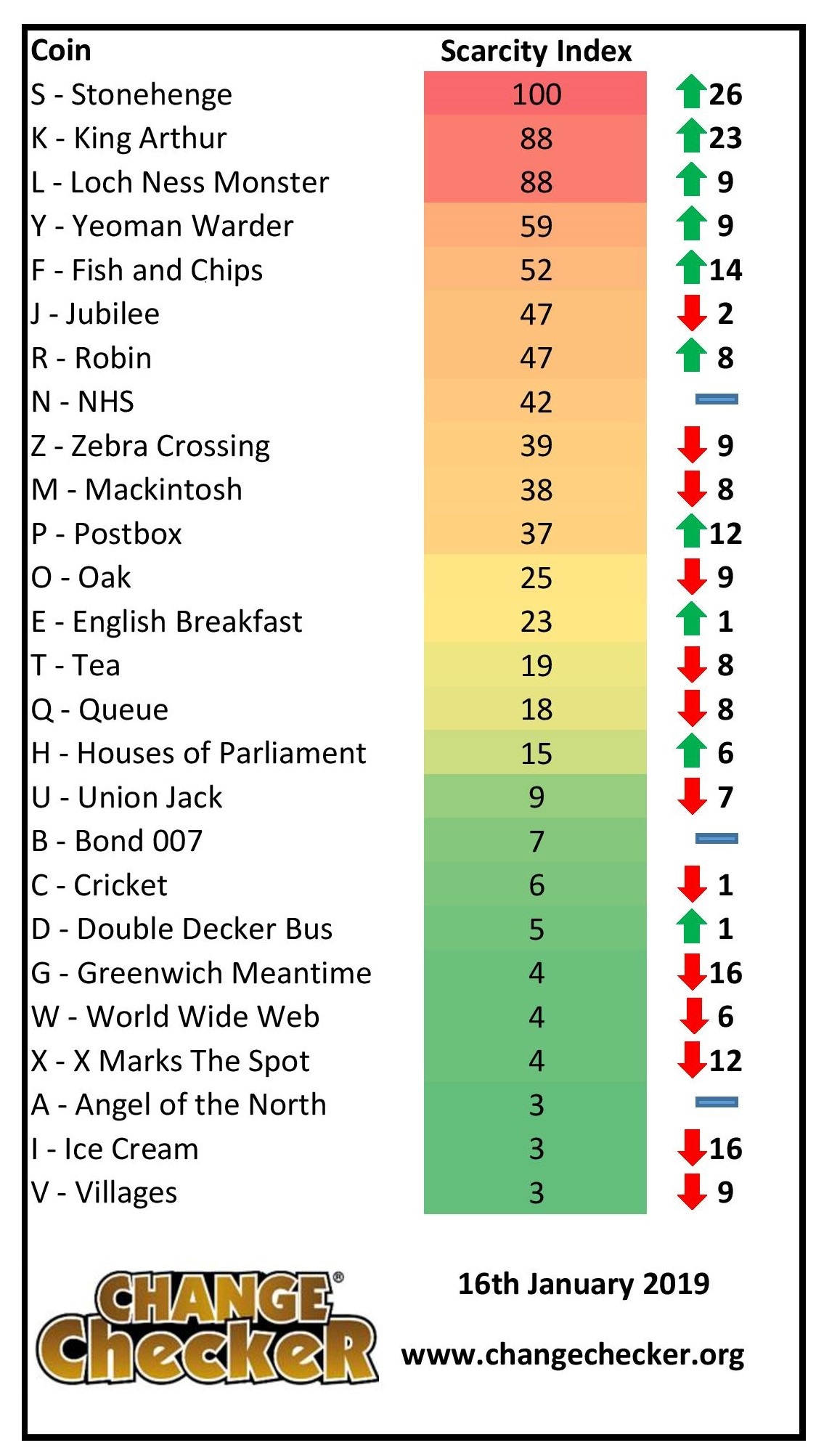 As you can see, now that we have more data to base the index on, there has been a lot of movement from the previous update. Whilst this was to be expected, we have seen some dramatic changes, in particular with 'S' for Stonehenge, which has jumped from the bottom to the top spot and is currently the scarcest A-Z 10p!
'K' for King Arthur has also jumped up by a massive 23 places and is now the second scarcest A-Z 10p. Finishing off our top 3 is 'L' for Loch Ness Monster, which has moved up the index by 9 places.
Down at the bottom of the index, we've seen 'V' for Villages drop 9 places, ranking it as our most common A-Z 10p. There was a 16 place drop for 'I' for Ice Cream, making it the second most common amongst Change Checkers. And finally, sitting in the third to last spot is 'A' for Angel of the North, which is actually one of only three coins to remain in the same position as the previous index.
'F' for Fish and Chips and 'P' for Postbox are other coins to keep your eye out for, as they have both jumped up significantly since the previous index.
Whilst we now have a lot more A-Z 10ps being listed in people's collections, there are still relatively few swap requests for these coins, so it seems likely that if people are managing to find the coins, they are possibly keeping hold of them and only swapping the duplicates that they may be lucky enough to find.
The Scarcity Index will continue to become more accurate as more data is collected and the coins are swapped more often.
50p Scarcity Index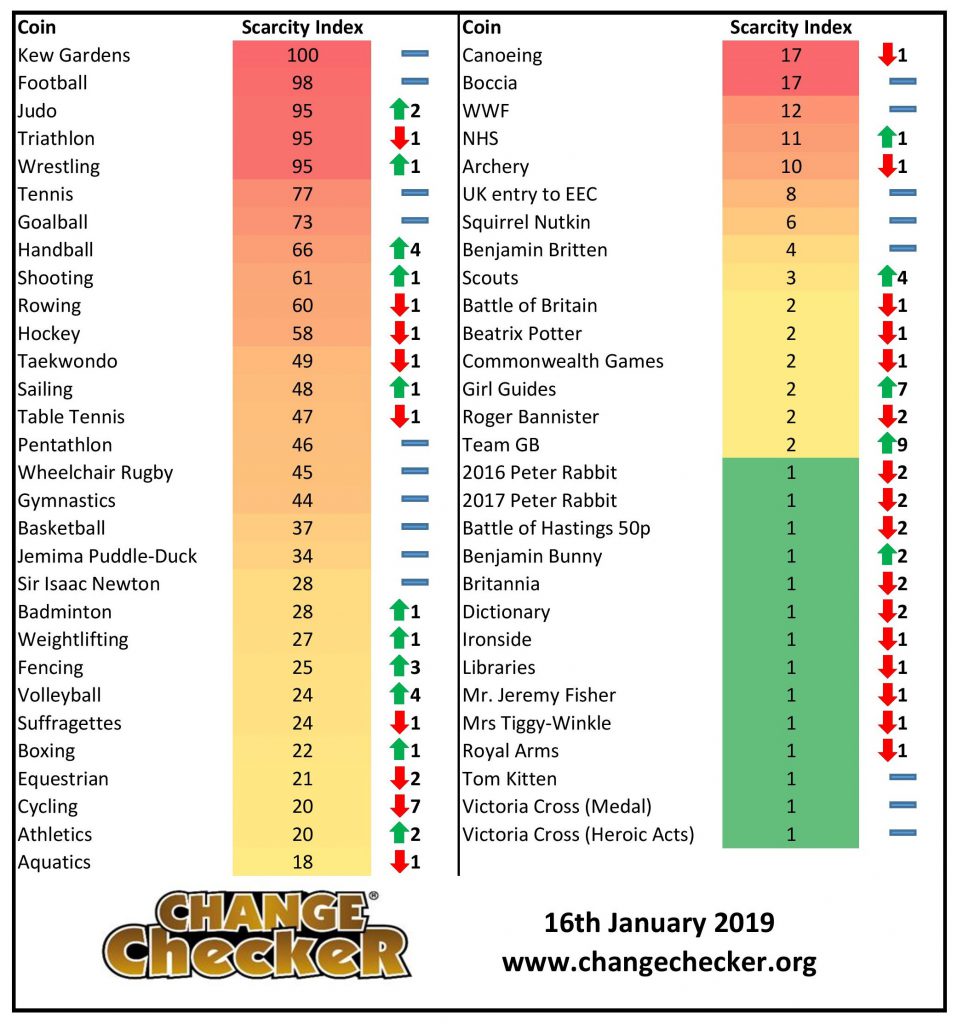 It comes as no surprise that the Kew Gardens remains king of the 50p Scarcity Index and the Olympic Football 50p still holds onto its place in second spot.
We've seen a bit of a shuffle amongst the Olympic Judo, Wrestling and Triathlon 50p coins, with Judo now retaking its place as the third scarcest 50p in circulation, following its fall 2 places on the previous index.
Towards the bottom of the index, we've seen the Team GB 50p move up 9 places, which has caused many of the lower scoring coins to move down 1 or 2 places, although our bottom 3 coins remain unchanged since the previous index.
The Girl Guides 50p has also seen a rise in scarcity, jumping 7 places up the index.
As the 2018 50p coins have now been found in circulation and are being swapped on the Change Checker App, we look forward to adding them to the Scarcity Index once mintage figures are confirmed.
£2 Scarcity Index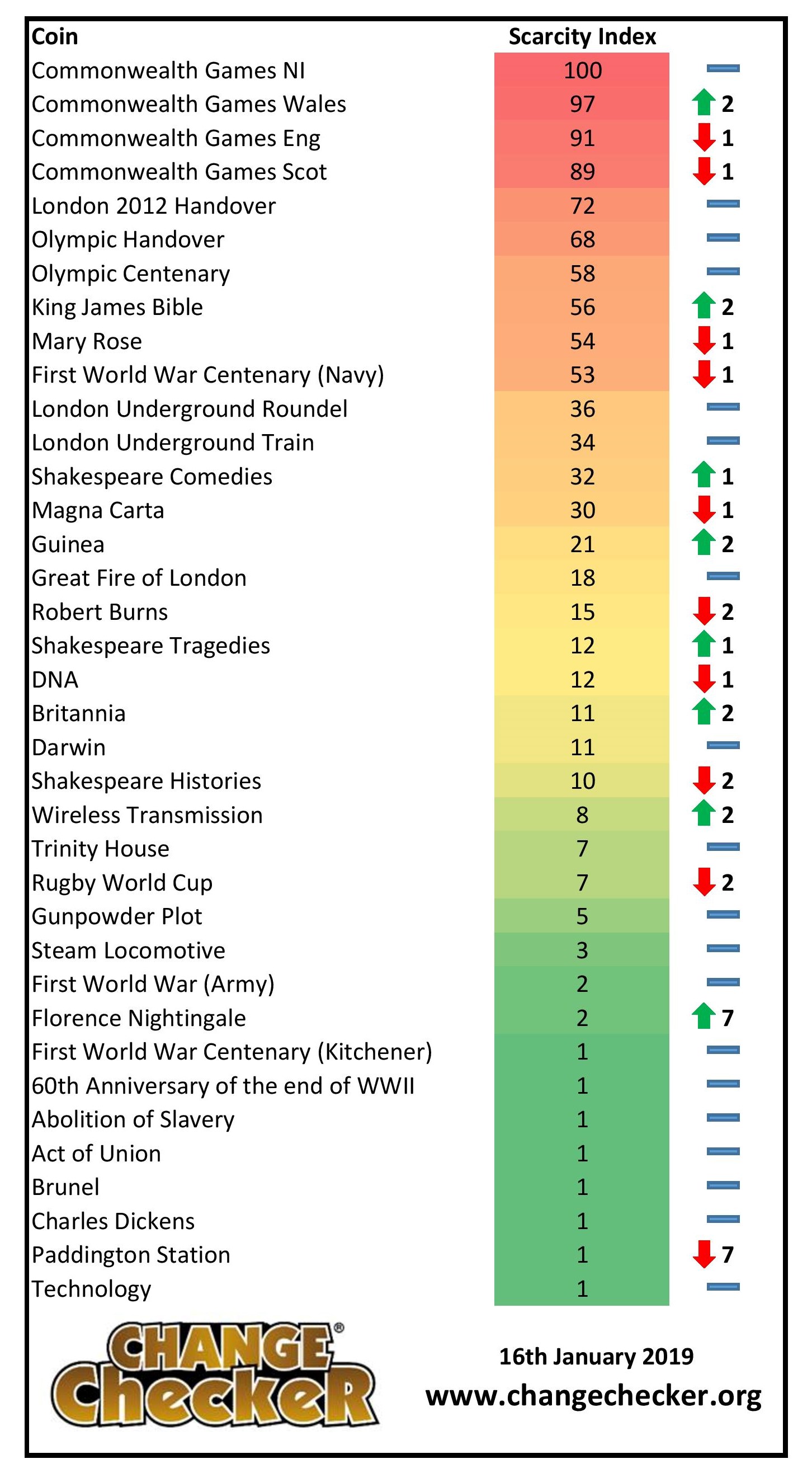 We've seen minimal changes on the £2 Scarcity Index, possibly due to the fact that the 2017 coins have not yet been released into circulation.
There has been a small shuffle amongst the Commonwealth Games £2 coins, however these coins remain the scarcest of the UK £2 coins in circulation due to their incredibly low mintage figures.
Whilst a few coins have moved 1 or 2 places on the index, the majority of £2 coins seem to have held on to their rating since the last update to the index, but it will be interesting to see what changes occur for the next update.
How your Scarcity Index works
Generally collectors have had to rely upon mintage figures to identify the scarcest coins. But they only tell part of the story. Trying to find a good quality coin from 15 – 20 years ago, even for a higher mintage issue, is much more challenging than a more recent issue, as coins become damaged over time and are ultimately removed from circulation.
Additionally, some designs are more hoarded than others by people who might not normally collect coins – the poignant First World War £2 Coin series being an example. Finally, it can be up to a couple of years before the Royal Mint eventually confirms the actual mintage for an issue.
That's why we have combined the mintage information with two other key pieces of information.
How many of each design are listed as "collected" by Change Checkers, indicating the relative ease of finding a particular coin.
The number of times a design has been requested as a swap over the previous 3 months, showing the current level of collector demand.
Importantly, as new coins are released and popularity rises and falls across different designs the Scarcity Index will be updated quarterly allowing Change Checkers to track the relative performance of the UK's circulation coins.
How much are my coins worth?
The Scarcity Index does not necessarily equate to value but it is certainly an effective indicator. For example, the Kew Gardens 50p coin commands a premium of up to 160 times face value on eBay.
You can use the 6 point guide to help you determine a more realistic value for your coins.
What about £1 Coins?
The £1 Scarcity Index has already been published for the Round £1 coins and, because they are no longer being issued, this is now set in stone.
---
If you're interested in coin collecting, our Change Checker web app is completely free to use and allows users to:
– Find and identify the coins in their pocket
– Collect and track the coins they have
– Swap their spare coins with other Change Checkers
Sign up today at: www.changechecker.org/app
In the world of coin collecting, there's one 50p in particular which is prized above all others. The one coin collectors strive to add to their collections… The Kew Gardens 50p.
We've taken a look at the inside story of this famed 50p to give you all the details you need to know about the coin – real, fake and re-issued…
Celebrating the 250th anniversary of the Royal Botanic Gardens at Kew
Released by The Royal Mint in 2009 to celebrate the 250th anniversary of the Royal Botanic Gardens at Kew, the striking design by Christopher Le Brun RA features the famous Chinese Pagoda at Kew entwined by a decorative leafy climber. It's an image I'm sure many Change Checkers are familiar with, but not every Change Checker has been lucky enough to find one, and that's because the mintage figures for this coin are so low…
The scarcest UK coin in circulation
In 2014, The Royal Mint revealed that only 210,000 Kew Gardens 50p coins had been struck, making it the scarcest UK coin in circulation.
Until this point, the coin had been somewhat overlooked, but once collectors realised just how rare this coin really was, the race was on to find one in their change – a challenge which to this day has coin collectors hunting far and wide for the chance to find one.
It's estimated that just 1 in 300 people are likely to come across the Kew Gardens. When you compare its scarcity to the average 5 million coins per design usually issued into circulation, you start to really understand just how rare this coin is.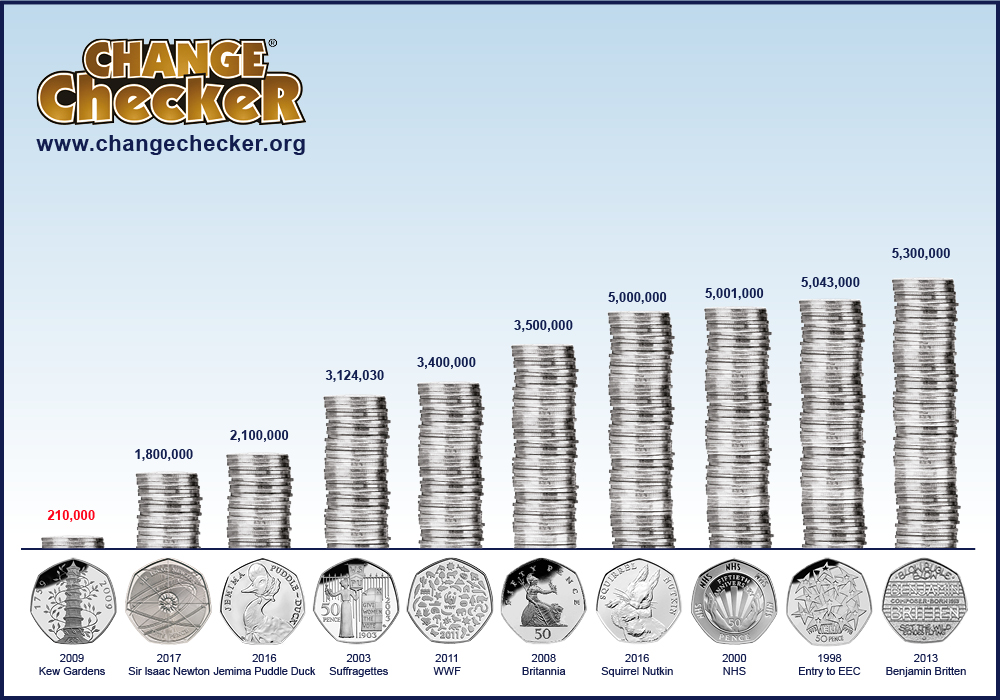 It's important to mention that there were also 128,364 Brilliant Uncirculated Kew Gardens 50p coins minted, meaning the rarity of the Kew Gardens design lies in its circulating form, rather than with the uncirculated coins.
Selling for almost 200 times face value
Those that have come across the Kew Gardens 50p have the opportunity to make a tasty profit on the 50p, with our eBay Tracker figures showing the average sold price for the coin at £97, with some in good condition still selling for over £100!
Bidders have driven phenomenal prices for the Kew Gardens 50p on eBay, which continues to sell at almost 200 times face value. However, there are chancers out there that have been seen to list the coin for eye watering amounts in the thousands! As our blog debunking eBay coin prices explains, whilst a coin might be listed for a high price, it is actually unlikely to have sold for this price. However, high priced coins on eBay often draw attention from press articles, which further feeds into the hype surrounding the coin.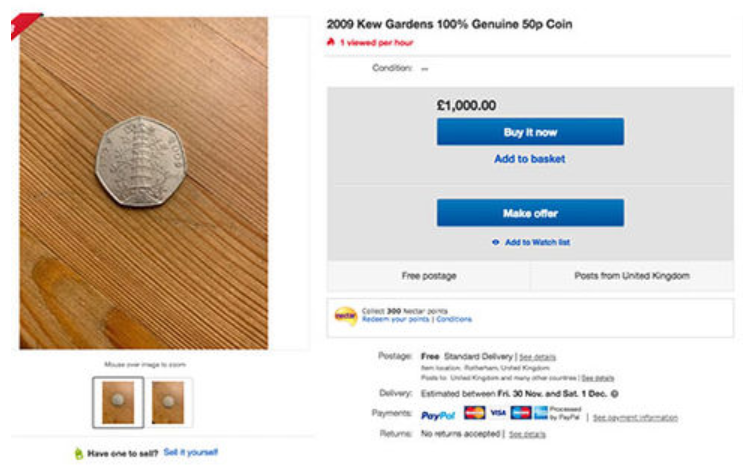 Beware of fakers
Unfortunately for collectors, fake Kew Gardens 50p coins are out there and to the untrained eye they can be tricky to spot… Take a look at the infographic below to find out what you should be looking for to spot a fake Kew Gardens 50p: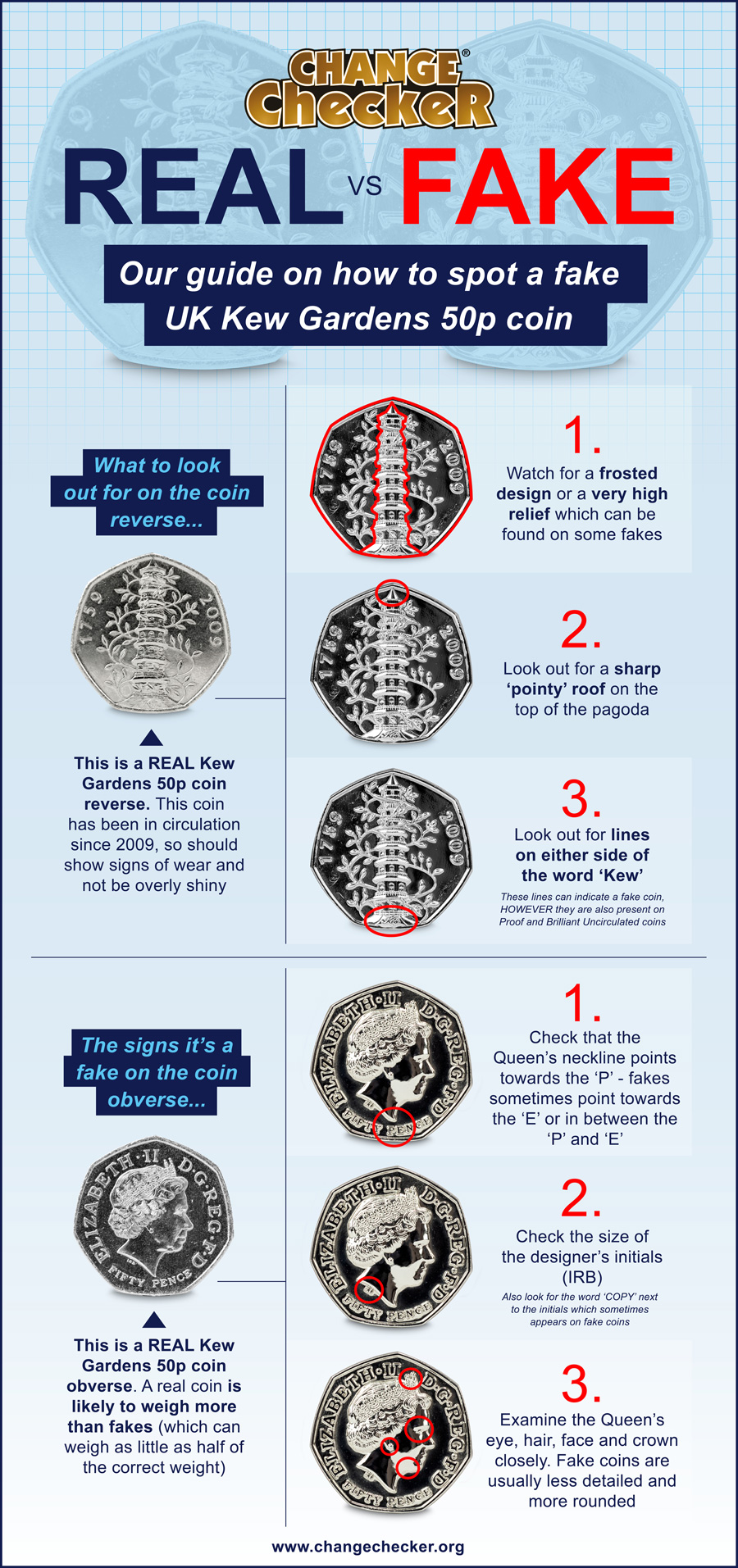 Re-issued Kew Gardens 50p
Towards the end of 2018, The Royal Mint announced that the coin would be re-issued in 2019 as part of the 50th anniversary of the 50p coin set and unsurprisingly when these coins became available yesterday they were snapped up by collectors in a matter of mere hours!
The set has been made available in base Proof, Silver Proof and Gold Proof specifications, at a very limited number. In fact, the full range of 3,500 base Proof sets, 1,969 of the Silver and just 75 Gold sets have completely SOLD OUT!
Will the 2009 Kew Gardens 50p become less valuable?
Some collectors have been nervous that re-issuing the Kew Gardens 50p will cause the value of the original 2009 coin to drop. We can confidently say that due to the fact the new coin will be dated 2019, the scarcity of the original 2009 dated coin will not be affected and this will continue to be the UK's scarcest coin currently in circulation.
Have you been lucky enough to find a Kew Gardens 50p in your change? Let us know in the comments below.
---
Own the Masterpiece 50p Collection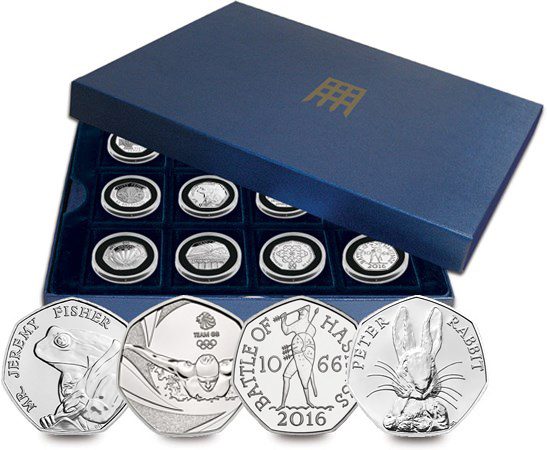 The Masterpiece 50p collection is a superb example of the variety in British numismatic craftsmanship over the last 20 years, with themes ranging from the UK's entry to the EEC to marking the 950th Anniversary of the Battle of Hastings. Our stock is very limited – so please be quick to reserve your set!
Click here to secure your collection >>
Buying and selling coins on the secondary market can be a bit of a minefield and excessive coin prices on eBay can leave collectors confused as to how much these sought-after coins are really selling for.
So we've simplified the process for you by sharing our UPDATED Change Checker eBay Tracker and Valuation Index for the Top 9 coins and banknotes …
Valuation Index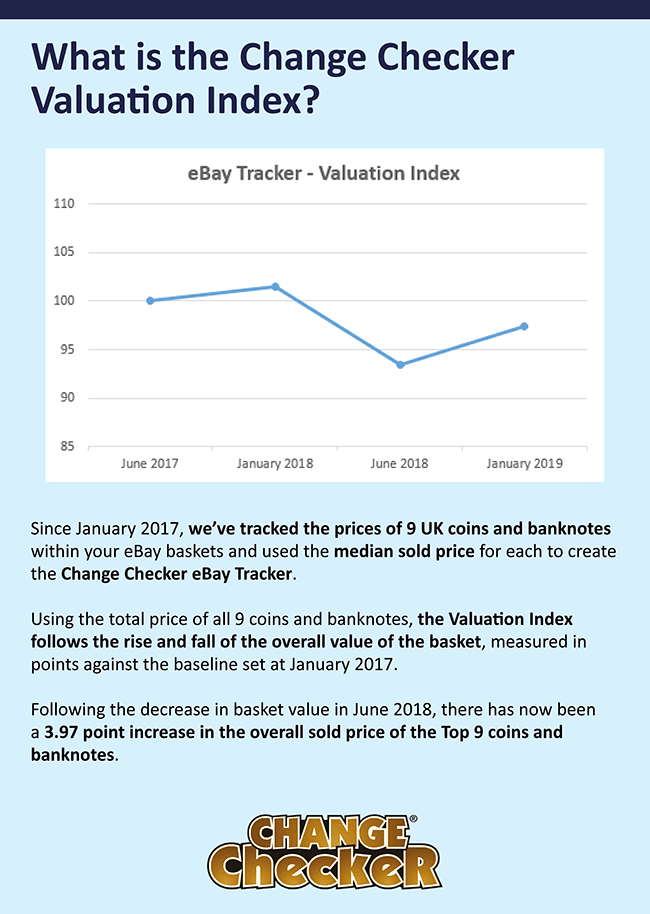 Find out which coins and notes have been the key movers and shakers in the updated eBay Tracker below.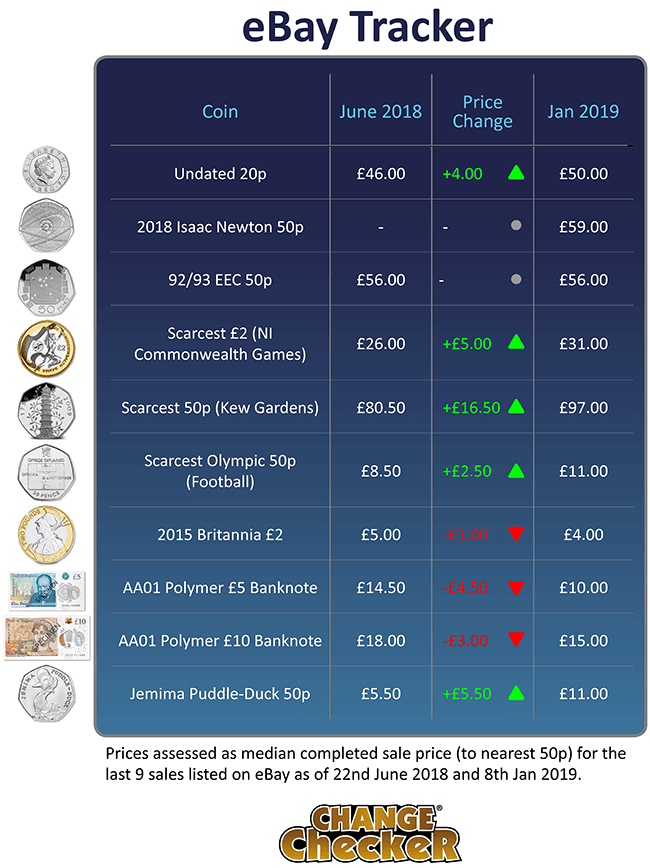 There has been an overall increase in the price of our Top 9 most sought-after coins and notes, with the most notable increase going to the Jemima Puddle Duck 50p, which has jumped from an average sold price of £5.50 in June to £11.00 in January!
After dropping 19% last year, the Olympic Football 50p has now rocketed up by 29% and is also currently selling at £11.00. The Commonwealth Games Northern Ireland £2 and the Undated 20p have also seen improvement since June, with the £2 increasing by 20% to a phenomenal £31.00 and the 20p now selling for £50.00 on average.
Of course the highest selling coin of our Top 9 is the highly sought-after Kew Gardens 50p. This coin remains king, selling for an incredible £97.00, which is a 20% increase on June's figures. There has been a lot of excitement regarding the 2019 re-issued Kew Gardens 50p coin which has led to increased press coverage of this coin, which could be a factor in the higher prices people are willing to pay to get hold of one for their collection.
You'll notice with this update that the Inverted Effigy £2 has been removed and this is due to the fact that the rarity of this coin means very few are available and the prices are volatile. This combined with the fact that we have not been able to find 9 of these coins sold in a qualifying period means that it has been removed and replaced with the 2018 Sir Isaac Newton 50p.
Could this newcomer be the rarest coin on the eBay Tracker?
This newcomer to the eBay Tracker was only available at The Royal Mint Experience as a Strike Your Own Sir Isaac Newton 50p coin and the mintage figures are unknown, but due to the short time frame and visitor numbers, there could well be substantially less than 210,000 of these coins struck, meaning the 2018 Sir Isaac Newton 50p coin could very possibly have a lower mintage figure than even the Kew Gardens 50p! And this is certainly reflected in the price people are willing to pay for the coin, with an average sold price of £59.00.
Whilst the average sold price for the 92/93 EEC 50p remains unchanged at £56.00, the 2015 Britannia is the only coin in our Top 10 to have decreased in value since June, with a decrease of 20% meaning the average sold price is now £4.00.
Both banknotes in our Top 10 have also taken a hit, with the AA01 Polymer £5 slipping from £14.50 to £10.00 and the AA01 Polymer £10.00 from £18.00 to £15.00. However we must remember that this is still double the face value of the £5 note and 1.5X face value for the £10, which certainly isn't a bad profit to be made!
So now that you're up to date with our latest eBay Tracker, will you be selling any of the coins in your collection or will you continue to save them? Let us know in the comments below.
How does the eBay Tracker work?
The Change Checker eBay Tracker takes the last 9 sold prices achieved on eBay and gives the median price achieved (rounded to the nearest 50p). By taking the median, rather than an average, we avoid skewing created by one or two excessive prices achieved.
Please note that the Change Checker eBay Tracker is only ever designed to be a guide as to prices achieved on eBay. Prices may vary depending on collector demand and the quality of the coin being sold. It does not provide any guarantee as to future values of coins.
---
If you're interested in coin collecting, our Change Checker web app is completely free to use and allows users to:
– Find and identify the coins in their pocket
– Collect and track the coins they have
– Swap their spare coins with other Change Checkers

Sign up today at: www.changechecker.org/app