Sleigh bells ring, are you listening? Because a brand new Gibraltar 50p and £2 coin have just been released featuring none other than Father Christmas himself!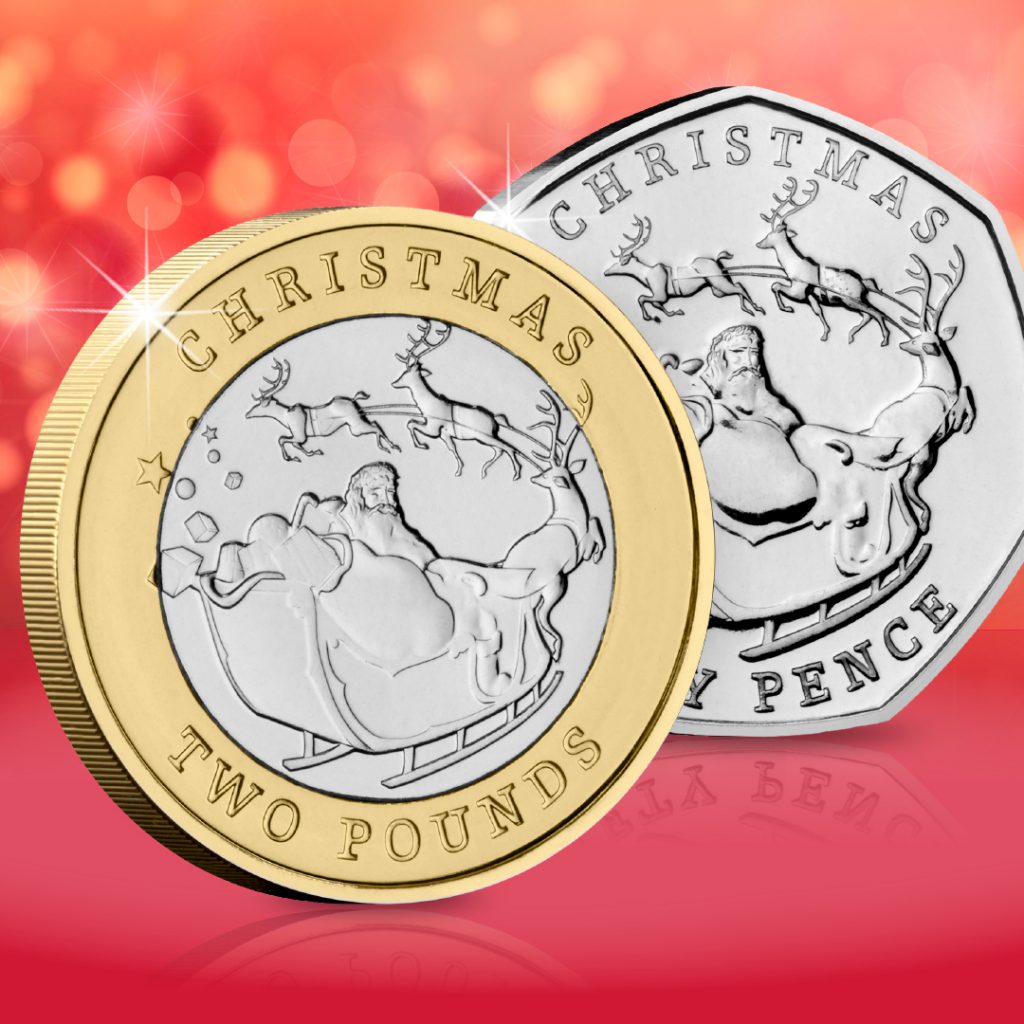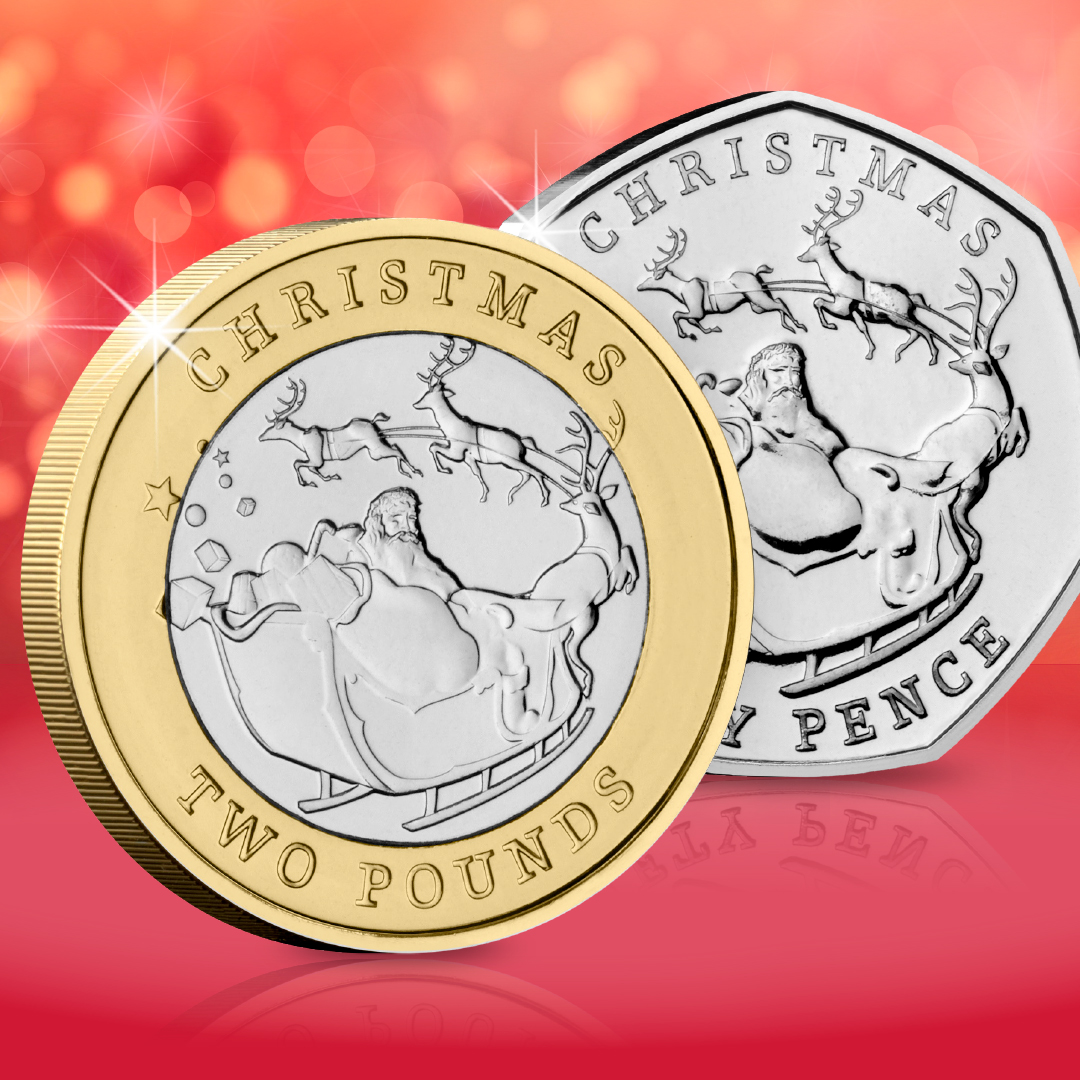 These very festive coins have been released by the Government of Gibraltar, making them particularly sought-after by collectors given the low mintage figures typical from the country!
You can secure this magical Christmas coin pair (the very best way to own these coins!) here for just £13.50 (+p&p).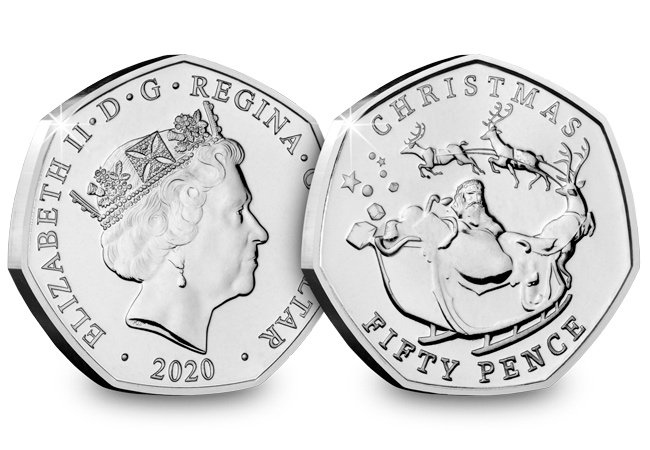 Or, you can secure the single 50p to your collection for JUST £4.50 (+p&p) by clicking here.
Your brand new Gibraltar Christmas 50p & £2 Pair will come in Official Change Checker Packaging, ready to slot into your Change Checker Album!
With previous Gibraltar issues proving immensely popular with collectors, I expect these coins will be snapped up quickly by collectors (especially as we have just a small allocation for Change Checkers!)
A history of popular coins
Gibraltar has released some truly beautiful coins in recent years, and as their mintage figures are typically much lower than UK coins, they are often highly sought-after by collectors…
Coins from Crown dependencies, such as Gibraltar and overseas British territories can sometimes make an unexpected appearance in our change.
They are identical in size, shape and weight to UK denominations which means they often find their way into tills and vending machines undetected.
Whilst these coins aren't technically legal tender in the UK, finding new and interesting designs is always a bonus!
So, whilst it may be tricky to find one in your change, Change Checker has listed our Top 10 Coins from Gibraltar that are worth trying to hunt down!
2019 Breast Cancer £2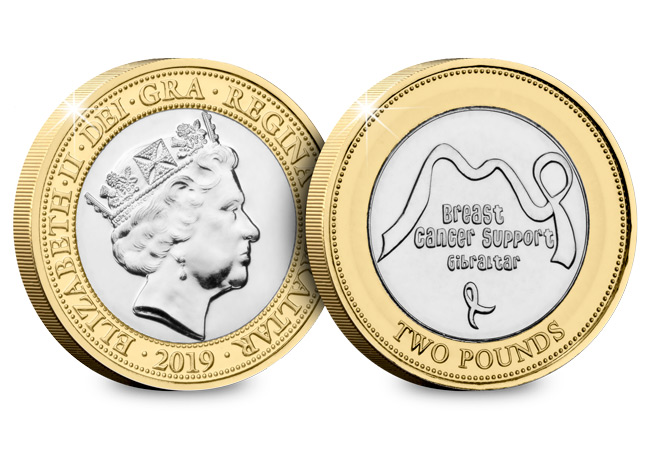 Last year the Government of Gibraltar issued a new £2 coin in partnership with Breast Cancer Support Gibraltar.
However, only a limited number were released into circulation on the Isle of Gibraltar, making it one of the most popular coins of the year, but also one of the most difficult to source.
But not many collectors were aware of the secret this coin was hiding…
The Gibraltar Breast Cancer £2 features a special portrait of Queen Elizabeth II on the obverse. It was originally drawn by Raphael Maklouf for the Gibraltar 90th Birthday £5 coin issue but has also been used on a small selection of Gibraltar coinage.
This portrait is currently not in use by any other country in the world, making any Gibraltar coin with this portrait on extremely collectable!
A limited number of coins were available at The Westminster Collection, and they sold out within hours! Collectors were quick to search on the secondary market to find them and some prices reached over £40!
Gibraltar Candytuft Flowers 50p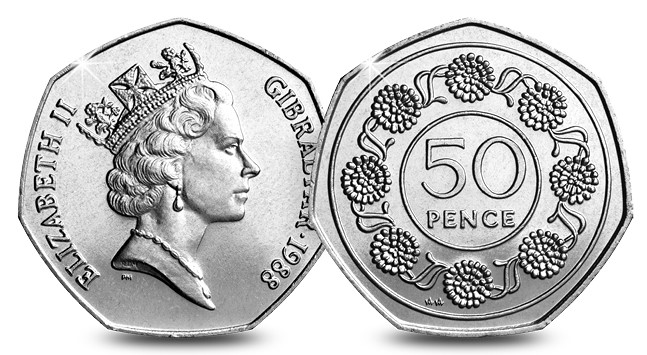 This 50p features the denomination surrounded by a crown of Gibraltar Candytuft flowers, known as 'Iberis Gibraltarica'.
Iberis Gibraltarica is the national flower of Gibraltar and is the symbol of the Upper Rock Nature Reserve which covers 40% of the country's land area. Gibraltar is the only place in Europe where it is found growing in the wild!
In 1988, JUST 30,000 of these 50ps were issued for circulation, making it 7 times rarer than the UK's rarest 50p and particularly scarce and sought after amongst collectors. Another key feature which makes this coin so collectable is that it was issued in the pre-1997 specifications, meaning it's significantly larger than the current 50ps we find in our change!
Rock of Gibraltar £1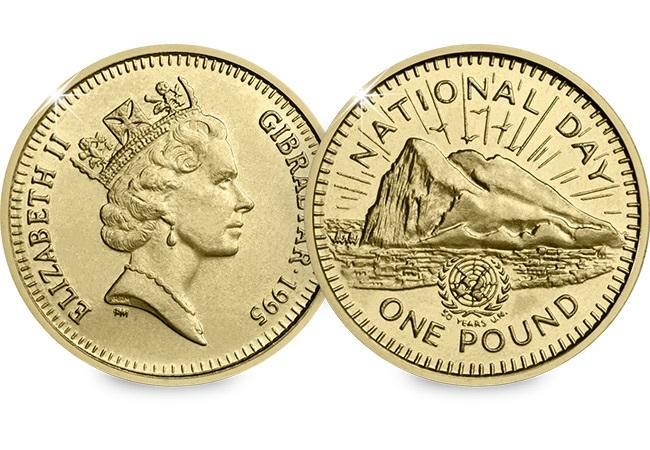 This £1 coin was issued for the 1995 National Day and for the 50th Anniversary of the UN.
National Day is celebrated annually on September 10th and is the official national day of Gibraltar.
The reverse features the iconic Rock of Gibraltar with birds and sun rays above, and the obverse features the Raphael David Maklouf engraving of Queen Elizabeth II.
This £1 is in the older round pound specifications, meaning they won't appear in your UK change as the round pound lost its legal tender status in the UK in 2016, after the introduction of the 12-sided £1. This means it's even harder to get your hands on this coin!
Neanderthal Skull £1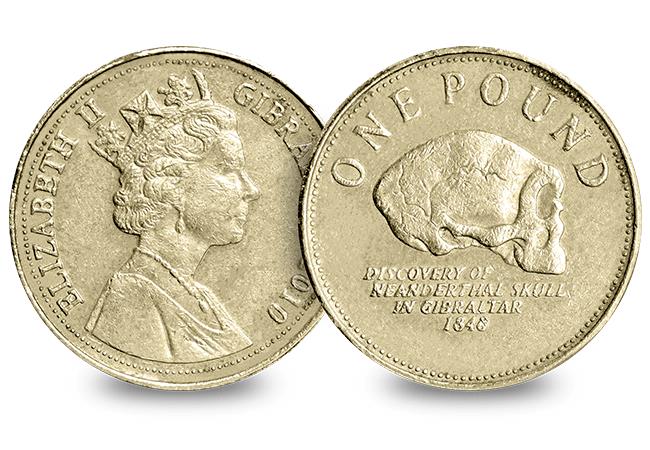 This £1 coin from Gibraltar was issued to celebrate the discovery of a Neanderthal skull in a quarry near the Rock of Gibraltar in 1848.
The Neanderthals in Gibraltar were some of the very first to ever be found and this particular skull is one of the oldest specimens known.
Designed by Philip Nathan, the reverse features the Neanderthal skull and lettering, "Discovery of Neanderthal skull in Gibraltar 1848". The obverse was designed by Raphael Maklouf and features the crowned bust of Queen Elizabeth I.
Capture of Gibraltar 50p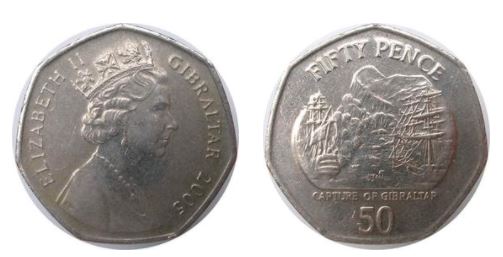 This 50p was issued in Gibraltar in 2005 to commemorate the Capture of Gibraltar in 1704, during the war of the Spanish Succession.
As part of the Allied strategy, Sir George Rooke had been sent with an Anglo-Dutch force into the Mediterranean to attack the French in Toulon. However, when his objectives proved impracticable, Rooke decided to justify his command by attacking Gibraltar.
The coin features a design on the reverse of ancient ships at sea with the Rock of Gibraltar in the background, paying tribute to the Anglo-Dutch fleet that sailed into Gibraltar. The obverse features the third portrait of Her Majesty by Royal Mint engraver Raphael D. Maklouf.
---
So will Santa be visiting you this Christmas in the form of the Gibraltar 50p and £2 pair? Comment below!
---
Don't miss your opportunity of owning this magical Christmas coin pair!
Due to the limited circulating mintages of these coins, we have just a small allocation for Change Checkers, so don't miss the opportunity to secure yours this Christmas!
Secure the 2020 Gibraltar Christmas £2 and 50p pair today for JUST £13.50 (+p&p) by clicking here >>
It's time to dust off your stockings and light the fire because Christmas is officially round the corner!
And, there's nothing like a carol service to get you in the Christmas spirit. So, to celebrate this very festive tradition, FIVE brand new coins have been authorised for release by Guernsey Treasury!
The Christmas Carol 50p Coin Collection
Each coin features a specially commissioned design of some of the most renowned Christmas carols including; Away in a Manger, Hark the Herald Angels Sing, O Little Town of Bethlehem, While Shepherds watched their flocks, and We Three Kings.
These coins have been authorised for release by Guernsey Treasury and fully approved by Her Majesty the Queen.
The Christmas Carol 50p BU Set
Available in Brilliant Uncirculated quality, all five coins are housed in a festive presentation pack and importantly, this is one of the only ways to own all five of these coins as a complete set!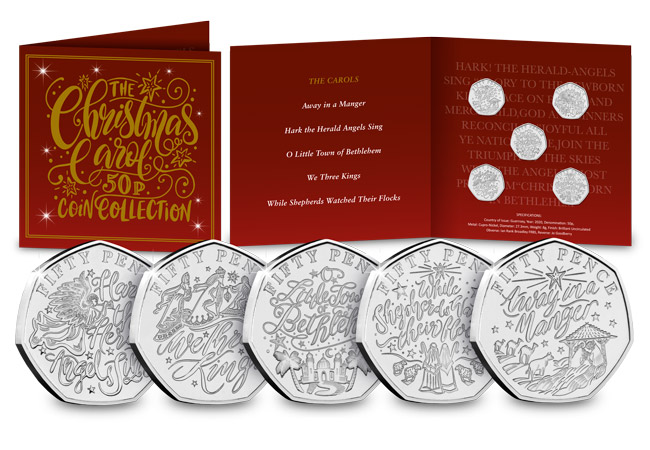 Don't miss out on adding these festive coins to your collection, or securing them as a gift for your loved ones, for JUST £30. Click here to find out more >>
The Christmas Carol 50p Silver Proof Set
Or, for those collectors looking for a little more Christmas sparkle, these coins are also available in stunning .925 Solid Silver.
What's more, they feature stunning coloured illustrations by Jo Goodberry (you may remember she designed the immensely popular Pantomime 50ps last year) and have been struck to a pristine Proof finish.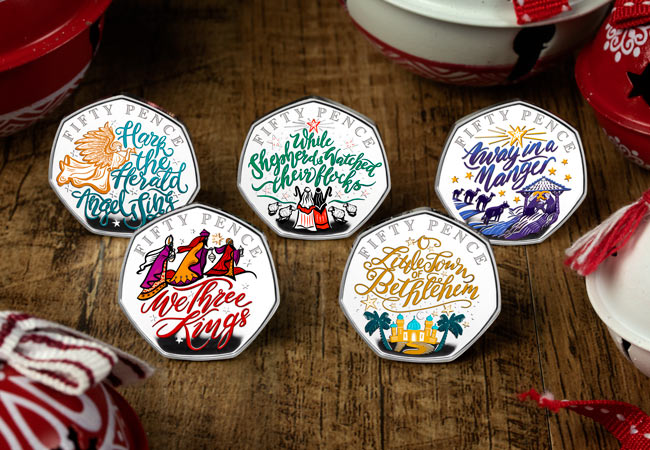 These 50ps are only available as a set and if you don't want to miss the chance to own them, you'll need to act fast, as they have been issued with some incredibly low edition limits…
An extremely limited worldwide mintage of JUST 2,020 has been set for the incredible .925 Silver set.
The coins will arrive ready to display in a deluxe presentation case with a numbered certificate of authenticity.
Hark the Herald 50p Christmas Card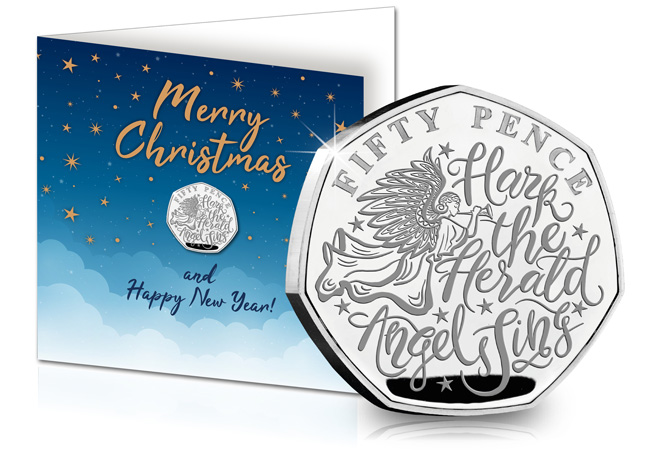 Struck to a superior Brilliant Uncirculated quality, the 'Hark the Herald' 50p from the Brand New Christmas Carol 50p collection has been presented in a beautiful Christmas card which has been left blank inside to write your own personalised message to someone special.
This specially commissioned design by Jo Goodberry features a silhouette of an angel with the title of the carol 'Hark the Herold' to the right of the coin. What's more, the 'Hark the Herold' Christmas 50p is the only coin from the collection to be available individually within this stunning Christmas card.
The 50p has firmly established itself as the collector's favourite, and as such demand for this BRAND NEW Christmas 50p is bound to be incredibly high, especially when you consider the popularity of last year's Christmas Pantomime 50ps.
You can secure the Hark the Herald 50p Christmas card today for JUST £7.99 (+p&p) by clicking here >>
The Christmas Carol 50p BU Complete Cover
For the creme-de-la-creme, and by far the most limited way to own these coins, the Christmas Carol 50p BU Complete Cover has been issued.
Each coin has been struck to a Brilliant Uncirculated finish, and is one of just 750 that have been allocated for use in your cover. Almost certainly, this is the smallest edition presentation of the new BU 50p coins that you're likely to see.
Paired alongside your coins is the complete set of elusive 1984 Official Royal Mail Christmas Carol Stamps. Featuring classic carols such as While Shepherds Watch and We Three Kings, these stamps are without a doubt the perfect pairing to your coins.
Each stamp has also been officially postmarked on the first day of Advent, 1st December 2020".
Click here to secure one to your collection or to guarantee it as a gift for a loved one this Christmas >>
Sought-after Guernsey coins
Last year, Guernsey Treasury released their FIRST-EVER Christmas coins, the Pantomime 50p collection and these were incredibly popular with collectors both in Guernsey and the UK!
Guernsey mintage figures are known for being much smaller than the UK, which is down to their much smaller population of just over 63,000, which makes their coinage incredibly sought-after!
But it's fair to say that Christmas themed coins make a particularly envious addition to anyone's collection, with the numerous festive 50ps from the Isle of Man proving to be incredibly popular.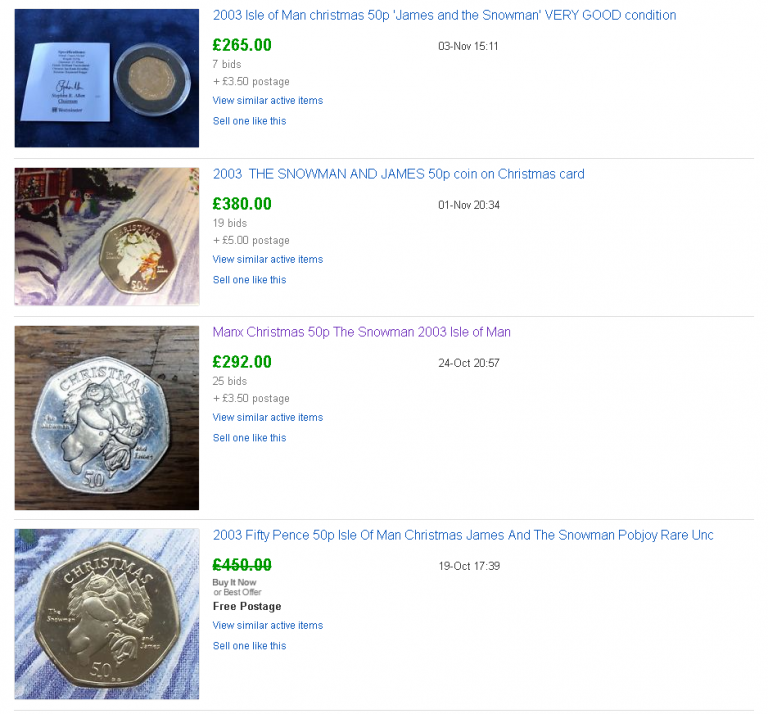 Collectors have been known to pay over £20 for a festive 50p from the British Isles and Channel Islands, so we expect these brand new Christmas Carol 50ps to be incredibly sought-after!
---
We love these brand new coins and we're sure collectors everywhere will too!
Which 2020 Christmas Carol 50p is your favourite? Let us know in the comments below!
---
Secure the 2020 Christmas Carol 50p BU Set for JUST £30!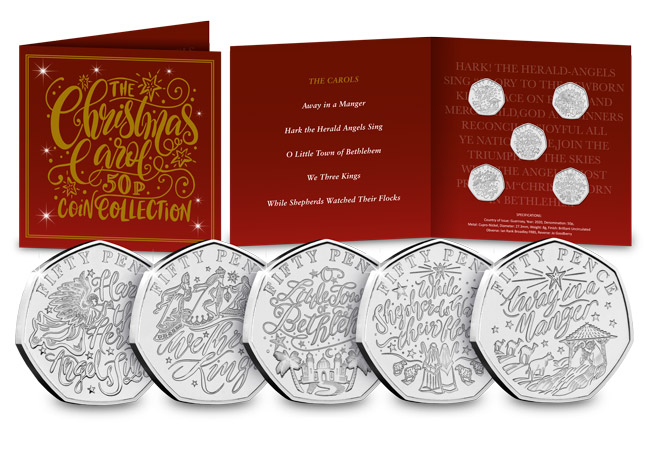 Bring the magic of Christmas home this year, with the brand new Christmas Carol 50p BU Set.
Secure yours for £30 (+p&p) by clicking here >>
It's time for your latest Scarcity Index update, where we'll reveal the UK's most sought-after circulation coins of the last three months! And it's all change again for the 50ps this quarter, as one coin drops a huge 15 places!
With less cash being used because of the current climate, it's likely this is affecting collecting and it seems this has exposed some new trends on the indexes!
You can use the updated A-Z 10p, 50p and £2 indexes below to discover how sought-after the coins in your collection really are.
This information has been compiled using data from the Change Checker Swap Centre and presented in the easy to use indexes below, with arrows to signify how many places up or down a coin has moved since the last Scarcity Index.
A-Z 10p Scarcity Index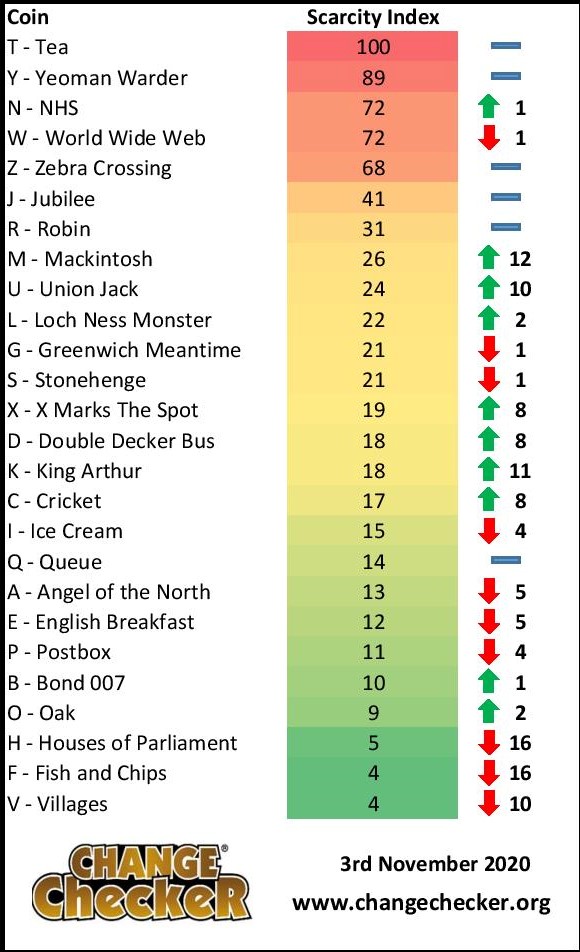 Well we've seen another big mix up for the latest A-Z 10p Scarcity Index update, with our biggest climber, M for Mackintosh, jumping up a huge 12 places!
In our last Scarcity Index, we saw the Tea 10p take the top spot for the first time and it's retained its title this quarter, closely followed by Y for Yeoman Warder.
Other big movers include the H for Houses of Parliament and F for Fish and Chips, both moving down 16 places towards the bottom of the index.
Regardless of where they feature on the above index, if you have any of the A-Z 10ps in your collection you should consider yourself lucky, as they are particularly hard to come by in circulation and each design has a relatively low mintage (just 220,000 of each design released in 2018 and 2.1 million overall in 2019).
50p Scarcity Index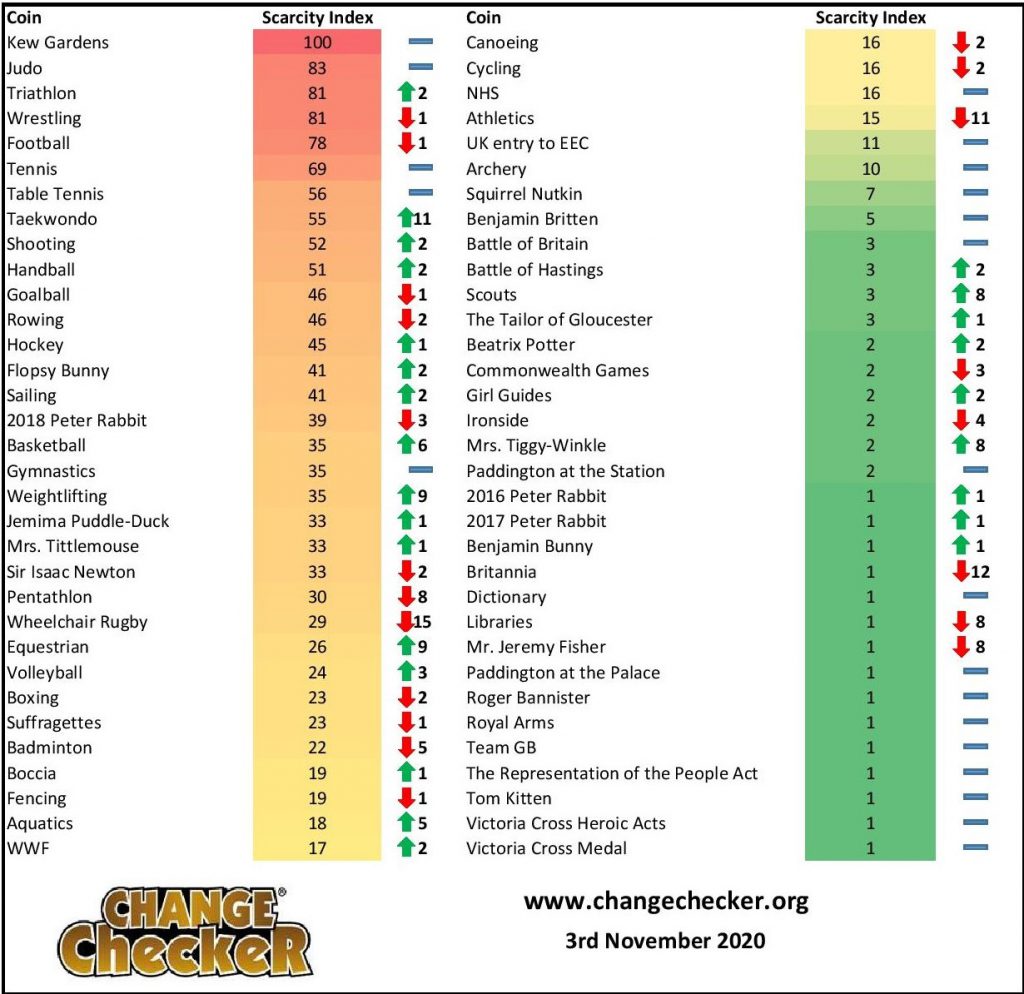 Previously the Football 50p had held second spot behind the most sought-after 50p in circulation, the Kew Gardens, but we saw it drop last quarter, and this Index, it's similar story! The Judo, Triathlon and Wrestling 50ps have now all bumped the Football 50p to fifth spot.
This update sees a huge jump for Taekwondo, jumping up 11 places and landing it in our top 10. There are big changes for the Wheelchair Rugby and Athletics 50ps too, dropping 15 and 11 respectively.
Since our last Scarcity Index update, we've seen the 2018 Peter Rabbit drop 3 places but the 2018 Flopsy Bunny 50p has jumped up 2 spots. As the two rarest Beatrix Potter 50ps in circulation, it's interesting to see them shuffle once more. These coins are definitely the ones to watch…
£2 Scarcity Index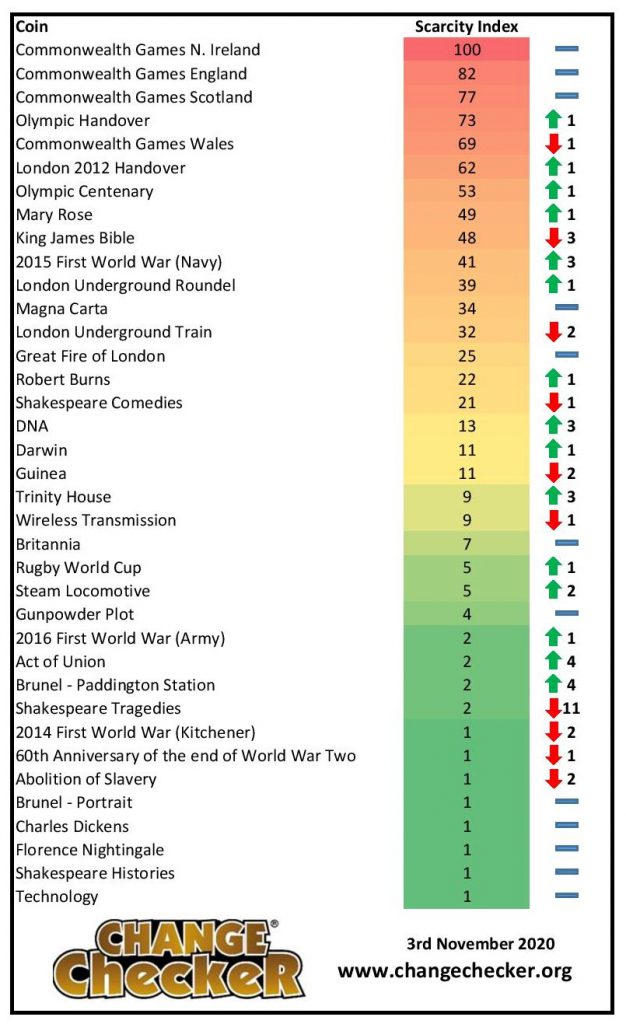 For the first time in recent updates, the Commonwealth Games coins have been disrupted at the top of the index. The Olympic Handover has bumped the Commonwealth Games Wales £2 out of the top 4, moving up a place.
As for the rest of the index, there's been a substantial amount of reshuffling. The Shakespeare Tragedies has dropped 11 places, whilst the First World War (Navy) is up 3!
After the announcement that there are no plans to issue any £2 coins into circulation for the next 10 years, it's likely we'll see a further shuffle to the £2 Index over the next few quarters.
How your Scarcity Index works
Generally collectors have had to rely upon mintage figures to identify the scarcest coins. But they only tell part of the story. Trying to find a good quality coin from 15 – 20 years ago, even for a higher mintage issue, is much more challenging than a more recent issue, as coins become damaged over time and are ultimately removed from circulation.
Additionally, some designs are more hoarded than others by people who might not normally collect coins – the poignant First World War £2 Coin series being an example. Finally, it can be up to a couple of years before the Royal Mint eventually confirms the actual mintage for an issue.
That's why we have combined the mintage information with two other key pieces of information.
How many of each design are listed as "collected" by Change Checkers, indicating the relative ease of finding a particular coin.
The number of times a design has been requested as a swap over the previous 3 months, showing the current level of collector demand.
Importantly, as new coins are released and popularity rises and falls across different designs the Scarcity Index will be updated quarterly allowing Change Checkers to track the relative performance of the UK's circulation coins.
How much are my coins worth?
The Scarcity Index does not necessarily equate to value but it is certainly an effective indicator. For example, the Kew Gardens 50p coin commands a premium of up to 200 times face value on eBay.
You can use the 6 point guide to help you determine a more realistic value for your coins.
What about £1 Coins?
The £1 Scarcity Index has already been published for the Round £1 coins and, because they are no longer being issued, this is now set in stone.
---
Secure the Ultimate A-Z 10p Collector's Kit to your collection!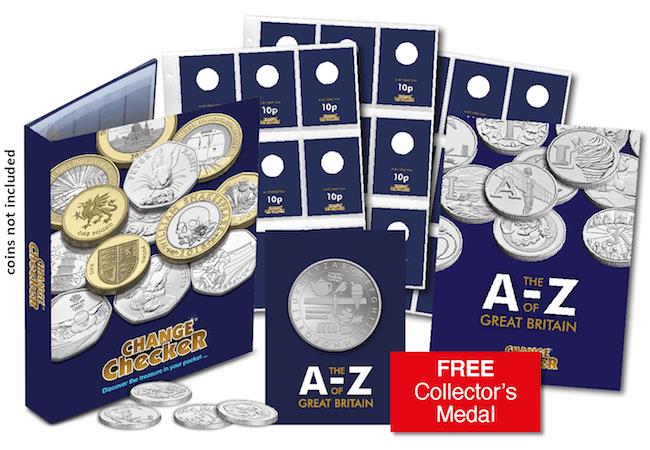 The 2018 UK A-Z 10p Collector's Kit gives you everything you need to collect, display, and protect your collection of A-Z 10p coins as you find them in your change.