It's time for your latest Scarcity Index update, where we'll reveal the UK's most sought-after circulation coins of the last three months! And it's all change again for the A-Z 10ps, as Tea establishes itself in top spot…
With less cash being used because of the current climate, it's likely this is affecting collecting and it seems this has exposed some new trends on the indexes!
You can use the updated A-Z 10p, 50p and £2 indexes below to discover how sought-after the coins in your collection really are.
This information has been compiled using data from the Change Checker Swap Centre and presented in the easy to use indexes below, with arrows to signify how many places up or down a coin has moved since the last Scarcity Index.
A-Z 10p Scarcity Index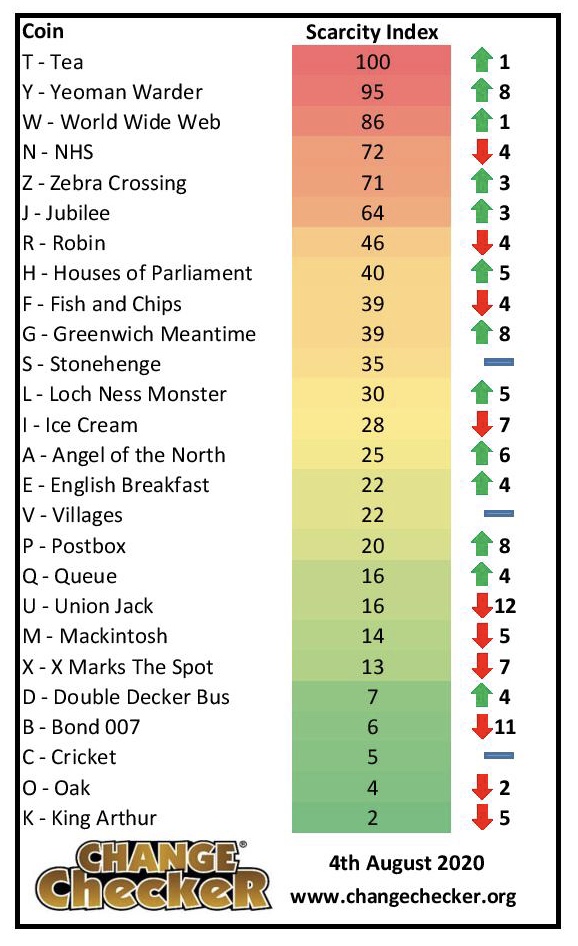 Well we've seen another big mix up for the latest A-Z 10p Scarcity Index update, with a new leader taking top spot!
In our last Scarcity Index, we saw B for Bond knocked off the top spot by the NHS 10p, but now we've seen both of these coins move further down the pack, by 11 and 4 points respectively. The Tea 10p takes the top spot for the first time and Bond now sits at the lowest we've seen since our A-Z 10p Scarcity Index started!
Other key movers to keep an eye on are the Y for Yeoman Warders and G for Greenwich Meantime 10ps, both moving up the index by 8 places.
Regardless of where they feature on the above index, if you have any of the A-Z 10ps in your collection you should consider yourself lucky, as they are particularly hard to come by in circulation and each design has a relatively low mintage (just 220,000 of each design released in 2018 and 2.1 million overall in 2019).
50p Scarcity Index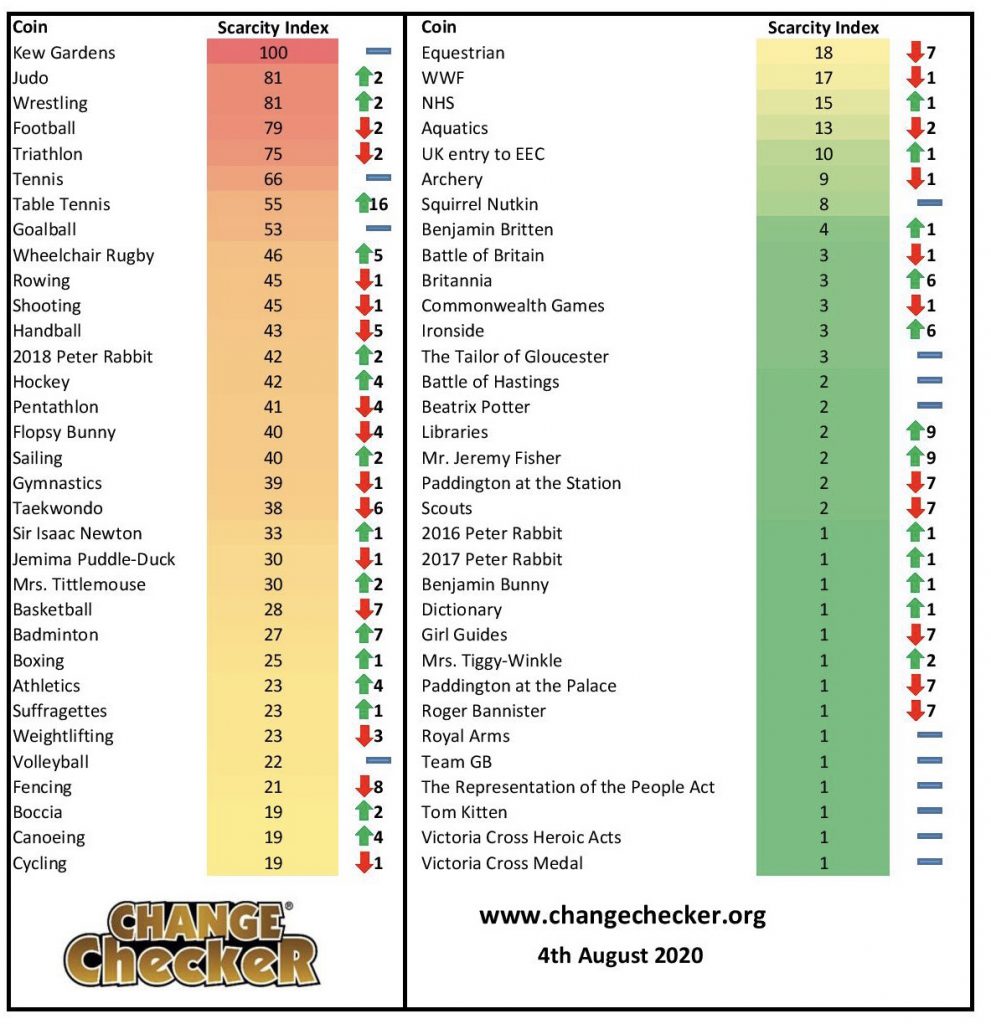 We can't quite believe it, but it looks as though the Olympic Football 50p has been knocked off second place by the Judo 50p this quarter! However, it's not done enough to take the top spot, as it sits 18 points behind the scarcest 50p coin in circulation, the Kew Gardens. But, are you lucky enough to have the Judo 50p in your collection? Let us know in the comments below.
There's been quite a lot of shuffling around with the Olympic 50ps, with Table Tennis moving up the index by 16 places! Although, it's definitely worth noting that all of the Olympic 50ps are particularly sought-after due to their low mintage figures and an estimated 75% have been removed from circulation by collectors, making them even harder to get hold of.
Since our last Scarcity Index update, we've seen the 2018 Peter Rabbit climb 2 places but the 2018 Flopsy Bunny 50p has dropped down by 4 places. As the two rarest Beatrix Potter 50ps in circulation, it's interesting to see them move in opposite directions on the index, so we'll be keeping our eye on these over the next quarter…
£2 Scarcity Index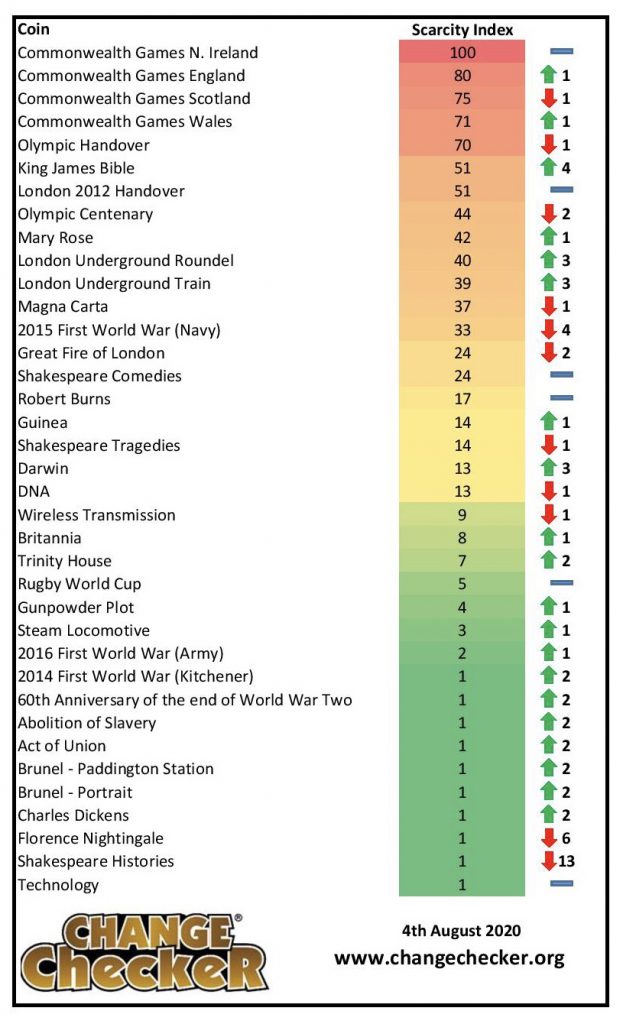 The top five coins on the £2 index remain strong, with the Commonwealth Games Northern Ireland keeping its position at the top, now 20 points above the second most sought-after £2 coin in circulation.
There's been a slight reshuffling on the top half of the index, with the Commonwealth Games England and Scotland, switching positions from the last index! We've also seen the King James Bible £2 jump up 4 places, bringing it 6th position.
In the bottom half of the index, there's been some big shakers! The Shakespeare Histories £2 has dropped a huge 13 points, pushing into the penultimate spot, and Florence Nightingale has also dropped by 6 points!
We're yet to see any new £2 coins in our change since demand has been so low, although I'm sure I speak for many collectors when I say we eagerly anticipate the release of new £2's into circulation, hopefully in the near future.
How your Scarcity Index works
Generally collectors have had to rely upon mintage figures to identify the scarcest coins. But they only tell part of the story. Trying to find a good quality coin from 15 – 20 years ago, even for a higher mintage issue, is much more challenging than a more recent issue, as coins become damaged over time and are ultimately removed from circulation.
Additionally, some designs are more hoarded than others by people who might not normally collect coins – the poignant First World War £2 Coin series being an example. Finally, it can be up to a couple of years before the Royal Mint eventually confirms the actual mintage for an issue.
That's why we have combined the mintage information with two other key pieces of information.
How many of each design are listed as "collected" by Change Checkers, indicating the relative ease of finding a particular coin.
The number of times a design has been requested as a swap over the previous 3 months, showing the current level of collector demand.
Importantly, as new coins are released and popularity rises and falls across different designs the Scarcity Index will be updated quarterly allowing Change Checkers to track the relative performance of the UK's circulation coins.
How much are my coins worth?
The Scarcity Index does not necessarily equate to value but it is certainly an effective indicator. For example, the Kew Gardens 50p coin commands a premium of up to 200 times face value on eBay.
You can use the 6 point guide to help you determine a more realistic value for your coins.
What about £1 Coins?
The £1 Scarcity Index has already been published for the Round £1 coins and, because they are no longer being issued, this is now set in stone.
---
Secure your collector pack for the UK 2016 Beatrix Potter coins for JUST £3.50! (+p&p)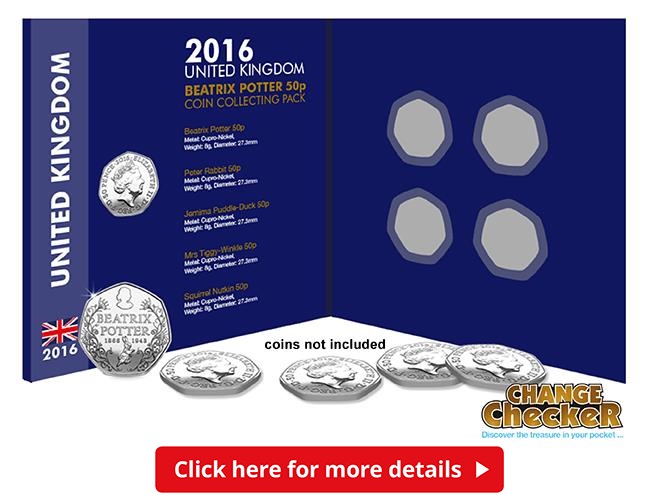 Secure your own Change Checker Coin Collecting Pack for just £3.50 to house all five 2016 Beatrix Potter 50p coins by clicking here!
---
If you're interested in coin collecting, our Change Checker web app is completely free to use and allows users to:
– Find and identify the coins in their pocket
– Collect and track the coins they have
– Swap their spare coins with other Change Checkers
Sign up today at: www.changechecker.org/app
"Sometimes the smallest things take up the most room in your heart" said Winnie the Pooh.
Well, it seems this silly old bear is right once more, as Change Checker has just heard that a brand new Winnie the Pooh 50p coin series is set to be released this year, and the news has already taken up all of the room in our hearts!
*** UPDATE ***
It has been confirmed that the BRAND NEW Winnie the Pooh 50p will be released Wednesday 23rd September!
Remember to sign-up for updates using the form at the bottom of this blog to stay up to date.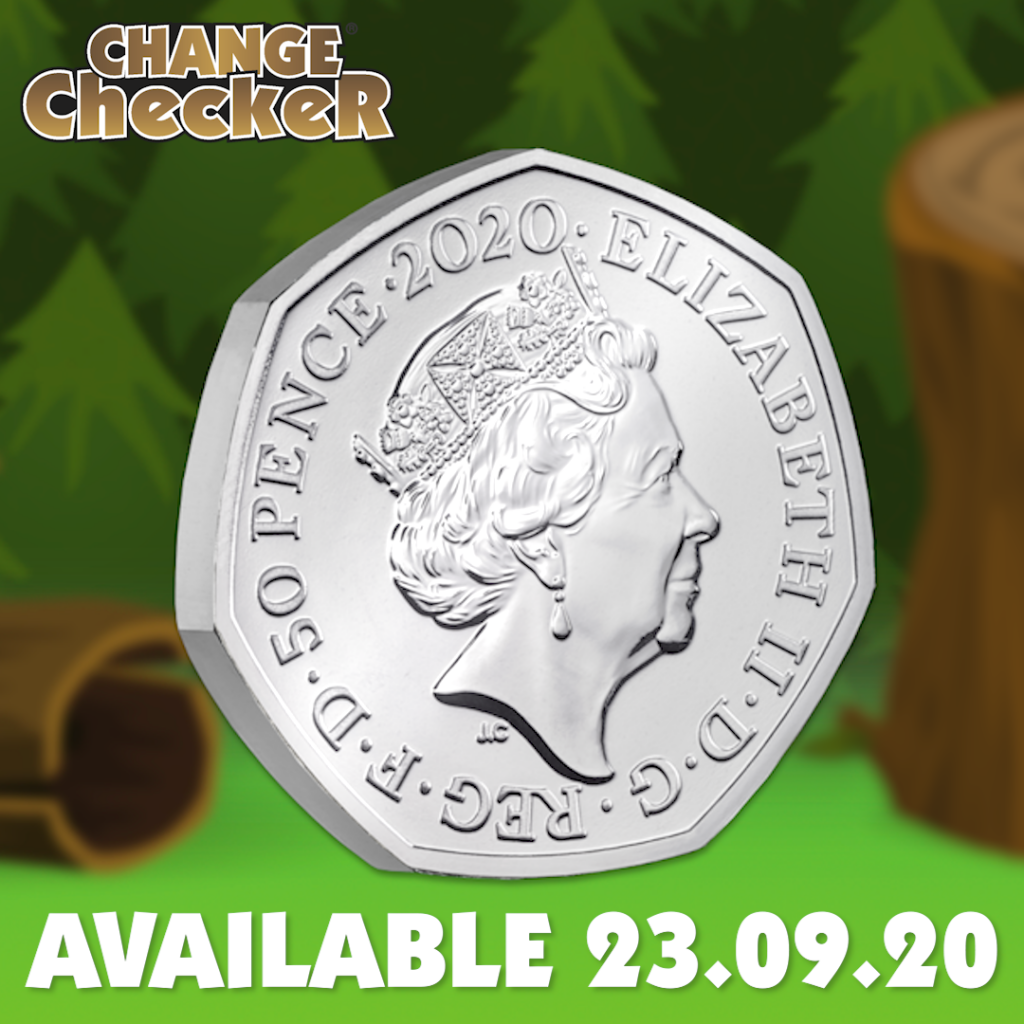 As of the Royal Proclamation on 24th July 2020, a series of 50p designs, inspired by the classic stories of A.A. Milne, will be issued to celebrate one of the world's most-loved bears and his friends.
It has been confirmed that there will be three 50p coins issued. The first will feature Winnie the Pooh himself and then later, a Christopher Robin 50p, and a Piglet 50p.
Originally published in 1926, Winnie the Pooh is a story about the adventures of Christopher Robin's honey-loving teddy bear and his friends Piglet, Tigger, Eeyore, Owl, Kanger, and Rabbit.
Since then, Winnie the Pooh has featured in over 11 films, 11 television programmes, 4 different books, and has become a worldwide collectable item.
Whilst the designs of the upcoming 50p coins are currently top-secret, we can't wait to see this loveable bear, his loving owner Christopher Robin and adorable friend Piglet, come to life once more, this time on the UK's most collected coin.
Sign-up for Winnie the Pooh 50p updates
If you'd like to find out more, you can fill in our sign-up form below to stay up-to-date with all the latest news about this exciting upcoming release.
We will only use your information to contact you about the new Winnie the Pooh 50p release. Click here to view our privacy policy.
---
Never miss out on a UK 50p coin release!
This is your opportunity to get ahead of the crowd and secure every future new UK 50p issue at the initial release price of just £4.50 (+p&p).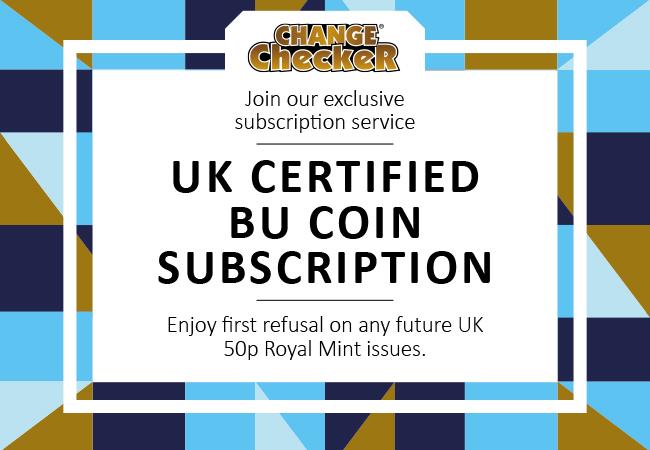 If you want to own the latest 50p coin releases, delivered straight to your doorstep, without any of the hassle of ordering the coin yourself then click here!
In the year that would have marked her 100th birthday, The Royal Mint have released a brand new 50p celebrating the life and crucial work of Rosalind Franklin.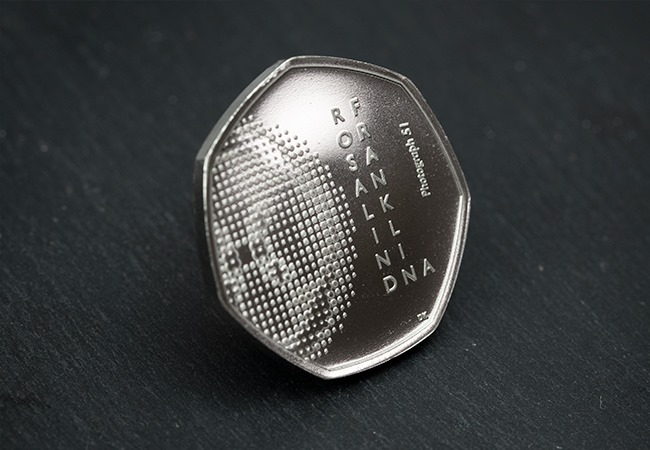 2020 UK Rosalind Franklin 50p
David Knapton's striking design of this coin, features a depiction of Rosalind Franklin's X-ray, 'Photograph 51', which revealed the helical structure of DNA, in her laboratory at King's College, London
This really is a coin full of numismatic firsts, as this is the first time that Franklin's DNA story has featured on a UK coin, and it is also the very first time a female scientist has featured on a UK coin too!
Developed in collaboration with King's College, London, this coin is available in Brilliant Uncirculated quality for just £4.50 (+p&p). [link]
The Story Behind The Scientist
One of Britain's greatest scientists, Franklin made a crucial finding to the discovery of the double-helix structure of DNA, yet her contribution was little known.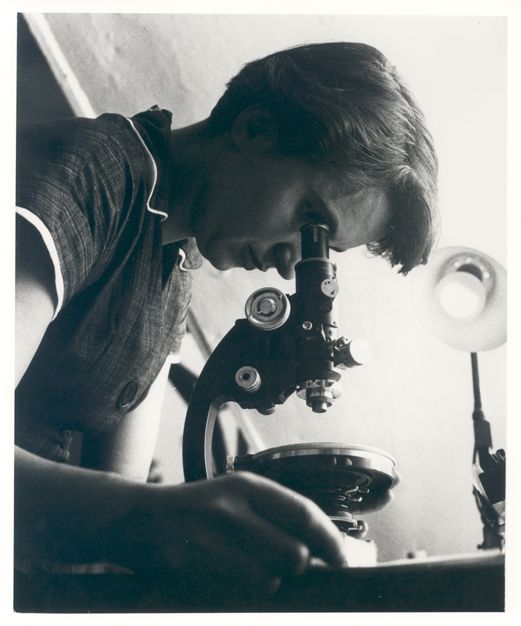 Applying X-ray diffraction methods to the study of DNA, enabled Franklin to discover the helical conformation of the molecule, in a photograph called, 'Photograph 51'. This work laid the foundations for James Watson and Francis Crick to later establish that the structure of DNA was in fact a double-helix polymer (a spiral consisting of two DNA strands).
Tragically, at the age of just 37, Franklin passed away from ovarian cancer, robbing her of the same awards and recognitions that her colleagues were gifted.
To mark what would have been a very special birthday, this brand new 50p restores Franklin's rightful legacy, and celebrates her significant role in the discovery of DNA, as she becomes The Royal Mint's second Innovator in Science.
However, this brand new Rosalind Franklin 50p isn't the only UK coin to celebrate great British scientists… it's the second release in The Royal Mint's Innovation in Science series!
2019 Stephen Hawking 50p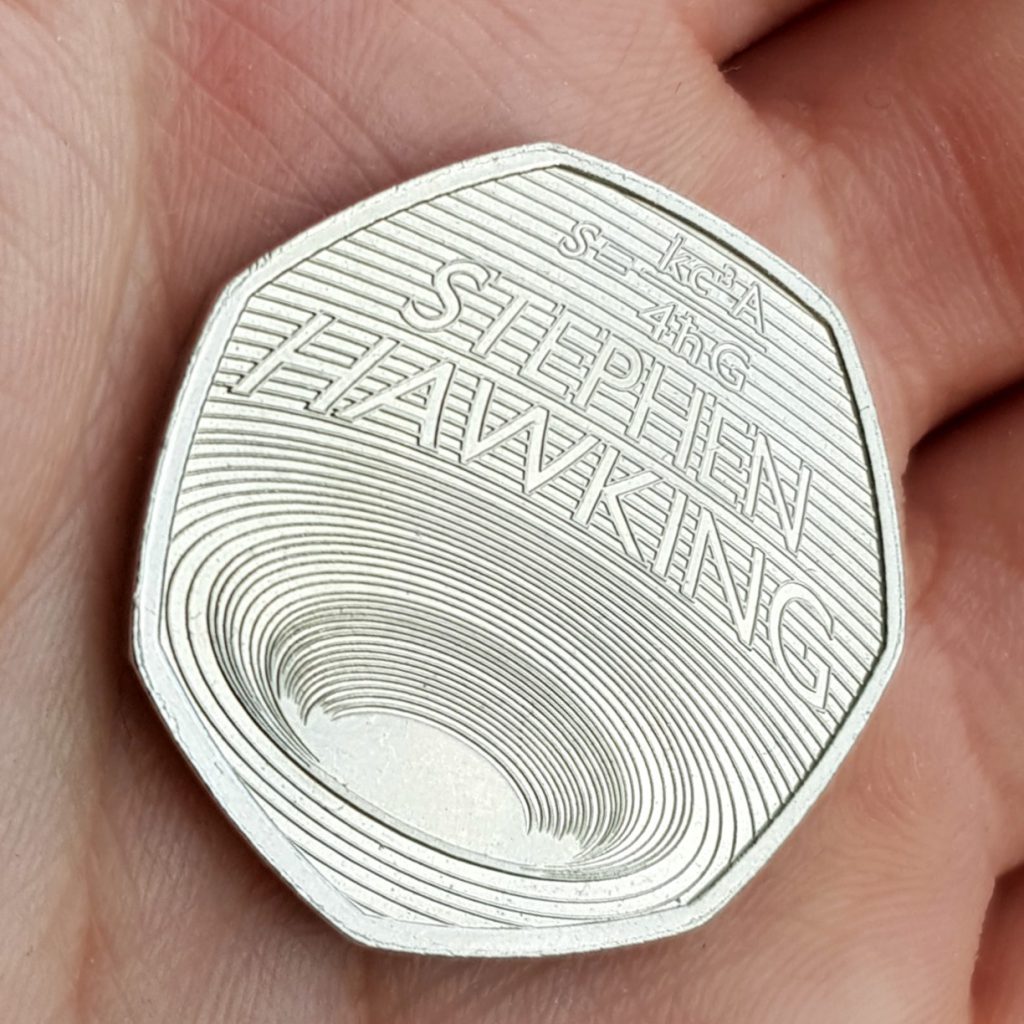 In 2019, less than a year since his death, The Royal Mint released a Stephen Hawking 50p coin, honouring his works as one of the most influential physicists of the modern age.
He became the very first person to be celebrated in The Royal Mint's Innovation in Science series and only the third person to be commemorated on a coin within a year of their death (the others being Winston Churchill and the Queen Mother!)
The reverse of the coin, designed by Edwina Ellis, features a stylised black hole and the inscription 'Stephen Hawking' . It also shows the Bekenstein-Hawking formula, which describes the thermodynamic entropy of a black hole!
There are a number of other UK 50p and £2 coins of a similar theme which you can look out for in your change…
2003 DNA £2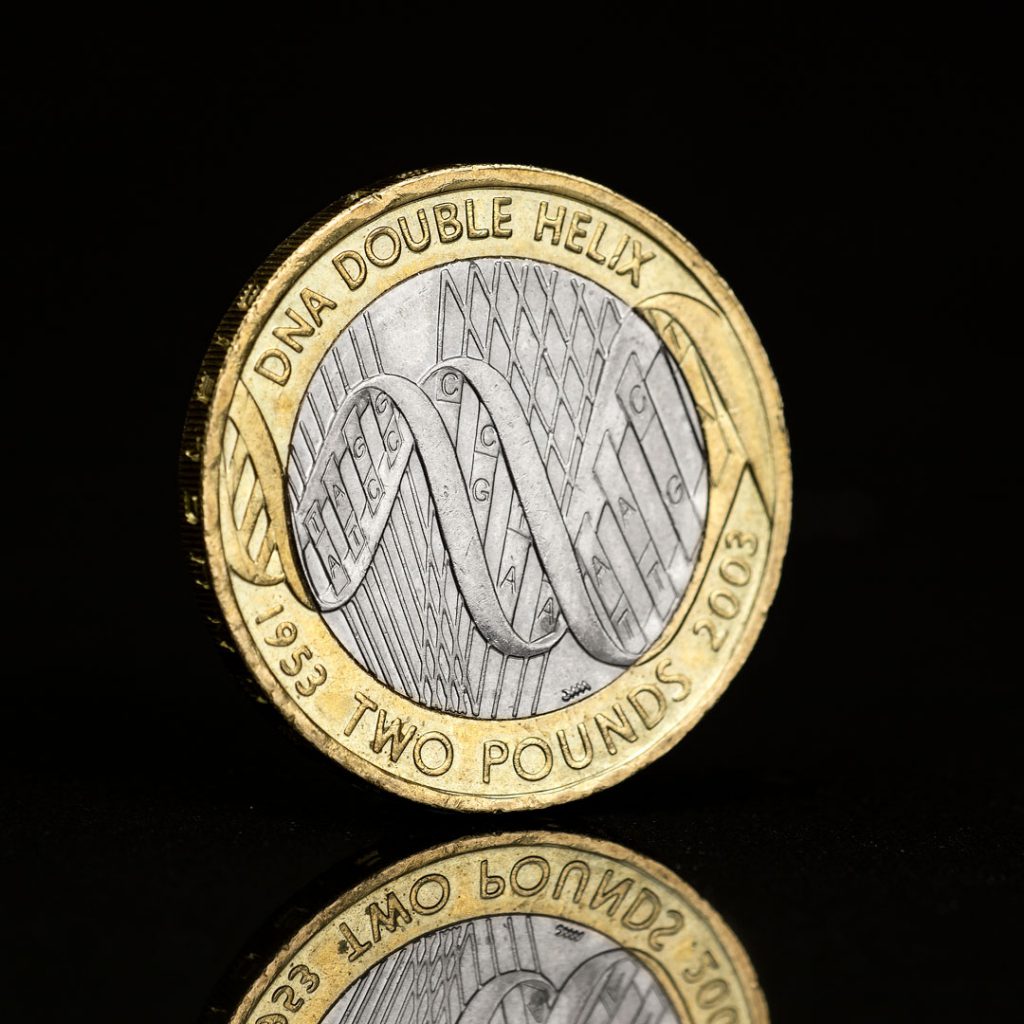 In 2003, to mark the 50th anniversary of James Watson and Francis Crick's discovery of the double-helix structure of DNA, The Royal Mint issued this £2 coin.
As we mentioned above, had Rosalind Franklin not discovered the helical conformation of DNA, Watson and Crick may never have established it's double-helix structure!
They found a twisted strand of deoxyribonucleic acid, intertwined in such a way that they could pull apart, replicate themselves, and pass their genetic code from old cells to new.
The coin's design pays tribute to this 'double-helix' structure and has a mintage of 4,299,000.
2017 Isaac Newton 50p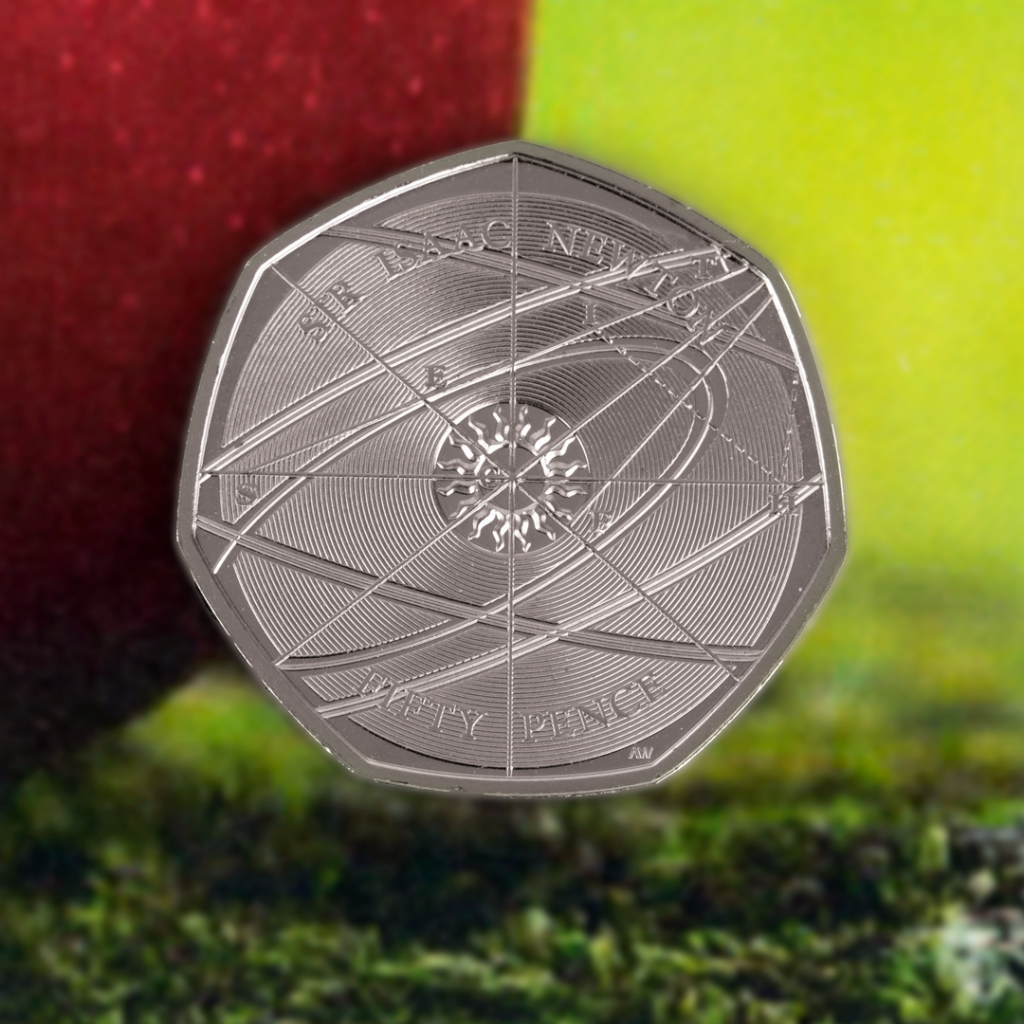 Sir Isaac Newton is widely recognised as one of the most influential scientists of all time and a key figure in the scientific revolution.
He changed our understanding of mathematics and physics, redefined the way we see the world and shaped the security of our currency in his role as Master of the Mint.
Designed by Aaron West, this 50p coin was issued to commemorate the achievements of Sir Isaac Newton and it remembers the legacy he left.
It has a circulating mintage of just 1,801,500.
2009 Darwin £2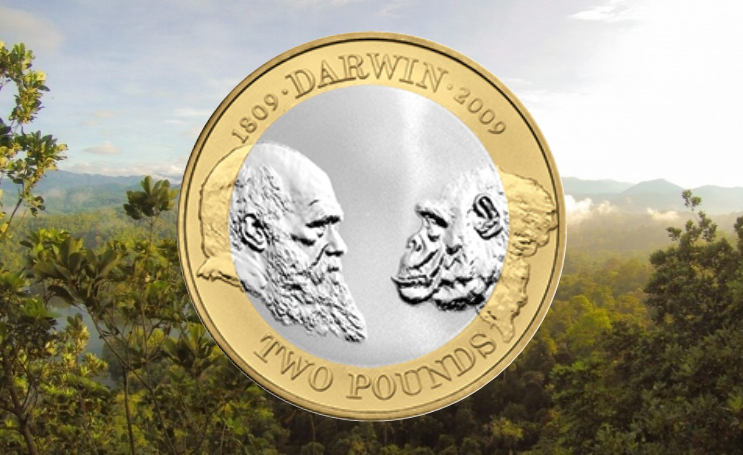 In 2009, The Royal Mint celebrated 200 years since Charles Darwin's birth and 150 years since the publication of 'On the Origin of Species' by issuing this £2 coin. It has a circulating mintage of 3,903,000.
Darwin has been described as one of the most influential figures in human history and was known as the 'father of evolution'.
At the time of publication in 1859, his book was extremely controversial as it made it seem possible that humans evolved from apes, which contradicted the widely held Orthodox Church theory of creation!
2001 Wireless Transmission £2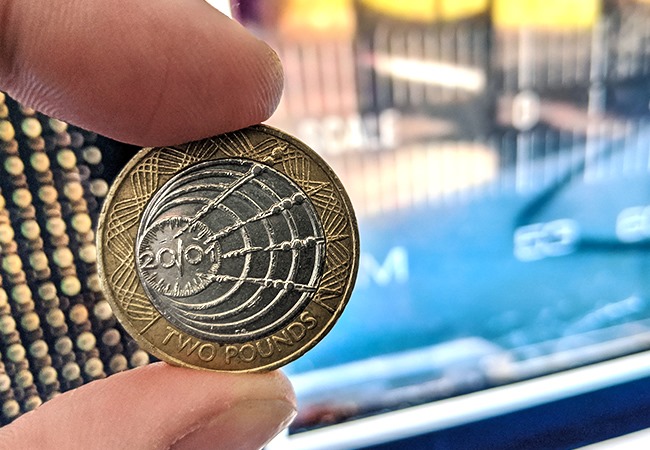 In 1901, Guglielmo Marconi, an Italian physicist, succeeded in sending the first radio transmission across the Atlantic Ocean, disproving theories that the curvature of the earth would limit the transmission to 200 miles or less.
The message – simply containing the Morse code signal for the letter 's' – travelled more than 2,000 miles from Poldhu in Cornwall to Newfoundland in Canada and won him worldwide fame and a Nobel Prize in physics in 1909.
In 2001, to celebrate the 100th anniversary of the first wireless transmission, The Royal Mint issued this £2 coin. It entered circulation and has a mintage of 4,558,000.
---
We're so excited by this brand new 50p release and we can't wait to find out who else will feature in the Innovation in Science series!
Who do you think should be chosen to be featured alongside Stephen Hawking and Rosalind Franklin?
---
Secure the BRAND NEW Rosalind Franklin 50p for just £4.50 (+p&p)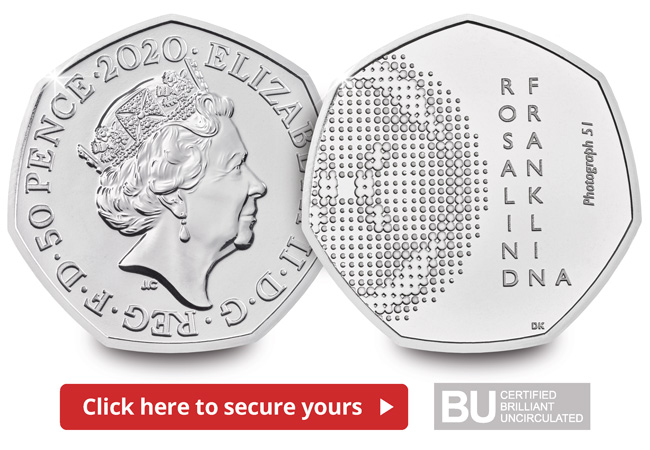 Click here to secure the 2020 Rosalind Franklin 50p in Brilliant Uncirculated quality for just £4.50 (+p&p) >>