The Treasury has today confirmed the Official UK King Charles III Coronation Coins, ahead of the biggest royal occasion for decades.
To avoid missing out on what is set to be the most sought-after release in decades, you can sign-up to receive the very latest updates (including when these coins will be available to purchase!). Click here to register your interest.
Marking the first UK coronation in 70 years, a brand new 50p and £5 coin will be issued.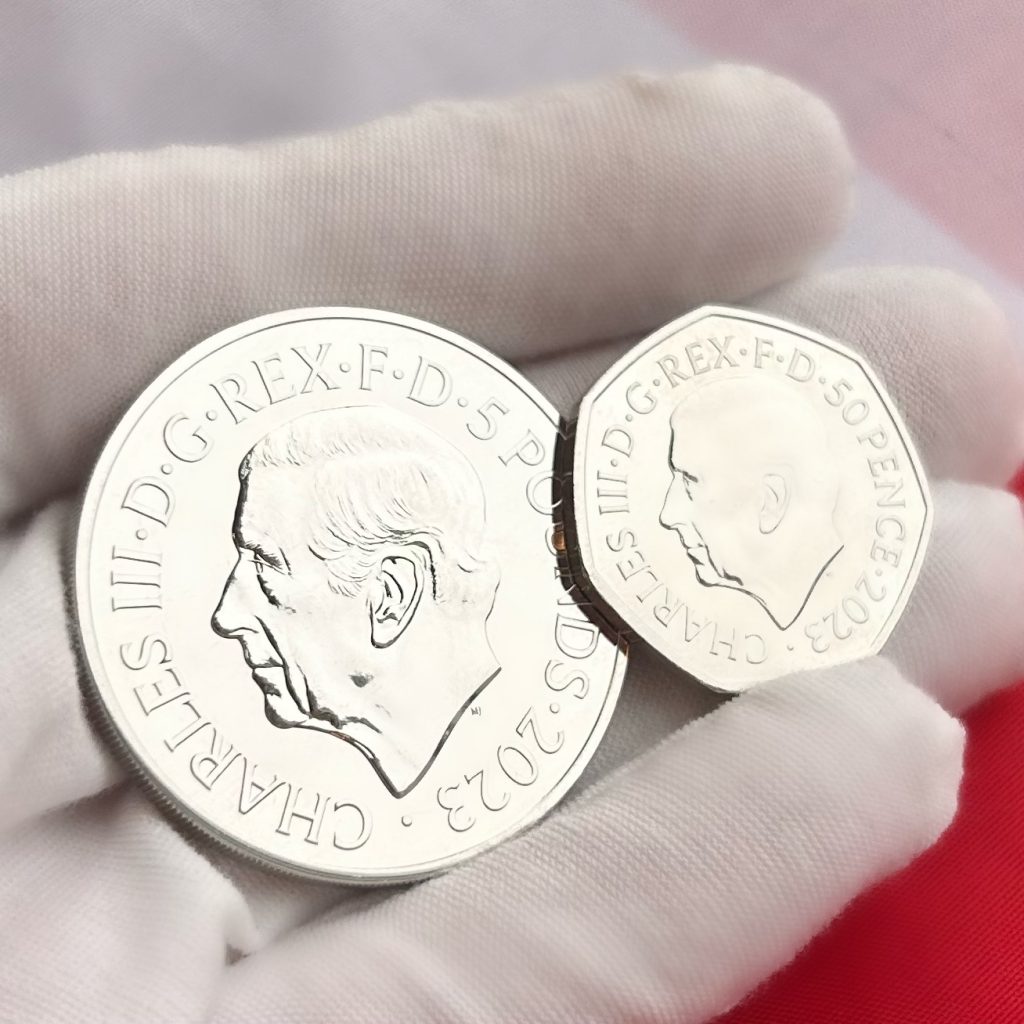 As detailed in the latest Royal Proclamation, the coins are expected to feature the below designs.
King Charles III Coronation 50p
The Royal Proclamation reveals the reverse of the 50p coin will show the Royal cypher set against a depiction of a section of the exterior of Westminster Abbey.
We're not sure yet if the 50p coin will enter circulation but you can be assured Change Checker will update you as soon as we hear any difference.
King Charles III Coronation £5
The reverse design of the £5 coin will show a depiction of the St Edward's Crown accompanied by the sovereign's sceptre with dove and the sovereign's sceptre with cross with the inscription "THE CORONATION OF KING CHARLES III 6 MAY 2023".
According to the Royal Proclamation, the coin will feature the inscription "· GOD SAVE OUR GRACIOUS KING", save for the cupro-nickel coin which shall have a grained edge.
---
With the demand seen for the very first King Charles III 50p and £5 coins following the passing of Queen Elizabeth II, the brand new King Charles III coronation coins are sure to be highly sought-after with collectors.
---
AVOID DISAPPOINTMENT – sign up for updates on the official UK coronation coins
Demand for these coins is sure to outweigh supply.
Use our form below to register your interest for the UK's first Coronation coins.
Guarantee all future UK King Charles III coins for your collection

Join the Change Checker UK CERTIFIED BU Subscription Service and receive the very latest UK King Charles III coins sent to your door without the hassle of placing orders on the day of release!
The Royal Canadian Mint are marking the end of Queen Elizabeth II's circulating coinage in 2023 with a Limited Edition Collector's Set of coins.
Packaged in a royal purple presentation to pay tribute to the Queen, these extraordinary coins mark the end of a remarkable reign, and the end of an era in Canadian coins.
Limited Edition Queen Elizabeth II Coins
Each coin's obverse is double-dated ("1952-2022") to commemorate Her Majesty's reign and is marked by four pearls symbolizing the four effigies that have graced Canadian coins during that time
These six coins will not enter circulation and are limited to JUST 50,000 WORLDWIDE! Considering the recent surge in demand for Queen Elizabeth II coins, stock surely won't last long…
Change Checker has fortunately managed to secure an initial allocation of just 250 sets for collectors. But you'll need to act fast to secure yours.
Click here to get yours for £35 (+p&p) >>
Royal Canadian Mint's history of popular Queen Elizabeth II coins
2022 Queen Elizabeth Memorial $2
In December 2022, The Royal Canadian Mint issued a unique Queen Elizabeth II memorial $2 coin.
Just shy of 5 million $2 coins entered circulation.
However, when you consider Canada's population is over 38 million, you'll appreciate just how sought-after this coin is.
The obverse features the portrait of Queen Elizabeth II, created by Susanna Blunt and the reverse features the traditional $2 Polar Bear design by Brent Townsend.
But, what makes this $2 coin extra special is the outer ring…
The outer ring features a striking black nickel finish and is reminiscent of a mourning band, in a touching tribute to Her Majesty.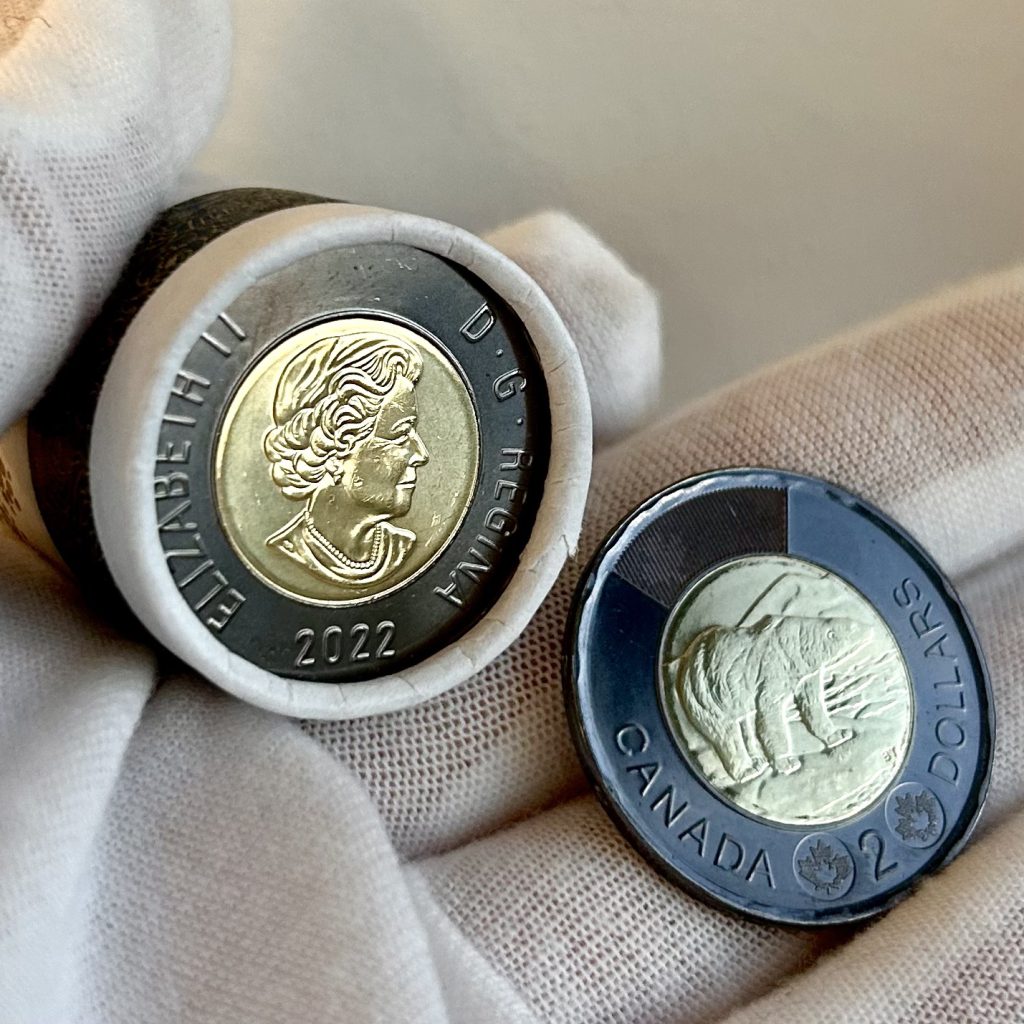 Selectively coloured Insulin $2 coin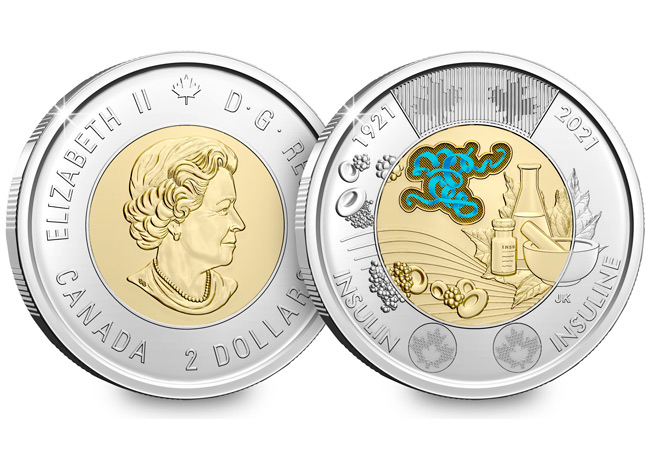 To mark the 100th anniversary of the discovery of Insulin, The Royal Canadian Mint issued this a special collector's coin set.
Featured in the set was this unusual selectively coloured $2 coin.
It's rare to see colour printing on a £2 coin – it's only been seen once in 20 years in the UK!
Just 100,000 sets were issued for collectors worldwide, with this being the only way people could get their hands on the individual $2.
Thousands queue online for Queen Elizabeth II coins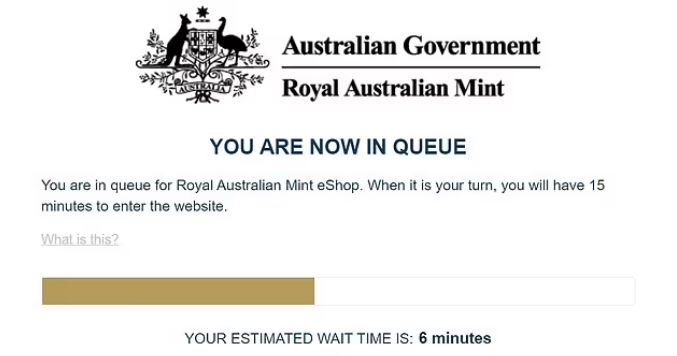 Demand for Queen Elizabeth II coins was particularly felt at Mints around the world, following the sad news of her passing on 8th September.
Collectors heading to The Royal Australian Mint websites faced long queues, with coins issued within the previous few weeks in very high demand.
---
Considering the popularity of Royal Canadian Mint's coins, paired with this being the last official Canadian Queen Elizabeth II Coin Set, we expect collector demand to be very high.
---
Don't miss out! Order your Canada 2023 Collector's Edition Set today
We have an initial allocation of JUST 250 sets available for Change Checkers. Don't miss out!
The FIRST EVER King Charles III stamps have been revealed!
And, eagle eyed collectors will spot Martin Jenning's portrait of His Majesty appears on the design.
You can pre-order these stamps for your collection by clicking here, ahead of their general release 4th April.
However, tracking these stamps down in the wild will be a little trickier than finding the King Charles 50p in our change…
That's because of King Charles III's dedication to climate action and sustainability.
The brand-new stamps will coexist alongside the current Queen Elizabeth II ones and will also feature the new barcode design.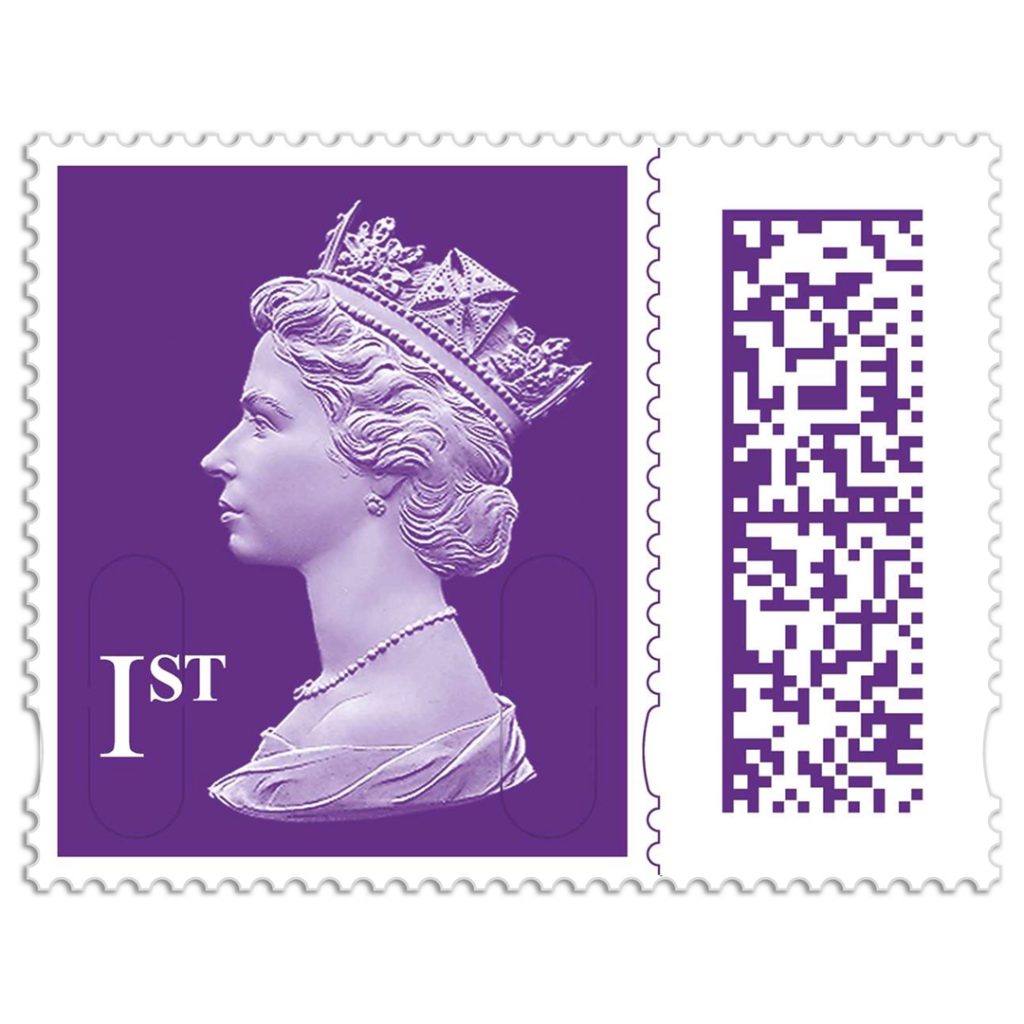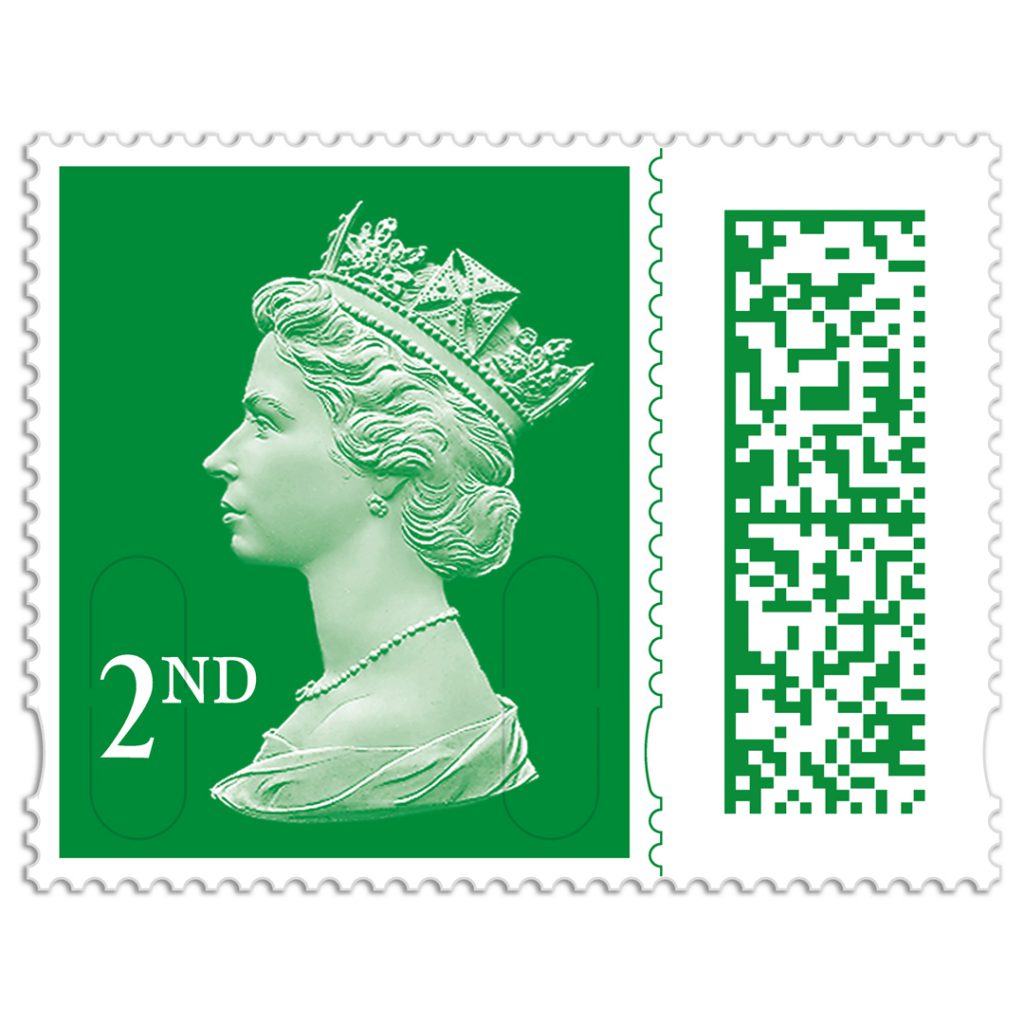 As the current stock of Queen Elizabeth II stamps becomes exhausted, we'll start to see more of the new King Charles ones issued until eventually they all feature the King.
But what does that mean for collectors?
Well, next time you head to your local shop or supermarket to get a new book of stamps, you won't know which monarch will appear on them.
So, not only does this increase the thrill of the hunt, but it's also a fair opportunity for people to find these new stamps. You won't be able to tell which stamps you have until your book is open.
These stamps will be issued from the 4th of April, so the countdown really has begun!
This release is going to be one for the history books.
Collectors will already be aware of the popularity of the first King Charles III 50p issued last year and that's already off-sale at the Royal Mint in ALL specifications!
So here's hoping you can get your hands on a brand new stamp when they're available.
But, if you don't want to risk missing out, then you can pre-order these stamps for your collection below!
Pre-order the first King Charles III stamps
You can get ahead of the crowds and pre-order the first King Charles III stamps for your collection today by clicking here.
Perfectly presented on official Change Checker Stamp Cards, you will be able to treasure this philatelic first for generations to come.