This year celebrates the 200th birthday of one of the most infamous fictional characters in historic literature – Frankenstein's Monster!
With film adaptations across various genres, from the quasi-rock opera The Rocky Horror Picture Show to sci-fi classics like Prometheus, the tale of the dysfunctional Victor Frankenstein and his mad scientific invention is known by all of us in some shape or form.
In the gothic tale – written by Mary Shelley – an obsessed Victor Frankenstein attempts to bring a corpse back to life in his laboratory through mad methods of chemistry, alchemy and a 'flash' of electricity.
To celebrate this important literary bi-centenary The Royal Mint has released a commemorative £2. The reverse features the word 'Frankenstein' in electric gothic font, along with 'Bicentenary of Mary Shelley's The Modern Prometheus' written around the edge.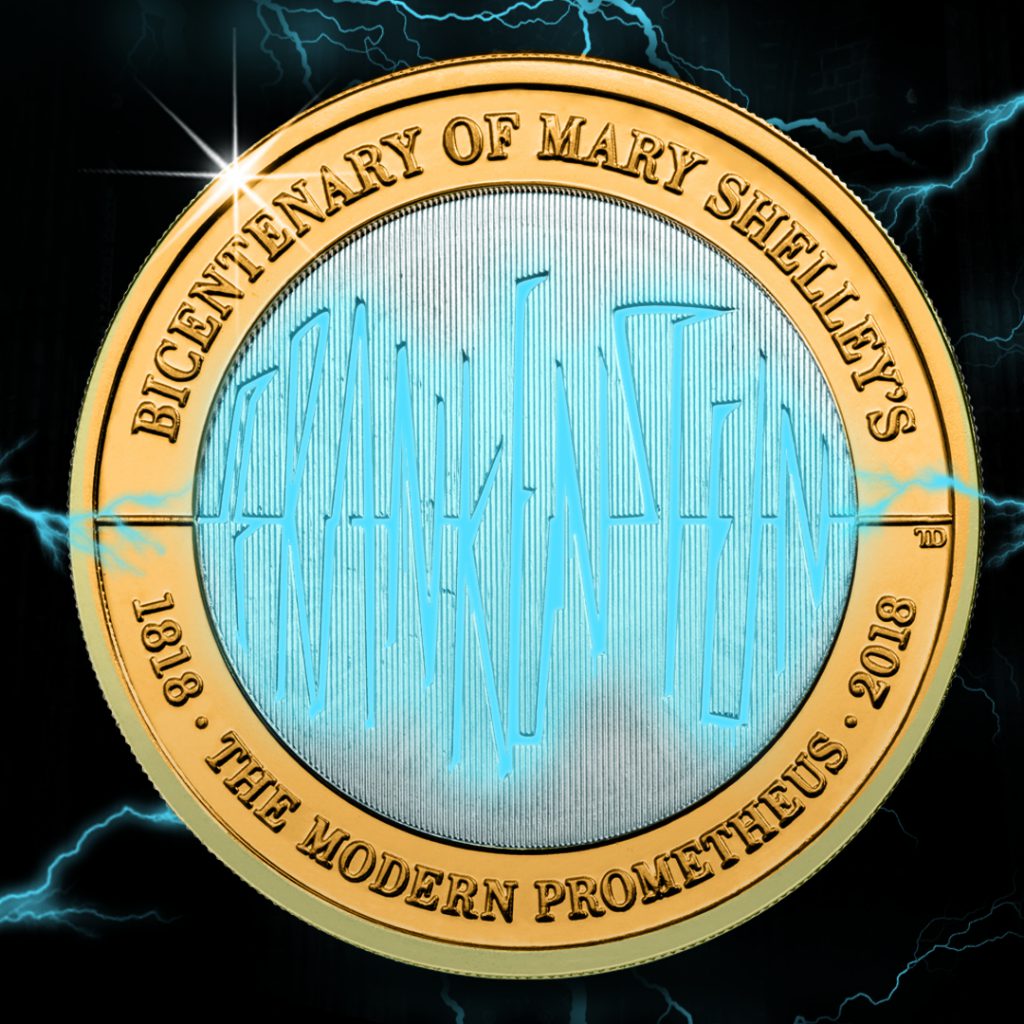 The edge inscription reads 'A spark of being', the words of Dr Victor Frankenstein when he creates 'creature'.
We haven't seen anything quite like this in a coin design before and since the design was revealed at the start of the year there has been a huge response from excited collectors looking to get their hands on this unusual coin.
What do you think of this new £2 coin? Let us know in the comments below!
---
Commemorate 200 years of Mary Shelley's exceptional novel with the 'Frankenstein' BU £2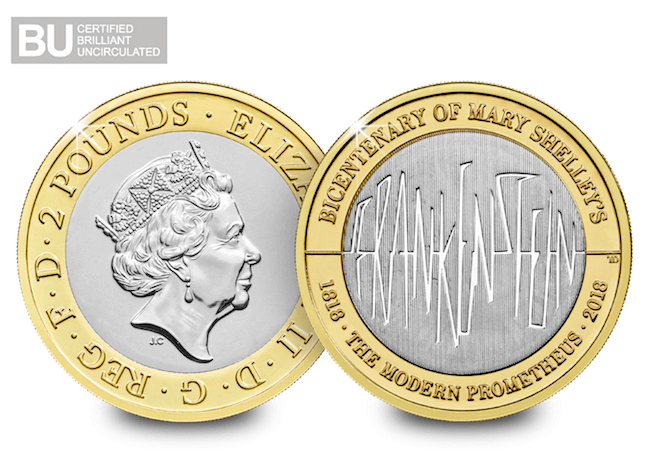 This striking £2 coin is now available to add to your collection in Brilliant Uncirculated quality.
Collectors interest is expected to be 'monstrous', so click here to order yours now >>>
2018 is an incredibly poignant year as the world commemorates the First World War Armistice Centenary concluding four years of bloody and gruelling combat, the like of which had never been seen before.
On the eleventh hour of the eleventh day of the eleventh month in 1918, the Allies of WWI and Germany signed an agreement for cessation of hostilities on the Western Front of the war, at last bringing peace after 4 years of conflict.
As a tribute to those who have made the ultimate sacrifice, a brand new £5 coin has been issued by The Royal Mint for 2018.
Designed by Royal Mint engraver Laura Clancy, the focal point of this year's design is a stunning poppy design symbolic of the resilient and determined poppies that grew amidst the chaos in the valley of the Somme.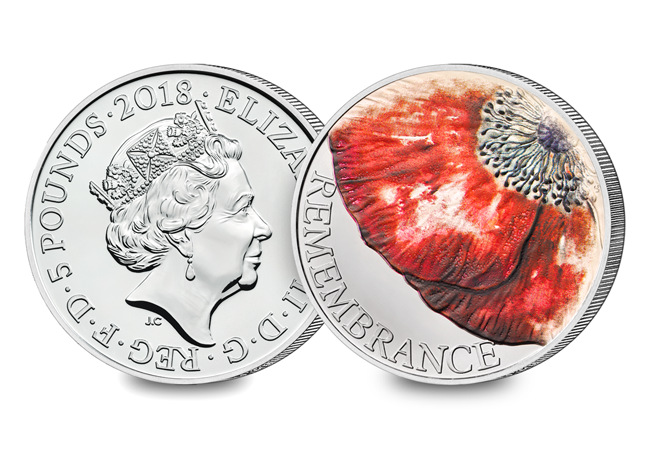 Like last year's Remembrance Day coin, selective colour printing has been expertly used to draw attention to the vibrant red poppy design, a truly touching tribute to those lost in the war.
We expect this year's centenary coin to have a very strong reception, based not only on its stunning design, but also the significance of this 100 year anniversary since Armistice.
______________________________________________________________________________
Commemorate the centenary of the end of World War One with the Brand New UK £5 Issue
As we reach this important centenary year, we look back with sombre hearts for those lost in the war, and honour their sacrifice and the sacrifices of all those who risked their lives in pursuit of the Allied victory.
Due to the significance of this new coin release, demand for this historic tribute is anticipated to be high!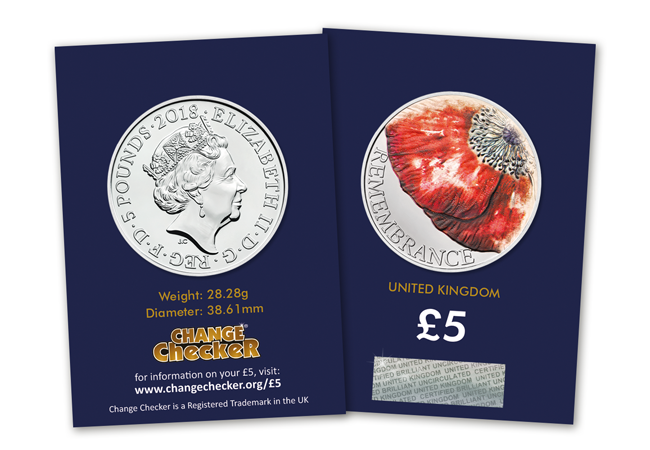 Secure your 2018 Remembrance Day CERTIFIED BU £5 Coin today for just £14.99 (plus P&P) and own a lasting tribute to the fallen. We Will Remember Them.
Own yours today, protectively encapsulated and certified as Brilliant Uncirculated quality >>
Since the first very bi-metallic £2 coins were released back in 1998, there have been over 40 UK £2 coins in circulation! Many of these coins commemorate key moments in Britain's history and heritage.
But with so many in circulation, how can you tell which are the ones to look for?
Luckily for you, we've done the leg work and compiled a number of resources to help you determine how rare your £2 coin is and how much it might be worth.
Mintages
A key tool for working out how rare your coin might be is our £2 mintage chart. Generally speaking, the lower the mintage, the rarer the coin and the harder it will be to find in circulation.
Here are the most up to date mintage charts for UK £2 coins in circulation, with the UK's rarest circulation £2, the 2002 Commonwealth Games Northern Ireland sat in top spot with the lowest mintage figures of just 485,500.
We haven't been able to include the 2017 Jane Austen £2 or the WW1 Aviation £2 coins in our charts yet as the mintage figures are yet to be released, however you can view our previous £2 mintage figures here. There hasn't been any feedback from Change Checkers finding these coins in circulation but we're hoping they'll turn up soon and do let us know if you find any in your change!
Click here to read more about the 50p mintage figures >>
eBay Tracker
To help you determine the value of your coin, we've created our eBay Tracker, which takes the last 9 sold prices achieved on eBay and gives you the median price achieved (rounded to the nearest 50p). By taking the median, rather than an average, we avoid skewing created by one or two excessive prices achieved.
Here's the top 5 highest selling £2 coins from our eBay Tracker, with the Commonwealth Games Northern Ireland sitting on top spot as the highest selling £2, followed by the Commonwealth Games England and Wales respectively. In 4th place is the 2017 Jane Austen £2. Mintage figures for this coin have not yet been released and collectors don't seem to have found the coin in their change, which seems to have made the coin very popular to buy on eBay, but will you wait to find this coin when it enters circulation?
Click here to see our full eBay Tracker >>
Scarcity Index
To give you a complete picture of how your coin compares to other £2 coins in circulation, we have combined the mintage information with two other key pieces of information to provide the Change Checker Scarcity Index:
How many of each design are listed as "collected" by Change Checkers, indicating the relative ease of finding a particular coin.
The number of times a design has been requested as a swap over the previous 3 months, showing the current level of collector demand.
Here's our most recent Scarcity Index for £2 coins, with yet again the Commonwealth Games Northern Ireland coming in on top as the most scarce £2. Where does your £2 rank on the Scarcity Index?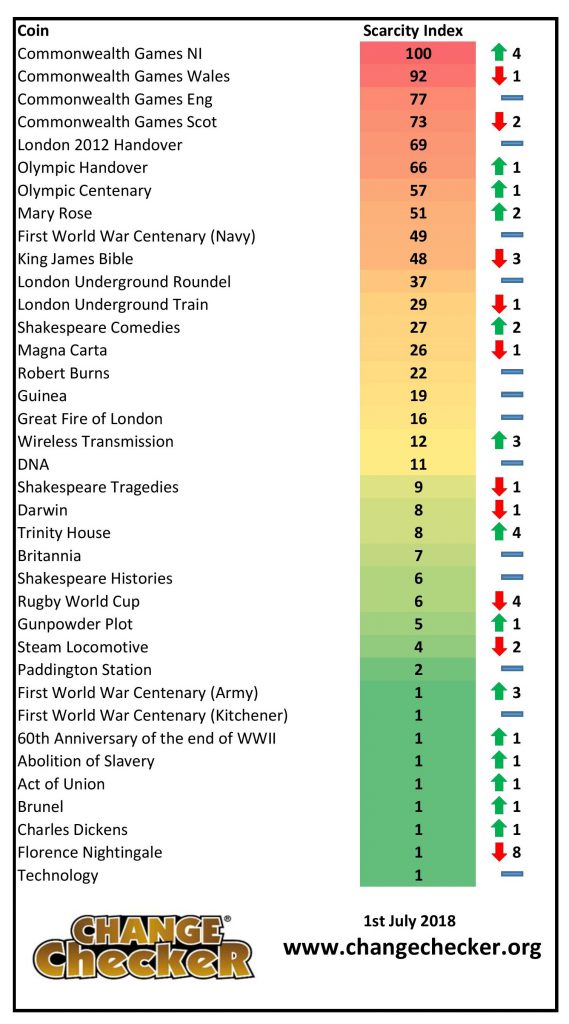 Hopefully these tools will enable you to get a more realistic picture of how rare your £2 is and how much it might be worth. Of course, these figures will change in time as the latest £2 coins are released into circulation, so stay up to date with all our latest coin news and information.
Have you found any rare coins in your change recently? Let us know in the comments below.
---
If you're interested in coin collecting, our Change Checker web app is completely free to use and allows users to:
– Find and identify the coins in their pocket
– Collect and track the coins they have
– Swap their spare coins with other Change Checkers

Sign up today at: www.changechecker.org/app