A Christmas Carol, published in 1843, is arguably one of Charles Dickens' most famous novels – teaching us to keep the spirit of Christmas and kindness in our hearts all year round.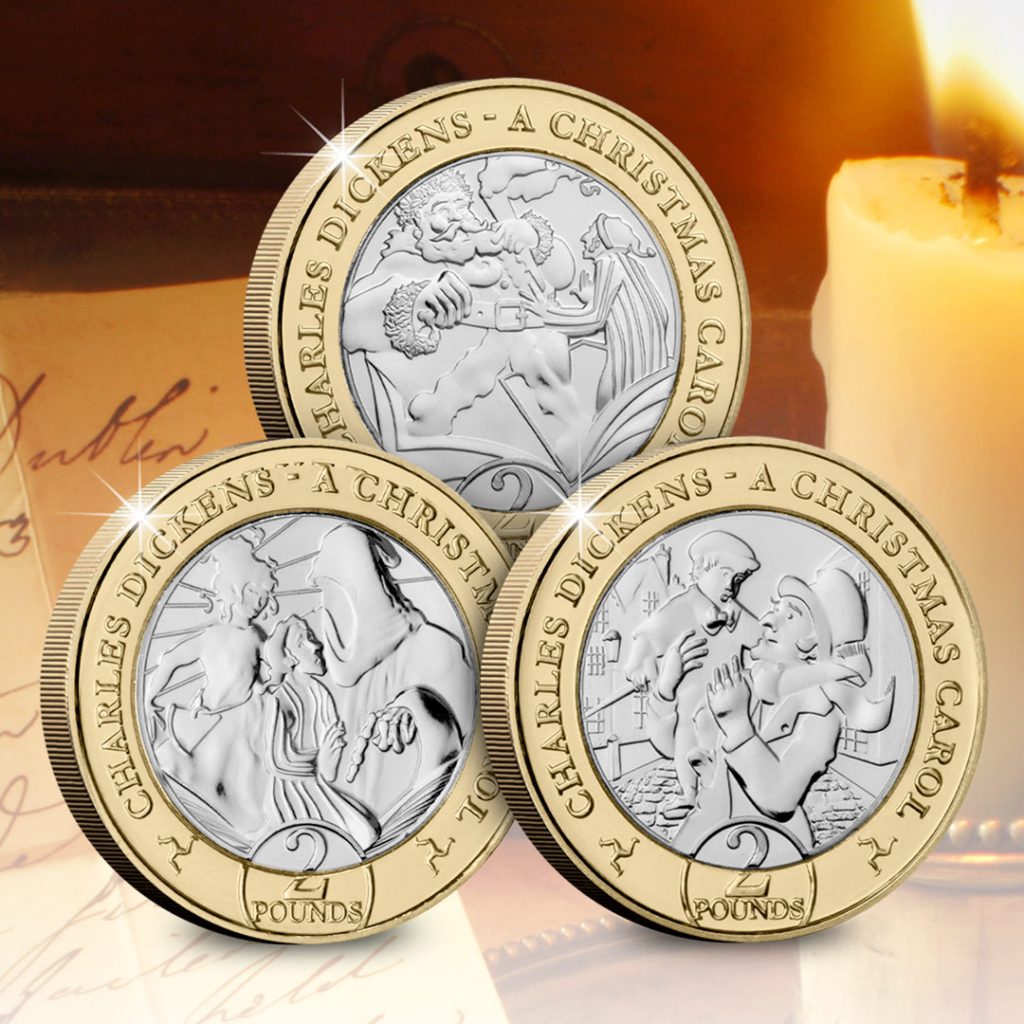 And, in this 150th year since the passing of the greatest novelist of the Victorian Era, Charles Dickens has been celebrated with the release of three enchanting £2 coins, each inspired by his timeless festive tale, including:
Scrooge and the Ghost of Christmas Present
Scrooge and the Ghost of Christmas Past and Ghost of Christmas Yet to Come
Scrooge with Tiny Tim as a representation of his redemption
The 2020 Isle of Man 'A Christmas Carol' £2 Set is a truly unique festive addition to any collection this Christmas season, or could even make the perfect Christmas gift or stocking filler for a friend or relative!
We only have a limited stock available for Change Checkers, so don't miss out on your chance to own this BRAND NEW 2020 'A Christmas Carol' £2 Set for JUST £25.00 (+p&p) by clicking here >>
---
Following in the popularity of previous Isle of Man Christmas coins, this set is sure to be in high demand amongst collectors.
Let's a take a look at some other festive issues we've seen from the Isle of Man…
2019 Santa £2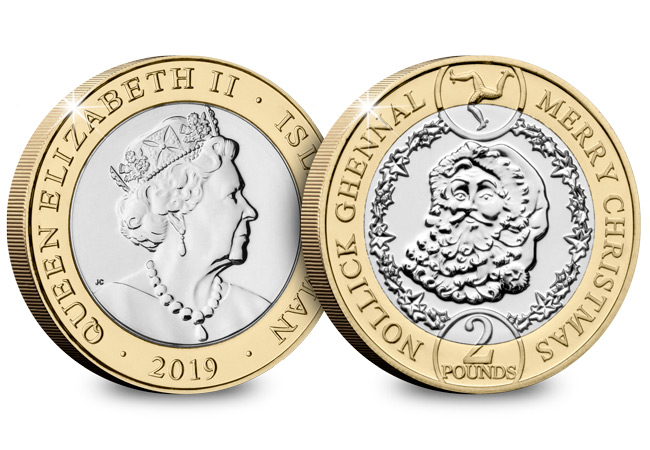 Traditionally, the Isle of Man release Christmas themed 50ps most years, however last year, this incredibly popular Santa £2 coin was released
This magical design features an enchanting portrait of Old St. Nick and bears the inscription 'Nollick Ghennal' which is Manx for 'Merry Christmas'.
At the top of the coin, the distinctive Isle of Man Triskelion (three armoured legs) can be seen.
2003 Snowman 50p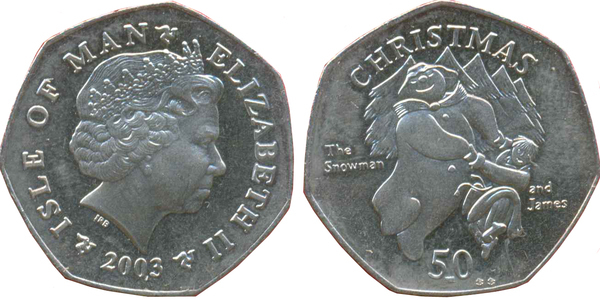 2003 marked the very first time The Snowman featured on circulating coinage.
The Isle of Man released a limited-edition coin to mark the 25th anniversary of the release of the 'The Snowman' by Raymond Briggs.
Only 10,000 of these coins were ever minted, which makes it incredibly sought-after. In fact, this coin sells for well over face value on the secondary market, often fetching more than £200!
Since 2003, the Snowman has featured on a number of Isle of Man Christmas coins, and has even made two appearances on UK coins, which have been incredibly popular with collectors!
2018 Hunt the Wren £2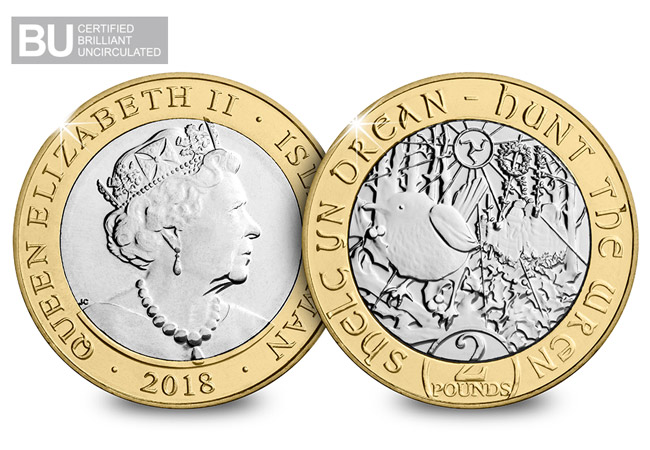 On boxing day on the Isle of Man, communities come together across the island to dance and sing in the streets around "the king of all birds" who is paraded around on a pole.
Hunt the Wren, as it is known on the island has become one of the most popular yet more unusual Manx traditions in practice today.
The practice dates back to Pagan times and is centred on the wren bird, which is hunted and then danced through the streets on a special pole.
This £2 coin was issued in 2018 by The Isle of Man to celebrate the Manx tradition.
2013 Christmas Wreath and Stocking 50p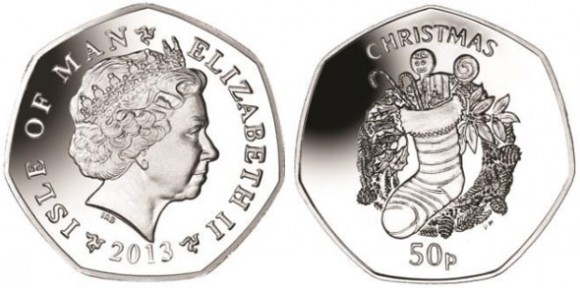 This festive 50p was issued in 2013 on the Isle of Man and features a traditional Christmas wreath and stocking.
It is estimated that only 30,000 of these coins entered circulation on the Isle of Man, making them particularly sought-after. Due to the island having a population of less than 85,000, mintages tend to be much lower than we see in the UK.
---
Let us know in the comments below what you think of these brand new A Christmas Carol £2 coins!
Will you be bringing them home this Christmas?
---
Secure this set of three 'A Christmas Carol' £2 coins to your collection today!
These coins truly are a wonderful addition to any collection and can even make the perfect gift for a loved one!
Secure yours today for JUST £25.00 (+p&p) by clicking here >>
Sleigh bells ring, are you listening? Because a brand new Gibraltar 50p and £2 coin have just been released featuring none other than Father Christmas himself!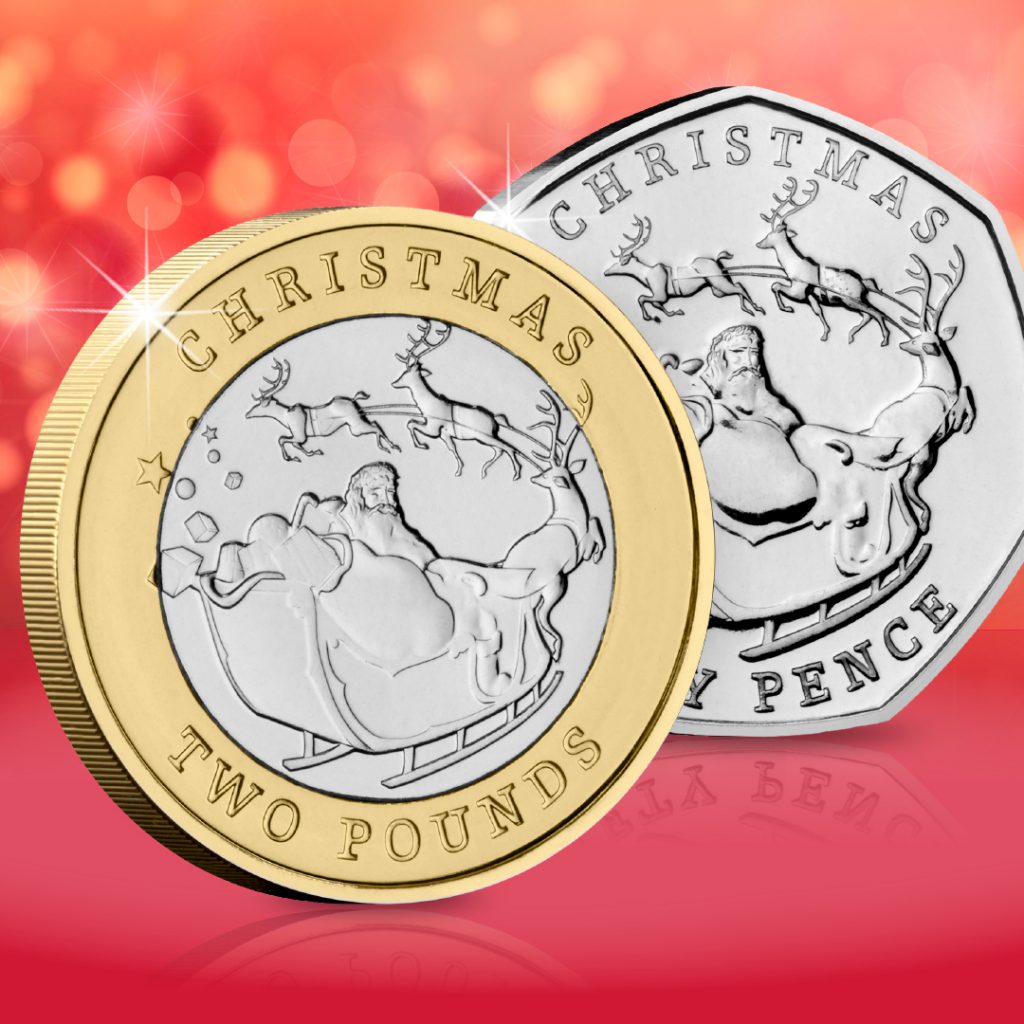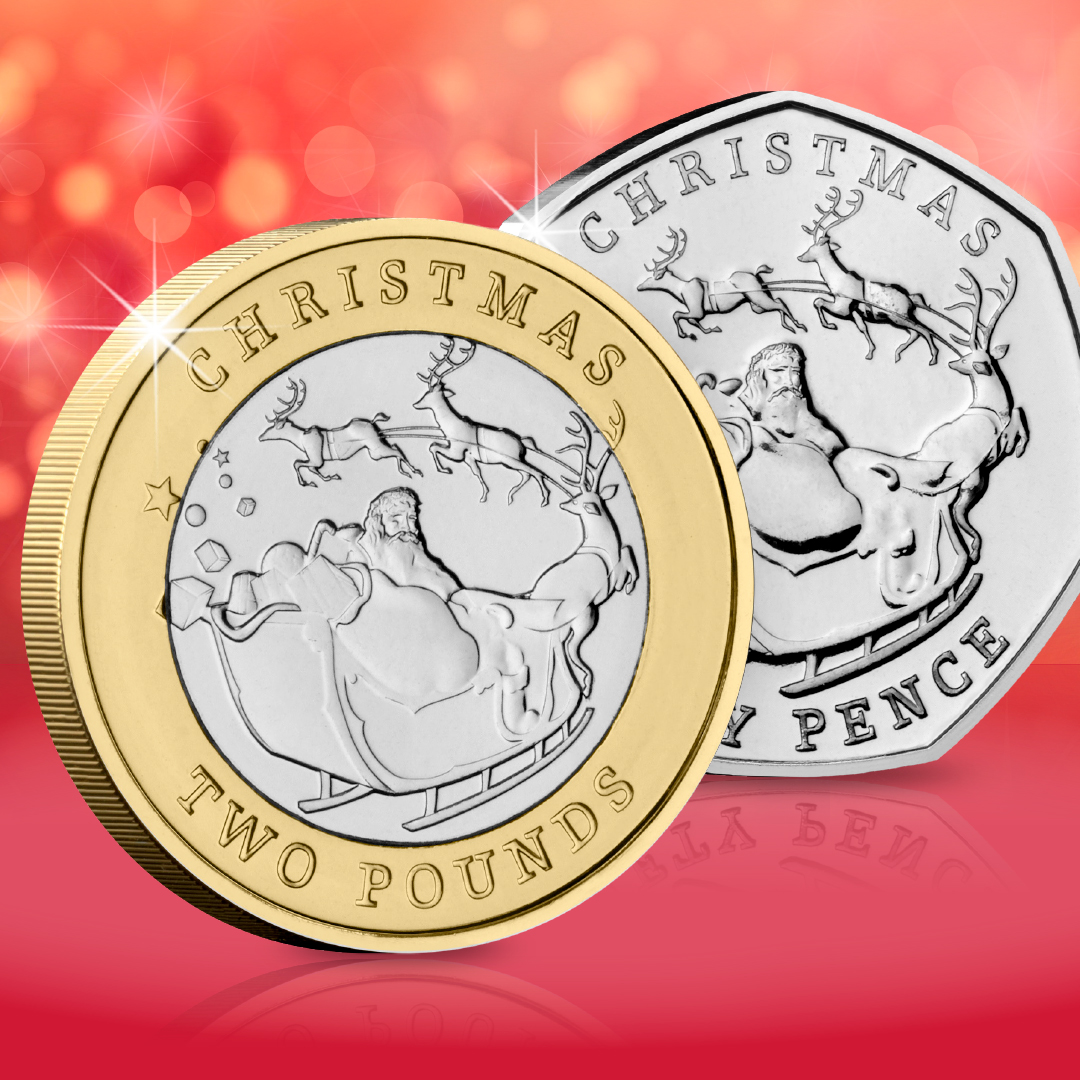 These very festive coins have been released by the Government of Gibraltar, making them particularly sought-after by collectors given the low mintage figures typical from the country!
You can secure this magical Christmas coin pair (the very best way to own these coins!) here for just £13.50 (+p&p).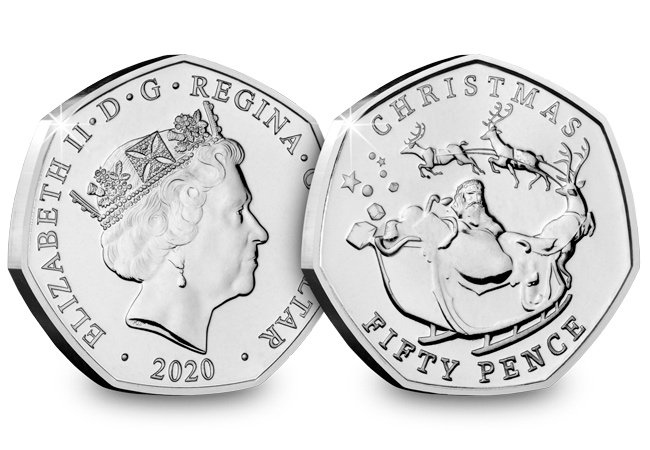 Or, you can secure the single 50p to your collection for JUST £4.50 (+p&p) by clicking here.
Your brand new Gibraltar Christmas 50p & £2 Pair will come in Official Change Checker Packaging, ready to slot into your Change Checker Album!
With previous Gibraltar issues proving immensely popular with collectors, I expect these coins will be snapped up quickly by collectors (especially as we have just a small allocation for Change Checkers!)
A history of popular coins
Gibraltar has released some truly beautiful coins in recent years, and as their mintage figures are typically much lower than UK coins, they are often highly sought-after by collectors…
Coins from Crown dependencies, such as Gibraltar and overseas British territories can sometimes make an unexpected appearance in our change.
They are identical in size, shape and weight to UK denominations which means they often find their way into tills and vending machines undetected.
Whilst these coins aren't technically legal tender in the UK, finding new and interesting designs is always a bonus!
So, whilst it may be tricky to find one in your change, Change Checker has listed our Top 10 Coins from Gibraltar that are worth trying to hunt down!
2019 Breast Cancer £2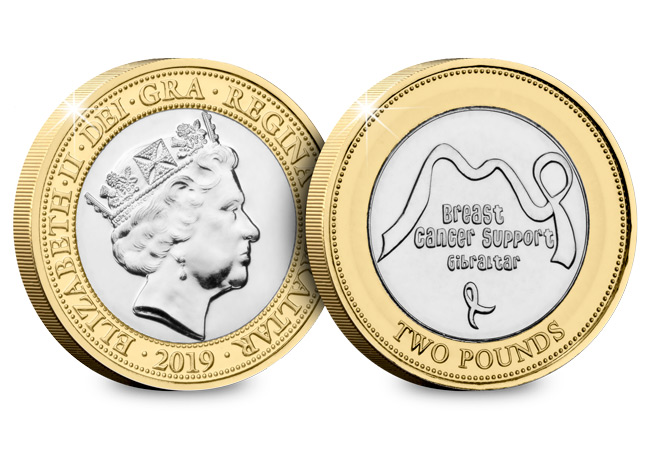 Last year the Government of Gibraltar issued a new £2 coin in partnership with Breast Cancer Support Gibraltar.
However, only a limited number were released into circulation on the Isle of Gibraltar, making it one of the most popular coins of the year, but also one of the most difficult to source.
But not many collectors were aware of the secret this coin was hiding…
The Gibraltar Breast Cancer £2 features a special portrait of Queen Elizabeth II on the obverse. It was originally drawn by Raphael Maklouf for the Gibraltar 90th Birthday £5 coin issue but has also been used on a small selection of Gibraltar coinage.
This portrait is currently not in use by any other country in the world, making any Gibraltar coin with this portrait on extremely collectable!
A limited number of coins were available at The Westminster Collection, and they sold out within hours! Collectors were quick to search on the secondary market to find them and some prices reached over £40!
Gibraltar Candytuft Flowers 50p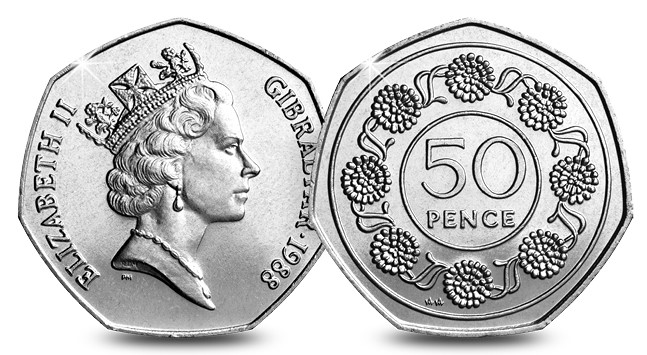 This 50p features the denomination surrounded by a crown of Gibraltar Candytuft flowers, known as 'Iberis Gibraltarica'.
Iberis Gibraltarica is the national flower of Gibraltar and is the symbol of the Upper Rock Nature Reserve which covers 40% of the country's land area. Gibraltar is the only place in Europe where it is found growing in the wild!
In 1988, JUST 30,000 of these 50ps were issued for circulation, making it 7 times rarer than the UK's rarest 50p and particularly scarce and sought after amongst collectors. Another key feature which makes this coin so collectable is that it was issued in the pre-1997 specifications, meaning it's significantly larger than the current 50ps we find in our change!
Rock of Gibraltar £1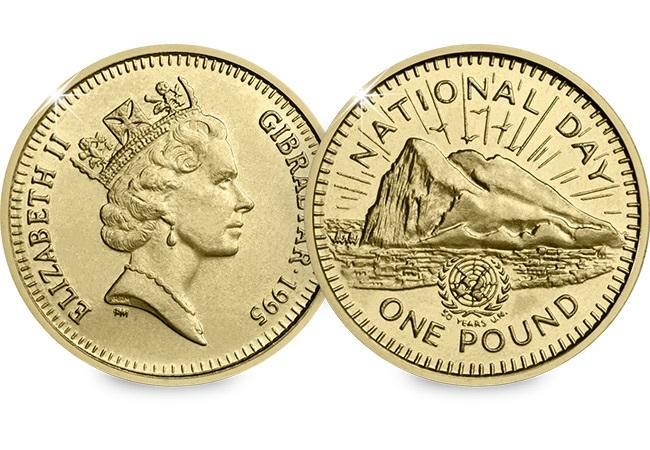 This £1 coin was issued for the 1995 National Day and for the 50th Anniversary of the UN.
National Day is celebrated annually on September 10th and is the official national day of Gibraltar.
The reverse features the iconic Rock of Gibraltar with birds and sun rays above, and the obverse features the Raphael David Maklouf engraving of Queen Elizabeth II.
This £1 is in the older round pound specifications, meaning they won't appear in your UK change as the round pound lost its legal tender status in the UK in 2016, after the introduction of the 12-sided £1. This means it's even harder to get your hands on this coin!
Neanderthal Skull £1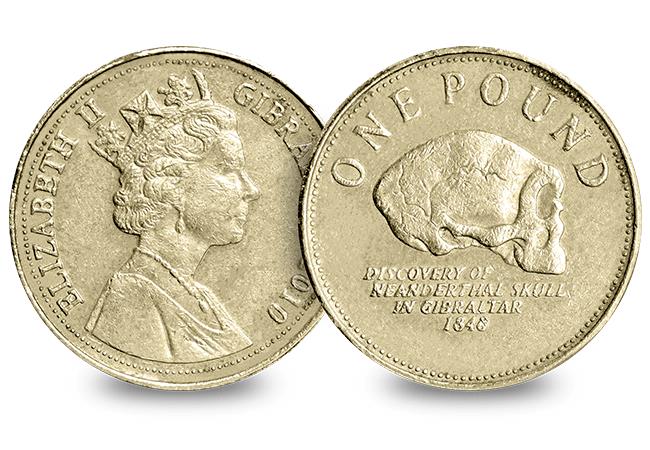 This £1 coin from Gibraltar was issued to celebrate the discovery of a Neanderthal skull in a quarry near the Rock of Gibraltar in 1848.
The Neanderthals in Gibraltar were some of the very first to ever be found and this particular skull is one of the oldest specimens known.
Designed by Philip Nathan, the reverse features the Neanderthal skull and lettering, "Discovery of Neanderthal skull in Gibraltar 1848". The obverse was designed by Raphael Maklouf and features the crowned bust of Queen Elizabeth I.
Capture of Gibraltar 50p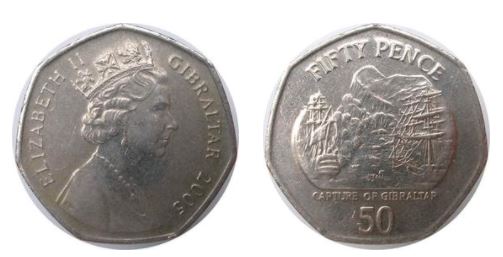 This 50p was issued in Gibraltar in 2005 to commemorate the Capture of Gibraltar in 1704, during the war of the Spanish Succession.
As part of the Allied strategy, Sir George Rooke had been sent with an Anglo-Dutch force into the Mediterranean to attack the French in Toulon. However, when his objectives proved impracticable, Rooke decided to justify his command by attacking Gibraltar.
The coin features a design on the reverse of ancient ships at sea with the Rock of Gibraltar in the background, paying tribute to the Anglo-Dutch fleet that sailed into Gibraltar. The obverse features the third portrait of Her Majesty by Royal Mint engraver Raphael D. Maklouf.
---
So will Santa be visiting you this Christmas in the form of the Gibraltar 50p and £2 pair? Comment below!
---
Don't miss your opportunity of owning this magical Christmas coin pair!
Due to the limited circulating mintages of these coins, we have just a small allocation for Change Checkers, so don't miss the opportunity to secure yours this Christmas!
Secure the 2020 Gibraltar Christmas £2 and 50p pair today for JUST £13.50 (+p&p) by clicking here >>
We're delighted to announce the 2020 Change Checker Awards in association with All About Coins, where we'll be celebrating the very best of the change collecting world from 2020!
We're looking for the 2020 Change Checker of the Year and the 2020 Junior Change Checker of the year and we need your help!
Do you know somebody who deserves to be crowned 'Change Checker of the year'? If so, we'd love to hear why.
Has someone you know completed an epic collection? Do you know somebody who's gone above and beyond to help other Change Checkers complete their collections? Or have you been introduced to the world of change collecting by another Change Checker?
If you know someone who has been the perfect Change Checker, we want to hear from you.
Send an email outlining why your family or friend[s] deserve to win this coveted award to Awards@changechecker.org.
Alternatively, you can submit your entry using the sign-up form at the bottom of this blog.
Finally, you can leave a comment on any of our social media pages but be sure to use the hashtag #CCAwards2020.
To qualify for Junior Change Checker of the year the application must be aged 16 or younger. The closing date for entries is 5pm on Friday 4th December.
All entries will be judged by our panel and the results announced on Wednesday 9th December. Please see terms and conditions.
The victorious Change Checker and Junior Change Checker of the year will each win an exclusive Change Checker trophy and a bundle of goodies worth more than £50, including a year's subscription to Coin Collector magazine!
Categories
The other categories that make up the Change Checker Awards are:
Coin Story of the Year 2020 – chosen by our panel.
Top 3 Pieces of 2020 Coin Art – judged by our panel and chosen from your email submissions and social media posts. To submit your coin art, please email awards@changechecker.org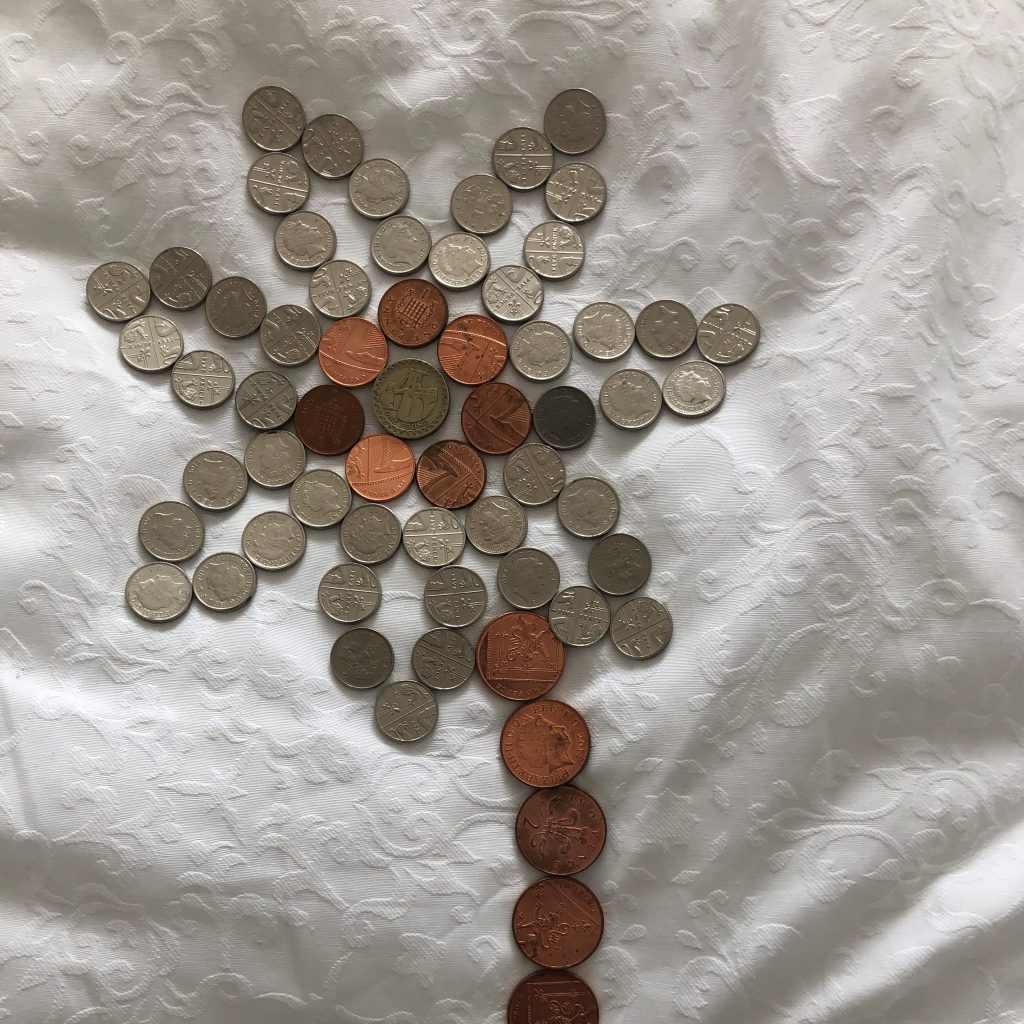 UK Coin Design of the Year 2020 – judged by you!
UK Coin Design of the Year 2020
Votes for the top 50p, £2, and £5 coin have now closed.
Tune back on Monday 30th to cast your vote for the overall Top UK Coin Design of the Year 2020!
---
The winners for all Change Checker Award categories will be announced on the 9th December.
Good Luck!
Submit your 2020 Change Checker of the Year nomination here:
Submit your 2020 Junior Change Checker of the Year nomination here:
---
Terms and Conditions
The winners will receive an exclusive Change Checker trophy and a bundle of goodies, as well as a year's subscription to Coin Collector magazine. There is no cash alternative.
Participants agree to meet reasonable requests to assist publicity.
The Change Checker Awards 2020 are promoted by The Westminster Collection / Change Checker, trading divisions of 288 Group Ltd.
Employees of 288 Group and their families are not eligible to enter.
The judges' decision will be final and no explanation, correspondence or discussion will be offered or entered into before or following the judges' decision.
---
If you're interested in coin collecting, our Change Checker web app is completely free to use and allows users to:
– Find and identify the coins in their pocket
– Collect and track the coins they have
– Swap their spare coins with other Change Checkers

Sign up today at: www.changechecker.org/app