It's time for the latest Scarcity Index update, your chance to discover the UK's most sought after circulation 10p, 50p and £2 coins.
This information has been compiled using data from the Change Checker Swap Centre and presented in the easy-to-use indexes below, with arrows to signify how many places up or down a coin has moved since the last Scarcity Index update.
Where will the first King Charles III 50p rank?
Excitingly, the first circulating coin to feature King Charles III on the obverse – the Her Majesty Queen Elizabeth II Memoriam 50p – entered the Scarcity Index for the first time in our previous update.
As this is only the second time a King Charles III 50p has featured in our Scarcity Index, it currently ranks as common. Despite entering circulation almost a year ago, the Her Majesty Queen Elizabeth II Memoriam 50p will still be making its way into collections, and those who do find one in their change will no doubt be holding onto it.
Keep your eyes peeled for future Scarcity Index updates to see where the first King Charles III 50p will rank!
Haven't found this coin in your change yet? Find out where in the UK you're most likely to find one here >>
50p Scarcity Index
Whilst the latter half of the 50p index has remained fairly stable, there have been some huge movers in this latest update.
Climbing an impressive 14 places is the second coin in the Paddington 50p series – the 2019 Paddington at St Paul's Cathedral 50p. The Paddington 50p series was incredibly popular with collectors, and inspired many younger people to start collecting. The Paddington at St Paul's Cathedral 50p was even voted the second favourite coin in the series in a 2019 poll.
Another 50p that shot up the ranks is the Sir Arthur Conan Doyle 50p, which moved up a massive 15 places. This 50p has previously been sitting near the bottom of the Scarcity Index, making it one of the most common 50ps in circulation, however it looks like it could now be becoming more sought after among collectors.
There has also been movement amongst some of the Olympic 50ps, with the Fencing and Gymnastics 50ps both moving up 10 places. This puts them near the top of the index, which is usually reserved for some of the rarest 50ps in circulation.
Some less fortunate coins are the Mrs Tiggy-Winkle 50p which has dropped by 15 places, and the Roger Bannister 50p which fell 14 places.
If you're new to collecting and want to find out more about circulation coins, you can check out our fact files here >>
Otherwise, keep reading to find out which 10ps and £2 coins you should be looking out for.
10p Scarcity Index
There has been quite a shuffle up on the A-Z 10p Scarcity Index, with all but 3 coins moving.
The biggest change since the last update is the previously 'less common' C for Cricket 10p, which has dropped 12 places. Also moving down the ranks are the E for English Breakfast 10p and the O for Oak 10p, which fell by 9 and 10 places respectively.
It's not all bad news though, as the G for Greenwich Meantime 10p climbed 10 places and the K for King Arthur 10p rose by 8 places.
*Note*
It's worth remembering that this Index is only ranking the 10ps against each other, when really even the ones at the bottom of the list are still incredibly sought-after and even now (4 years on since they were last released) they are still the coins every collector seems to talk about!
And that's no surprise, as a maximum of JUST 304,000 of each A-Z 10p design entered circulation across 2018 and 2019 – making them some of the rarest coins out there. So make sure you keep your eyes peeled for them in your change!
£2 Scarcity Index
We tend to see less movement on the £2 index due to the fact less coins have entered circulation in recent years – as you can see from the bottom of the latest £2 Index. However, it's worth remembering just how rare and collectable some of these coins are, even after being in circulation for so many years.
As always, the Commonwealth Games N. Ireland £2 remains at the top of the list due to it's incredibly low mintage of just 485,000.
The 2014 Trinity House £2 has recovered the 7 places it fell by in the last update, putting it back into the 'less common' category. However, the Darwin £2 and the Gunpowder Plot £2 have both gone down by 6 places. This could be due to people holding onto their Gunpowder Plot £2 during Firework Night, meaning less swaps were raised for it.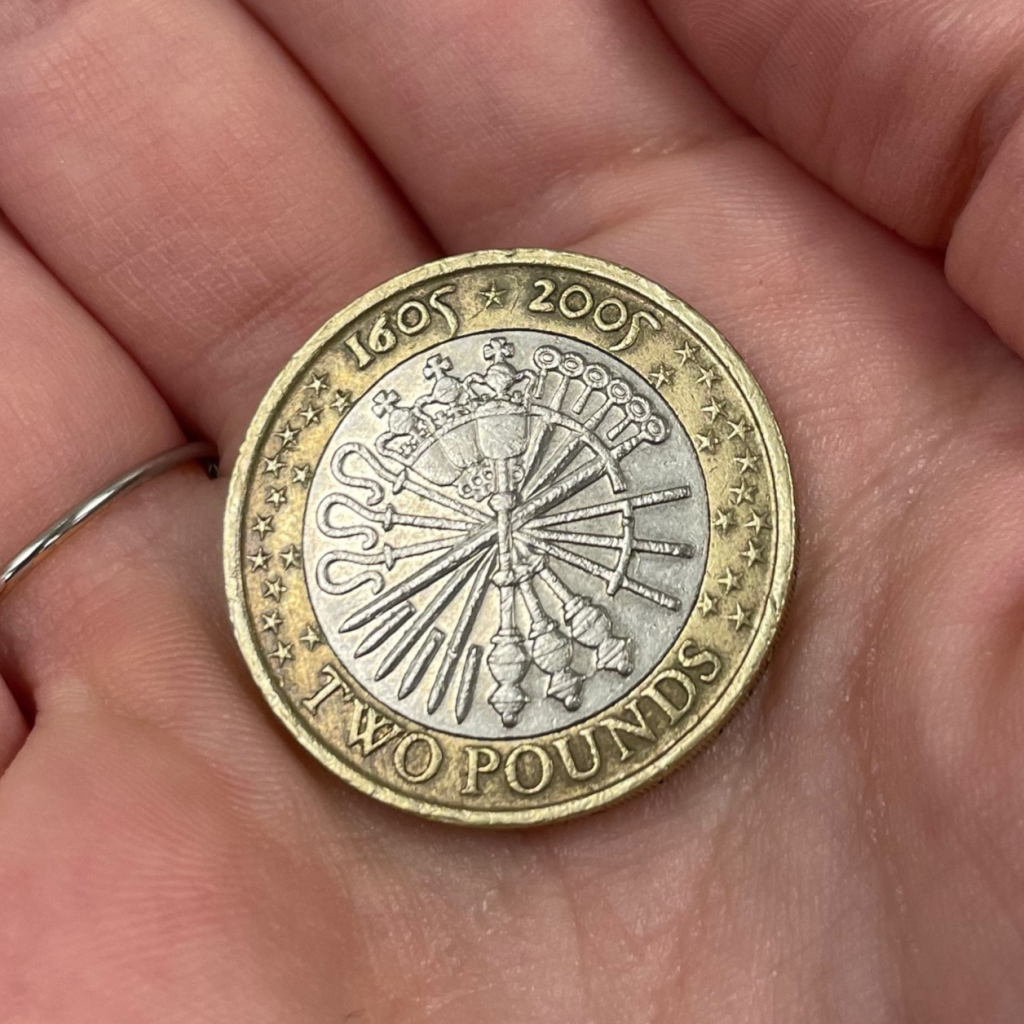 Despite less £2s entering circulation, it's certainly still worth holding onto any coins you can find, before they're snapped up!
---
How your Scarcity Index works
Generally collectors have relied on mintage figures to identify the scarcest coins. But they only tell part of the story.
Trying to find a good quality coin from 15 – 20 years ago, even for a higher mintage issue, is much more challenging than a more recent issue, as coins become damaged over time and are ultimately removed from circulation.
What's more, some designs are more hoarded than others by people who might not normally collect coins – for example the First World War £2 Coin series.
Finally, it can be up to a couple of years before the Royal Mint eventually confirms the actual mintage for an issue.
That's why we have combined the mintage information with two other key pieces of information:
How many of each design are listed as "collected" by Change Checkers, indicating the relative ease of finding a particular coin
The number of times a design has been requested as a swap over the previous 3 months, showing the current level of collector demand
Importantly, as new coins are released and popularity rises and falls across different designs, the Scarcity Index will be updated quarterly. This allows Change Checkers to track the relative performance of the UK's circulation coins.
---
How much are my coins worth?
The Scarcity Index doesn't necessarily equate to value, but it is certainly a good indicator. For example, the Kew Gardens 50p coin commands a premium of up to 200 times face value on eBay and is unsurprisingly top of the 50p Index.
You can use our 6 point guide to help you determine a more realistic value for your coins.
---
What about £1 Coins?
The £1 Scarcity Index has already been published for the Round £1 coins. Because they are no longer being issued, this is now set in stone.
---
Receive new UK coins without the hassle of placing orders on the day of release!
Join the Change Checker UK CERTIFIED BU Subscription Service and receive new UK coins sent to your door without the hassle of placing orders on the day of release!
Don't miss your chance to get ahead of the crowd and be one of the very first collectors to receive the latest UK new issue coins as soon as possible after their release.
It just doesn't feel like Christmas until the new UK The Snowman™ 50p is released!
You could even say it's become a festive tradition that each year, the beloved Snowman™ features on a new UK 50p. And luckily for collectors, 2023 is no exception…
In fact, this year's coin is sure to have collectors dancing for joy. That's because The Snowman™ has danced his way onto a brand new 50p in a magical scene set against a backdrop of the Northern Lights.
Available now in superior Brilliant Uncirculated quality, you can add this frosty friend to your 50p collection in time for Christmas here >>
The Story of The Snowman™ on Coins!
The Snowman™ first appeared on a UK 50p back in 2018 to celebrate the 40th anniversary of Raymond Briggs' much-loved festive tale. Since then, we've seen a Snowman™ 50p issued each year, making this new coin the 6th release in the series – and the first to feature King Charles III on the obverse.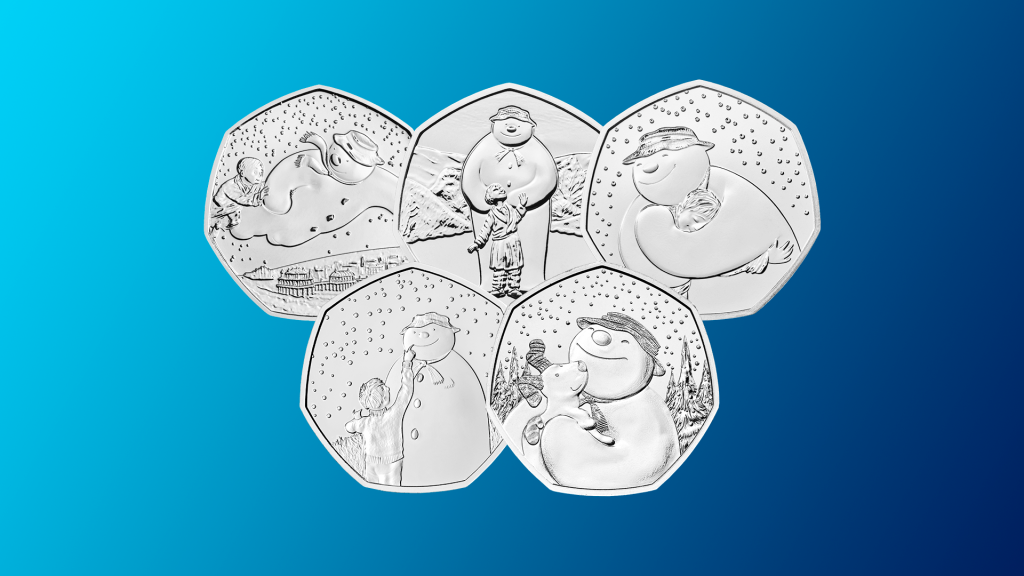 Over the years, we've been treated to some of the most iconic scenes on our coins, taken from the original tale and even the 2012 film, The Snowman™ and The Snowdog™. The Snowman™ and the young boy, James have previously been seen sharing adventures and flying through the night sky, but last year's 50p was a little different, as the adorable Snowdog™ joined the frosty fellow for the very first time!
Unsurprisingly, the Snowman™ coins prove to be some of the most popular releases each year and now only the 2022 coin is still available at the mint.
But it's not just UK collectors who are treated to coins featuring the Snowman™…
Over the years, The Snowman has featured on a number of different 50ps from The Isle of Man, some of which are incredibly sought after.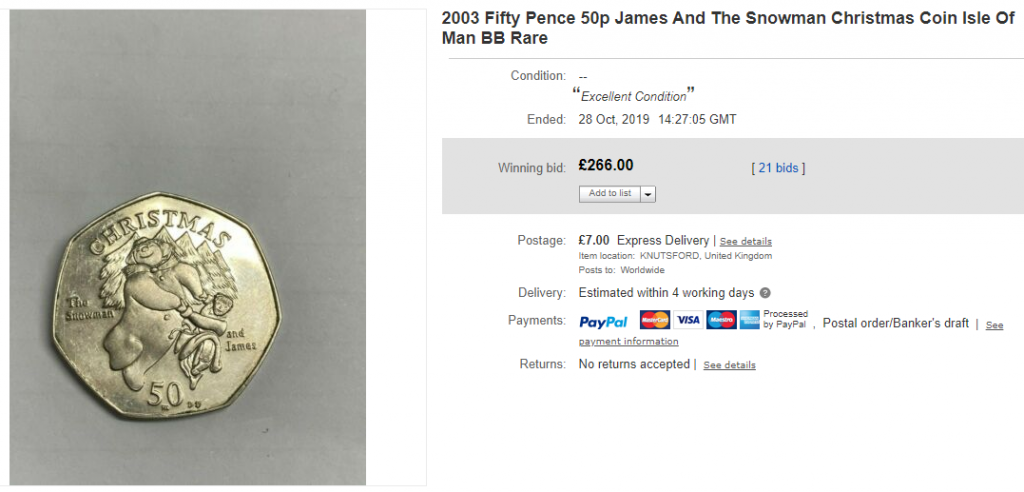 One such coin from 2003 featuring James and The Snowman™ sold for over £250 on the secondary market in 2019 – not a bad return on a 50p coin!
Now collectors have the chance to own the very latest UK release, with James and his snowy friend dancing below the famous Northern Lights – a design sure to melt the heart of any collector this Christmas.
The scene perfectly captures the magic of the heartwarming story, which is read by so many people every year. Just like the tale of The Snowman™, these new 50ps have also become a Christmas tradition, so if you weren't starting to feel festive already, you should be now!
And if you're still looking for that perfect numismatic gift this Christmas, or perhaps just a treat for yourself, look no further than the Change Checker Christmas range >>
---
Own your 2023 UK The Snowman™ 50p in time for Christmas
You can bet this latest coin will be at the top of every collector's wish list this year, so whether you're a collector of the Snowman™ 50ps yourself, or you think it'd make the perfect gift for a loved one, you can secure the 2023 UK The Snowman™ 50p for just £4.99 (+p&p) here >>
On 10th August 2023, 5 million UK King Charles III Coronation 50ps entered circulation. Collectors were keen to get their hands on one, with many trying to get them directly from banks and post offices, and some hoping to find one in their change.
We wanted to know where the Coronation 50ps were being found, so we opened our collector map to track them up and down the country. In just over two months, nearly 550 collectors input their postcode to let us know where they found the Coronation 50p, so let's take a look at where in the UK you're most likely to find one…
Where can you find the UK Coronation 50ps?
We've gathered the data from our collector map, and we can reveal the 5 places you're most likely to find a Coronation 50p in your change are…
5. Leicester
2.5% of Coronation 50ps were found in Leicester.
4. Norwich
2.6% of Coronation 50ps were found in Norwich.
3. Cardiff
2.8% of Coronation 50ps were found in Cardiff.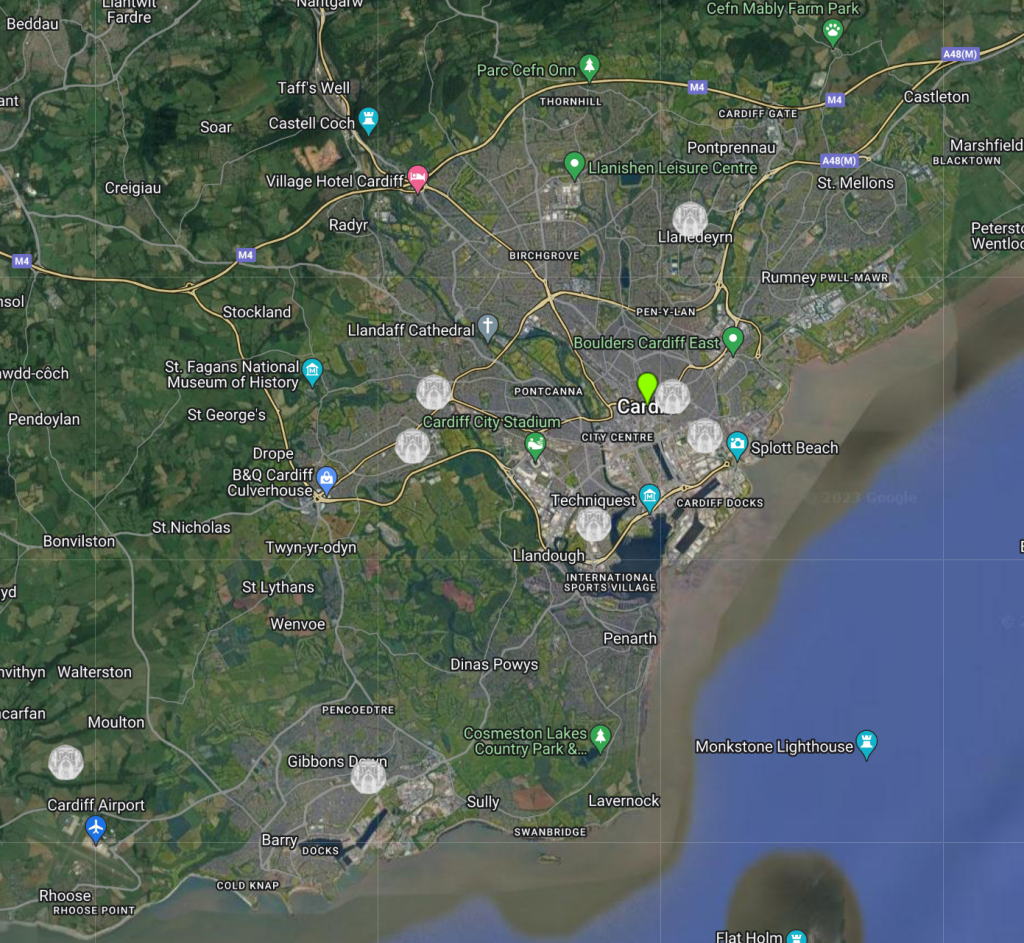 2. Derby
2.9% of Coronation 50ps were found in Derby.
1. Birmingham
5.1% of Coronation 50ps were found in Birmingham.
You can view the full collector map here to check how many Coronation 50ps have been found in your area.
How much is the UK Coronation 50p worth?
A common question we get is 'how much is the Coronation 50p worth?'. Many factors determine the value of a coin, but ultimately it depends on what someone is prepared to pay for it.
We've used our eBay Tracker formula to work out how much a circulation Coronation 50p might be worth. As you can see, they are selling on the secondary market for around £2.79, which is a 458% increase from the face value.
So now you know where in the UK you have the highest chance of finding a Coronation 50p in your change, and how much you could expect to pay for one on the secondary market.
Owners of the Coronation 50p also own a small piece of history as it's the first ever UK Coronation 50p to be issued. If you haven't had any luck finding the Coronation 50p in your change, you can secure the crowned collectors version in Brilliant Uncirculated quality for just £4.99 (+£2.99 postage) here >>
What's next for UK coinage?
It's all change for UK coinage, as we've been treated to eight brand new designs that will feature on our everyday coinage! These new UK coins represent British wildlife and conservation, a passion of King Charles III.
Find out more about the UK's New Coinage here or to secure the complete New UK Coinage set for your collection, click here >>