Winnie the Pooh has been on a very big adventure this week, as he appeared on the UK's 50p for the very first time, and has even made the headlines!
Coin collectors and Winnie the Pooh fans alike have been eager to get their hands on the first coin in the series of nine. Whilst we only have the designs for the first three, which will all be released individually this year, Change Checkers have already fallen in love with the series.
The coins have been designed by The Walt Disney Company, having taken inspiration by the original illustrations by E.H Shepard in A. A. Milne's classic story.
But out of the 2020 issues, which design is your favourite? Have your say in our poll!
---
Secure the 2020 UK Winnie the Pooh 50p for JUST £4.50 (+p&p)
Own the 2020 UK Winnie the Pooh 50p in Brilliant Uncirculated quality by clicking here >>
"It isn't much good having anything exciting, if you can't share it with somebody." said Winnie the Pooh
Well, this silly old bear was right, as we're so excited to share with Change Checkers that the brand new Winnie the Pooh 50p has just been released!
This coin is the first in a 3-year collection of 9 coins celebrating this world-famous, honey-loving bear!
2020 UK Winnie the Pooh 50p
First in the series we see Winnie the Pooh himself, just as we remember him, with a reverse design by The Walt Disney Company which features an original illustration from the Winnie the Pooh storybooks by E.H. Shepard.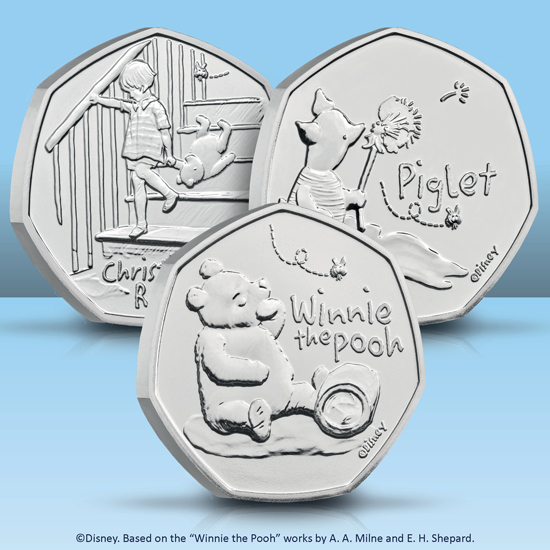 This 50p has been issued in a number of specifications, including Brilliant Uncirculated quality for JUST £4.50! (+p&p)
The Story Behind the Classic
Winnie the Pooh was a collection of short stories first published in 1926 by A.A. Milne, for his son, Christopher Robin.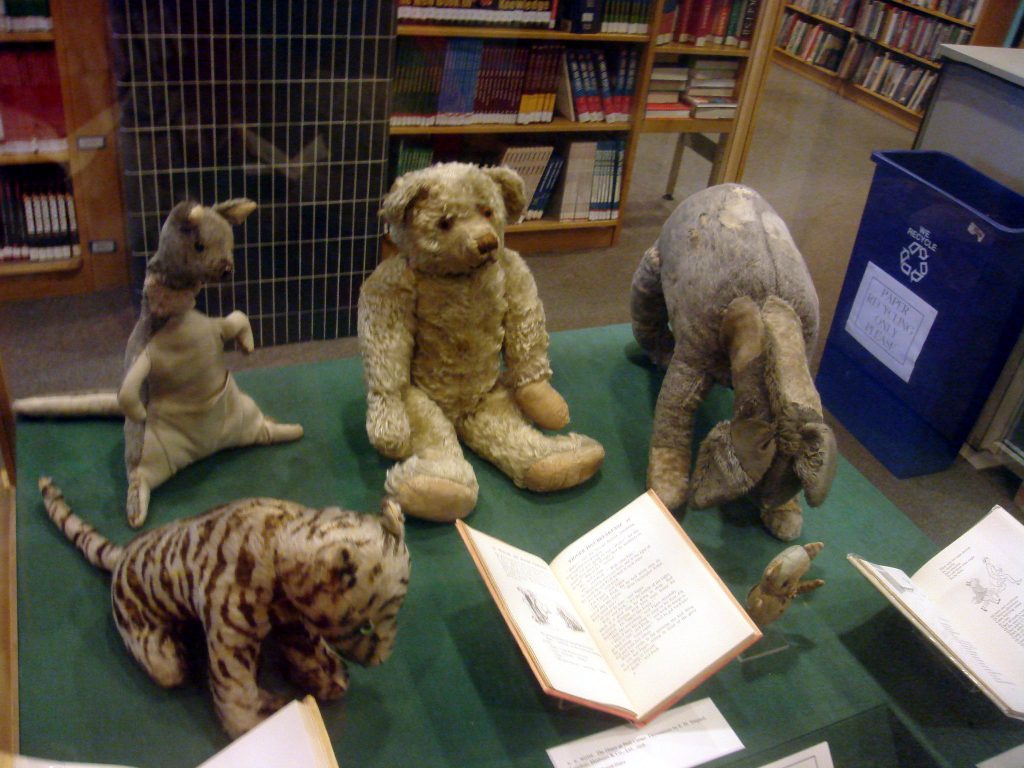 Most of Christopher Robin's real life toys were the inspiration for A.A. Milne's characters, but most significantly his favourite teddy bear which Winnie the Pooh himself is based on!
Alongside Winnie the Pooh, the fictional Hundred-Acre-Wood is inhabited by:
The timid but sometimes brave, Piglet
The glum but loveable donkey, Eeyore
The bouncy, one-of-a-king, Tigger
The loving and gentle, Kanga and her baby Roo
The terribly organised Rabbit,
The wise, old, Owl, and
The scary, honey-stealing Heffalumps!
The timeless and universal appeal of this silly old bear is unparalleled. He's featured in 3 books, various film adaptations, and much much more.
But today, for the first time in the UK, he features on the nation's best-loved coin, the 50p.
This brand new coin has has been issued in Superior Brilliant Quality for JUST £4.50 (+p&p) and a range of other specifications.
Could this become the most sought-after 50p ever?
We've seen some incredible character 50ps in the past, which have been a world-wide hit with collectors.
In 2019, to mark the 20th Anniversary of Julia Donaldson's much-loved children's book The Gruffalo®, a new 50p was issued.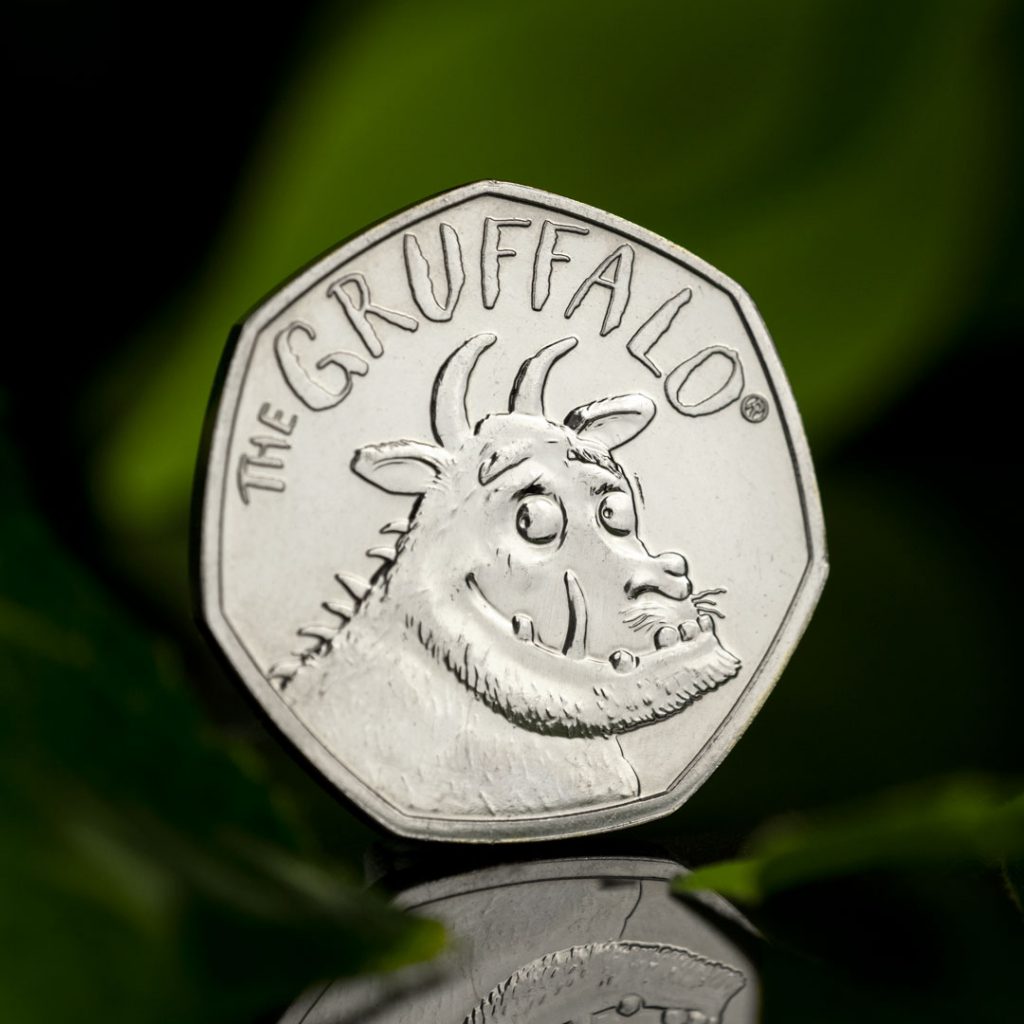 This coin was so popular that the silver-proof version completely SOLD OUT at the Royal Mint within 12 hours of its release, making it the fastest selling and most popular 50p ever. That's a 50p sold every 2 seconds!
We've also seen the huge popularity of the Beatrix Potter 50ps, issued to celebrate the life and work of Beatrix Potter and the 150th Anniversary of her birth.
These coins were so popular amongst collectors, they reached heights that hadn't been seen since the 2011 Olympic 50p series. Collectors of all ages were racing to add these coins to their collections and to gift them to friends and family.
And now that a brand new series has just been released featuring an all-time favourite childhood character, could we see this first coin becoming even more popular than the likes of the 50ps mentioned above?
Winnie the Pooh 50p Series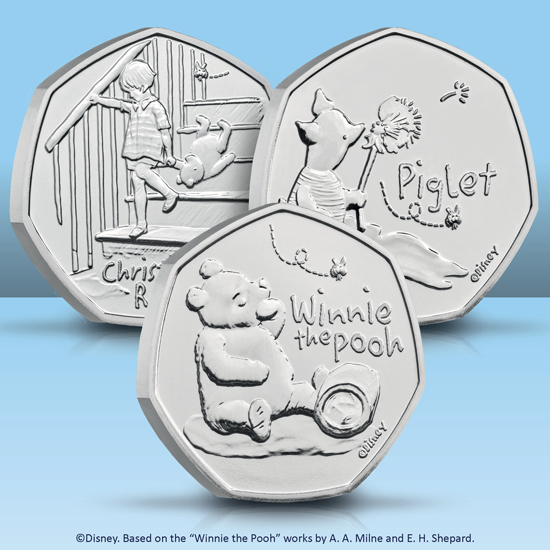 The first coin in the Winnie the Pooh 50p series has JUST been released today, featuring none-other than the silly old bear himself.
Later in 2020, Christopher Robin and Piglet will continue this honey-sweet 50p series.
This 50p series is sure to be a hit with collectors, so make sure you don't miss out on owning the next two coins in the series.
---
This coin is sure to be a hit with coin collectors and Winnie the Pooh fans alike!
We can't wait for the release of the Christopher Robin and Piglet 50p coins and to see how the rest of the Winnie the Pooh 50p series unfolds!
Which Winnie the Pooh character would you like to see celebrated on a 50p? Comment below!
---
Secure the first-ever UK Winnie the Pooh 50p to your collection today for JUST £4.50 (+p&p)
This 50p series is set to be the most popular of the year, so make sure you don't miss out in owning the brand new 2020 UK Winnie the Pooh 50p in Brilliant Uncirculated quality for JUST £4.50 (+p&p).
Click here to secure one for your collection!
©Disney. Based on the "Winnie the Pooh" works by A. A. Milne and E. H. Shepard.
I'm sure we could all use a bit of escapism right now, and so I invite you to join us on a trip far away as we return to Neverland for one last time…
Last year, the collecting world experienced the magic of the world's first Peter Pan 50ps, issued by the Isle of Man and developed in partnership with Great Ormond Street Hospital Children's Charity.
The unprecedented demand for these coins saw tens of thousands queuing to get their hands on the stunning new issues. And in just a matter of months, through the sales of these Peter Pan 50ps, collectors raised over £250,000 for Great Ormond Street Hospital.
Today I have some very exciting news to share with you, as the SECOND (and final) collection of British Isles Peter Pan 50ps have just been released!
LAST EVER Peter Pan 50p
The FINAL Peter Pan 50p has been issued by The Isle of Man, continuing the 90th anniversary celebrations of author JM Barrie gifting his rights in the story to Great Ormond Street Hospital.
This brand new coin features an enchanting illustration of Peter Pan and Tinkerbell on the reverse design, created by David Wyatt and Matt Tindall.
Available in Brilliant Uncirculated quality, this coin comes encapsulated in official Peter Pan packaging.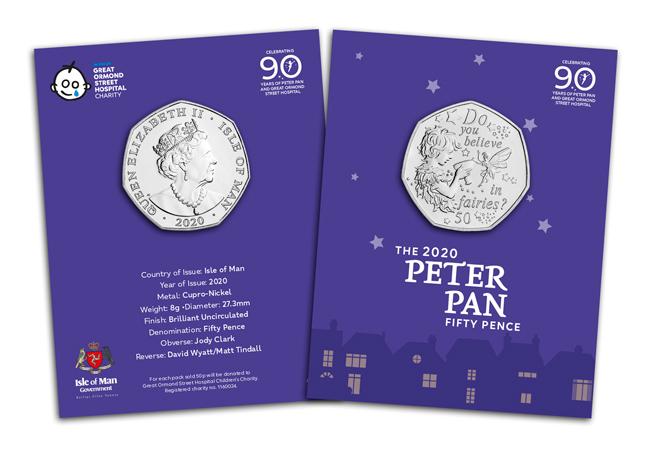 Or, for those collectors looking for a touch more magic, this coin is also available in stunning .925 Sterling Silver Proof quality, featuring coloured illustrations.
Six BRAND NEW Coins
Excitingly, 5 more Peter Pan 50p coins have also been created this year and are available alongside the Peter Pan and Tinkerbell coin in this fantastic six coin set.
This year's characters include:
Peter Pan and Tinker Bell
The Mermaid
Smee
The Jolly Roger
Peter Pan at the window
Tinker Bell
But which is your favourite? Let us know in the comments below!
The set is available in Brilliant Uncirculated quality and .925 Sterling Silver Proof quality, featuring those beautiful coloured illustrations.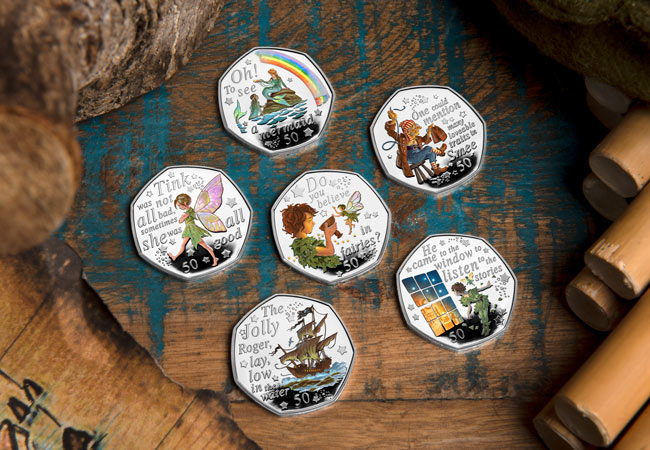 These 50ps are only available as a set and if you don't want to miss the chance to own them, you'll need to act fast, as they have been issued with some incredibly low edition limits…
Strictly Limited Edition
These brand new 50ps are sure to sweep you off your feet, however what's most exciting about the coins is that there are some very low edition limits for the Silver Proof versions…
Silver 50p coins are, without doubt, the collector's favourite and a sell-out is inevitable. Especially when you consider the edition limit for the single coin is just half of last year's edition at 4,995 and the complete set is strictly limited to just 1,995 worldwide! So that's the same quantity as last year's edition limit which completely SOLD OUT.
In fact, even Silver Proof 50ps with much higher mintage figures often still result in sell-out stories.
For example, the UK Gruffalo 50p released in 2019 had a mintage of 25,000 and sold out at The Royal Mint in just a few hours after its release!
And so I wouldn't be surprised to see demand for these brand new Silver Proof Peter Pan 50ps exceed the amount available.
Gold Proof Peter Pan 50p
For the creme-de-la-creme, and by far the most limited way to own this coin, a .916 Gold Proof version of the Peter Pan and Tinker Bell 50p has been issued.
This official new release has been given a strict edition limit of JUST 500 worldwide, MUCH LOWER than previous Gold Proof 50p sell-outs.
Just a handful of lucky collectors will have the chance to own this prestigious new Gold Proof coin.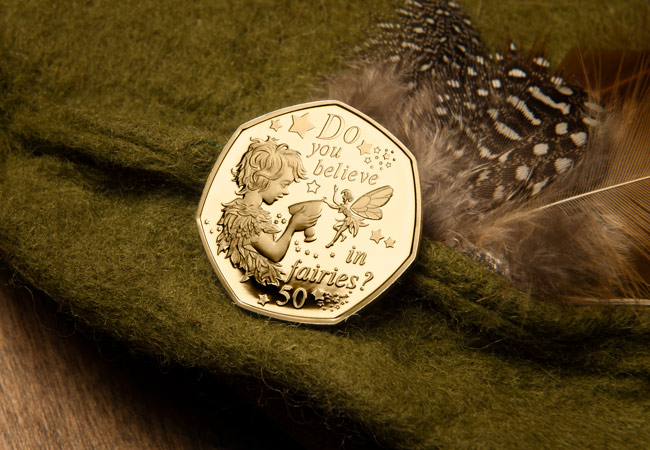 Can I find the Peter Pan 50ps in my change?
If you're living on the Isle of Man, then yes!
25,000 of each coin will be entering circulation on the Isle of Man, but when you compare that to the mintage figures for UK coins (our rarest 50p in circulation has a mintage of 210,000) you'll realise just how few of these coins are actually out there.
Coins issued on the Isle of Man typically have lower mintage figures due to the smaller population of just 84,000 which means that their coins are particularly sought-after amongst collectors.
And, based on the popularity of last year's coins, I'm sure that British Isles collectors will be super quick to snap these ones up!
Peter Pan remains one of the most cherished and loved children's stories of all time and if last year's coins are anything to go by, I'm sure these new 50ps are going to be some of the most sought-after coins of the year.
As with last year's coins, each has been developed in partnership with Great Ormond Street Hospital Children's Charity (GOSH Charity). For every coin or set sold a donation will go directly to GOSH Charity to help support the hospital and the seriously ill children from across the UK who are cared for there.
---
Secure your 2020 Peter Pan 50p coins today!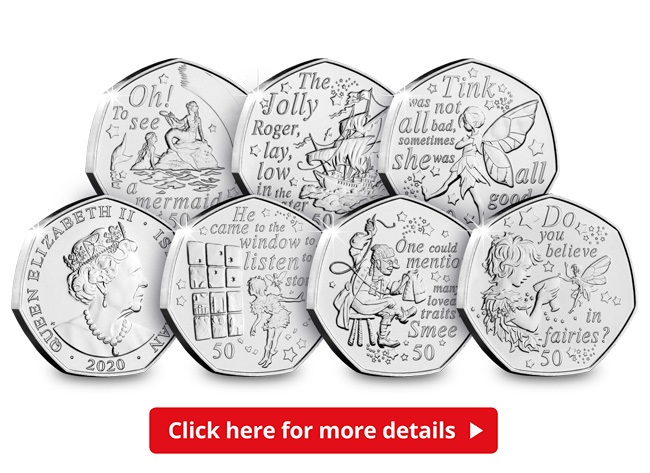 To discover the magic of these brand new 50ps and add the brand new Peter Pan 50ps to your collection, click here to see the full range.