2020 is already shaping up to be a big year for coin collectors, as recent Royal Proclamations have revealed an exciting line-up of new coins to look forward to next year.
And we've just heard the biggest news yet… In fact, this news is so colossal that it's sure to shake the coin collecting community!
That's because the Royal Proclamation on the 8th November has revealed a brand new series of dinosaur themed 50p coins will be released next year.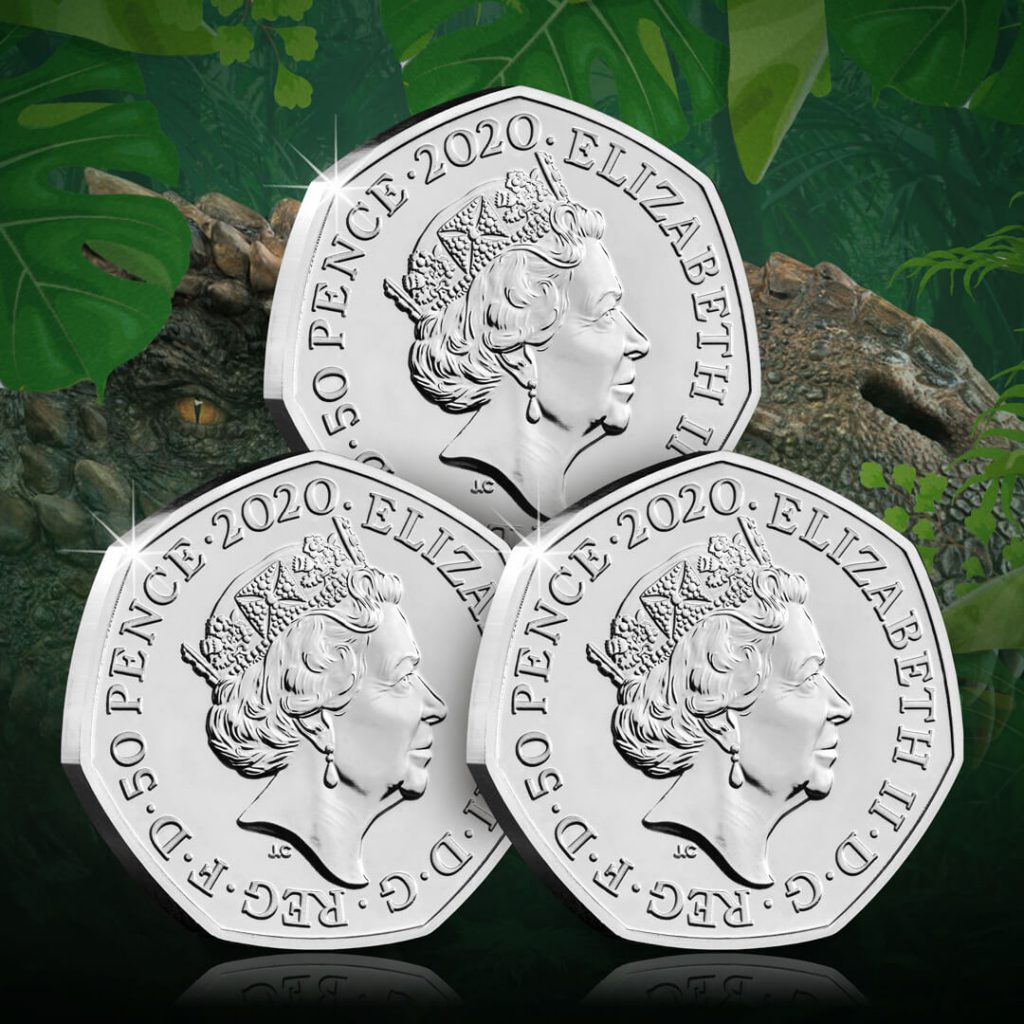 Three dino themed 50ps
Three designs have been announced, including the Megalosaurus, Iguanodon, and Hylaeosaurus.
'Megalosaurus' is Greek for 'great lizard' and at seven to eight metres long it certainly lives up to its name! In 1676 the first Megalosurus bone was discovered in Oxfordshire and publication of the find is thought to make this dinosaur the very first to be described in scientific literature.
Iguanodon were large herbivores with distinctive thumb-like spikes. After Megalosaurus, these were the second type of dinosaur to be formally recognised.
Hylaeosaurus was an armoured dinosaur with at least three long spines along its shoulders. However, much of the anatomy of this dinosaur is still unknown due to the fact that very limited remains have been found.
The UK's first dinosaur coins
Excitingly, these will be the first ever UK dinosaur coins and I for one can't wait to see these roarsome coins let loose!
Of course the designs and release dates are top secret for now, but if you'd like to be kept up to date with all the latest information about the 2020 Dinosaur 50p coins, simply sign up using the form below.
Stay up to date with all the latest 2020 Dinosaur 50p news…
Fill in your details below to be kept up to date with all the latest news about the 2020 Dinosaur coins.
---
If you're interested in coin collecting, our Change Checker web app is completely free to use and allows users to:
– Find and identify the coins in their pocket
– Collect and track the coins they have
– Swap their spare coins with other Change Checkers
Sign up today at: www.changechecker.org/app
Christmas really has come early this year as the brand new The Snowman™ 50p coin has just been released!
So cosy up by the fire and bring out the mince pies as we take a look at this season's must-have Christmas coin…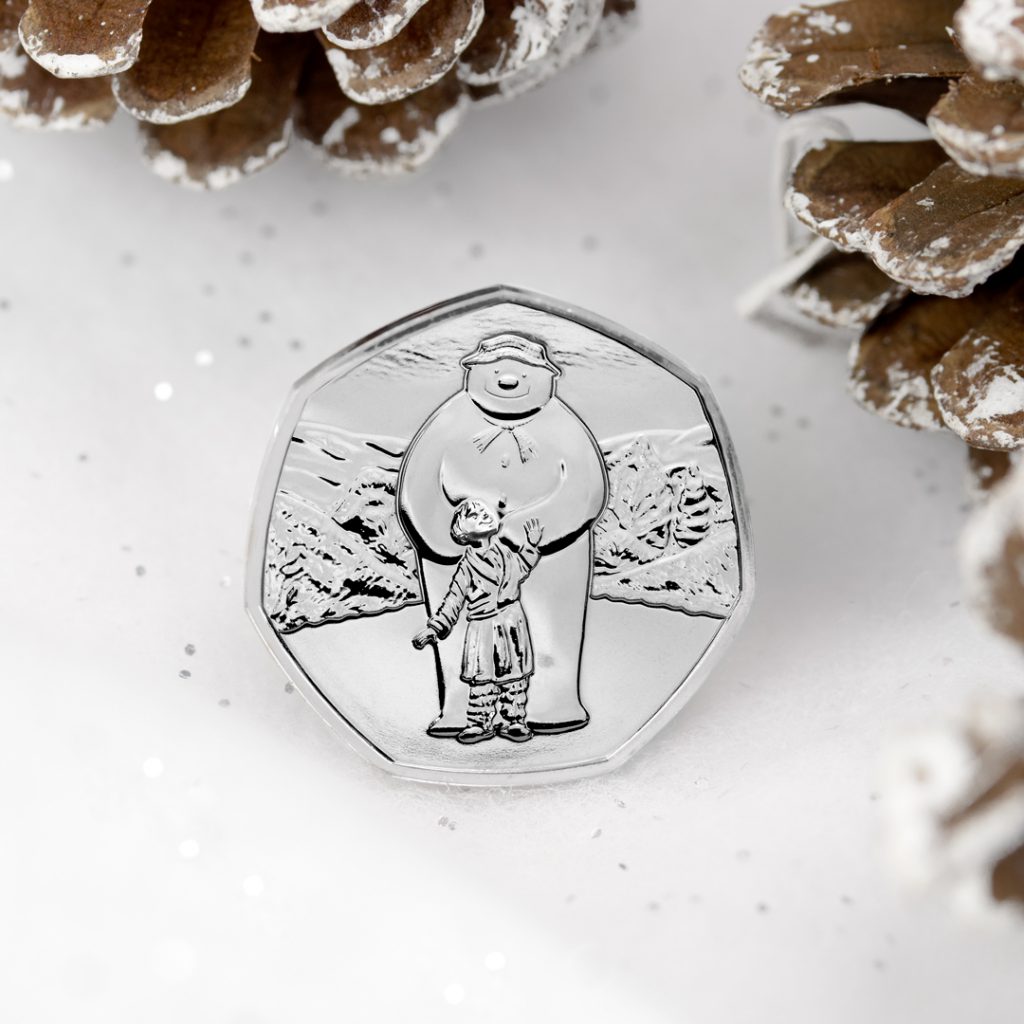 I'm sure we all have heart-warming memories of The Snowman™ story, and for me Christmas really doesn't start until I've snuggled up on the sofa with all the family to watch the festive film.
Now that the new 50p has been released, I'm sure you'll agree that this coin really has brought the magic of the loveable Snowman to life!
The reverse design has been created by Snowman Enterprises themselves to truly capture the festive magic of the story, and features The Snowman and James from Raymond Brigg's classic tale.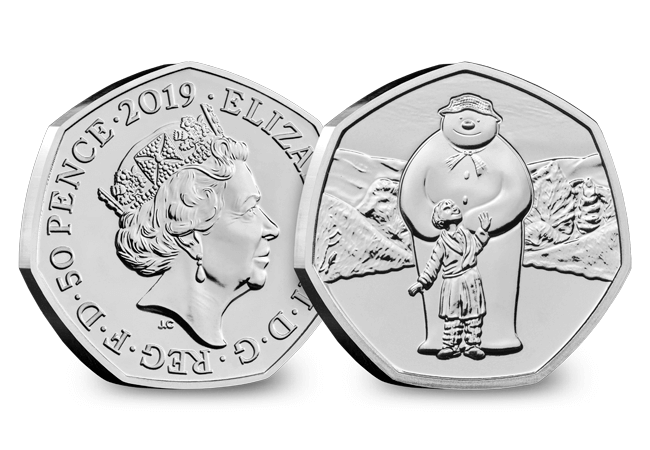 Issued to continue the 40th anniversary of The Snowman celebrations, this new coin is the second Christmas 50p ever to be issued in the UK.
Last year's Snowman 50p from The Royal Mint was incredibly popular with collectors and created a flurry of excitement surrounding the snowy coin.
In fact, the Silver Proof version completely SOLD OUT on the first day of issue!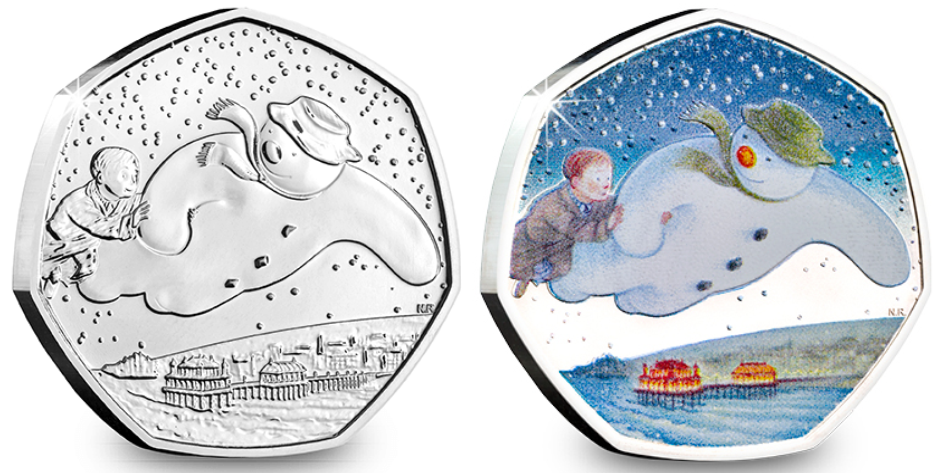 Whilst the 2018 release marked the first time that The Snowman has appeared on a UK coin, it's actually not the first time that this frosty friend has appeared on a 50p…
Over the years, The Snowman has featured on a number of different 50ps from The Isle of Man, some of which are incredibly sought after.
One such coin from 2003 featuring James and The Snowman recently sold for over £250 on the secondary market! Not a bad return on a 50p coin!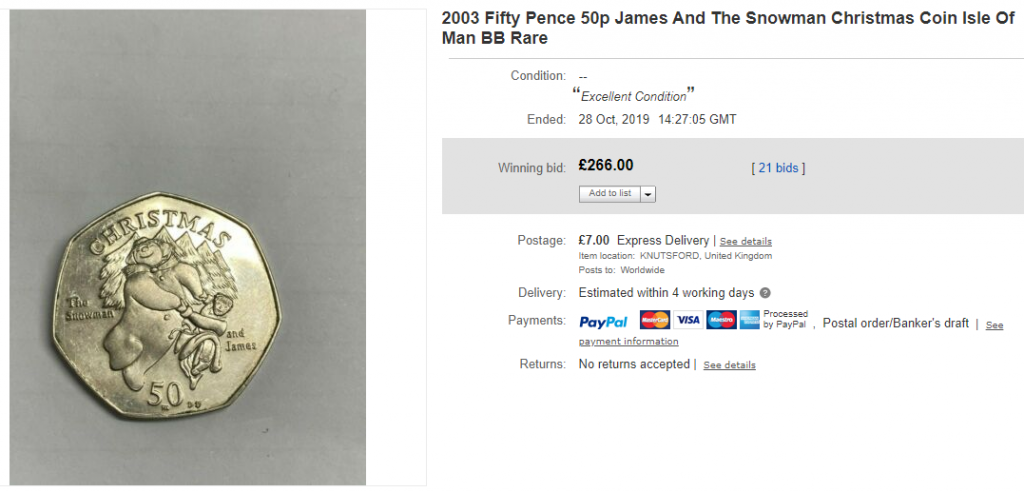 But will the UK's 2019 The Snowman 50p featuring these much loved characters be equally as popular with collectors?
Let us know what you think about this year's Christmas coin in the comments below!
---
Secure this season's must-have 50p!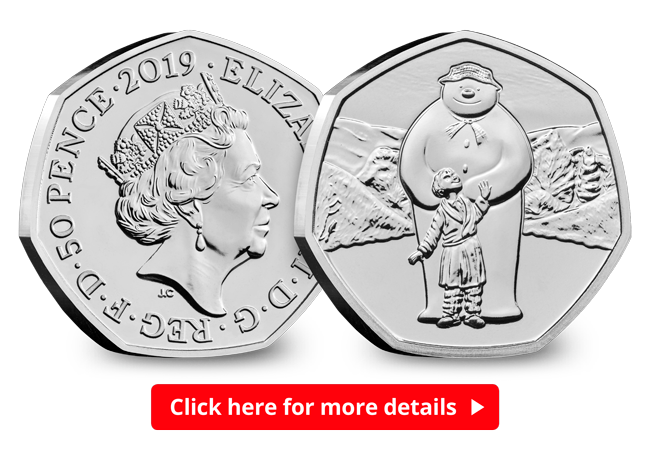 This brand new UK 50p is a commemorative issue only which means you won't be able to find one in your change!
So don't miss out on your chance to add one to your collection and secure yours for JUST £4.50 (+p&p) today.
The eccentric inventor and his trusted canine friend have made their way back from the moon and onto a UK 50p to celebrate 30 years since their debut film, A Grand Day Out.
After weeks of anticipation, The Royal Mint has now released the first ever Wallace and Gromit 50p to celebrate 30 cracking years of the British Comedy duo.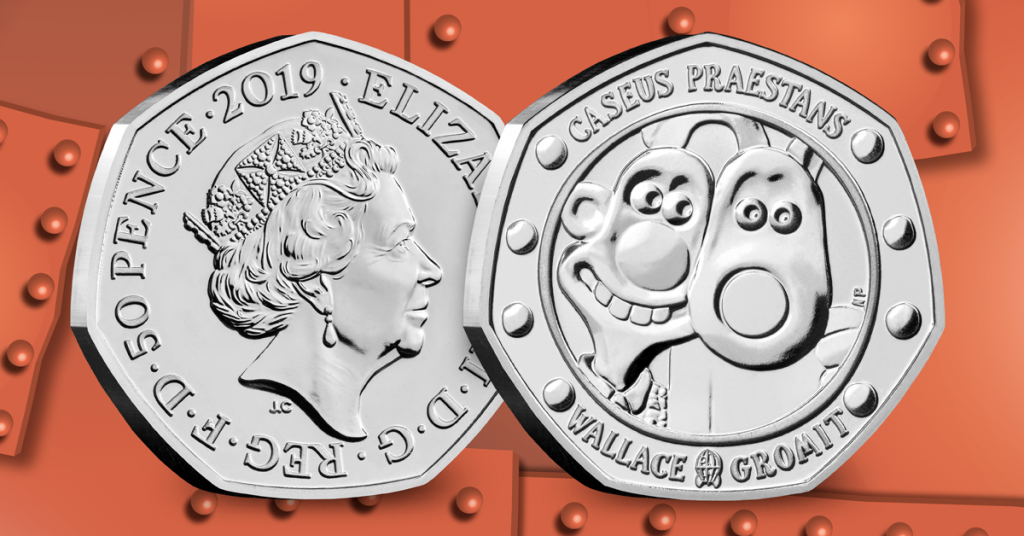 Originally a small concept in Nick Park's student sketchbook, Wallace and Gromit have become instantly recognisable stars of the silver screen!
The pair now feature in 4 stop-motion animation short films: A Grand Day Out (1989), The Wrong Trousers (1993), A Close Shave (1995), A matter of Loaf a Death (2008) and the full-length feature film, The Curse of the Were-Rabbit, released in 2005.
An Original Nick Park Design
Excitingly, the reverse of this new 50p has been designed by none other than Nick Park himself!
The original artist behind the popular animation characters, Nick's artwork has created a truly authentic design for the coin which is certain to be a hit with fans and collectors alike.
Featuring Wallace and Gromit peering out of the spaceship they took to the moon, fans will certainly resonate with this adaptation of the famous film scene.
What's more, the initials 'NP' have been struck onto the design to confirm the design by Nick Park.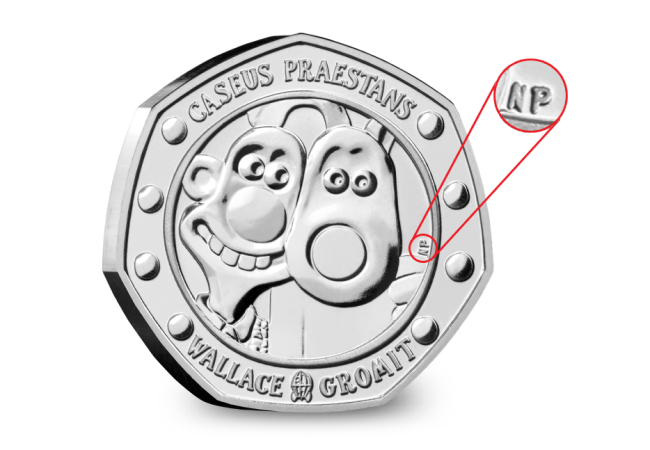 BU, Silver & Gold!
As of today the FIRST EVER Wallace and Gromit UK 50p has officially taken off!
The new coin is available in Brilliant Uncirculated quality in both Official Change Checker packaging and Royal Mint packaging.
A Silver Proof version of the coin has also been issued, featuring selected colour printing to really bring the design to life. Just 25,000 Silver Proof coins are available and given the popularity of Wallace and Gromit and the sell-out stories we've seen with other UK 50p issues this year (like The Gruffalo® 50p), collectors wanting one of these will certainly need to act quickly.
Excitingly, this 50p has also been issued in a Gold Proof design! Limited to just 630 pieces, this one is a real collector item.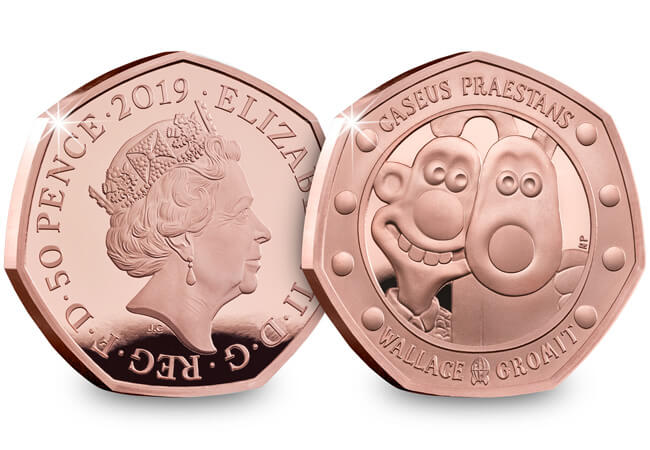 From their first appearance in 1989 to their dedicated following today, Wallace and Gromit have become international cultural icons and a real staple of British-ness! Here at Change Checker we can't think of a better way to celebrate such an important comedy duo than on a brand new UK coin.
---
Add the brand new Wallace and Gromit 50p to your collection!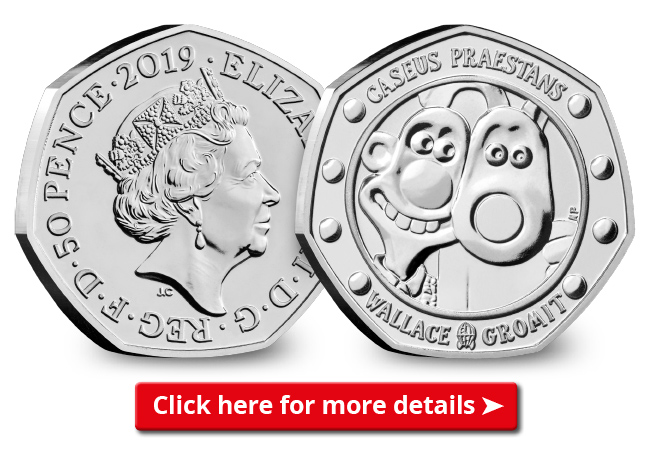 This coin won't be entering circulation, but has been released as a special commemorative issue.
Click here to secure this brand new UK coin in superior Brilliant Uncirculated quality.