I still can't quite believe 2020 is here and we're into a new decade! But what better excuse could there be to take a look back at some of our favourite coin releases from the past 10 years?
Along with new coins, the numismatic world as a whole seems to have expanded as a new generation of collectors have discovered the joy of this fantastic hobby.
There's no denying we've seen some incredible coins released since 2010, but the Change Checker team have picked out our personal favourite TOP FIVE.
So without any further ado, here are the coins we believe to be the greatest of the past 10 years. Drum roll please...
---
1. The London Olympic and Paralympic 50ps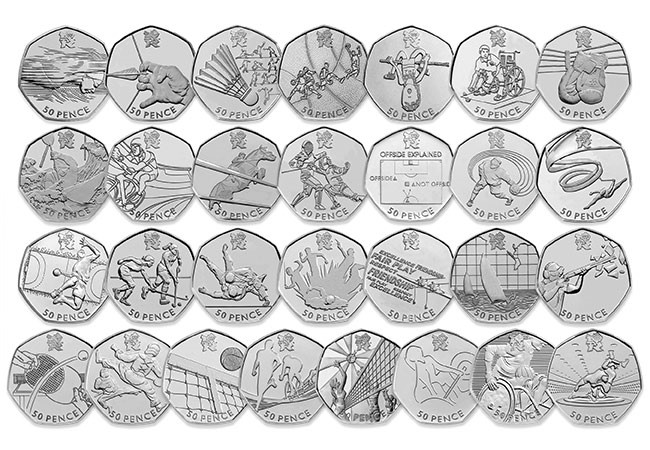 Issued to mark the 2012 Olympic and Paralympic Games hosted by London, this coin series played a huge part in transforming the 50p into the UK's most collectable coin.
29 different 50p coin designs were released to commemorate the different sports and across the nation millions rose to the challenge of collecting them all.
The Royal Mint now estimates that as many as 75% of the Olympic 50p coins have been removed from circulation by collectors, which is a testament to their popularity.
It was certainly the Olympic 50p series that reawakened the nation's love of coin collecting in the last decade, so we just had to include them at the top of our list!
2. The Beatrix Potter 50ps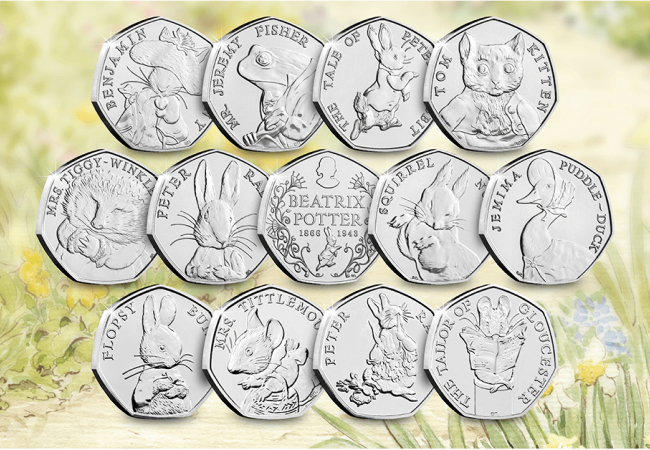 Next up is a series which inspired a whole new generation of collectors, and for that reason it would be a crime not to include the Beatrix Potter 50p series on our list.
Just like me, I'm sure you'll have fond childhood memories of reading the enchanting tales of Peter Rabbit and his friends as a child and this beautiful 50p series really does do justice to those memorable tales.
4 years, and 14 coins later, the Beatrix Potter 50p coins remain one of the public's favourite ever collection of coins.
Since The Royal Mint released the first Beatrix Potter 50ps in 2016, these charming coins have created a collecting frenzy, becoming increasingly sought-after to this day.
I'm sure I'm not alone when I say that this is one of the stand-out coin series of all time, let alone the decade!
3. Queen Elizabeth II's 90th Birthday £5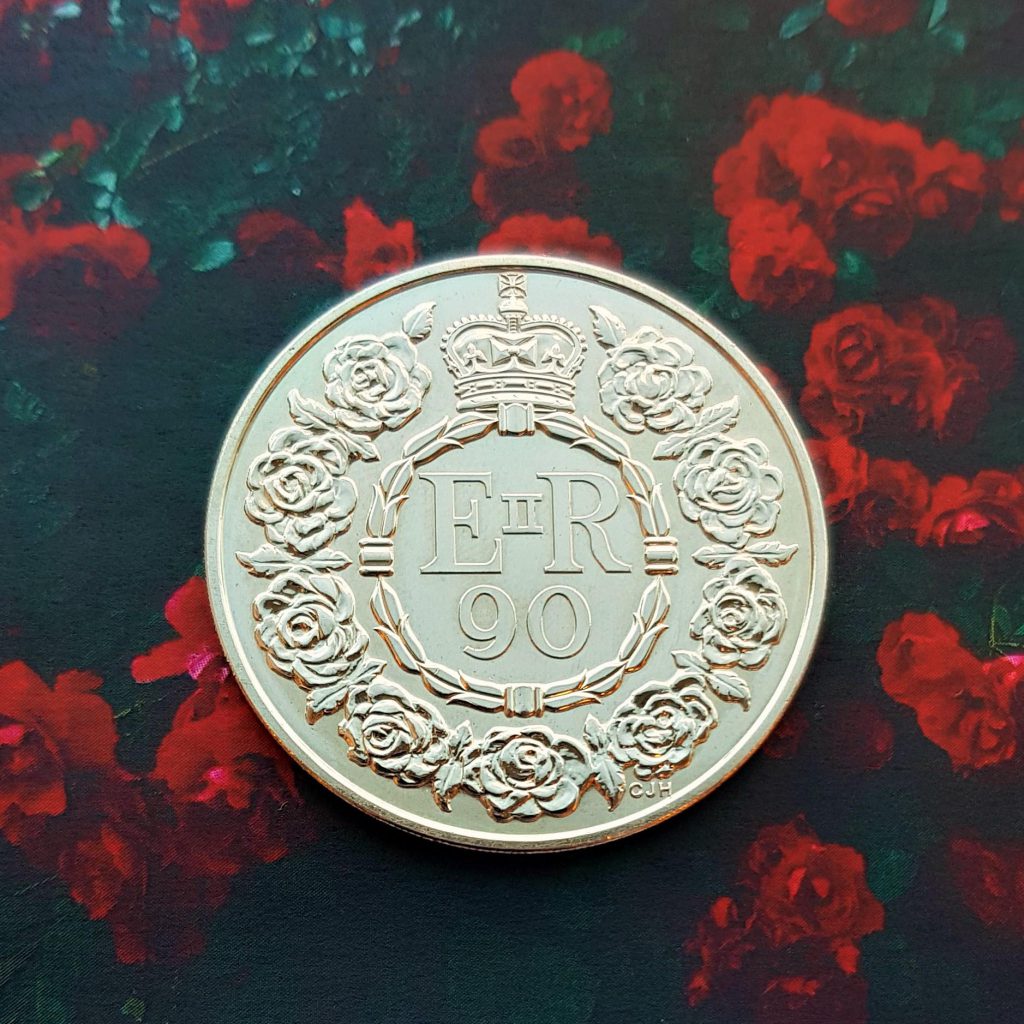 As a nation, we've celebrated Her Majesty the Queen's landmark birthdays, jubilees and wedding anniversaries during her long and eventful reign.
Traditionally, the Queen's birthday milestones are celebrated with £5 coins, as seen issued in both 1996 and 2006 to mark her 70th and 80th birthdays.
And so, this decade, when Queen Elizabeth II became the first British monarch to celebrate their 90th Birthday, the release of this £5 coin in 2016 was particularly special and hugely significant for collectors around the world.
This was the only official UK £5 coin to mark this special occasion, designed by acclaimed artist Christopher Hobbs, who captured the Queen's love of flowers, showing nine roses – one for each decade of the Queen's life.
4. 2015 Britannia £2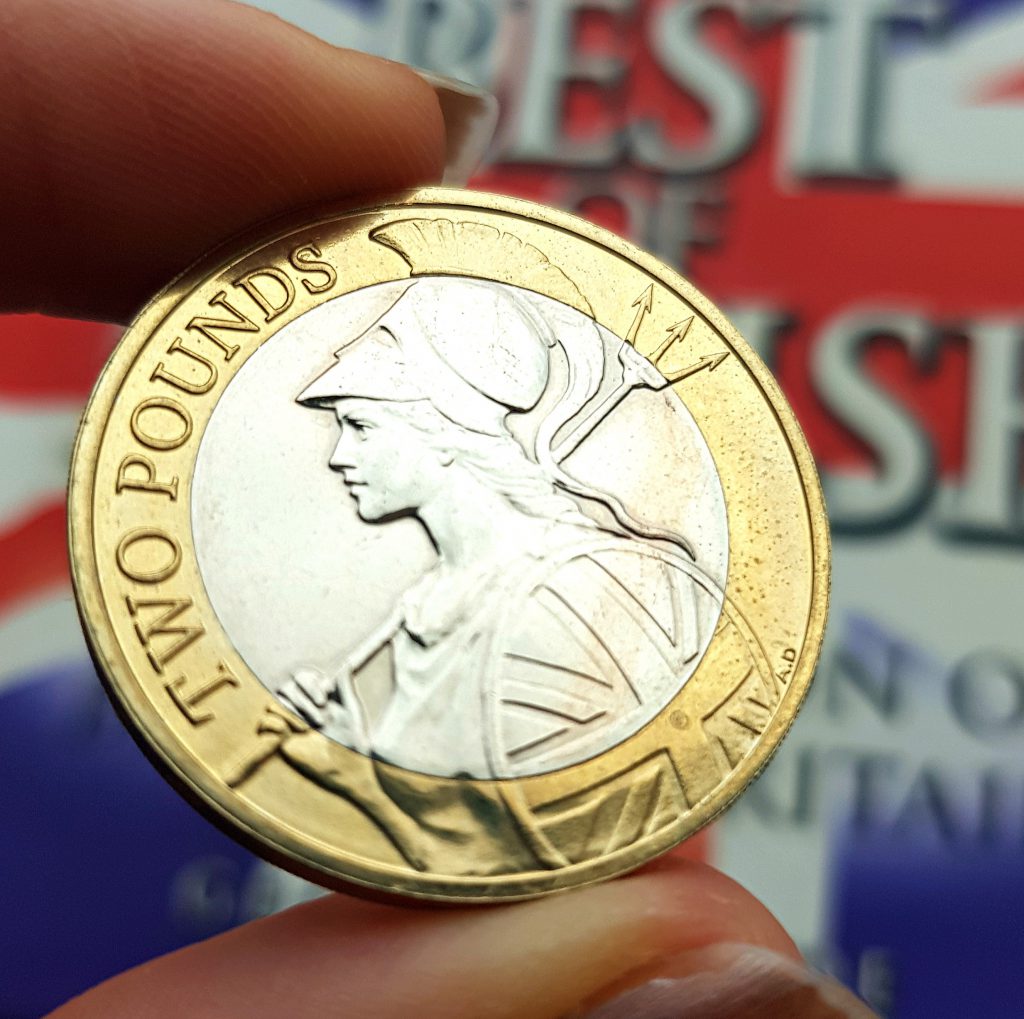 Britannia has a long standing history with British coinage, having featured on a British coin in one way or another for more than 300 years.
In 2008 she was surprisingly dropped from the 50p, despite a Daily Mail campaign to save her. However in February 2015 it was announced that Antony Dufort's modern interpretation of Britannia would be making a triumphant return to British circulating coins, replacing the definitive £2 "Technology" design which had featured on the coin since 1997.
This was a very popular move from The Royal Mint, but it wasn't until the mintage figures were announced that the real surprise was unveiled…
Only 650,000 of the 2015 dated Britannia £2 coins had been stuck for circulation, making it one of the rarest UK £2 coins ever!
The rarity and numismatic significance of this coin as the UK's new definitive £2 means it had to earn a spot on our Top Five list.
5. The A-Z of Great Britain 10ps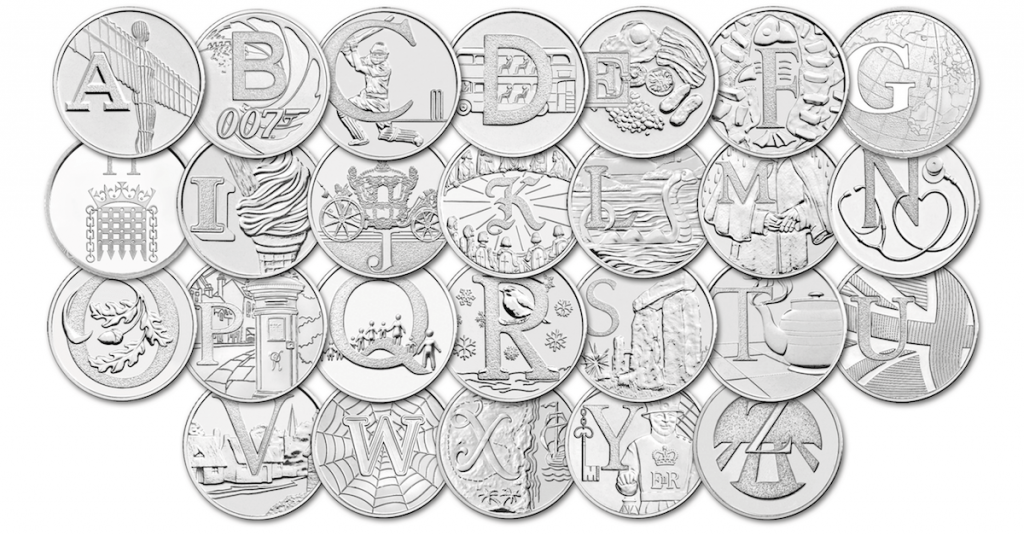 In 2018, The Royal Mint sparked huge excitement across the nation with the surprise release of 26 brand new 10p coin designs.
Each coin design was created to represent an image of what makes Britain British from A – Angel of the North, all the way to Z – Zebra Crossing, and collectors quickly fell in love with these unique coins.
Figures for 2018 confirm that 220,000 of each design entered circulation, meaning each design is almost as rare as the Kew Gardens 50p – the UK's rarest coin in circulation!
A further 2.1 million A-Z 10ps were released in 2019 overall, meaning there really aren't many to go around and many collectors are struggling to come across them in their change as they are being snapped up so quickly.
The A-Z 10ps really have been one of the biggest numismatic talking points of the decade and so they just had to be included on our list. Have you been lucky enough to find any?
Of course there have been so many other incredible releases in the past 10 years and narrowing it down to just five was a tough job, but we certainly feel that these coins have got to be highlights of the last decade.
Let us know which coins would make it into your Top Five in the comments below!
---
If you're interested in coin collecting, our Change Checker web app is completely free to use and allows users to:
– Find and identify the coins in their pocket
– Collect and track the coins they have
– Swap their spare coins with other Change Checkers
Sign up today at: www.changechecker.org/app
We're delighted to announce the next Change Checker Live Event will be coming to Cardiff!
We're at St David's Shopping Centre in Cardiff from 9.30am to 8pm on Wednesday 19th February and we're bringing the 2019 UK Wallace and Gromit 50p coin to swap with you.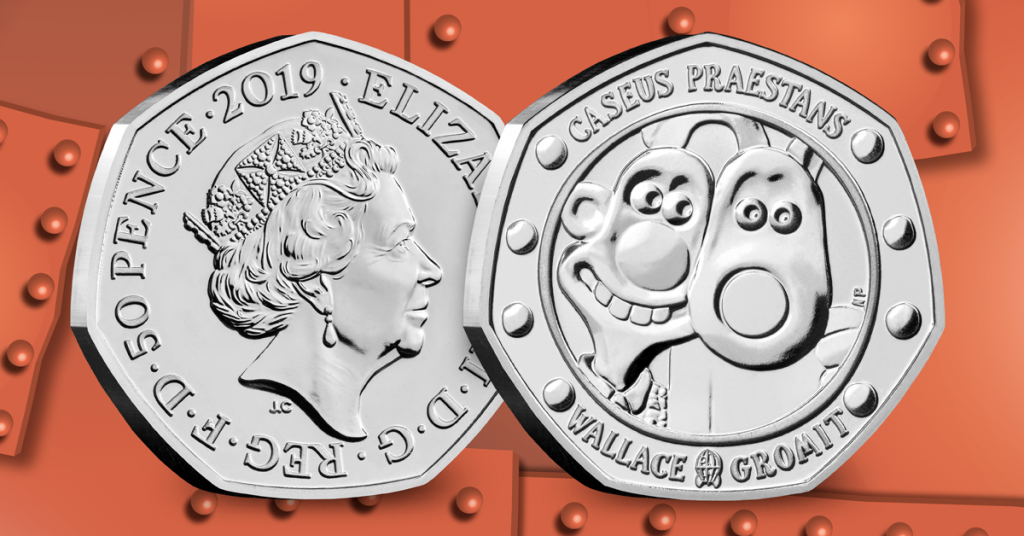 Join us there and swap ANY UK 50p coin for the wonderful Wallace and Gromit 50p coin in Brilliant Uncirculated condition.
These coins won't be entering circulation, so this is your chance to get your hands on one in superior collector's quality for just face value.
PLUS, when you attend the event you'll receive an exclusive voucher to purchase Change Checker goodies on the day.
Please note: Swaps are limited to 1 per person, while stocks last.
St David' Shopping Centre, Cardiff
Located in one of the UK's fastest growing cities, St David's in Cardiff is one of the UK's premier retail destinations, with a choice of over 180 retailers and over 40 restaurants to enjoy during your visit.
You can find us on the lower level near Watches of Switzerland and Pravins, at the location marked by the red circle on the map below: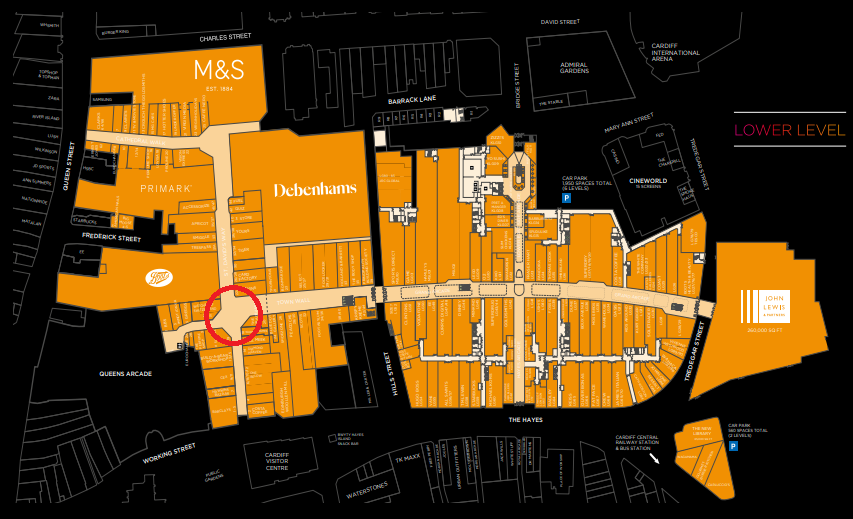 Sitting above St David's is a 2,000 space contemporary 24-hour car parking facility. Disabled parking is located on Level P3 and a second car park of 550 spaces can be found underneath John Lewis.
Situated right in the heart of Cardiff city centre, St David's is a short walk from Cardiff Central and Queen Street Rail Stations.
It's easy to get there by car too with excellent links from the A470 and the M4.
If you're using a sat nav to get there, the postcode you'll need is CF10 2EN. This will take you to the entrance of the multi storey car park on Mary Ann Street.

Can I swap more than one coin?
Such is the popularity of our Live Coin Swaps and to ensure that it is fair for everybody, we'll be limiting the number of swaps to strictly 1 swap per person.
Will you be doing any more Live Coin Swaps?
That's the plan!
We will be holding more Live Coin Swaps in the future and the plan is to visit a different area of the country each time, giving as many people as possible the opportunity to attend.
We look forward to seeing you there!
---
Secure your Wallace and Gromit 50p!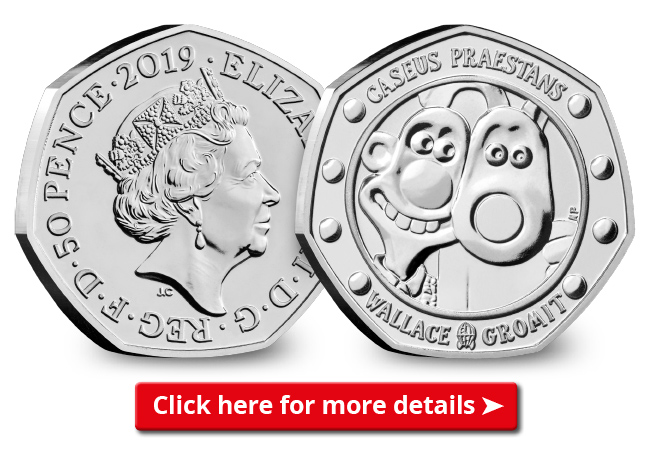 Can't wait to get your hands on the Wallace and Gromit 50p coin?
Secure your 2019 Wallace and Gromit 50p Coin in Brilliant Uncirculated quality here.

If you're lucky, you might notice a Trading Card included in your next Change Checker delivery…
We've released Britain's favourite 50p coins as exclusive Change Checker Trading Cards.
From Kew Gardens to Peter Rabbit; Benjamin Britten to Benjamin Bunny, Change Checkers now have the chance to own Britain's Favourite 50p coins as exclusive Trading Cards, included FREE in your Change Checker deliveries.*
Reveal your favourite 50p Design
Simply scratch away the silver film to reveal which of Britain's favourite 50p coins you have received as your FREE Trading Card and what your coin's key coin fact is.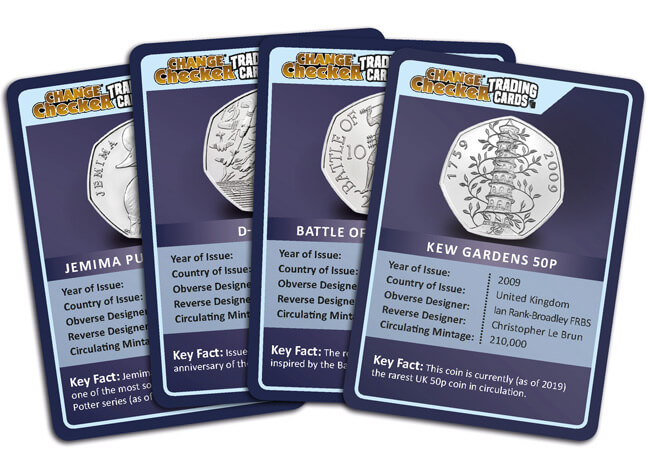 All the fun of the hunt
Each card has been printed in a volume that reflects the coin's overall rarity, so you have all the same joy of the hunt.
They're easy and fun to collect and fit straight into any Change Checker Album. Plus swap with your friends and colleagues or even online via the Change Checker Community group on Facebook.
Be the first to hear the latest Trading Card Updates.
We expect to have Change Checker Trading Card Collector Packs available to buy later this year, as well as future releases for £2 coins, and some special "errors and rarities".
Sign up below for more information, or head over to our FAQ page.
* Inclusion of FREE Change Checker Trading Cards is subject to availability at the time of despatch. They may not be included in every Change Checker delivery.
---
If you're interested in coin collecting, our Change Checker web app is completely free to use and allows users to:
– Find and identify the coins in their pocket
– Collect and track the coins they have
– Swap their spare coins with other Change Checkers
Sign up today at: www.changechecker.org/app