Posts Tagged 'British History'
Today marks the start of National Storytelling Week, which is celebrated in February each year. It's a great chance for people to share their own stories and listen to the stories told by others.
As part of the celebrations, we've taken a look at some UK coins that celebrate some of the very best storytellers.
William Shakespeare
One of the greatest storytellers and playwrights of all time, William Shakespeare, shot to fame during the Elizabethan and Jacobean ages of British theatre.
He wrote 38 plays, 2 narrative poems, 154 sonnets and a variety of other pieces!
In 2016 to commemorate the 400th anniversary since his death, The Royal Mint issued a three-coin series, each taking inspiration from a theme of Shakespeare's plays.
This coin's design was inspired by Shakespeare's history plays, with an edge inscription that reads: "The Hollow Crown", from his play "Richard II".
The other £2 coins take inspiration from his Tragedies, with an inscription taken from Hamlet, and his comedies with this coin's inscription reading 'All the world's a stage' from As You Like It.
Beatrix Potter
Beatrix Potter's enchanting tales of countryside characters, including Peter Rabbit and Mrs. Tiggy-Winkle skyrocketed her to stardom. The Tale of Peter Rabbit was published in 1902 and it instantly became a best-seller!
And it was in 2016 that Peter Rabbit escaped from Mr. McGregor's Garden and made his first debut on United Kingdom coinage.
Issued to celebrate 150 years since the birth of renowned Children's author, Beatrix Potter, this 50p changed coin collecting forever.
This series of coins continued into 2017, 2018 and 2019. Fifteen Beatrix Potter coins have now been issued since 2016, each featuring one of Potter's delightful characters, from Flopsy Bunny to Mrs. Tiggy-Winkle.
The title of the rarest of the Beatrix Potter 50p actually belongs to two coins! The 2018 Peter Rabbit and 2018 Flopsy Bunny both have a mintage of just 1.4 million!
Charles Dickens
A list of great story tellers wouldn't be complete without Charles Dickens!
Dickens' enchanting stories, vivid characters, and depiction of Victorian life are widely acknowledged across the world by critics and scholars alike and his novels and short stories continue to be widely popular to this day.
The reverse design of this £2 coin by Matthew Dent features Dickens' recognizable profile crafted from the titles of his most famous works.
This coin had a circulating mintage of 8,190,000 and is one of my personal favourites!
Agatha Christie
Agatha Christie's first novel The Mysterious Affair at Styles was published in 1920 and it kick-started the nation's love of her detective novels and murder mysteries.
In 2020, to mark 100 years since her first publication, The Royal Mint celebrated the world's best-selling novelist with this £2 coin.
David Lawrence's design of this coin pays homage to Christie's crime novels, with a piece of a jigsaw slotting into place and her signature at the bottom.
The coin also features the edge inscription '100 years of mystery 1920'-2020' to mark this very special anniversary.
Sherlock Holmes 50p
In 2019, to mark 160 years since the birth of Sir Arthur Conan Doyle, The Royal Mint issued this 50p coin.
The prolific writer is best known for his incredibly popular detective stories featuring the fictional Sherlock Holmes™. It is said his works revolutionized the crime genre, and despite Doyle sharing an ambivalent relationship with his famous character, Holmes' popularity resulted in Doyle becoming one of the best-paid authors of the time.
The reverse has been designed by Stephen Raw and features a silhouette of Sherlock smoking a pipe, surrounded by a few of his most-famous story titles.
---
Are there any other great storytellers you think should be celebrated on our UK coins? Comment below!
---
Never miss a future UK coin issue!
Join the Change Checker UK CERTIFIED BU Subscription Service and receive new UK coins sent to your door without the hassle of placing orders on the day of release!
Coin collecting is a hobby that spans across generations, but did you know it also spans across centuries?
In this blog, we talk you through the different phases of coin collecting!

The Hobby of Kings
Historically, only very wealthy people or royals could afford to collect coins rather than use them as a daily necessity.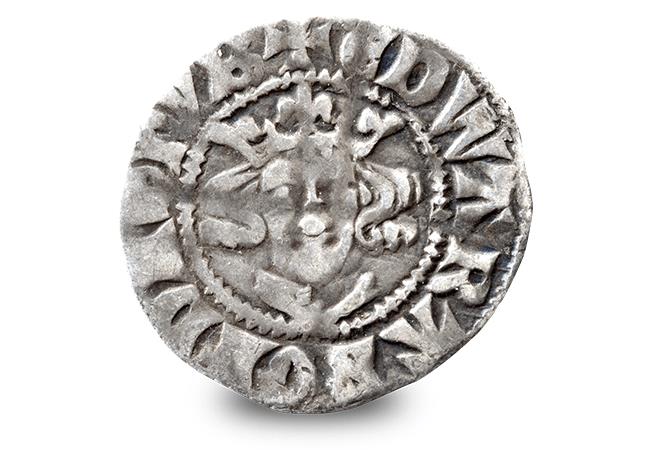 This high-level collecting peaked in about the 14th century and there is evidence that coins were even collected in ancient times!
Industrialisation
In the late 18th century, at the time of the industrial revolution, factories, mills, and other private enterprises were set up, opening up a new avenue of wealth creation. This meant more people were in possession of a disposable income and many became interested in coins and began collecting them as a hobby.
This demand was noticed by Matthew Boulton and James Watt, who began making specially designed coins in various metal specifications, to sell on.
In 1887, ahead of the golden jubilee of Queen Victoria, The Royal Mint produced commemorative gold and silver florins for the first time, a new Double Florin denomination featuring a Jubilee bust of the Queen.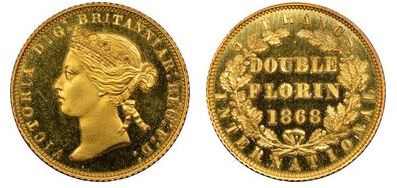 This was to start a tradition of producing 'special' coins to mark particular historic or royal anniversaries that carried through to the 20th century.
Decimalisation and Coin Collecting
In 1971, the UK switched its currency to a decimal based system from the previously used system dating back to ancient Roman times.
Whilst a few old coins remained legal tender, it saw the phase out of others, including the large penny, which hadn't changed much since 1860!
This restructure inspired a world-wide interest in coins! Mints all over the world started producing coins and sets to issue to the public in a way that had never been seen before.
With an increasing of exciting numismatic issues, came an influx of coin stories, each one hoping to shed light on a 'rare' or 'error coin' that could be found in your change.
Fast-forward to 2020 and the hobby of checking your change for that special coin is still alive with plenty of interesting coin stories still surfacing!
Collecting to Sell
As the opportunity for people to both collect and sell coins increased (e.g. with the introduction of secondary market sites, etc.) so did the volume of people collecting.
All too often we are bombarded by press articles citing eBay listings of 'rare' or 'error' coins and, naturally, interest is piqued when we hear about the coin we've just come across in our change 'selling for thousands'. These stories often encourage people to collect and hoard coins, purely in the hope of making a 'buck' when selling them on.
Unfortunately though, these tabloid articles can often sensationalise the actual value of the coin and when taken out of context we can forget that anyone can list anything they like on eBay, for whatever price they choose, regardless of whether or not the item is genuinely worth it. To avoid the pitfalls of buying coins eBay, Change Checker created our top 5 eBay buying tips.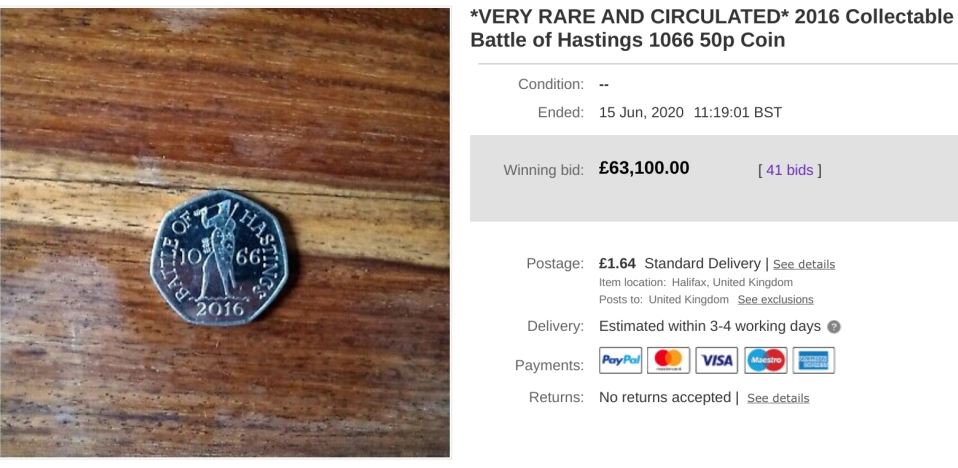 However, many collectors do continue to check their change in the hope of finding coins to add to their collections just for the pleasure of the hobby, or even to build a meaningful gift or heirloom to a loved one.
---
As we navigate a climate where less cash is being used and therefore the opportunity of finding those special coins in our change is reduced, could this push us into a fifth phase of coin collecting?
---
Secure the History of Britain in Coins Collecting Album!
Secure one to your collection today by clicking here >>
As many collectors will know, 2019 marks the 50th Anniversary of the 50p coin.
Since its issue in 1969, the world's first seven-sided coin has become a huge favourite with collectors and has served as a canvas to commemorate some of the most iconic moments in British Military history.
As we mark a milestone year for this iconic coin, The Royal Mint's celebration continues as they reissue five of the most important 50p coins celebrating British Military history!
These five 50p coins, pieced together for the first time, mark a rare milestone moment for British Coinage. Not to mention the set also includes the 1994 D-Day 50p re-issued in the NEW 50p specifications for the first time ever!
Earlier in the year, the Base Proof, Silver Proof and Gold Proof British Culture 50p sets sold-out within just TWO HOURS of going on sale. The Brilliant Uncirculated set released just a short while later also saw an overwhelming response from collectors.
Find out the story of each of the coins featured in the British Military 50p Set below…
Victoria Cross Medal 50p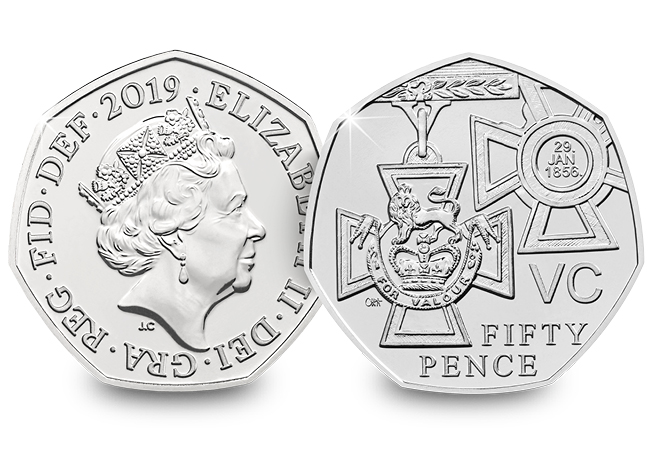 The Victoria Cross is the highest award for gallantry that a British serviceman can achieve. A recommendation for the Victoria Cross is normally issued by an officer at regimental level and has to be supported by three witnesses.
This coin was originally issued in 2006 to mark the 150th Anniversary of the Victoria Cross.
Depicting the obverse and reverse of a Victoria Cross medal, the design by Claire Aldridge carefully details the Cross pattée with a crown and Lion as on the medal itself.
Victoria Cross Soldier 50p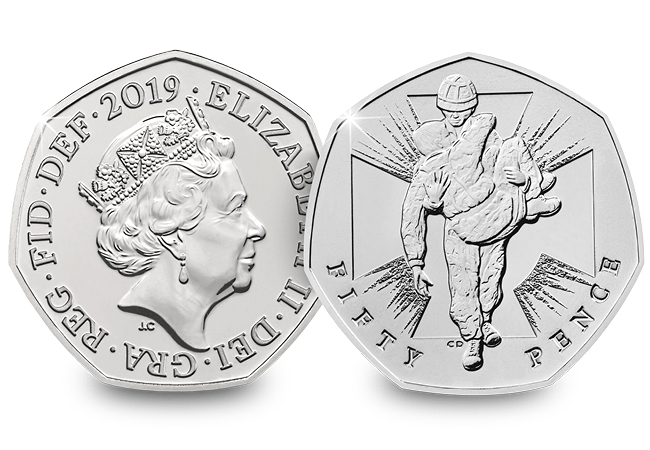 The Victoria Cross Award was introduced in 1856 by Queen Victoria to honour acts of the Crimean War.
Since then, two-thirds of all awards won have been presented by the British Monarch at investitures which are usually held at Buckingham Palace.
To date, the medal has been awarded 1,358 times. A large number of these were awarded during the World Wars: 634 in World War One and 182 awarded in World War Two.
Initially issued in 2006 to mark 150 years of the Victoria Cross Award, this coin features a soldier carrying a wounded comrade with an outline of the Victoria Cross as designed by Clive Duncan.
Battle of Hastings 50p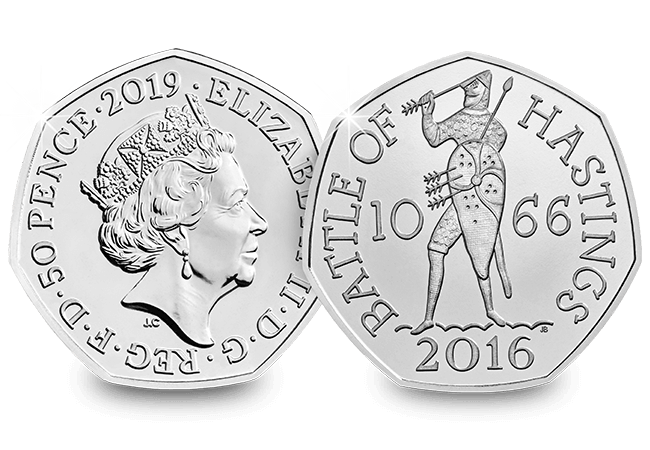 The Battle of Hastings was fought on the 14th of October 1066 between the French Army, led by Duke William II, and the English Army led by King Harold.
King Harold was eventually defeated by William who then became known as William the Conqueror; he was crowned the first Norman King of Great Britain.
Issued in 2016 to mark 950 years since this legendary battle, the reverse design of this 50p by John Bergdahl was inspired by the Bayeux Tapestry.
Battle of Britain 50p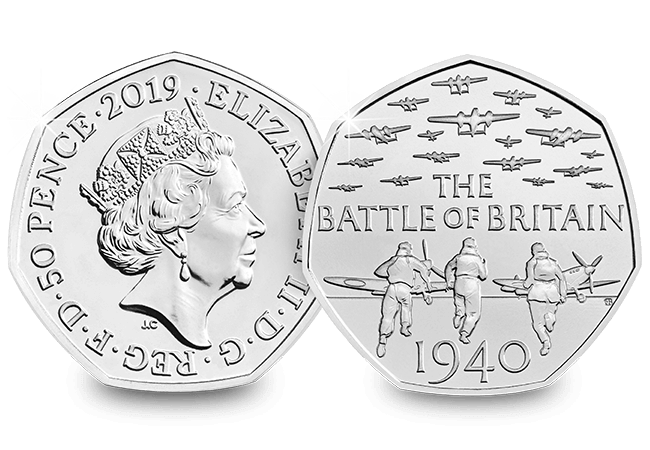 The Battle of Britain was an intense air battle fought mainly throughout the summer of 1940 between Germany and Britain.
The name for the conflict was derived from a Winston Churchill speech in which he said "The Battle of France is over. I expect the Battle of Britain is about to begin."
Marking the 70th Anniversary of the Battle of Britain this coin was first issued in 2015. The reverse design, by Gary Breeze, depicts three airmen running to their planes with enemy aircraft overhead.

D-Day Landings 50p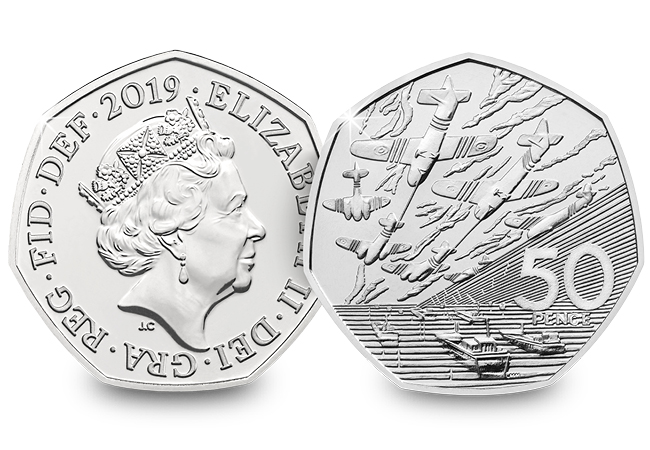 On 6th June 1944 a mighty alliance of British, American and Commonwealth armed forces crossed from England to Normandy and began assault on German forces.
It was the largest seaborne invasion in history and began the liberation of German-occupied France, laying the foundations for the Allied victory of World War Two.
A timeless tribute to the thousands of Allied troops who fought tirelessly in the War, this 50p coin was issued in 1994 to commemorate 50 years since D-Day.
Originally struck as a large 50p in the pre-1997 specifications this is the first time ever this D-Day 50p coin has been issued in the new 50p dimensions!
The reverse of the coin was designed by John Mills and represents the D-Day Landings with the Allied invasion force heading for Normandy filling the sea and sky.
We are very excited to see these coins being re-issued as a complete set for the first time – especially the 1994 D-Day 50p in the new specifications!
Following the popularity of the re-issued British Culture 50p set earlier in the year, we expect this set to be equally as sought-after.
What coin are you most looking forward to seeing?
---
Secure your 50th Anniversary of the 50p Military CERTIFIED BU Set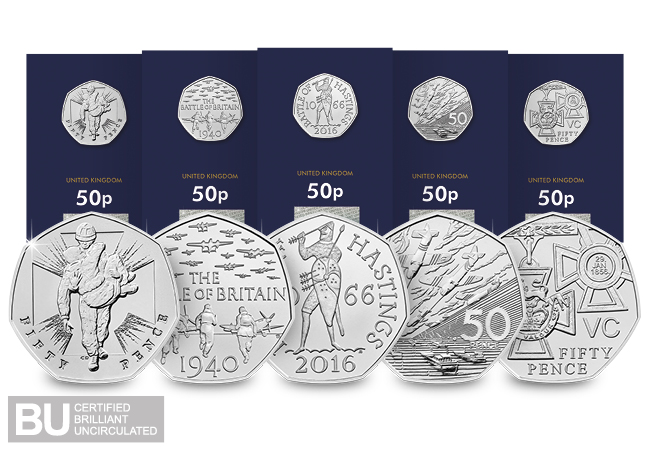 Own the BRAND NEW 50th Anniversary of the 50p Military Set for JUST £22.50 (+ p&p).