"It isn't much good having anything exciting, if you can't share it with somebody." said Winnie the Pooh
Well, this silly old bear was right, as we're so excited to share with Change Checkers that the brand new Winnie the Pooh 50p has just been released!
This coin is the first in a 3-year collection of 9 coins celebrating this world-famous, honey-loving bear!
2020 UK Winnie the Pooh 50p
First in the series we see Winnie the Pooh himself, just as we remember him, with a reverse design by The Walt Disney Company which features an original illustration from the Winnie the Pooh storybooks by E.H. Shepard.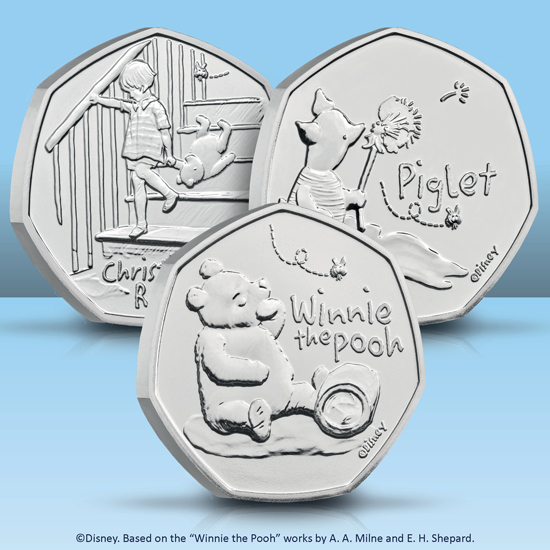 This 50p has been issued in a number of specifications, including Brilliant Uncirculated quality for JUST £4.50! (+p&p)
The Story Behind the Classic
Winnie the Pooh was a collection of short stories first published in 1926 by A.A. Milne, for his son, Christopher Robin.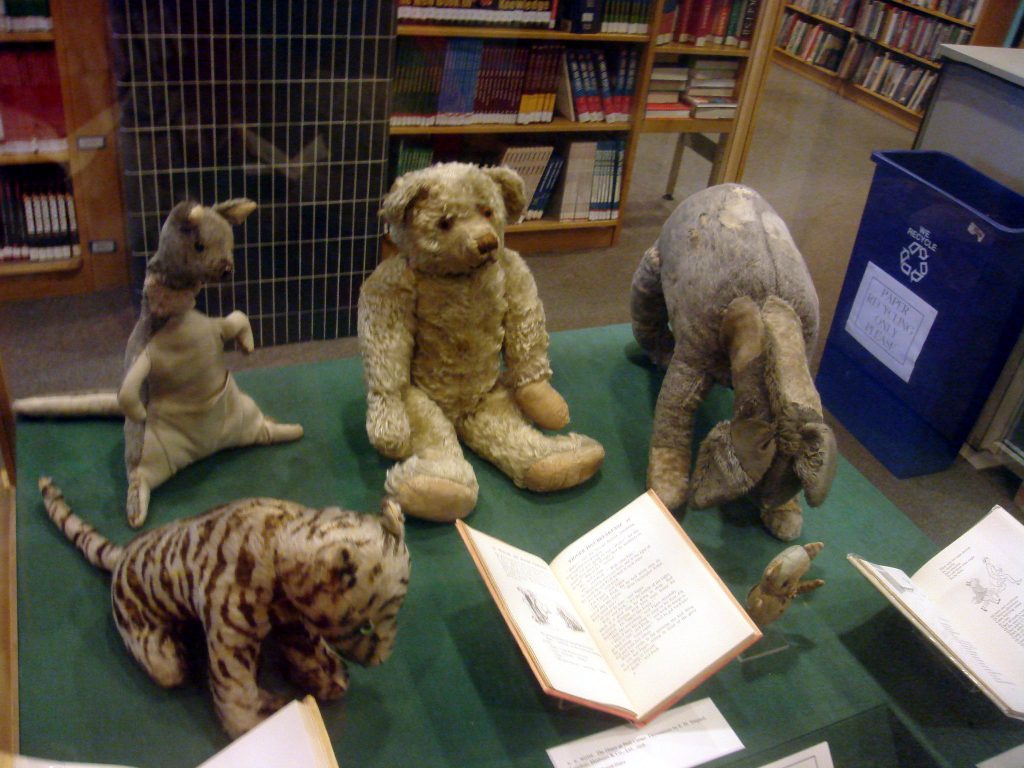 Most of Christopher Robin's real life toys were the inspiration for A.A. Milne's characters, but most significantly his favourite teddy bear which Winnie the Pooh himself is based on!
Alongside Winnie the Pooh, the fictional Hundred-Acre-Wood is inhabited by:
The timid but sometimes brave, Piglet
The glum but loveable donkey, Eeyore
The bouncy, one-of-a-king, Tigger
The loving and gentle, Kanga and her baby Roo
The terribly organised Rabbit,
The wise, old, Owl, and
The scary, honey-stealing Heffalumps!
The timeless and universal appeal of this silly old bear is unparalleled. He's featured in 3 books, various film adaptations, and much much more.
But today, for the first time in the UK, he features on the nation's best-loved coin, the 50p.
This brand new coin has has been issued in Superior Brilliant Quality for JUST £4.50 (+p&p) and a range of other specifications.
Could this become the most sought-after 50p ever?
We've seen some incredible character 50ps in the past, which have been a world-wide hit with collectors.
In 2019, to mark the 20th Anniversary of Julia Donaldson's much-loved children's book The Gruffalo®, a new 50p was issued.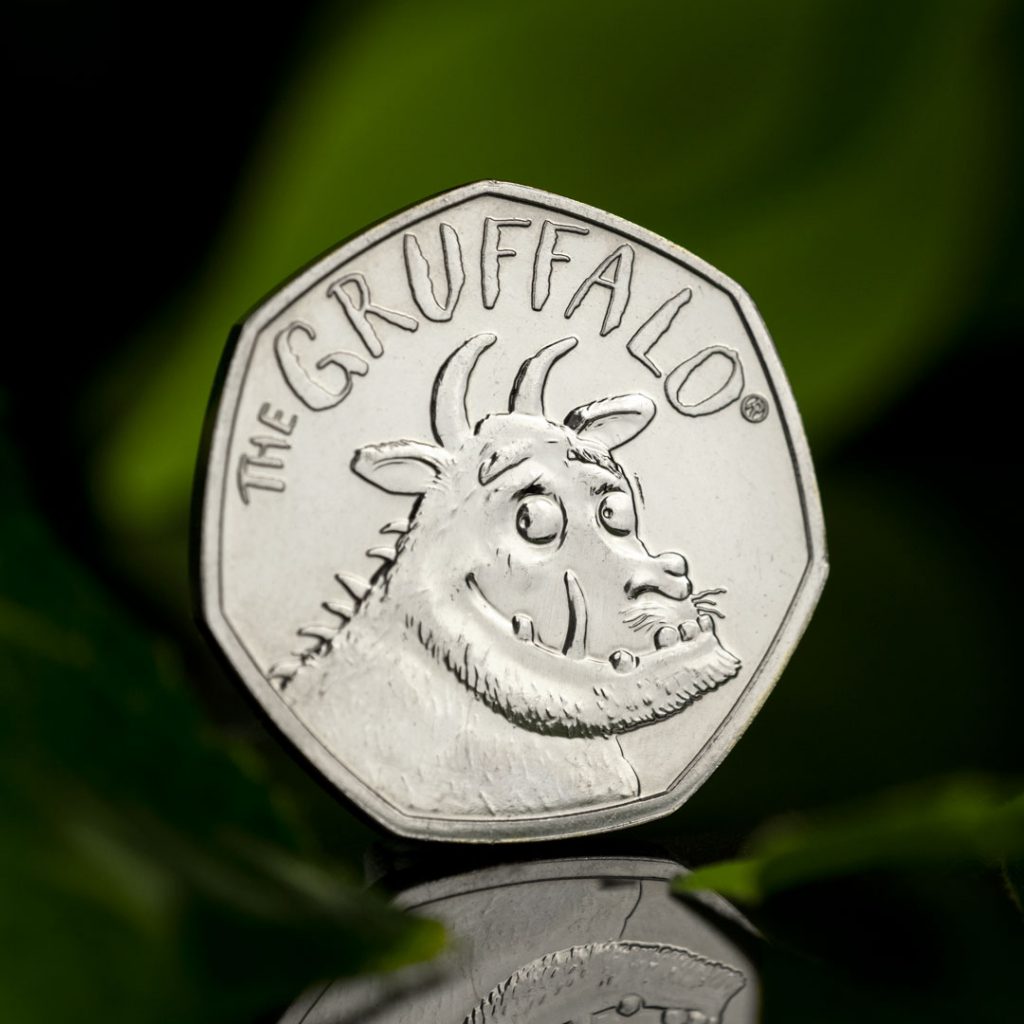 This coin was so popular that the silver-proof version completely SOLD OUT at the Royal Mint within 12 hours of its release, making it the fastest selling and most popular 50p ever. That's a 50p sold every 2 seconds!
We've also seen the huge popularity of the Beatrix Potter 50ps, issued to celebrate the life and work of Beatrix Potter and the 150th Anniversary of her birth.
These coins were so popular amongst collectors, they reached heights that hadn't been seen since the 2011 Olympic 50p series. Collectors of all ages were racing to add these coins to their collections and to gift them to friends and family.
And now that a brand new series has just been released featuring an all-time favourite childhood character, could we see this first coin becoming even more popular than the likes of the 50ps mentioned above?
Winnie the Pooh 50p Series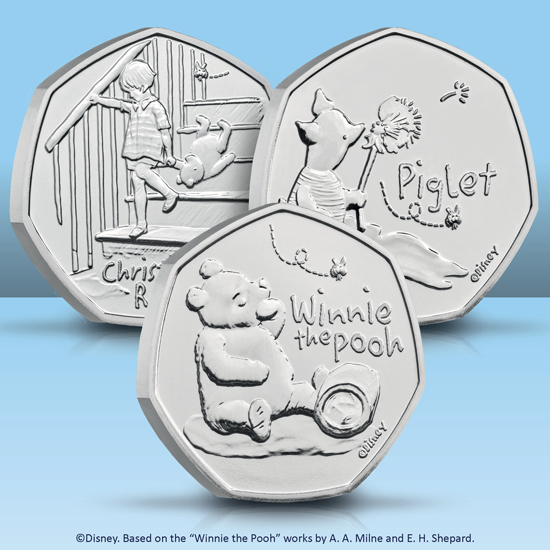 The first coin in the Winnie the Pooh 50p series has JUST been released today, featuring none-other than the silly old bear himself.
Later in 2020, Christopher Robin and Piglet will continue this honey-sweet 50p series.
This 50p series is sure to be a hit with collectors, so make sure you don't miss out on owning the next two coins in the series.
---
This coin is sure to be a hit with coin collectors and Winnie the Pooh fans alike!
We can't wait for the release of the Christopher Robin and Piglet 50p coins and to see how the rest of the Winnie the Pooh 50p series unfolds!
Which Winnie the Pooh character would you like to see celebrated on a 50p? Comment below!
---
Secure the first-ever UK Winnie the Pooh 50p to your collection today for JUST £4.50 (+p&p)
This 50p series is set to be the most popular of the year, so make sure you don't miss out in owning the brand new 2020 UK Winnie the Pooh 50p in Brilliant Uncirculated quality for JUST £4.50 (+p&p).
Click here to secure one for your collection!
©Disney. Based on the "Winnie the Pooh" works by A. A. Milne and E. H. Shepard.
In March 2015, the UK treasury confirmed that 1p and 2p coins will continue to be used "for years to come". However, it has recently been suggested that due to a cash usage slump, The Royal Mint is set to go ten years without producing anymore 2p coins!
But it's not just our coppers at stake.. The same applies for £2 coins, as it has been revealed that in March 2020, The Royal Mint was sitting on 26 times as many £2 coins as it needed to.
According to the National Audit Office's report into Britain's cash usage, the number of coins produced each year by The Royal Mint fell by nearly two-thirds between 2011 and this year.
Less than a quarter of all payments were made by cash last year, according to figures released in June by the banking trade body UK Finance.
It's fair to assume that even less cash has been used since the start of 2020 due to the coronavirus leading to fears of cash usage and a move to more contactless payments.
However, The Mint told Britain's spending watchdog that there had been 'sharp increases in demand' for change 'as many businesses and consumers hoarded coins in the early months of the pandemic'.
As a result, the Treasury ordered The Royal Mint to strike 60 million additional 1p coins over the summer to meet this new demand. So make sure you keep your eyes peeled for these new 1p coins, especially if you're collecting dateruns!
The Royal Mint are required to forecast the demand for small change to ensure it keeps enough coins in stock without striking too few or too many, but with significant fluctuations in consumer behaviour in recent years, this has no doubt been a challenge.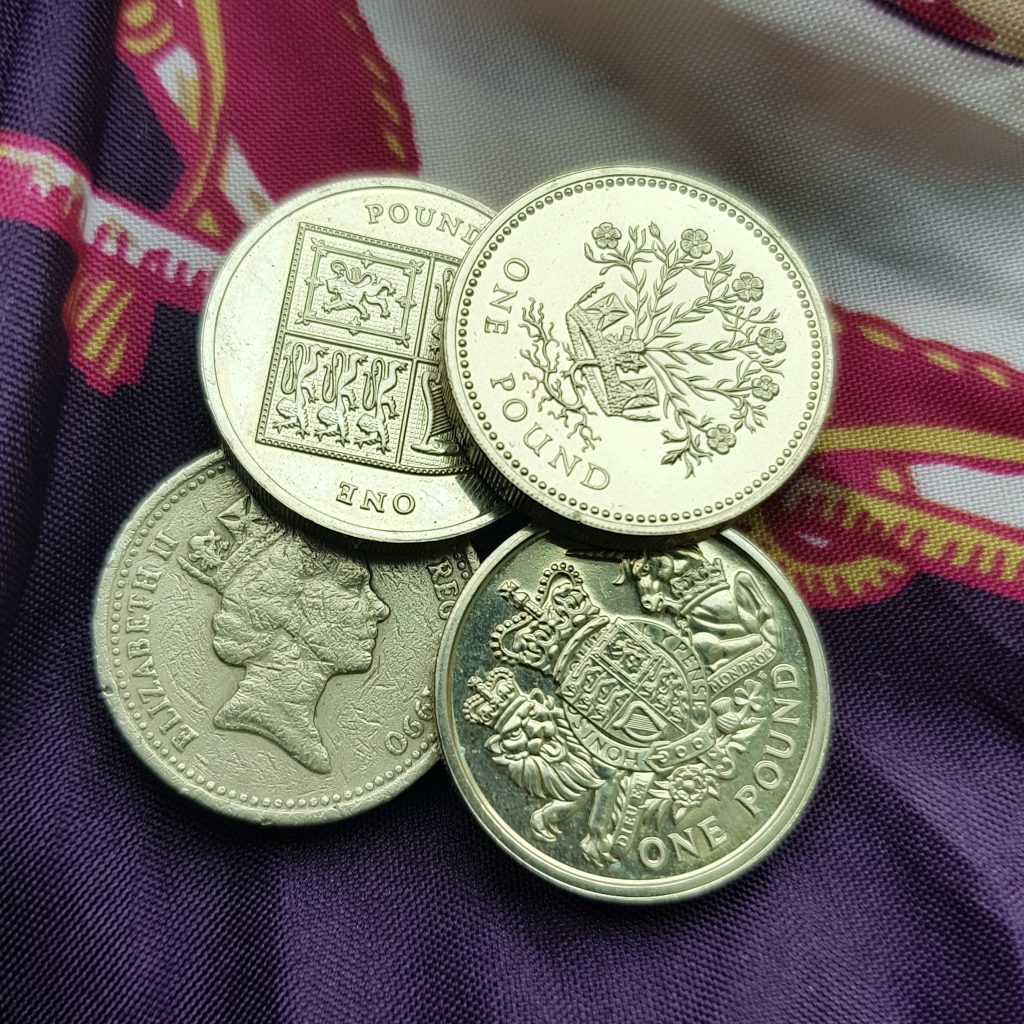 In 2017, after the introduction of the new 12-sided £1, The Royal Mint saw a swell in its coin stocks as people rushed to return their round pounds, ending up returning loose change of other denominations at the same time.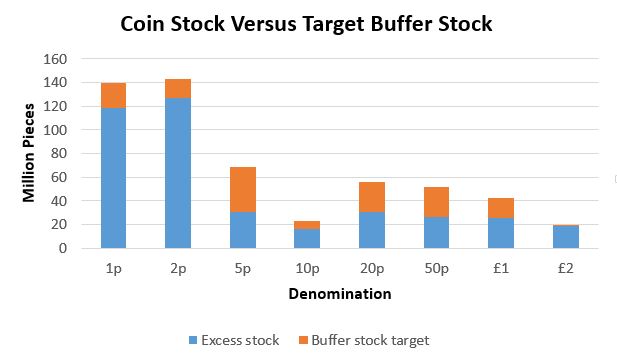 According to the NAO, at the end of March, The Royal Mint aimed to hold 700,000 £2 coins, but actually held 18.7million. And rather than holding its target of 15.9million 2p coins, it held 127.1million.
As a result, in March of this year, The NAO said The Royal Mint had estimated 'it did not envisage producing any new 2p or £2 coins for at least 10 years'.
We haven't seen a £2 enter circulation since 2016, so, could this mean that those 2016 dated £2s and 2017 dated 2p coins are the last of their kind? We certainly hope not.
But what about our coppers? Do you think we still need 1p and 2p coins in circulation? Have your say by voting in our poll on Facebook.
And what could the future for Britain's definitive coinage be if the 1p and 2p coins were removed? Currently the definitive coins from 1p to 50p come together to create The Royal Shield, but with two key pieces missing, could this lead to a complete re-design?
We'd love to hear what you think about the use of cash vs card and the demand for our smaller denominations, so leave us a comment below to share your thoughts.
---
If you're interested in coin collecting, our Change Checker web app is completely free to use and allows users to:
– Find and identify the coins in their pocket
– Collect and track the coins they have
– Swap their spare coins with other Change Checkers

Sign up today at: www.changechecker.org/app
Agatha Christie's first novel The Mysterious Affair at Styles was published in 1920 and it kick-started the nation's love of her detective novels and murder mysteries.
In 2020, to mark 100 years since her first publication, The Royal Mint celebrates the world's best-selling novelist with this brand new 2020 UK Agatha Christie £2.
2020 UK Agatha Christie £2
David Lawrence's design of this coin pays homage to Christie's crime novels, with a piece of a jigsaw slotting into place and her signature at the bottom.
The coin also features the edge inscription '100 years of mystery 1920'-2020' to mark this very special anniversary.
Issued initially as part of the 2020 Commemorative Coin Set, this brand new £2 coin has just been individually released and is available in Brilliant Uncirculated quality for JUST £8.99 (+p&p)
Murder, Mystery, and Masterpieces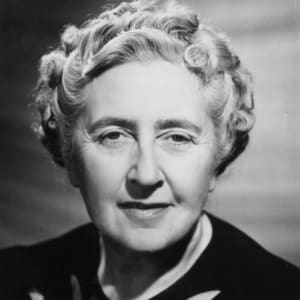 After the end of the First World War, Christie published her first novel The Mysterious Affair at Styles. This incredibly popular story introduced readers to one of Christie's most famous characters – Belgian detective Hercule Poirot*.
Writing well into her later years, Christie wrote more than 70 detective novels as well as short fiction. Her books have been made into films, television, and radio programmes. In 1971, she was made a Dame of the British Empire for her outstanding contribution to Literature.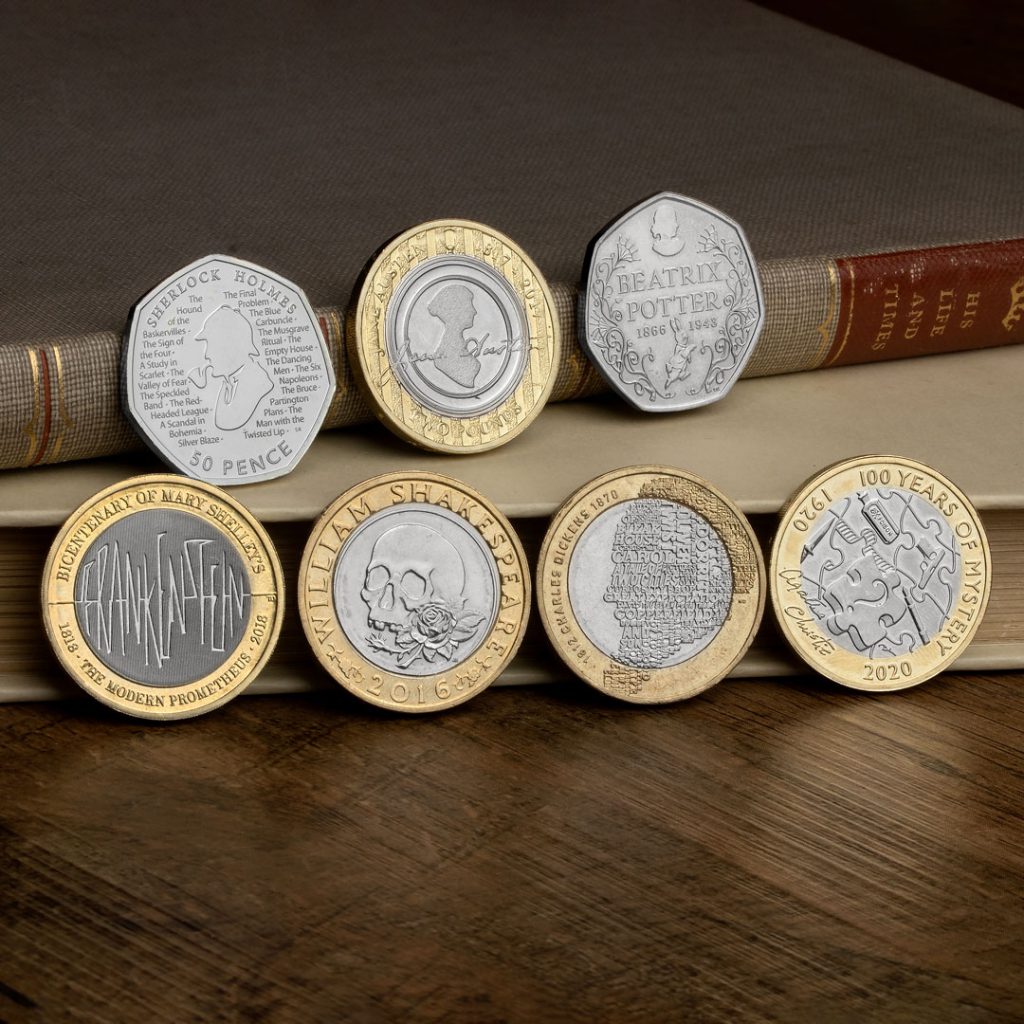 In 2020, she is celebrated once more with this brand new £2 coin and she becomes another UK author to be commemorated on UK coinage…
2016 Shakespeare £2 Series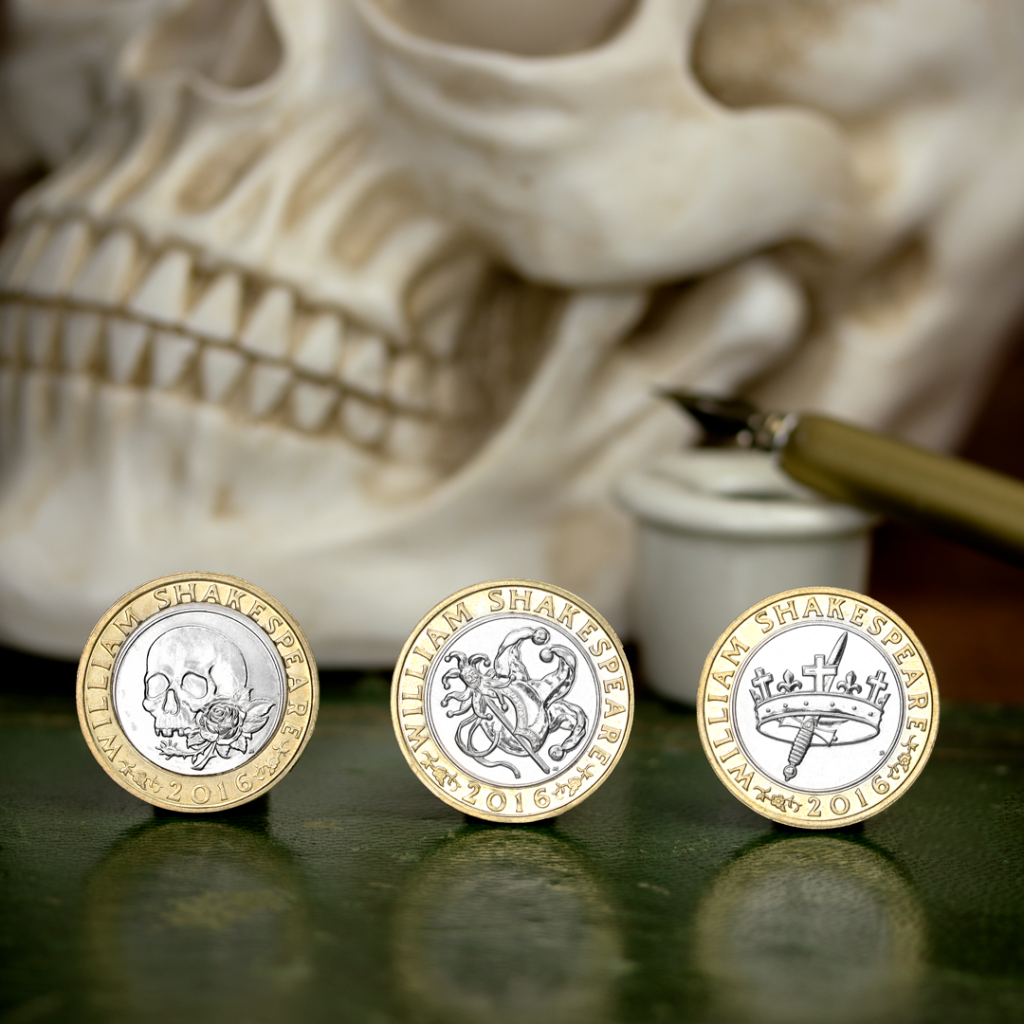 William Shakespeare is the most influential literary figure in British history and his works are an important part of Britain's cultural heritage.
In 2016, a series of three £2 coins were issued to mark the 400th anniversary since his death and to celebrate his greatest works.
Each coin's design takes inspiration from some of Shakespeare's greatest works, including Macbeth (pictured right), A Midsummer Night's Dream (central) and his most-famous love tragedy (pictured left).
All three coins entered circulation but the Comedy £2 has the lowest circulating mintage – just 4,355,000!
2017 Jane Austen
In 2017, to celebrate the life and works of one of Britain's best-loved authors, The Royal Mint issued this Jane Austen £2.
Jane Austen is one of the best-loved English novelists from the 19th century. Her novels were revolutionary and from her first novel, Sense and Sensibility, readers began a love affair with her fiction that has lasted two centuries.
Designed by Dominique Evans, a portrait of Jane Austen features on the reverse of this coin. It did not enter general circulation and was issued in collector quality only.
2019 Sherlock Holmes 50p
In 2019, to mark 160 years since the birth of Sir Arthur Conan Doyle, The Royal Mint issued this 50p coin.
The prolific writer is best known for his incredibly popular detective stories featuring the fictional Sherlock Holmes™. It is said his works revolutionised the crime genre, and despite Doyle sharing an ambivalent relationship with his famous character, Holmes' popularity resulted in Doyle becoming one of the best-paid authors of the time.
The reverse has been designed by Stephen Raw and features a silhouette of Sherlock smoking a pipe, surrounded by a few of his most-famous story titles.
It entered general circulation but the exact mintage figures have not been confirmed yet!
2012 Charles Dickens £2
The Charles Dickens £2 coin was issued by The Royal Mint in 2012 to commemorate the 200th anniversary of one of Britain's most famous and beloved writers.
His enchanting stories, vivid characters and depiction of Victorian life are widely acknowledged across the world by critics and scholars alike and his novels and short stories continue to be widely popular.
The design features Dickens' recognisable profile crafted from the titles of his most famous works and is a favourite amongst collectors.
This coin was released into general circulation and has a mintage of 8,190,000.
2018 Mary Shelley's Frankenstein £2
This £2 coin was issued by The Royal Mint to celebrate the 200th anniversary of the publication of Mary Shelley's famous novel Frankenstein; or, The Modern Prometheus.
Whilst on holiday in Geneva Mary Shelley and her poet friends, including Lord Byron and future Husband Percy Shelley, decided to have a competition to see who could write the best horror story. Out of this Mary Shelley created Frankenstein, a story about a scientist's scary act at playing God and creating life. It went on to become one of the best loved gothic novels.
The reverse of this gothic coin was designed by Thomas Doherty and features the words 'Frankenstein' in an electric gothic font. It features the edge inscription, Bicentenary of Mary Shelley's The Modern Prometheus.
It did not enter general circulation.
2016 Beatrix Potter Anniversary 50p
To celebrate the 150th anniversary of the birth of Beatrix Potter, the Royal Mint have released this 50p to celebrate Beatrix herself.
Designed by Emma Noble, the coin includes elements that celebrate Beatrix as the artist behind some of the best-loved characters in children's literature along with the nostalgic font used for the inscription.
This coin entered general circulation and has a mintage of 6,900,000.
---
We love seeing Britain's best-loved authors come to life on our UK coins, but which author coin is your favourite? Comment below!
---
Secure the 2020 UK Agatha Christie £2 to your collection today!
To secure yours in Brilliant Uncirculated quality for just £8.99 (+p&p) click here >>
* AGATHA CHRISTIE, POIROT and the Agatha Christie Signature are registered trademarks of Agatha Christie Limited in the UK and elsewhere. All rights reserved.