We all know what an incredible job our doctors, nurses, paramedics – indeed all our fabulous Key Workers are doing to help us through this challenging time.
So much so that last night, people all across the UK leaned out of their windows or stood at their doors to applaud our heroes for their hard work
And now we're calling all our Change Checker Juniors to design a 50p just for them, as another way to show appreciation.
If you'd like to get involved, all you need to do is follow these simple steps:
1. Download this PDF and print it out.
2. Create your Key Worker Heroes design and fill in the details on the page. You can take inspiration from the UK 50ps listed on our web app!
3. Photograph your design.
4. Post a photo of your design in the comments on this Facebook post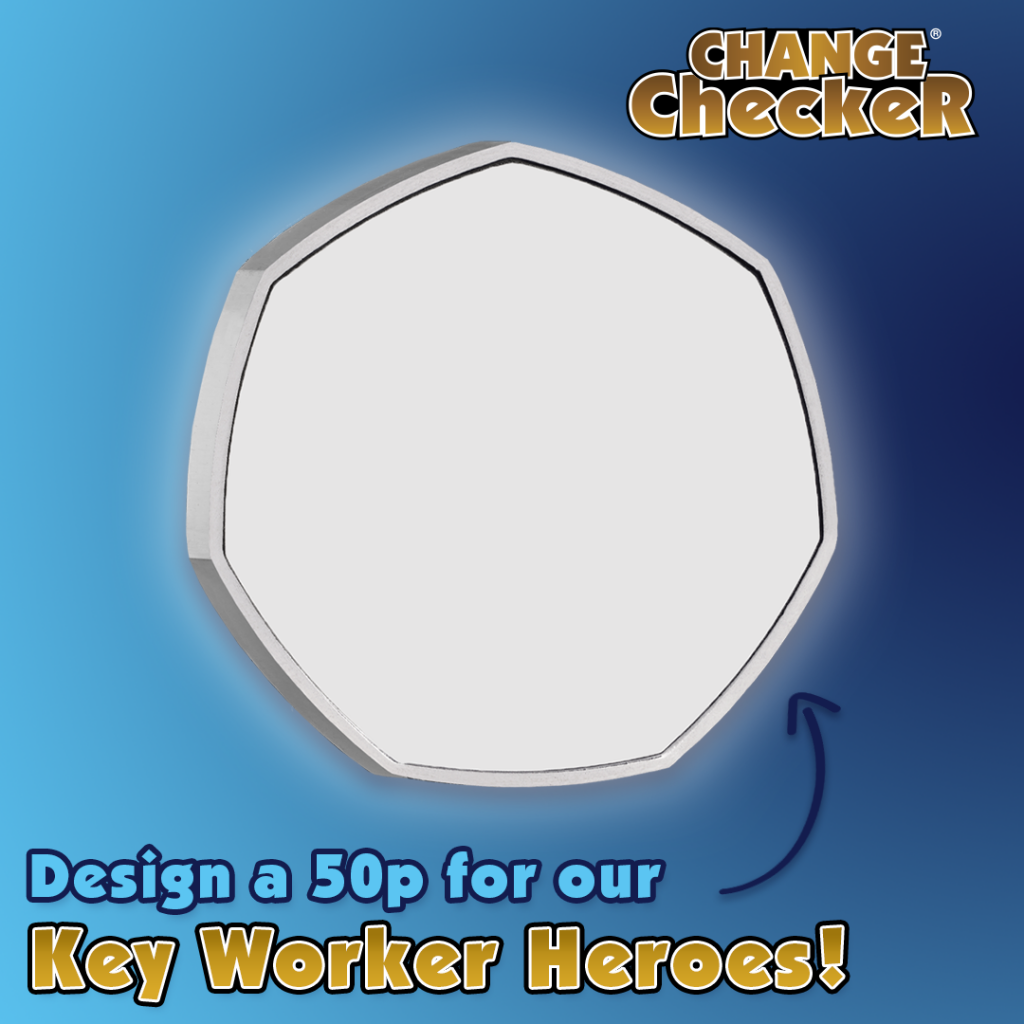 The TOP 5 designs will be brought to life in an animation and featured in a Change Checker video, which will be available to watch on the 13th April.
Entries close at 9am on Thursday 9th April, so don't delay!
Best of luck and happy designing!
The BRAND NEW and last-ever Peter Rabbit 50p has now been officially released!
It would be hard to find someone who hadn't heard of this naughty little rabbit. The central character of Beatrix Potter's beloved children's stories, Peter Rabbit has featured on many staple collectables.
Emma Noble's design of this coin, which features an original illustration of Peter Rabbit by Beatrix Potter herself, perfectly captures Peter Rabbit's cheeky personality, as he can be seen crawling under Mr. McGregor's fence!
This coin won't be entering circulation but is available to purchase in Brilliant Uncirculated quality for just £4.50 (+p&p) here.
Where it all started
It was in 2016 that Peter Rabbit escaped from Mr. McGregor's garden and made his first debut on United Kingdom coinage.
Issued to celebrate 150 years since the birth of renowned Children's author, Beatrix Potter, this 50p changed coin collecting forever.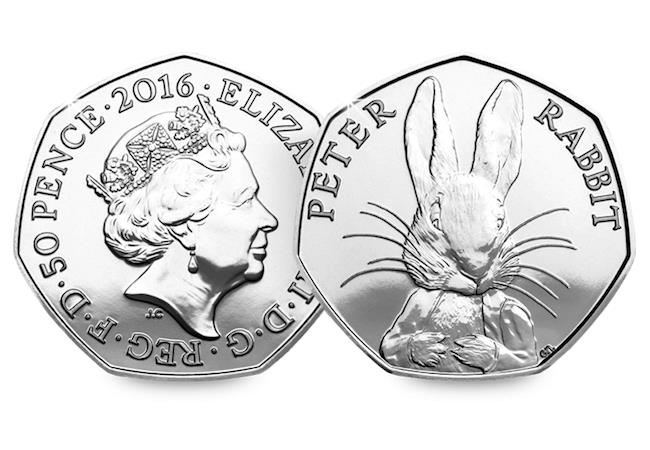 There were five Beatrix Potter 50ps issued in 2016, including the incredibly popular Jemima Puddle-Duck, which, for a long time, was considered the rarest Beatrix Potter coin in circulation. She was also joined by fellow characters Mrs. Tiggy-Winkle and Squirrel Nutkin.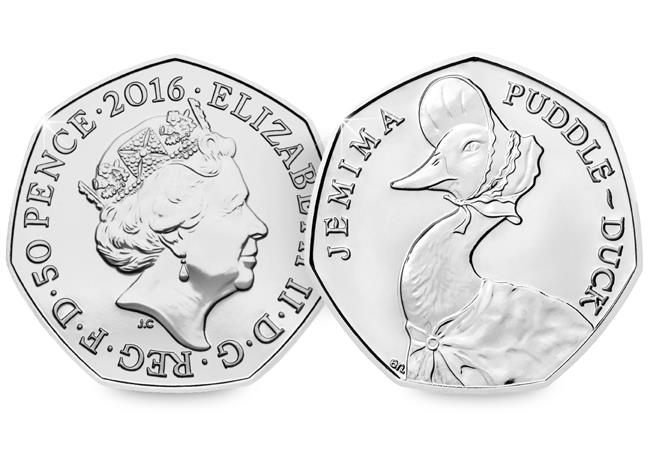 A very special 50p was issued the same year, celebrating Beatrix Potter herself and features her silhouette and her emblem.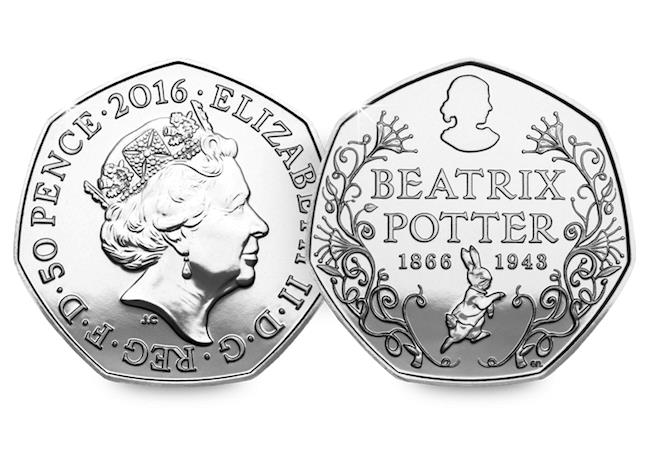 This series of coins continued into 2017, 2018 and 2019. Fifteen Beatrix Potter coins have now been issued since 2016, each featuring one of Potter's delightful characters, from Flopsy Bunny to Mrs. Tiggy-Winkle.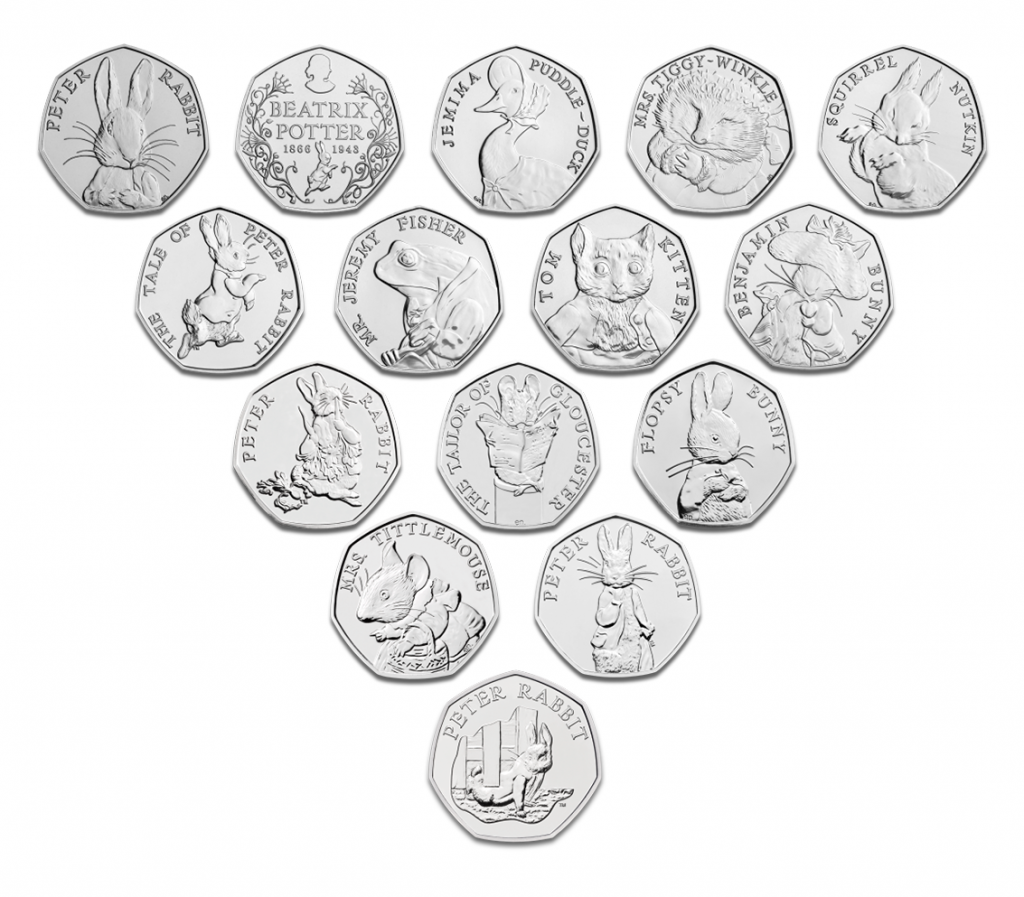 Peter Rabbit is the only character to feature more than once in the Beatrix Potter 50p series, with no less than 5 coins issued to celebrated the nation's favourite little rabbit.
Sadly, Peter Rabbit's 50p tale has now come to an end. It has been confirmed that the 2020 50p will be the very last UK Peter Rabbit 50p to be issued!
Which Beatrix Potter coins are the rarest?
To celebrate the release of this brand-new Peter Rabbit 50p, we've taken a look back at the mintage figures for the different Beatrix Potter 50ps to find out which ones are the rarest in circulation…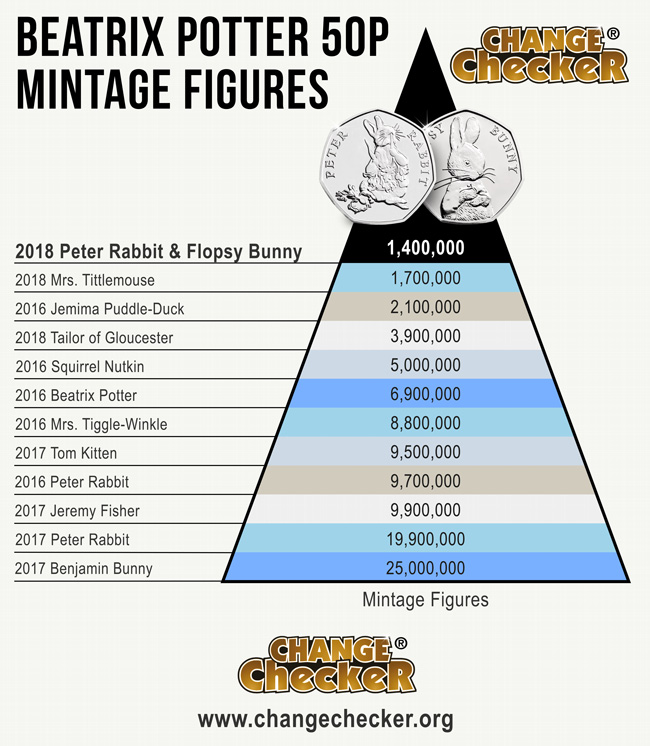 Following the release of the 2018 mintage figures, we've seen the 2018 Peter Rabbit and Flopsy Bunny 50ps take joint top spot on the Beatrix Potter Mintage Chart. With mintages of just 1,400,000, these coins are the rarest Beatrix Potter coins in circulation and have already proved incredibly popular with collectors!
We also saw the 2018 Mrs. Tittlemouse claim its spot on the podium, pushing Jemima Puddle-Duck – previously thought of as the rarest Beatrix Potter 50p in circulation – further down the chart, with a circulating mintage of 1,700,000.
So collectors that have held onto their 2018 Beatrix Potter 50ps will be delighted to see this! If you don't have these coins in your collection yet, now's the time to keep your eyes out to hunt down these sought-after 50ps.
4 years on from his initial release, it's safe to say that Peter Rabbit inspired a whole new generation of collectors to start checking their change.
I have no doubt that the 2020 Peter Rabbit 50p will prove as popular as the previous years, and I'm sure collectors and Peter Rabbit fans alike will be chasing this rascally rabbit right into their collections.
---
Secure this brand new 2020 UK Peter Rabbit 50p in Brilliant Uncirculated Quality
This is your chance to be ahead of the crowd and secure the very last Peter Rabbit 50p in superior Brilliant Uncirculated condition for just £4.50 (+p&p).
Basingstoke
NatWest, 3 London Street, Old Market Square, Basingstoke, RG21 7NS
Bath
HSBC, 41 Southgate, Bath, BA1 1TN
NatWest, 8-9 Quiet Street, Bath, BA1 2JN
Birmingham
HSBC, 130 New Street, Birmingham, B2 4JU
Lloyds Bank, 36-38 New Street, Birmingham, B2 4LP
NatWest, 144 New Street, Birmingham, B2 4NY
Santander, Unit 6, Caxton Gate, Corporation Street, Birmingham, B2 4LP
TSB, 134 New Street, Birmingham, B2 4NS
Virgin Money, Temple Point, 1 Temple Row, Birmingham, B1 5YB
Bradford
Santander, 9 Nelson Street, Bradford, BD1 5AN
Bristol
Eurochange, Cribbs Causeway, Bristol, BS34 5QT
Cwmbran
NM Money, 15 South Walk, Cwmbran, NP44 1PU
Edinburgh
TSB, 28 Hanover Street, Edinburgh, EH2 2DS
Leeds
HSBC, 33 Park Row, Leeds, LS1 1LD
Santander, PR Work Café, 10-12 Park Row, Leeds, LS1 5HD
Yorkshire Bank, 94-96 Briggate, Leeds, LS1 6NP
Leicester
Santander, Carlton Park, King Edward Avenue, Narborough, Leicester, LE19 0AL
Liverpool
Santander, 45 Lord Street, Liverpool, L2 6PB
TSB, 81-83 Lord Street, Liverpool, L2 6PG
London
Barclays, 2 Churchill Place, Canary Wharf, London, E14 5RB
Barry's Food & Wine, 149 Hoxton Street, London, N1 6PJ
HSBC, 165 Fleet Street, London, EC4A 2DY
Halifax, 118-132 New Oxford Street, London, WC1A 1HL
NatWest, 1 Princes Street, London, EC2R 8BP
NatWest, 34 Henrietta Street, London, WC2E 8NL
NatWest, 10 Southwark Street, London, SE1 1TJ
Post Office, 52 Blackfriars Road, London, SE1 8NN
Post Office, 39-41 Farringdon Road, London, EC1M 3JB
Post Office, 11 White Kennet Street, Houndsditch, London, E1 7BS
Post Office, 19a Borough High Street, London, SE1 9SF
Post Office, 125-131 Westminster Bridge Road, London, SE1 7HJ
Santander, 48-54 Moorgate, London, EC2R 6EJ
Santander, 164-167 Tottenham Court Road, London, W1T 7JE
Santander, 2 Triton Square, Regents Place, London, NW1 3AN
The Cooperative Food, 185 Old Street, Shoreditch, London, EC1V 9NP
TSB, 55 Bow Bells House, Cheapside, London, EC2V 6AT
Virgin Money, 154-158 Kensington High Street, London, W8 7RL
Manchester
Lloyds Bank, 42-46 Market Street, Manchester, M1 1PW
NatWest, 1 Hardman Blvd, Manchester, M3 3AQ
TSB, 21 Market Street, Manchester, M1 1WR
Margate
Santander, 110-112 High Street, Margate, Kent, CT9 1JR
Milton Keynes
Santander, 201 Grafton Gate East, Milton Keynes, MK9 1AN
Newcastle
Santander, 112-118 Northumberland Street, Newcastle, NE1 7DG
Salford
Barclays, Unit 2 Blue, MediaCityUK, Salford, M50 2AD
Lowry Outlet Mall, The Lowry Designer Outlet, Salford Quays, M50 3AH
Sheffield
Post Office, 12 Ellesemere Road, Sheffield, S4 7JB
Yorkshire Bank, Fargate, Sheffield, S1 1LL
Swindon
Nationwide, Nationwide House, Pipers Way, Swindon, SN3 1TA
Wales
Post Office, 56-58 Oxford Street, Mountain Ash, Mid Glamorgan, CF45 3HB
Santander, 5-7 Queen Street, Cardiff, South Glamorgan, CF10 2AF