Posts Tagged 'Coin collection'
The dawn of a new monarchy is upon us, and with King Charles III at the helm, history is being written before our very eyes. 
And as the Coronation date nears, it's beginning to hit home how momentous the occasion will be. To celebrate, the Isle of Man have issued The National Anthem Coronation 50p Coin Set. And they've been fully approved by the King himself.
Let us guide you through these remarkable 50p coins and how you can secure them for your collection…
All five 50ps have been designed by Tom Meek. They feature famous lines from the National Anthem, alongside two different heraldic beasts on each coin.
These ancestral and heraldic beasts watched over Her Majesty the Queen during her unprecedented reign and will now do the same for King Charles III.
The 10 beasts featured on these new 50ps comprise of 'The Lion of England', 'The White Greyhound of Richmond', 'The Yale of Beaufort', 'The Red Dragon of Wales', 'The White Horse of Hanover', 'The White Lion of Mortimer', 'The Unicorn of Scotland', 'The Griffin of Edward III', 'The Black Bull of Clarence' and 'The Falcon of the Plantagenets'.
Together, representing strength, purity and power, these beasts are the perfect choice for such a significant new 50p coin collection. Each 50p is struck to a Brilliant Uncirculated quality and features the brand new British Isles portrait of His Majesty by Glyn Davies.
Can I find these 50ps in my change?
If you're living on the Isle of Man, then yes!
Just 2,500 of each of these new coins will enter circulation on the Isle of Man. When you compare that to the mintage figures for UK coins (our rarest 50p in circulation has a mintage of 210,000), you'll realise just how few of these coins are actually out there. This is certain to increase the collectability even more.
Isle of Man Coins – worth keeping an eye on?
Isle of Man coins are worth keeping an eye on. They typically have lower mintage figures due to the smaller population of just 84,000. This means that their coins are particularly sought-after amongst collectors.
They have issued some very popular coins in recent years including Peter Pan 50ps and the annual TT £2s to name just a couple that have piqued the interest of collectors.
But this is why they're worth looking out for. More often than not, their mintage figures are MUCH LOWER than UK coins, making them especially sought-after by collectors.
So, what does this mean for collectors?
Previous Isle of Man issues have been incredibly popular with coin collectors, so demand is already set to be high for these new 50ps.
And, given the significance of this event, I'm sure that 50p collectors will be quick to snap these ones up!
This NEW 50p set is surely a MUST-HAVE for any serious coin collector, so if you'd like to secure one for your collection for JUST £34.95 (+p&p) then click here >>>
The new Coronation National Anthem 50ps are struck to an unblemished Brilliant Uncirculated finish.
What's more, your coins will come protectively housed in a specifically designed bespoke presentation pack.
The Royal Mint have struck a brand new UK Harry Potter 50p, featuring the wise headmaster of Hogwarts: Professor Dumbledore!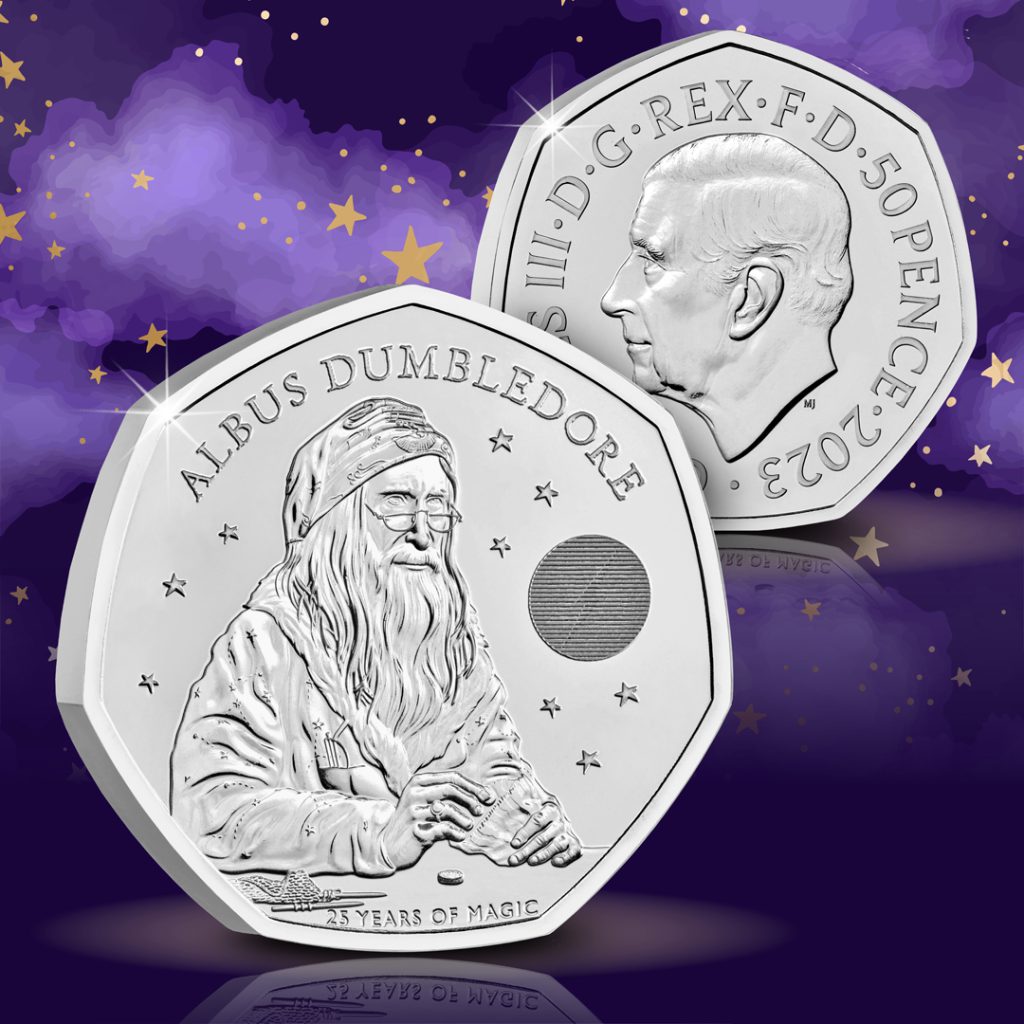 Featuring King Charles III for the first time

But Dumbledore is not the only figure to feature for the first time. Unlike the two previous 50p coins in the series, King Charles III's portrait also appears on the coin!
This is the FIRST TIME we've seen both effigies of Queen Elizabeth II and King Charles III feature in a UK 50p series! Therefore, collectors of both monarch portraits are likely to secure all four for their collections…
With this unusual collecting story making these 50p coins even more collectable, you'll need to act fast to get your hands on one! Click here to secure yours now for just £4.99 (+p&p) >>
The Professor Dumbledore design

The detailed design of Professor Dumbledore is an illustration by artist Jim Kay, which can be found within the pages of the 2015 Harry Potter and the Philosopher's Stone book!

And, as with the other coins in the series, the 2023 UK Professor Dumbledore 50p features a special lenticular feature. By moving the coin back and forth, you can see the lenticular area show two different symbols: a lightning bolt, and the number 25!

The lightning bolt is an iconic symbol in the Harry Potter series, as it is the shape of Harry's scar. Meanwhile, the number 25 features to mark 25 years since the publication of Harry Potter and the Philosopher's Stone!

First UK Harry Potter 50p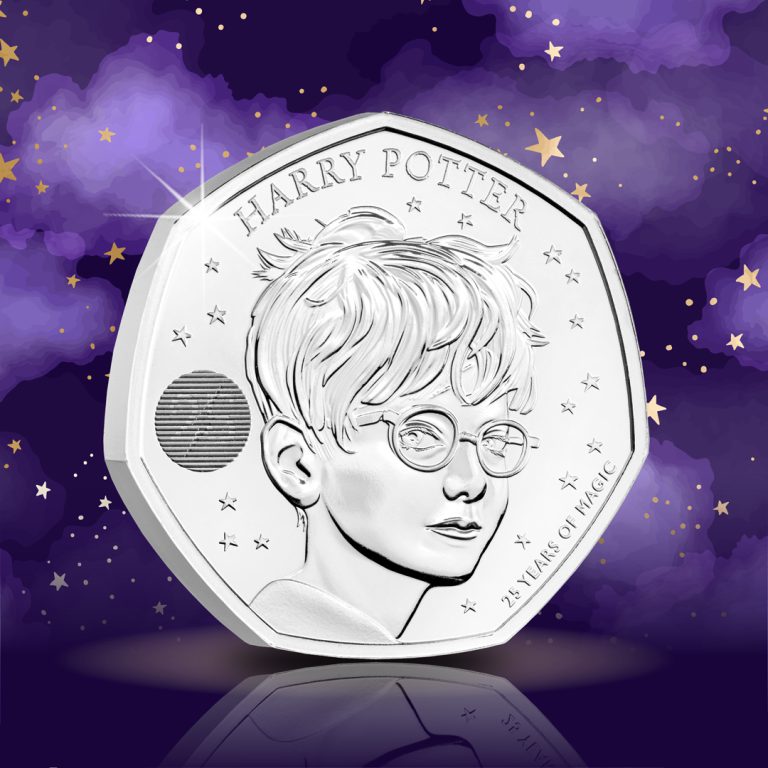 In 2022, The Royal Mint struck the first UK Harry Potter 50p. It's design depicts Harry himself, and saw incredible demand from both Harry Potter fans and 50p collectors alike.

If you'd like to get your hands on the 2022 UK Harry Potter 50p, simply click here >>

Hogwarts Express 50p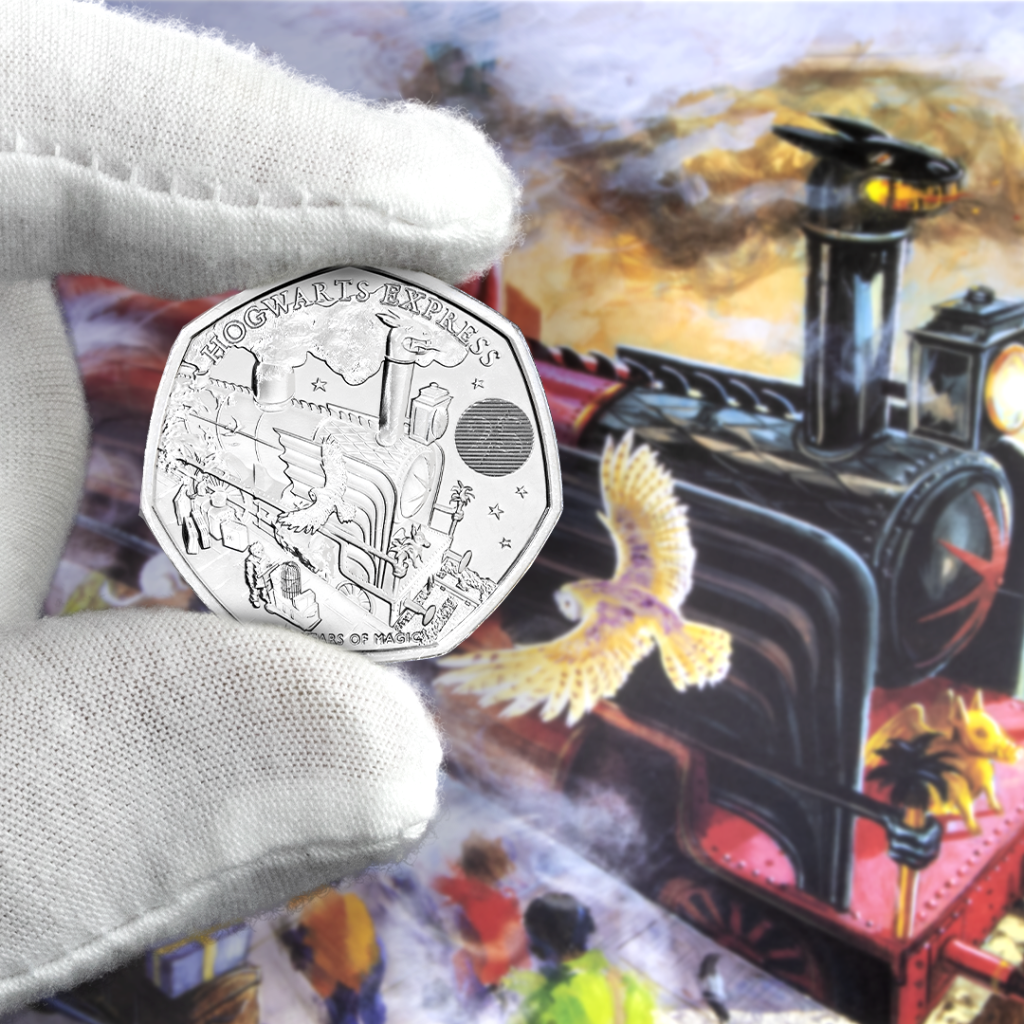 Soon after, the Hogwarts Express 50p was issued as the second coin in the series! It features Jim Kay's illustration of the iconic train that takes Hogwarts students to the wizarding school.

As the last coin in the series to feature Queen Elizabeth II's effigy, collectors were eager to get their hands on the Hogwarts Express 50p!

If you'd like to order your 2022 UK Hogwarts Express 50p, simply click here >>
2023 UK Professor Dumbledore 50p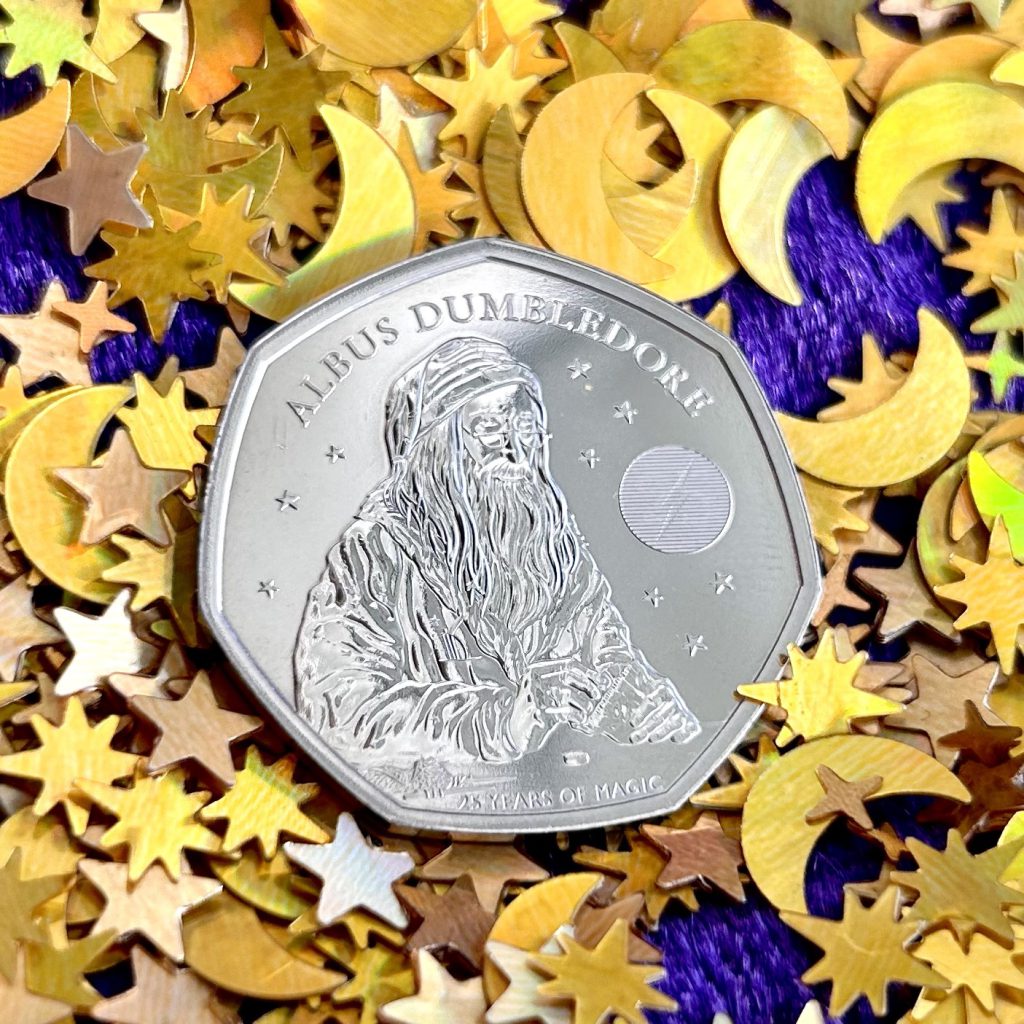 As the first Harry Potter 50p featuring King Charles III, the 2023 UK Professor Dumbledore 50p is sure to cause a stir amongst 50p collectors. Especially those starting their King Charles III coin collection!
Hogwarts School of Witchcraft and Wizardry 50p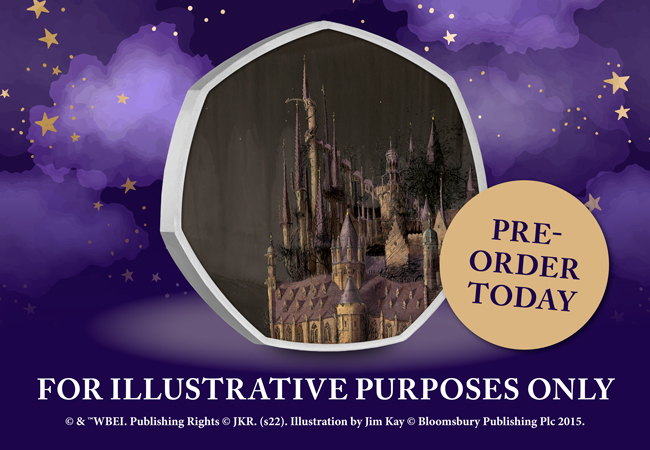 We are yet to see the launch of the fourth and final 50p coin in the series. But, we do know it will feature another of Jim Kay's wonderful illustrations. In particular, the Hogwarts School of Witchcraft and Wizardry!
Collectors will surely be racing to complete their Harry Potter 50p collections, especially after the unusual dual-portrait reveal…
Get ahead of the crowd and pre-order the final UK Harry Potter 50p today >>
Celebrating 60 years of iconic rock band The Rolling Stones, The Royal Mint have issued a UK £5 coin!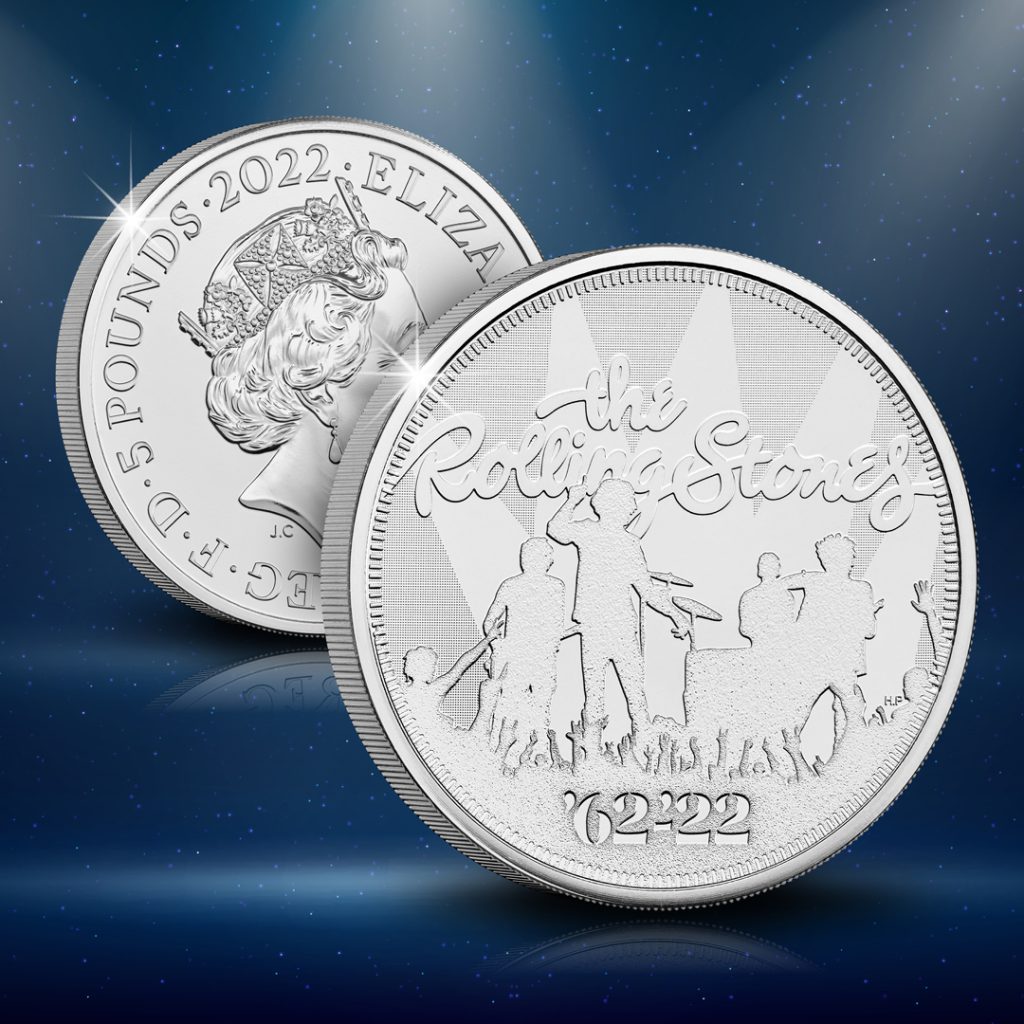 Order your 2022 UK The Rolling Stones £5 here >>
The design sees the band in concert, with their name above them and dates '62-'22 at the bottom, representing the anniversary. You'll also spot Her Late Majesty Queen Elizabeth II on the obverse.
Music Legends £5 coin series
This new issue continues the Music Legends £5 series, which has seen music favourites star on UK coins:
Queen
Elton John
David Bowie
The Who
Are these popular coins missing from your collection? Explore the Music Legends range here >>
60 years of incredible tours
The Rolling Stones have played some incredible tours over the last 60 years, with their most recent in 2022!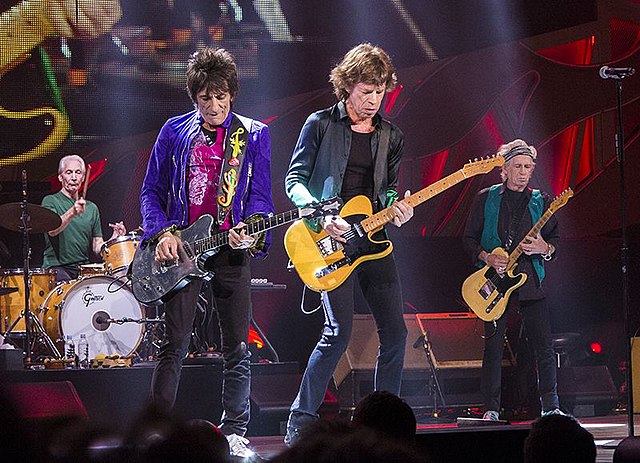 And, just last year, they became the highest earning live act of 2021, as announced by Rolling Stone magazine. I'd love to know in the comments if you've been lucky enough to experience the rock band live!
Order your 2022 UK The Rolling Stones £5 here >>
Huge fanbase
And, with fans all around the world, this coin is sure to be a popular addition to the Music Legends coin series. You can get your hands on one by visiting our shop >>
Their global reach is undeniable, but The Rolling Stones have even made it into space!
November 2018 saw NASA name a rock on Mars after the rock 'n' roll band, with Robert Downey Jr. making the announcement at a show.
The Rolling Stones Memorabilia
Although it's not all space rocks, The Rolling Stones memorabilia is highly sought-after. In 2012, band member Ronnie Wood's 1955 Fender Stratocaster sold for a whopping $60,800.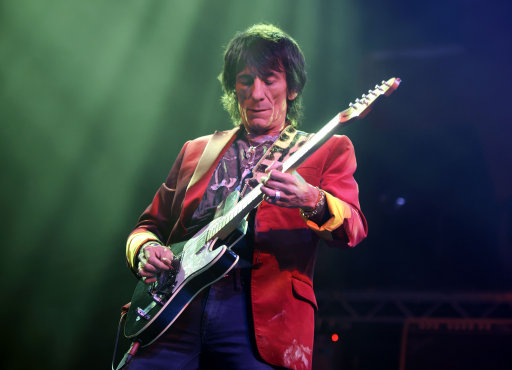 Meanwhile, a cardboard cut-out of a guitar, gifted by fellow member Keith Richards, sold for $6,875!
If their cardboard memorabilia can go for nearly $7,000, can you imagine how popular a Rolling Stones UK £5 coin could be?
Secure your 2022 UK The Rolling Stones £5 today by visiting our website >>