Posts Tagged 'Coin collection'
***BREAKING NEWS***
The first coin in The Royal Mint's Music Legends £5 series has just been released, and this £5 is sure to rock you…
For the first time ever, QUEEN feature on a brand new UK coin!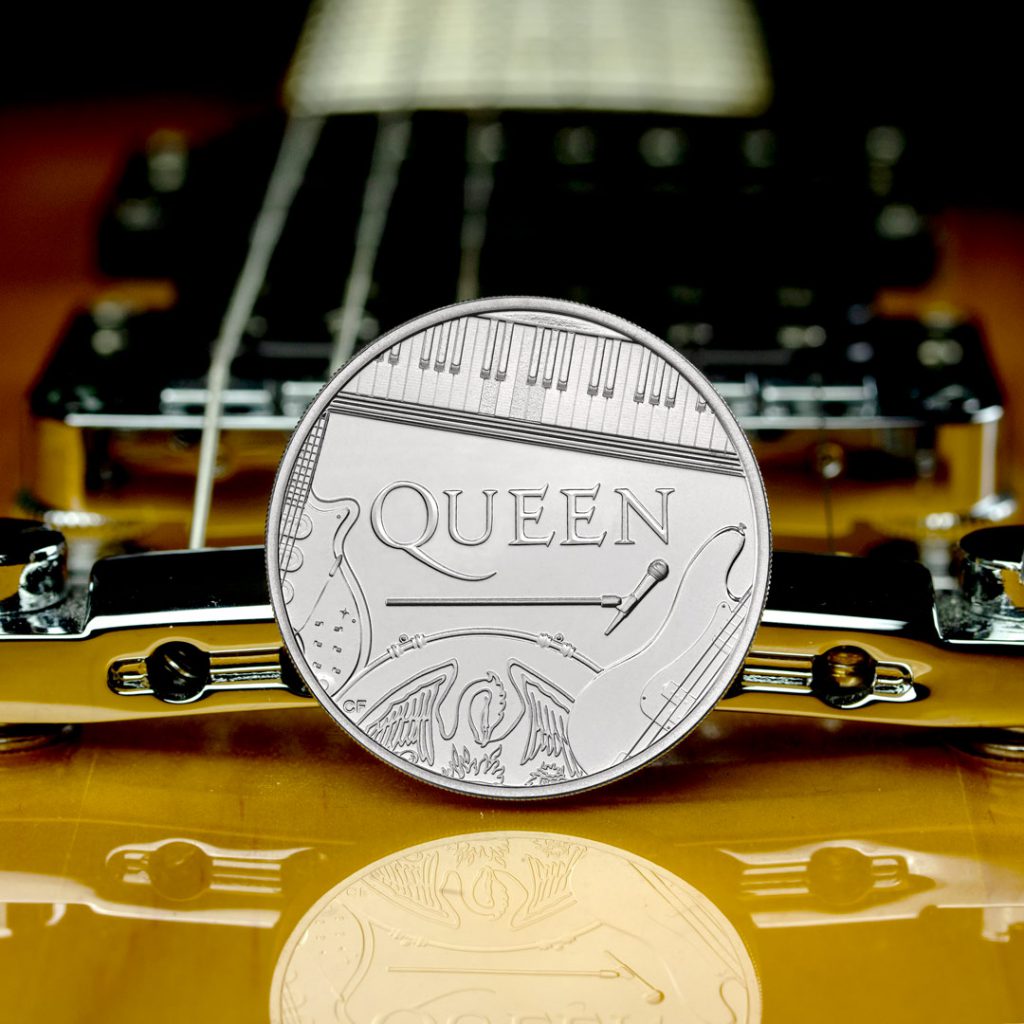 The Show Must Go On
As one of Britain's most iconic and influential bands ever, Queen's unique sound quickly propelled them to global stardom!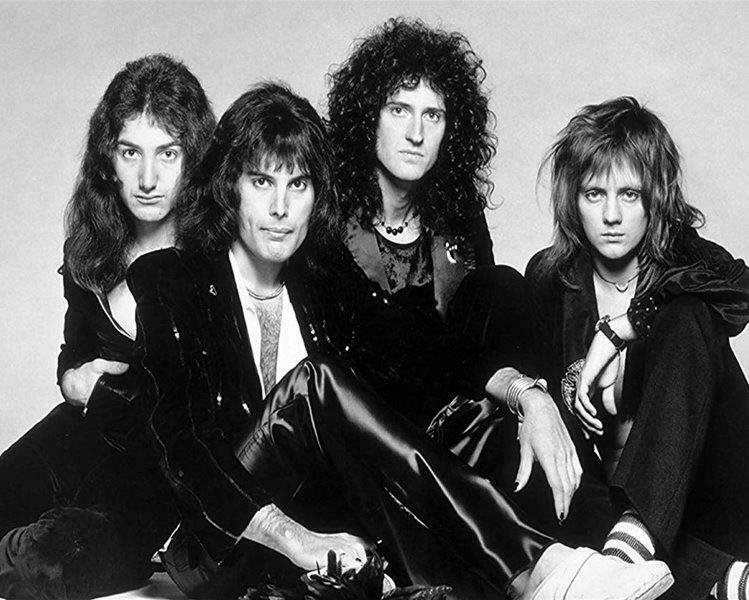 The band was formed in London in 1970 and released their debut album in 1973.
From one hit to another, Queen rocked the nation and became a British icon, creating unique and timeless songs which are still loved to this day.
And as of 2005, Queen albums have spent a total of 1,322 weeks on the UK Album Charts – equating to twenty-six years (according to the Guinness Book of World Records).
2020 Queen £5 Coin
To celebrate these true music legends, a brand new Queen £5 coin has been released by The Royal Mint.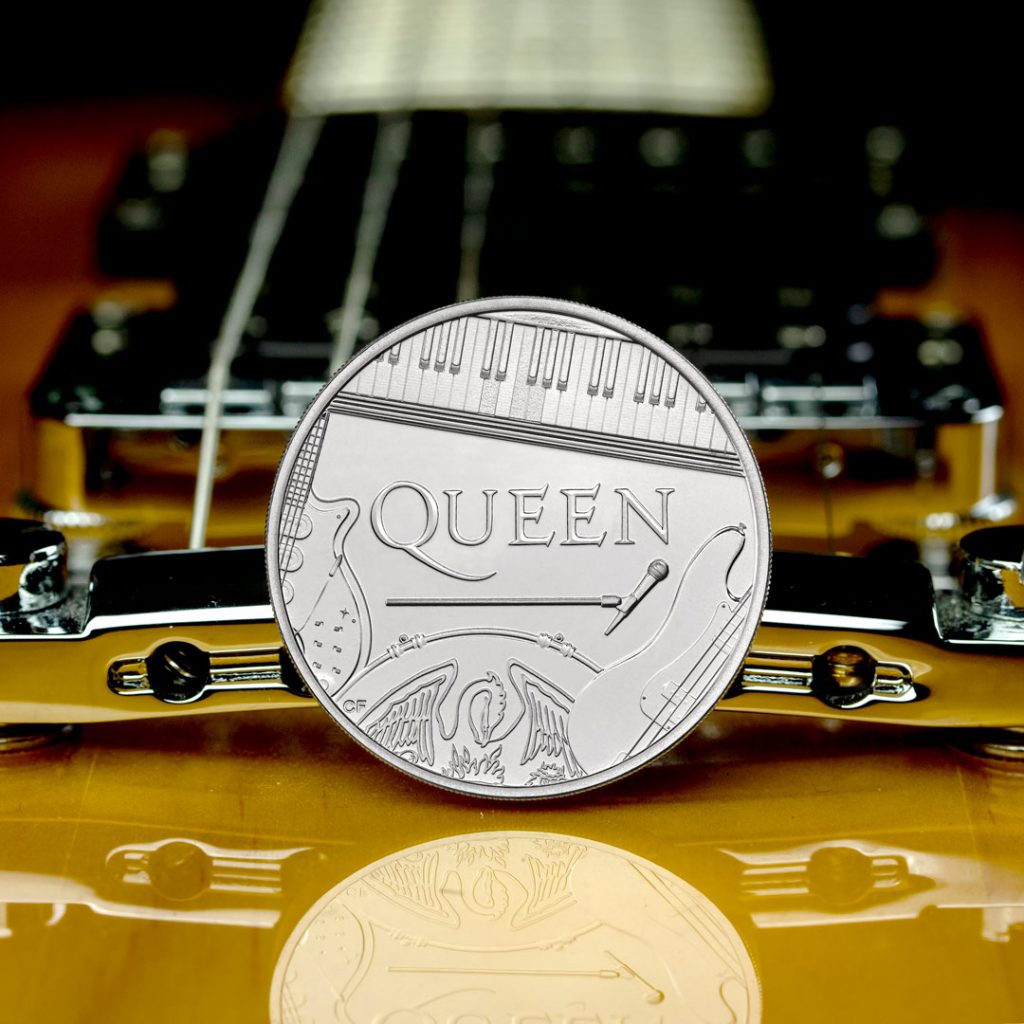 The £5 coin features a design by Chris Facey, showcasing the iconic instruments of all four founder members of the band: Britain May's Red Special guitar, John Deacon's Fender Precision Bass™, Roger Taylor's Ludwig™ bass drum, and Freddy Mercury's Bechstein™ grand piano.
But my favourite part of this coin design has got to be the grand piano with the opening notes of Queen's world-famous anthem Bohemian Rhapsody pressed down.
Band members Brian May and Roger Taylor have officially approved the design of this £5 coin and this, alongside the fact that the coin is full of numismatic firsts, is sure to make it particularly sought-after amongst collectors:
The first-time ever Queen have featured on a coin worldwide
The first-time ever a British band has been celebrated on UK coinage
The first in an exciting new series celebrating British music legends
I'm sure you're just as excited as we are by this brand new coin release and the start of the Music Legends £5 series. Who do you think will appear on the next coin in the series? Let us know in the comments below!
---
A genuine numismatic first – secure yours today
As you would expect with a coin this exciting, your brand new UK £5 has been struck to superior Brilliant Uncirculated quality and protectively encapsulated in official Change Checker packaging to preserve its quality forever.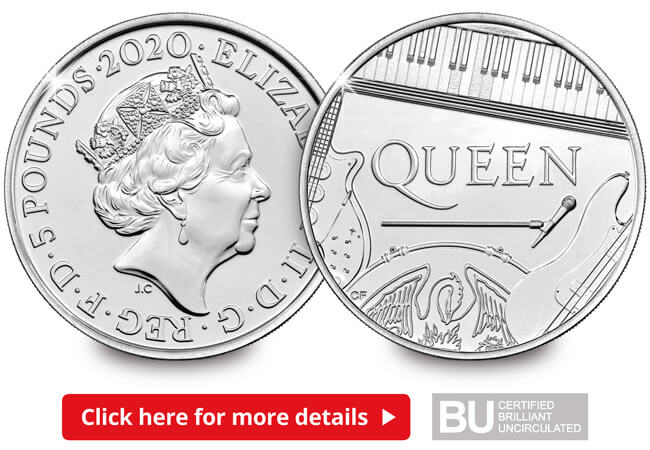 Become part of British history and secure the first-ever Queen £5 coin for your collection right now by clicking here.
Good news Change Checkers – your latest eBay Tracker and Valuation Index is here!
Whilst the secondary market can be a bit of a minefield, we've put together an easy way for you to see how much the Top 10 UK coins and banknotes are selling for right now.
eBay Tracker
Find out which coins and notes have been the key movers and shakers in the updated eBay Tracker below.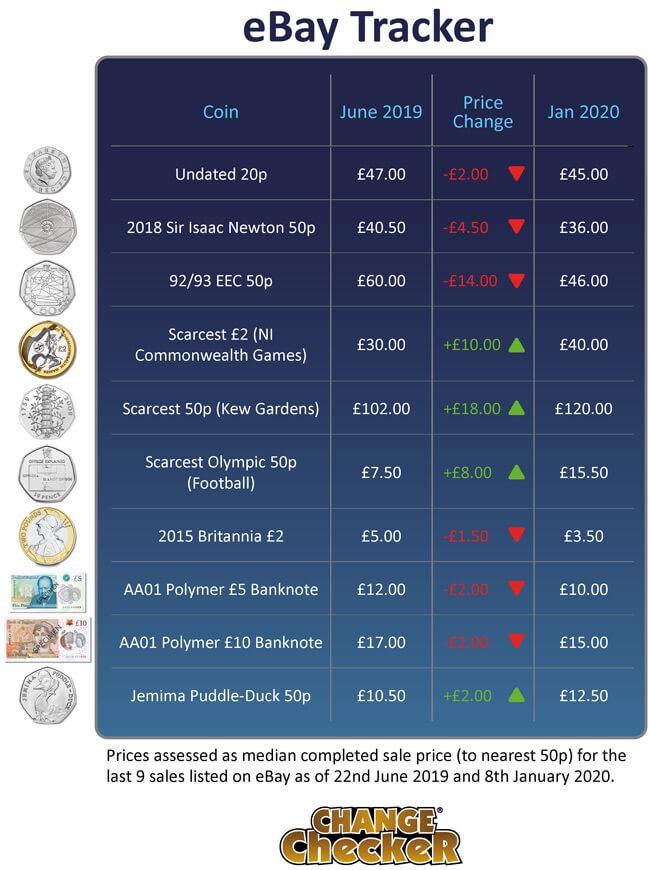 Once again, the Kew Gardens 50p is on the rise, this time increasing in price on the secondary market by a staggering £18! This comes after an increase of £5 on the last eBay Tracker update.
The ongoing popularity of this rare coin is clear to see and appears to be continuing to build following the 2019 re-issue of the coin to celebrate the 50th anniversary of the 50p.
But will we continue to see the price of this coin rise on the secondary market? Only time will tell and we'll have to wait for the next eBay Tracker update to find out!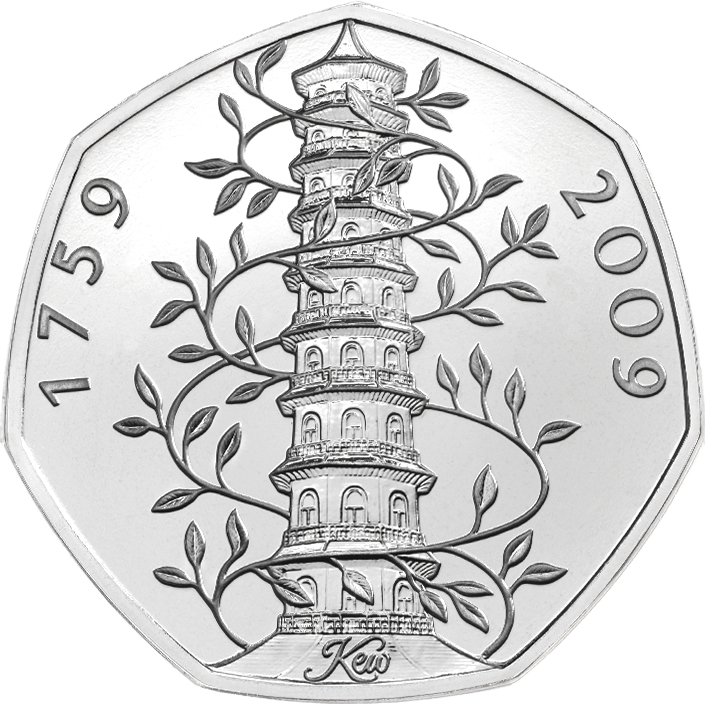 Other coins to keep an eye on are the Commonwealth Games Northern Ireland £2 which has increased in price by £10 since the last update and the Jemima Puddle-Duck 50p which has increased by £2.
However, the biggest riser on the eBay Tracker is the Olympic Football 50p which has increased by 107% to £15.50 on the secondary market – certainly not a bad return for a 50p coin!
As the rarest Olympic 50p in circulation, with a mintage of just 1,125,500, this coin has been on collector's radars since the Olympic 50p series sparked a collecting frenzy in 2012.
And with the Tokyo Olympics approaching this year, are we likely to see these coins become even more popular with collectors in 2020?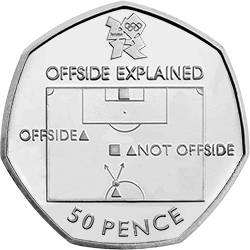 Valuation Index
Overall there has been a 4% increase in value for the Top 10 UK coins and banknotes since June's update and this is mostly due to the impressive spike in price for the Olympic football 50p.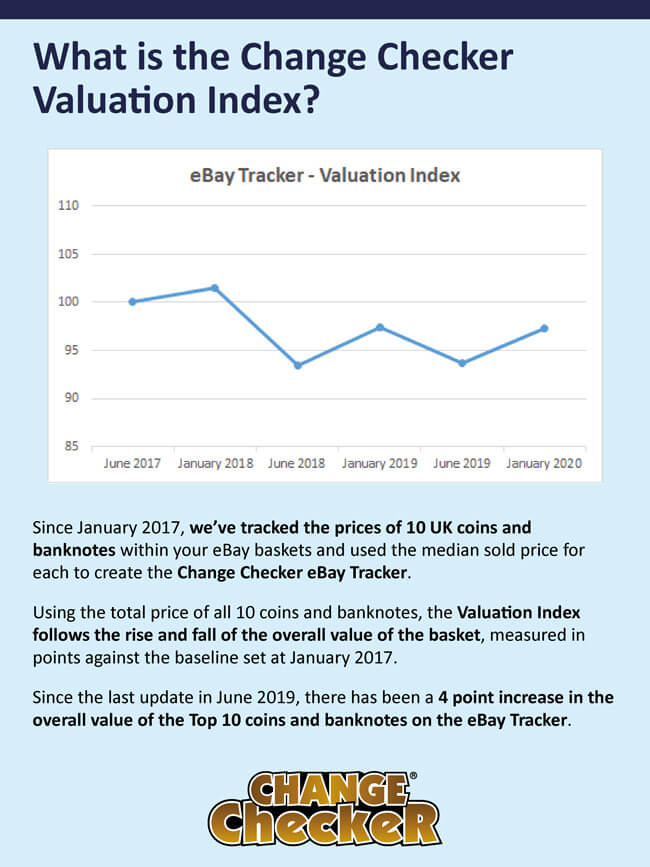 My coin isn't on the eBay Tracker
The eBay Tracker follows the movements of the Top 10 UK coins and banknotes, however if your coin doesn't appear on the tracker you can use our 6 point guide to help determine realistic a value for your coin.
So now that you're up to date with our latest eBay Tracker, will you be selling any of the coins in your collection or will you continue to save them? Let us know in the comments below.
How does the eBay Tracker work?
The Change Checker eBay Tracker takes the last 9 sold prices achieved on eBay and gives the median price achieved (rounded to the nearest 50p). By taking the median, rather than an average, we avoid skewing created by one or two excessive prices achieved.
Please note that the Change Checker eBay Tracker is only ever designed to be a guide as to prices achieved on eBay. Prices may vary depending on collector demand and the quality of the coin being sold. It does not provide any guarantee as to future values of coins.
---
If you're interested in coin collecting, our Change Checker web app is completely free to use and allows users to:
– Find and identify the coins in their pocket
– Collect and track the coins they have
– Swap their spare coins with other Change Checkers

Sign up today at: www.changechecker.org/app
The 2020 George III £5 was issued as part of the Annual Coin Set on the 1st January and today the coin has been individually released.
King George III was the first king of the United Kingdom (which was officially formed in 1800) and to this day remains the longest reigning king in British History, reigning for an astonishing 59 years.
Throughout his reign, Britain fought in wars against France and America and from these wars the country emerged as a world power.
And so, in this anniversary year marking 200 years since his death, it seems only fitting that a brand new United Kingdom George III £5 coin should be issued.
2020 King George III £5 Coin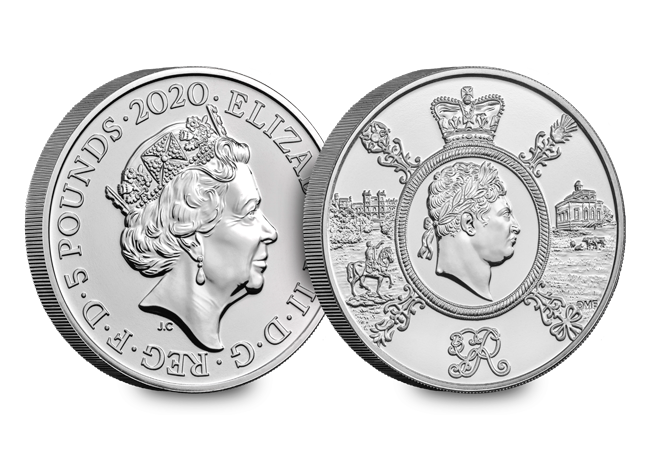 This is the first time George III has been celebrated on modern UK coinage and the stunning design explores the multifaceted nature of Britain's longest reigning king.
Designed by renowned Royal Mint designer, Dominique Evans, the famous Bull's Head portrait of George III is shown in a crowned cartouche, with the royal residence and his place of death, Windsor Palace, to the left and the King's Observatory, which was founded by King George, to the right.
Click here to secure this coin for your collection!
Our Top Three George III Coins
But of course this is not the first time that King George has featured on UK coinage…
Throughout his reign from 1760 – 1820, the portrait of the king featured on the obverse design of Britain's circulating coins.
We've taken a look at what we feel are three of the most interesting coins issued during his reign and the stories behind them.
1819 Sovereign
The very first gold Sovereign was struck during Henry VII's reign in 1489, when the king ordered The Royal Mint to produce "A new money of gold."
Originally Sovereigns were circulating coins accepted in Britain and elsewhere in the world, however it is now a bullion coin and is sometimes mounted in jewellery.
Many recent Sovereigns feature the well-known design of Saint George and the Dragon on the reverse, along with the initials (BP) of the designer, Benedetto Pistrucci.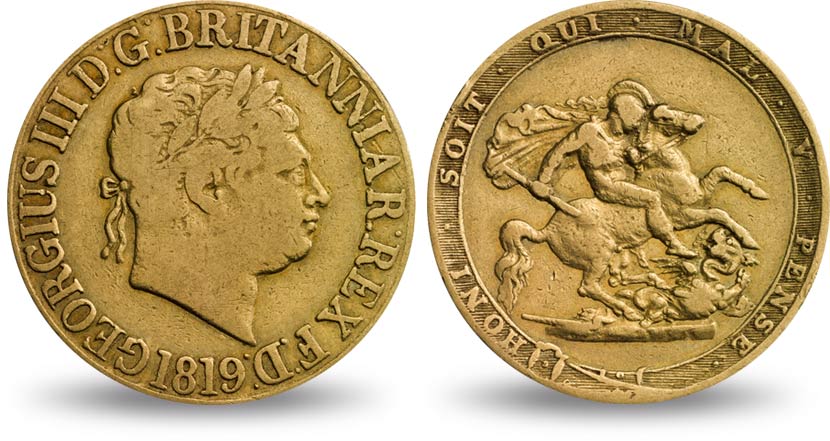 Now you might have heard of the 1819 Sovereigns already, and that's because these coins are renowned for being exceptionally rare.
Remarkably, only 3,574 Sovereigns were minted during 1819 – struck on five separate occasions, between August and November 1819.
These coins were minted using gold provided by private merchants.
200 years after they were struck, it's thought that potentially only ten of these Sovereigns are known to still exist.
Unsurprisingly, these coins sell for astonishing prices at auction, with the highest quality 1819 Sovereign known to exist achieving a price of £186,000 in 2013.
Cartwheel Penny
During the 18th century, the practice of melting down official copper coins and making lightweight forgeries had become so widespread that it prompted industrialist Matthew Boulton to offer a solution.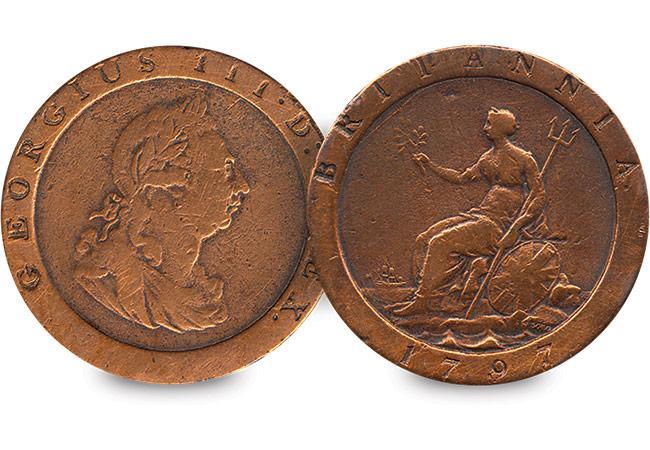 He proposed that each coin should actually be made to contain its value in copper, the quality should be improved by using a retaining collar during striking (to give a perfectly round coin) and thick raised borders would prevent them wearing so easily.
In 1797 Boulton was awarded a contract to supply 480 tonnes of pennies, each weighing one ounce and these were the very first British coins to be minted by steam power.
The George III Cartwheel Penny was also Britannia's debut appearance on the penny – a position she held until decimalisation in 1971.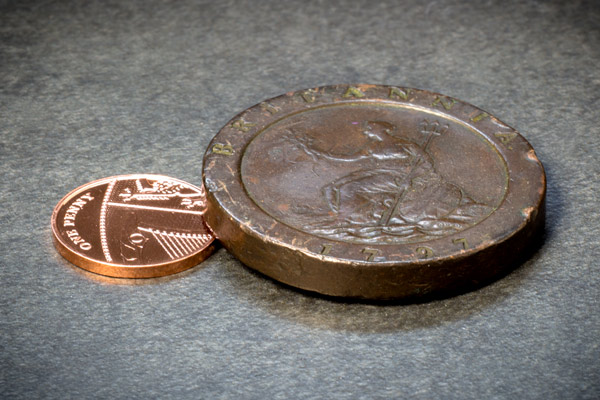 Because of their large size, Boulton's coins soon earned the nickname 'cartwheels'.
It is highly unusual for a low denomination to have such a substantial size and weight, and unsurprisingly they are in high demand from collectors for their status as Britain's heaviest ever penny.
Eighteen Pence
In 1797, after a failed French invasion caused financial panic, British gold and silver coins disappeared from circulation, hoarded out of fear.
With so much coinage withdrawn from circulation, The Royal Mint found itself in a vulnerable position with a limited ability to issue coins.
Incredibly, this lead to the extremely unusual situation where the Bank of England acted as a substitute for The Royal Mint by issuing an emergency currency.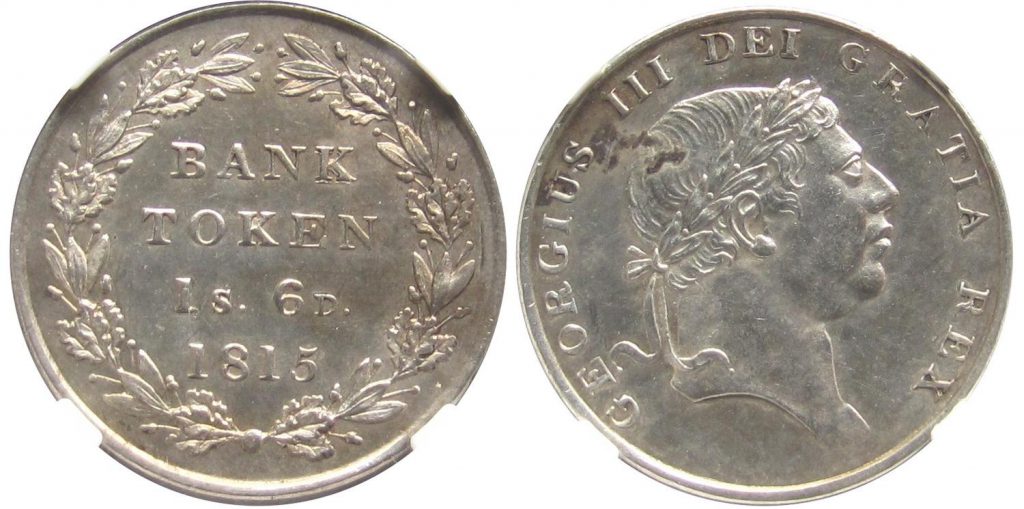 Technically speaking, these emergency issues were not coins but tokens.
This is also the reason why they issued very unusual denominations, including the eighteen pence piece.
These tokens were issued for just 7 years until they were eventually withdrawn from circulation in 1817, by which time a massive silver recoinage had been undertaken.
So now you know the stories behind some of the most acclaimed coins issued during the reign of George III, how does the brand new 2020 £5 coin compare? And will you be adding it to your George III collection?
---
Secure your 2020 George III £5 Coin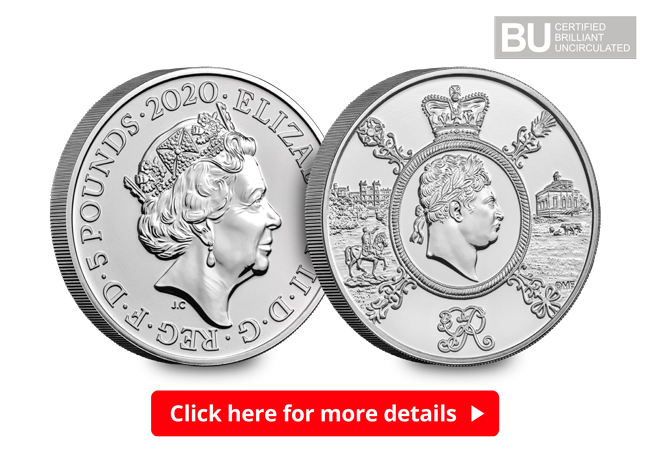 The 2020 George III £5 Coin is now available to purchase individually in superior Brilliant Uncirculated quality.