The BRAND NEW and last-ever Peter Rabbit 50p has now been officially released!
It would be hard to find someone who hadn't heard of this naughty little rabbit. The central character of Beatrix Potter's beloved children's stories, Peter Rabbit has featured on many staple collectables.
Emma Noble's design of this coin, which features an original illustration of Peter Rabbit by Beatrix Potter herself, perfectly captures Peter Rabbit's cheeky personality, as he can be seen crawling under Mr. McGregor's fence!
This coin won't be entering circulation but is available to purchase in Brilliant Uncirculated quality for just £4.50 (+p&p) here.
Where it all started
It was in 2016 that Peter Rabbit escaped from Mr. McGregor's garden and made his first debut on United Kingdom coinage.
Issued to celebrate 150 years since the birth of renowned Children's author, Beatrix Potter, this 50p changed coin collecting forever.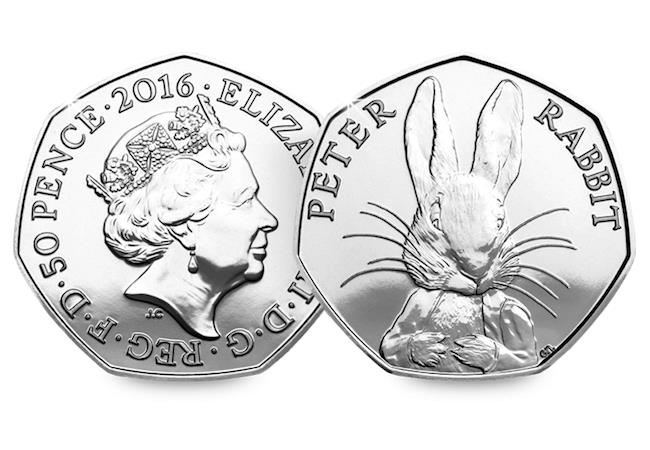 There were five Beatrix Potter 50ps issued in 2016, including the incredibly popular Jemima Puddle-Duck, which, for a long time, was considered the rarest Beatrix Potter coin in circulation. She was also joined by fellow characters Mrs. Tiggy-Winkle and Squirrel Nutkin.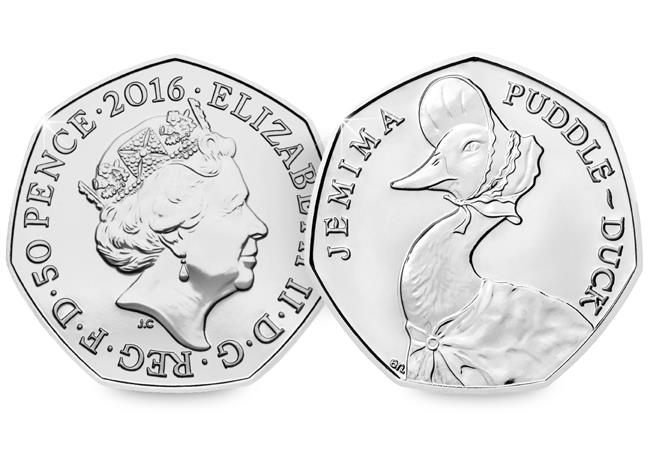 A very special 50p was issued the same year, celebrating Beatrix Potter herself and features her silhouette and her emblem.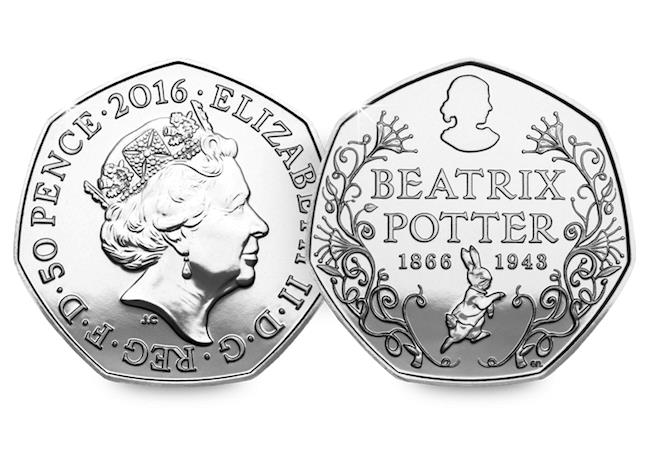 This series of coins continued into 2017, 2018 and 2019. Fifteen Beatrix Potter coins have now been issued since 2016, each featuring one of Potter's delightful characters, from Flopsy Bunny to Mrs. Tiggy-Winkle.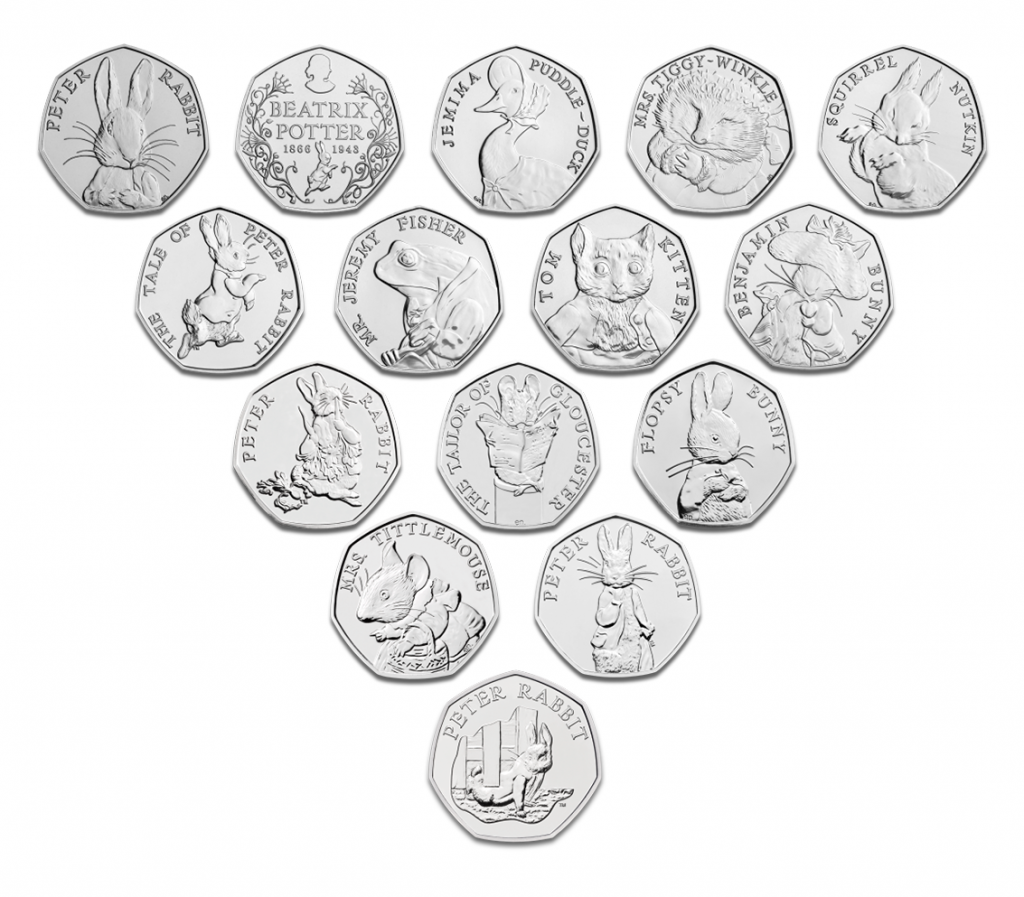 Peter Rabbit is the only character to feature more than once in the Beatrix Potter 50p series, with no less than 5 coins issued to celebrated the nation's favourite little rabbit.
Sadly, Peter Rabbit's 50p tale has now come to an end. It has been confirmed that the 2020 50p will be the very last UK Peter Rabbit 50p to be issued!
Which Beatrix Potter coins are the rarest?
To celebrate the release of this brand-new Peter Rabbit 50p, we've taken a look back at the mintage figures for the different Beatrix Potter 50ps to find out which ones are the rarest in circulation…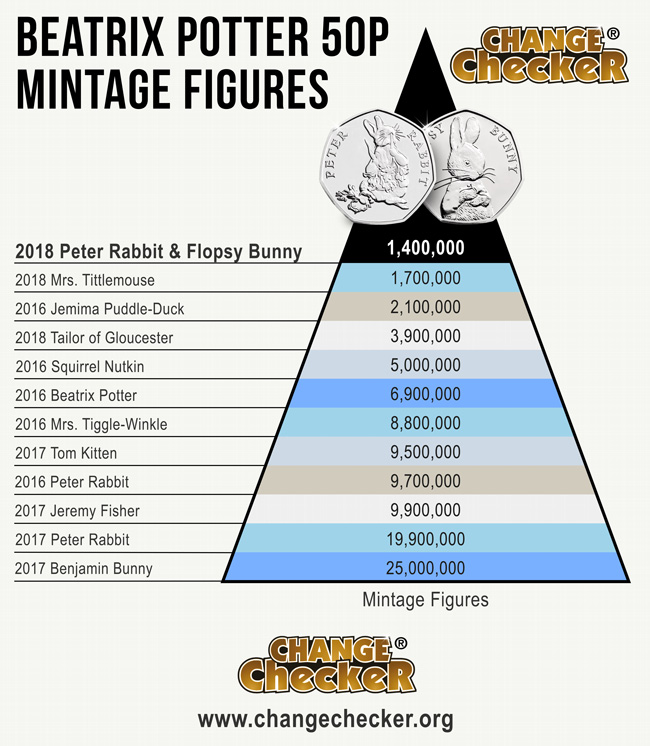 Following the release of the 2018 mintage figures, we've seen the 2018 Peter Rabbit and Flopsy Bunny 50ps take joint top spot on the Beatrix Potter Mintage Chart. With mintages of just 1,400,000, these coins are the rarest Beatrix Potter coins in circulation and have already proved incredibly popular with collectors!
We also saw the 2018 Mrs. Tittlemouse claim its spot on the podium, pushing Jemima Puddle-Duck – previously thought of as the rarest Beatrix Potter 50p in circulation – further down the chart, with a circulating mintage of 1,700,000.
So collectors that have held onto their 2018 Beatrix Potter 50ps will be delighted to see this! If you don't have these coins in your collection yet, now's the time to keep your eyes out to hunt down these sought-after 50ps.
4 years on from his initial release, it's safe to say that Peter Rabbit inspired a whole new generation of collectors to start checking their change.
I have no doubt that the 2020 Peter Rabbit 50p will prove as popular as the previous years, and I'm sure collectors and Peter Rabbit fans alike will be chasing this rascally rabbit right into their collections.
---
Secure this brand new 2020 UK Peter Rabbit 50p in Brilliant Uncirculated Quality
This is your chance to be ahead of the crowd and secure the very last Peter Rabbit 50p in superior Brilliant Uncirculated condition for just £4.50 (+p&p).
The 8th of May 2020 marks the 75th Anniversary of VE Day – the day which signified the end of World War II and brought long awaited peace to our nation, as Victory in Europe was declared.
The many years of destruction and lives lost finally came to an end on that momentous day, and millions from around the world took to the streets to celebrate.
This year, celebrations will reignite for the peace so bravely won, as events planned up and down the UK will commemorate 75 years since the guns fell silent.
And to mark such an historic anniversary, a brand new set of seven 50p coins has been authorised for release on the Isle of Man by Her Majesty the Queen.
This remarkable new Victory 50p Set pays tribute to our nation's soldiers, sailors and airmen as they began their journey home 75 years ago following the Allied victory which swept across Europe.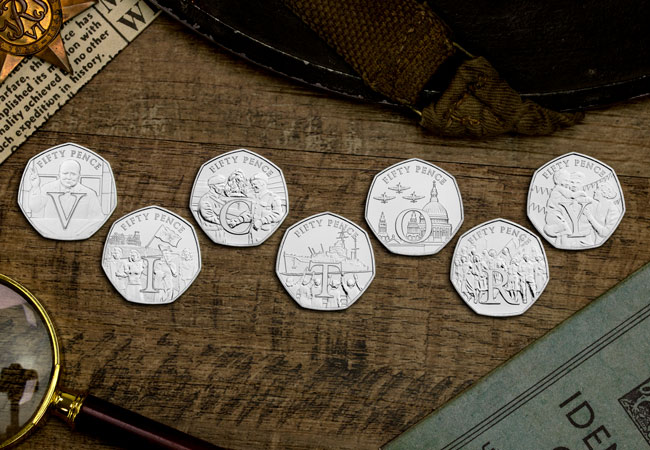 Issued by the Isle of Man, each coin depicts a design and letter reflecting victory during this time, including:
V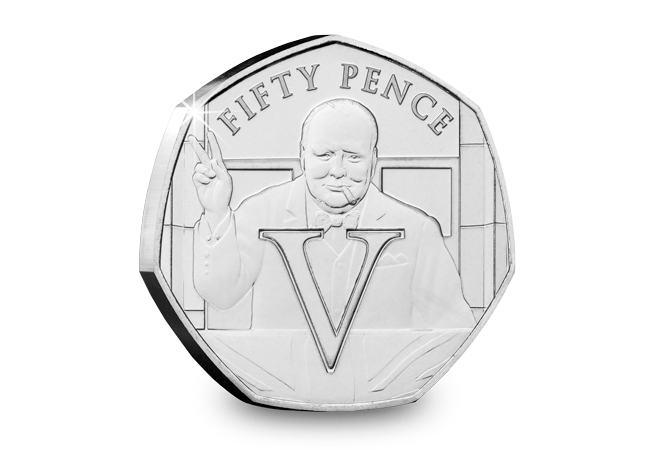 The first coin features the letter V and depicts Churchill with his famous V for Victory stance. Excitingly, this is the first time Churchill has appeared on a 50p coin, although he has been honoured on no less then three UK crown coins.
I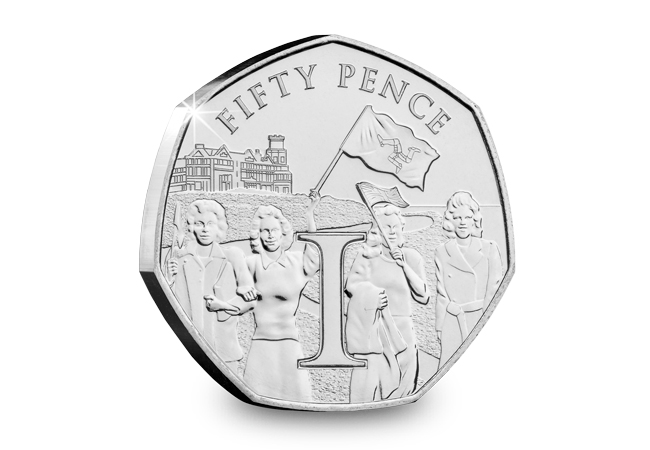 The next coin features the letter I and shows citizens of the Isle of Man celebrating the end of WWII.
C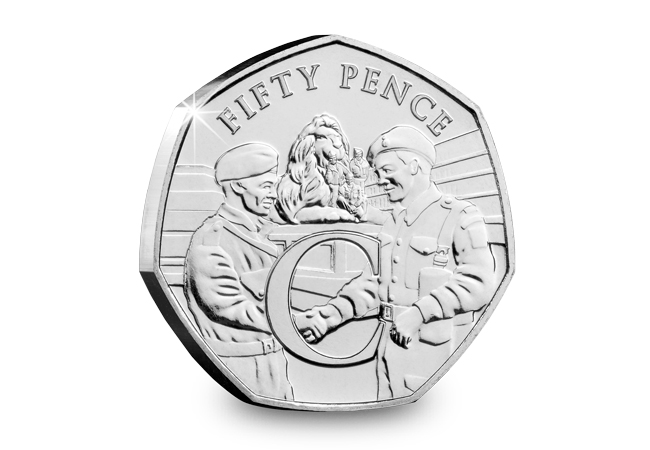 The letter C features on the third coin, which shows soldiers shaking hands in front of Trafalgar Square.
T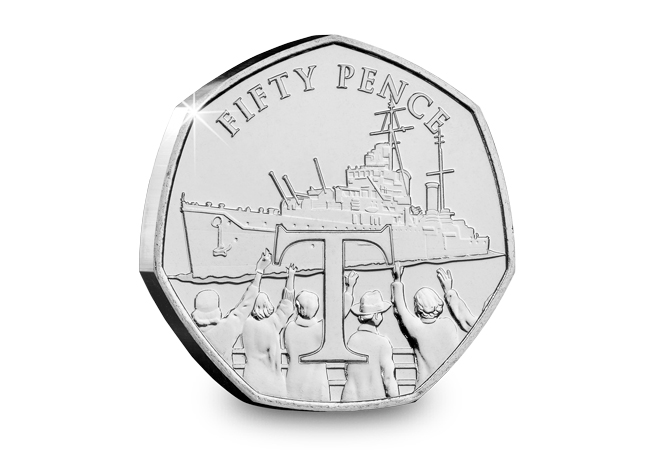 The next coin features the letter T and shows the HMS Dido Battleship returning home after the war.
O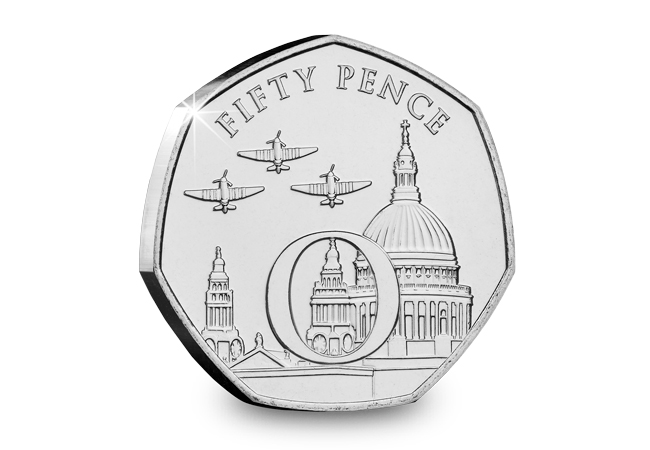 This coin features the letter O and depicts Spitfires flying over St. Paul's Cathedral in London.
R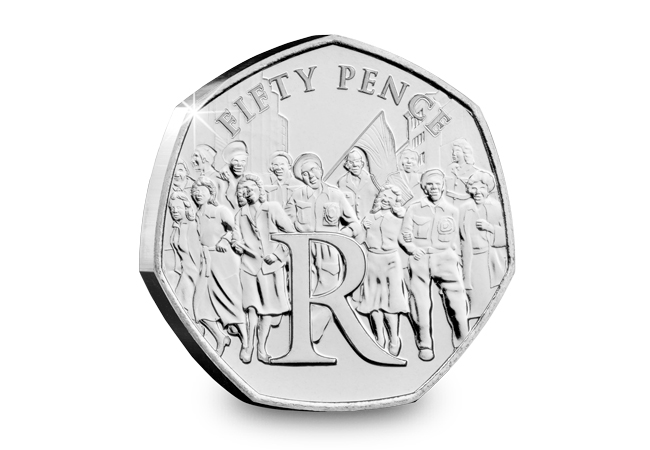 The next coin features the letter R and represents the street party celebrations that took place when it was announced the war was over.
Y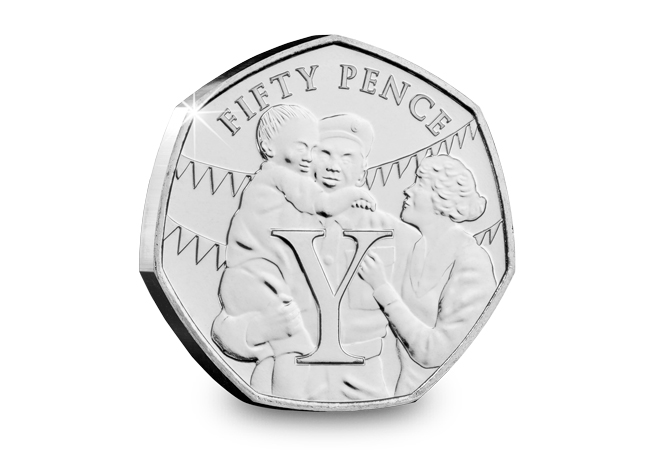 The final coin features the letter Y and depicts a moving scene showing a soldier returning home to his family.
Can I find these coins in my change?
Isle of Man 50ps are famously popular with collectors, especially as their mintage figures are so low, and these coins are no exception.
Initially 25,000 of each 50p will be entering circulation on the Isle of Man, so any British Isles collectors out there should keep their eyes out for these wonderful new coins.
Of course, British Isles coins do turn up in our UK change from time to time, despite the fact they are not legal tender in the UK, however I'm sure these coins will be quickly snapped up by Isle of Man collectors and so you'd have to be very lucky to come across one.
The best ways to own the Victory 50p Set
There are a number of ways to own the Victory 50p Set, which has been issued in Brilliant Uncirculated and Silver Proof quality.
The Brilliant Uncirculated coins are presented in a VE Day 75th Anniversary presentation pack – a must have for collectors of military commemoratives.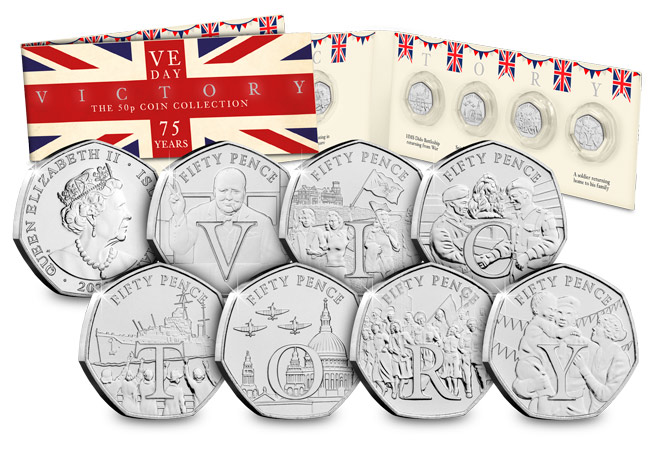 Just 2,020 Silver Proof Victory 50p Sets have been struck worldwide. The coins are struck to a Proof finish from .925 Silver with selective Gold Plating on each of the letters and come displayed in a luxury wooden case.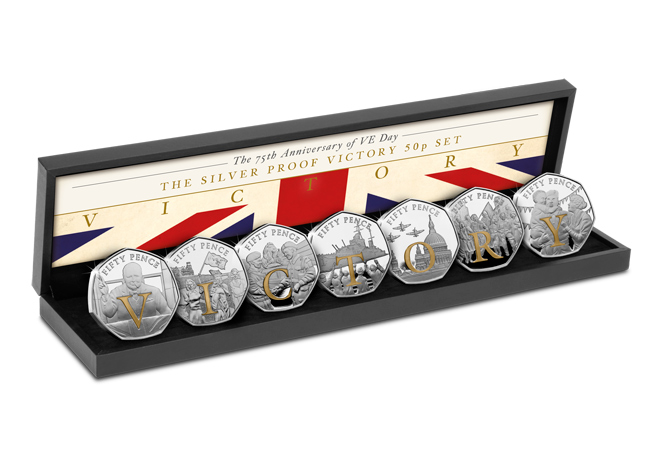 What's more, this is the only way you can own all seven of these poignant 50p coins in collector quality. Only the Churchill 'V' for Victory coin will be released individually.
Churchill V for Victory 50p coin
You can also secure the Churchill V for Victory 50p coin individually in Brilliant Uncirculated, Silver Proof or Gold Proof quality.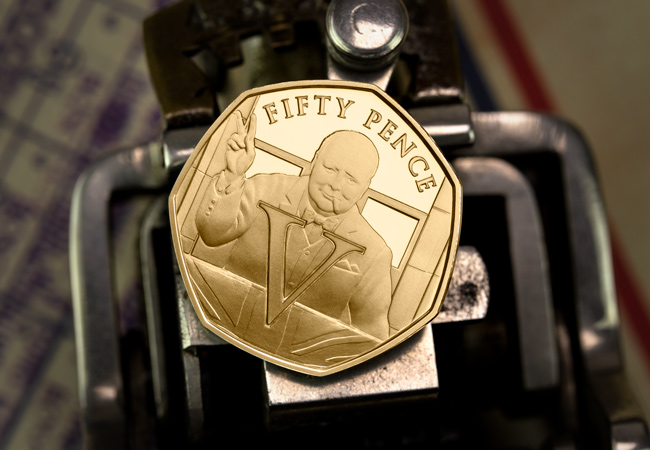 With just 5,000 Churchill V for Victory Silver Proof 50p coins and only 250 of the Gold Proof coins, the strict edition limits really add to the collectability of these coins.
These 50ps really are a timeless tribute to the thousands of allied troops who fought tirelessly and sacrificed their lives to bring long awaited peace to our nation, and in this important anniversary year, they make for an incredibly poignant issue to commemorate 75 years since VE Day.
---
Secure your Victory 50p coins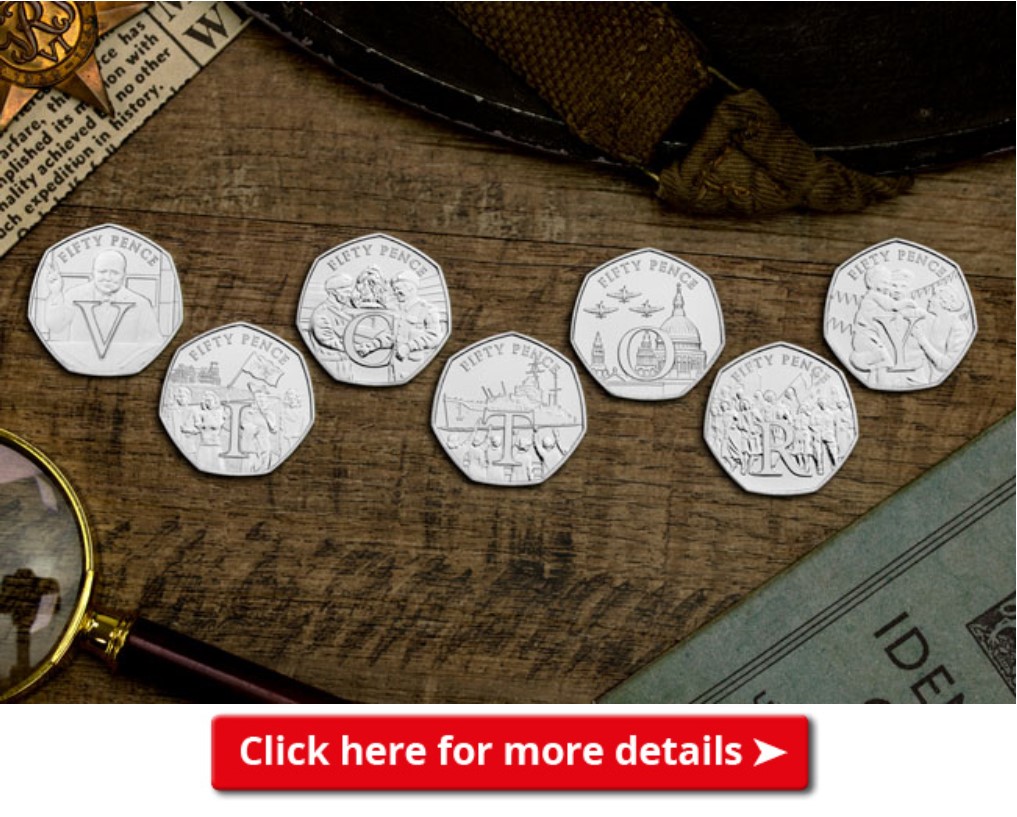 Click here to find out more about the Victory 50p coins and add them to your collection >>
***BREAKING NEWS***
The first coin in The Royal Mint's Music Legends £5 series has just been released, and this £5 is sure to rock you…
For the first time ever, QUEEN feature on a brand new UK coin!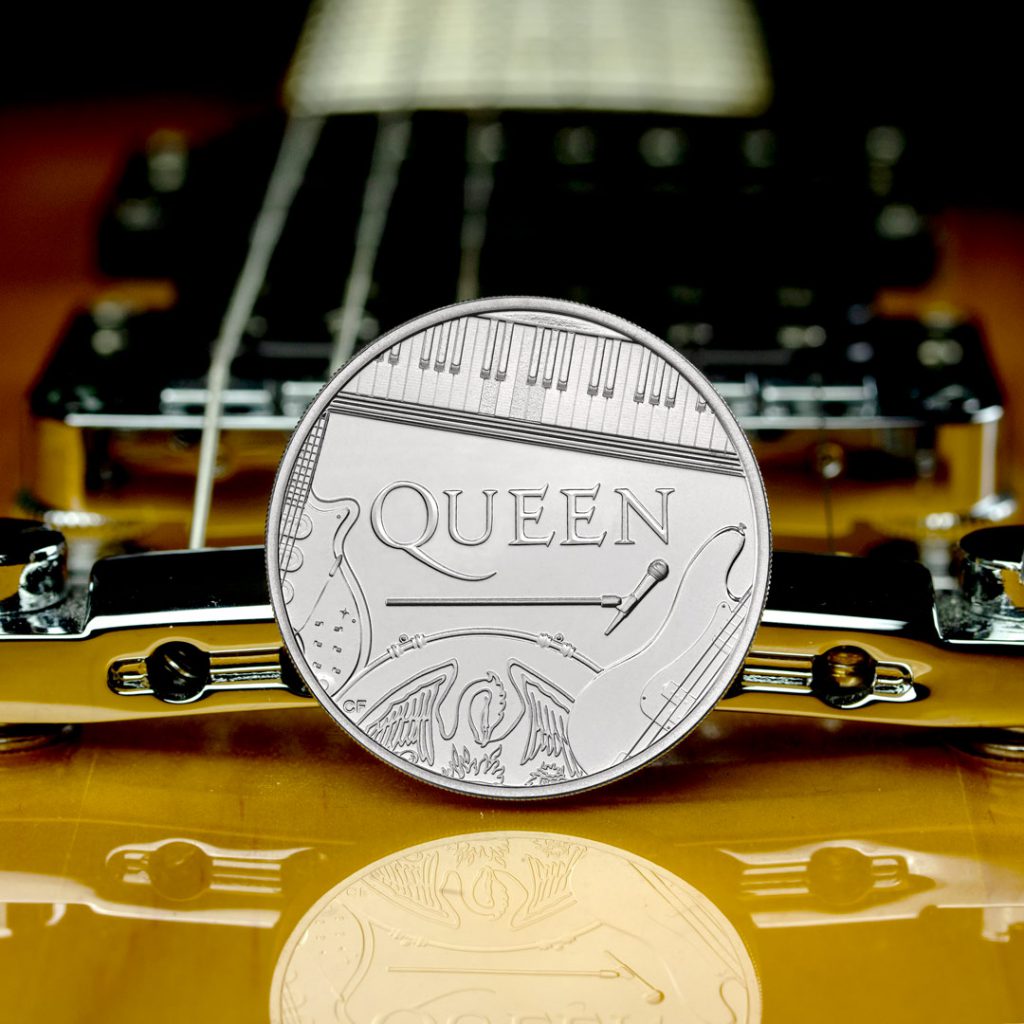 The Show Must Go On
As one of Britain's most iconic and influential bands ever, Queen's unique sound quickly propelled them to global stardom!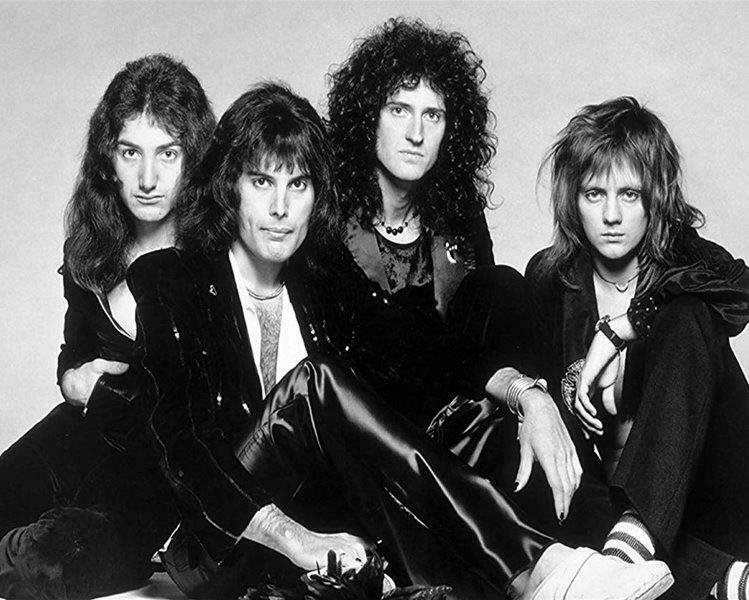 The band was formed in London in 1970 and released their debut album in 1973.
From one hit to another, Queen rocked the nation and became a British icon, creating unique and timeless songs which are still loved to this day.
And as of 2005, Queen albums have spent a total of 1,322 weeks on the UK Album Charts – equating to twenty-six years (according to the Guinness Book of World Records).
2020 Queen £5 Coin
To celebrate these true music legends, a brand new Queen £5 coin has been released by The Royal Mint.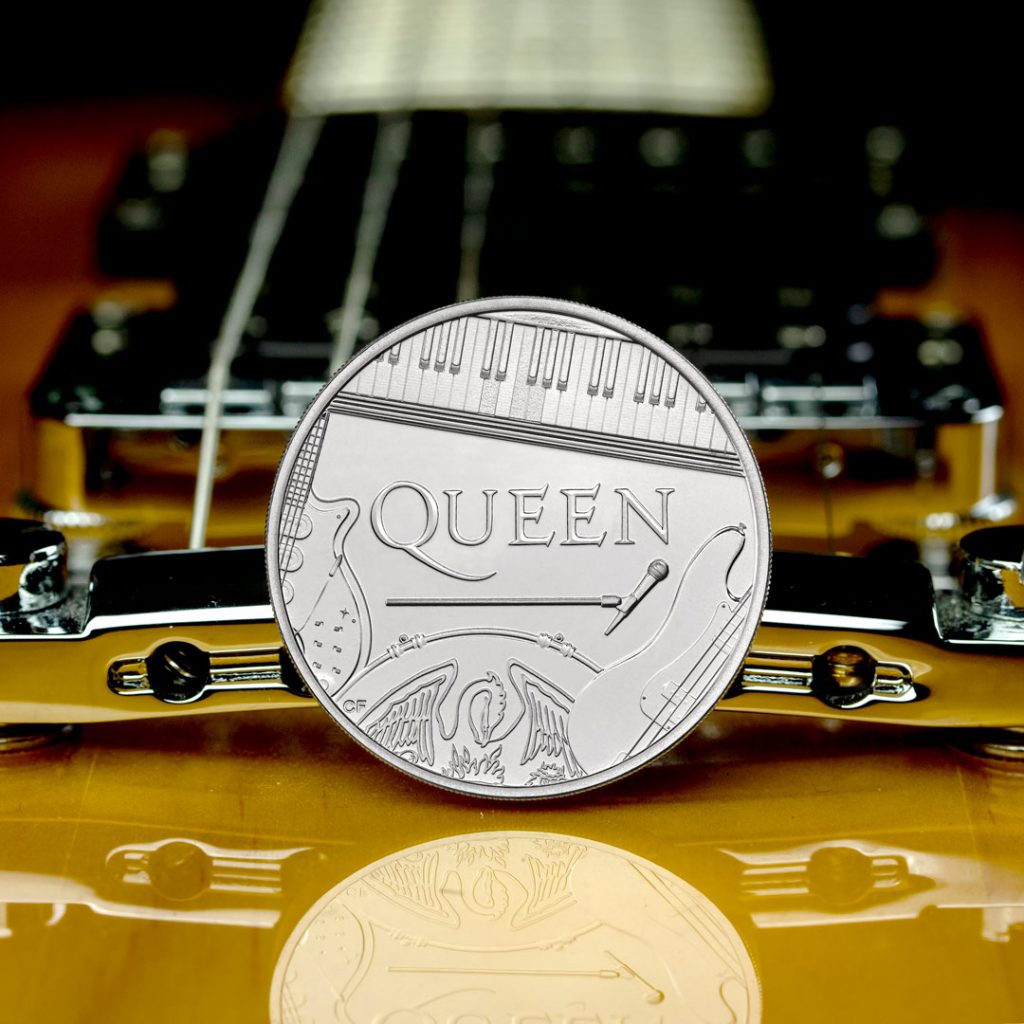 The £5 coin features a design by Chris Facey, showcasing the iconic instruments of all four founder members of the band: Brian May's Red Special guitar, John Deacon's Fender Precision Bass™, Roger Taylor's Ludwig™ bass drum, and Freddy Mercury's Bechstein™ grand piano.
But my favourite part of this coin design has got to be the grand piano with the opening notes of Queen's world-famous anthem Bohemian Rhapsody pressed down.
Band members Brian May and Roger Taylor have officially approved the design of this £5 coin and this, alongside the fact that the coin is full of numismatic firsts, is sure to make it particularly sought-after amongst collectors:
The first-time ever Queen have featured on a coin worldwide
The first-time ever a British band has been celebrated on UK coinage
The first in an exciting new series celebrating British music legends
I'm sure you're just as excited as we are by this brand new coin release and the start of the Music Legends £5 series. Who do you think will appear on the next coin in the series? Let us know in the comments below!
---
A genuine numismatic first – secure yours today
As you would expect with a coin this exciting, your brand new UK £5 has been struck to superior Brilliant Uncirculated quality and protectively encapsulated in official Change Checker packaging to preserve its quality forever.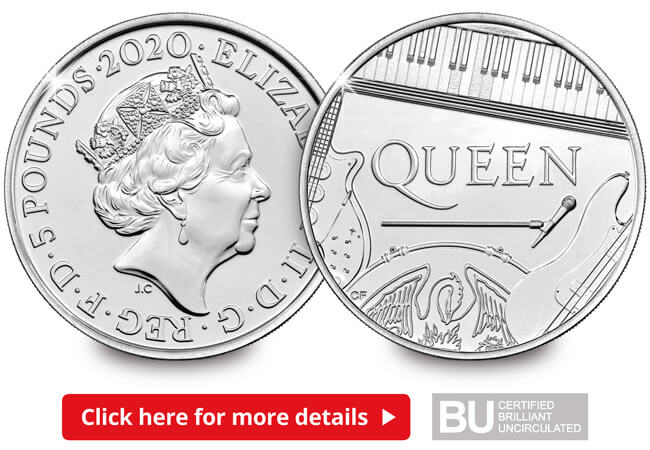 Become part of British history and secure the first-ever Queen £5 coin for your collection right now by clicking here.