Posts Tagged 'Commonwealth Games'
Each year, collectors eagerly anticipate the arrival of the The Royal Mint's Annual Set.
These coins commemorate some of the key anniversaries of the year ahead and it means we get treated to FIVE brand new coin designs!
With some momentous anniversaries coming up this year, the issues in the 2022 Annual Set are some of the MOST poignant yet.
So, let's kick off the year with the coins we've all been waiting for, the 2022 Annual Set.
Platinum Jubilee 50p
Kicking things off with a UK FIRST, is the brand new 2022 Platinum Jubilee 50p.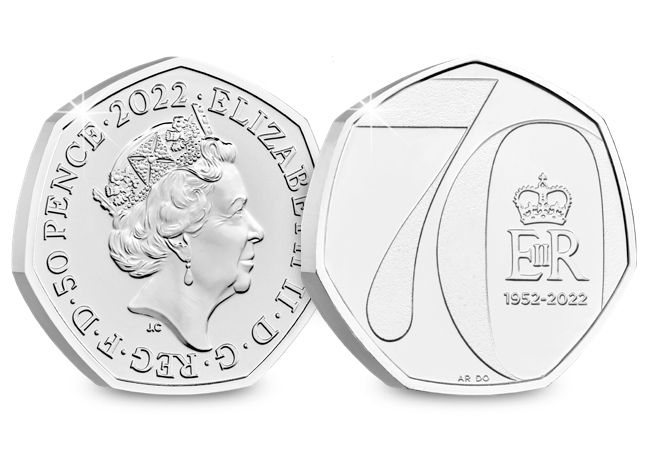 Her Majesty Queen Elizabeth II is the United Kingdom's longest reigning monarch, with an incredible 70 years of service to the crown.
In tribute to this record-breaking achievement, The Royal Mint have issued the UK's very first royal 50p!
Designed by Osborne Ross, the coin features a slick reverse design that shows the number 70, the royal cypher and the years that span her reign so far.
Her Majesty's fifth portrait, by Jody Clark, also features on the obverse of this coin.
What an incredible anniversary for Her Majesty to be celebrating this year and I'm sure you'll agree that this stunning 50p is a wonderful tribute to her.
The UK's VERY FIRST Royal 50p will be issued individually in just two days' time, on the 6th January. This version will feature a special obverse design not found in the Annual Set… Stay tuned to find out more!
Commonwealth Games 50p
The Commonwealth Games was first held in 1930 and with the exception of wartime (1942 and 1946) has taken place every four years since then!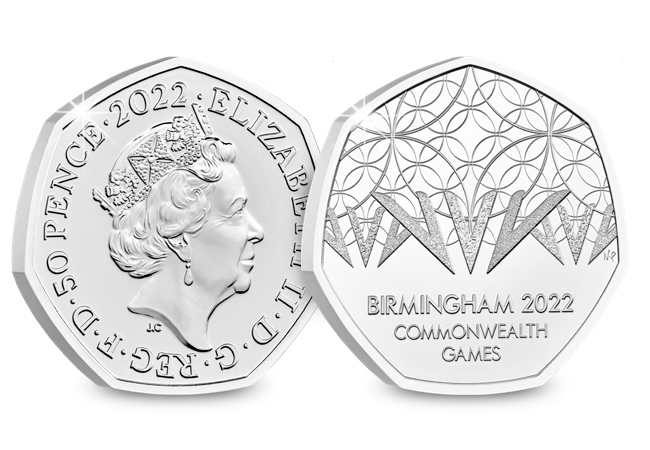 In the entire 92-year history, 2022 marks only the third time that England has played host to the games! So to mark the occasion, The Royal Mint has issued this brand new 50p.
Featuring a design by Royal Mint designer Natasha Preece, this 50p represents the essence of Birmingham 2022 with a striking geometric design.
We think it's the perfect tribute to Birmingham hosting the games for the very first time and a great way to wish all of the athletes good luck.
Alexander Graham Bell £2
Alexander Graham Bell was a Scottish-born inventor, scientist, and engineer who patented the first practical telephone.
In the 100th anniversary year since his passing, The Royal Mint have issued this brand new £2 coin.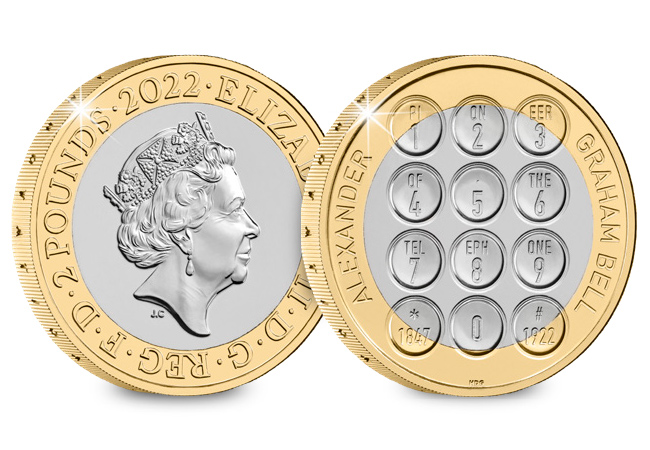 The coin features a design showing the dial of a push-button phone, alongside the words 'pioneer of the telephone' inscribed into the buttons.
It's hard to image a life without our phones, but before Bell's work, it was a complete unknown.
It was back in 1871 that Bell first started work on his harmonic telegraph, which allowed multiple messages to be transmitted over a wire at the same time.
And in 1876, he made his very first telephone call to Thomas Watson and was then granted his telephone patent.
The design of this coin perfectly celebrates all of Bell's achievements in making real-time long-distance communication possible.
Dame Vera Lynn £2
In 2020, we received the sad news that Dame Vera Lynn had sadly passed away. The iconic wartime singer was famous for boosting the morale of British troops during WWII.
Coined as the forces sweetheart, her renditions of We'll Meet Again, The White Cliffs of Dover and I'll Be Seeing You, became synonyms with wartime.
Dame Vera Lynn played such a key role during wartime that Buckingham Palace sent a private message of condolence to her family.
And in 2022, to commemorate her life and achievements, The Royal Mint commemorates her on a brand new £2 coin.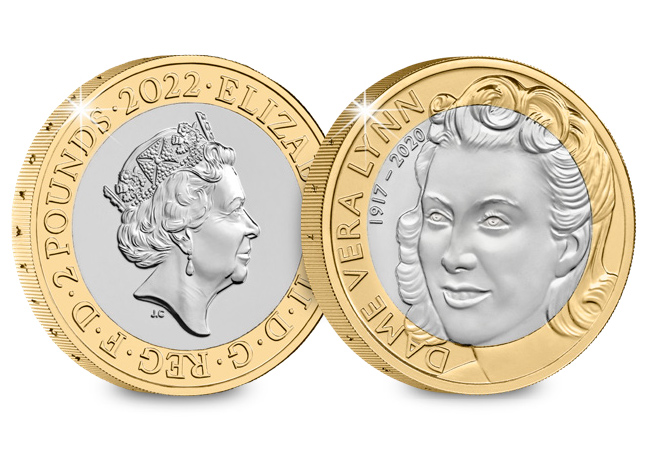 Designed by The Royal Mint design team, this £2 features a detailed portrait of Dame Vera Lynn as she appeared during the height of her fame.
The popularity of her songs has carried across generations. In 2020, her songs still spoke to the nation with a similar level of emotion as they did in 1940 – a testament to her charm, skill, and beautiful voice.
Platinum Jubilee £5
In this very special anniversary year for Her Majesty, we have been treated to not one but TWO Platinum Jubilee coins.
This £5, designed by John Bergdahl features a stunning reverse design. The royal mantle appears as a surround, as it was used on the coinage of William IV!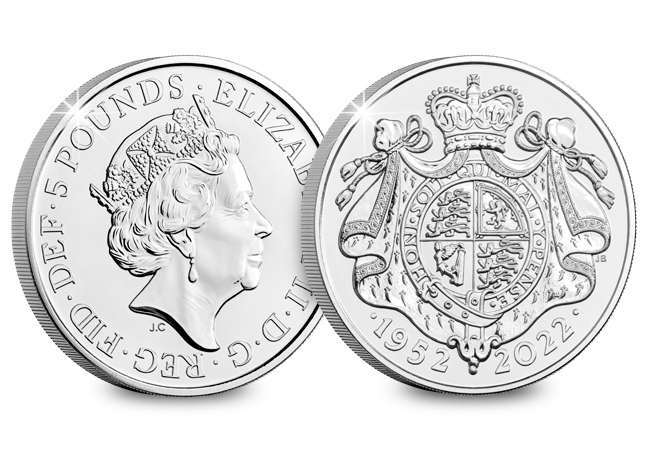 Inheriting the throne at the age of just 25, Her Majesty Queen Elizabeth II has remained a national constant as head of state since 6 February 1952.
Since then, the nation has watched her grow from a young queen to the much-loved monarch that she is today.
The dates 1952-2022 feature on the reverse design, in a poignant tribute to her incredible 70 years of service to the crown.
---
I'm sure you'll agree that this year's Annual Coin Set is the most impressive to date.
With some incredible anniversaries and events coming up this year, there's no doubt these coins will be in high demand with collectors.
Don't forget, the UK's VERY FIRST Royal 50p will be issued individually in just two days' time (6th January) – stay tuned to find out more!
---
Secure the most sought-after Annual Set to date!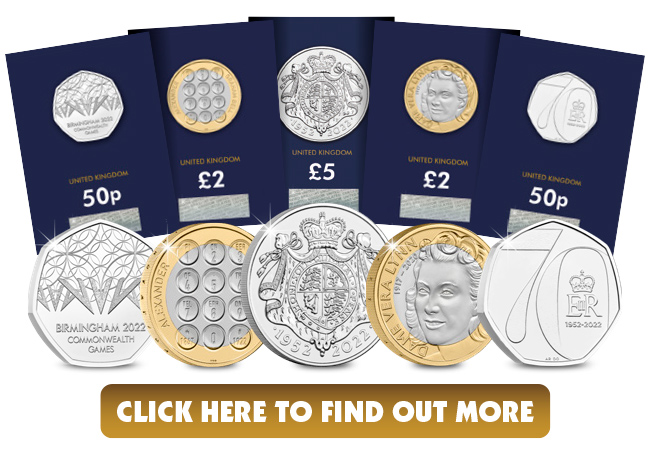 To ensure you don't miss out on adding all FIVE coins for your collection for JUST £40.00 (+p&p), simply click here >>
Each coin has been struck to a superior Brilliant Uncirculated quality and protectively encapsulated in official Change Checker packaging, housed in a Display Page ready to slot into your Change Checker Album.
Next year Birmingham is set to host the international multi-sport event, the 2022 Commonwealth Games.
The first-ever edition of the Commonwealth Games took place in Canada in 1930. The games consists of 400 athletes from 11 countries who take part in six sports and 59 events.
Since then, the Games have been conducted every four years (except for 1942 and 1946 due to World War II). Team England has competed at every Games – one of only six nations to do so and Team Scotland has hosted the games THREE times!
The Commonwealth Games have been incredibly influential in the sporting world but they've also provided the UK with some incredible coin issues!
In our blog, we take a look back at some of the UK coins celebrating the Commonwealth Games…
1986 UK Commonwealth Games £2
The 1986 Commonwealth Games £2 coin changed the face of UK commemorative coins, being the first of its denomination to be struck and the first British coin being issued to commemorate a sporting event.
The thirteenth Commonwealth Games were held in Edinburgh in 1986, and are well remembered for being boycotted by 32 of the 59 eligible countries who did not agree with Britain's sporting connections to South Africa during the Apartheid era.
These original £2 coins were never commonly found in circulation, as they were mainly struck for collectors. This made them much rarer than their successor, the bi-metallic £2 coin, as their mintage figures were much lower.
The pre-1997 £2 coins are still legal tender but they're not used in circulation and banks/shops can refuse to accept them. Despite this, they still remain incredibly popular amongst collectors!
The reverse design of this coin features a thistle encircled by a laurel wreath over the cross of St Andrew and it has a mintage of 8,212,184.
This coin is no longer in circulation but Change Checker has strictly limited stock remaining for collectors. To secure yours with FREE p&p today, simply click here >>
2002 Commonwealth Games £2 Series
These four coins were issued in 2002 – again issued to celebrate the Commonwealth Games – this time held in Manchester.
At first glance, you might struggle to spot the difference between them as they all feature the same running athlete trailing a banner behind.
However, each has a different cameo, representing each of the four constituent parts of the United Kingdom.
They are some of the scarcest £2 coins now in circulation, with the Northern Ireland design having a mintage of JUST 485,500!
The other coin designs have the following mintage figures:
2002 Commonwealth Games Wales £2: 588,500
2002 Commonwealth Games England £2: 650,500
2002 Commonwealth Games Scotland £2: 771,750
Find out more about these coins here >>
2014 Commonwealth Games 50p
To celebrate Glasgow holding the 2014 Commonwealth Games, the Royal Mint issued an official XX Commonwealth Games 50p coin the very same year
Designed by Alex Loudon, the reverse features a cyclist and athlete depicting the power of sport.
The home of the Games are reflected in the choice of Scottish Saltire and lettering inspired by Glasgow-born architect, artist and designer, Charles Rennie Mackintosh.
This coin is the least rare of the Commonwealth Games coins, with a total of 6,500,000 entering circulation.
---
Vote for your favourite Commonwealth Games coin!
With a total of 6 coins commemorating the Commonwealth Games, we want you to have your say and vote for your favourite!
---
Secure the 1986 UK Commonwealth Games £2 for your collection!
This coin can no longer be found in circulation, so this could be one of your last chances of securing this coin for your collection!
To commemorate the 400th anniversary of the most-famous journey of the Mayflower, The Royal Mint has issued a brand new £2 coin.
2020 UK Mayflower £2
This year marks 400 years since the Mayflower set sail on its famous voyage from Plymouth, England to the 'New World' in 1620 – a key event in British history.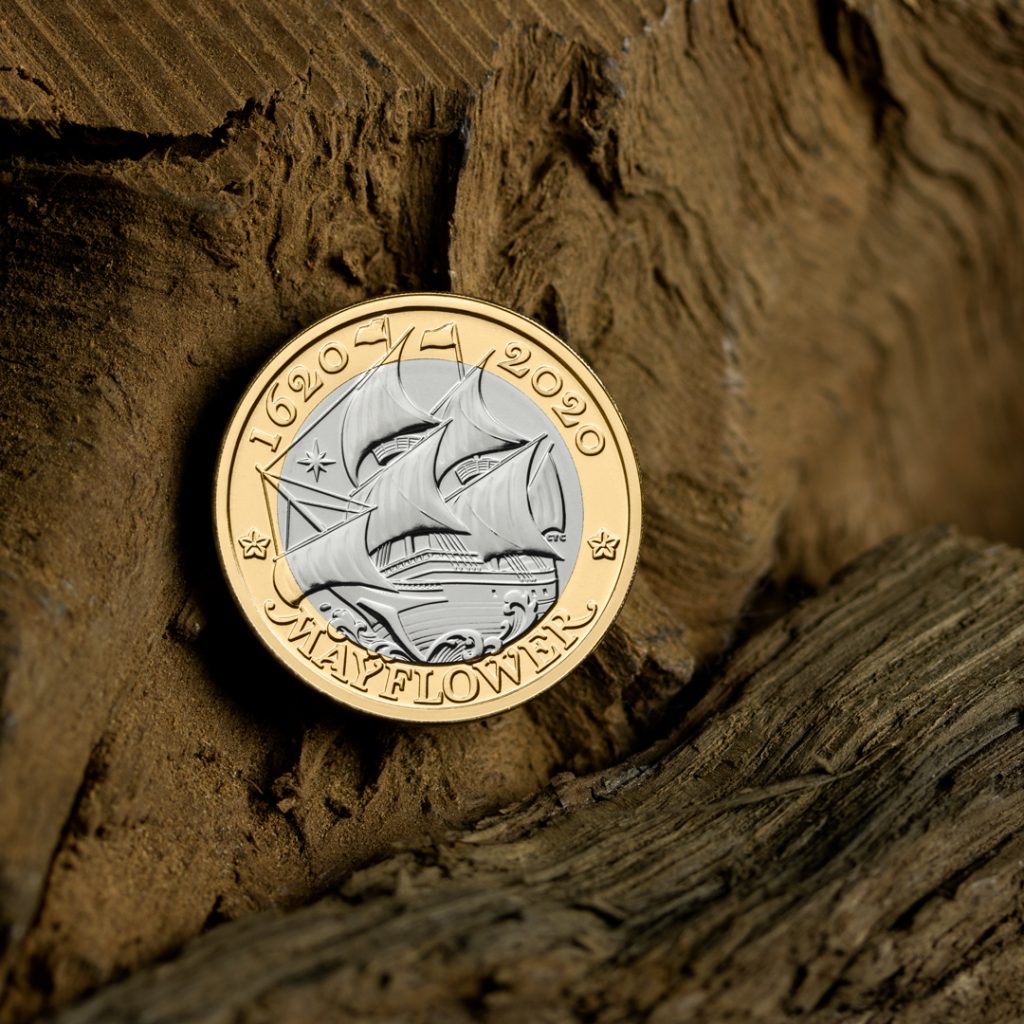 Issued initially in January as part of The Royal Mint's 2020 Commemorative Coin Set, this £2 has JUST been individually released today!
Chris Costello's reverse design of this coin depicts the Mayflower's sails majestically billowing in the wind and the anniversary dates as an inscription – '1620-2020'.
This coin is available in a number of specifications, including Brilliant Uncirculated quality, for just £8.99 (+p&p)
Journey to the Unknown
In September 1620, a merchant ship called the Mayflower set sail from Plymouth, a port on the southern coast of England in hope of a fresh start.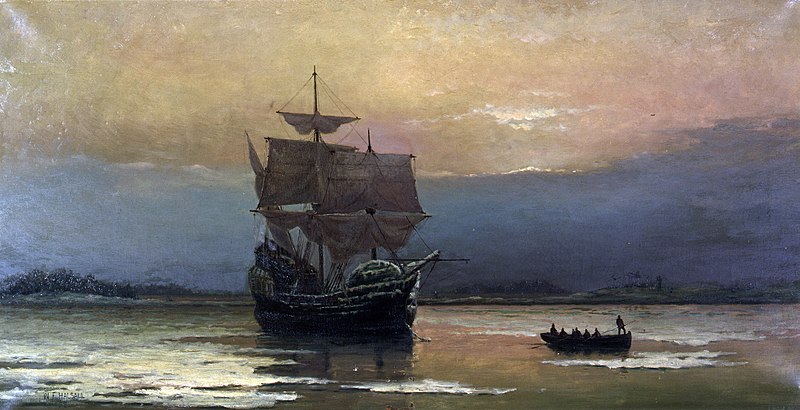 102 Pilgrims and around 30 crew aboard the ship spent two months at sea, battling against the North Atlantic wind on their ground-breaking journey to America.
After a 66-day voyage, it first landed November 21 on Cape Cod at what is now Massachusetts.
There are an estimated 10 million living Americans and 35 million people around the world who are descended from the original passengers on the Mayflower.
To mark the 400th anniversary of this British vessel departing Plymouth, this £2 coin brings its history to life once more.
But, eagle-eyed collectors may recognise the iconic Mayflower ship from a previous £2 coin…
1994 Mayflower £2 Trial Piece
The UK's first bi-metallic coin was issued for general circulation in 1997 but in order to prepare for the change over, a trial piece was struck, to test if tills and vending machines would accept it.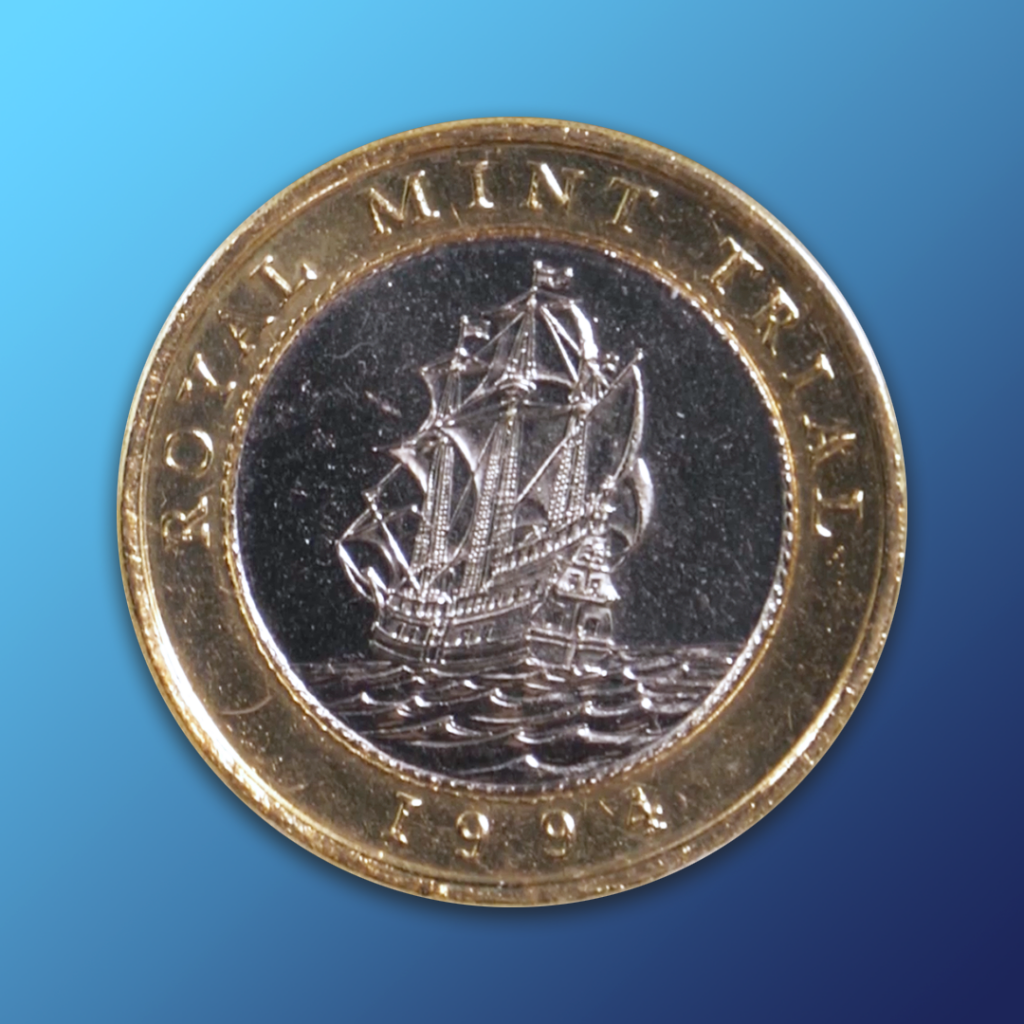 Featuring on the reverse design of this new style of coin, was none-other than the famous Mayflower ship!
Issued in a special presentation pack, the 1994 Mayflower Trial £2 was housed next to samples, demonstrating the different stages of its production.
Just over 4,500 of these packs were issued, making the 1994 Mayflower Trial £2 coin incredibly rare, especially if you compare this to the rarest £2 coin in circulation, the 2002 Commonwealth Games Northern Ireland £2, which has a mintage of 485,500!
But the Mayflower £2 coins aren't the only UK nautical themed coins we've seen…
2011 Mary Rose £2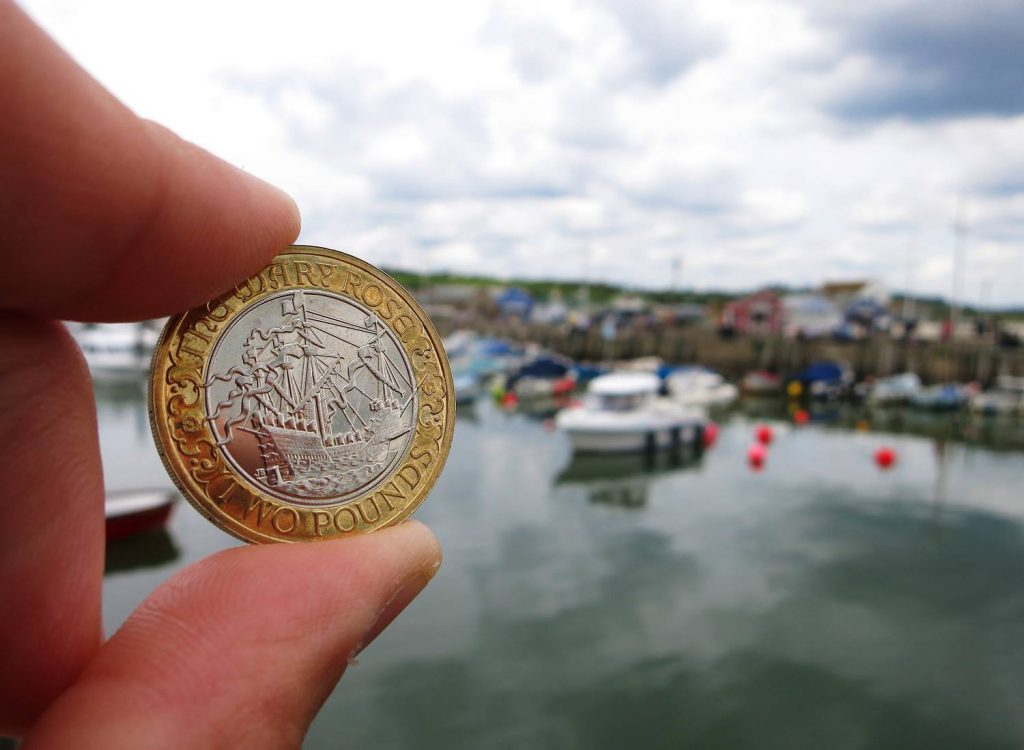 This £2 coin was in 2011 issued to celebrate the 500th anniversary of the launch of the Mary Rose.
The Mary Rose was a ship built and completed at Portsmouth Harbour in 1511 for Henry VIII and named after his favourite sister, Mary Tudor. It was the pride and joy of England's Royal Navy but in 1545 it met with a tragic end whilst leading an attack against a French invasion fleet in the Solent.
For reasons still not concluded, the Mary Rose listed to one side and sank with the loss of all but 35 men…
It has a mintage of JUST 1,040,000, making it one of the rarest £2 coins in circulation!
2015 First World War (Navy) £2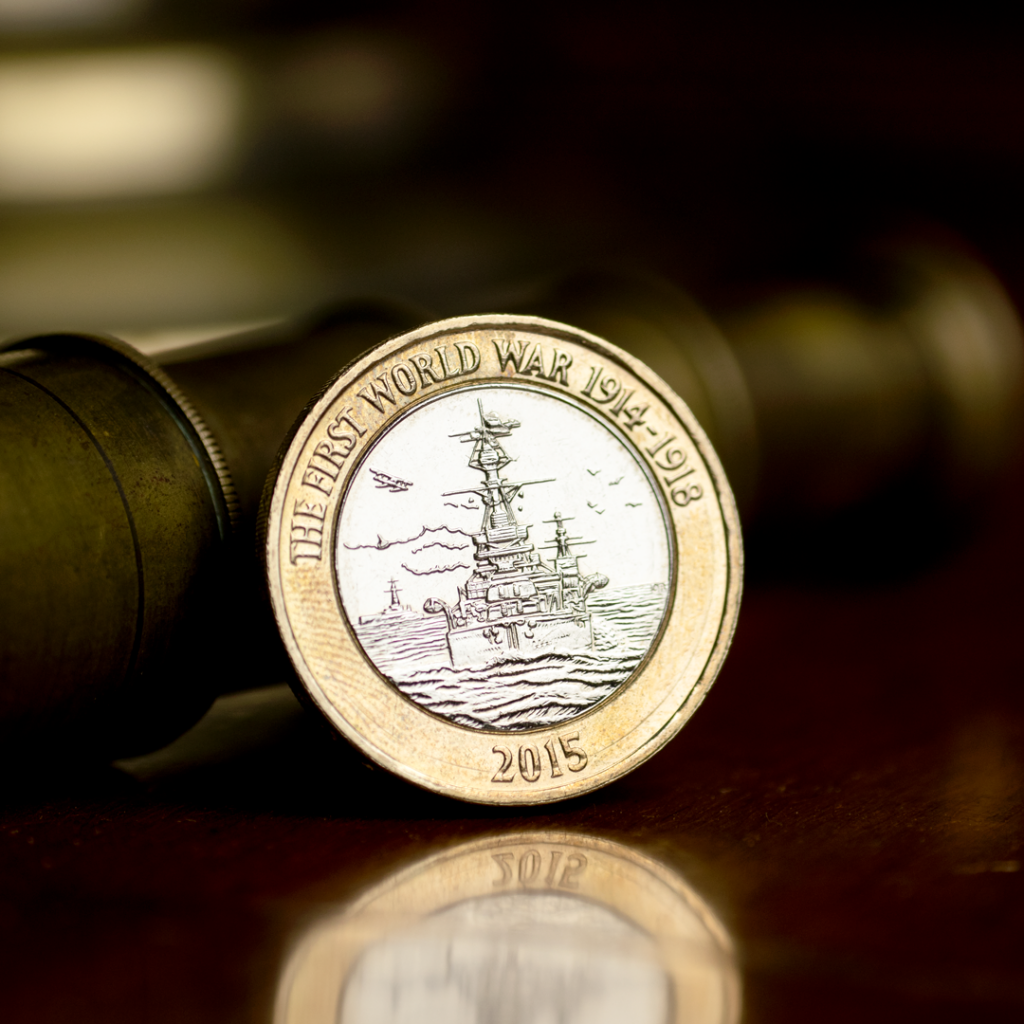 In 2014. The Royal Mint announced a new five-year First World War commemoration £2 coin series. This £2 coin was the second coin in this series, issued in 2015, and pays tribute to the Royal Navy.
At the time, it was by far the most powerful navy in the world, and was a major asset to Britain in defending coastal waters against the Germans.
Renowned military artist David Rowlands designed the reverse of this coin, and it features a battleship approaching on the open sea.
It has a circulating mintage of JUST 650,000, making it particularly scarce and hard to come by! So, consider yourself very lucky if you have this coin in your collection!
Captain Cook £2 Series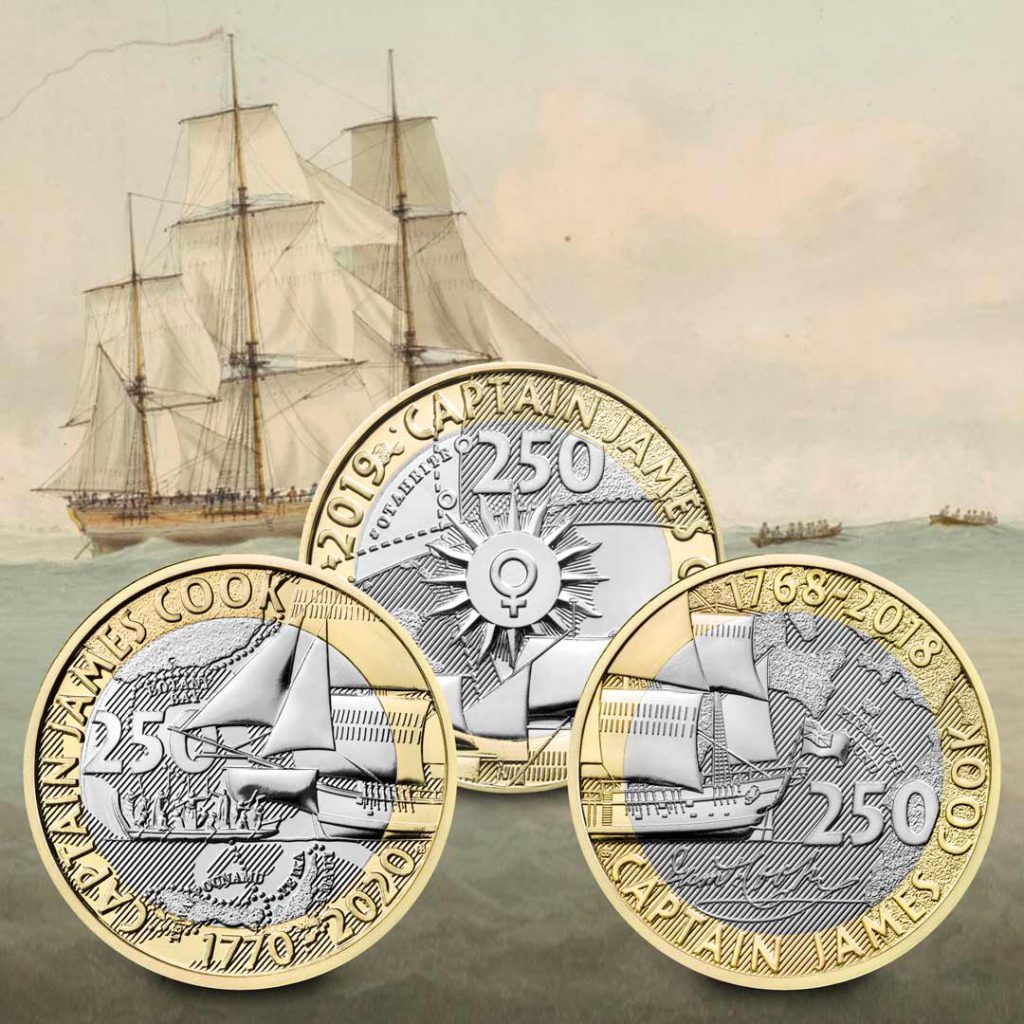 This £2 coin series first stared in 2018 to celebrate the 250th Anniversary of the famed British Explorer, Captain Cook, setting sail on his legendary Voyage of Discovery.
Cook's pioneering expedition for the 'Great South Land' expanded our understanding of the world beyond known horizons and 250 years on is being celebrated with this unique £2 coin series.
His famous ship, HM Bark Endeavour features on the design and, just like a secret map, when all three coins in the collection are placed together the design can be seen as a whole!
You can find out more about this incredible series here!
2005 Trafalgar £5 Coin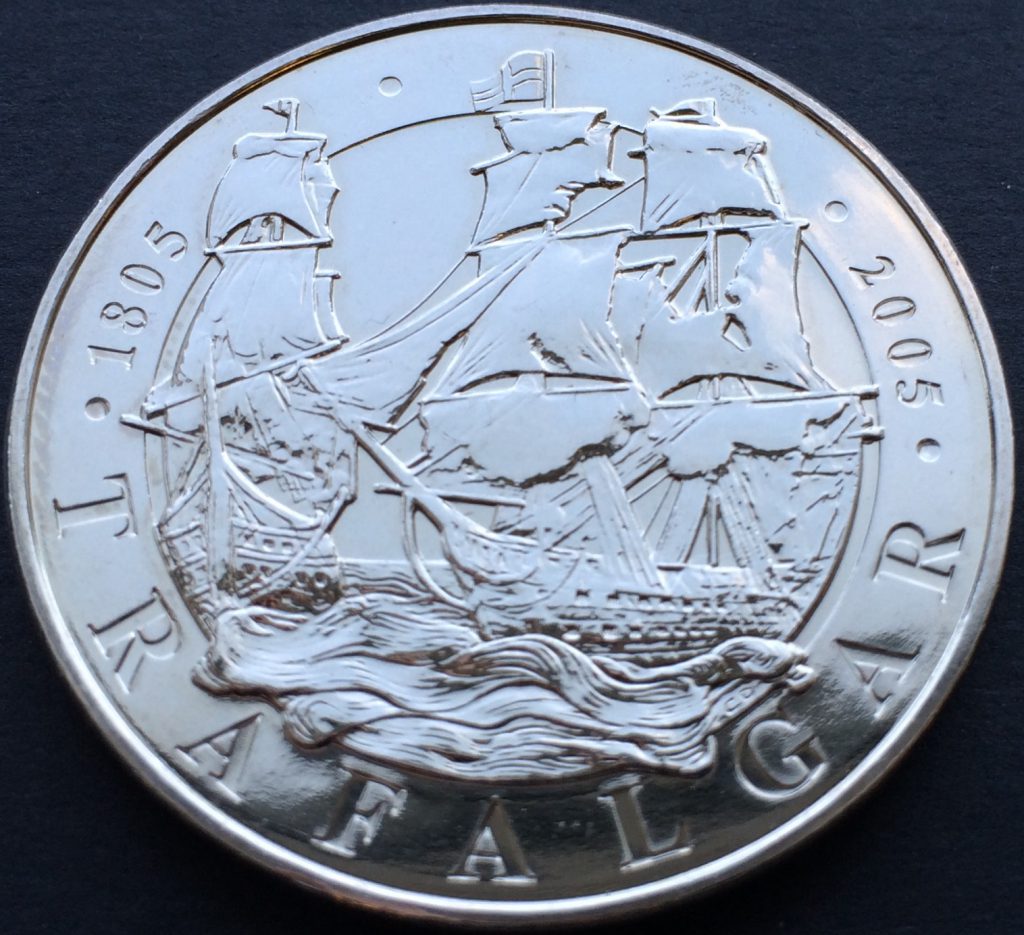 One of the greatest landmarks in British history, the Battle of Trafalgar was fought on 21st October 1805.
The Battle of Trafalgar was won by the Royal Navy, commanded by Vice-Admiral Horatio Nelson, over the combined French and Spanish fleets.
The Royal Mint marked the bicentenary of this battle with two £5 coins. The first of these designs by Clive Duncan, shows Nelson's flagship 'Victory' leading the fleet into battle.
HMS Victory is in service to this day as the flagship of the Commander-In-Chief, moored in Portsmouth dockyard!
Let us know in the comments below if you have this £5 coin in your collection!
---
We're very excited by the release of this brand new £2 coin and we're sure collectors will be sailing this coin straight into their collections!
Are there any other nautical success stories or significant historical moments that you'd like to see celebrated on UK coinage? Let us know in the comments below!
---
Secure the BRAND NEW Mayflower £2 in the CUSTOM Change Checker Display Card for just £10.99 (+p&p)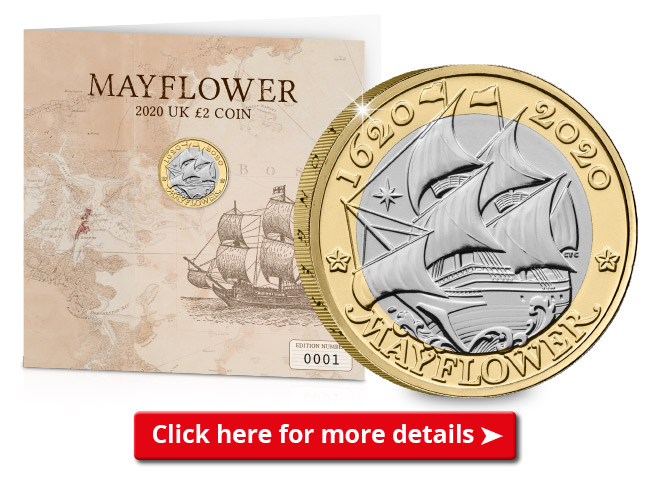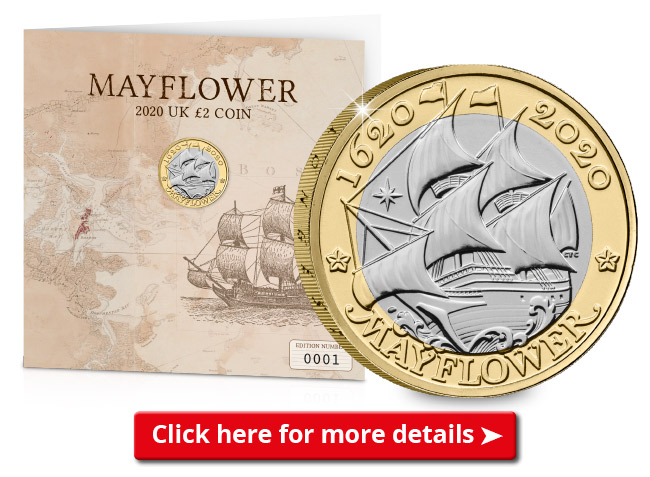 Click here to secure the 2020 Mayflower £2 in the Custom Change Checker Display Card for just £10.99 (+p&p) >>