More than a year after His Majesty King Charles III was officially proclaimed Head of State and Sovereign of Canada, The Royal Canadian Mint have announced the release of their official King Charles III coin effigy.
The news was shared on the 14th November – making for a wonderful birthday treat for His Majesty, who celebrated his 75th birthday that day.
SELL OUT Canada King Charles III 50 cent Coin Roll
The brand new Canadian effigy of His Majesty features on the 50 cent coin, which has been issued in a highly sought-after special collector's edition Wrap Roll.
Each of the Wrap Rolls include 25 brand new 2023 dated Canada 50 cent coins, which feature a design of the Canadian Coat of Arms on the reverse and – for the first time in seventy years – a new monarch's portrait on the obverse.
A Special Presentation
The coins are packaged in special, themed illustrated paper wrapping, featuring the official Royal Canadian Mint logo and a stylised band of Fleur-de-lis – a traditional Royal symbol of Canada.
You might not have heard of coin rolls before, but they're a big deal across the pond, and a highly collectable way to own Canadian coins. Previously, Canadian coin rolls have proved incredibly popular with UK collectors, and we've even seen sell outs of our initial allocations of these rolls in the past.
A Canadian Collecting Frenzy
These Canadian 50 cent Coin Rolls are part of the first wave of Canadian coinage that features the new obverse of King Charles III, so it's currently the only way to secure them for your collection. There were also only 25,000 rolls available worldwide – making them highly sought-after by collectors. So sought-after in fact, that they SOLD OUT at The Royal Canadian Mint within just four days!
We've been lucky enough to secure just 500 Canada 50 cent Wrap Rolls for UK collectors, and once they're gone, they're gone! So don't miss out – add these coins to your collection now for just £29.99 (+£3.99 postage) >>
---
A Major Change for Canadian Coinage
During her incredible 70 year reign, there have been four different obverse portraits of Queen Elizabeth II used on Canadian coinage. The latest portrait change was in 2003 when Susanna Blunt's effigy of Her Late Majesty made its way onto Canadian coins.

Considering that the obverse of Canadian coinage hasn't changed in over 20 years, and the fact that we haven't seen a King on Canadian coins in 7 decades, the introduction of King Charles III's effigy is sure to cause a stir in the coin collecting world.
The Process of Creating an Effigy
As you might imagine, there are a lot of steps behind the scenes that go into creating a new effigy…
Canada's new coin effigy was created from Steven Rosati's winning design, following an invitation to more than 350 artists and engravers.
The process involved each artist/engraver submitting a portfolio of portrait work to be evaluated. These were then shortlisted before a brief outlining mandatory design requirements was given out.
An internal Mint review panel judged submissions based on aesthetics, technical requirements and mass-production suitability before the winning design was submitted for approval from the government and Buckingham Palace.
Once the design was ready, the Mint could begin the engraving and tooling process – producing dies to strike the coins.
Only 500 available for Change Checkers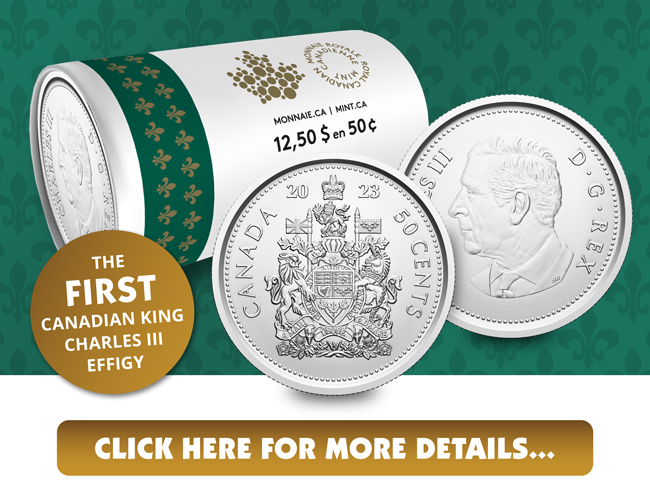 Click here to secure your Canada King Charles III 50 cent Coin Roll >>
2023 has been quite the year for King Charles III. As well as being crowned King on 6th May, His Majesty celebrates his 75th birthday on 14th November 2023.
To celebrate his milestone birthday, The Royal Mint have issued a UK £5 coin featuring a reverse design representing The King's love of nature.
In case you missed it…
You may recognise the King Charles III 75th Birthday £5 from earlier this year, as it was one of 5 commemorative coins issued in the 2023 Annual Coin Set. It's actually the final coin from the set to be released individually, so now's the time to secure it if you missed out on the 2023 Annual Set.
A passion for nature
Inspired by King Charles' passion for nature and conservation, designer Dan Thorne has created a beautiful reverse design on this new UK £5. It includes The King's royal cypher along with the number 75, all framed within oak leaves and delphiniums. The design was even personally approved by The King himself.
It's not just nature that His Majesty is passionate about, he also has a keen interest in the arts, architecture and supporting disadvantaged young people. In 1976, when he was His Royal Highness The Prince of Wales, The King founded The Princes Trust, an organisation committed to improving the life of young people in the UK.
He's also been an avid campaigner for environmental issues and sustainability, living by the principle that it's better to work with nature than against it.
A closer look
As well as the main aspects of the design such as the plants, royal cypher and the years 1948-2023, there are a few features on the coin you may not have noticed at first glance.
On closer inspection, we can see a ladybird, 4 bees and a dragonfly hidden within the design – another nod to The King's love of nature.
New UK Coinage for King Charles III
The King's love for nature and his passion for conservation is also reflected in the UK's New Coinage. The 8 brand new coins feature designs themed around British wildlife and conservation, whilst the obverses feature King Charles III and a special privy mark.
Find out more about the UK's New Coinage here >>
Secure your 2023 UK King Charles III 75th Birthday £5 in Brilliant Uncirculated quality for just £12.99 (+£2.99 postage) >>
The collecting community has been abuzz with excitement for new King Charles III coins, especially since the UK's new circulating coinage set was released in October.
And so I'm delighted to give you all the updates we know so far about future King Charles III commemorative coins to look forward to.
Read on to find out what's on the horizon from the UK's latest Royal Proclamations and get ready to add these upcoming coins to your collecting wish list!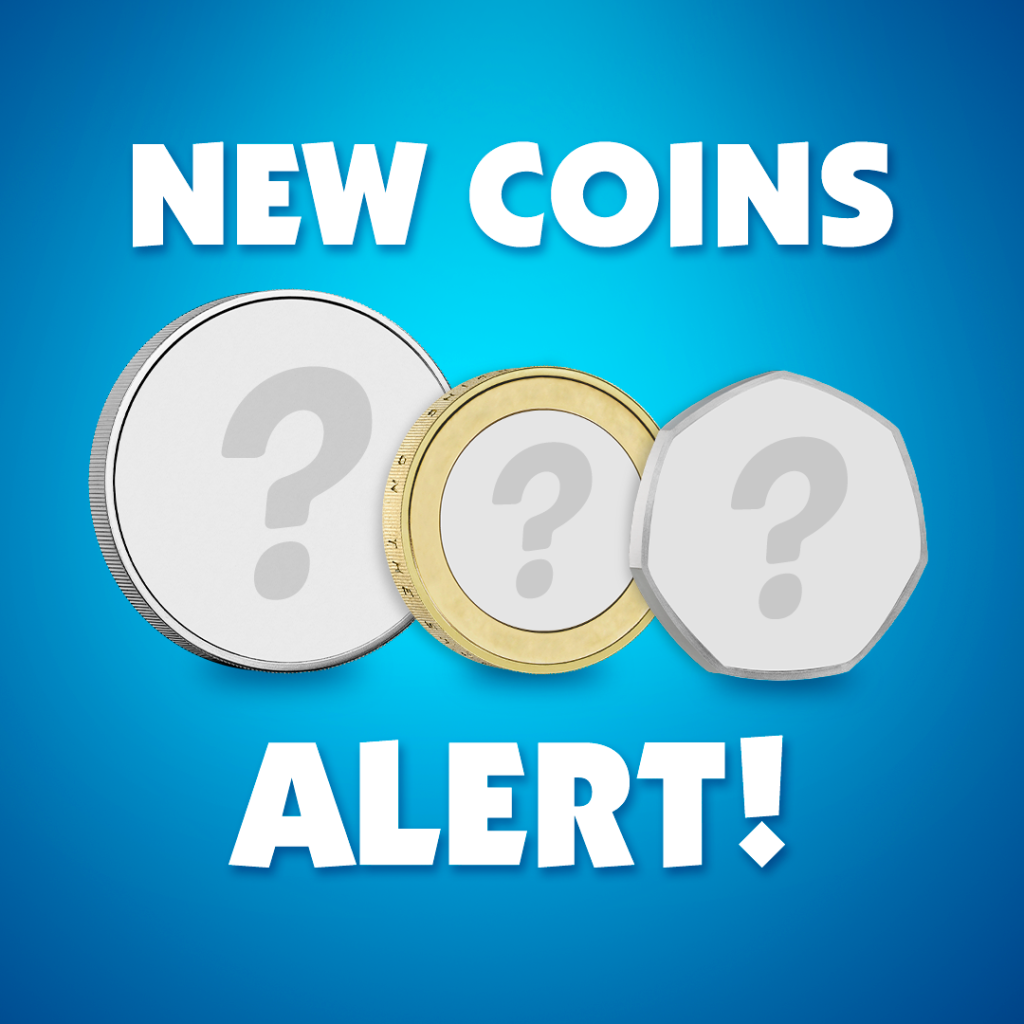 Upcoming 50p Releases
On the 13th October 2023, a Royal Proclamation was released announcing 5 new UK commemorative 50p coins coming soon.
For now, the full details and designs are still top secret, but we do have some clues as to what will appear on these coins:
A depiction of a Tyrannosaurus Rex with the inscription "TYRANNOSAURUS CRETACEOUS"
A depiction of a Stegosaurus with the inscription "STEGOSAURUS JURASSIC"
A depiction of a Diplodocus with the inscription "DIPLODOCUS JURASSIC"
A depiction of two athletes atop the union flag
A depiction of the RNLI flag surrounded by a lifebuoy with the inscription "200 YEARS" and "1824 2024"
Following the release of the UK's first ever dinosaur coins back in 2020, and the follow up series of Mary Anning's Jurassic creatures in 2021, I'm sure collectors will be delighted to hear the news that another 3 dino 50ps are set to shake up the collecting community.
And, with beasts as big as this, you can bet these new 50ps are going to be roarsome!!
Sporting 50ps are historically popular among collectors. In fact, for many, the very start of their collecting passion goes back to the UK's OIympic 50p series, released to celebrate London 2012. These 29 different 50p coin designs sparked a collecting frenzy across the nation and to this day remain some of the most sought-after 50ps in circulation.
Since then, we've been treated to a number of sporting releases, including 2 Team GB 50ps and 2 Commonwealth Games 50ps. As a new 50p is set to be released featuring athletes atop the union flag, we're already looking forward to the opportunity to add another sporting 50p to our collections.
The fifth coin on the list represents the very first time a UK 50p has been released to celebrate the RNLI. As the inscription suggests, this will mark the 200th anniversary of the Royal National Lifeboat Institution – the charity that saves lives at sea.
Since 1824, the brave volunteers of the RNLI have answered the call to rescue and we now look forward to this upcoming release to commemorate their courage and dedication.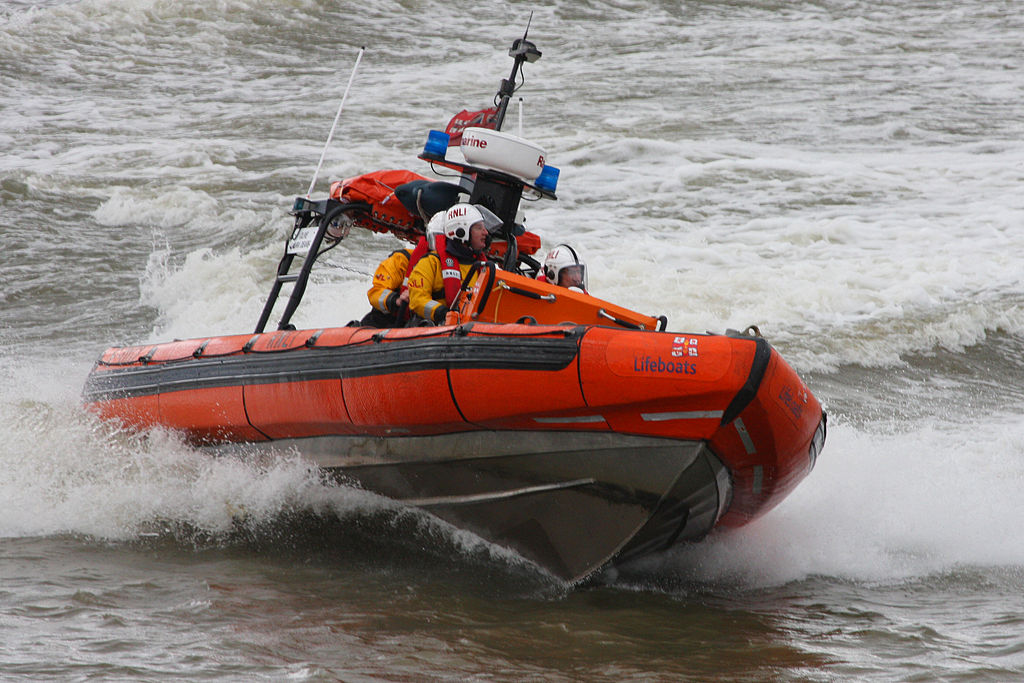 Upcoming £5 Releases
The Royal Mint have also announced an upcoming £5 coin series, celebrating 6 decades of Bond!
Britain's favourite secret agent has famously featured on the 'B' 10p from the A-Z series and also appeared across a 3-coin £5 series back in 2020.
There's no doubt that this theme is popular in the collecting community and I for one can't wait to see what these new designs will bring.
For now though, the designs are top secret – so make sure you stay tuned for any further information…
Upcoming £2 Releases
As of yet, we have no news to bring of upcoming commemorative £2 coins, but as soon as we hear more we'll be sure to update this blog and our social channels – so make sure you're following us to stay in the know!
---
Never miss a future UK coin issue!
With such exciting releases on the horizon, you really won't want to miss out on these incredible new coins.
So why not take away the worry and guarantee yourself every new UK coin issue, without the hassle of placing orders on launch day?
Join the Change Checker UK CERTIFIED BU Subscription Service and be one of the first to receive new UK coins as soon as they are released!