Posts Tagged 'Princess Dianna'
Today, the 8th March, is International Women's Day.
So what a great opportunity to take a look at some of the women who have featured on UK coins and how they have influenced recent British history.
Don't forget to vote (at the bottom of the page) for which inspiring woman you'd like to see celebrated on a UK coin in the future!
Her Majesty The Queen (1926 – Present)

It's a no brainer to start with The Queen's as her portrait features on all current UK coinage.
The Queen has ruled for longer than any other Monarch in British history, becoming a much loved and respected figure across the globe.
Her extraordinary reign has seen her travel more widely than any other monarch, undertaking many historic overseas visits. Known for her sense of duty and her devotion to a life of service, she has been an important figurehead for the UK and the Commonwealth during times of enormous social change.
Queen Elizabeth The Queen Mother (1900 – 2002)
Queen Elizabeth, the Queen Mother was one of the most extraordinary Royal personalities of the 20th Century.
Born Lady Elizabeth Bowes-Lyon on 4th August 1900, she entered public life in 1923 when she married Prince Albert, the Duke of York and younger son of King George V. When he unwillingly became King, it was her love and indomitable spirit during difficult war times which earned Queen Elizabeth the love and respect of her people.
In 2002 she sadly passed away, and to honour her, the Royal Mint struck a £5 memorial coin with her effigy on the reverse.
Diana, Princess of Wales (1961 – 1997)
Diana Frances Spencer married the Prince of Wales in July 1981. Although the Princess gave birth to two sons, William and Harry, the marriage was unstable and led to a legal separation in 1992 and divorce four years later.
Constantly the subject of a media frenzy, Diana died in a car crash in Paris in August 1997 while she and her friend Dodi Al Fayed were trying to escape the paparazzi. The world was stunned at her tragic death, and her funeral a few days later triggered grief all around the world.
The Royal Mint issued this memorial £5 coin in 1999 featuring Diana's profile on the reverse.
Beatrix Potter (1866 – 1943)

To celebrate the 150th anniversary of the birth of Beatrix Potter, The Royal Mint released this 50p to celebrate Beatrix herself.
Designed by Emma Noble, the coin includes elements that celebrate Beatrix as the artist behind some of the best-loved characters in children's literature along with the nostalgic font used for the inscription.
Along with this 50p The Mint have also released a further 7 Beatrix Potter coins, featuring many of our favourite characters from her beloved stories, including Peter Rabbit, Tom Kitten and Jemima Puddle-Duck.
The popularity of both the 2016 and 2017 Beatrix Potter 50p series has been astounding and introduced many thousands more people to the world of change collecting.
Own the complete 2017 Beatrix Potter collection today >>
Florence Nightingale (1820 – 1910)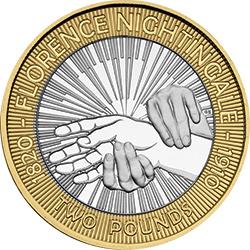 Named after the Italian city in which she was born in 1820, Florence Nightingale is famous for her work in the military hospitals during the Crimean War where she tended to wounded soldiers.
In 1860 she laid the foundation of professional nursing with the establishment of her nursing school at St Thomas' Hospital in London. Her book 'Notes on Nursing' proved to be influential in changing the way hospitals were run and the role of nurses within them.
Released in 2010 to commemorate 150 years of nursing, the reverse design by Gordon Summers features the image of a nurse taking the pulse of a patient.
Jane Austen (1775 – 1817)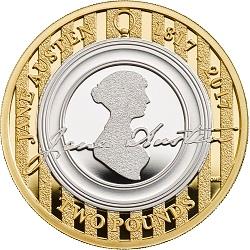 Jane Austen is one of the best-loved English novelists from the 19th century. Her novels were revolutionary and from her first novel, 'Sense and Sensibility', readers began a love affair with her fiction that has lasted two centuries.
Designed by Dominique Evans, a portrait of Jane Austen features on this £2 coin, released in 2017, to mark 200 years since her death.
Interestingly, with the introduction of both this coin and the new polymer £10 note, Jane Austen became the first person ever, aside from the reigning monarch, to feature on both a UK coin and UK banknote at the same time.
Mary Shelley (1797 – 1851)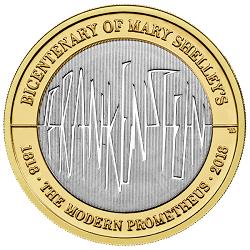 This £2 coin was issued by The Royal Mint to celebrate the 200th anniversary of the publication of Mary Shelley's famous novel Frankenstein; or, The Modern Prometheus.
Whilst on holiday in Geneva Mary Shelley and her poet friends, including Lord Byron and future Husband Percy Shelley, decided to have a competition to see who could write the best horror story. Out of this Mary Shelley created Frankenstein, a story about a scientist's scary act at playing God and creating life. It went on to become one of the best loved gothic novels.
The reverse of this gothic coin was designed by Thomas Doherty and features the words 'Frankenstein' in an electric gothic font.
Register for updates about this coin's availability >> 
Which influential women would you like to see feature on coins in the future?
I've made a list of some rather amazing women who'd certainly merit a place on a UK coin. You can vote for your favourite below or suggest another worthy candidate as a comment on this blog.