The Treasury has today confirmed the Official UK King Charles III Coronation Coins, ahead of the biggest royal occasion for decades.
To avoid missing out on what is set to be the most sought-after release in decades, you can sign-up to receive the very latest updates (including when these coins will be available to purchase!). Click here to register your interest.
Marking the first UK coronation in 70 years, a brand new 50p and £5 coin will be issued.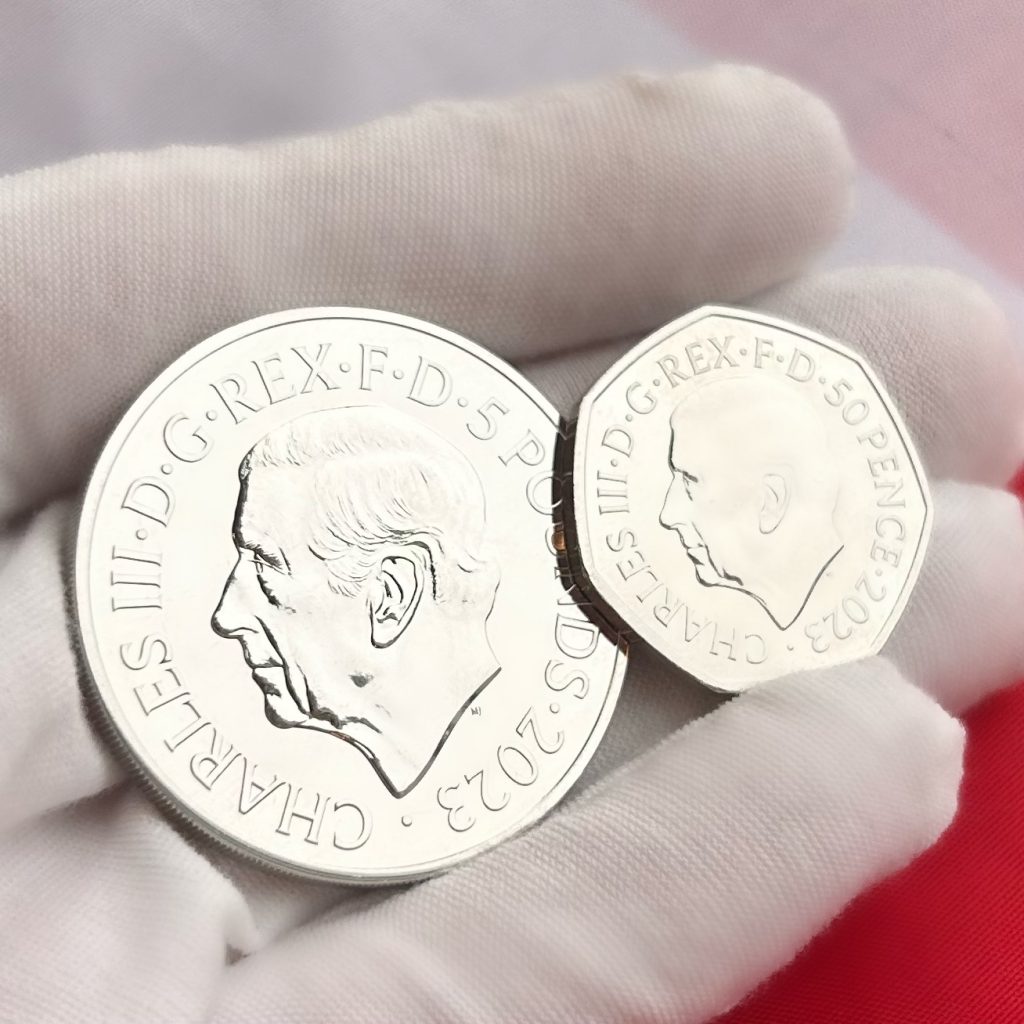 As detailed in the latest Royal Proclamation, the coins are expected to feature the below designs.
King Charles III Coronation 50p
The Royal Proclamation reveals the reverse of the 50p coin will show the Royal cypher set against a depiction of a section of the exterior of Westminster Abbey.
We're not sure yet if the 50p coin will enter circulation but you can be assured Change Checker will update you as soon as we hear any difference.
King Charles III Coronation £5
The reverse design of the £5 coin will show a depiction of the St Edward's Crown accompanied by the sovereign's sceptre with dove and the sovereign's sceptre with cross with the inscription "THE CORONATION OF KING CHARLES III 6 MAY 2023".
According to the Royal Proclamation, the coin will feature the inscription "· GOD SAVE OUR GRACIOUS KING", save for the cupro-nickel coin which shall have a grained edge.
---
With the demand seen for the very first King Charles III 50p and £5 coins following the passing of Queen Elizabeth II, the brand new King Charles III coronation coins are sure to be highly sought-after with collectors.
---
AVOID DISAPPOINTMENT – sign up for updates on the official UK coronation coins
Demand for these coins is sure to outweigh supply.
Use our form below to register your interest for the UK's first Coronation coins.
Guarantee all future UK King Charles III coins for your collection

Join the Change Checker UK CERTIFIED BU Subscription Service and receive the very latest UK King Charles III coins sent to your door without the hassle of placing orders on the day of release!
The Royal Canadian Mint are marking the end of Queen Elizabeth II's circulating coinage in 2023 with a Limited Edition Collector's Set of coins.
Packaged in a royal purple presentation to pay tribute to the Queen, these extraordinary coins mark the end of a remarkable reign, and the end of an era in Canadian coins.
Limited Edition Queen Elizabeth II Coins
Each coin's obverse is double-dated ("1952-2022") to commemorate Her Majesty's reign and is marked by four pearls symbolizing the four effigies that have graced Canadian coins during that time
These six coins will not enter circulation and are limited to JUST 50,000 WORLDWIDE! Considering the recent surge in demand for Queen Elizabeth II coins, stock surely won't last long…
Change Checker has fortunately managed to secure an initial allocation of just 250 sets for collectors. But you'll need to act fast to secure yours.
Click here to get yours for £35 (+p&p) >>
Royal Canadian Mint's history of popular Queen Elizabeth II coins
2022 Queen Elizabeth Memorial $2
In December 2022, The Royal Canadian Mint issued a unique Queen Elizabeth II memorial $2 coin.
Just shy of 5 million $2 coins entered circulation.
However, when you consider Canada's population is over 38 million, you'll appreciate just how sought-after this coin is.
The obverse features the portrait of Queen Elizabeth II, created by Susanna Blunt and the reverse features the traditional $2 Polar Bear design by Brent Townsend.
But, what makes this $2 coin extra special is the outer ring…
The outer ring features a striking black nickel finish and is reminiscent of a mourning band, in a touching tribute to Her Majesty.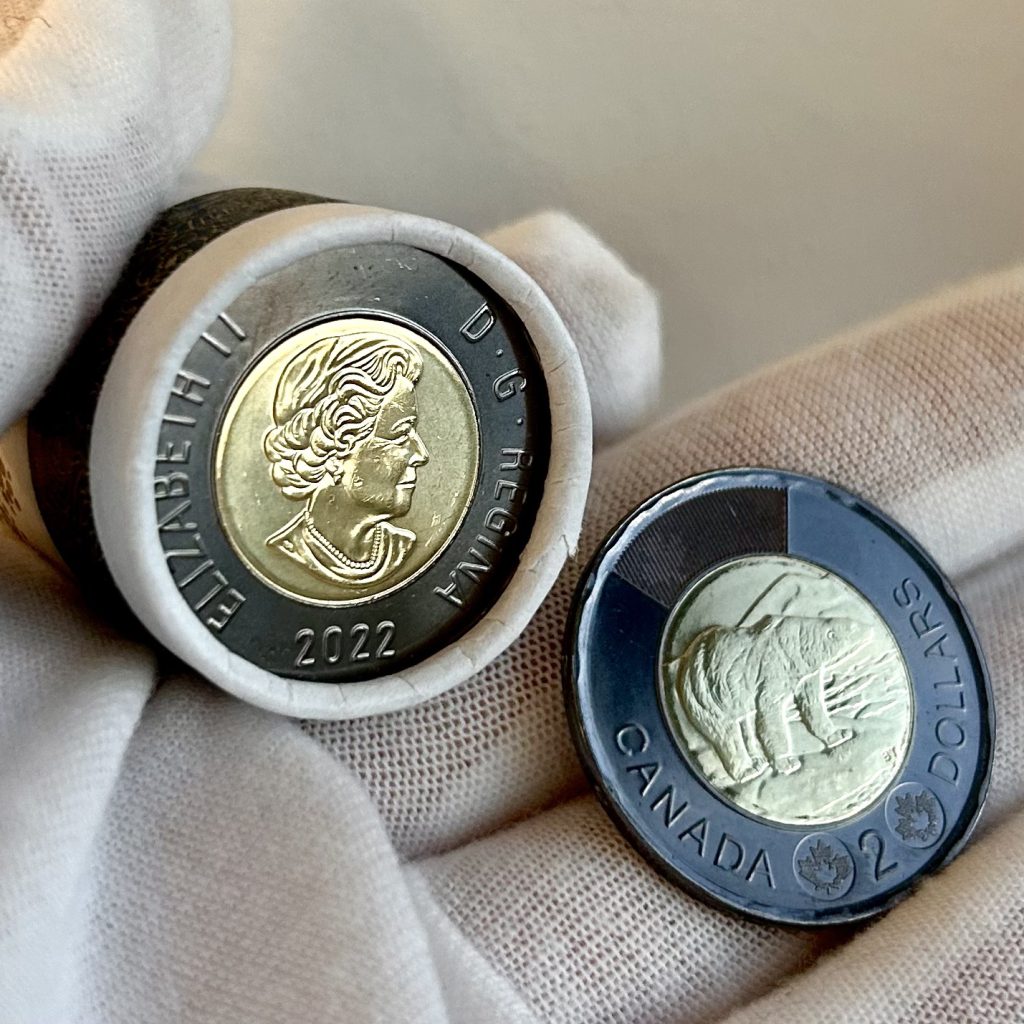 Selectively coloured Insulin $2 coin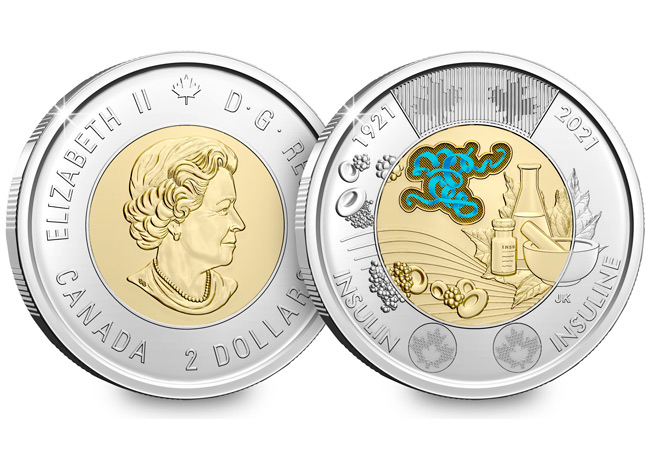 To mark the 100th anniversary of the discovery of Insulin, The Royal Canadian Mint issued this a special collector's coin set.
Featured in the set was this unusual selectively coloured $2 coin.
It's rare to see colour printing on a £2 coin – it's only been seen once in 20 years in the UK!
Just 100,000 sets were issued for collectors worldwide, with this being the only way people could get their hands on the individual $2.
Thousands queue online for Queen Elizabeth II coins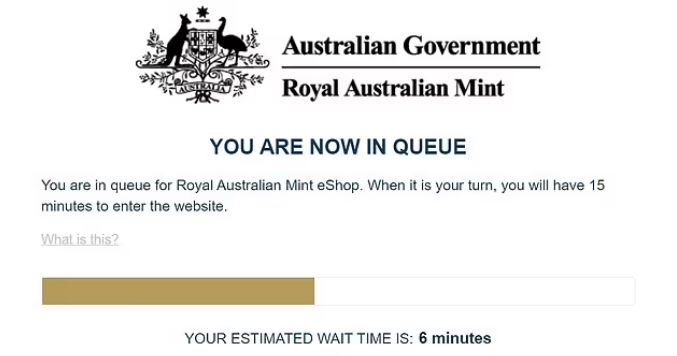 Demand for Queen Elizabeth II coins was particularly felt at Mints around the world, following the sad news of her passing on 8th September.
Collectors heading to The Royal Australian Mint websites faced long queues, with coins issued within the previous few weeks in very high demand.
---
Considering the popularity of Royal Canadian Mint's coins, paired with this being the last official Canadian Queen Elizabeth II Coin Set, we expect collector demand to be very high.
---
Don't miss out! Order your Canada 2023 Collector's Edition Set today
We have an initial allocation of JUST 250 sets available for Change Checkers. Don't miss out!
A brand new UK £2 coin has been issued celebrating the world's most famous locomotive – Flying Scotsman.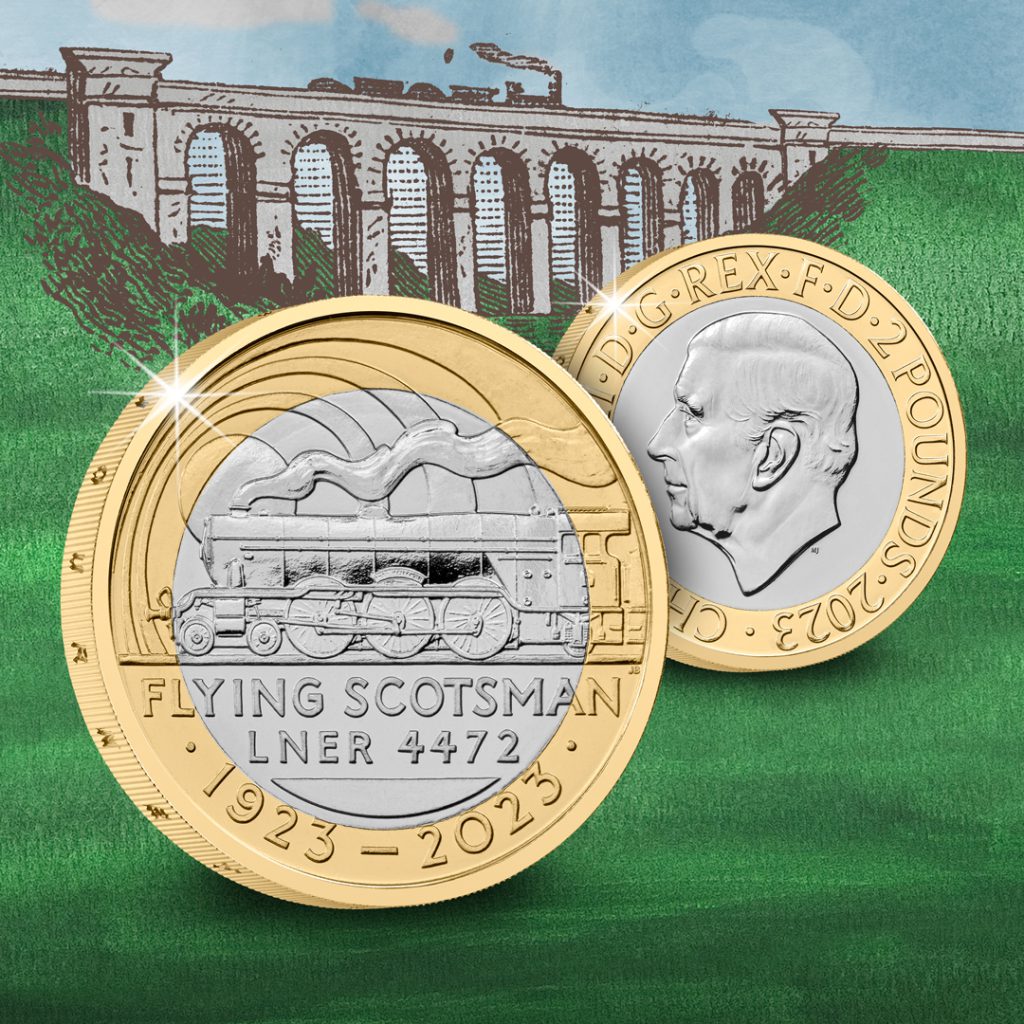 To commemorate its centenary year, The Royal Mint featured a design of Flying Scotsman in motion on the reverse of the £2, by John Bergdahl.
This coin was issued in the 2023 Commemorative Coin Set. But, this is the first time collectors have been able to get their hands on the individual coin!
Don't miss out on owning the £2 coin celebrating the world's most famous locomotive. Get yours for £9.50 (+p&p) >>
Flying Scotsman £2 celebrates poignant anniversary
If you're lucky enough to have ever travelled on the famous locomotive, you'll know just how impressive its engineering is – a true symbol of Britain's great age of steam.
Built in 1923 at Doncaster Works, Flying Scotsman was the first locomotive of the newly formed London and North Eastern Railway (LNER).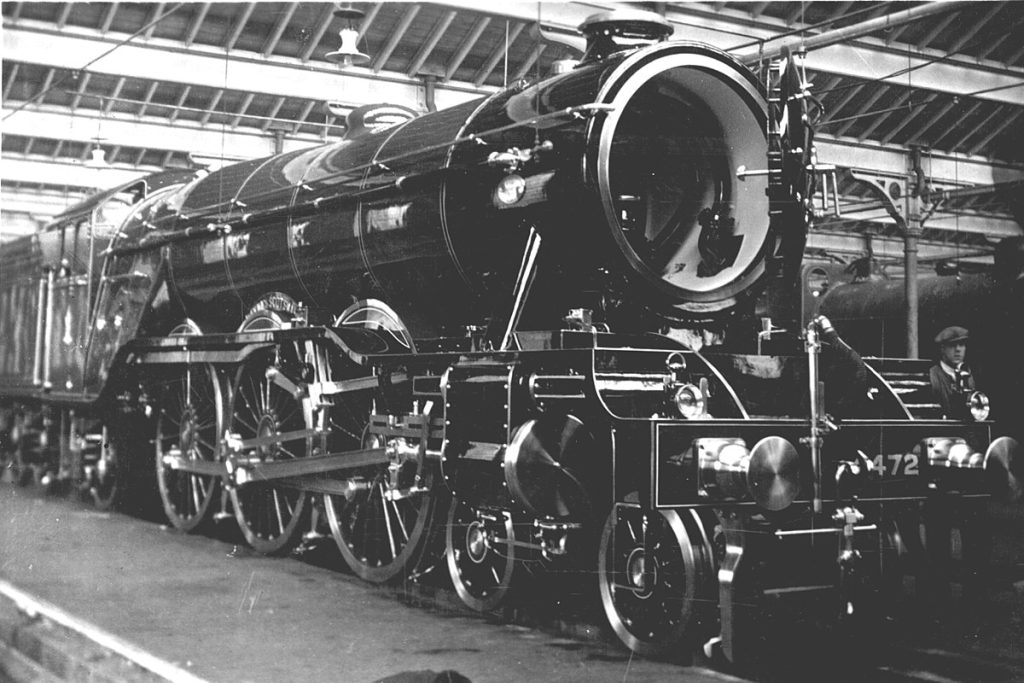 It joined Sir Nigel Gresley as part of the A1 class – the most powerful locomotives used by the LNER at that time.
It coined its name after the daily 10.00 London to Edinburgh rail service which started in 1862.
The British Empire Exhibition made Flying Scotsman famous when it first appeared in 1924.
Record-breaking steam power
1934 saw Flying Scotsman clock 100pm on a special test run, officially making it the first locomotive in the UK to reach that speed.
This was crucial in the negation of LNER's directors plans to use diesel power on its high-speed services – proving steam power was just as punchy!
After a restoration project in 2006, Flying Scotsman broke yet another record. It returned as a working museum exhibit making it the oldest mainline working locomotive on Britain's tracks.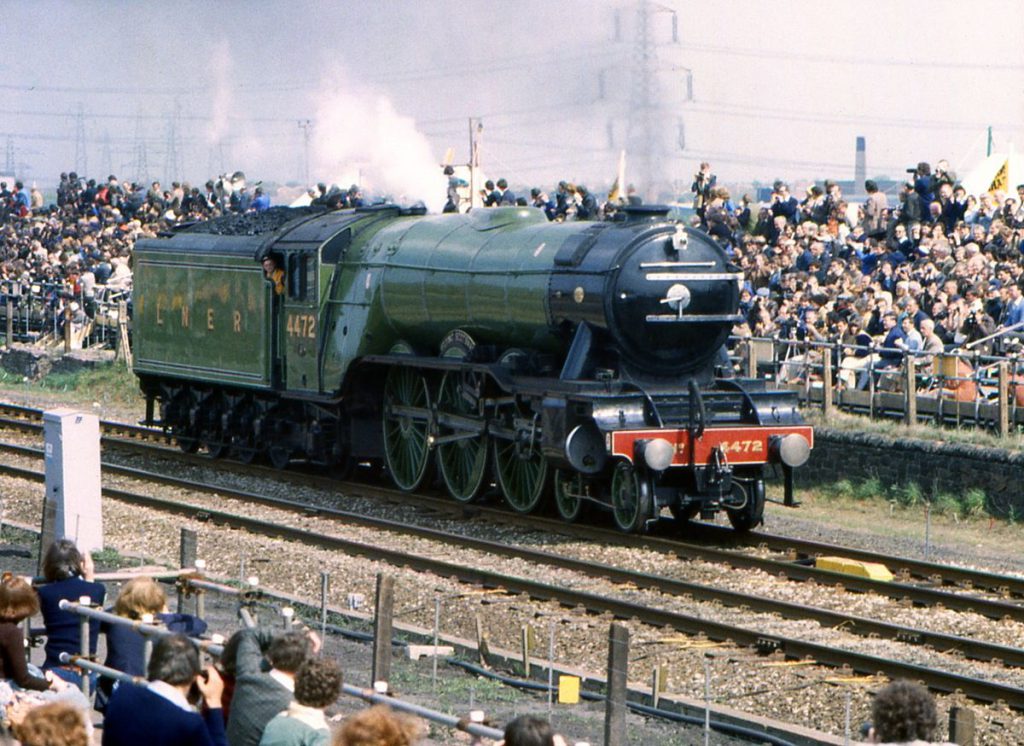 Flying Scotsman is certainly the world's most famous locomotive. Despite being retired from regular transportation duties, it still attracts hundreds of thousands of fans at every location it visits.
Have you ever seen Flying Scotsman in action? Let us know in the comments below.
Popular Train and Locomotive Coin Issues
The brand new Flying Scotsman £2 follows in some very big footsteps.
2013 London Underground Roundel £2
In 2013, The Royal Mint marked 100 years of the London Underground with two £2 coins.
This was the first to be issued and features the iconic Underground roundel, designed by Edwina Ellis.
The Tube has 11 lines covering 402 km and serving 272 stations, handling up to five million passenger journeys a day.
2013 London Underground Train £2
The second coin in The Royal Mint's London Underground series shows a design of the iconic Tube, appearing through a tunnel.
The inscription reads '1863 – London Underground – 2013'.
Just 1,690,000 of these £2 coins entered circulation, making it somewhat tricky to get your hands on.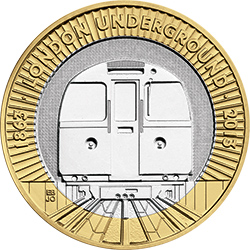 2004 Steam Locomotive £2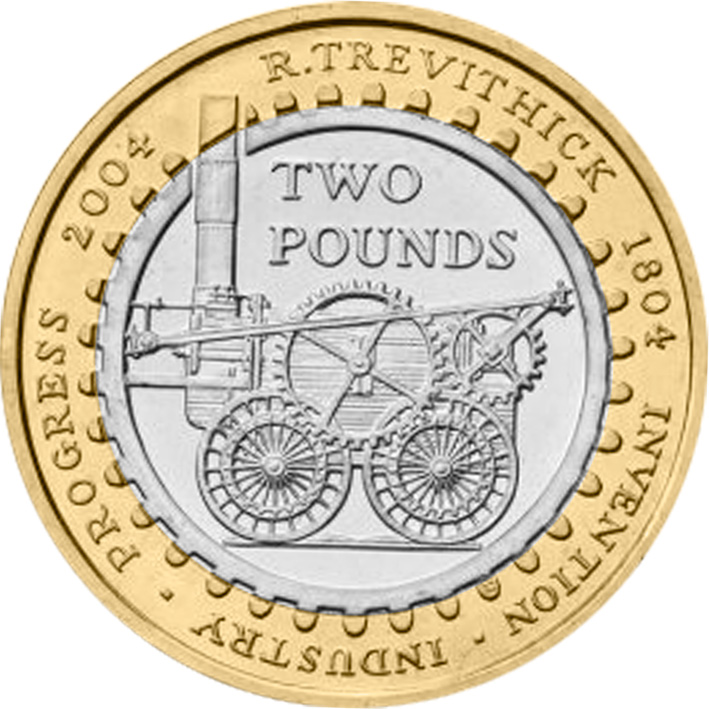 This £2 coin was issued to commemorate the 200th anniversary since the development of Richard Trevithick's 'Pennydarren' – the first steam engine locomotive.
The Pennydarren started the growth of railway transportation in the 19th century.
It travelled from Merthyr Tydfil in South Wales to Abercynon on its first journey in 1804, carrying 10 tons of iron, 5 wagons and 70 people on the 9 mile trip.
---
Celebrate Flying Scotsman's 100 years of history with this brand new UK £2
Get your hands on the brand new 2023 UK Flying Scotsman for JUST £9.50 (+p&p) by clicking here >>