The A-Z of Great Britain 10p coins have been a firm favourite with collectors since they were first released last year, with 26 Quintessentially British designs capturing the public's imagination.
Unsurprisingly, some designs are proving more popular than others, but which ones are likely to fetch the most on the secondary market?
We've done the hard work for you by taking a look at which A-Z 10p coins are selling for the most on eBay and which ones you should be looking out for.

The Ones to Watch…
If you've been lucky enough to find the 'B' for Bond 10p in your change, you may want to keep hold of it as it currently sells on eBay for around £3.05 – over 30 times its face value!
This coin also currently holds the top spot on our Scarcity Index, so it seems collectors everywhere are desperate to add this 10p to their collection!
In very close second, the 'C' for Cricket 10p sells for an average of £2.98, followed by 'J' for Jubilee in third, which has been selling for around £2.69.
How Many A-Z 10ps Are Out There?
Earlier this year it was confirmed that there were only 220,000 of each individual design released into circulation in 2018. We know that there were 2.1 million coins issued for 2019 but we're yet to find out the individual mintage figures for each design.
When the official figures are released we could well see some of these coins increasing in value on the secondary market due to their low mintage!
These coins are notoriously tricky to find, but have you been lucky enough to come across any in your change? Let us know in the comments below.
---
Own the 2019 Complete Certified Uncirculated A-Z 10p Set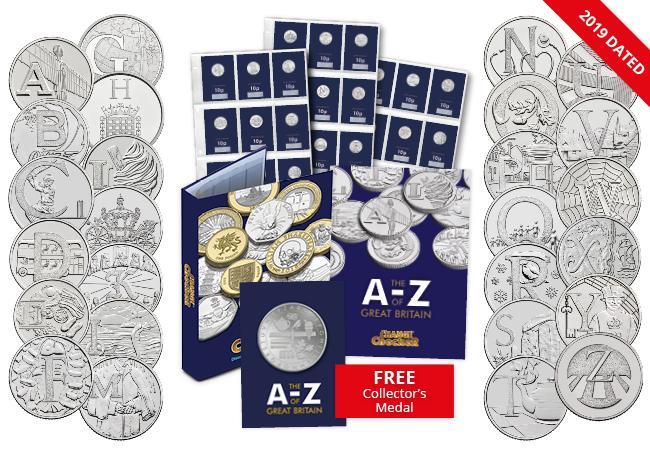 To secure the 2019 Complete Certified Uncirculated A-Z 10p Set, click here
2020 is already shaping up to be a big year for coin collectors, as recent Royal Proclamations have revealed an exciting line-up of new coins to look forward to next year.
And we've just heard the biggest news yet… In fact, this news is so colossal that it's sure to shake the coin collecting community!
That's because the Royal Proclamation on the 8th November has revealed a brand new series of dinosaur themed 50p coins will be released next year.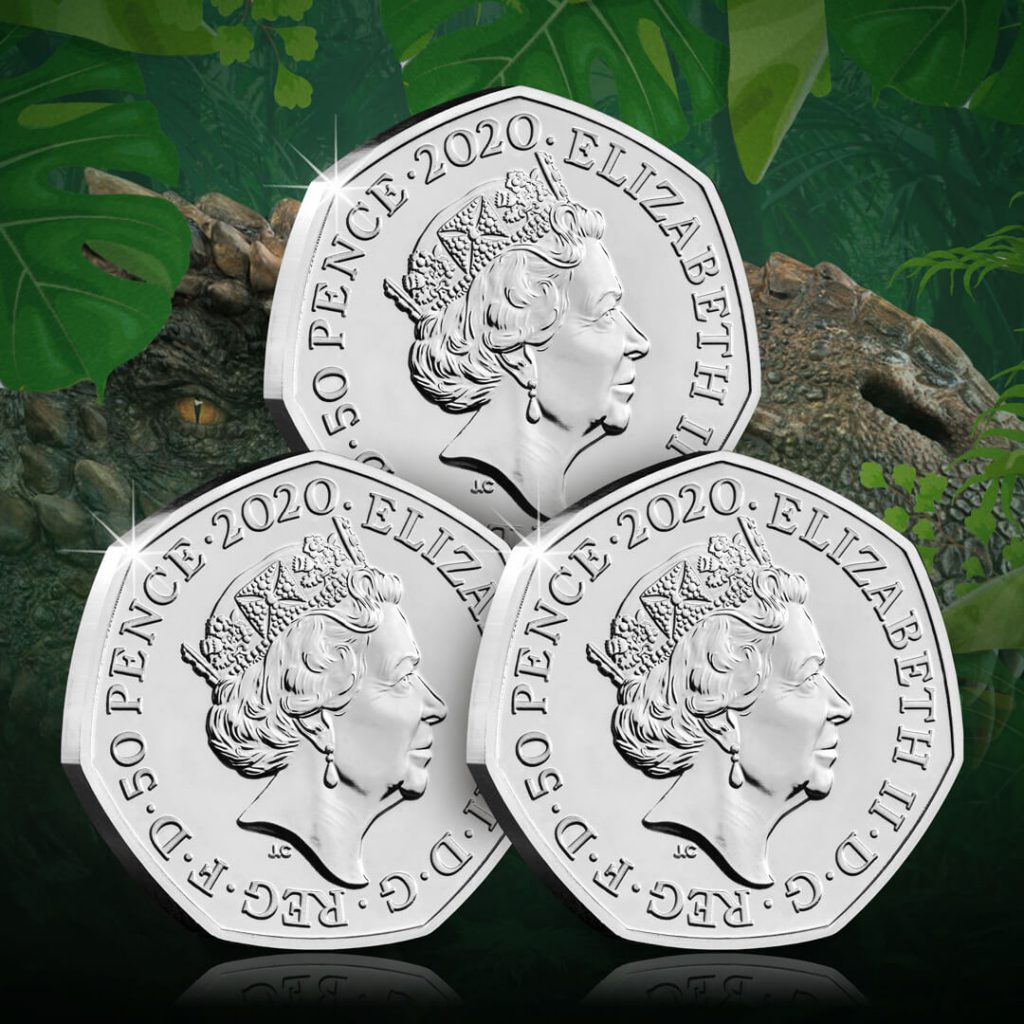 Three dino themed 50ps
Three designs have been announced, including the Megalosaurus, Iguanodon, and Hylaeosaurus.
'Megalosaurus' is Greek for 'great lizard' and at seven to eight metres long it certainly lives up to its name! In 1676 the first Megalosurus bone was discovered in Oxfordshire and publication of the find is thought to make this dinosaur the very first to be described in scientific literature.
Iguanodon were large herbivores with distinctive thumb-like spikes. After Megalosaurus, these were the second type of dinosaur to be formally recognised.
Hylaeosaurus was an armoured dinosaur with at least three long spines along its shoulders. However, much of the anatomy of this dinosaur is still unknown due to the fact that very limited remains have been found.
The UK's first dinosaur coins
Excitingly, these will be the first ever UK dinosaur coins and I for one can't wait to see these roarsome coins let loose!
Of course the designs and release dates are top secret for now, but if you'd like to be kept up to date with all the latest information about the 2020 Dinosaur 50p coins, simply sign up using the form below.
Stay up to date with all the latest 2020 Dinosaur 50p news…
Fill in your details below to be kept up to date with all the latest news about the 2020 Dinosaur coins.
---
If you're interested in coin collecting, our Change Checker web app is completely free to use and allows users to:
– Find and identify the coins in their pocket
– Collect and track the coins they have
– Swap their spare coins with other Change Checkers
Sign up today at: www.changechecker.org/app
We're delighted to announce the 2019 Change Checker Awards in association with All About Coins, where we'll be celebrating the very best of the change collecting world from 2019!
We're looking for the 2019 Change Checker of the Year and the 2019 Junior Change Checker of the year and we need your help!
Do you know somebody who deserves to be crowned 'Change Checker of the year'? If so, we'd love to hear why.
Has someone you know completed an epic collection? Do you know somebody who's gone above and beyond to help other Change Checkers complete their collections? Or have you been introduced to the world of change collecting by another Change Checker?
If you know someone who has been the perfect Change Checker, we want to hear from you.
Send an email outlining why your family or friend[s] deserve to win this coveted award to Awards@changechecker.org.
Alternatively, you can submit your entry using the sign-up form at the bottom of this blog.
Finally, you can leave a comment on any of our social media pages but be sure to use the hashtag #CCAwards2019.
To qualify for Junior Change Checker of the year the application must be aged 16 or younger. The closing date for entries is 5pm on Friday 6th December.
All entries will be judged by our panel and the results announced on Thursday 12th December.
The victorious Change Checker and Junior Change Checker of the year will each win an exclusive Change Checker trophy and a bundle of goodies worth more than £50, including a year's subscription to Coin Collector magazine!
Categories
The other categories that make up the Change Checker Awards are:
Coin Story of the Year 2019 – judged by our panel
and
UK Coin Design of the Year 2019 – judged by you!
Change Checkers have been voting and the shortlisted results are now in…
Vote for your 2019 Coin Design of the Year from the top three coins listed below:
The winners for all Change Checker Award categories will be announced on the 12th December.
Good Luck!
Submit your Change Checker and/or Junior Change Checker of the Year nomination here:
---
Terms and Conditions
The winners will receive an exclusive Change Checker trophy and a bundle of goodies, as well as a year's subscription to Coin Collector magazine. There is no cash alternative.
Participants agree to meet reasonable requests to assist publicity.
The Change Checker Awards 2019 are promoted by The Westminster Collection / Change Checker, trading divisions of 288 Group Ltd.
Employees of 288 Group and their families are not eligible to enter.
---
If you're interested in coin collecting, our Change Checker web app is completely free to use and allows users to:
– Find and identify the coins in their pocket
– Collect and track the coins they have
– Swap their spare coins with other Change Checkers
Sign up today at: www.changechecker.org/app