Get ready for another collecting sensation!
Excitement is building across the globe for the 2016 Summer Olympic Games in Rio de Janeiro.
But as you might expect,  we're most excited about Brazil's new Olympic coins…
In the UK, the Olympic 50p series was a revolution in coin collecting – for many it represents the start of their interest in coins and millions rose to the challenge of collecting all 29. There were 29 million Olympic 50p coins that originally entered circulation.  Of those, the Royal Mint estimates that 75% have been removed from circulation by collectors!
The same collecting revolution is now taking place in Brazil…
For the first time ever, the Summer Olympic Games will be held in South America. And to celebrate this historic occasion, Brazil have launched a series of commemorative coins.
The Casa da Moeda do Brazil (The Brazilian Mint) have issued 16 commemorative Real coins featuring a different Olympic sport on each.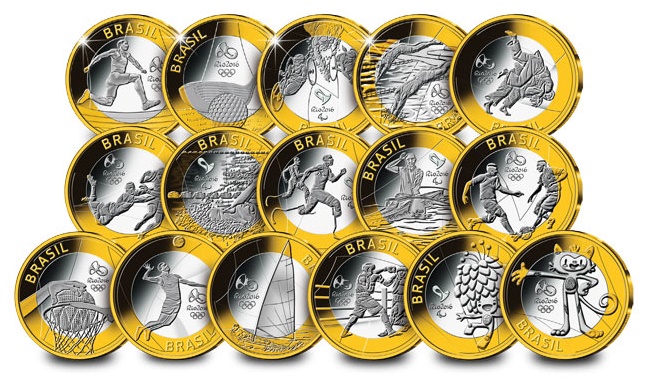 This is big news… Brazil has previously only ever minted coins on extremely rare occasions.
These official Brazilian Commemorative coins for Rio 2016 are crafted collector pieces and are sure to become a collecting sensation. These coins will most definitely be snapped up quickly among residents of Brazil.
But don't worry, you won't have to travel over 5000 miles to get your hands on them, we've managed to source all 16 'Real' coins from Brazil…
---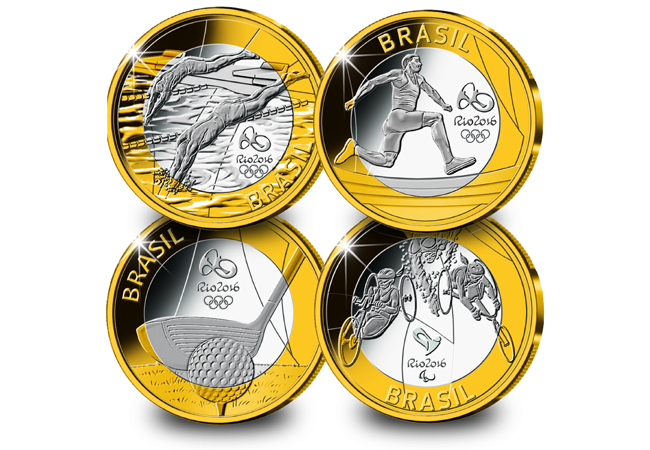 Don't miss your opportunity to be a part of this collecting sensation.
Click here to own Series 1 of the 'Rio 2016 Commemorative Coins Collection' for just £25.
With 25 days to go until the Olympic Games in Rio this Summer, the Royal Mint have released a coin that's sure to excite the hundreds of thousands of people who collected the Sports 50p coins for the London 2012 Olympics.
This UK 50p coin has been released to wish Team GB success in Rio this summer.
The coin's obverse design features a swimmer with the Team GB logo, the Olympic rings and the inscription 'TEAM GB'.  Designed by Tim Sharp, the coin has been officially endorsed by Team GB and celebrates the spirit of the British Olympians.
The 30th Olympic 50p
In the lead up to the 2012 Olympic Games, 29 million Olympic 50p coins were released into circulation across 29 different designs – 1 for each Olympic sport.
Remarkably the Royal Mint estimated that 75% of those coins were removed from circulation as collectors clamoured to complete the collection, with many coins like Football and Judo barely ever seen in your change today.
[read more about which Olympic 50p coins are the rarest]
The new Team GB coin will surely become known as the "30th Olympic 50p" and with so many established collectors, it seems certain that its release will be greeted with much excitement.
---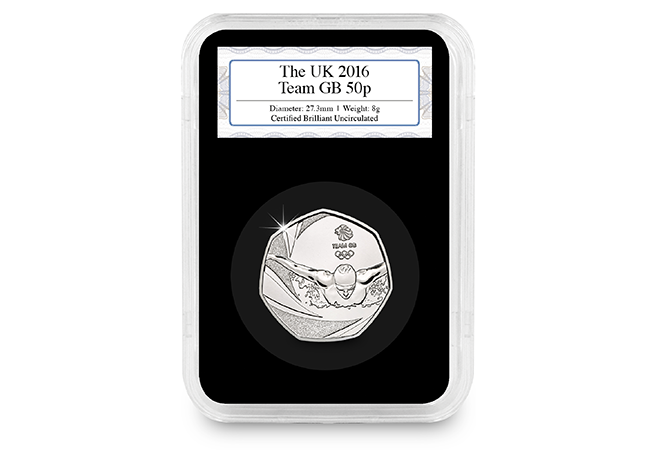 The 2016 UK Team GB 50p
If you can't wait to find this coin in your change you can add the Brilliant Uncirculated Team GB 50p to your collection now.