The latest Change Checker Scarcity Index update of 2018 is here and the results are in…
The 50p and £2 Scarcity Indexes have been compiled using data from the second quarter of the year.
As per our previous quarter, you can now use our new feature to help you track the performance of your coins. The arrows signify how many places, up or down, a coin has moved on the Scarcity Index; any coins with a yellow star are making their first appearance after having been released into circulation.
50p Scarcity Index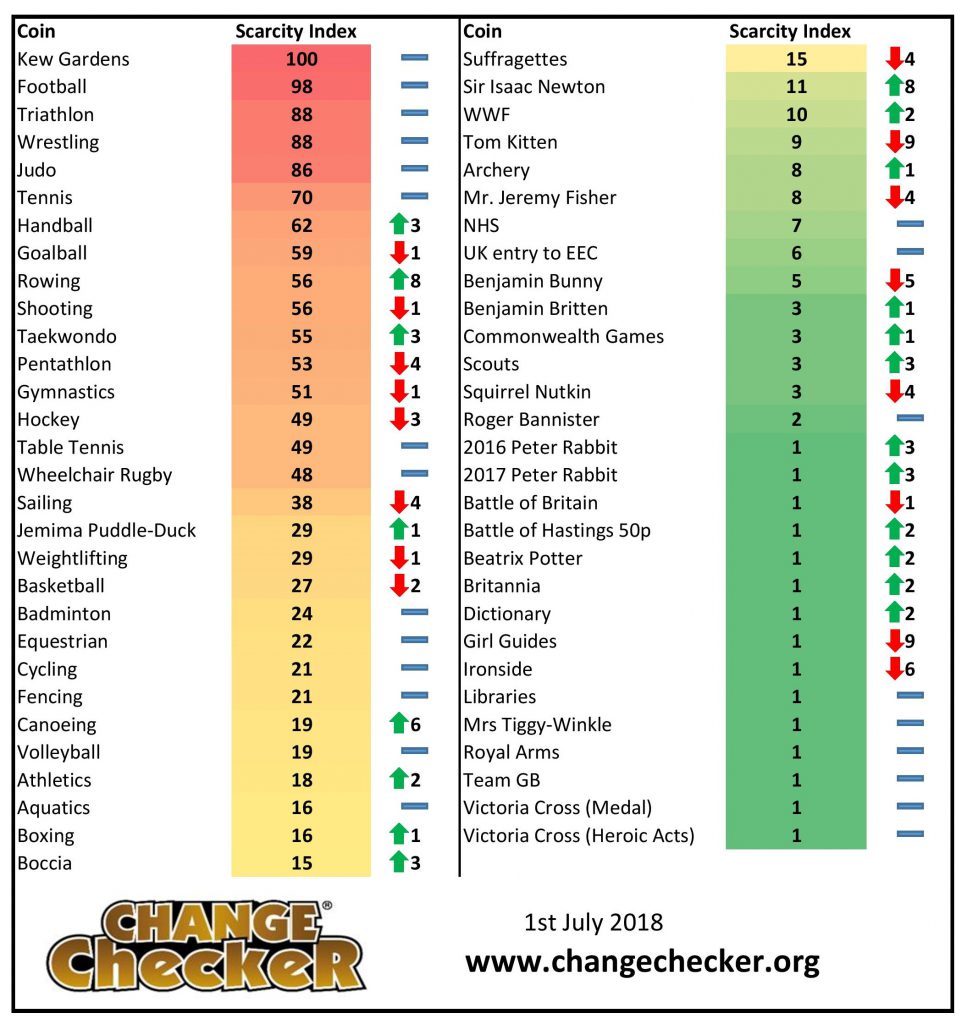 Not surprisingly, Kew Gardens still remains the most scarce UK 50p coin with a mintage figure of just 210,000. There has been a lot of movement this quarter, with significant improvements in the performance of Sir Isaac Newton, Rowing and Canoeing. 
On the other hand, both Girl Guides and Tom Kitten have seen less interest, with both coins moving 9 points down the Index.
Our top and bottom 6 coins seem to remain consistent for now, although there is always the potential for change as new coins enter circulation, and we've had a number of new releases recently that could mix things in up…
£2 Scarcity Index

Although the 2017 WW1 Aviation and Jane Austen £2 coins are yet to enter circulation, we've still seen some movement amongst the current coins in our Scarcity Index.
The ever popular Commonwealth Games Northern Ireland £2 regains its place at the top after a briefly being replaced by Wales. Another strong improvement goes to Trinity House, which has also moved up the Index 4 places.
On the other end of the spectrum, the Rugby World Cup and Florence Nightingale coins have moved down the Index this quarter, with Florence Nightingale dropping an impressive 8 places. This is due in part to a lack of Change Checkers requesting to swap these coins, however we wouldn't be surprised to see these coins creeping up the Index in the next quarter.
What about the A to Z 10p coins?
Unfortunately, at present, there is simply not enough data to accurately compile a full A to Z 10p Scarcity Index. However, we have put together a 'Swap Index' using data from the Change Checker App which we feel is the most accurate way currently to determine which A-Z 10ps are most sought after.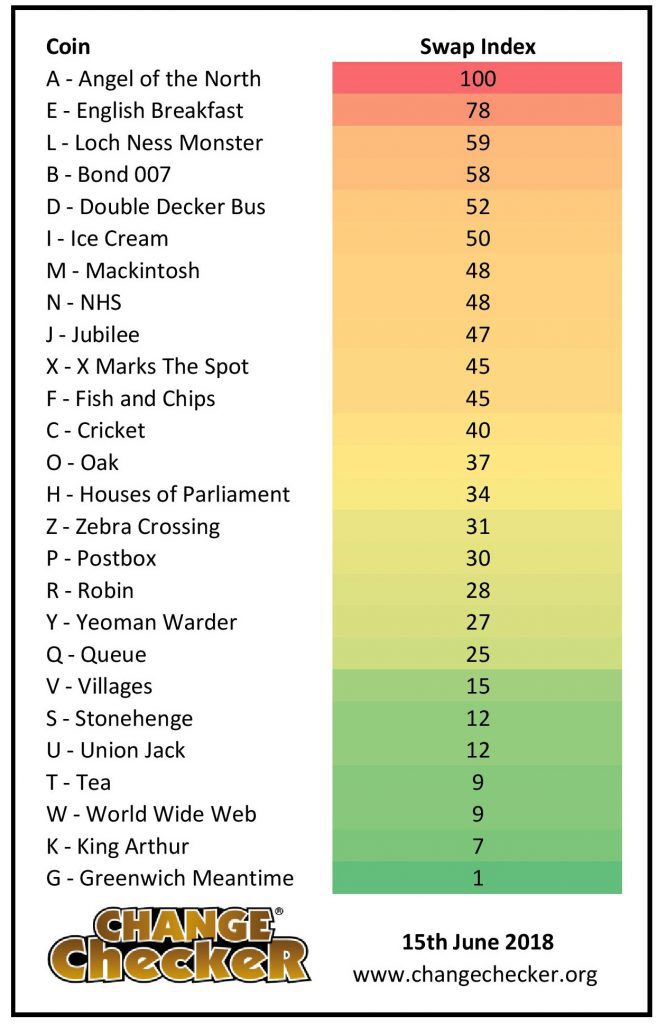 Our top two coins (A for Angel of the North and E for English Breakfast) are very clearly the most sought after, with  L for Loch Ness Monster coming in third. Speculation as to why people might be collecting certain designs is three pronged: 1) Perhaps people are looking for A to start their collection at the beginning of the alphabet. 2) They could be looking for coins that match their initials. 3) People might be collecting the coins based on which design/theme is their favourite.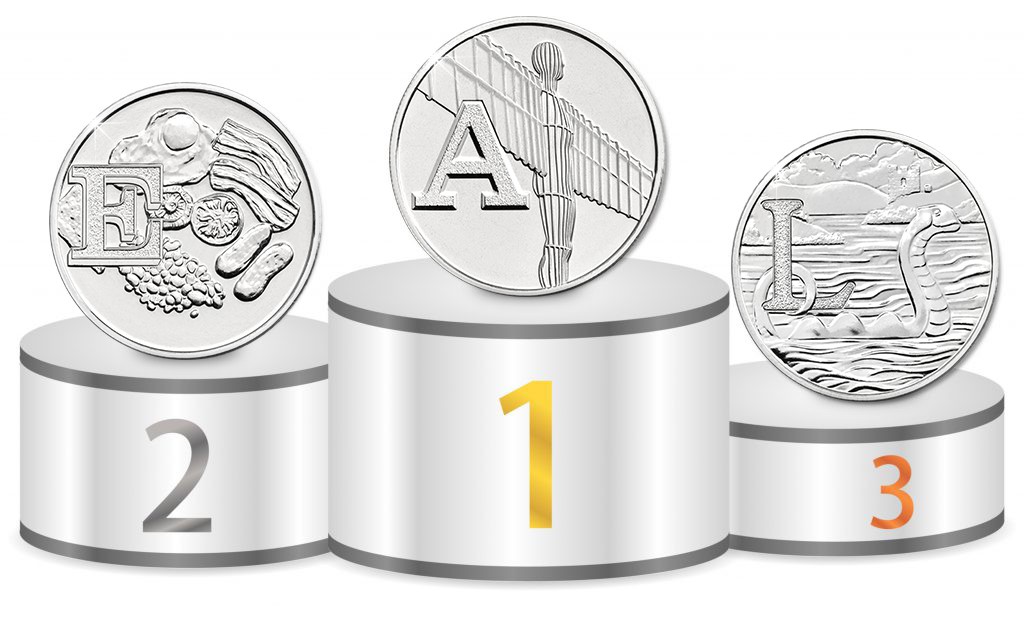 Initially, a limited stock of 2.6 million A-Z 10p coins were released into circulation through the Post Office network to coincide with the release of the designs in March. It has been no surprise that these have been quickly snapped up by eagle-eyed change collectors.
As more coins enter circulation and are found, we will begin to see more data emerge and a full Index for these coins will be compiled.
How the Scarcity Index works
Generally collectors have had to rely upon mintage figures to identify the scarcest coins.  But they only tell part of the story.  Trying to find a good quality coin from 15 – 20 years ago, even for a higher mintage issue, is much more challenging than a more recent issue, as coins become damaged over time and are ultimately removed from circulation.
Additionally, some designs are more hoarded than others by people who might not normally collect coins – the recent poignant First World War £2 Coin series being an example.  Finally, it can be up to a couple of years before the Royal Mint eventually confirms the actual mintage for an issue.
That's why we have combined the mintage information with two other key pieces of information.
How many of each design are listed as "collected" by Change Checkers, indicating the relative ease of finding a particular coin.
The number of times a design has been requested as a swap over the previous 3 months, showing the current level of collector demand.
Importantly, as new coins are released and popularity rises and falls across different designs the Scarcity Index will be updated quarterly allowing Change Checkers to track the relative performance of the UK's circulation coins.
How much are my coins worth?
The Scarcity Index does not necessarily equate to value but it is certainly an effective indicator.  For example, the Kew Gardens 50p coin commands a premium of up to 160 times face value on eBay.
What about £1 Coins?
The £1 Scarcity Index has already been published for the Round £1 coins and, because they are no longer being issued, this is now set in stone.
---
If you're interested in coin collecting, our Change Checker web app is completely free to use and allows users to:
– Find and identify the coins in their pocket
– Collect and track the coins they have
– Swap their spare coins with other Change Checkers

Sign up today at: www.changechecker.org/app
The Royal Mint announced Britain's new A to Z of Britain 10p coins to the public in March this year and since then they have created quite a stir in the world of coin collecting…
Thousands of collectors flocked to buy them, crashing the Mint's website and emptying stocks at the Royal Mint Experience.
At the same time Change Checkers have been asking the question "when will I find an A to Z 10p in my change?"
So let's take a proper look at the situation.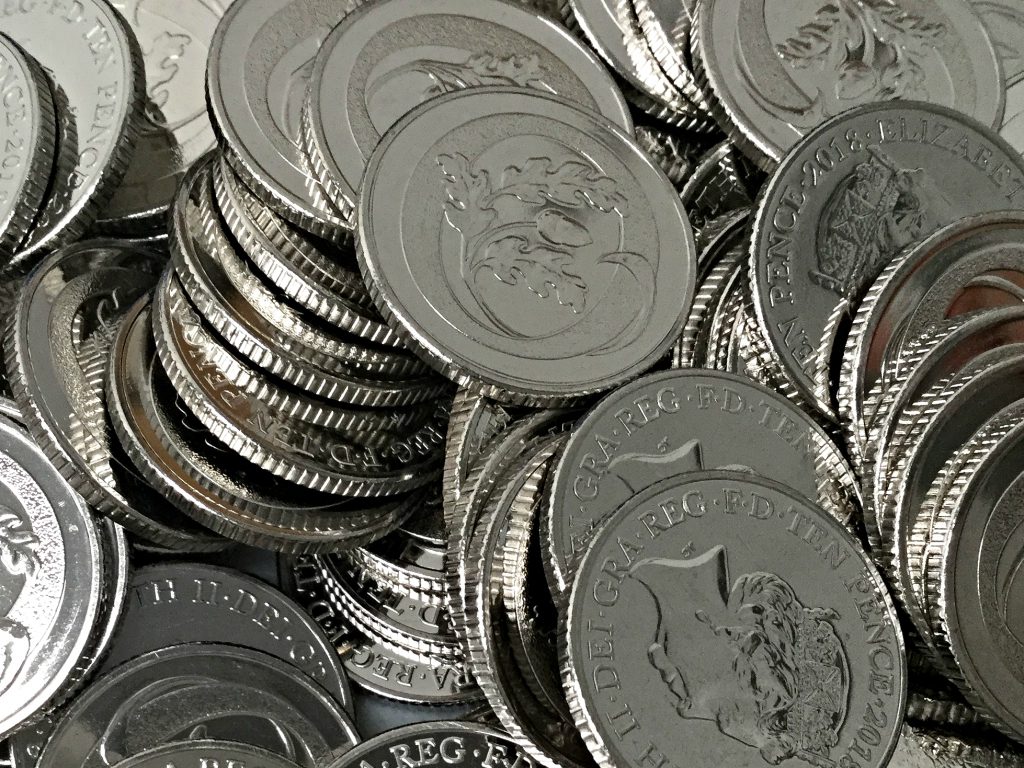 The Royal Mint does not actually control coins going into circulation.
I know this might sound a little hard to believe but The Royal Mint does not actually have any real control over how and when coins go into circulation. This is essentially managed between HM Treasury and the large cash distribution services run by the Post Office and some banks, as well as private operators. Between them they handle, sort and distribute the billions of coins in circulation, even swapping stocks between themselves.
It's only when they are short of a particular denomination that they call off stocks from The Royal Mint, who act as the manufacturer of the coin on behalf of the Treasury.
In short, The Royal Mint can only push the new 10p coins into circulation as and when there is demand from these cash distribution centres.
Early release of 2.6 million coins
All circulation designs do eventually make their way into circulation and in time into our pockets. However, it has been the case since commemorative 50p coins started to issue more regularly from the 1990s that, for the reasons explained above, it can be some months until cash centres call off new supplies. Indeed, it is not that unusual that the coins do not enter circulation until the following year.
With this in mind, The Royal Mint worked closely with the cash handling industry to introduce a small quantity of 10ps into circulation which were issued through the Post Office network.
Don't forget that 2.6 million coins is an initial early release – it is not the total quantity of coins that will ever circulate at face value. The expectation is that more 10p coins will enter circulation when required by the cash centres.
In addition, The Royal Mint also has plans for limited releases of coins at face value in appropriate locations across the UK during the rest of the year. Don't worry – we'll keep you up to date with all the news.
Additional 2.6 coins released
In October 2018, The Royal Mint and HM Treasury confirmed that a further 2.6 million A-Z 10p coins would enter circulation and this time the coins would be distributed through more normal networks including banks and cash distribution centres.
This will be welcome news to collectors who have been struggling to lay their hands on the new 10ps since the initial release in March. We're hopeful that additional volumes will continue to be struck in line with UK requirements and of course the massive collector demand.
So how can I collect my 10p coins for face value?
Well first off, it's fair to say you'll probably need a degree of patience. Don't forget commemorative coins do not normally enter circulation particularly quickly and there's no doubt that the first tranche of coins have been snapped up extra fast by keen collectors (and possibly even some Post Office staff).
Royal Mint estimates from 2016 suggest that there are 1.7 billion 10p coins in circulation. The expected annual demand for 10p coins is approximately 60 million per annum.
It's also clear that the demand for coins amongst the cash centres is currently relatively low. It's believed that many people cashed in additional denominations at the same time as their old £1 coins, helping to increase stocks, as well as the increased use of cashless payments having an impact.
So, it's practically impossible to say how many 10p coins will enter circulation this year. However, whilst we almost certainly won't see distribution in the hundreds of millions, Change Checkers should remain hopeful of more opportunities to collect the A to Z of Britain 10p coins straight from their change throughout this year and maybe even into next.
Conclusion
Yes, finding an A to Z 10p in your change is a pretty tough ask at the moment but the situation will improve over time.
Will they be rare? Certainly their level of popularity with collectors has been unprecedented and so it seems likely they'll always be a tough coin to find and, at 10p each, I'll definitely be putting any I find aside!
---
Get ahead of the crowd by owning the complete A-Z 'Early Strike' 10p Set TODAY!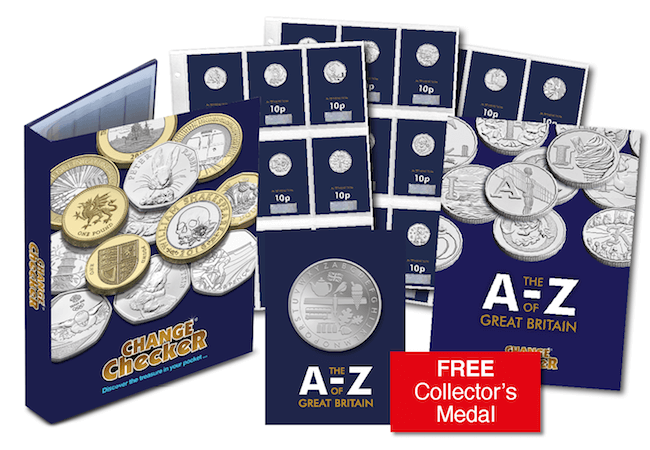 Today, the 8th March, is International Women's Day.
So what a great opportunity to take a look at some of the women who have featured on UK coins and how they have influenced recent British history.
Don't forget to vote (at the bottom of the page) for which inspiring woman you'd like to see celebrated on a UK coin in the future!
Her Majesty The Queen (1926 – Present)

It's a no brainer to start with The Queen's as her portrait features on all current UK coinage.
The Queen has ruled for longer than any other Monarch in British history, becoming a much loved and respected figure across the globe.
Her extraordinary reign has seen her travel more widely than any other monarch, undertaking many historic overseas visits. Known for her sense of duty and her devotion to a life of service, she has been an important figurehead for the UK and the Commonwealth during times of enormous social change.
Queen Elizabeth The Queen Mother (1900 – 2002)
Queen Elizabeth, the Queen Mother was one of the most extraordinary Royal personalities of the 20th Century.
Born Lady Elizabeth Bowes-Lyon on 4th August 1900, she entered public life in 1923 when she married Prince Albert, the Duke of York and younger son of King George V. When he unwillingly became King, it was her love and indomitable spirit during difficult war times which earned Queen Elizabeth the love and respect of her people.
In 2002 she sadly passed away, and to honour her, the Royal Mint struck a £5 memorial coin with her effigy on the reverse.
Diana, Princess of Wales (1961 – 1997)
Diana Frances Spencer married the Prince of Wales in July 1981. Although the Princess gave birth to two sons, William and Harry, the marriage was unstable and led to a legal separation in 1992 and divorce four years later.
Constantly the subject of a media frenzy, Diana died in a car crash in Paris in August 1997 while she and her friend Dodi Al Fayed were trying to escape the paparazzi. The world was stunned at her tragic death, and her funeral a few days later triggered grief all around the world.
The Royal Mint issued this memorial £5 coin in 1999 featuring Diana's profile on the reverse.
Beatrix Potter (1866 – 1943)

To celebrate the 150th anniversary of the birth of Beatrix Potter, The Royal Mint released this 50p to celebrate Beatrix herself.
Designed by Emma Noble, the coin includes elements that celebrate Beatrix as the artist behind some of the best-loved characters in children's literature along with the nostalgic font used for the inscription.
Along with this 50p The Mint have also released a further 7 Beatrix Potter coins, featuring many of our favourite characters from her beloved stories, including Peter Rabbit, Tom Kitten and Jemima Puddle-Duck.
The popularity of both the 2016 and 2017 Beatrix Potter 50p series has been astounding and introduced many thousands more people to the world of change collecting.
Own the complete 2017 Beatrix Potter collection today >>
Florence Nightingale (1820 – 1910)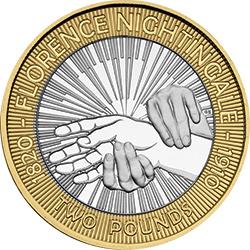 Named after the Italian city in which she was born in 1820, Florence Nightingale is famous for her work in the military hospitals during the Crimean War where she tended to wounded soldiers.
In 1860 she laid the foundation of professional nursing with the establishment of her nursing school at St Thomas' Hospital in London. Her book 'Notes on Nursing' proved to be influential in changing the way hospitals were run and the role of nurses within them.
Released in 2010 to commemorate 150 years of nursing, the reverse design by Gordon Summers features the image of a nurse taking the pulse of a patient.
Jane Austen (1775 – 1817)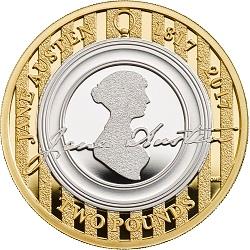 Jane Austen is one of the best-loved English novelists from the 19th century. Her novels were revolutionary and from her first novel, 'Sense and Sensibility', readers began a love affair with her fiction that has lasted two centuries.
Designed by Dominique Evans, a portrait of Jane Austen features on this £2 coin, released in 2017, to mark 200 years since her death.
Interestingly, with the introduction of both this coin and the new polymer £10 note, Jane Austen became the first person ever, aside from the reigning monarch, to feature on both a UK coin and UK banknote at the same time.
Mary Shelley (1797 – 1851)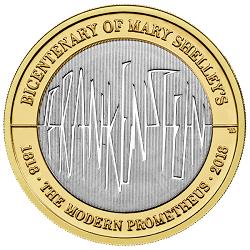 This £2 coin was issued by The Royal Mint to celebrate the 200th anniversary of the publication of Mary Shelley's famous novel Frankenstein; or, The Modern Prometheus.
Whilst on holiday in Geneva Mary Shelley and her poet friends, including Lord Byron and future Husband Percy Shelley, decided to have a competition to see who could write the best horror story. Out of this Mary Shelley created Frankenstein, a story about a scientist's scary act at playing God and creating life. It went on to become one of the best loved gothic novels.
The reverse of this gothic coin was designed by Thomas Doherty and features the words 'Frankenstein' in an electric gothic font.
Register for updates about this coin's availability >> 
Which influential women would you like to see feature on coins in the future?
I've made a list of some rather amazing women who'd certainly merit a place on a UK coin. You can vote for your favourite below or suggest another worthy candidate as a comment on this blog.