In 2017, we will celebrate the 200th anniversary of the modern sovereign – a coin renowned for its impeccable quality and craftsmanship.
The 'Great Recoinage' was the British government's attempt to re-stabilise the currency of Great Britain following economic difficulties caused by both the French Revolutionary and Napoleonic Wars. On the 22nd June 1816, the Coinage Act was passed and was given Royal Assent. 
Not only were silver coins reintroduced into circulation, the Gold Sovereign returned to become the symbol of Britishness across the Empire.
As we approach the 200th anniversary, we take a look at some of the key Sovereign designs through the years…

The designs that have appeared on Sovereigns throughout the years are all of significant importance but since the first 'modern' Sovereign 200 years ago, Benedetto Pistrucci's St George and the dragon has become synonymous with the Sovereign, the gold coin that set new standards for accuracy that defined a currency.
Click here to download a pdf version of the Change Checker Sovereign graphic.
---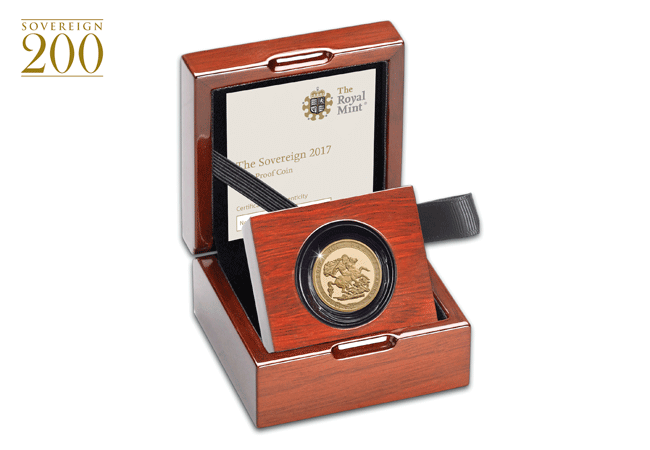 Own your own piece of numismatic history
Today you can reserve the brand new 2017 Bicentenary Gold Proof Sovereign
It's every Change Checker's dream to find a significant coin which is worth a fortune. And they don't come any more significant than the Edward VIII Sovereign which has just smashed an auction record and netted £516,000.
The incredibly rare 1937 dated gold 'proof' coin is the only single example available to collectors anywhere in the world. It was struck ahead of the King's Coronation, however following the scandal which predicated Edward's abdication from the throne in 1936, the coins became redundant and cemented their place in collecting folklore.
His left-facing portrait; the same as his predecessor George V, also represents a unique deviation from a tradition which started in the 17th century under Charles II who wished to be facing the opposite way to Oliver Cromwell.
"In the world of coins, it's the coin's story that makes it important and this coin has the most fantastic story" said winning bidder Mr Jordan Lott of Regal Rare Coins in Chester.
After a tense battle in the Baldwin's auction room and some fierce bidding, the coin eventually reached a winning bid of £430,000 and with fees included this took the total price to £516,000.
It was money which Mr Lott was happy to pay; "I was the first to bid and I was determined to be the last. I would have paid another £50,000 to make sure I got it."
The price is the highest ever recorded for a sovereign coin struck by the Royal Mint in the UK and possibly the best example of the numismatic significance of British coins in the collecting world.