Churchill – the only statesman commemorated on THREE British Crowns
On the morning of 24 January 1965, the tolling of St Paul's Cathedral's state bell 'Great Tom' signalled to a grieving nation that a great man was gone. Sir Winston Leonard Spencer Churchill died at the age of 90.
Since his death, Churchill has become a prominent figure in numismatic history and is the only person outside of the Royal family to be commemorated on a Crown coin on no less than three separate occasions.
In 1965, a whole nation mourned the loss of the politician, writer, orator and the man who exemplified the Allies' stance against the Nazi threat in the Second World War.
Buried in a country churchyard near Blenheim Palace where he was born, the Queen had attended Churchill's state funeral in London, the first afforded to a commoner in more than a century.
To celebrate the London 2012 Olympic and Paralympic Games, the Royal Mint issued this limited edition £5 coin. Featuring an instantly recognisable portrait of the great man, the coin was issued during Britain's build up to the London Olympic and Paralympic games to capture the spirit of pride in our nation.
Churchill was a man of many talents and was renowned throughout the world as a great statesman. Educated at Harrow School and Sandhurst Military Academy, his military service included Malakand and the Nile. During the Boer war, as a war journalist, he was captured but escaped.
He was Prime Minister and held various important positions including Colonial Under-Secretary, President of the Board of Trade, Home Secretary, Minister of Munitions, Secretary of State for War and Air, Chancellor of the Exchequer, and remained as a back bencher after 1955.
He was a talented painter and author of a number of important books, including "History of the English Speaking Peoples" in four volumes. His love of good cigars, vintage wines and fine brandy has become legendary. He never exercised and referred to his periods of severe depression as his 'black dog'.
But his world vision, his charisma and his qualities of leadership are acknowledged to have helped to ensure that Britain survived the Second World War.
In 2015, a half-century after the death of Winston Churchill, this £5 coin was issued to honour a man who holds an unrivaled place in history.
Featuring the engraved portrait of Winston Churchill by Mark Richards FRBS, who wanted to convey Churchill as larger than life by creating an image larger than the coin itself.
---
A tribute to Winston Churchill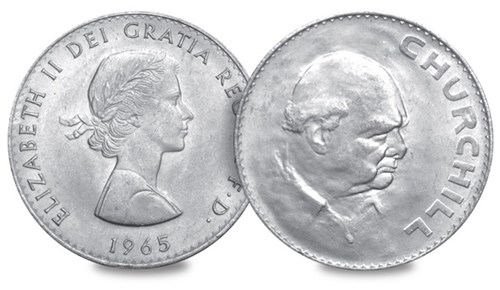 This Churchill crown has become one of the most famous British coins of the last century and is available to add to your collection now.