How Peter Rabbit changed British Coin Collecting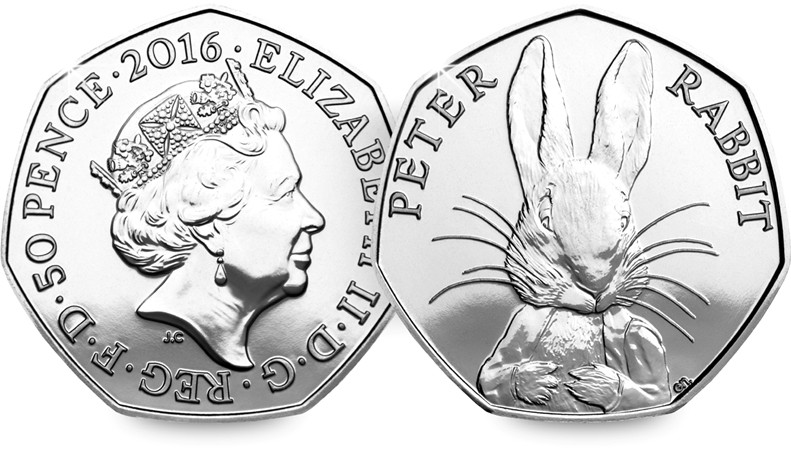 On 29 February 2016 UK coin collecting was changed forever.
It wasn't changed by a new currency, a new coin specification, or even a new denomination.
It was changed by a small rabbit.  A rabbit called "Peter".
Of course, Peter is no ordinary rabbit.  He's the naughty rabbit at the centre of Beatrix Potter's beloved children's stories.
And so it was no surprise when Change Checkers voted the UK's new Beatrix Potter coins as the coin collecting story of the year with  almost twice as many votes as the next rival.
But why has Peter Rabbit and Friends piqued a nation's collecting fervour when dozens of other coins have barely passed mention?
An established tradition of collecting and gifting

Go to your kitchen cupboard or sideboard.  Pull out the things you use every day and rummage around in the back.  I'll bet you 50p (although maybe not a Peter Rabbit one) that'll you'll pull out a Peter Rabbit cup or plate – perhaps Wedgwood or Royal Doulton.  And it's equally likely to be from your childhood as your children's (if you have them).

Walk into a baby's nursery and the same applies.  The Tales of Peter Rabbit and Friends adorn the shelves.  Not so much as literary treat at bedtime but much more an ornament designed to reflect a wholesome and traditional childhood.

Whether, books, plates, figurines or plush, nearly all of us have grown up with Peter Rabbit collectables, and still today, when seeking a new baby, first birthday or Christening gift, we turn to the works of Beatrix Potter.

Incredible news coverage

It's unusual to wake up to see a new British coin hitting the headlines of the morning's newspapers and being the conversation point on the breakfast show sofas.  But Peter Rabbit did just that.

However, it was not the base metal coin that would enter circulation that was causing all the excitement.  Instead it was the Limited Edition Silver Proof Coin.  And it wasn't just Peter capturing the nation's imagination, it was the fact that he had been finished in colour – the first time the main element of a British coin has ever been coloured.

That was enough to get the story out there.  EVERYWHERE.  By mid-morning The Royal Mint's website had crashed under the sheer weight of the public's interest.  The Mint suddenly had to limit numbers and in little more than a few hours all 15,000 coins were completely sold out.

Suddenly the sell out consolidated demand and interest for the base metal Peter Rabbit coin, as well as the three further issues of 2015 – Squirrel Nutkin, Mrs Tiggy-Winkle and Jemima Puddle-Duck.

Excitement increased even more, when The Royal Mint announced that they would make an early release of the circulation coins in just 5 locations with links to Beatrix Potter.  But how would it last?  Would the Peter Rabbit 50p become a valuable modern classic?
Add eBay Fuel to the media fire

Of course, a few years ago the story may have come and gone as quickly as Peter Rabbit scurrying out of Mr McGregor's garden.  But not in 2016.

As stories of shortages grew, collectors turned to eBay to sell not only the scarce Silver 50p but also the Royal Mint base metal packs – all at a massive premium.  Online auctions in May were showing circulation coins achieving sale prices north of £30.00, whilst crazy listings had "buy-it-now" prices closer to £100.

And so the collecting frenzy continued to spiral, with journalists returning to the story that had first whet their appetites in February as a new coin, bringing it back to life as the new "rare coin" to enter circulation.
So what's the truth behind the Beatrix Potter 50p Coin?
Firstly, it's fair to say that the Silver Coin is very scarce.  All 15,000 were sold to individual collectors and getting hold of one now is extremely difficult.  One established London coin dealer is currently offering them for a minimum of £580 in original Royal Mint packaging.
As for the base metal version of the coin, it is also destined to be one of the most wanted circulating coins of all time.  It has, after all, been the most requested swap on Change Checker for the last 6 months – breaking all previous records.
However, buyer beware.  At the moment you can still by mint condition brilliant uncirculated Beatrix Potter 50p coins in official Royal Mint Presentation Packs for £10 or Change Checker Certified Brilliant Uncirculated Coins for just £3.99.  And, of course, you still have the chance of finding one in your change for just 50p.
So for now, avoid being blinded by the hype – the most you need to pay today is just £3.99.
But there is some magic here.  The combination of a deep collectable heritage, a growing national fascination in coins, and a spiralling of demand has made Peter Rabbit (along with Squirrel Nutkin, Mrs Tiggy-Winkle and Jemima Puddle-Duck) a true collecting sensation.
And I can't believe that's about to die away.  For me it's a certainty that the 2016 Peter Rabbit 50p coins will quickly disappear from circulation, destined to become one of the rarest and most sought-after 50p coins ever issued.
At the same time, it's created many thousands more pocket change collectors, not just fascinated by Peter Rabbit and Friends but also by the 100 plus other designs that help define our nation.
Well done Royal Mint – and, of course, a small nod to Beatrix Potter too.
---
Still Available – the complete range of Beatrix Potter 50p Coins from just £3.99