2017 Quarter 3 Change Checker "Scarcity Index" Released
Following the launch of the Change Checker "Scarcity Index" earlier this year the Quarter 3 Index has now been published.
50p Scarcity Index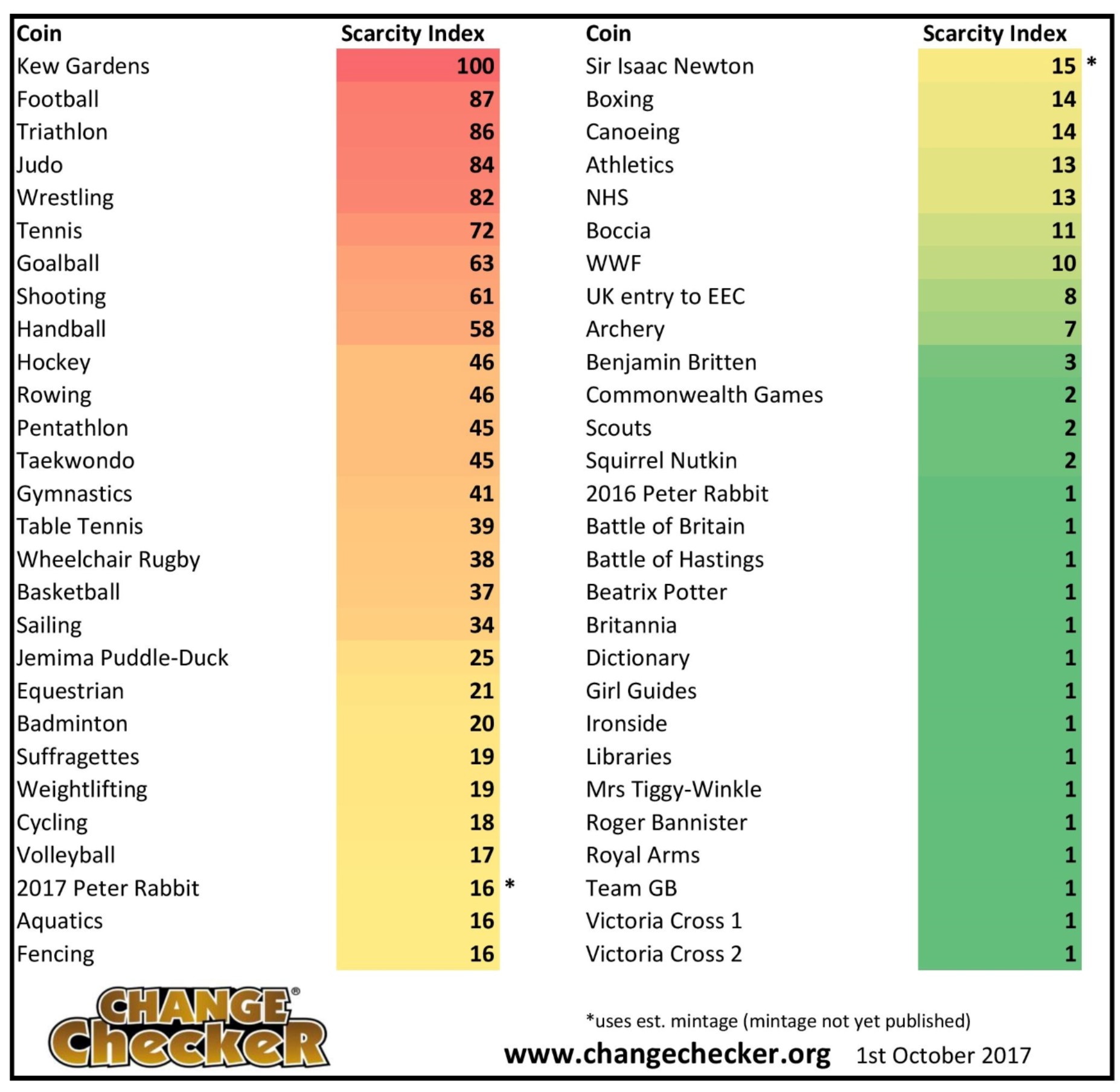 It's of little surprise that Kew Gardens maintains its top spot as the UK's most sought after circulation coin with a perfect score of 100.
Isaac Newton, which made it's debut in our Q2 update, settles on a score of 15, dropping 8 points from 23. This is due to a higher than expected number of Change Checker's having this coin in their collection.
The 2017 Peter Rabbit 50p joins the "Scarcity Index" after having been released into general circulation at the end of September. A score of 16 makes it the 2nd scarcest Beatrix Potter 50p.
It's worth noting that we currently only have estimated mintages for these two coins; it'll be interesting to see how they rank once official mintage figures are released.
£2 Scarcity Index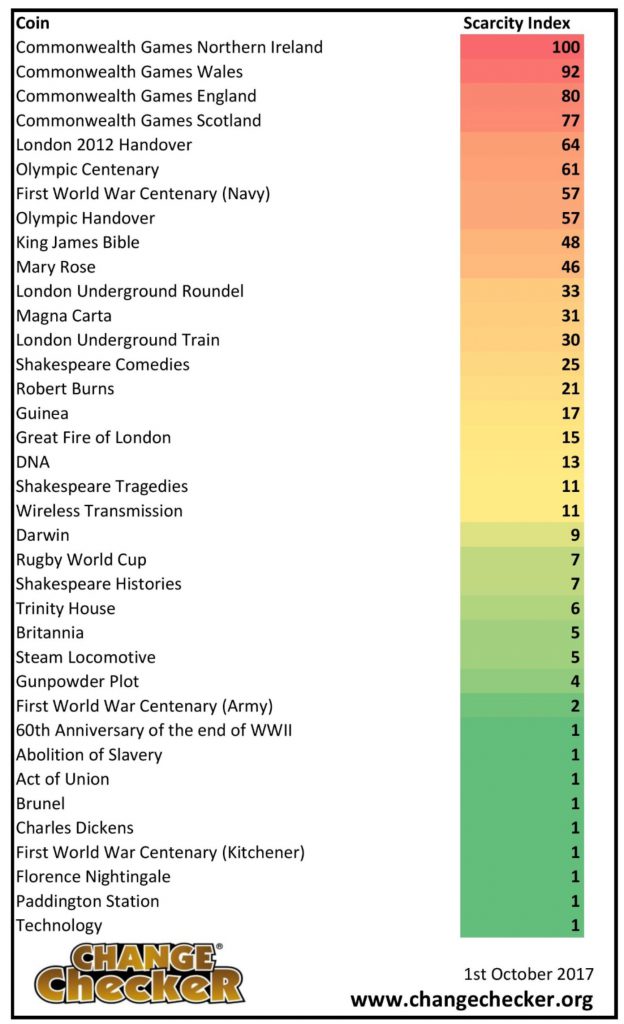 There's not a lot of movement in our Quarter 3 £2 "Scarcity Index" update.
Commonwealth Games Northern Ireland regains its position at the top of the table after being briefly replaced by Commonwealth Games Scotland in Q2.
The overall value of the Commonwealth games series has dropped slightly, however these 4 coins are still some way clear of the London 2012 Handover in 5th place.
There are no new £2 coins to add to the Index as we're still waiting for the Jane Austen and WWI Aviation coins to be released into general circulation. We expect this to happen in Q4.
How the Scarcity Index works
Generally collectors have had to rely upon mintage figures to identify the scarcest coins.  But they only tell part of the story.  Trying to find a good quality coin from 15 – 20 years ago, even for a higher mintage issue, is much more challenging than a more recent issue, as coins become damaged over time and are ultimately removed from circulation.
Additionally, some designs are more hoarded than others by people who might not normally collect coins – the recent poignant First World War £2 Coin series being an example.  Finally, it can be up to a couple of years before the Royal Mint eventually confirms the actual mintage for an issue.
That's why we have combined the mintage information with two other key pieces of information.
How many of each design are listed as "collected" by Change Checkers, indicating the relative ease of finding a particular coin.
The number of times a design has been requested as a swap over the previous 3 months, showing the current level of collector demand.
Importantly, as new coins are released and popularity rises and falls across different designs the Scarcity Index will be updated quarterly allowing Change Checkers to track the relative performance of the UK's circulation coins.
How much are my coins worth?
The Scarcity Index does not necessarily equate to value but it is certainly an effective indicator.  For example, the Kew Gardens 50p coin commands a premium of up to 160 times face value on eBay.
What about £1 Coins?
The £1 Scarcity Index has already been published for the Round £1 coins and, because they are no longer being issued, this is now set in stone.