Light up your world with this glow in the dark coin from Canada!
The Royal Canadian Mint has released another stunning set of coins for 2018, including an exclusive piece marking the 200th anniversary of the 49th parallel.
Combining three technologies into one outstanding 50 cent coin, Steve McPhee's design utilises vibrant colouring to superimpose the red and white Canadian flag across a map of the country, whilst an engraved line highlights the border between Canada and the USA.
But that's not all…
When plunged into darkness, special luminescent material lights up the coin, including the latitude and longitude lines – creating a glow in the dark map of Canada!
This stunning set includes one of every denomination in circulation from the $2 to the 5-Cent, but the stand out coin is the exclusive 50-Cent coin – which has only been made available as part of the set.
Last year, The Royal Canadian Mint released a sell out set of coins celebrating Canada's 150th birthday, highlighting this milestone event in Canadian history.
The set also included a glow in the dark piece – the two-dollar coin, (or toonie), celebrating the wonders of Canada with an evocative design featuring the Northern Lights.
Collectors were desperate to secure this unusual coin, but just 3 million of these coins were released into general circulation in Canada, meaning just one in ten Canadians were able to find one in their change.
In fact, each and every one of these special Royal Canadian Mint releases have become a collector's item and going by previous issues, 25 cents and $2 coins are extremely difficult to get hold of.
There's no doubt that if coins such as these were released in the UK they would create a collecting frenzy! But what do you think about the design?
---
The coins that every Canadian Change Checker is after…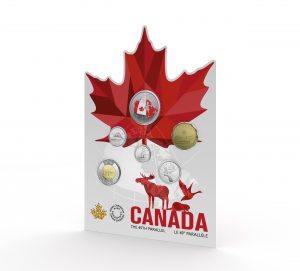 We've been able to secure 250 of the 2018 Canadian 'From Far and Wide' coin sets, but as last year's coins were so popular, we don't expect them to be around for long…
So don't delay! Click here to order yours whilst stocks last >>