How much are my QEII coins worth? Your eBay Tracker Update
Since the sad passing of Her Late Majesty, we've been inundated with questions from collectors asking, 'how much are my Queen Elizabeth II coins worth?'
The secondary market can be a bit of a minefield. So, we've put together an easy way for you to see how much your QEII coins are selling for right now.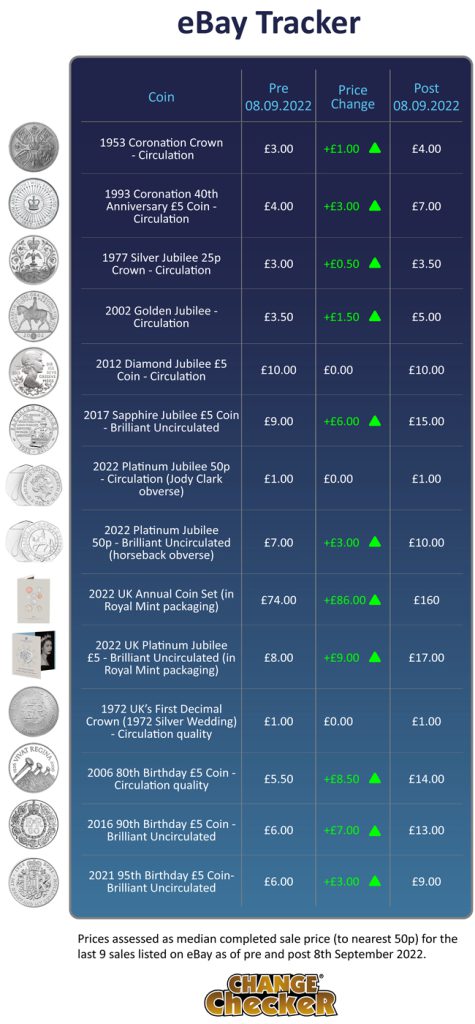 The 2022 UK Annual Coin Set, in official Royal Mint packaging has increased by a remarkable £86 on eBay – now fetching around £160. Included in this set are the 2022 UK Platinum Jubilee 50p and £5, two key Queen Elizabeth II coins.
Change Checker has stock remaining of the 2022 UK Annual Coin Set. Click here to secure yours for just £40.00 (+p&p) >>
The 2022 UK Platinum Jubilee £5 coin in Royal Mint packaging, is currently fetching £17 (a £9 increase since before Her Majesty's passing).
However, it's not just coins celebrating Queen Elizabeth II's various Jubilees that are seeing an increase in demand. The 2006 80th Birthday £5 coin has increased in value by £8.50. The median sold price for this coin is now £14!
As the nation welcomes a new monarch, we also anticipate new coinage.
Demand for coins with portraits no longer in production always increases following the accession of a new monarch. The old coinage becomes limited, with no more ever to be issued.
We're likely to see a constant shift in the prices of these coins on eBay over the coming months. We'll keep updating our eBay Tracker accordingly, so stay tuned to find out how much your coins are worth.
Valuation Index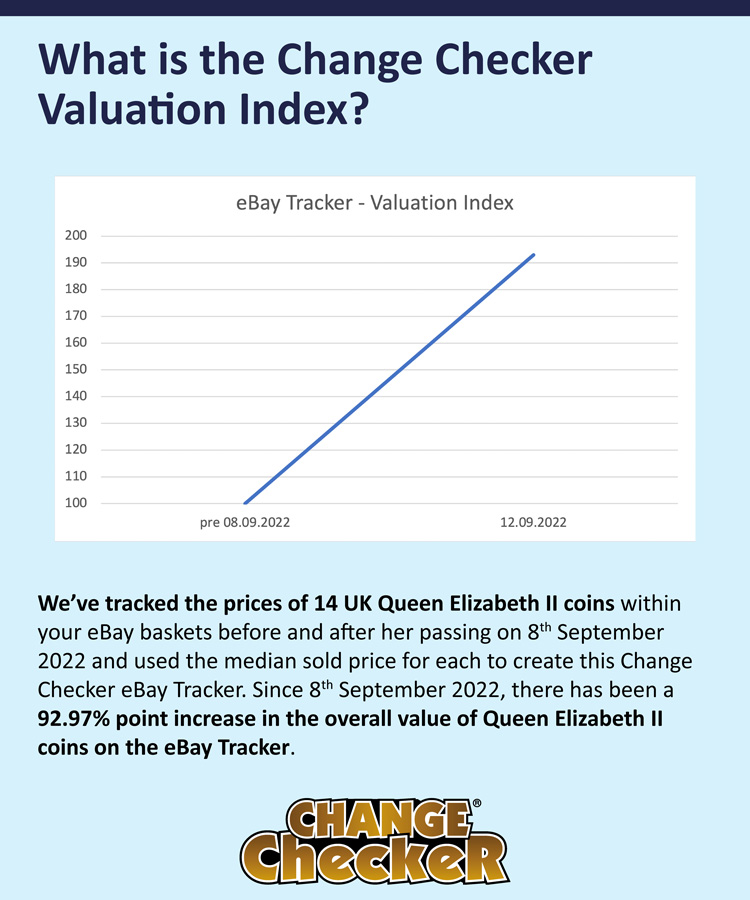 Since the sad passing of Queen Elizabeth II on 8th September, there has been a 92.97% increase in the overall value of the above Queen Elizabeth II coins on our eBay Tracker.
In the 4 days that followed, this sharp increase indicated the rush in demand for QEII coins. Stay tuned as we update our eBay Tracker to see how these prices level out.
My coin isn't on the eBay Tracker
The eBay Tracker follows the movements of just some of the significant coins issued during Queen Elizabeth II's reign. If your coin doesn't appear on the tracker you can use our 6 point guide to help determine realistic a value for your coin.
How does the eBay Tracker work?
The Change Checker eBay Tracker takes the last 9 sold prices achieved on eBay and gives the median price achieved (rounded to the nearest 50p). By taking the median, rather than an average, we avoid skewing created by one or two excessive prices achieved.
Please note that the Change Checker eBay Tracker is only ever designed to be a guide as to prices achieved on eBay. Prices may vary depending on collector demand and the quality of the coin being sold. It does not provide any guarantee as to future values of coins.
---
How much are your Queen Elizabeth II coins worth? Will you be selling them, or will you continue to save them? Let us know in the comments below.
---
Browse the UK coins issued during Queen Elizabeth II's reign

From the latest Platinum Jubilee 50p and £5 coins, to the first Decimal Crown, you can browse Change Checker's available stock here >>