As today is Random Acts of Kindness day, I've decided to take a look and some of the most random, weird and wonderful coins issued from all around the world.
Whilst these coins haven't entered circulation, I'm sure you will agree that they are works of art from truly innovative Mints. It's been really exciting to discover the unique coins different countries have to offer, so take a look at the designs below to see some of the fascinating coins international mints have produced.
Germany's see through 5 Euro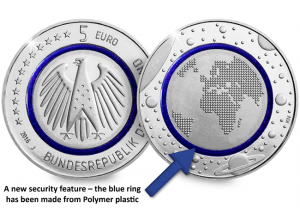 Developed by Dr Peter Huber and Günther Waadt, this unusual coin is a first of its kind. Released in 2016, the see through coin features a blue plastic ring in the middle and has been named 'Blue Planet Earth'.
Not only is the blue ring easy to identify and authenticate by the naked eye, it is made of polymer plastic which behaves like a form of insulation between the pieces of two different metals and will be easy for cash machine to recognize whether it is real or fake.
A German Minting Technology team has spent a decade developing this new security feature. In fact, it's the first coin to be made from a combination of metal and plastic materials which are rumoured to change colour when exposed to UV light.
In 2017, five more coins were created to reflect Earth's climatic zones with the use of a different coloured plastic polymer ring to represent each zone. The series will continue releasing one coin per year until 2021.
Canada's 3D Snowball Fight 50 Cents
We all love a snowball fight and this wonderful Canadian 50 Cent coin allows you to bring to life the magic of a snowball fight on an innovative 3D coin!
The Royal Canadian Mint is renowned for their forward thinking technology, and in 2018 they used lenticular printing to create artist Tony Bianco's fun-filled design with an illusion of depth, which actually appears to move as the coin is viewed from different angles – so watch out for those snowballs!
It really put a smile on my face when I came upon this coin in my research, and with a mintage of just 20,000 I'm sure those few Canadian Change Checkers who were lucky enough to add this coin to their collection will really treasure this coin.
Palau's Bottle Top Coin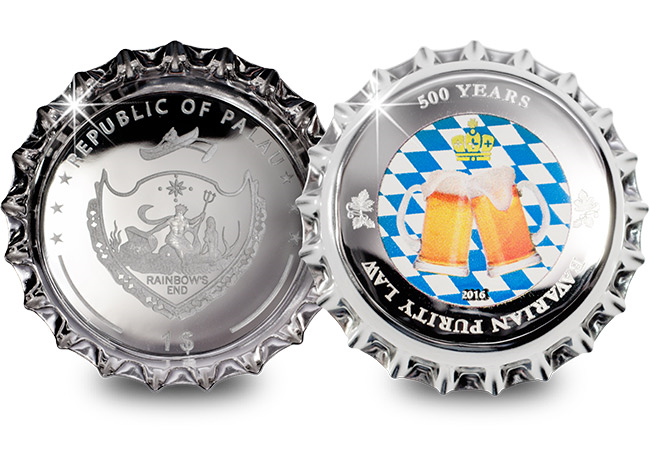 This is the world's first ever 'beer bottle top-shaped' legal tender coin. Issued in 2016 to honour the 500th Anniversary of the Bavarian Purity Law – the enactment by Duke Wilhelm IV of Bavaria in 1516 states that only 4 ingredients can be used to produce the beer and even provides a restriction on pricing.
Whether you're a beer lover or coin enthusiast – or both – I'm sure you'll agree that this unusual coin is a fitting tribute to this landmark occasion in the history of brewing.
The obverse of the crown-cap-shaped coin shows the coat of arms of the issuing state below an outrigger canoe. Whilst the reverse shows two toasting beer mugs and a crown.
Nauru's First Issue of the Euro 10 Dollars
This unique and incredibly intricate ten dollar coin was issued in Nauru (a tiny island in Micronesia, northeast of Australia) in 2002 to commemorate the first Euro coinage.
The unusual coin is shaped as a map of Europe and has been struck in .999 pure silver.
On the obverse you can see the Bank of Nauru's coat of arms and on the reverse is a gold plated Euro coin and the words '2002 – FIRST ISSUE OF THE EURO'.
Chad's Earth Meteorite Gold Proof 3000 Francs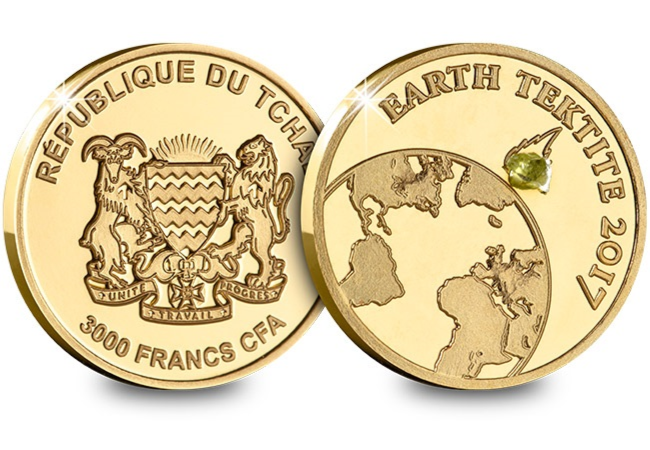 Within this Pure Gold Proof coin, issued in Chad in 2017, is a Moldavite Tektite gemstone – unique evidence of what can happen on the incredibly rare occasion that a meteorite hits the Earth.
These gemstones can only be found at five locations on Earth, and throughout the Middle Ages, they were highly prized and strictly reserved for those born of royal blood and nobility.
Struck from 0.5g of pure Gold, this coin is what is known as 'small' Gold – a collecting craze that is proving to be extremely popular among collectors worldwide, making this already very unique coin even more special.
With so many fascinating coins issued around the world, you don't have to look far to find inspiration for your international collection. What do you think about the coins above and have you found any weird and wonderful coins for yourself?
---
To celebrate the 50th anniversary of the 50p coin, we've been asking Change Checkers to vote for their favourite UK 50p coin EVER!
The top four shortlisted coins have now been whittled down to one final winner, and it comes with great pleasure that I can now announce to you the favourite 50p coin ever, as voted for by Change Checkers.
And the winner is…
1994 D-Day Landings 50p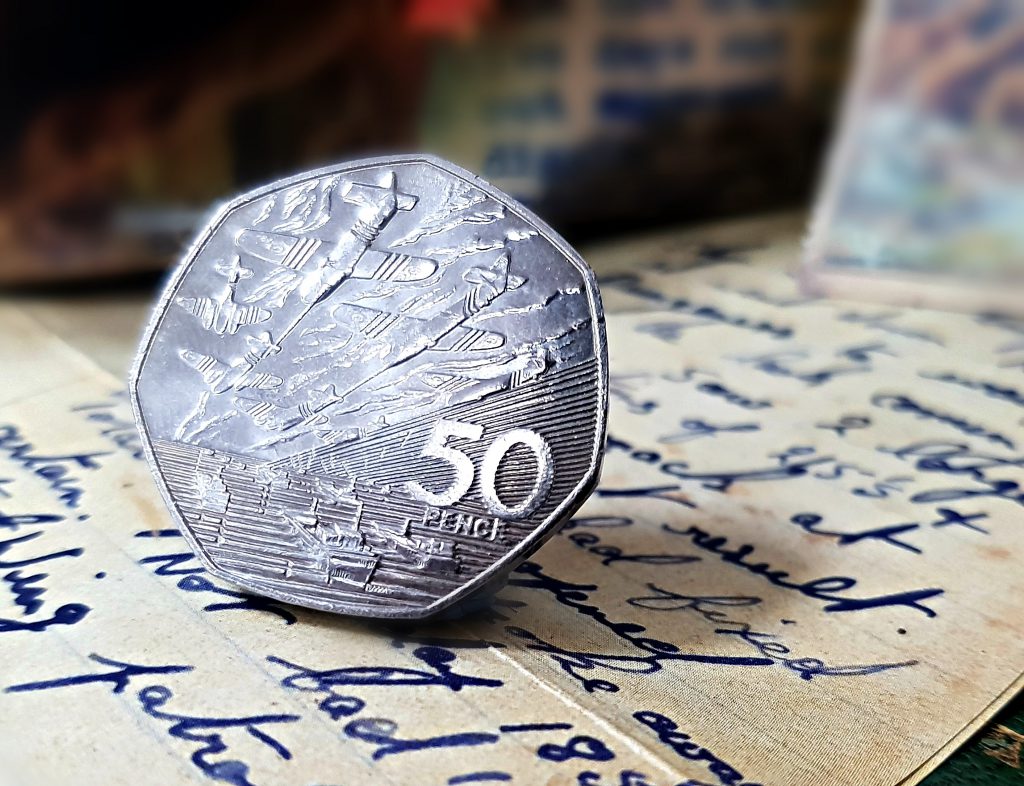 Known as 'the longest day', the 6th June 1944 marks the day that a mighty alliance of British, American and Commonwealth armed forces crossed over from England to Normandy and began an assault on occupying German troops.
The D-Day landings were the largest naval, air and land operation in history, which began the Allied invasion of occupied Europe – one of the most pivotal moments in the Second World War.
In 1994, to commemorate the 50th anniversary of these D-Day landings, The Royal Mint released a 50p coin designed by sculptor John Mills. The design depicts an armada of ships and planes heading in one direction.
The coin has a mintage of 6,705,520 however it ceased to be legal tender in 1997 after the introduction of the new, smaller 50p coins.
Find out more about the winning 50p coin here >>
Results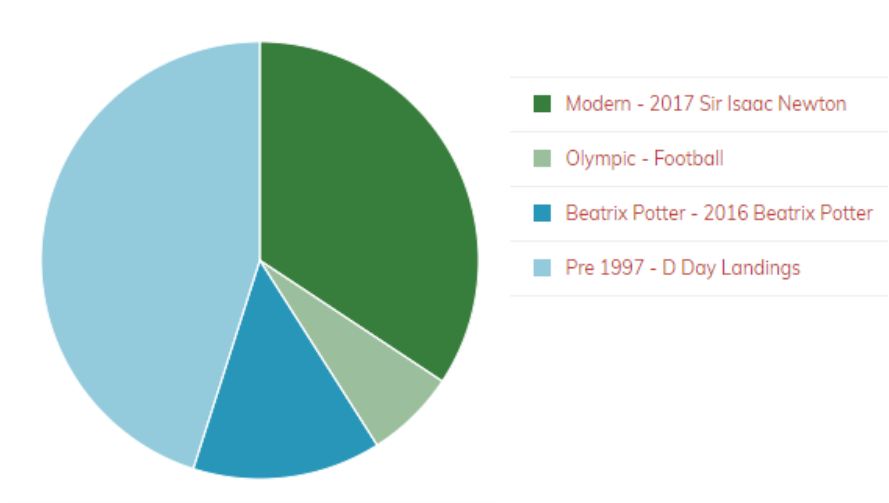 A close second to the D-Day Landings 50p was the 2017 Sir Isaac Newton 50p – a coin which was voted Change Checker's favorite coin of 2017 and the most historically significant coin.
Coming in third was the Beatrix Potter 50p and the Olympic Football 50p was in fourth place out of our shortlisted coins.
With over 70 different UK 50p coin designs, choosing a favourite was never going to be easy, but I think you can agree that the rich history and significance of the coin, as well as the epic design of the D-Day Landings 50p makes it a very deserving winner of the title Best UK 50p Ever.
---
If you're interested in coin collecting, our Change Checker web app is completely free to use and allows users to:
– Find and identify the coins in their pocket
– Collect and track the coins they have
– Swap their spare coins with other Change Checkers
Sign up today at: www.changechecker.org/app
We're excited to host our next Change Checker Live Coin Swap on the 21st of February at Manchester's Arndale Shopping Centre from 9am to 8pm.
Join us in Manchester where you'll be able to have a go on our 'lucky dip' and swap ANY 10p coin for one of the A-Z 10p coins.
We'll have all 26 coin designs with us so you're in with a chance of picking any coin, from A-Z!
PLUS you'll receive a voucher for 50% off the Collector's Pack, so you'll have space to add the rest of the coins when you find them.
Please note: Swaps are limited to 1 per person, while stocks last.
Manchester's Arndale Shopping Centre
Manchester Arndale sits in the heart of Manchester city centre and is the largest inner-city shopping centre in the UK, with over 200 retailers, several flagship stores and big international brands.
You can find us in the Upper Mall, at the location marked UM6 on the map below: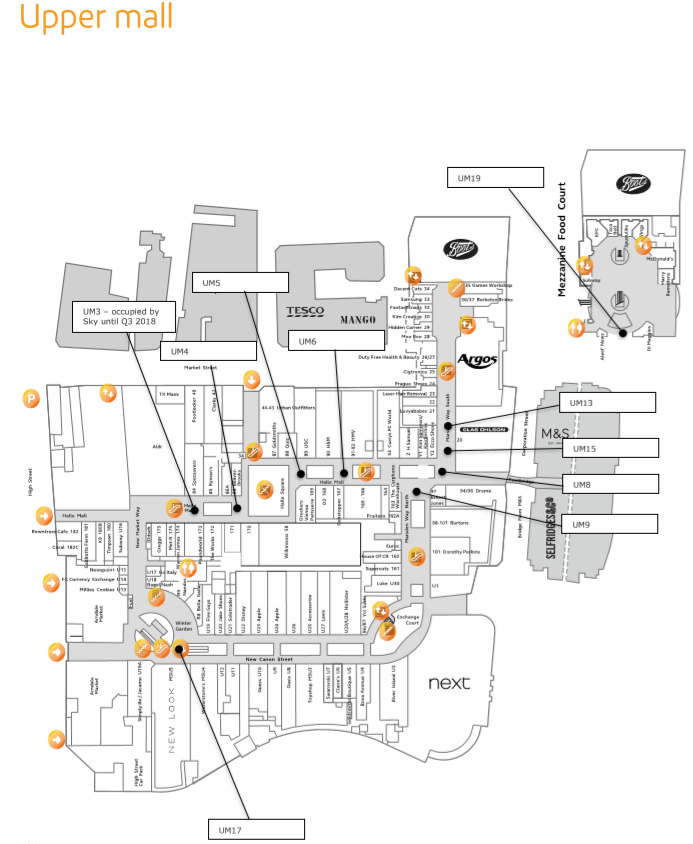 The Arndale Shopping Centre is easy to get to, with regular trains, buses and Metrolink running into the city.
There are 1,383 spaces including 28 disabled bays available in the multi-storey NCP Arndale car park situated on High Street.

The full address is: Manchester Arndale, Manchester, M4 1AZ
Can I swap more than one coin?
Such is the popularity of our Live Coin Swaps and to ensure that it is fair for everybody, we'll be limiting the number of swaps to strictly 1 coin per person.
Can I choose which A-Z of Great Britain 10p I swap?
It's a lucky dip, so the coin you pick will be the coin you take away with you. Due to how popular we expect the event to be, I'm afraid we will be unable to offer specific A-Z 10p coin designs.
Will you be doing any more Live Coin Swaps?
That's the plan!
We will be holding more Live Coin Swaps in the future and the plan is to visit a different area of the country each time, giving as many people as possible the opportunity to attend.
We look forward to seeing you there!
---
Secure your Complete A-Z 10p Set today!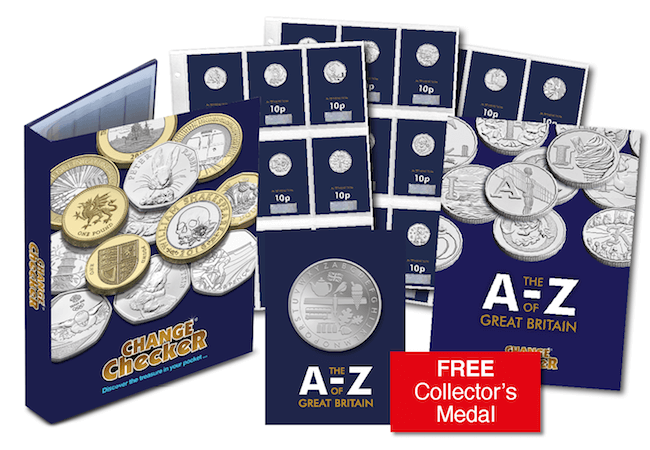 Can't wait to complete your collection?
Own all 26 A-Z 10p coins in 'Early Strike' quality and receive a FREE collector's medal!