Famed for stealing from the rich and giving to the poor, the tale of Robin Hood is perhaps one of the best-known tales from English Folklore. So, it's only fitting that this hero features on the latest coin in the UK's Myths & Legends £5 series.
And what makes this new addition even more exciting, is that it'll be the first 2024 coin in the Myths and Legends series!
Following on from the previous coins in The Royal Mint's Myths and Legends £5 series, the 2024 UK Robin Hood £5 coin is the latest legendary figure to appear on a UK £5 coin.
A Legendary Design
The reverse design features Robin Hood himself, poised amongst the trees in Sherwood Forest, at-the-ready with a bow and arrow in hand. The design, by Jody Clark, captures the detail of every branch, leaf and every feather in each arrow.
You may recognise Jody Clark's work from other UK coinage, such as the 2014 Britannia, and most importantly, the fifth and final coin portrait of Her Majesty Queen Elizabeth II.
Who is Robin Hood?
Whispered from the woods since the 13th century, is the tale of Robin Hood – an outlaw who lived in Sherwood Forest, in Yorkshire, alongside his Merry Men. The 'Merry Men' helped Hood to steal from the rich and help give back to the poor.
Not to forget his faithful companion, Maid Marian, who most of us will know as Robin Hood's partner, who helps aid Robin and Little John in giving back to the poor.
The tale of Robin Hood has been adapted for ballads, plays, books, and films alike – he even has a statue made after him, which you can go and visit in Nottingham. So, a new UK coin really does feel fitting!
Previous Coins
The 2024 Robin Hood £5 coin follows on from the past three coins in the series, which focused on Arthurian Legends. However, with this exciting new release, comes an even more exciting new chapter – the tales of Robin Hood.
The last coin in the series was of shapeshifter and witch, Morgan Le Fay, and just before her, was the mythical wizard, Merlin. Each part of the Arthurian Legends part of the Myths and Legends series, following the initial first coin, King Arthur.
What do you think of BRAND NEW UK 2024 Robin Hood £5? And, what Myths and Legends would you like to see appear next on a UK coin?
The 2024 Robin Hood £5 Coin
Secure the Robin Hood £5 Coin, as part of the Myths and Legends £5 series.
Arriving to you in superior, Brilliant Uncirculated quality and encapsulated in Official Change Checker packaging – preserving the quality for years to come…
Click here to secure your 2024 UK Robin Hood £5 Coin today >>
More than a year after His Majesty King Charles III was officially proclaimed Head of State and Sovereign of Canada, The Royal Canadian Mint have announced the release of their official King Charles III coin effigy.
The news was shared on the 14th November – making for a wonderful birthday treat for His Majesty, who celebrated his 75th birthday that day.
SELL OUT Canada King Charles III 50 cent Coin Roll
The brand new Canadian effigy of His Majesty features on the 50 cent coin, which has been issued in a highly sought-after special collector's edition Wrap Roll.
Each of the Wrap Rolls include 25 brand new 2023 dated Canada 50 cent coins, which feature a design of the Canadian Coat of Arms on the reverse and – for the first time in seventy years – a new monarch's portrait on the obverse.
A Special Presentation
The coins are packaged in special, themed illustrated paper wrapping, featuring the official Royal Canadian Mint logo and a stylised band of Fleur-de-lis – a traditional Royal symbol of Canada.
You might not have heard of coin rolls before, but they're a big deal across the pond, and a highly collectable way to own Canadian coins. Previously, Canadian coin rolls have proved incredibly popular with UK collectors, and we've even seen sell outs of our initial allocations of these rolls in the past.
A Canadian Collecting Frenzy
These Canadian 50 cent Coin Rolls are part of the first wave of Canadian coinage that features the new obverse of King Charles III, so it's currently the only way to secure them for your collection. There were also only 25,000 rolls available worldwide – making them highly sought-after by collectors. So sought-after in fact, that they SOLD OUT at The Royal Canadian Mint within just four days!
We've been lucky enough to secure just 500 Canada 50 cent Wrap Rolls for UK collectors, and once they're gone, they're gone! So don't miss out – add these coins to your collection now for just £29.99 (+£3.99 postage) >>
---
A Major Change for Canadian Coinage
During her incredible 70 year reign, there have been four different obverse portraits of Queen Elizabeth II used on Canadian coinage. The latest portrait change was in 2003 when Susanna Blunt's effigy of Her Late Majesty made its way onto Canadian coins.

Considering that the obverse of Canadian coinage hasn't changed in over 20 years, and the fact that we haven't seen a King on Canadian coins in 7 decades, the introduction of King Charles III's effigy is sure to cause a stir in the coin collecting world.
The Process of Creating an Effigy
As you might imagine, there are a lot of steps behind the scenes that go into creating a new effigy…
Canada's new coin effigy was created from Steven Rosati's winning design, following an invitation to more than 350 artists and engravers.
The process involved each artist/engraver submitting a portfolio of portrait work to be evaluated. These were then shortlisted before a brief outlining mandatory design requirements was given out.
An internal Mint review panel judged submissions based on aesthetics, technical requirements and mass-production suitability before the winning design was submitted for approval from the government and Buckingham Palace.
Once the design was ready, the Mint could begin the engraving and tooling process – producing dies to strike the coins.
Only 500 available for Change Checkers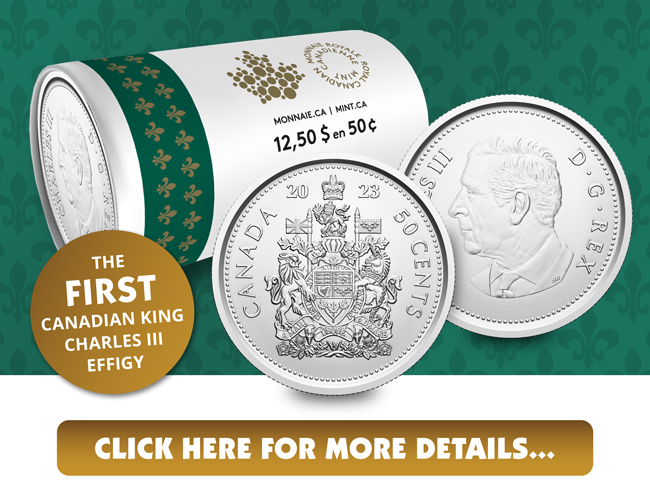 Click here to secure your Canada King Charles III 50 cent Coin Roll >>
Following the 60th Anniversary since Bond first appeared on the silver screen, The Royal Mint have launched a seven-coin series celebrating each decade of James Bond! Kicking it off with the first decade of Bond… the 1960s.
Bond of the 60s
Sean Connery captivated our hearts as he became the first James Bond in 1962's, Dr. No. To this day, he's ranked by entertainment publication, Collider, as the most popular Bond, and to no surprise. Connery's distinct, Scottish accent helped define some of Bond's most memorable quotes.
The first coin in the series depicts Sean Connery in the trusty 'autogyro' (a one-person aircraft) named 'Little Nellie' from the much-loved, You Only Live Twice. With a subtle nod to Connery's work as the special agent, each of his 007 film titles appear behind James Bond in Little Nellie.
The Beginning of Bond
70 years ago writer Ian Fleming first brought James Bond into the world, in the April of 1953 with his first 007 novel – Casino Royale. Paving the way for eleven more Bond novels to be made, and inspiring a whole franchise based on the famous spy himself.
Just under 10 years later, 007 took to the screen and the first James Bond movie was made, bringing the impressive agent 'to life' in 1962. And, it hasn't stopped there, with the most recent Bond movie, No Time to Die, only coming out 2 years ago!
A History of Bond Coins
This isn't the first time we've seen Bond on our UK coins!
First appearing in 2018 on the 'B' for Bond coin as part of the A-Z of Great Britain 10p collection, 220,000 Bond 10ps were first issued in 2018, followed by 84,000 in 2019! This 10p has proved extremely popular with collectors and has been at the top of Change Checker Scarcity Index in recent rankings.
And, how could we forget that in 2020 we had the three-part 007 £5 coin series, in which each of the coins placed together, spell out '007', alongside some of Bond's most memorable quotes.
Collector's Galore
Start your Six Decades of Bond collection today for just £12.99 (+£2.99p&p) with the Bond of the 1960s £5 Coin.
Click here to secure yours today! >>