It's time for the latest Scarcity Index update, your chance to discover the UK's most sought after circulation 10p, 50p and £2 coins.
This information has been compiled using data from the Change Checker Swap Centre and presented in the easy-to-use indexes below, with arrows to signify how many places up or down a coin has moved since the last Scarcity Index update.
Where will the first King Charles III 50p rank?
Excitingly, the first circulating coin to feature King Charles III on the obverse – the Her Majesty Queen Elizabeth II Memoriam 50p – entered the Scarcity Index for the first time in our previous update.
As this is only the second time a King Charles III 50p has featured in our Scarcity Index, it currently ranks as common. Despite entering circulation almost a year ago, the Her Majesty Queen Elizabeth II Memoriam 50p will still be making its way into collections, and those who do find one in their change will no doubt be holding onto it.
Keep your eyes peeled for future Scarcity Index updates to see where the first King Charles III 50p will rank!
Haven't found this coin in your change yet? Find out where in the UK you're most likely to find one here >>
50p Scarcity Index
Whilst the latter half of the 50p index has remained fairly stable, there have been some huge movers in this latest update.
Climbing an impressive 14 places is the second coin in the Paddington 50p series – the 2019 Paddington at St Paul's Cathedral 50p. The Paddington 50p series was incredibly popular with collectors, and inspired many younger people to start collecting. The Paddington at St Paul's Cathedral 50p was even voted the second favourite coin in the series in a 2019 poll.
Another 50p that shot up the ranks is the Sir Arthur Conan Doyle 50p, which moved up a massive 15 places. This 50p has previously been sitting near the bottom of the Scarcity Index, making it one of the most common 50ps in circulation, however it looks like it could now be becoming more sought after among collectors.
There has also been movement amongst some of the Olympic 50ps, with the Fencing and Gymnastics 50ps both moving up 10 places. This puts them near the top of the index, which is usually reserved for some of the rarest 50ps in circulation.
Some less fortunate coins are the Mrs Tiggy-Winkle 50p which has dropped by 15 places, and the Roger Bannister 50p which fell 14 places.
If you're new to collecting and want to find out more about circulation coins, you can check out our fact files here >>
Otherwise, keep reading to find out which 10ps and £2 coins you should be looking out for.
10p Scarcity Index
There has been quite a shuffle up on the A-Z 10p Scarcity Index, with all but 3 coins moving.
The biggest change since the last update is the previously 'less common' C for Cricket 10p, which has dropped 12 places. Also moving down the ranks are the E for English Breakfast 10p and the O for Oak 10p, which fell by 9 and 10 places respectively.
It's not all bad news though, as the G for Greenwich Meantime 10p climbed 10 places and the K for King Arthur 10p rose by 8 places.
*Note*
It's worth remembering that this Index is only ranking the 10ps against each other, when really even the ones at the bottom of the list are still incredibly sought-after and even now (4 years on since they were last released) they are still the coins every collector seems to talk about!
And that's no surprise, as a maximum of JUST 304,000 of each A-Z 10p design entered circulation across 2018 and 2019 – making them some of the rarest coins out there. So make sure you keep your eyes peeled for them in your change!
£2 Scarcity Index
We tend to see less movement on the £2 index due to the fact less coins have entered circulation in recent years – as you can see from the bottom of the latest £2 Index. However, it's worth remembering just how rare and collectable some of these coins are, even after being in circulation for so many years.
As always, the Commonwealth Games N. Ireland £2 remains at the top of the list due to it's incredibly low mintage of just 485,000.
The 2014 Trinity House £2 has recovered the 7 places it fell by in the last update, putting it back into the 'less common' category. However, the Darwin £2 and the Gunpowder Plot £2 have both gone down by 6 places. This could be due to people holding onto their Gunpowder Plot £2 during Firework Night, meaning less swaps were raised for it.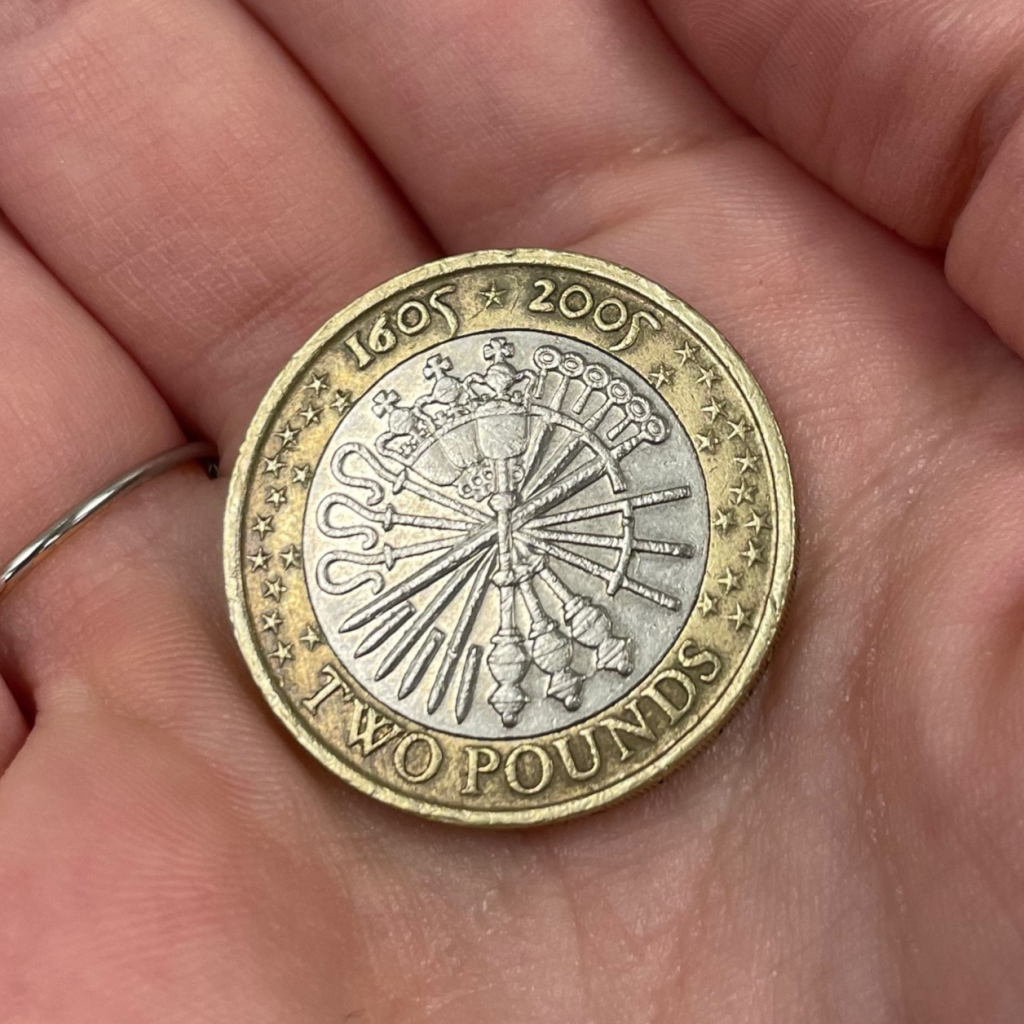 Despite less £2s entering circulation, it's certainly still worth holding onto any coins you can find, before they're snapped up!
---
How your Scarcity Index works
Generally collectors have relied on mintage figures to identify the scarcest coins. But they only tell part of the story.
Trying to find a good quality coin from 15 – 20 years ago, even for a higher mintage issue, is much more challenging than a more recent issue, as coins become damaged over time and are ultimately removed from circulation.
What's more, some designs are more hoarded than others by people who might not normally collect coins – for example the First World War £2 Coin series.
Finally, it can be up to a couple of years before the Royal Mint eventually confirms the actual mintage for an issue.
That's why we have combined the mintage information with two other key pieces of information:
How many of each design are listed as "collected" by Change Checkers, indicating the relative ease of finding a particular coin
The number of times a design has been requested as a swap over the previous 3 months, showing the current level of collector demand
Importantly, as new coins are released and popularity rises and falls across different designs, the Scarcity Index will be updated quarterly. This allows Change Checkers to track the relative performance of the UK's circulation coins.
---
How much are my coins worth?
The Scarcity Index doesn't necessarily equate to value, but it is certainly a good indicator. For example, the Kew Gardens 50p coin commands a premium of up to 200 times face value on eBay and is unsurprisingly top of the 50p Index.
You can use our 6 point guide to help you determine a more realistic value for your coins.
---
What about £1 Coins?
The £1 Scarcity Index has already been published for the Round £1 coins. Because they are no longer being issued, this is now set in stone.
---
Receive new UK coins without the hassle of placing orders on the day of release!
Join the Change Checker UK CERTIFIED BU Subscription Service and receive new UK coins sent to your door without the hassle of placing orders on the day of release!
Don't miss your chance to get ahead of the crowd and be one of the very first collectors to receive the latest UK new issue coins as soon as possible after their release.
Famed for stealing from the rich and giving to the poor, the tale of Robin Hood is perhaps one of the best-known tales from English Folklore. So, it's only fitting that this hero features on the latest coin in the UK's Myths & Legends £5 series.
And what makes this new addition even more exciting, is that it'll be the first 2024 coin in the Myths and Legends series!
Following on from the previous coins in The Royal Mint's Myths and Legends £5 series, the 2024 UK Robin Hood £5 coin is the latest legendary figure to appear on a UK £5 coin.
A Legendary Design
The reverse design features Robin Hood himself, poised amongst the trees in Sherwood Forest, at-the-ready with a bow and arrow in hand. The design, by Jody Clark, captures the detail of every branch, leaf and every feather in each arrow.
You may recognise Jody Clark's work from other UK coinage, such as the 2014 Britannia, and most importantly, the fifth and final coin portrait of Her Majesty Queen Elizabeth II.
Who is Robin Hood?
Whispered from the woods since the 13th century, is the tale of Robin Hood – an outlaw who lived in Sherwood Forest, in Yorkshire, alongside his Merry Men. The 'Merry Men' helped Hood to steal from the rich and help give back to the poor.
Not to forget his faithful companion, Maid Marian, who most of us will know as Robin Hood's partner, who helps aid Robin and Little John in giving back to the poor.
The tale of Robin Hood has been adapted for ballads, plays, books, and films alike – he even has a statue made after him, which you can go and visit in Nottingham. So, a new UK coin really does feel fitting!
Previous Coins
The 2024 Robin Hood £5 coin follows on from the past three coins in the series, which focused on Arthurian Legends. However, with this exciting new release, comes an even more exciting new chapter – the tales of Robin Hood.
The last coin in the series was of shapeshifter and witch, Morgan Le Fay, and just before her, was the mythical wizard, Merlin. Each part of the Arthurian Legends part of the Myths and Legends series, following the initial first coin, King Arthur.
What do you think of BRAND NEW UK 2024 Robin Hood £5? And, what Myths and Legends would you like to see appear next on a UK coin?
The 2024 Robin Hood £5 Coin
Secure the Robin Hood £5 Coin, as part of the Myths and Legends £5 series.
Arriving to you in superior, Brilliant Uncirculated quality and encapsulated in Official Change Checker packaging – preserving the quality for years to come…
Click here to secure your 2024 UK Robin Hood £5 Coin today >>
More than a year after His Majesty King Charles III was officially proclaimed Head of State and Sovereign of Canada, The Royal Canadian Mint have announced the release of their official King Charles III coin effigy.
The news was shared on the 14th November – making for a wonderful birthday treat for His Majesty, who celebrated his 75th birthday that day.
SELL OUT Canada King Charles III 50 cent Coin Roll
The brand new Canadian effigy of His Majesty features on the 50 cent coin, which has been issued in a highly sought-after special collector's edition Wrap Roll.
Each of the Wrap Rolls include 25 brand new 2023 dated Canada 50 cent coins, which feature a design of the Canadian Coat of Arms on the reverse and – for the first time in seventy years – a new monarch's portrait on the obverse.
A Special Presentation
The coins are packaged in special, themed illustrated paper wrapping, featuring the official Royal Canadian Mint logo and a stylised band of Fleur-de-lis – a traditional Royal symbol of Canada.
You might not have heard of coin rolls before, but they're a big deal across the pond, and a highly collectable way to own Canadian coins. Previously, Canadian coin rolls have proved incredibly popular with UK collectors, and we've even seen sell outs of our initial allocations of these rolls in the past.
A Canadian Collecting Frenzy
These Canadian 50 cent Coin Rolls are part of the first wave of Canadian coinage that features the new obverse of King Charles III, so it's currently the only way to secure them for your collection. There were also only 25,000 rolls available worldwide – making them highly sought-after by collectors. So sought-after in fact, that they SOLD OUT at The Royal Canadian Mint within just four days!
We've been lucky enough to secure just 500 Canada 50 cent Wrap Rolls for UK collectors, and once they're gone, they're gone! So don't miss out – add these coins to your collection now for just £29.99 (+£3.99 postage) >>
---
A Major Change for Canadian Coinage
During her incredible 70 year reign, there have been four different obverse portraits of Queen Elizabeth II used on Canadian coinage. The latest portrait change was in 2003 when Susanna Blunt's effigy of Her Late Majesty made its way onto Canadian coins.

Considering that the obverse of Canadian coinage hasn't changed in over 20 years, and the fact that we haven't seen a King on Canadian coins in 7 decades, the introduction of King Charles III's effigy is sure to cause a stir in the coin collecting world.
The Process of Creating an Effigy
As you might imagine, there are a lot of steps behind the scenes that go into creating a new effigy…
Canada's new coin effigy was created from Steven Rosati's winning design, following an invitation to more than 350 artists and engravers.
The process involved each artist/engraver submitting a portfolio of portrait work to be evaluated. These were then shortlisted before a brief outlining mandatory design requirements was given out.
An internal Mint review panel judged submissions based on aesthetics, technical requirements and mass-production suitability before the winning design was submitted for approval from the government and Buckingham Palace.
Once the design was ready, the Mint could begin the engraving and tooling process – producing dies to strike the coins.
Only 500 available for Change Checkers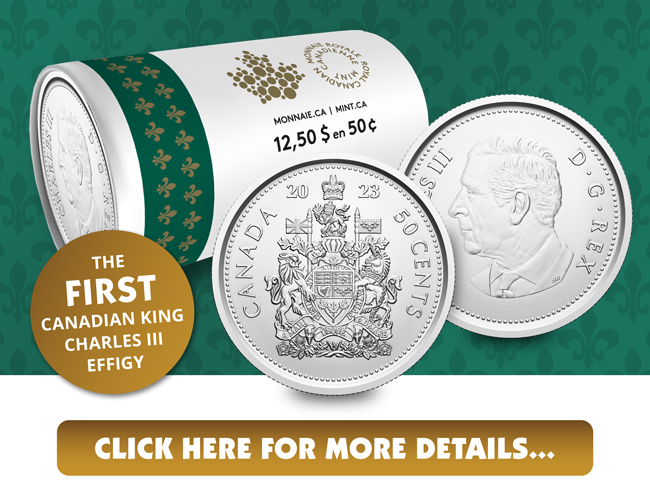 Click here to secure your Canada King Charles III 50 cent Coin Roll >>