What a year 2018 is turning out to be, we've had four new Beatrix Potter 50p coin, 26 A-Z 10p coins and now I'm delighted to reveal five new £2 coins to commemorate the Centenary of the Royal Air Force.

The Royal Air Force was formed on April 1st 1918, in the early years of aviation. It was the world's first independent air force, and is recognised today all over the world for its capability, courage and innovation.
You may already be familiar with the RAF Centenary Badge £2 as this was revealed on New Year's Day as part of the 2018 year set.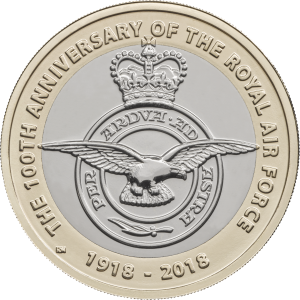 Designed by Rhys Morgan, this first coin in the series celebrates the Royal Air Force as a whole, featuring the badge of the RAF.
This coin is available to own today in CERTIFIED Brilliant Uncirculated condition.
But, you won't have seen the four other coins, all designed by brothers Richard and Neil Talbot, that make up this spectacular series. Let's take a look.
RAF – Spitfire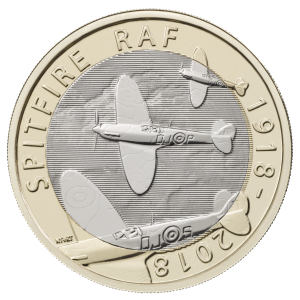 This coin features one of the most famous aircraft ever built, the Supermarine Spitfire, and is the second coin in the series. Designed by Reginald Mitchell, the Spitfire first flew in 1936, its sleek, streamlined fuselage, beautiful elliptical wing shape and incomparable Rolls Royce Merlin engine making it perhaps the most graceful fighter aircraft ever designed.
This coin is also available to own today in CERTIFIED Brilliant Uncirculated condition.
RAF – Vulcan

This coin features the Vulcan bomber and is the third in the series. With it's instantly recognisable delta wing, the Vulcan combined awesome capability with grace and beauty unmatched by another bomber from the jet-age. In flight, the aircraft was the epitome of power, with superb range and load-carrying capacity.
This coin will be released in May.
RAF – Sea King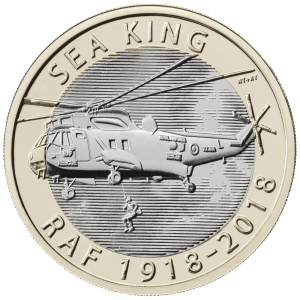 This coin features the Sea King helicopter and is the fourth in the series. The Sea King entered service with the Royal Air Force in 1978, exclusively in a search and rescue role, and the last Sea King mission took place on October 4th 2015 when a man found unconscious on Ilfracombe beach was picked up and flown to hospital.
You'll be able to add this coin to your collection in August.
RAF – Lightning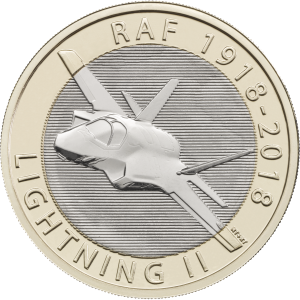 This, the last coin in the serie, features the RAF's newest aircraft, the F-35 Lightning II. As a fifth-generation aircraft, the complementary air superiority capabilities of Lightning will make a potent mix with the Typhoon.
You'll be able to own this coin in September.
I'd love to know what is your favourite design from the RAF Centenary £2 series. Personally, I love the Vulcan coin as I remember seeing it's final flight many years ago as it flew over my school.
I'll reveal the coin you have voted as your favourite in our March monthly newsletter.

---
The 2018 RAF Spitfire CERTIFIED Brilliant Uncirculated £2 coin
Avoid the wait, add this special coin, in CERTIFIED Brilliant Uncirculated quality, to your collection TODAY >>
26 new UK commemorative 10p coins are being released into circulation…TODAY!
We get excited when 1 new coin is announced, so imagine the scenes at Change Checker HQ when The Royal Mint announced that they would be releasing 26 (yes 26!!) brand new commemorative 10p coins!
The coins will each feature a different letter from A-Z and each letter will celebrate a different Great British icon.
Click here for all the details you need to know

Will we find the A-Z 10p coins in our change?
The circulating coins will be distributed through The Post Office network from the first week of March. They will be distributing the coins through normal transactions so you'll be able to find these coins in your change throughout the month. It is unlikely that most Post Offices will be willing to simply swap a 10p coin.
The Royal Mint will also release additional coins in relevant locations across the UK throughout 2018.
How many coins are being made?
Initially, more than 2.6 million circulating 10p coins have been struck across the 26 designs and more coins will continue to be struck throughout the year to meet the demand from The Post Office, banks and cash centres.
How scarce are the A-Z 10p coins?
We expect these coins to be very collectible. Take a look at past history and you'll see that over 75% of the 2012 Olympic 50p coins have now been taken out of circulation.
With more coins to be released, and some letters likely to be more popular than others, it's impossible to determine an accurate scarcity for these coins at the moment.
We will release the first A-Z of Great Britain 10p Scarcity Index early April when we have collected vital information from our web app and Swap Centre.
Scarcity Index updates will continue to be released throughout the year to ensure you have access to the most accurate scarcity ratings for your 10p coins.
Who designed the A-Z 10p coins?
The coin designs were created by a whole team of people, including Royal Mint designers. Each design had to be approved by Her Majesty The Queen.
Can I collect and swap these coins online?
Yes. You can find, collect and swap your coins online with the free Change Checker web app: www.changechecker.org/10pApp.
---
The Complete CERTIFIED Early Strike A-Z 10p Set
Can't wait to find all 26 in your change? Click here to secure them in Change Checker CERTIFIED EARLY STRIKE quality now >>
At the recent World Money Fair held in Berlin, Germany, 'The Coin of the Year' (sponsored by World Coin News) winners were announced.
First held back in 1984, the awards are designed to, "…recognise the best of the coiner's art and to encourage world mints to continue to challenge themselves in creating these great numismatic works."
It's safe to say that some of the winning coins are spectacular! I hope you enjoy looking through this range of amazing coin designs, don't forget to let us know which is your favourite!
Best Circulating Coin
Most Inspirational Coin
Best Bi-Metallic Coin
Most Artistic Coin
Most Innovative Coin
---