The collecting community has been abuzz with excitement for new King Charles III coins, especially since the UK's new circulating coinage set was released in October.
And so I'm delighted to give you all the updates we know so far about future King Charles III commemorative coins to look forward to.
Read on to find out what's on the horizon from the UK's latest Royal Proclamations and get ready to add these upcoming coins to your collecting wish list!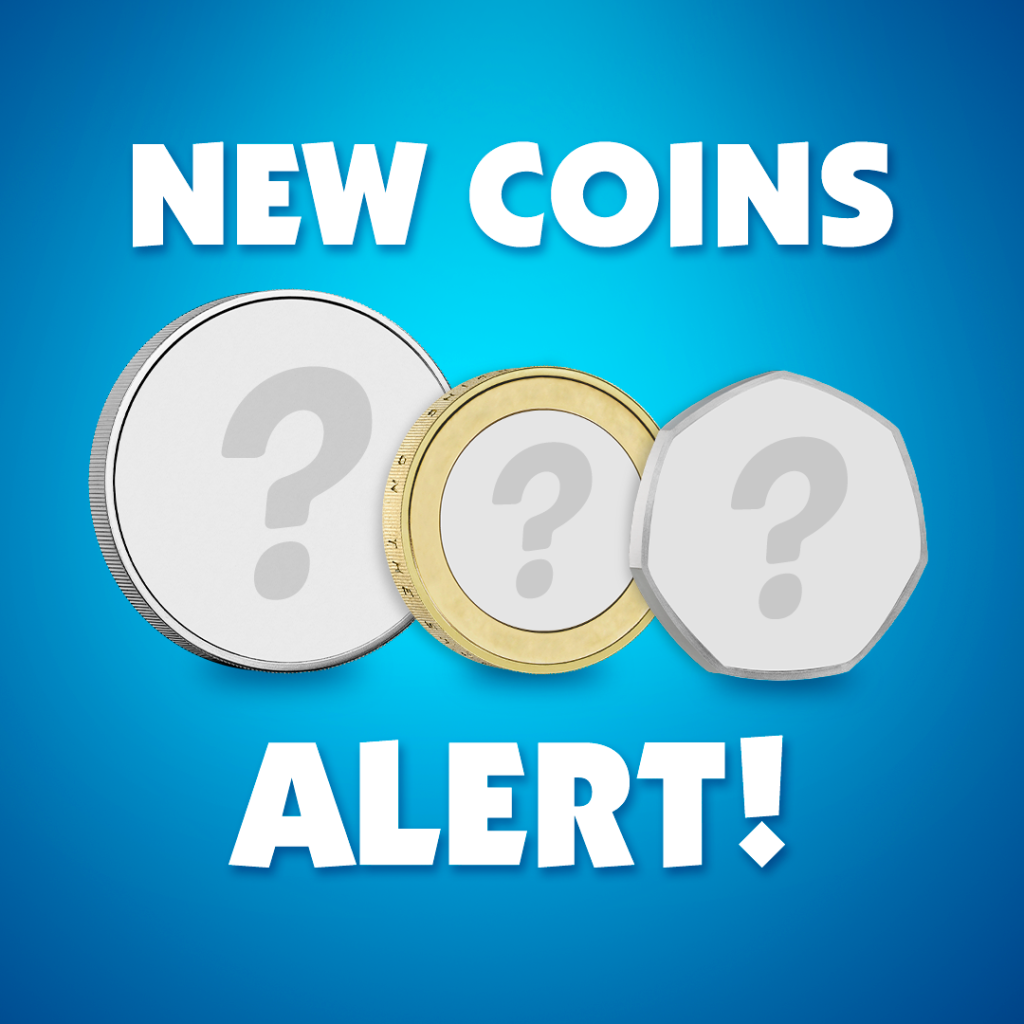 Upcoming 50p Releases
On the 13th October 2023, a Royal Proclamation was released announcing 5 new UK commemorative 50p coins coming soon.
For now, the full details and designs are still top secret, but we do have some clues as to what will appear on these coins:
A depiction of a Tyrannosaurus Rex with the inscription "TYRANNOSAURUS CRETACEOUS"
A depiction of a Stegosaurus with the inscription "STEGOSAURUS JURASSIC"
A depiction of a Diplodocus with the inscription "DIPLODOCUS JURASSIC"
A depiction of two athletes atop the union flag
A depiction of the RNLI flag surrounded by a lifebuoy with the inscription "200 YEARS" and "1824 2024"
Following the release of the UK's first ever dinosaur coins back in 2020, and the follow up series of Mary Anning's Jurassic creatures in 2021, I'm sure collectors will be delighted to hear the news that another 3 dino 50ps are set to shake up the collecting community.
And, with beasts as big as this, you can bet these new 50ps are going to be roarsome!!
Sporting 50ps are historically popular among collectors. In fact, for many, the very start of their collecting passion goes back to the UK's OIympic 50p series, released to celebrate London 2012. These 29 different 50p coin designs sparked a collecting frenzy across the nation and to this day remain some of the most sought-after 50ps in circulation.
Since then, we've been treated to a number of sporting releases, including 2 Team GB 50ps and 2 Commonwealth Games 50ps. As a new 50p is set to be released featuring athletes atop the union flag, we're already looking forward to the opportunity to add another sporting 50p to our collections.
The fifth coin on the list represents the very first time a UK 50p has been released to celebrate the RNLI. As the inscription suggests, this will mark the 200th anniversary of the Royal National Lifeboat Institution – the charity that saves lives at sea.
Since 1824, the brave volunteers of the RNLI have answered the call to rescue and we now look forward to this upcoming release to commemorate their courage and dedication.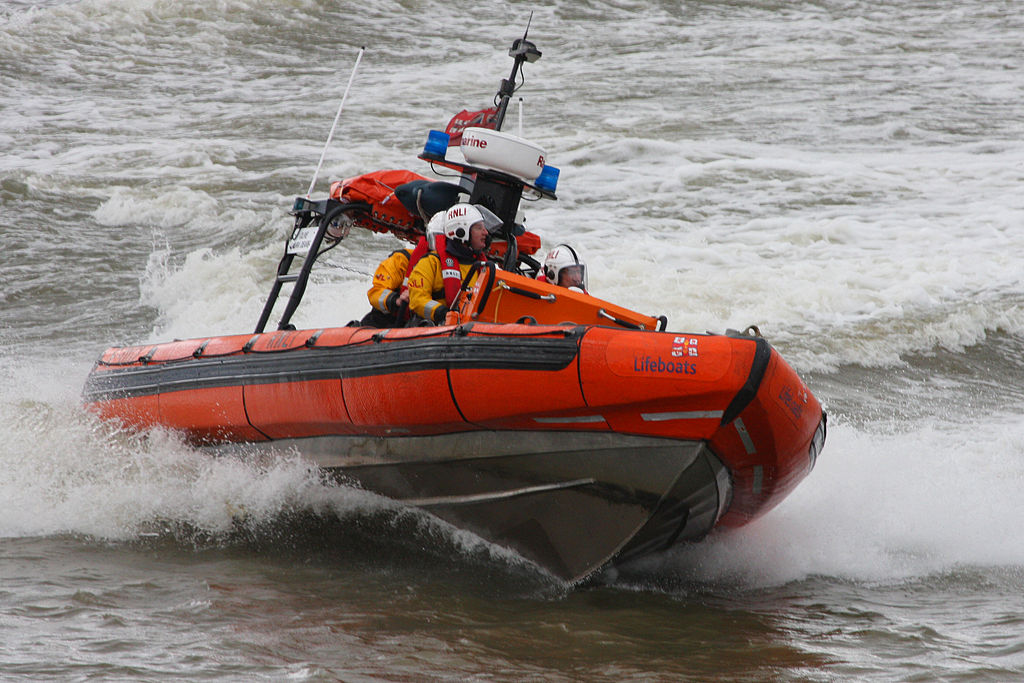 Upcoming £5 Releases
The Royal Mint have also announced an upcoming £5 coin series, celebrating 6 decades of Bond!
Britain's favourite secret agent has famously featured on the 'B' 10p from the A-Z series and also appeared across a 3-coin £5 series back in 2020.
There's no doubt that this theme is popular in the collecting community and I for one can't wait to see what these new designs will bring.
For now though, the designs are top secret – so make sure you stay tuned for any further information…
Upcoming £2 Releases
As of yet, we have no news to bring of upcoming commemorative £2 coins, but as soon as we hear more we'll be sure to update this blog and our social channels – so make sure you're following us to stay in the know!
---
Never miss a future UK coin issue!
With such exciting releases on the horizon, you really won't want to miss out on these incredible new coins.
So why not take away the worry and guarantee yourself every new UK coin issue, without the hassle of placing orders on launch day?
Join the Change Checker UK CERTIFIED BU Subscription Service and be one of the first to receive new UK coins as soon as they are released!
It just doesn't feel like Christmas until the new UK The Snowman™ 50p is released!
You could even say it's become a festive tradition that each year, the beloved Snowman™ features on a new UK 50p. And luckily for collectors, 2023 is no exception…
In fact, this year's coin is sure to have collectors dancing for joy. That's because The Snowman™ has danced his way onto a brand new 50p in a magical scene set against a backdrop of the Northern Lights.
Available now in superior Brilliant Uncirculated quality, you can add this frosty friend to your 50p collection in time for Christmas here >>
The Story of The Snowman™ on Coins!
The Snowman™ first appeared on a UK 50p back in 2018 to celebrate the 40th anniversary of Raymond Briggs' much-loved festive tale. Since then, we've seen a Snowman™ 50p issued each year, making this new coin the 6th release in the series – and the first to feature King Charles III on the obverse.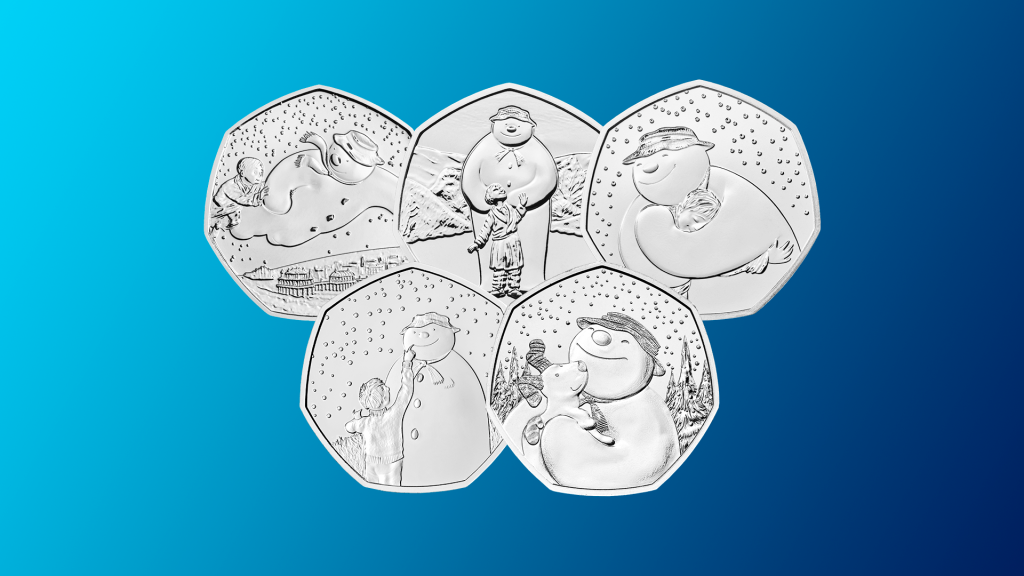 Over the years, we've been treated to some of the most iconic scenes on our coins, taken from the original tale and even the 2012 film, The Snowman™ and The Snowdog™. The Snowman™ and the young boy, James have previously been seen sharing adventures and flying through the night sky, but last year's 50p was a little different, as the adorable Snowdog™ joined the frosty fellow for the very first time!
Unsurprisingly, the Snowman™ coins prove to be some of the most popular releases each year and now only the 2022 coin is still available at the mint.
But it's not just UK collectors who are treated to coins featuring the Snowman™…
Over the years, The Snowman has featured on a number of different 50ps from The Isle of Man, some of which are incredibly sought after.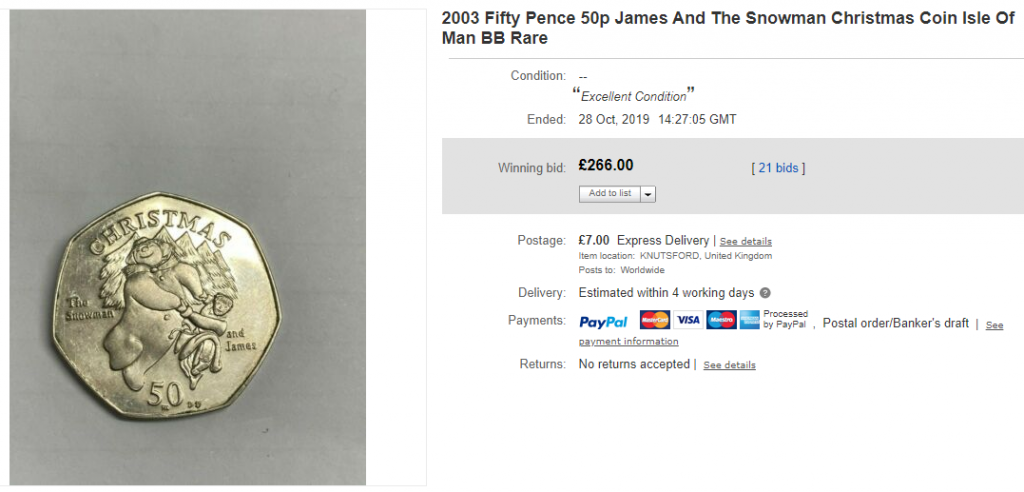 One such coin from 2003 featuring James and The Snowman™ sold for over £250 on the secondary market in 2019 – not a bad return on a 50p coin!
Now collectors have the chance to own the very latest UK release, with James and his snowy friend dancing below the famous Northern Lights – a design sure to melt the heart of any collector this Christmas.
The scene perfectly captures the magic of the heartwarming story, which is read by so many people every year. Just like the tale of The Snowman™, these new 50ps have also become a Christmas tradition, so if you weren't starting to feel festive already, you should be now!
And if you're still looking for that perfect numismatic gift this Christmas, or perhaps just a treat for yourself, look no further than the Change Checker Christmas range >>
---
Own your 2023 UK The Snowman™ 50p in time for Christmas
You can bet this latest coin will be at the top of every collector's wish list this year, so whether you're a collector of the Snowman™ 50ps yourself, or you think it'd make the perfect gift for a loved one, you can secure the 2023 UK The Snowman™ 50p for just £4.99 (+p&p) here >>
On 10th August 2023, 5 million UK King Charles III Coronation 50ps entered circulation. Collectors were keen to get their hands on one, with many trying to get them directly from banks and post offices, and some hoping to find one in their change.
We wanted to know where the Coronation 50ps were being found, so we opened our collector map to track them up and down the country. In just over two months, nearly 550 collectors input their postcode to let us know where they found the Coronation 50p, so let's take a look at where in the UK you're most likely to find one…
Where can you find the UK Coronation 50ps?
We've gathered the data from our collector map, and we can reveal the 5 places you're most likely to find a Coronation 50p in your change are…
5. Leicester
2.5% of Coronation 50ps were found in Leicester.
4. Norwich
2.6% of Coronation 50ps were found in Norwich.
3. Cardiff
2.8% of Coronation 50ps were found in Cardiff.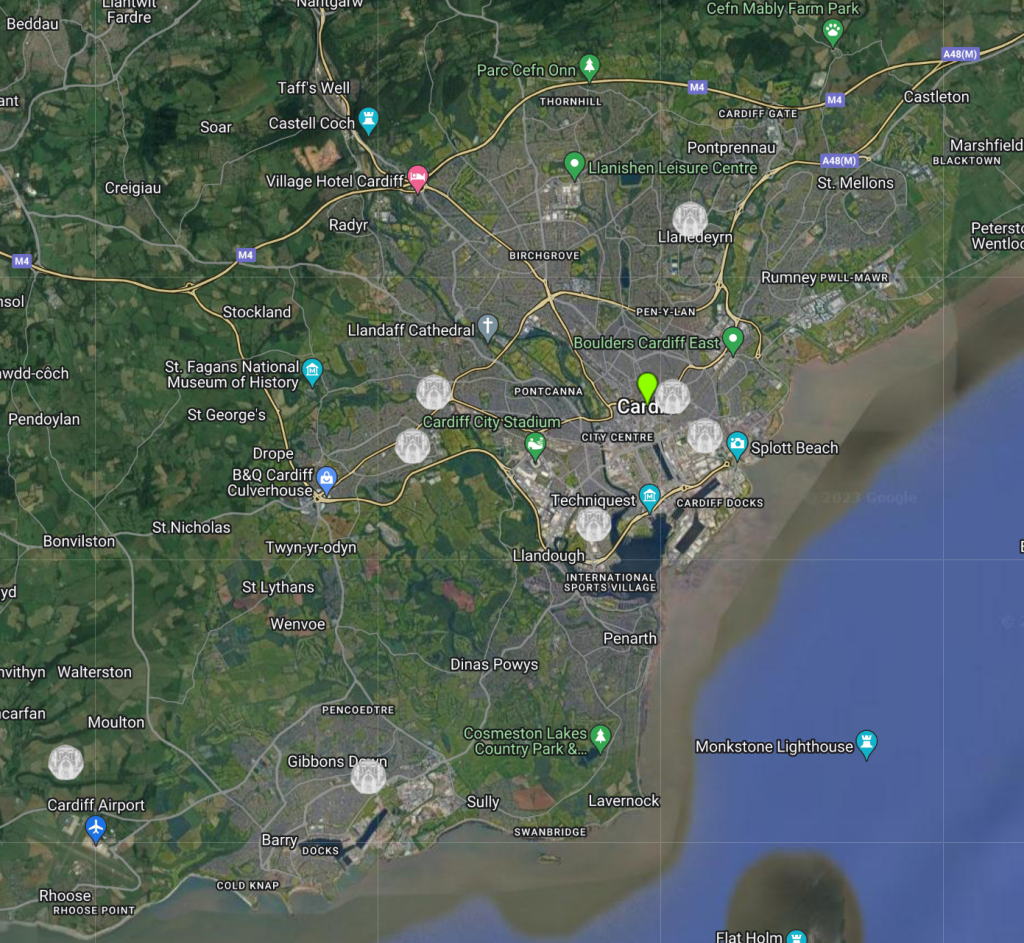 2. Derby
2.9% of Coronation 50ps were found in Derby.
1. Birmingham
5.1% of Coronation 50ps were found in Birmingham.
You can view the full collector map here to check how many Coronation 50ps have been found in your area.
How much is the UK Coronation 50p worth?
A common question we get is 'how much is the Coronation 50p worth?'. Many factors determine the value of a coin, but ultimately it depends on what someone is prepared to pay for it.
We've used our eBay Tracker formula to work out how much a circulation Coronation 50p might be worth. As you can see, they are selling on the secondary market for around £2.79, which is a 458% increase from the face value.
So now you know where in the UK you have the highest chance of finding a Coronation 50p in your change, and how much you could expect to pay for one on the secondary market.
Owners of the Coronation 50p also own a small piece of history as it's the first ever UK Coronation 50p to be issued. If you haven't had any luck finding the Coronation 50p in your change, you can secure the crowned collectors version in Brilliant Uncirculated quality for just £4.99 (+£2.99 postage) here >>
What's next for UK coinage?
It's all change for UK coinage, as we've been treated to eight brand new designs that will feature on our everyday coinage! These new UK coins represent British wildlife and conservation, a passion of King Charles III.
Find out more about the UK's New Coinage here or to secure the complete New UK Coinage set for your collection, click here >>