Have you ever considered how a 50p coin makes its way from The Royal Mint into your change?
As we approach the 50th anniversary of the 50p, it seems only fitting to take a look at the journey of the 50p coin – from striking to your pocket – and the many processes along the way, even before the coin leaves the factory.
Discover the 5 key steps in the journey below:

I'm sure you'll agree that it's fascinating to think, each time you find a 50p coin in your change, that coin has been through all of these steps its journey to your pocket.
Which 50p coins do you have in your collection and have you been able to complete the Definitive 50p Collecting Challenge? Let us know in the comments below.
---
Have you joined the Definitive 50p Collecting Challenge?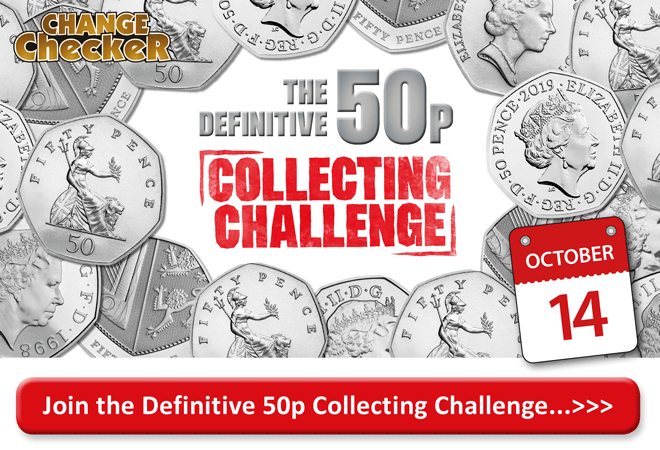 The race is on to find and collect the definitive 50ps in your change in time for the 50th anniversary of the 50p!
Have you heard the news? It hit the headlines this morning that the Brexit 50p will enter circulation after the UK's departure from the EU.
In October last year, Philip Hammond unveiled his plans for a Brexit 50p to mark the UK's exit from the EU.
Whilst delays to Brexit meant the original 29th March 2019 dated coins did not go ahead, in August this year Chancellor Sajid Javid asked officials if it would be possible to produce Brexit 50p coins in time for Britain's departure from the EU on the 31st October 2019.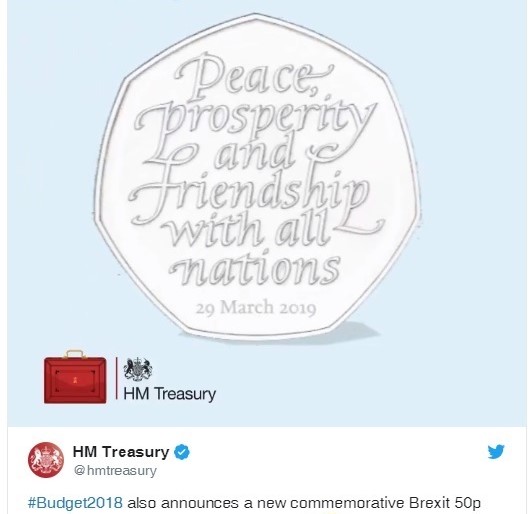 And today it looks as though we have our answer, as The Treasury has confirmed that the coins have been given the go ahead and will be minted by Brexit day – despite the continued uncertainty of Britain leaving the EU by then.
So this begs the question, if Britain doesn't leave the EU on the 31st October, could there potentially be millions of Brexit coins with the wrong date? It would certainly make for interesting collecting!
And the best news for collectors is that this coin will be entering circulation, although it is yet to be officially confirmed exactly how many or when we will start to see them in our change.
Rumour has it that 10 million Brexit 50ps could be produced, including Brilliant Uncirculated, Silver and Gold versions. This has not yet been confirmed by The Royal Mint, but has sparked great excitement in the collecting world.
As such a controversial issue, which has created much disruption across the UK and the EU since the referendum in June 2016, it is hoped that this new coin, which is expected to bear the phrase 'Peace, prosperity and friendship with all nations', will promote positivity surrounding Brexit.
To stay up to date with all the latest Brexit 50p news, sign up using the form below:
---
If you're interested in coin collecting, our Change Checker web app is completely free to use and allows users to:
– Find and identify the coins in their pocket
– Collect and track the coins they have
– Swap their spare coins with other Change Checkers
Sign up today at: www.changechecker.org/app
It's beginning to look a lot like Christmas as Guernsey release a brand new set of Christmas Pantomime 50p coins!
These fantastic new coins feature designs based on five beloved Pantomimes which are sure to take you to a whole new world as you experience the magic of the theatre brought to life on a 50p coin.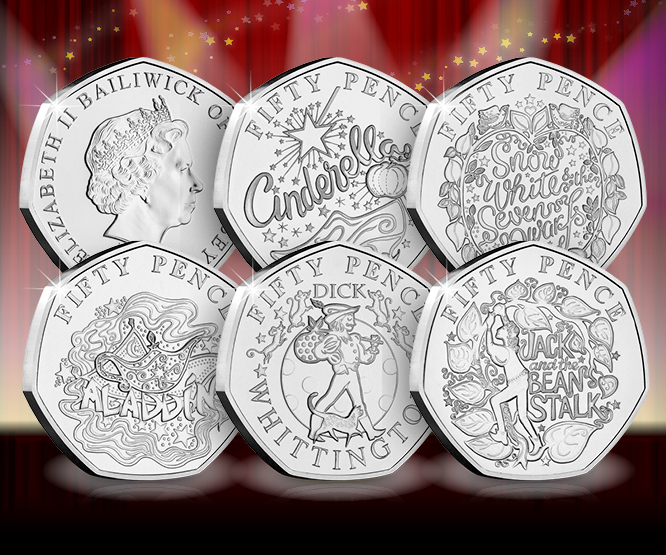 Complete BU Set
Whilst 4,000 of each design will be entering circulation, they will only be released in Guernsey and you can bet your bottom dollar that any lucky Guernsey Change Checkers coming across these coins will be sure to hold on to them.
Unfortunately we don't all have a Fairy Godmother who can wave a magic wand and make these coins appear in our UK change (but wouldn't that be nice!).
However, the complete set is now available to purchase in Brilliant Uncirculated quality here.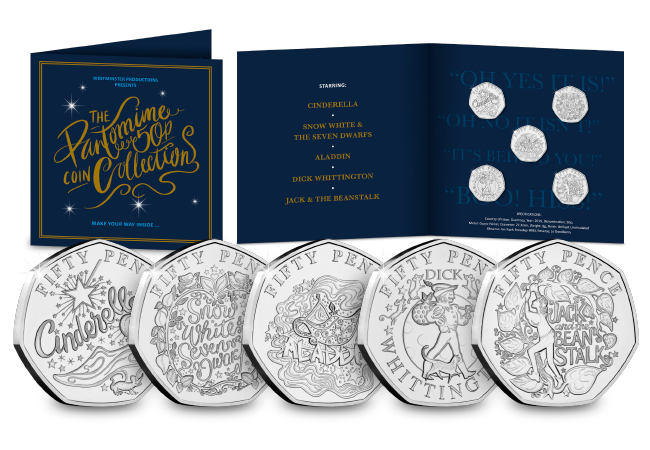 Authorised by the Guernsey Treasury and fully approved by Her Majesty the Queen, the set includes some of the most loved pantomime themes:
Aladdin
Cinderella
Snow White
Jack and the Beanstalk
Dick Whittington
Silver Proof Set
But that's not all… As if by magic, these coins have been brought to life in vibrant colour for the Silver Proof Pantomime 50p coin set.
Each beautiful coin is struck from Solid Silver and features selective colour printing to capture the fun of the theatre.
Only 2,019 of the Guernsey Silver Christmas Pantomime 50p sets are available and we all know how quickly Silver 50p coins sell out – the Silver Gruffalo 50p sold out within the first day of launch and had an edition limit of 25,000!
This stunning set is now available to purchase here.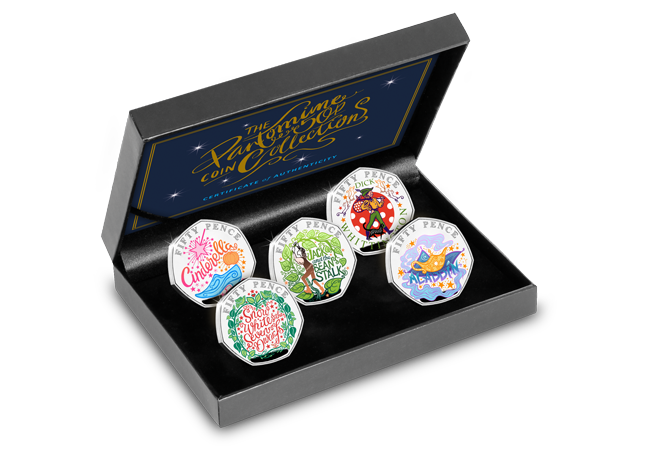 The first Guernsey Christmas coins
Did you know that Guernsey has never released a Christmas coin before? This is bound to make these Christmas Panto 50ps particularly special for coin collectors.
However it's fair to say that Christmas themed coins make an envious addition to anyone's collection, with the numerous festive 50ps from the Isle of Man proving to be incredibly popular.
One of the most-loved Christmas themes to feature on a coin has got to be the Snowman.
In 2003, the first coin to feature the Snowman was issued by the Isle of Man and had a tiny mintage of just 10,000.
Although not many of these coins are available on the secondary market, if you did want to add one to your collection, you'd be looking at parting with a minimum of £200!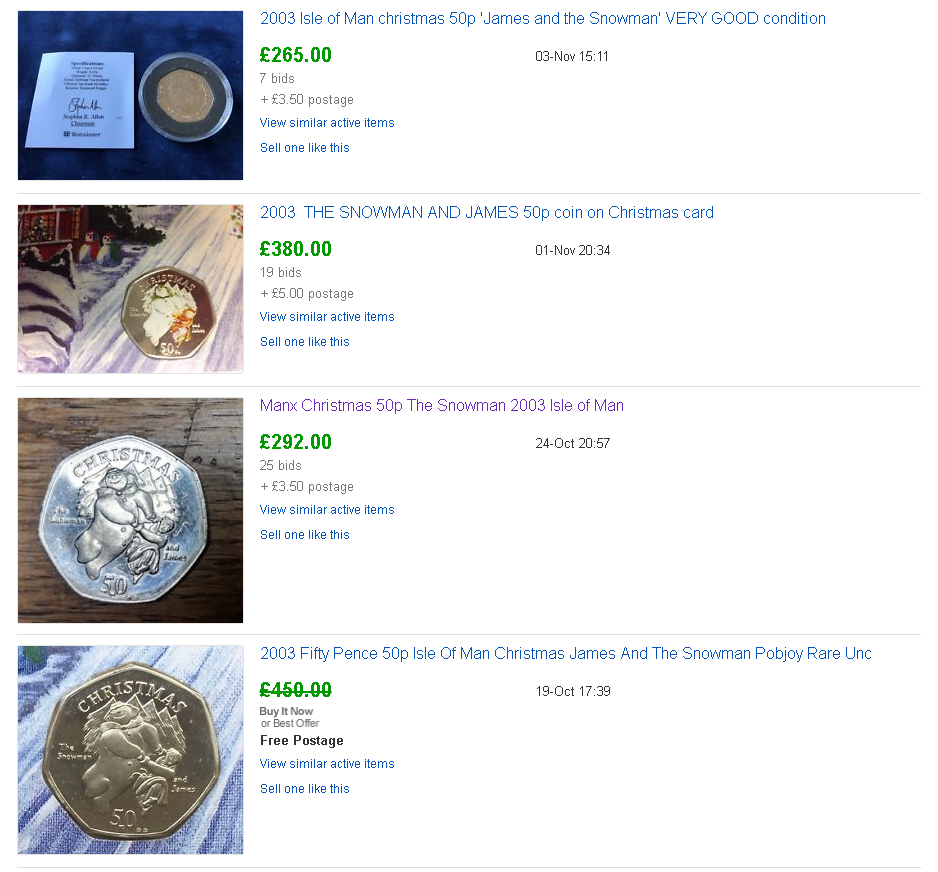 The Snowman has since featured on a number of Isle of Man Christmas coins, and even made his first appearance on a UK coin last year.
Just 20,000 issued for circulation
With such a wonderful Christmas theme and the fact that just 4,000 of each Panto 50p will initially be released into circulation in Guernsey, these coins are sure to follow in the Snowman's footprints and be incredibly sought-after.
But it's not just the theme which makes these coins so special…
Mintage figures for Isle of Man 50ps have never exceeded 30,000, and as the new Guernsey coins have a combined mintage of just 20,000 I'm sure you'll agree that they are bound to be hugely collectable!
Guernsey mintage figures are known for being much smaller than the UK, which is down to their much smaller population of just over 63,000.
Vote for your favourite!
Pantomime has a long theatrical history and is especially popular during the festive period. So now it's time to get the show started and celebrate with the fantastic new Christmas Pantomime 50p set from Guernsey.
We'd love to hear which of these coins is your favourite, so let us know by voting in the poll below!
---
Secure your Brilliant Uncirculated Christmas Pantomime Set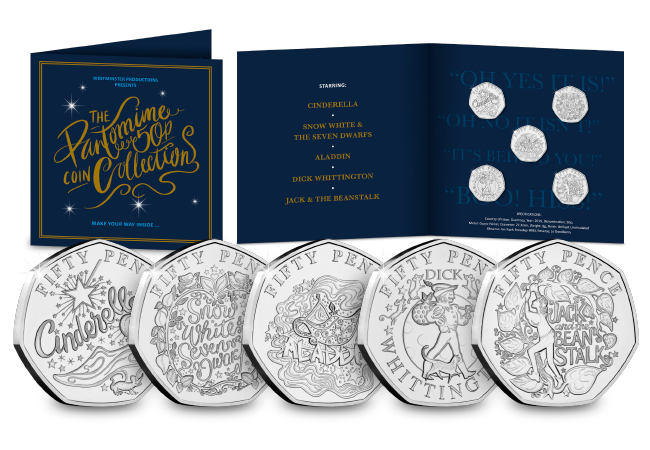 Celebrate the Christmas season with five brand new Brilliant Uncirculated Pantomime 50ps from Guernsey.