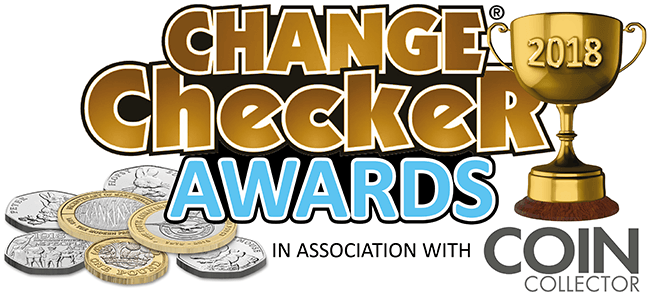 We're delighted to announce the 2018 Change Checker Awards in association with Coin Collector, where we'll be celebrating the very best of the change collecting world from 2018!
We're looking for the 2018 Change Checker of the Year and the 2018 Junior Change Checker of the year and we need your help!
Are you or do you know somebody that deserves to be crowned Change Checker of the year? If so, we'd love to hear why.
Have you completed an epic collection? Do you know somebody who's gone above and beyond to help other Change Checkers complete their collections? Or have you introduced all your friends to the world of change collecting?
If you or a friend has been the perfect Change Checker, we want to hear from you.
Send an email outlining why you, your family or friends deserve to win this coveted award to Awards@changechecker.org. Alternatively, you can submit your entry using the sign-up form at the bottom of this blog. Finally, you can leave a comment on any of our social media pages but be sure to use the hashtag #CCAwards2018.
To qualify for Junior Change Checker of the year the application must be aged 16 or younger. The closing date for entries is 5pm on Friday 30th November.
All entries will be judged by our panel and the results announced on Friday 7th December.
The victorious Change Checker and Junior Change Checker of the year will each win an exclusive Change Checker trophy and a bundle of goodies worth more than £50, including a year's subscription to Coin Collector magazine!
Categories
The other categories that make up the Change Checker Awards are:
Coin Story of the Year 2018 – judged by our panel
and
UK Coin Design of the Year 2018 – we held a public vote to shortlist the top coin of each denomination and have now opened the vote from the top 4 coins to find our overall winner!
The top shortlisted coins were the Remembrance Day £5, Captain Cook £2, Snowman 50p and 'R' A-Z 10p.
The winners for all Change Checker Award categories will be announced on the 7th December.
Good Luck!
---
Terms and Conditions
The winners will receive an exclusive Change Checker trophy and a bundle of goodies to include a year's subscription to Coin Collector magazine, a personalised medal, Change Checker T-Shirt and pen. There is no cash alternative.
Participants agree to meet reasonable requests to assist publicity.
The Change Checker Awards 2018 are promoted by The Westminster Collection / Change Checker, trading divisions of 288 Group Ltd.
Employees of 288 Group and their families are not eligible to enter.
---
If you're interested in coin collecting, our Change Checker web app is completely free to use and allows users to:
– Find and identify the coins in their pocket
– Collect and track the coins they have
– Swap their spare coins with other Change Checkers

Sign up today at: www.changechecker.org/app
Last night, news emerged that a UK coin to celebrate one of Britain's best loved children's authors, Roald Dahl, was rejected by The Royal Mint.
Famed for his classic novels such as Charlie and the Chocolate Factory, The Twits and Matilda (amongst many more), the incredibly imaginative author was born in September 1916, meaning the 100th anniversary coin would have been due for release in 2016.
And yet no such coin ever came to pass…
The Royal Mint decided against marking the centenary of the Roald Dahl's birth because of concerns about the author's anti semitic views. According to official papers obtained by the Guardian newspaper using freedom of information laws, the proposal to issue a coin to mark the centenary of Dahl's birth was dropped because he was "not regarded as an author of the highest reputation".
The Royal Mint have made clear that "commemorative coins go through a rigorous planning and selection process" led by the independent Royal Mint Advisory Committee, and not every coin idea proposed actually ends up making it through this process.
In fact, in 2012 a special six-sided coin was very nearly released to commemorate one of the most significant celebrations in British history – the Queen's Diamond Jubilee. This too was rejected by senior staff at The Royal Mint as the commemorative coin programme was already "sufficiently comprehensive."
We almost had a 60p coin and it would have looked like a coin gone mad https://t.co/JpFp0vtYAv pic.twitter.com/eWNmWNmVkt

— Mike Wright (@MikeJGWright) 31 December 2015
The commemorative coins selected for release in 2016 actually included the great literary figures William Shakespeare and Beatrix Potter.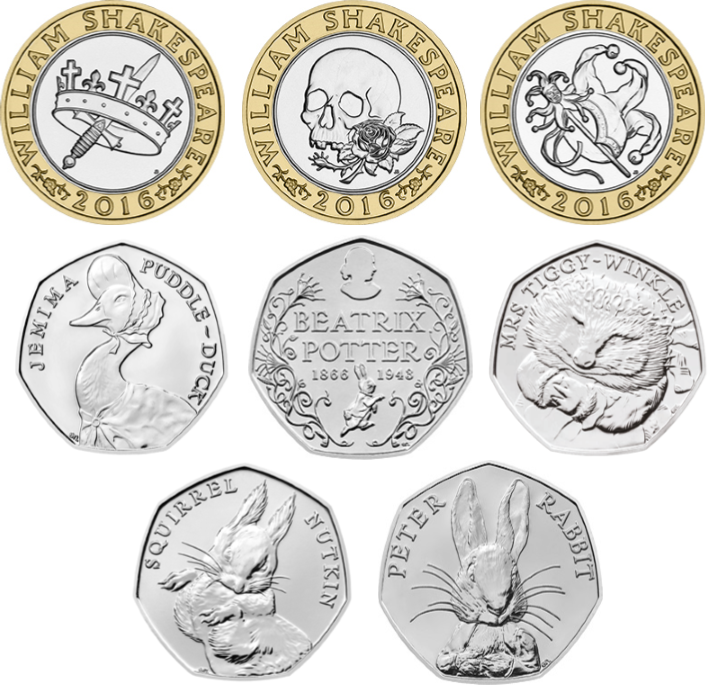 Although the Royal Mail did honour the children's author with a set of commemorative stamps celebrating his books in 2012, unfortunately the magic and wonder of Dahl's literary works won't ever be recognised on a commemorative UK coin.
---
If you're interested in coin collecting or want to find out more about any of the coins in circulation, our Change Checker web app is completely free to use and allows users to:
– Find and identify the coins in their pocket
– Collect and track the coins they have
– Swap their spare coins with other Change Checkers

Sign up today at: www.changechecker.org/app
Every Boxing Day on the Isle of Man, communities come together across the island to dance and sing in the streets around "the king of all birds", the wren, who is paraded around on a decorative pole.
Hunt the Wren, as it is known on the island, has become one of the most popular yet more unusual Manx traditions in practice today.
The practice dates back to Pagan times and is thought to have descended from Celtic mythology and may have been influenced by Scandinavian Viking settlers during the 8th and 10th centuries.
Historically groups of boys dressed up in straw outfits, known as 'wren boys' would gather on St Stephen's Day (Boxing Day) to hunt a sacred wren bird. They would then tie the bird to the top of a decorative pole and visit different houses, singing to receive money or presents for their display. Those who were generous and gave money to the boys would receive a feather from the bird as a thank you, and the collected money was used to host a village dance later in January.
Today the Hunt the Wren tradition is still a popular part of the islands seasonal festivities, and many communities come together to dance and raise money for charity. A replica of a wren is used nowadays instead of harming any real birds, and ribbons which are used to decorate the pole are handed out as good luck instead of the bird feathers.
This unusual community tradition is so special on the Isle of Man that it has been celebrated on a brand new £2 coin and only a limited number of these coins will enter circulation on the island.
But it's not the first time that the Hunt the Wren tradition has been celebrated on a coin, it was also featured on a 50p coin 24 years ago in 1994.
So to celebrate this new festive coin release from the Isle of Man, what better reason is there to take a look back at some of the festive designs issued on Isle of Man coinage over the years.
Here are a few of our favourites which show off how exciting Isle of Man coinage can be…
Just yesterday, the UK Royal Mint issued the first ever Christmas themed 50p coin to celebrate the 40th anniversary of the publication of Raymond Briggs' much-loved festive tale The Snowman™. And it's safe to say the demand for the much anticipated coin has been overwhelming. It has been so popular in fact that the Silver Proof and Gold versions of the coin have already completely SOLD OUT.
But the Isle of Man have been way ahead of the UK and have already issued a few 50p coins over the years featuring the much-loved children's character the Snowman. Issued in 2003, the first coin to feature the Snowman and James, the hero of the story, holding hands and dancing had a tiny mintage of just 10,000. Although not many of these coins are available on the secondary market, if you did want to add one to your collection, you'd be looking at parting with a minimum of £200!
The same design was issued in 2008 although these coins were not struck for general circulation. Fast forward to 2014 and the coin features the Snowman and James hugging with a Christmas tree in the background. As we already know, this coin regularly sells for 80 times its face value on secondary market selling sites such as eBay.
The Isle of Man have issued a wide range of Christmas themed 50ps over the last 40 years and it's safe to say that any of these festive 50p coins would definitely be an envious addition to anyone's collection. The mintages for Isle of Man festive 50ps have never exceeded 30,000 most likely due to the island having a population of less than 85,000 so it's no wonder the coins are so sought-after.
Let us know your favourite design ever issued on a festive coin and whether you've been able to add it to your collection.
---
Own the first Festive £2 coin from the Isle of Man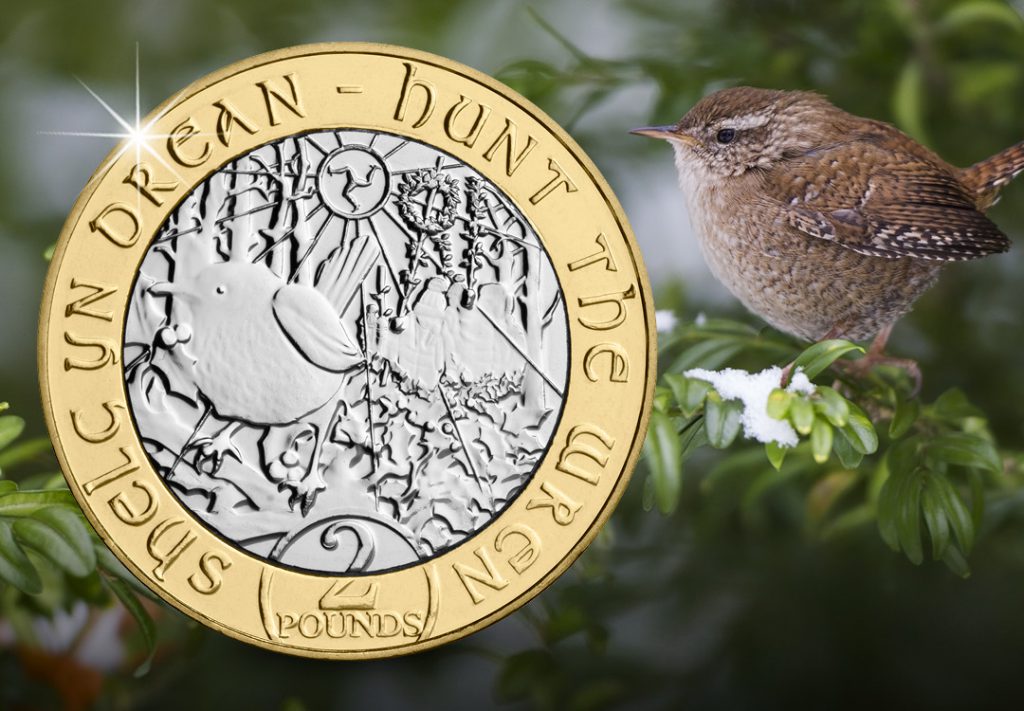 You can add the 2018 Isle of Man Hunt the Wren £2 coin to your collection here >>
---
If you're interested in coin collecting, our Change Checker web app is completely free to use and allows users to:
– Find and identify the coins in their pocket
– Collect and track the coins they have
– Swap their spare coins with other Change Checkers

Sign up today at: www.changechecker.org/app